Experience the beauty of Croatia's Adriatic coastline and green heart. Here are 8 beautiful places in Istria – from fishing villages to ancient Roman ruins, clear water bays to olive groves.
About the authors: Maya and Sari of Chasing Lenscapes are two sisters with a passion for travel, photography, culture and food.
Croatia has so many beautiful places to visit, but on our last trip, we discovered a hidden gem: The Istrian Peninsula.
During our Croatian trip, we spent a few days in Istria after visiting the Dalmatian Coast. We quickly fell in love with the beautiful area and unique atmosphere.
Istria county is still a relatively unknown destination, but this is going to change in the coming years.
Generally speaking, Istria can be divided into two regions: Blue Istria and Green Istria. Blue Istria, along the coast, is where you'll find colourful fishing villages, charming islands and rocky beaches.
The central part of Istria is referred to as Green Istria. Here you'll find picturesque medieval towns perched on cliffs, wineries, olive groves and truffle-filled forests.
Here are 8 of the most beautiful places in Istria, from stunning bays to the best towns!
---
Please note: This post contains affiliate links, meaning I may earn a commission if you make a purchase by clicking a link (at no extra cost to you). Learn more.
---
How to get to the Istrian Peninsula
The heart-shaped Istrian peninsula is located in the north-west part of the Adriatic Sea, in the westernmost part of Croatia. It shares a border with Slovenia and a maritime border with Italy.
You can catch a flight, a bus or rent a car to get to Istria from Zagreb or any other major city in Croatia and the neighbouring countries. There are also direct ferries from Venice in Italy and Zadar in Croatia.
Getting around Istria
The easiest way to get around Istria is by hiring your own car and self-driving. Pula is an ideal place to rent a car and start your Istria road trip.
Best places to visit in Istria: Blue Istria
1. Rovinj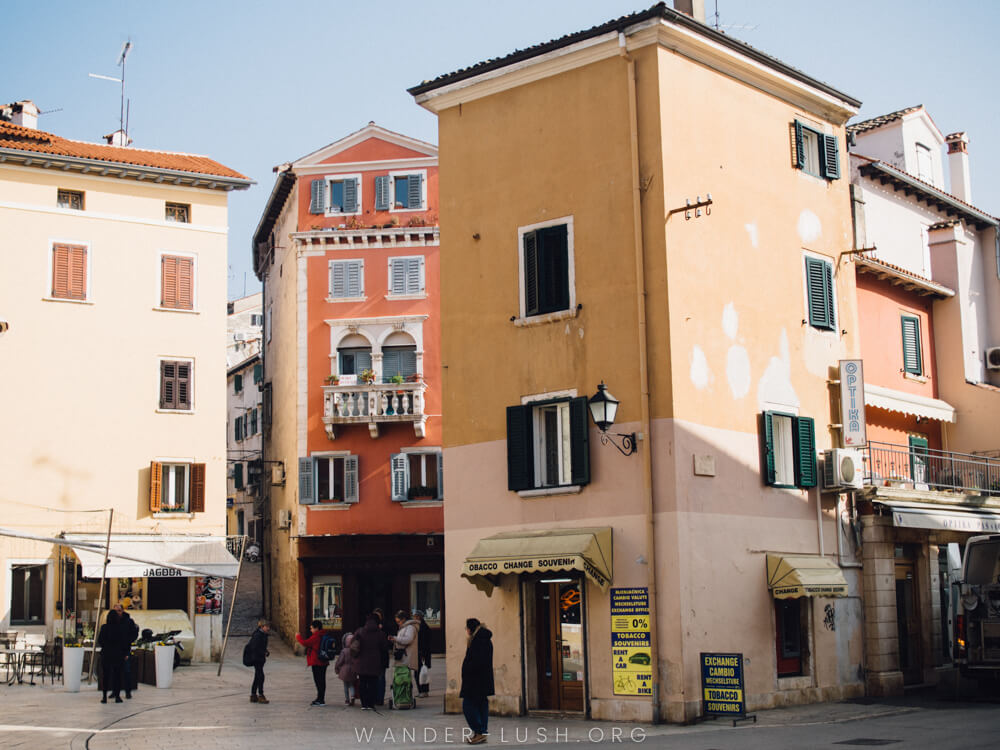 Rovinj stole our heart from the get-go. From the minute we started exploring its cobbled alleys and beautiful harbour, we couldn't get enough of the colourful houses, cute boutiques, stunning viewpoints and general Croatian-Italian charm.
Rovinj is located in the centre of Istria's west coast, and it's this central location combined with the charming atmosphere that has turned Rovinj into such a popular destination.
Things to do in Rovinj
Explore Rovinj Old Town: The old town of Rovinj used to be an island, and it's now one of the most charming places in Croatia. Wandering through Rovinj's winding cobbled alleys, you'll see ancient churches and colourful houses stacked upon each other.
There are cute boutiques and specialty food stores where you can buy Istrian olive oil, cheese and truffles. Look for the viewpoints to the Adriatic Sea and stop for a rest at one of the seafront bars.
Related: Incredible culinary traditions from Croatia and around the world.
Visit Rovinj Marina and Punta Corrente: Don't forget to explore Rovinj Marina where you'll find rows of boats set against a backdrop of colourful houses, seafood restaurants and ice cream parlours. It's also a great viewpoint to photograph Rovinj Old Town.
You can walk along the promenade all the way to Punta Corrente where you'll find scenic beaches, hiking trails and beautiful coves.
Where to eat and stay in Rovinj
Rovinj is one of the best towns in Istria for foodies at heart since it also has an excellent selection of restaurants to choose from. We especially loved the charming La Puntulina, which offers delicious and beautifully-plated dishes with the views of the Adriatic Sea.
We stayed at Residence Rovinj, which is located within walking distance of Rovinj Old Town and has private parking. If you prefer staying in the middle of the old town, check out Hotel Adriatic or The Melegran.
---
2. Pula
Pula is the largest city in Istria and where the international airport is located. Pula is best known for its Roman Arena, which dates back to first century. But there are other fun attractions in the area as well.
Things to do in Pula
Go Treasure Hunting in the Historic Centre: After admiring the impressive Roman Arena, you should explore the historic centre of Pula where you'll find many more historical monuments. Check out Pula's Roman forum which used to include three temples.
Nowadays you can only visit the Temple of Augustus, the only temple to survive the turmoil of time. The Golden Gate or Arch of Sergii is another famous ancient monument you should visit, but there are so many other ancient monuments and historical treasure all around Pula's old town.
Admire the View from Fort Kaštel: To catch the best view of the area, climb up to Fort Kaštel, a beautiful Venetian Castle located on a hill in the middle of the old town. The castle dates back to the early 17th century, and it has a unique design.
The centre of Fort Kaštel has a rectangular shape and around it, you'll find four towers. Historically it was an important defensive point for the Venetians (like Kotor and Perast) and nowadays, it's a lovely viewpoint which overlooks the whole area.
Related: How to travel between Rovinj and Pula by bus.
---
3. Poreč
Poreč is another picturesque town in Istria you must add to your bucket list. Just like Rovinj, Poreč's central location makes it one of the most popular tourist destinations along the Istrian coast. This beautiful town offers a mixture of attractions that appeal to history, nature and beach lovers.
Things to do in Poreč
Get Lost in the Old Town: Poreč has a long and rich history so you should definitely start your visit by exploring its historic centre. Other than the usual cobbled alleys, crumbling walls, colourful laundry lines and beautiful squares, you'll also find Romanesque and Gothic architecture, baroque palaces, ancient towers, and interesting galleries and museums.
Visit the famous UNESCO Site:. Don't forget to stop by the Euphrasian Basilica, which combines classical and Byzantine elements and is a UNESCO World Heritage Site.
The basilica, which was built during the 6th century, contains remnants from the 4th century since it was built on top of a previous church. Art and history lovers would love the beautiful architecture, intricate decorations and the mosaics that can be found inside.
Where to Stay in Poreč
If you'd like to stay longer in Poreč, Valamar Riviera Hotel & Residence has a great location and excellent reviews.
---
4. Lim Fjord
Lim Fjord is one of the top natural wonders of Croatia and it's undoubtedly one of the most beautiful places in Istria. Lim Bay is not really a fjord, but a 10-kilometre-long estuary which is part of the Lim Valley. It reaches a few hundred meters in its widest part and on both sides of the bay you'll find high walls covered by lush vegetation.
The best way to explore the bay is on the water. During the season, you can hop on one of the many boats and sail along the bay. There is also a small beach, a few restaurants and a little oyster shack since the bay is a great habitat for many fish species, mussels and oysters.
Since Lim Bay is located just north of Rovinj, you can visit by hopping on one of the tour boats from Rovinj or take your car and enjoy the beautiful viewpoints along the road.
---
5. Duga Uvala
If you're looking for one of the most beautiful places in Istria, you should visit Duga Uvala, one of the four beautiful coves of the rugged Vinjole bay.
Duga Uvala is located in the southeastern part of the Istrian peninsula, about an hour away from Motovun and 30 minutes from Pula. If you love beautiful coves, crystal clear water and laidback atmosphere, you'll love Duga Uvala.
There isn't much to do around but enjoy the beautiful scenery and swim in the bay. We were looking for some peace and quiet, so we strolled along the path and chose one of the private rocky beaches. There were steps along the way leading to the crystal-clear water.
There are a few simple bars and restaurants in the area and a few accommodation options if you wish to stay longer.
---
Beautiful places in Istria: Green Istria
6. Motovun, a must-visit place in Istria
Motovun is probably the most iconic town in Istria. You've likely already seen photos of this beautiful village. This historic town is perched on a cliff and overlooks vineyards, olive groves and agricultural land. You really can't visit Istria without spending some time in Motovun.
Things to Do in Motovun
Explore the Historical Monuments: Motovun is one of the best towns in Istria for history lovers. Motovun started as a Roman city, Kastelijer, and was later conquered by the Venetians. A stroll through the town will take you back to those ancient times, and you'll discover many old gates, towers and defensive walls.
Similar to other Croatian towns and Slovenian coastal towns such as Piran, there's a mixture of architectural influences and styles. You'll find buildings and churches with Roman, Renaissance and Gothic elements.
Try wine tasting or truffle hunting: On your way to Motovun, don't forget to stop at one of the many wineries in the area. You can even go truffle hunting during the season since Motovun forest is known as one of the best areas for Istrian truffles.
Where to Stay in Motovun
If you'd like to extend your stay in Motovun, you'll find many apartments available to rent. There is only one hotel in town, Boutique Hotel Kastel.
---
7. Oprtalj, a hidden gem in Istria
Not many people have heard about Oprtalj, but this tiny village is a true hidden gem that is located very close to Motovun. To be honest, there isn't much to do in Oprtalj but to admire its sheer quaint beauty.
It's one of those places where you stroll around the semi-abandoned alleys and feel as if you are on a movie set, waiting for the knights to enter the town's gate.
The town sits on a hill and has breathtaking views. The small historic centre is charming, and so are the unbelievable views from the red-coloured Venetian Loggia.
Where to Stay in Oprtalj
Although there isn't much to do around but admire the unbelievable view and eat amazing truffle pasta, we actually spent two nights here in the charming B&B Palazzo Angelica and loved the quiet atmosphere.
---
8. Grožnjan
Grožnjan is located within a short driving distance from Oprtalj and Motovun. It has some stunning views of its own, but the main reason to visit this quiet village is for its unique shops and beautiful houses.
Things to do in Grožnjan
Explore the winding alleys: Take a walk through the winding alleys of Grožnjan and discover some of its unique shops and medieval houses. Many Croatian artists have chosen to live here and a stroll through the picturesque streets will reveal many creative displays.
Look for unique souvenirs: Grožnjan is one of the best towns in Istria for souvenir shopping, since you'll find many artistic shops with jewellery and knick-knacks you won't see elsewhere.  
Have a light breakfast/lunch with a view. We enjoyed a lovely breakfast at Mama Maria Café which overlooks stunning views. Other than the fantastic cappuccino, we had a fabulous cheese platter and freshly baked bread.
Where to stay in Grožnjan
If you wish to stay in the area, there are several apartments you can rent, but currently, there is no hotel in town.
---
More Croatia inspiration
---
Best places to visit in Istria: Pin it