When it comes to beaches in Europe, it's usually Croatia's sparkling Dalmatian Coast or maybe Portugal's Algarve that first come to mind.
Albania, on the other hand, is normally associated with splendid castles and ancient ruins. But this underrated and often misunderstood country is also a coveted destination for beach lovers – and depending on when and how you visit, it can be a budget-friendly alternative to more popular stretches of coast to the north and south.
The secret of Albania's Mediterranean-style beaches is definitely out: The Albanian Riviera attracts hundreds of thousands of tourists every year who come to laze on golden sands (or pebbles!) and splash in turquoise water.
With 450 kilometres (280 miles) of charming coastline extending down the Adriatic from Montenegro to the Ionian coast, there are a gamut of beaches in Albania, each with its own character and appeal. This list brings together 11 of the very best beaches to add to your Albania itinerary plus other tips for planning your visit.
---
Please note: This post contains affiliate links, meaning I may earn a commission if you make a purchase by clicking a link (at no extra cost to you). Learn more.
---
What is the Albanian Riviera?
The Albanian Riviera, known locally as Bregu, is the stretch of coastline along the Northeastern Ionian Sea that runs through Vlore and Saranda in Albania's southwest, right down to Butrint National Park and the border with Greece.
This section of coast is home to Albania's finest beaches plus a range of other things to do including natural wonders (caves and underwater springs), quaint coastal villages, stunning views of olive groves, ancient ruins – and even a disused nuclear bunker or two!
Some beaches in the south have deep waters for diving, while others have pristine water with gentle currants for swimming. Beaches themselves range from fine pebbles to golden sands.
The city of Saranda is the unofficial capital of the Albanian Riviera. There are a number of Saranda beaches, but this area can naturally be quite busy so it's a good idea to explore further afield if you're in search of quieter, more pristine coves and bays.
---
The best beaches in Albania
Down for some time in the Albanian sun? Here are 11 of the finest Adriatic beaches you shouldn't miss.
Gjipe Beach
Located 65km hours south of Vlore between Drymades and Himara, Gjipe Beach is a rare example of an unspoiled Albanian beach. That's mostly thanks to its secluded location. The small beach at Gjipe is hidden at the end of Gjipe Canyon, a spectacular landscape of rocky terrain. The dirt road is rough so you'll need a 4WD to drive all the way down to the shore, otherwise it's a 30-45 minute walk from the parking area. Bring good shoes.
Gjipe is a pebble beach with warm, crystal clear waters ideal for swimming. Kayaks and SUPs can be rented in summer, but it's a good idea to bring your own umbrella. There are a few cafes and restaurants in the area.
Gjipe Beach epitomises Albania's natural beauty and the feeling of serenity that's difficult to find elsewhere on the coast. It takes a bit more time and effort to get here, but it's well worth it.
Get there: 1.5-2 hours drive from Vlore. Parking costs 200-300 LEK.
Where to stay: There are no hotels on the beach but for a rustic experience, you can rent a tent for the night at Gjipe Eco Campground. A simple breakfast is included.
---
Dhermi Beach
Just north of Gjipe, Dhermi Beach (Dhërmiu Beach) is another pebble beach that's often referred to as one of Albania's most gorgeous spots. It is located in the village of Dhermi and is known for its dazzling turquoise waters, smooth white pebbles and impressive rock formations.
Dhermi Beach is a popular summer destination for Albanians and tourists alike. Compared with Gjipe, it's much easier to reach, which makes it a good choice for families (just be mindful of the currants here, which can be strong). It is a very popular beach though, so some forward planning is required to ensure you get a spot.
Facilities are great – sun loungers and umbrellas are available to hire and there are plenty of cafes, restaurants and accommodation options nearby. At night, the bars light up and Dhermi transforms into a big beach party.
The drive down to Dhermi from Vlore via the winding coastal road is absolutely spectacular. Be sure to set aside some extra time to take photos of the coastline from the Panorama Llogara viewpoint.
Get there: 2-hour drive from Saranda or 1.5-hour drive from Vlore.
Where to stay: Sofo Hotel Dhermi is a short 250m walk from the beach and offers private parking.
---
Filikuri Beach
If you're looking for a more secluded beach that's perfect for unwinding after exploring Albania's ancient ruins, Filikuri Beach (Plazhi Filikurit) might be exactly the thing.
Located between Potami Beach and Llaman Beach, Filikuri is a hidden treasure of the Albanian Riviera – that's despite being only a few kilometres south of the popular town of Himare. High cliffs shelter the small Filikuri Bay, and the turquoise waters here are gentle and perfect for swimming.
Privacy comes at a cost: This beach is only accessible by boat or kayak. If you're feeling brave, there is a steep path down from the high cliff behind the beach, but it's mostly unmarked and quite treacherous. The easier option is to kayak from Potam Beach. Make sure you bring your own water and food since there are no facilities in the area.
This hidden gem is perfect for visitors who want to find a secluded spot on the Albanian coast and relax in silence away from the hustle of the summer crowds. Though it may be difficult to access, once you find your way down to Filikuri Beach, the natural beauty will take your breath away.
Get there: 10-minute drive from Himare + hike or 15-20 minutes by kayak from Potam Beach.
Where to stay: It's best to visit this beach from Himare. Stonevilla Buta in Himare offers beautiful, authentic rooms with private balconies and sea views.
---
Ksamil Beaches
Located at the southern end of Albania, around 15 minutes from Saranda, the town of Ksamil – dubbed the 'Pearl of the Ionian' – is Albania's southern capital of sun, sand and sea.
There are a number of small and mid-sized beaches in the heart of town where you can relax and enjoy a cup of coffee from one of the many restaurants and cafes. The west-facing beaches here hug the northern end of the Greek island of Corfu and have a similar vibe as a result. For something more adventurous, there are four islands off the coast of Ksamil that you can explore by boat or kayak.
Ksamil Beach (the main beach) has clear, brilliant blue waters and fine stones. It's ideal for families who prefer the convenience of beach resorts – facilities are well-appointed and there are countless activities available, including boat rides and pedal boating. The downside is that it can be quite busy. Further afield, the Ksamil Islands offer more secluded swimming beaches and coves.
You should plan to spend at least a couple of nights in this area – it's a treasure trove of fascinating archaeological ruins and spectacular biodiversity. The ancient city of Butrint with its Roman ruins is the gateway to the southern part of Ksamil Beach, while the Albanian Blue Eye, Syri i Kaltër, and the beautiful market city of Gjirokaster are only a 30 and 90-minute drive away respectively.
Get there: 15-minute drive from Saranda.
Where to stay: Vila Eriseld has tidy rooms and lush gardens walking distance from both Sunset Beach and Cocoa Beach.
---
Palasa Beach
Located in Vlore County along the Llogara Pass, Palasa Beach (Plazhi i Palasës) is a beautiful beach with pristine clear waters and a scenic backdrop of forests and cliffs. The water here is clear and deep, while closer to the shore the shallow pools and calm currants are ideal for children.
This beach has a remote feel but still offers many conveniences, including a number of restaurants and bars. Make sure you visit this beautiful beach if you plan an outing in Llogara National Park – Palasa Beach is just a short drive from the mountains.
Get there: 10-minute drive from Dhermi.
---
Potam Beach
Like Palasa, Potam Beach is located at the northern end of the Albanian Riviera close to Himare and Dhermi. It's very close to Llamani Beach so you can easily visit both in one day.
Potam Beach has a mountain backdrop and is surrounded by lush trees. The beach is shaded for much of the day, making it a great escape from the heat. Round stones are easy on the feet, and the water is quite tranquil. There is a big range of beach bars and restaurants where you can grab a bite to eat or a cold drink while admiring the breathtaking views.
Get there: 5-minute drive from Himare.
Where to stay: Sea Apartments Himare offers self-contained suites steps from Potam Beach and has a popular onsite restaurant.
---
Drymades Beach
Drymades Beach (Drimadhë Beach) is just south of Palasa, close to the village of Dhermi. In many ways this is the quintessential Albanian beach: Calm turquoise waters, a long stretch of white sand, and rows upon rows of thatched beach umbrellas. Towering mountains and olive groves give this area a spectacular green backdrop.
One of the more interesting features of this beach is the large rock formation that splits the sandy beach from the pebbly one. Drymades is noted for its dramatic sunsets, so be sure to visit in the late afternoon.
Get there: 10-minute drive from Dhermi.
Where to stay: Drymades Bungalows has cute seaside shacks with a big outdoor lounge area and direct beach access.
---
Jali Beach
Jali Beach (AKA Jala Beach or Plazhi i Jalës) is hands down one of the best Albanian beaches for swimming. Compared to the many other beaches in the area, it stands out for its extremely clear water that has a brilliant blue, shimmering hue. On top of that, Jali Beach is home to some of Albania's best beach clubs. There are a number of cool bars and clubs here too, making it a great beach destination for nightlife.
The club plays music all day long with spectacular views over the water, while visitors can enjoy cocktails or other refreshments. There are also beach chairs and umbrellas available to rent if needed!
Get there: 20-minute drive from Dhermi.
Where to stay: At the southern end of the beach, Social Camping JAL is an extremely popular accommodation with budget-friendly bungalows, a campground and a pleasant outdoor lounge area.
---
Borsh Beach
Borsh Beach (Plazhi i Borshit) sits in the centre of the Albanian Riviera, close to Qeparo village. At 7 kilometres, it's the largest beach in Albania. White pebbles, clear azure water and gorgeous views of Albania's coastal mountains are just some of the perks.
Fringed by olive trees and easy to reach by car (parking is available almost directly on the waterfront), this is a convenient beach option and an ideal place to stop for a couple of hours as you drive along the coastal road. Borsh Beach is popular among locals and tourists alike, but it's not too crowded or noisy. You can enjoy the silence of nature here while taking in the fresh air and scenery.
If you want to stay longer, there is a good range of guesthouses and apartments along the waterfront, plus a campground and several restaurants.
Get there: 1-hour drive from Dhermi or Saranda.
Where to stay: Hotel Erviliano is a delightful mid-range hotel on the beachfront with private parking.
---
Buneci Beach
A little further south on the way to Saranda, Buneci Beach (Plazhi i Bunecit) has a very long stretch of sandy shore that is perfect for sunbathing or relaxing in peace. It's never too crowded, and the long jetty is extremely picturesque, framed by a scalloped coastline of mountains and bays.
The beach has bright turquoise waters, fine white sand, and spectacular views of Albania's Ionian Sea coastline. There are plenty of restaurant and cafe options nearby. The best thing about Buneci is that it's less crowded than other nearby beaches, which means you'll never have trouble finding a spot to set up your beach umbrella.
Get there: 45-minute drive from Saranda.
Where to stay: Holiday Home Ali is set in the town of Piqeras, 10 minutes from Bunec Beach. The self-contained cottage is sweet and homely, and the gardens with sea views are spectacular.
---
Mirror or Pasqyra Beach
Mirror Beach in Saranda is another gem near Ksamil. In the Albanian language it's called Pasqyra (Plazhi i Pasqyrave) which means 'mirror' – the name comes from the unique way the glistening sea reflects the sunlight.
The main feature of this beach is its bright blue waters and soft white sand which turns to small pebbles as you move offshore. Pretty rock formations provide a bit of privacy. You can snorkel out to Pasqyrave Island to explore the marine life and underwater grottoes.
However, this beach gets extremely busy during the day in summer so it's recommended to visit in the late afternoon/early evening instead. That way you'll have a better chance of finding a car park and a place to sit – and you'll be treated to a magical sunset as well.
Get there: 15-minute drive from Saranda.
Where to stay: Santa Oliva Suites in Ksamil is a three-minute walk from Mirror Beach and boasts a huge outdoor terrace with sea views.
---
Albania beaches FAQ
Does Albania have nice beaches?
Of course! The Albanian Riviera is home to some of the best beaches in the Balkans and in Europe. Albanian beaches are known for their white sands, clear waters and picturesque mountain backdrops.
Remember that Albania is an up-and-coming beach destination so if you're used to visiting Greece or Croatia for example, it might not meet all your expectations. Treacherous roads, overcrowding and pollution are still big issues, but the country is slowly making progress.
Which beaches in Albania are sandy?
While many beaches in the north are composed of round pebbles, softer sand beaches can be found in and around Ksamil. Dhermi Beach and Bunec Beach feature white sand.
When is the best time to visit the Albanian Riviera?
The peak summer months of June, July and August bring big crowds to this part of Albania. It's best to avoid peak season as prices go up and it can be difficult to find both a car park and a place on the beach to throw down your towel.
Spring (April, May, early June) and autumn (September, October) are ideal – the crowds are thinner, the water is clean, and the temperatures are warm enough for swimming but also appropriate for hiking in the surrounding national parks and mountains.
Where is the best place to stay on the Albanian coast?
The larger cities of Vlore and Saranda offer a good range of accommodations plus a huge number of restaurants and cafes. Both make for a good home-base to explore the beaches up and down the coast.
If you prefer nature and seclusion, however, it's a good idea to stay in one of the small towns or villages on the riviera. Dhermi and Himare are both good options.
If you prefer to beach hop, most have at least a few guesthouses and camping options near the waterfront. Larger beaches have more luxurious hotels and family resorts.
What is the best way to get around Albania?
Albania's coastal roads are absolutely magnificent. While public transport connections (furgon minibuses and coaches) are available, it's a great experience to hire your own car and drive around the Albanian coast.
See this Albania road trip itinerary for route inspiration, and search for a rental car on Local Rent (prices start from 16€/day).
---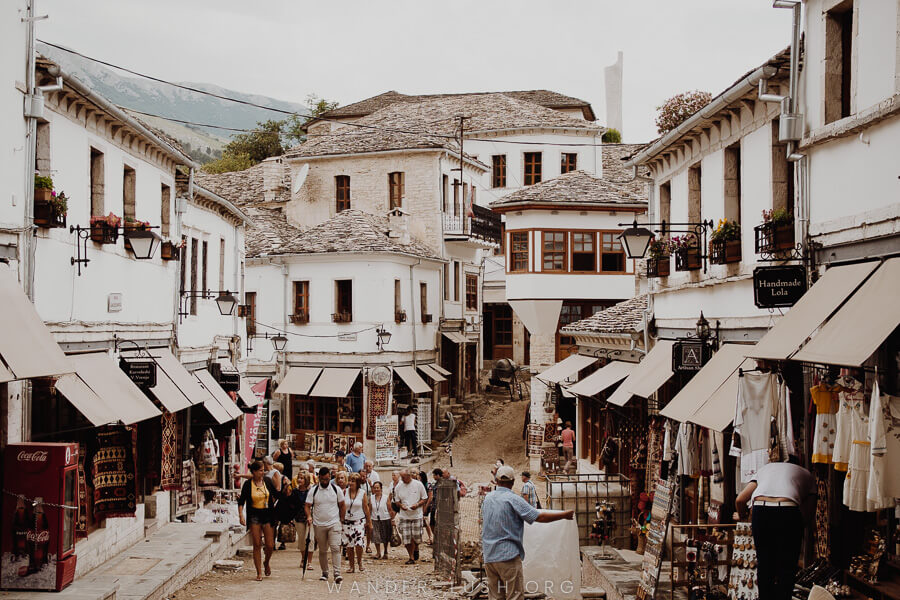 Albania Travel Guide
Discover insider tips, itinerary inspiration, and all the best things to see, do and experience in Albania!
Albania Essentials
My favourite resources and tools for planning a trip to Albania.
More from Albania
Albania Travel Guide
Discover insider tips, itinerary inspiration, and all the best things to see, do and experience in Albania!
More from Albania