This 7-10 day Kosovo itinerary by public transport covers all the best things to do in Kosovo, including Pristina and Prizren, the biggest bazaar in Kosovo, all four UNESCO Medieval Monuments, hiking in Kosovo, and much more.
Whenever someone asks me what my favourite place in the Balkans is, I always include Kosovo among my top three. After travelling the entire region overland for 6 months, Europe's youngest nation stands out for so many reasons.
Kosovo was the country I knew nothing about and had zero expectations for. I was blown away by the cosmopolitan cities, charming old towns, beautiful nature, delicious cuisine – and above all the generosity and warmth of the people.
Kosovo is – in my experience – affordable, safe, and extremely easy to navigate relying only on public transport (intercity buses).
I spent a total of 2 weeks in Kosovo. The itinerary presented here focuses mostly on the western side of the country and is a condensed version of the exact route my husband and I followed.
Though I recommend lingering for as long as possible and travelling slowly, you can see the best the country has to offer in terms of history, culture, cities and nature in 7-10 days.
---
Please note: This post contains affiliate links, meaning I may earn a commission if you make a purchase by clicking a link (at no extra cost to you). Learn more.
---
Where should you start your Kosovo itinerary?
Figuring out your entry and exit points is an important part of planning your travels in Kosovo. As you probably know, entering from Serbia and exiting through a neighbouring country (or vice versa) can cause issues, either at the border or in the future.
Having already visited Serbia earlier in our trip, we planned our route to purposefully avoid the border zones. We arrived in Prizren from Ulcinj in Montenegro (by way of northern Albania) and left to Skopje from Pristina. We had absolutely no issues.
Good to know: Kosovo has good relations with neighbouring Albania, Montenegro and North Macedonia, thus overland travel between these countries is no problem. Bus connections between the four countries are plentiful, especially in the summer months when domestic tourism is at its peak.
Our route was as follows: Prizren – Gjakova – Peja – Pristina. If you plan to fly into Kosovo's international airport in Pristina or you prefer to start your overland travels in the capital, then you can easily flip the script and do this itinerary in reverse.
For advice about the borders and entry/exit procedures, I recommend consulting an official source. The UK travel advisory does a good job of breaking things down.
---
Kosovo itinerary overview
This itinerary for Kosovo is based on the exact route we followed through the country, shortened and refined a little to fit into 10 days.
You could trim it down further to 7 days – but anything less than a week in Kosovo is pushing it in my opinion. Kosovo is small and easy to get around, but there is a lot to do and you almost always wind up spending longer than planned in each place (those outdoor cafes will do that to you).
Days 1-2: Prizren
Days 3-4: Gjakova
Days 5-7: Dečani, Peja & Rugova Gorge
Days 8-10: Pristina & Gračanica
Where we stayed in Kosovo
Here is a quick list of our accommodations in Kosovo. You'll find more suggestions for a range of budgets under each section in the itinerary that follows.
---
Kick things off in Prizren, Kosovo's cultural heartland
Recommended time to spend in Prizren: 2-3 nights
Most people start their Kosovo trip in Pristina. Because of transport logistics, we ended up visiting Prizren first – and I think that worked out for the best.
Prizren is compact and completely charming. It's the ideal place to get a feel for everyday life in Kosovo. By day, wander the cobbled streets and soak up the legendary cafe culture as the call to prayer rings out from the Sinan Pasha Mosque. In the evening, do as the locals do and walk up for a sweeping sunset view from the castle.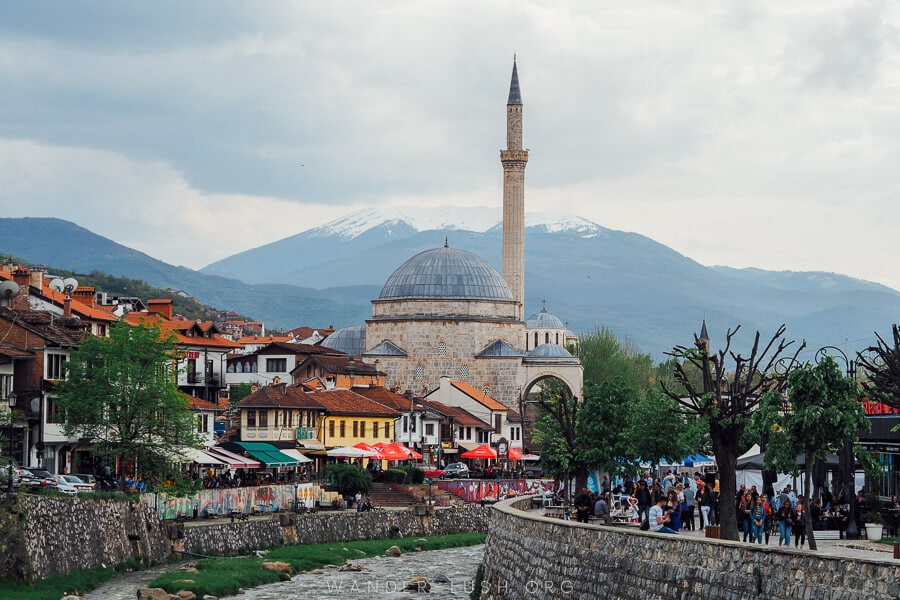 This being the traditional cultural and intellectual capital of Kosovo, you can find some of the country's finest museums and monuments in Prizren. That includes Our Lady of Ljeviš (Bogorodica Ljeviška or Kisha e Shën Premtës), one of the four edifices that make up the UNESCO-protected Medieval Monuments in Kosovo.
Built in the 14th century, the church was heavily damaged in 2004 during riots. Today it remains fenced off with barbed wire and monitored by a security guard.
To go inside, you'll need to make an appointment in advance with the priest. Otherwise you can view the church from outside or better still from atop the clock tower inside the nearby Archaeological Museum.
→ For more great things to do in Prizren, see my Prizren city guide and video.
Where to stay in Prizren
Mid-range hotel: Hotel Denis is located close to the bus station and walking distance to the centre of town. Rooms are simple but tastefully decorated, and most come with a small balcony. Breakfast at the cafe downstairs is included in the room rate. Staff are incredibly hospitable and helpful.
Luxury hotel: Hotel Tiffany is located in a historic building in the centre of town and features an onsite restaurant.
Budget hostel: Driza's House is a family run hostel-style accommodation set in a local home.
---
Continue to Gjakova, the most beautiful place in Kosovo
Recommended time to spend in Gjakova: 2 nights
Gjakova is my favourite place in Kosovo. A small city north of Prizren, it centres on an atmospheric Grand Bazaar (Çarshia e Vjetër e Gjakovës) – one of the oldest and largest in the entire region, and the longest in Kosovo today.
A kilometre of delightful little wooden shops accommodates woodworkers, hatters, wedding tailors and antique vendors. Artisans welcome you inside to see how Gjakova's specialty craft, brightly painted baby cradles called Djepaxhiu, are made.
Gjakova is laid back and gently paced – the ideal spot to slow down for a couple of days. Visit the beautiful 16th century Hadum Mosque and the catholic church, tour the small but excellent Ethnographic Museum, climb the hill for a view, and see how many of the cafes and bars along the vibrant pedestrian street you can fit in.
→ For more things to do, see my detailed guide to Gjakova.
Where to stay in Gjakova
Guesthouse: Kulla Dula is the best place we stayed in Kosovo. The family are incredibly kind and the heritage house unbelievably beautiful.
Boutique hotel: Hotel Çarshia e Jupave is a lovely hotel-restaurant complex set in restored Ottoman-style houses.
How to get to Gjakova from Prizren
Buses depart from Prizren every 30 minutes. The journey to Gjakova takes just over an hour and the fare is €2.50.
Top tip: The Gjirafa website is a great resource for checking bus routes and schedules. It's usually pretty accurate in my experience, but it pays to double-check departures on the ground before you travel. The website also works for Albania.
---
Make a detour to visit Dečani Monastery
Located roughly halfway between Gjakova and Peja, Dečani Monastery (Visoki Dečani Monastery or Manastiri i Deçanit) is the second UNESCO monument to feature on this Kosovo itinerary.
From a visitor's perspective, this is definitely the most intense and intimidating of the quartet as it's the only one still guarded by KFOR, the NATO-led peacekeeping force in Kosovo. Despite this, we felt completely safe during our visit.
As you approach on foot or by road from the town of Desan, you encounter a traffic barrier and watch tower. The entrance to the monastery is heavily guarded; we had to hand our bags over and register with our passports to enter inside.
Visoki Dečani was founded in the 14th century and is decorated with lavish frescoes. Honestly though it's the setting that I found most impressive – the monastery is nestled in greenery at the foot of the Accursed Mountains against a backdrop of majestic forest.
Recently Dečani was named as one of the seven most endangered cultural heritage sites in Europe.
How to get to Dečani Monastery
It's possible to visit Visoki Dečani from either Gjakova or Peja. If you're travelling between the two cities and your luggage is light enough, you can alight the bus early in Desan en route.
We chose to go from Peja as it's slightly closer. Buses that stop in Desan depart every 15 minutes. The journey time is 20 minutes and the fare is €1.
---
Head north to Peja, the gateway to Rugova Gorge
Recommended time to spend in Peja: 2 nights
Located in the north-western corner of Kosovo close to the Montenegrin border, Peja (Pejë or Peć) is a small city in the foothills of the Accursed Mountains. If you want to go hiking in Kosovo, you'll cross paths with Peja at some point – this is the portal to Rugova Gorge and the country's best mountain trails.
Peja city has a long and fascinating history, too. In 1346 it became the seat of the Serbian Orthodox Church. A century earlier, the Patriarchal Monastery of Peć (the third UNESCO World Heritage Site) was built in the hills behind the city.
Up to 80% of the buildings in downtown Peja were destroyed in the war. The Old Bazaar and pedestrianised streets have since been rehabilitated. Alongside Ottoman-style heritage architecture you'll see some interesting Brutalist facades and Socialist-style apartment blocks, giving the city a very distinct skyline.
In spring, we happened upon beautiful colours in the city's parks. The thing I loved most about Peja was the inescapable backdrop of the Prokletije mountains that greets you at every turn. The city is so close to the alps, you really feel totally embraced by the peaks.
Rugova Valley (Gryka e Rugovës) is easily accessible from Peja by foot or taxi. Stretching back 25m into the mountains, it's one of the longest and deepest canyons in Europe. The whole area behind Peja is a lush landscape of waterfalls, cliffs and caves – even just a short walk here will leave you feeling refreshed.
Inside the park you'll find hiking routes that follow old mule trails, water sports in spring and summer, and even ziplining. Never in a million years did I think I would go ziplining in Kosovo – but hey, it happened and it was fun!
Where to stay in Peja
Mid-range hotel: Stone Bridge offers clean and tidy rooms in the centre of the city, walking distance from the Old Bazaar. The owners are friendly and extremely helpful.
Mid-range hotel: Hotel Camp Karagaq is set inside a beautiful house on the edge of the park, just south from the Old Bazaar.
Budget hostel: Central Hostel offers both dorms and private doubles and is a popular choice among backpackers.
How to get to Peja from Gjakova
Buses to Peja depart from Gjakova's bus station every 15 minutes or so. The trip takes 45 minutes and the fare is €2.50. The bus stops in Desan (for Visoki Dečani) along the way.
---
Visit the Patriarchate of Peć
Located behind Peja, walking distance from the centre, the Patriarchate of Peć (Patrikana e Pejës) is easy to visit on the way into Rugova Canyon. The walk up is extremely pleasant and well worth doing even if you have limited time in Peja.
Built in the 13th century, this monastery became the seat of the Serbian Patriarchs and still enjoys an immensely important status today. The complex is vast and fascinating, with three interconnected churches, a trio of cupolas and a set of larger-than-life murals.
The russet-coloured facade with geometric motifs and the abstract shapes of the interior frescoes set it apart from the other monasteries in Kosovo.
For me, this was the most enjoyable of the four UNESCO monasteries by far. The 18-chapter audio tour (available for €2) is very well done.
---
Finish your Kosovo travels in Pristina, the cosmopolitan capital
Recommended time to spend in Prishtina: 2-3 nights
End on a buzz with a few days in Kosovo's biggest city, Pristina (Prishtina). Here, the cafe culture reaches its pinnacle. Matched with a world-famous nightlife scene, you'll end up spending all your leftover money on macchiatos and craft beer.
This being Kosovo's capital, Pristina has its fair share of wonderful museums and monuments too. The most iconic is the Newborn Monument, which changes its face every year and has become a symbol of Kosovo, and the National Library, famously dubbed the 'world's ugliest building'.
Other highlights include the Cathedral of Saint Mother Teresa, half a dozen dazzling historic mosques, and the open-air produce market.
Don't miss the ride to the top of the cathedral tower to observe Europe's youngest capital from above.
→ For more ideas, see my guide to the best things to do in Pristina.
Where to stay in Pristina
Boutique hotel: Hotel Gračanica is an innovative socially-minded property with a gorgeous pool and sublime design. It's located 20 minutes outside Pristina, close to Gračanica Monastery.
Mid-range hotel: City Inn is a trendy, comfortable hotel centrally located 300 metres from the Skanderbeg Statue.
Budget hostel: Prishtina Center Hostel offers a range of dorms, a shared kitchen and a lovely outdoor terrace.
How to get to Pristina from Peja
Buses depart from Peja bus station roughly every 20 minutes. The journey time is 1.5 hours and the fare is €5.
---
Side trip to Gračanica Monastery
A short bus ride from Pristina, Gračanica Monastery (Manastir Gračanica or Manastiri i Graçanicës) is the final UNESCO Monument in Kosovo. It has the most laid-back feel of all four – perhaps because there were several families visiting while we were there.
Interestingly, you can find a replica of Gračanica in Trebinje in Bosnia and Herzegovina.
Gračanica is a Serb majority community. While you're there, drop in to visit a unique business that celebrates Kosovo's diversity: Hotel Gračanica. This is one of the only venues in the country that employs Serbian, Kosovar and Roma people in upper management positions.
As well as having a great story and mission behind it, it must be said that the design and architecture here are really something. Walk-ins are welcome for lunch or dinner at the restaurant – a great option if you're staying in Pristina and just visiting the area for the day.
How to get to Gračanica
Buses bound for Gjilan depart every 30 minutes from Pristina bus station and stop at Gračanica along the way. The journey is 20 minutes and the fare is €1.
---
More time? Other great places to visit in Kosovo
Gjilan
This small city in south-eastern Kosovo (roughly an hour from Pristina by road) is famed for its beautiful architecture, local cuisine and bustling Sunday market. Learn more about Gjilan here.
Mitrovica
An hour north of Pristina, Mitrovica or Kosovska Mitrovica as it's sometimes referred to is a 'divided city', split in half by a river and shared between Kosovo and Serbia. Aside from the heavily guarded bridge, you'll likely find it feels a lot like other cities in the region, with vibrant markets, cafes and a plurality of religious monuments.
Ferizaj (Uroshevac)
Known for being a bastion of religious tolerance, Ferizaj is defined by two landmarks: The Saint Uroš Cathedral and the Madhe Mosque, which face each other across a beautiful green square.
The city is under an hour from Pristina by road on the way to the North Macedonian border.
---
Kosovo travel FAQ
Is Kosovo safe for tourists?
As a child of the 90s, my perceptions of Kosovo have been mostly negative for my entire life, shaped by images of the Kosovo War and refugee crisis.
I can only speak to my experience (which was overwhelmingly positive), but hand on heart: Kosovar people are some of the loveliest we met anywhere in the Balkans. There was always someone willing to go out of their way to help us no matter what situation we got ourselves into. We never once felt threatened or unsafe.
Hospitality is a huge part of Kosovo culture, just as it is in Albania. My overall impression was that people were extremely excited and grateful to see foreign tourists enjoying their cities and learning about their history.
Of course you still need to exercise common sense and caution just as you would in any other country. Read up on the latest travel advice before you go, and be mindful of your personal safety when visiting areas where ethnic tensions are still high, such as the UNESCO monasteries (especially Dečani) and Mitrovica.
Find more tips for staying safe in Kosovo – and read the perspectives of other travellers – in this guide by my friend Kami.
Is Kosovo expensive? Our travel costs
The official currency in Kosovo is the Euro. I was concerned this would make travel more expensive, but in the end Kosovo still turned out to be a very affordable destination.
We stayed in mid-range hotels and at one Airbnb. Our total accommodation costs were €332.23 or €25.50/night. On top of that, we spent a total of €444 on food, activities and transport for two people for 13 days.
Our Kosovo expenses:
Accommodation: €332.23
Restaurant meals: €186.80
Snacks & drinks: €49.63
Groceries: €19.09
Ground transportation: €37.00
Tickets & activities: €10.00
Souvenirs: €35.20
Miscellaneous: €106.40
Should you hire a car in Kosovo?
Bus travel is reliable and affordable in Kosovo. If you're on a tighter timeline or you want greater flexibility, you might consider hiring a car and self-driving.
I recommend using Discover Cars to search for a budget-friendly rental in Pristina. Prices start from just €8/day.
If you're in need of inspiration, check out this round-up of Balkan road trip itineraries, including driving routes in Kosovo.
Kosovo packing list
Have you travelled to Kosovo? Do you have any extra recommendations to share or places I should visit next time around? If you have any questions about your own Kosovo itinerary, please leave them in the comments below and I'll do my best to help out.