Georgians have a reputation for building churches and monasteries in epic locations. These mountain and forest cabins in Georgia each have a pretty spectacular backdrop, too.
From ancestral wooden homes in tiny villages, to alpine chalets and designer A-frame cabins in remote mountain passes, each of these 14 accommodations combines the comforts of home with divine views, fresh air, and direct access to some of Georgia's best hiking, skiing, and more.
If you feel the call of the wild or are craving some solitude, this curated list of accommodations is sure to inspire your nature escape.
---
Please note: This post contains affiliate links, meaning I may earn a commission if you make a purchase by clicking a link (at no extra cost to you). Learn more.
---
Before you go…
---
14 incredible forest chalets & mountain cabins in Georgia
1. Duende
⚐ Khiza, Lagodekhi National Park
Located in a small village on the edge of Lagodekhi Nature Reserve, one of Georgia's 15 national parks, Duende Hotels offers private cabins for couples and families.
Each stilted A-frame is beautifully decorated with designer furnishings, while floor-to-ceiling windows create the illusion that you're sleeping in the undergrowth.
Every cabin has it's own private outdoor hot tub, and the property's on-site restaurant serves meals daily (including a complimentary breakfast). Duende was founded by a Spanish-American couple and employs people from the nearby village.
Lagodekhi Nature Reserve offers ample hiking opportunities, including a multi-day trek to Black Rock Lake on the border of Georgia, Azerbaijan and Russia. In summer and spring, Duende hosts retreats and workshops.
Duende closes for the winter in October and reopens around April 1 (see their Facebook page for announcements).
Check rates & availability on Booking.com.
---
2. AltiHut 3014
If your dream is to fall asleep at the foot of the Greater Caucasus mountains, AltiHut 3014's backdrop is about as epic as they come.
Located above Gergeti Trinity Church, AltiHut is a mountaineers' lodge purpose-built to accommodate climbers on their way to Mkinvartsveri, Georgia's third-highest peak. In a couple of hours, you can hike up to the cabin from town to visit the restaurant/bar.
Even if you're not trekking or interested in winter sports, it's a great spot to chill in the mountain air. Spend some time in the high-altitude library or send a postcard from Georgia's highest postbox. The hut is open year-round, and offers large dorm-style rooms.
Aside from accommodation, the AltiHut team is working to improve tourism infrastructure in the area by developing innovative waste management systems, doing trail maintenance, and managing foot traffic on the mountain for better environmental sustainability.
Check rates & availability on Booking.com.
---
3. Kazbegi Cabins in Georgia 1 & 2
Also in Kazbegi, Kazbegi Cabins offers two Scandinavian-style lodgings closer to town, roughly halfway between the river and the trailhead for Gergeti Trinity.
Both self-contained cabins feature a kitchenette with hotplate, a modern bathroom, and a spacious living area for lounging. The cabins accommodate up to four guests in one separate first-floor bedroom and a loft space.
Crafted from 100-year-old oak and finished with hand-woven rugs and textiles, this place a true cabin-in-the-woods feel. Picture windows perfectly frame views of the town and mountains beyond. I particularly love the sleeping loft with its little portal window.
The owners also run an onsite cafe-coworking space called Maisi, where you can get a delicious breakfast.
Check rates & availability on Booking.com.
---
4. Eco Huts in Mestia
⚐ Mestia, Samegrelo-Zemo Svaneti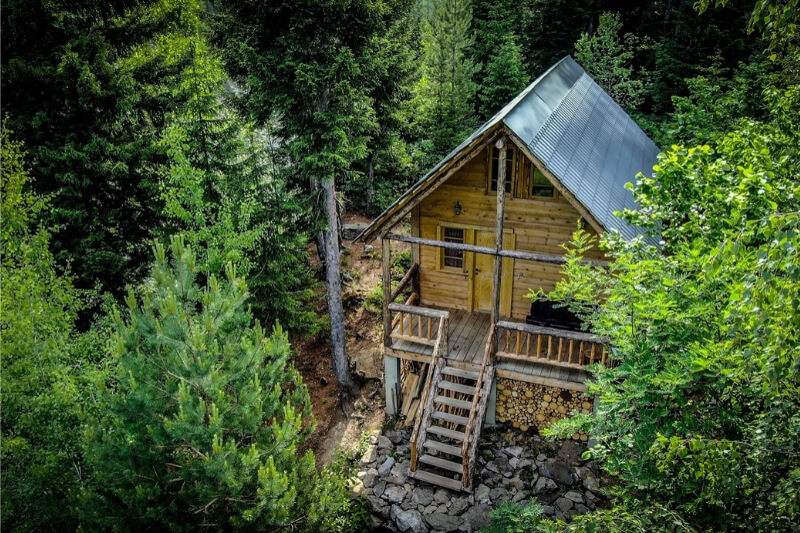 Eco Huts in Mestia is nestled in a thick pine forest on the outskirts of Mestia, the main town and transport hub in Georgia's north-eastern Samegrelo-Zemo Svaneti region.
Hand-built from local timber, the hut sleeps up to six people and also contains a full kitchen and dining area. Furnishings are rustic, but the cabin is very cosy.
The front balcony is a nice addition, and there's plenty of grassy space out front to stretch your legs, making this a great choice for families or groups.
The cabin is located walking distance from the centre of Mestia and 50 metres from a natural mineral spring. For skiing and snowboarding, Hatsvali Mountain Ski Resort is just 200 metres from the cabin's front door.
Check rates & availability on Airbnb.
---
More cottages in Mestia:
---
5. Gudauri Chalet-Apartment
If you're looking for a high-altitude luxury escape, Gudauri Chalet-Apartment is an opulent retreat in the mountains near Gudauri ski resort.
The 100 square-metre apartment boasts two separate bedrooms, a full kitchen, an entertaining area with a wood-burning fireplace, and two bathrooms (one with a tub!) spread over two floors.
Huge observation windows look out over the ski fields, and sparse furnishings give this cabin an Aspen lodge-like feel. It's truly ski to door, with the nearest chairlift just 100m away.
During the winter season, guests also get access to the indoor swimming pool, sauna and gym in the nearby hotel complex.
Check rates & availability on Booking.com.
---
6. Kinchkha Wood House
It's not technically a cabin, but Kinchkha Wood House is nonetheless a charming nature retreat, this time in western Georgia's lush Imereti region.
Situated 55km north of Kutaisi near Okatse Canyon and Kinchka Waterfall (you actually get a view of the latter from the property), the house is a stone's throw from Mount Askhi and hiking trails through the nearby gorge.
The real joy, however, is the two wooden cottages. At 170 and 90 years old, they are both living ethnographic museums. One has its original interior preserved to show guests how the owner's ancestors once lived.
Lavish supra feasts are hosted inside, with host Irina cooking up a smorgasbord of Imeretian delicacies using local and organic meats, dairy and veg.
Transport to the cottage, plus tours of the area, are offered by the friendly and accommodating hosts.
Check rates & availability on Booking.com.
Please note: Wood House Kinchkha is currently closed.
---
7. Sunland
Sunland is located on the Black Sea coast in Buknari village, 30 minutes by car from Batumi and close to the small city of Kobuleti. The A-frame cottage is tucked away in dense forest and feels very private. The front windows and balcony have sea views.
The cabin features a small kitchen, loft sleeping space and a garden. This is a great place to run away to if you need a break from Batumi or a place to crash after a day trip to Mtirala National Park or Petra Fortress. BYO food and drink.
---
8. Fifth Season
Back in Eastern Georgia, due north of Tbilisi, Fifth Season's mountain hut with panoramic mountain views is the perfect place to escape from the city.
Juta is located 20km outside of Kazbegi on the way to one of the country's premier hiking destinations, Chaukhi Pass. This is a great place to start the two-day loop trek from Juta to Roshka via the pass, which is open during the summer months (typically from the start of June until the end of September).
There are a number of easier trails in the area – or you can just simply relax on an outdoor beanbag or hammock in front of the lodge. Meals (and cocktails!) are served on-site.
Check rates & availability on Booking.com.
---
---
9. Kazbegi View
Kazbegi View is located on the eastern side of Stepantsminda (AKA Kazbegi), commanding a postcard-perfect panorama of Mount Kazbegi and Gergeti Trinity from its west-facing windows.
Three chic A-frame chalets lined up in a row each include a kitchenette with bar fridge, modern bathroom, a double bed, and mountain-facing patio.
In spring and summer, the front lawn is a lovely place to sit with a glass of wine or a cold beer.
Check rates & availability on Booking.com.
---
10. Komli Historic Farmhouse
In the village of Tsitelmta, roughly 5km from the city of Ozurgeti and accessible by train from Tbilisi, Komli Historic Farmhouse is a 150-year-old home in the heart of Guria, Georgia's tea and hazelnut country.
If you're looking for good old-fashioned hospitality, this is the place. The house has been in the family for generations, and is co-run by Lika, her daughter Mariam and mother Meri.
Guests are accommodated in two bedrooms (each with its own fireplace) and treated to farm-fresh meals from the family kitchen. Or you can sleep in the new glamping barrel!
Activities on offer include touring the tea plantation and taking a tea degustation, joining a masterclass to make Gurulian khachapuri, and hiking to a nearby 12th century monastery. Inter-city transfers and trips to Gomismta mountain can be organised through the property.
Check rates & availability on Booking.com.
---
11. Woodhide
Nestled in the ancient Colchic forests of the Machakhela Protected Areas, these twin curved cabins combine luxe design and pristine nature for a special getaway. The larger of Woodhide's two accommodations has a private breakfast terrace that looks out over the treetops.
Both have a kitchenette and private bathroom, large windows and comfy furnishings. The project is part of a UN-funded project to develop sustainable tourism in this gorgeous corner of Georgia.
Forget visiting this national park on a day trip from Batumi – spend a night or two here and get cosy with the forest instead! Upper Adjara with its wineries and waterfalls is only a stone's throw away.
Check rates & availability on Booking.com.
---
12. Pine Tree Home
Fewer tourists make it to Racha compared with Svaneti or Kazbegi – but this mountainous area in north-western Georgia is every bit as picturesque (and a lot more raw and rugged). Pine Tree Home in the village of Ambrolauri is perched on the edge of the national park.
Sitting adjacent to the family's ancestral home, the cabin features a cosy wood interior and sleeps up to five people. There's also a full kitchen with oven, dining area, a bathroom with a tub, and a spacious front yard for outdoor dining in the summer months.
If you don't feel like cooking, mum can make you a local breakfast from farm-fresh ingredients.
The location is perfect for exploring Lower Racha on foot via forest trails or just relaxing with friends.
Check rates & availability on Airbnb.
---
Glamping in Ambrolauri:
---
13. Chamo
Thirteen kilometres from Ozurgeti, inland from the Black Sea coast in Georgia's tea-growing region, Chamo is a single, tiny 30-square-metre hut where visitors can really get off the beaten path.
The hut is simple but modern, with a full bathroom, kitchen and double bed. Picture windows and wood paneling give Chamo a serene, snug feel.
Located in Vakijvari Village at the foot of mount Bakhmaro, relaxation is the name of the game here: There isn't much to do except wander through the hazelnut orchards and follow the hidden path down to the nearby Natanebi river for a swim.
If you're feeling intrepid, the hosts can organise a riding tour up to Bakhmaro. Try timing your visit with the annual Horse Riding and Folklore Festival.
Check rates & availability on Airbnb.
---
More unique accommodations in Guria:
---
14. Eco Chalet
Eco Chalet is one of just 16 houses in this remote village 10km north-east of the ski fields and health spas at Bakuriani.
Crafted from pine and larch, the cabin – like Javakheti region itself – is simple and pure. The gorgeous lodge-style living space features huge windows, a wood-burning fireplace, and more than enough room for six guests to veg out. A sweeping verandah, full kitchen and separate upstairs bedrooms complete the space.
In winter, you can go snowshoeing and in summer, sit on the deck and watch the wild horses gallop through the meadows. Guests can self-cater or eat at the neighbour's house where matsoni yogurt and nadugi cottage cheese made from the family's cows are served with wood-stove khachapuri.
The cabin and village are only accessible by 4×4; host Masha can organise transfers.
Check rates & availability on Airbnb.
---
More cabins & lodges near Bakuriani:
---
How to get to these cabins
Some of these accommodations are located in remote areas so you'll need to do a bit of advance planning to get there and back. If you need your own car to get around, I recommend either of these two options.
Private transfer with GoTrip.ge
GoTrip is my preferred way to travel to remote mountain locations in Georgia. You can use the platform to book a direct private transfer, or you can build a full-day itinerary and do some sightseeing on the way.
Prices are set in advance (and are up to 40% lower than regular taxis), so there's no need to negotiate the fare. Drivers and vehicles are vetted and reviewed.
→ Use the GoTrip Trip Planner to craft your itinerary
Hiring a car in Georgia
If you want even more flexibility, I recommend using Local Rent to find low-cost rentals in Georgia. This platform aggregates local agents, thus prices are very affordable (from $16/day) and insurance is often included in the rate.
Be sure to check whether or not you need a 4WD to access your secluded cabin.
→ Check prices & availability on Local Rent
---
More Georgia accommodation inspiration
---
Epic Georgia nature cabins: Share it on Pinterest