A guide to visiting 11 of the best natural hot springs in Georgia, including thermal pools and sulfur geysers plus mineral water swimming pools.
About the author: Originally from the UK, Rebecca Blackmore has lived in Georgia with her partner since September 2020. She loves pub quizzes, superhero movies, and documenting her travels through photography and writing.
Hot springs have been part of life and culture in Georgia since at least the 5th century.
Bathhouses gained popularity in the 13th century and were used for much more than bathing. Georgians would come to socialise, to debate the issues of the day, and mothers would even use the baths to assess a bride's suitability for their son.
During the Soviet era, workers from across the Union would travel to Georgia to visit the thermal baths, exercising their 'right to rest' as afforded to them by the constitution.
Thermal waters have traditionally been used to treat a variety of ailments such as skin conditions, joint pain, and digestive complaints, and doctors could prescribe a course of balneological treatment usually lasting 14-21 days.
There are hundreds of natural hot springs in Georgia – ranging from thermal spas to sulfur geysers – as well as cold springwater pools. Here are 11 of the very best to visit.
---
Please note: This post contains affiliate links, meaning I may earn a commission if you make a purchase by clicking a link (at no extra cost to you). Learn more.
---
Natural hot springs in Georgia
Map of mineral pools & natural hot springs in Georgia
---
1. Tbilisi Sulfur Baths
Natural hot springs are an integral part of Tbilisi's history and culture. In fact, the name Tbilisi comes from the Georgian for 'warm place', a name given by 5th century King Vakhtang after he discovered the springs whilst hunting.
Abanotubani district is the place to go for thermal baths in Tbilisi, containing most of the remaining bathhouses in the city. At its peak, there were over 60 bathhouses operating in the district; now only around 10 remain. Waters are rich in sulfur and sit at a comfortable 38-40 °C.
This part of town is particularly photogenic, with the pretty tiled facades and brick domes rising from the rooftops of the bathhouses.
Most bathhouses offer public and private options, as well as kisi scrubs and massages.
Read a detailed guide to the different bathhouses in Tbilisi here.
Location: Abanotubani & Chugureti districts
---
2. Borjomi Sulfur Pools
Located deep in the forest at the far end of Borjomi Central Park, the Borjomi open-air sulfur pools are one of the town's top attractions. There are three pools, including one for children, plus changing rooms, toilets, and a cafe bar – although visitor reviews vary as to whether these facilities are always open.
The water is not as hot as some other pools (32-38 °C on average) and there are no treatments available, but the scenery and fresh air make this an unmissable experience when visiting Borjomi.
The pools are open from 6am daily. Entrance to the park costs 5 GEL, and a ticket to the baths costs an additional 5 GEL.
Borjomi is easily accessible by public transport, either by train or marshrutka minibus from Tbilisi or Kutaisi. 18km from Borjomi you'll find the historic town of Akhaldaba, which also has natural springs.
Location: Borjomi | 41.815841, 43.403739
---
3. Dikhashkho Sulfur Geyser (Vani Sulfur Pool)
In contrast to the comfortable spa experiences on this list, Dikhashkho Sulfur Geyser (AKA Vani Sulfur Pool) is something entirely different. The two small pools fed by a 40 °C sulfur spring are completely natural and located, quite literally, in the middle of a field.
The pools are uncovered and facilities are basic. There is a wooden cubicle to change in, but no toilets, and certainly no spa treatments on offer.
If you are happy to rough it, Dikhashkho Sulfur Geyser offers a unique Georgian hot springs experience.
The pools are open 24 hours a day and are free to enter. It's easiest to visit by car, but it is possible to get to the pools by minibus. Read a detailed guide about visiting the pools here.
Location: Dikhashkho village | 42.104416, 42.587073
---
4. Nokalakevi Hot Sulfur Spring
Like Dikhashkho, Nokalakevi is another 'au naturel' hot spring experience. Water trickles down the hill to the river bed, creating an amazing white 'sculpture' from mineral deposits and painting the ground shades of rust.
You can stand under the waterfall or submerge yourself in the shallow pools that collect on the ground. The water is scorching hot (37-38 °C) – luckily, you can jump straight into the river to cool off.
Again, there are no changing or toilet facilities but the water cascading down the travertine formations creates a fascinating effect and is well worth a look if you are in the area.
It's a good idea to come with your own car or hire a driver from Kutaisi or Zugdidi to visit Nokalakevi. While you're in the area, visit the magnificent Nokalakevi Fortress, which is just down the road.
The pools can be a bit tricky to find, so check out this guide for details.
Location: Jikha | 42.365933, 42.194810
---
5. Tskaltubo Spa Resort
The first bathhouses were built in Tskaltubo in the 1870s, but the town really found fame during the Soviet era. Up to 125,000 people from across the Union came to enjoy the radon-rich 'Waters of Immortality' at this famous resort every year, including (allegedly) Stalin himself.
Present-day Tskaltubo is a far cry from those glory days and many of the sanatoria are now abandoned. Those that aren't are home to internally displaced persons (IDPs) who were forced to leave their homes during the war in Abkhazia in the early nineties.
Many of the sanatoriums have been sold to private investors but so far, only one, now known as Tskaltubo Spa Resort, has been restored.
There are currently two working spas in Tskaltubo: Balneoresort Tskaltubo (Bathhouse Number 6) and Be Healthy (Bathhouse Number 2). Both are designed for residential treatment packages and unlike the other places mentioned here, there is no public pool that visitors can use just for a day.
Even if you don't indulge in any spa treatments, the semi-abandoned town is a fascinating place to explore and is easily reached from Kutaisi by taxi or minibus. Read a detailed guide to visiting here.
Location: Tskaltubo | 42.321950, 42.599052
---
6. Abastumani Sulfur Baths
Made famous in the 1890s when the brother of Tsar Nicholas II received treatment for Tuberculosis here, Abastumani was where the elite of the Russian Empire spent their summers.
During the Soviet era, several sanatoria were built and the town became a popular health resort, particularly for the treatment of respiratory diseases because of the exceptionally clean air.
The town lost popularity after the fall of the Soviet Union and today only the public pools remain open. The Royal Baths, once used by Georgy Romanov himself, are currently undergoing renovation.
The public pools are basic but the benefits of the waters are the same. Admission costs 10 GEL for adults and the baths are open from around 7am until late.
The easiest way to visit Abastumani is to take a minibus from Akhaltsikhe. It's important to note that the spa town is a few kilometres outside of the village so you will need to walk or take a taxi for the last part of the journey. Read a guide to visiting here.
Location: Abastumani | 41.743340, 42.834534
---
7. Sairme Thermal Spa
Legend tells that Sairme was discovered by two hunting brothers who named it 'deer's place' after witnessing deer drinking and eating salt from the spring. In the 1920s, geologists discovered the mineral waters, and in the 1930s Sairme became a sanatorium town of the Soviet Union.
Nowadays, visitors can reap the benefits of the healing waters by visiting the luxury resort, one of the largest thermal resorts in Europe, built on top of four springs. The different springs have different mineral compositions and are prescribed to treat different ailments.
The resort has a spa with a pool filled with thermal water, a salt room, and wet and dry saunas. There is also a clinic that can perform medical diagnostics and treatments.
Sairme is around an hour's drive from Kutaisi and is currently not possible to reach by public transport. A transfer with GoTrip costs around 120 GEL. Read a guide to visit Sairme and Baghdati here.
Location: Sairme | 41.936841, 42.753677
---
8. Nunisi Resort
Legend has it that the famous Georgian King David the Builder stopped at the village of Nunisi on his way home from battle. His injured horses bathed in the waters and were healed, prompting the king to make a donation to the local church, which is still standing today.
In 1856, a resort was built in Nunisi, and now visitors can enjoy the natural springs whilst staying at Nunisi Forest Hotel and Spa. The waters here are especially suited to treating skin conditions because they contain high levels of silicic acid.
It is difficult to reach Nunisi by public transport, so a car is recommended. From Tbilisi or Kutaisi, it is possible to take the train to the nearby town of Tsipa and complete the journey by taxi.
Location: Nunisi | 41.951574, 43.407060
---
9. Torghva Sulfur Bath
Located high on the treacherous Abano Pass, Torghva Baths is named after a legendary hero who is fabled to have bathed in the healing waters after a hard battle. The 13 natural springs are a steady 36.5 °C and have been used for centuries for climatotherapy and weight loss treatment.
The bathhouse is basic – a couple of tiled pools in a tin-roofed house – but the incredible views of Tusheti and Kakheti are second to none. If you are heading this way, why not take a short detour and go for a dip?
The Abano Pass is one of the highest roads in Europe and is completely unpaved. A 4×4 is required and the road is only open during the summer. If you plan to make this journey, I would strongly recommend hiring an experienced driver.
Location: Chkhatana | 42.254658, 45.493301
---
Mineral water pools in Georgia
10. Okronishi Fountain (Lailashi Secret Pool)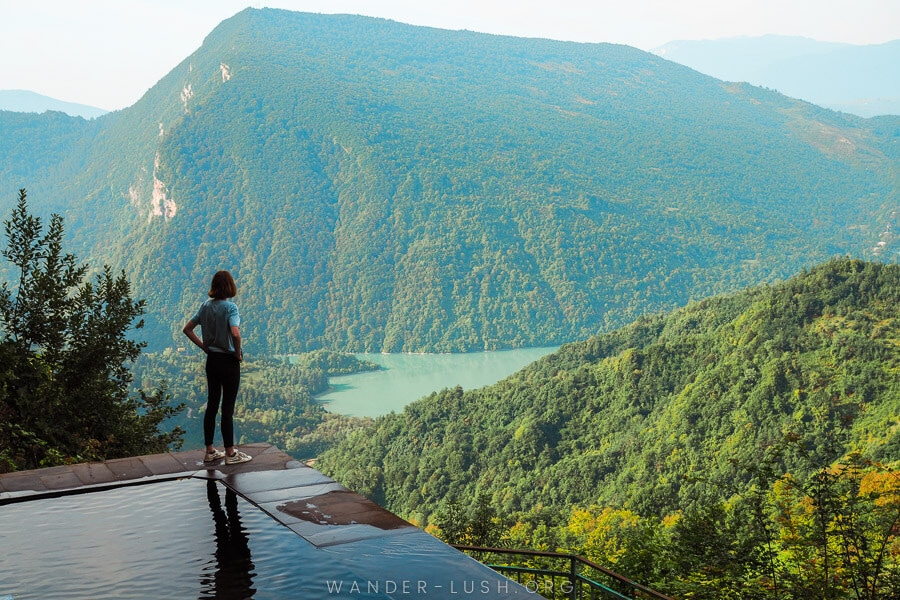 Located in the remote village of Lailashi in historic Lechkhumi region, the Okronishi Fountain, better known as Lailashi Secret Pool, is an open-air springwater pool set high in the mountains.
The pools are linked to Lailashi's Silk Road heritage and Jewish history. Recently restored with funds from USAID, they offer one of the most scenic swimming spots in Georgia.
Change rooms and a summer cafe are located onsite. Entry is free. The spring water is freezing cold so it's best to visit in the warmer months if you want to swim.
In winter, the area is covered with snow and ice. The road up to Lailashi from the Lechkhumi highway is steep and unpaved, thus a 4WD is required.
Location: Lailashi village | ​​42.607399, 42.860016
---
11. Pansheti Natural Swimming Pool
Relatively unknown to tourists, there is an open-air spring water pool located 2.5km from Stepantsminda (Kazbegi). Unlike the thermal pools in Georgia listed above, this natural pool is ice cold, so it's best experienced on a hot day!
Currently, there are no changing or toilet facilities, but there are plans for a new pool complex that will be well-equipped and accessible year-round.
You can reach the Pansheti Pool by car (4WD recommended) or by taking a pleasant 30-60 minute walk from Gergeti to Pansheti village.
Location: Pansheti village | 42.646156, 44.629181
---
More ideas for Georgia
---
You might also be interested in…