Only have one day in Naples? Napoli is perfect for a quick city break – you'll be surprised how much you can squeeze into 24 hours. This short Naples itinerary will help you see (and taste!) the best of Naples in a day.
You can keep Rome, Florence and Milan – I'll take Naples any day of the week.
Italy's third-largest city is often overlooked by travellers or treated as a whistle stop on the way to the Amalfi Coast or Pompeii. If you ever get a chance to spend a day in Naples, take it.
This offbeat city is truly something special.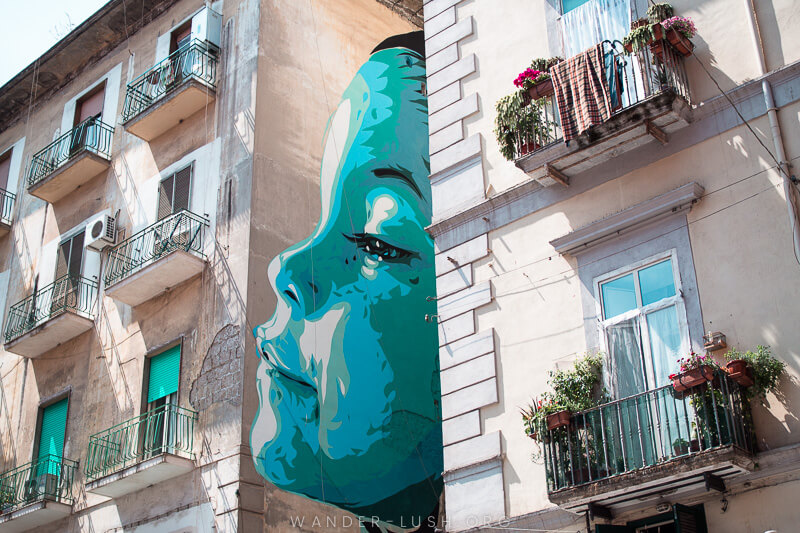 Admittedly, my preconceptions of Naples were almost entirely shaped by the TV series Gomorrah. But it only took a couple of hours to decide that Napoli is my kind of place.
This beautiful city has all the history and charm of any Italian metropolis, layered with just enough grit to give it a totally unique character. In a way, Naples reminds me more of cities in Southeast Asia than Europe.
We only had a short while to spend in Naples, so we wanted to keep things budget-friendly while soaking up as much of the city as possible. We wanted to focus on free attractions and cool neighbourhoods, walking, people-watching, sipping Italian coffee – and of course eating as much as humanly possible.
This tried and tested one day Naples itinerary will help you make the most of a layover or short stay in Napoli.
---
Please note: This post contains affiliate links, meaning I may earn a commission if you make a purchase by clicking a link (at no extra cost to you). Learn more.
---
Is one day in Naples enough?
Honestly? No.
I'm the sort of traveller who likes to wander aimlessly for hours, grazing on food and photographing street scenes. Naples may not be the prettiest city in Italy, but its grungy charm makes it perfect for exploring by foot. With just a day, I felt a little rushed to squeeze everything in.
However, if you plan ahead, you can see a lot of Naples in a day. Just know that it will be fast-paced. My top tips are to choose central accommodation and take advantage of the city's metro system to get around.
To make the most of your time, consider joining one of the guided tours or experiences recommended here. Otherwise, freestyle and see where you end up!
How to get to Naples city from the airport
If you're flying into Naples, one thing you'll definitely want to plan in advance is your airport transfer. Conveniently, Naples' International Airport is less than 10km from the city centre.
The easiest way to get in is using the Alibus Airport Shuttle. A ticket costs just €5, and it's a 45-minute ride to Naples train station or Piazza Municipio. Buses run every 20 minutes from 6.30am until 11.50pm seven days a week. You can find more information and timetables here.
Alternatively, you can organise a private transfer by minivan to your hotel. Starting fro just $30 per group, the private transfer is very reasonably priced, and pick up is available in the arrivals hall 24/7.
---
Moving around Naples
Naples is a large city so if you're planning to venture beyond the historic core, you'll probably find yourself using public transport. Trams, buses and a metro system are all available.
If you're staying somewhere central (recommended if you only have a limited amount of time in Naples), it's easy and preferable to get around on foot. I recommend riding the metro at least once, if only for the experience (and to see the quirky station artwork – more on that later).
Hourly metro tickets cost €1.50 (or €4.50 for a daily ticket) and can be purchased from ticket desks and machines located inside each station.
Where to stay in Naples
When we visited Naples, we stayed at Le Stanze di Flora, a centrally located apartment-hotel close to Santa Chiara. Set in a local residential building, it has a wonderful vibe – leafy courtyards, tiled balconies, and an old elevator that you can pop a coin in to hear a piano song!
Our roomy self-contained apartment slept 3-4 people, with a full kitchen, private bathroom and a washing machine. We also had a small private terrace. We paid a very reasonable €45 per night, plus a city tax of €2 per person per night. That includes breakfast (a coffee and a pastry) at a nearby cafe.
I've been to Italy half a dozen times now, and this was the best value-for-money accommodation I've stayed at anywhere in the country. I highly recommend it.
If Le Stanze di Flora is not available, another great option nearby is Santa Chiara Boutique Hotel.
---
---
What to do with one day in Naples
This Naples one day itinerary samples the best architecture, historical sights, churches and restaurants that Napoli has to offer. If you only have one day to spend in Naples, this will give you a nice overview of the city.
As is my travel style, this itinerary has a strong focus on culture, history and cuisine.
Start your morning at the Mercato Pignasecca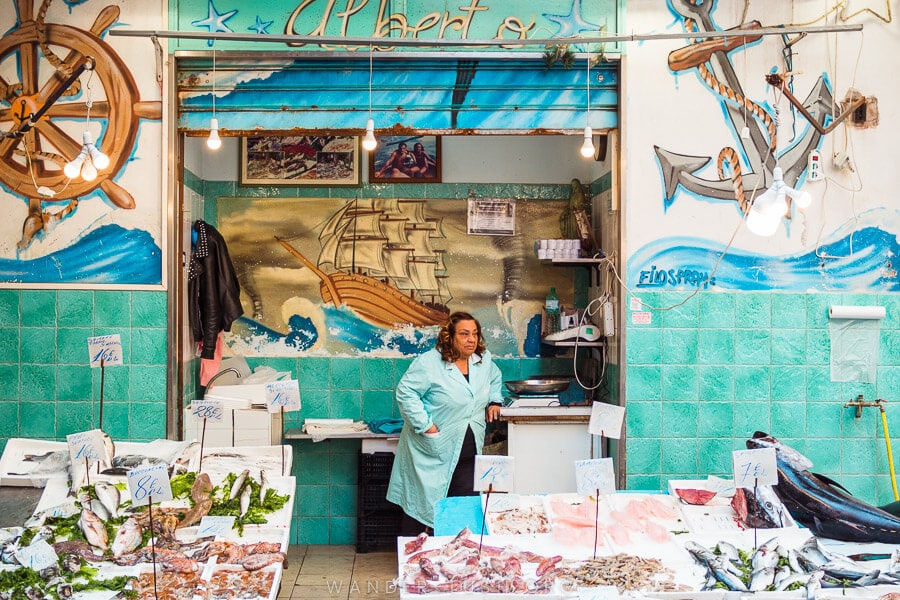 Whenever I visit a city for the first time, I always like to start at the local market. There's no better place to gain an insight into local food and culture.
Italy's markets, as I'm sure you're well aware are particularly enigmatic. La Pignasecca is the largest and oldest outdoor marketplace in Naples, responsible for feeding the city in one way or another for well over 500 years.
Sunday, family day, is the best time to wander the streets and alleyways that make up La Pignasecca. Many Neopolitan families follow a regimented Sunday routine: Church, followed by watching a football game, and feasting. Buying just-plucked produce and still-steaming pastries from the delis and grocers around the market is an integral part of the tradition.
You can visit La Pignasecca any day of the week, however – the shops and informal stalls alike are perpetually chokkas and the atmosphere is electric. Some vendors specialise in hand-formed cheeses or pasta, others present bountiful displays of fruit and veg, and there are plenty dedicated entirely to seafood from the gulf.
From gnarly tripperias (tripe shops) to pretty pasticcerias, it's a feast for the senses.
Wander the charming streets of Santa Chiara
The throng of La Pignasecca bleeds over into the Santa Chiara neighbourhood, just east of the market area. This neighbourhood takes its name from the medieval Santa Chiara complex, which includes a church, monastery, cloisters, tombs, and an archeological museum.
The Monastero di Santa Chiara is free to enter and well worth a wander to see the beautiful gardens and majolica tiles.
As you thread your way through narrow streets between the neighbourhood's palazzo and piazzas, you'll find sweet curios shops and artists with their easels propped up against almost every facade.
The pedestrianised streets are clotted with cafes and biscotti shops. Narrow alleys lead up the hill, apartment buildings pressed together and strung with laundry lines. It's all very photogenic.
Visit the mind-bending Chiesa del Gesù Nuovo
The Chiesa del Gesù Nuovo, Church of the New Jesus, is probably my favourite church in all of Italy. Located adjacent to Santa Chiara Monastery, what I love most about this building is the juxtaposition between the facade and the interior.
When you catch your first glimpse of the church's 15th-century facade from across Gesù Nuovo Square, you'll probably think it's a bit of an eyesore. That was certainly my reaction. The exterior is comprised of monotone, three-dimensional stone blocks with almost no decoration – the complete opposite of what you expect from an Italian church. Indeed it looks almost Brutalist.
If you think Chiesa del Gesù Nuovo is ugly, prepare to have your mind changed as soon as you step over the threshold. The interior is opulence taken to the absolute extreme.
The view towards the main altar as you enter is absolutely awe-inspiring. From the gold-tinged roof domes and vault frescos, to the polychrome marble columns that reveal elegant patterns in a rainbow of stone, all the way to the carved pews and inlay floors, every detail is on-point.
That's to say nothing of the collection of sculptures and religious effigies dotted around. It takes several minutes to drink in all the details of the main nave (and a lot longer to explore the nooks and chapels), so you definitely don't want to rush your visit.
If I could only recommend one church to visit in Naples, it's this one.
Snack on a sfogliatelle
If you have a sweet tooth, you're in luck – Napoli is known for its baked treats. One day in Naples should be enough time to sample a good cross-section of the city's best pastries.
First on your sugar wish-list should be sfogliatelle, a shell-shaped pastry that's famous in Campania region. The flaky pastry exterior is a thousand kinds of crispy. Paired with soft, moist, flavoursome filling of orange-flavoured ricotta (traditional), almond or pistachio, it's dangerously good.
There are dozens of pasticcerias around Naples that specialise in sfogliatelle. Everyone has their favourite. Pasticceria Giovanni Scaturchio is a solid choice; it's conveniently placed just up the road from Chiesa del Gesù Nuovo on the way to your next stop on this itinerary. A little further up the road, Sfogliatelle Attanasio is a family-run shop and favoured by many locals.
If you don't mind a quick detour, Cuori di Sfogliatella near the train station is also worth trying. It's far more commercial and less charismatic, but they have some wonderful contemporary flavour combinations.
View the Veiled Christ at the Sansevero Chapel Museum
In a city where you can find a museum on just about every corner, the Sansevero Chapel Museum (Museo Cappella Sansevero) stands out as one of the most unique institutions.
Firstly, the building itself, a converted 16th century chapel, is just beautiful. The curated display inside contains just 30 sculptures and artworks, so you can really hone in on the craftsmanship and story behind each object.
The real masterpiece here is the Veiled Christ. Created by Naples-born Giuseppe Sanmartino in 1753, it's considered one of the world's most important sculptures. It depicts Jesus Christ covered by a transparent shroud, all carved from the one block of marble.
If you can imagine the technique and attention to detail required to carve a tissue-thin cloth from stone – and then to get the perspective just right so that it reveals the facial features in some places, and drapes and folds in other places… It's truly remarkable. The revenant aura that fills the place will give you a new appreciation for religious artworks.
The Sansevero Chapel Museum is open from 9am Wednesday to Monday (closed Tuesdays). Entry costs around €8. If it's not open or you prefer something different, the nearby National Archaeological Museum is a good alternative.
Eat pizza Napoletana at L'Antica Pizzeria da Michele
Napoletana pizza is a must-eat in Italy: You simply cannot come to Naples, the birthplace of the classic pizza, and not eat at least one. 'Pizzaiuolo', the name given to the four-step process of making the dough and preparing the pizza, is so revered in Naples, it's recognised by UNESCO as an element of Intangible Cultural Heritage.
Naples is home to more than 3,000 expert Pizzaiuoli (pizza artists), which means there are a lot of bottegas to choose from come lunchtime. The most iconic is L'Antica Pizzeria da Michele, a much-loved Naples institution and famously the spot where the protagonist in Eat Pray Love had her out-of-body pizza experience.
I can attest that it really is that good!
There's always a long queue out the front – but don't worry, there is a method to the apparent madness. First, take a numbered ticket from the attendant and wait to be called. Once seated (and you might have to wait for up to 90 minutes), you can order your choice of Marinara or Margherita. Whatever you do, don't even think about sharing. The thin-as crust and sparse toppings are light enough to devour even as a generous snack.
Everything is cooked to order in the wood-fired oven at the back of the shop. We were lucky that we got a table right near the open kitchen so we could watch the whole process play out.
If you want to avoid the long wait, you can order a pizza to go and eat it in a park nearby. But the process of waiting in the crowd, tummy grumbles getting louder by the second, then eating in the cramped restaurant, packed in like a sardine, is an important part of the experience.
Pop into Naples Cathedral
Once lunch is taken care of, I recommend cutting through to Museo Metro Station to continue your Naples adventure. This involves walking past yet more beautiful churches and monasteries, including the Neo-Gothic Cathedral Santa Maria Assunta, Naples largest church and seat of the Archbishop.
If you have time, pop inside to see the 4th-century mosaics. If not, simply pausing for a moment to gaze up at the facade is enough. It's an amazing contrast to the Chiesa del Gesù Nuovo.
Ride the metro to Toledo Station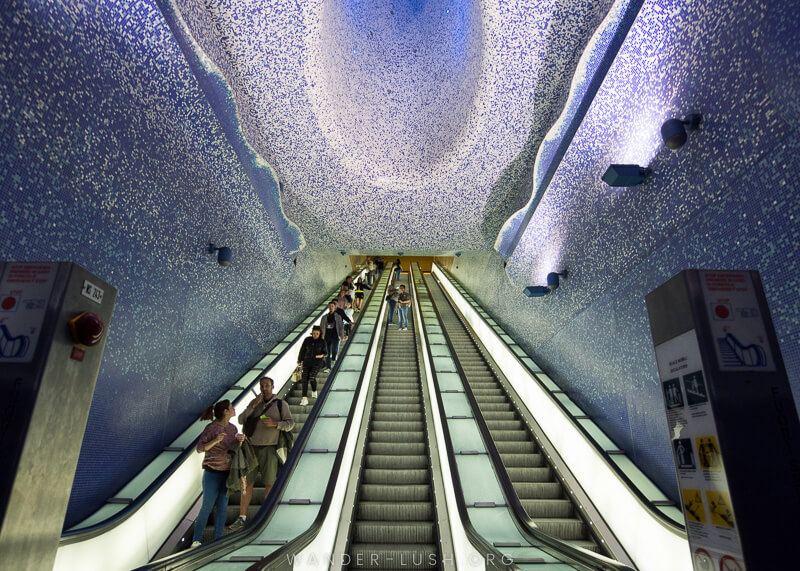 Naples underground metro system is a terrific way to spirit yourself around the city in a snap. You will want to spend what's left of your one day in Naples in the southern part of the city, so taking a quick metro ride is a great option here.
The metro is more than a way to get from A to B – it's an attraction in and of itself. The Art Stations of Naples Metro is a city project that's seen a dozen of the stations transformed into immersive art installations, each the work of a talented local or international creative, with more than 90 artists and architects involved.
If you only see just one metro station in Naples, make it Toledo. In 2012, the Daily Telegraph declared it the most beautiful metro station in all of Europe.
The design is a collaboration between architects, art critics and sculptors from around the world. One of the most striking parts is two mosaic walls by South African artist William Kentridge. The lower part of Toledo takes its inspiration from 'water and light', and it does indeed feel like you're standing beneath the surface as you peer up at the escalators enveloped in a sparkling indigo mosaic.
A ride on the Naples Metro costs €1.50. Tickets can be purchased from machines just inside the station building. The ride from Museo to Toledo via the L1 Line takes just 4 minutes.
Walk yourself down Via Toledo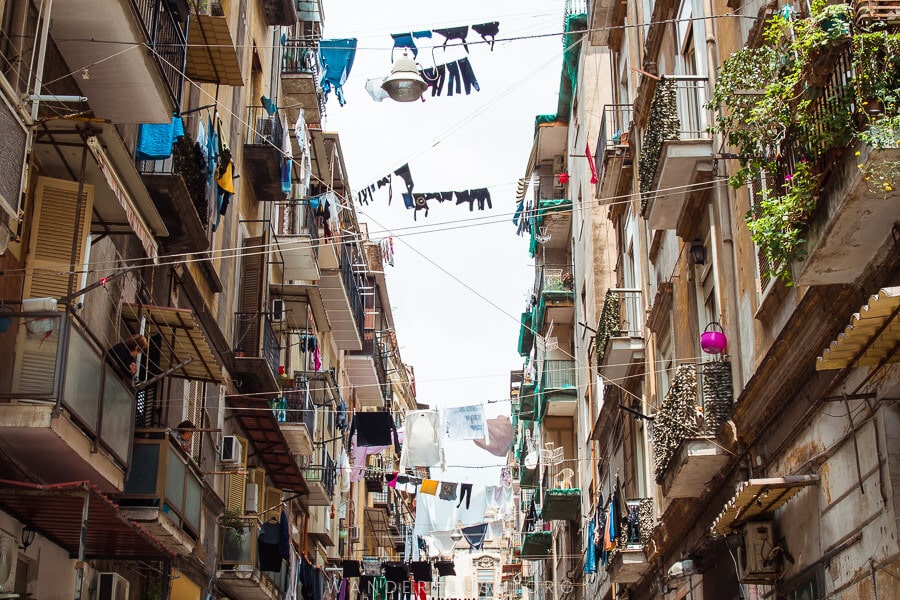 Once you arrive at Toledo Metro Station, take some time to immerse yourself in the station building before you emerge back into the light of day. The street outside is a complete mental flip from the peaceful depths of the underground metro ecosystem.
This is Via Toledo, one of Naples' oldest streets and most important thoroughfares. It runs for 1.2km north-south through the city, and after the metro station, turns into a narrower, cobbled pedestrian street. This is the best section to explore by foot, and coming out of the metro you'll be perfectly positioned to start the slow amble south.
It would be redundant to and rattle off a laundry list of all the important churches, monuments and squares along this walking route. Simply follow the crowds, let your nose lead you down the side streets, and see what you can find.
One place you should definitely bookmark for a pitstop is Pintauro, a small and difficult-to-spot bakery roughly two-thirds of the way down Via Toledo. This shop started trading in 1818 and belongs to the family of Pasquale Pintauro, the first pastry chef in Naples to acquire the recipe for sfogliatelle. Needless to say, the true-to-original rendition is pretty darn good.
If you have some extra time up your sleeve, Quartieri Spagnoli, the neighbourhood that creeps up the hillside to the west of Via Toledo, is another lovely suburban area to wander around.
Gaze at Galleria Umberto I
Once you reach the end of Via Toledo, head east to find the entrance to Galleria Umberto I, another Naples icon and probably the most photogenic spot in the entire city.
The undercover shopping arcade was built in the 1880s and inspired by similar designs in Milano. Standing at the apex of the Galleria where the two branches meet, you can appreciate everything that went into the design. It's not that dissimilar from standing in the cathedral and gazing at the altar: Only this is a place to worship commerce.
The most impressive feature is the glass dome and its 16 metal 'ribs'. Four glass-vaulted wings connect the arcade to Via Toledo and surrounding streets. Part of UNESCO's Historic Centre of Naples, Galleria Umberto I is a lynchpin of local life and a symbol of the risanamento, the systematic rebuilding of Naples in the years leading up to WWI.
Visit two of Napoli's most iconic piazzas
Exiting the Galleria to the south will put you directly in front of the grand San Carlo Theatre (which happens to be the world's oldest working opera house), and the Royal Palace of Naples. From here, you can wander through two of the city's most important piazzas: Piazza Trieste e Trento and Piazza del Plebiscito.
The pedestrianised Piazza del Plebiscito is particularly nice in the afternoon. Do a lap or two to take in the architecture around the square – some of the most important buildings in Naples have real estate here.
If you want to see a show later in the evening, you can check the program for the San Carlo Theatre here and buy tickets at the box office.
Watch the sunset at Castel dell'Ovo
From the Piazza Trieste e Trento, it's a 20 minute stroll to one of the best places in Naples to watch the sunset, Castel dell'Ovo. You have the option of seeing the sun go down from the peninsula, or watching the golden light bathe the castle itself from a viewpoint along Via Partenope. Either way, it's worth seeing the 'Egg Castle', the oldest remaining fortification in Naples, up close.
The castle is open from Monday to Saturday until 6.30pm (2pm on Sundays). Entrance is free.
On the Borgo Marinari marina below the Castel dell'Ovo, there are a handful of restaurants where you can grab a seafood dinner – the perfect end to a successful day in Naples!
---
Day trips from Naples
Naples is the gateway to some of Italy's most important archaeological sights and debatably the most picturesque stretch of coastline in the entire country.
If you have more time in Naples and you're satisfied you've seen the highlights, you can either use intercity trains or join a guided excursion to explore more of Campania.
We took a day trip to Herculaneum from Naples and absolutely loved it. For something a little more offbeat, Ventotene Island (the smallest of the Pontine archipelago, some of the most beautiful islands in Italy) is a welcome retreat from the busy Amalfi Coast.
---
Naples travel FAQ
Is it safe to walk around Naples?
Something you hear time and time again is that Naples is an unsafe city. Personally, I didn't feel unsafe at all. Yes, crime is a fact of life (as it is everywhere), but tourists are rarely targeted. Pickpocketing does happen so it's important to keep your valuables safe and be aware of your surroundings at all time.
Stay in a busy area (Santa Chiara is ideal – avoid the Scampia area in the north of the city), avoid walking alone at night, and lock the door to your accommodation. Take these few common-sense safety precautions and you will be perfectly safe when you visit Naples.
Is Naples cheap?
We found Naples to be very affordable, especially when compared to bigger cities in Italy such as Rome and Florence. Part of the reason for this is that Naples is one of the less affluent cities – prices are lower because locals earn less.
Naples has a great public transport network and street food scene, which makes getting around and staying fuelled a breeze for those on a budget.
Here are some of our expenses for two people:
10 Euro on the airport bus
16 Euro for a local SIM card
7.50 Euro for a light lunch
4 Euro for a sweet bakery snack
6.60 Euro for metro tickets
---
Italy essentials
Here are some helpful websites and resources you can use to organise your trip to Italy.
FLIGHTS: Find affordable flights to Italy on Skyscanner.
TRAVEL INSURANCE: Insure your trip with HeyMondo, my preferred provider for single-trip and annual travel insurance.
SIM CARD: Buy an eSIM and data package for Italy online before you go. My top choice is the Eurolink eSIM from Airalo (10 GB for 30 days).
ACCOMMODATION: Find the best hotel deals in Italy on Booking.com.
CAR HIRE: Find the best price on a hire car in mainland Italy or Sicily using Discover Cars.
DAY TOURS: Book skip-the-line tickets, city tours and day excursions in Italy using Viator.
FOODIE EXPERIENCES: Find the best food tours and cooking classes in Italy on Cookly (use the promocode EMILYLUSH to get 10% off).
---
More Italy inspiration
---
One day in Naples: Share it on Pinterest