Tbilisi in spring is a wonderful thing! Here is my guide to spring travel in Georgia's capital, including the best springtime activities, festivals, seasonal food and wine to try, plus my packing tips for spring weather.
No matter where you are in the world, the passing of winter and coming of spring has a way of lifting your spirits. If you've been to Tbilisi in any other season and wondered if this city could get any more enchanting, the answer is yes – Tbilisi in spring is next level.
Also read: Visiting Tbilisi in winter.
Springtime is all about clear blue skies, warm days and brisk evenings. By April, the city is wreathed in green foliage and white and pink cherry blossoms and magnolia flowers. Much of Georgia's best local produce comes into season, the grape vines start bearing fruit, and lots of different cultural events and festivals appear on the calendar. Along with autumn, spring is my favourite time of year to visit Georgia and Tbilisi.
Having said that, spring can be quite volatile weather-wise. Temperatures are unpredictable, so you never really know what you're going to get. The only guarantee is rain. May is the wettest month of the year in Tbilisi, so it's essential to pack the right gear (see my tips below) and incorporate a few indoor activities into your itinerary.
---
Please note: This post contains affiliate links, meaning I may earn a commission if you make a purchase by clicking a link (at no extra cost to you). Learn more.
---
When is it spring in Tbilisi?
Georgia is located in the Northern Hemisphere, so spring falls in March/April/May.
March equinox, the official start of astronomical spring, is marked around the third week of March. You can usually feel spring in the air in Tbilisi from early March onwards, but the weather isn't consistently warm until after Orthodox Easter (late April/early May).
By mid-May, spring has well and truly sprung. Temperatures are noticeably warmer and with the extra rain, the city's green spaces come into their own.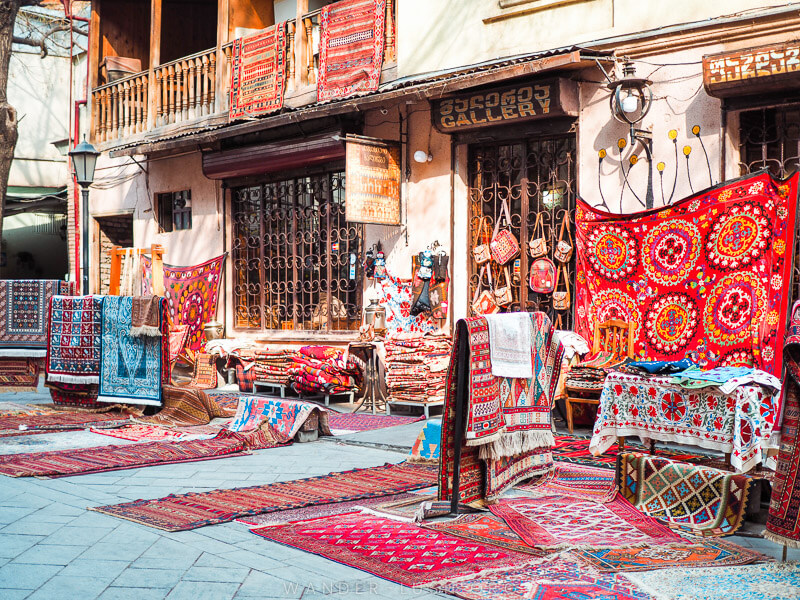 What is the weather like in Tbilisi in spring?
Tbilisi is one of those cities that gets quite cold in winter and oppressively hot in summer. In spring, you can avoid both extremes and enjoy generally pleasant daytime temperatures of 11-23 degrees Celsius (52-73 Fahrenheit). Nights are a little chillier, dropping down to 2 Celsius (35 Fahrenheit) in March and a perfect 11 Celsius (34 Fahrenheit) by May.
Spring weather in Tbilisi can be very unpredictable. Before our first trip to the Caucasus (we travelled in March through May), we asked a local what to expect – and her response was 'expect anything'.
'Moody March' brings heavy rain one day, roaring winds the next, unexpected snowfall – and just when you're least expecting it, brilliant sunshine. Inclement weather and rainfall is unavoidable, especially in May, which is the wettest month of the year. On the plus side, the rain does clear the valley of pollution and dust, giving you nice bright skies and clean air (poor air quality is an issue in Tbilisi in summer).
What to pack for Tbilisi in spring
Wet weather gear is essential – I recommend a fold-up travel umbrella and a lightweight travel raincoat that you can carry in your day pack at all times.
Waterproof shoes aren't necessary if you're staying in the city, but if you plan on trekking in the national parks or mountains around Tbilisi, then you should also bring quick-dry clothing and proper waterproof boots.
Note that the climate in other parts of Georgia differs considerably to Tbilisi, and you'll get vastly different conditions in Kutaisi, Batumi, and especially in the mountainous regions. Keep this in mind when planning your Georgia itinerary.
Also read: My Georgia packing guide for all seasons.
What to wear in Tbilisi in spring
Spring is jeans-and-a-jacket weather. It does warm up during the day, especially if you're out in the sun or on the metro, so I recommend layering.
As an example, I might wear jeans, a t-shirt, a light jumper plus a denim jacket in Tbilisi in mid to late-spring. Bring a warm layer for the evenings and if you're travelling in early spring, you'll need a warmer shell jacket. It's always good to have a lightweight scarf with you as well.
There's usually one last cold spell in March or early April, when everyone reverts to thermals and gloves for a day or two. You don't want to get caught out, so I recommend checking the forecast before you travel and adjusting your pack accordingly.
Pros & cons of visiting Georgia in spring
Before we go on, here is a quick run-down of the pros and cons of travelling to Tbilisi in spring.
Pros: Shoulder season so fewer tourists around; Lower prices & greater availability on tours & hotels; Spring flowers & produce; Ideal weather for hiking; Orthodox Easter & other festivities; Lots of awesome things to do!
Cons: Mountain roads to Tusheti & Ushguli are still closed; Temperatures are unpredictable, which makes packing a bit more challenging; May is the wettest month of the year in Tbilisi.
---
23 splendid activities for Tbilisi in spring
Now that you have an idea of what to expect weather-wise, here are my top recommended things to do during spring in Tbilisi. I've chosen these activities specially because they're weather-appropriate and most suitable for spring conditions.
Essential reading: The best things to do in Tbilisi in any season.
1. Hunt down Tbilisi's cherry & magnolia blossoms
Move over Tokyo – Tbilisi is blooming.
OK OK, Georgia's sakura might not be as abundant or picturesque as Japan's, but there are some really lovely gardens around Tbilisi that start to unveil their blooms in late March. If, like me, you had no idea Georgia even had cherry and apricot trees, you're in for a nice surprise.
Rike Park in central Tbilisi has some lovely specimens, and you can find a special sakura garden inside the Botanical Garden. Otherwise, there are cherry blossoms and magnolia trees scattered all over the city, often in places you wouldn't expect.
There's one particular tree outside Cafe Leila in the Old Town that always brings a smile to my face when its delicate little white flowers start to pop.
Later in the season, the fruits of these trees will be used to make the jams and preserves that are wildly popular in Georgia, especially when served on top of cottage cheese pancakes for breakfast. Compote, a delicious homemade lemonade prepared with fresh fruit, is one of my favourite things to sip on a warm spring day.
2. Relax by the lake
At the first whiff of warm weather, Tbilisians flock to one of the man-made water reservoirs and natural lakes in the hills around the city. Tbilisi Sea, Turtle Lake and Lisi Lake are all popular and easily accessible from downtown using public transport.
Catch some rays, have a paddle, or hire a boat. Cafes and open-air bars around the lakes awaken from winter hibernation and start serving food and drinks around May. If you're looking for a nice way to spend a spring afternoon in Tbilisi, this is how the locals do it.
3. Go hiking in the Botanical Gardens
It's not obvious at first glance, but one of Tbilisi's most impressive green spaces is located right in the heart of the Old Town.
Tucked away in the foothills behind Narikala Fortress, the National Botanical Garden of Tbilisi City covers more than 160 hectares and houses 4,500 species of flora and fauna. First established in 1845, it's second only to Batumi's Botanical Garden in terms of national importance.
There are a number of hiking trails within the garden that you can use to explore the grounds and earn panoramic city views. There are at least two waterfalls where you can cool off too. If you hike east to west, you will emerge out the other side near Sololaki, where you can continue your spring stroll through one of the city's oldest neighbourhoods.
For more serious hiking close to Tbilisi, I recommend the National Park of Tbilisi on the city's eastern fringe. A popular route is from Norio village to Martkopi Monastery. I'm going to try it myself in the coming months so I'll report back with more details soon!
4. Dine al-fresco
Spring may be prime time for walking outdoors, but it's also the best time of year for sitting outdoors.
Tbilisi has a mix of underground cellar-like restaurants and more contemporary outdoor cafes. The former are cosy in winter and refreshingly cool in summer; but in spring and autumn, you're going to want to eat al-fresco as often as possible.
Sophia Melnakova's, Cafe Littera and Shavi Lomi all have beautiful yards where you can dine or drink in the shade of blossoming grape trellises. For a full list of recommendations, check out my guide to Tbilisi's best restaurants.
5. Eat spring produce
Summer, autumn, winter or spring – eating laps around Tbilisi is a highlight of any visit to Georgia. These days, you can find just about every cuisine under the sun in Tbilisi, but classic Georgian food will always be my favourite.
I've said before that Georgian cuisine is perfect for winter – many dishes are rich, aromatic and protein and carb-heavy. Equally, there are lots of lighter dishes on the menu that are made for warmer weather and are particularly scrumptious when prepared with spring-fresh produce.
A good example is chakapuli, a bright, spicy lamb stew made with tarragon. You can order it year-round but traditionally it's made at Easter time. Tkemali (a very sharp sour plum sauce) is a spring and summer staple on every dining table.
Similarly, pkhali and pickled jonjoli (bladdernut) are perennial staples, but particularly vibrant when prepared with fresh spring veggies and herbs. Ekala pkhali is a special version that uses sarsaparilla vine, which grows in Georgia's eastern Kakheti region in spring.
6. Drink new-harvest wine
Along with mouthwatering cuisine, Georgia is known for its wine. There are wine bars all over Tbilisi where you can sample European-style wines and traditional qvevri wines (wines fermented underground in large clay vessels) by the glass. My favourite is 8000 Vintages, where you can a full sit-down wine degustation.
Saperavi semi-sweet reds and amber whites are my two favourite varieties of Georgian wine. Spring weather gives you ample opportunity to try both – sip a chilled amber with lunch, then cosy up with a bottle of red in the evening. In May, the New Wine Festival celebrates the release of last season's vintage. This is when you can get your first taste of the fresh wines on the scene.
If you're not a fan of wine, there are other springtime specialty drinks to try, including much sought-after 'spring flush' teas from Western Georgia's tea region.
If you're a die-hard oenophile, consider coming back to Tbilisi in early autumn, when the annual wine harvest takes place.
7. Go for a spring clean at the sulfur baths
Visiting the Abanotubani sulfur baths is hands-down one of my favourite things to do in Tbilisi. It's traditionally a winter activity – the hot waters and steamy saunas really do warm you up, body and soul – but it's equally nice to go for a bath in spring, especially in the evening.
Tbilisi's baths are quite different to the ones in Budapest, Marrakesh or even Istanbul. But there are some familiar elements. A traditional kisi scrub – a vigorous rub down with a rough-textured mitt – is your ticket to letting go of unwanted dead skin (and depending on the upper body strength of your therapist, maybe a few layers of skin you did need as well). It's the ultimate deep spring clean.
For my favourite bathhouses and essential etiquette, make sure you read my complete guide to the Tbilisi sulfur baths.
8. Shop for books on Rustaveli Avenue
One way you can tell spring is approaching in Tbilisi is when book vendors start setting up their stalls on Rustaveli Avenue. This is the city's prettiest walking street, lined with grand European facades and sweet gardens, and home to the glorious Georgian National Opera Theater.
In spring, vendors wheel in their wooden bookshelves and set up all along the wide footpaths, transforming the avenue into an open-air library. Browse the stacks of novels and historical volumes in Georgian, Russian and English language while absorbing some soul-nourishing sunshine. You'd be forgiven for thinking you're strolling along the Seine!
The only way this gets any better is if you grab an ice-cream to eat while you're walking. There's a Luca Polare at the top of the street, and I also recommend Cone Culture on the side street opposite the theatre (try the Adjika Vanilla ice cream!).
9. Smell the daffodils at the Orbeliani flower market
Tbilisi's flower market on Orbeliani Square operates year-round, but is particularly fragrant in early spring. Vendors set up inside the arched pavilions and sell giant white lilies, rose bouquets in every shade of pink, and bunches of sun-bright daffodils.
The outdoor market takes place opposite the old market hall (now a Carrefour supermarket), close to Atoneli Street. While you're here, wander around the newly renovated pedestrianised section and admire the 13 restored heritage facades and cute street signs crafted from hand-painted tiles.
10. Celebrate Orthodox Easter in Tbilisi
There are some things you can only do in Tbilisi in spring. Celebrating Orthodox Easter is one of them. More than 85% of Georgians identify as Eastern Orthodox Christian, so Easter – which falls a week or so after Roman Catholic Easter – is always a big deal.
Like in other cultures, Easter is traditionally a time for family. Still, there are lots of ways visitors can join the festivities. The easiest route is through food. Paska, a special Easter cake that has a similar texture to panettone and is flecked with raisins or dried fruit, starts appearing in shops during Lent. The miniature version is the perfect size for an on-the-go snack.
Easter celebrations peak on Saturday, with the most important mass (called Litonioba) held on Saturday night. During the service, the Patriarch gives an address and the Holy Fire, brought all the way from Jerusalem, is ceremoniously presented.
If you want to attend the city's biggest mass, head to the gigantic Sameba Cathedral to join with thousands of other worshippers. Otherwise, quieter services at small neighbourhood churches are just as atmospheric.
Note that Easter is a national holiday in Georgia so some restaurants and shops may close over the weekend, but all essential businesses in Tbilisi remain open.
11. Mark Georgian Independence Day
Georgia has declared its sovereignty twice in recent history.
The country's national day is marked on May 26, the date when, in 1918, the state adopted the Act of Independence, signifying its break from Imperialist Russia. Seventy-three years later, on April 9, 1991, Georgia declared its independence again, this time from the Soviet Union. On May 26 of that year, citizens elected their first President.
Twice the independence, twice the celebration! Tbilisi marks Georgian Independence Day with an all-day street party on Rustaveli Avenue that features market stalls, food and live entertainment. The weather is usually perfect by the end of May, so there's no excuse not to join in.
I was lucky enough to be there for the party on my first visit to Georgia and still remember the electric atmosphere.
12. Join a spring festival
Apart from Georgian Independence Day and Easter, there are a number of other noteworthy events on Tbilisi's spring calendar. These include arts and culture events, and a few food and wine festivals. Tbilisoba, the harvest festival, comes later in the year in autumn.
The most important of the spring festivals are the Folklore Festival (held in mid to late April), the New Wine Festival (early May), and the Tbilisi Art Fair (mid-May). If you're interested in wine or culture or you just love the festival atmosphere, you'd do well to time your visit to Tbilisi for spring.
13. Spend an afternoon at the Open Air Museum of Ethnography
Georgia's ethnic and cultural diversity is one of its biggest assets. Along with the dramatic landscape, its the mountain culture that makes the Caucasus so enthralling. Before you head into the mountains, you can get a little taste of the region's diversity at Tbilisi's Open Air Museum of Ethnography.
This is an incredible project – a passion project led by a couple of individuals no less – to preserve Caucasus mountain culture and bring it to the city. The museum is located at an elevation above Vake Park. As the name suggests, it's completely outdoors and immersive as a result. No dusty exhibits here – instead, you learn by wandering between traditional dwellings, each one plucked from its mountain village and transplanted to Tbilisi.
There's no better way to spend a spring afternoon. To get there, take the cable car to Turtle Lake then walk downhill, stopping at the lake on the way and at nearby Rachis Ubani – one of my favourite restaurants in Tbilisi – for lunch afterwards.
The museum is open from 10am until 6pm daily (closed Mondays) and runs a program of events, performances and workshops in the warmer months – one more reason to visit in spring.
14. Discover the Chronicle of Georgia
The Chronicle of Georgia is open year-round but like the Museum of Ethnography, it's best to visit on a blue-sky spring day. One of Tbilisi's off-beat attractions, the Chronicle is an imposing monument crafted by Georgian sculptor Zurab Tsereteli. Its location on top of a hill overlooking the Tbilisi Sea makes it a great spot for panoramic views.
The monument itself is quite stunning and incredibly detailed when you view it up close. Presented in three layers, it tells the story of Georgia, the Bible, and the life of Jesus simultaneously.
The hike to the top is lovely if not a little strenuous (wear your sensible shoes for this one). Looking out to the north-west, you get a great view of the Dighomi neighbourhood and Zghvisubani, massive Soviet-era housing estates. It gives you a new appreciation for the scale of the city.
To get there, take bus #60 from outside the Ghrmaghele Metro Station.
15. Ride the funicular (or hike) to Mtatsminda
If you haven't realised yet, Tbilisi has a hellava lot of hills, all of them offering different vantage points. On a clear spring day, you can hill hop to find your favourite view (mine is from the rise above Abanotubani).
Mtatsminda is the city's most well-known and accessible viewpoint – it's the hill with the great big TV tower and amusement park on top. On spring and summer evenings, it's a very popular place for a walk among local families. The Ferris wheel is a lot of fun, especially after a few shots of chacha.
You have the option of taking the funicular up, or if you want to take advantage of the fresh air, you can hike to Mtatsminda via one of two walking paths in under an hour.
Grab a ponchiki donut snack at the top, but save your appetite for later. One of my favourite places to eat khinkali in Tbilisi is located right near the bottom funicular station.
16. Join a spring city walking tour
There's no better time than spring to get out and explore Tbilisi on foot. You don't have to break a sweat, though – aside from hikes in the hills, it's brilliant just wandering around town.
Crowds are noticeably thinner in Tbilisi in spring than in peak summer season, so you won't be shoulder to shoulder as you walk down narrow streets or have to wait in a line for a photo of that beautiful Tbilisi courtyard.
Sololaki and Betlemi Street are my favourite places to get lost on a spring morning. If you prefer to have someone navigate for you, there are plenty of pedestrian-friendly city tours that will show you the must-sees and hidden gems.
Join a free walking tour or sign up for a specialty guided stroll. Itineraries cater to a whole range of interests, from brutalist architecture to wine. To help you decide between companies and routes, here are my favourite walking tours in Tbilisi.
17. Admire Tbilisi's courtyards & balconies
There are few things more quintessentially 'Tbilisi' than a communal courtyard strung with washing lines. Sheets and smalls billowing in the wind look beautiful to my eye (I could spend hours wandering the back streets and taking photographs of other people's laundry). More importantly, courtyard culture tells you a lot about the city's history and the way of life here.
Marjanishvili and Betlemi Street are my two favourite areas for courtyard spotting. To access the real gems, I highly recommend joining the Hidden Tbilisi tour listed above.
You can bet the laundry is laid on extra thick on a sunny spring day.
18. Seek out Tbilisi street art
Tbilisi's terrific street art scene only adds to the city's already vibrant spring atmosphere. The Fabrikaffiti street art festival is held annually in October, so by the following spring, the murals have had time to 'settle in' and accommodate to the curves and edges of their living canvases.
Fabrika and the surrounding streets around the Marjanishvili neighbourhood are home to the brightest, most iconic murals. You can find works everywhere – some of my favourites are in the outer suburbs.
This guide is a good place to start.
19. Watch an open-air movie at Fabrika
Speaking of Fabrika, this hostel-slash-creative space hosts lots of fun events throughout the warmer months, including an outdoor cinema and a regular vintage market.
Free film screenings usually commence in early spring and run through summer. Check the program here – and don't forget to bring a blanket.
20. Rummage the Dry Bridge Market
Tbilisi's sprawling outdoor flea market, the Dry Bridge Market, is another must-do when you're in town. I love visiting the outdoor market on spring weekends when the weather is fine.
Browse the suitcases and car boots chockas with Soviet memorabilia. Other vendors hang majestic Caucasian carpets from tree branches in the park or lay collectibles and antiques out on blankets. Artists meanwhile set up their easels along the footpath.
There's stuff everywhere – it's hard to know where to look!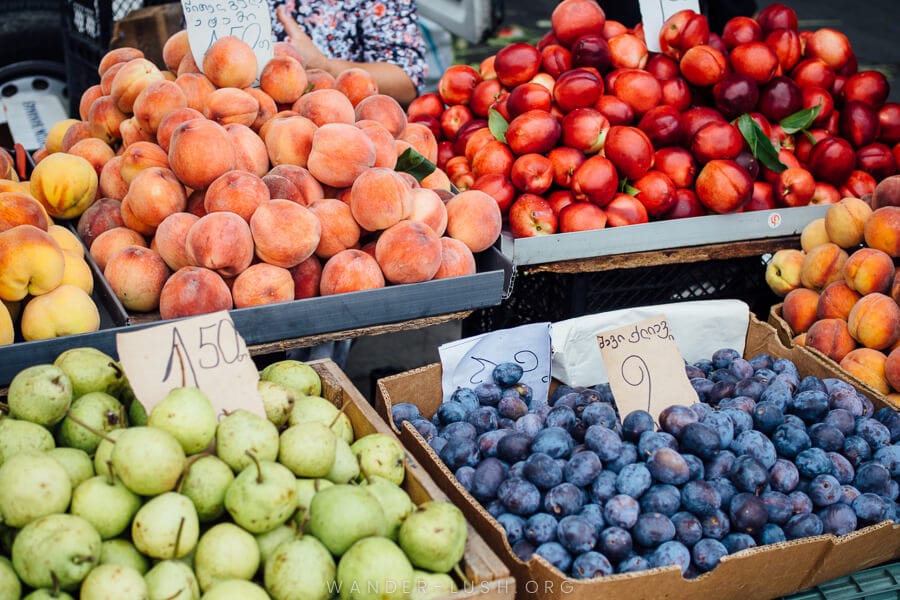 21. Shop for spring fruits at the Dezerter Bazaar
A market of a different kind, Tbilisi's Dezerter Bazaar is the city's main produce hub. Every morning, wholesalers, homemakers and restaurateurs alike descend on the open-air and undercover stalls to buy up rounds of farm cheese, piles of pickles and fresh fruit and veg by the boxful. It's a cacophony of colour, commerce and food culture.
This is one of my favourite places to wander and soak up an overload of smells, colours and tastes (free samples aplenty). I especially enjoy the atmosphere in spring, when stalls are overflowing with vibrant stone fruits, apples and cherries.
Read my guide to visiting the Dezerter Bazaar.
22. Visit a museum or gallery
Not every spring day in Tbilisi is picture-perfect. As I mentioned earlier, the weather is notoriously taciturn so it's a good idea to have a few indoor activities up your sleeve in case you do encounter rain.
Tbilisi has a slew of museums and galleries that are perfect for this purpose. The Georgian National Museum and the Museum of Contemporary Art are stand outs. For something different, the Museum of Books is a real hidden gem. Kids (and maybe some adults too) will love the interactive Museum of Illusions.
My personal favourites are the petite but beautifully curated Georgian Folk Art Museum and the grand State Silk Museum.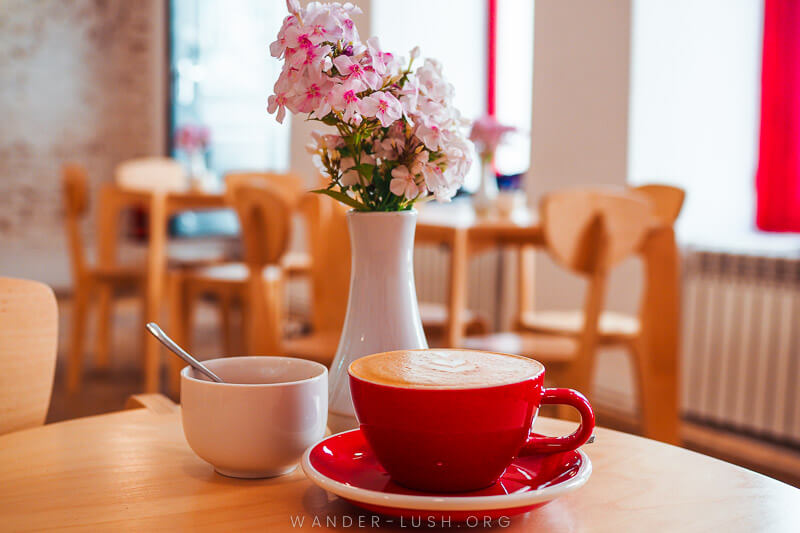 23. Go cafe hopping
The final springtime activity to round-out the list is another rainy-day favourite – cafe hopping. Tbilisi's coffee scene has come a long way since I first visited, and there are now lots of specialty coffee shops (and a few roasters) to visit around town.
Coffee LAB has a lovely outdoor courtyard, while the upstairs room at Maria Magdalina doubles as a plant shop and is delightful on a sunny spring day. If the spring sun wakes you up early, many of these cafes also serve breakfast (an oddity in late-to-rise Tbilisi).
Bonus: Take a road trip on the Georgian Military Highway
There are a couple of day trips from Tbilisi that are perfect for springtime. Davit Gareja Monastery and Kakheti region in general is lovely in spring for wine tastings.
If you have good weather, I recommend doing something outdoorsy. There's nothing better than heading north into the mountains to escape the city for a day.
The hike from Kazbegi to Gergeti Trinity Church is breathtaking in spring, when the meadows are grassy and dotted with wildflowers. To get there, you can either take a marshrutka to Kazbegi, or you can hire a car and driver and make a day of it.
The scenery all the way along the Georgian Military Highway is stunning at this time of year. Once the low-lying snow has thawed, you get iridescent green valleys contrasted with snow-capped mountain peaks. It's the Greater Caucasus at its finest.
Here is my guide to road tripping on the Georgian Military Highway, including budget-friendly transport options and 9 places to stop along the way.
---
Where to stay in Tbilisi in spring
Look for accommodation with a shared courtyard or private balcony – anywhere you can sit outside and enjoy the fresh air. Central heating isn't common in Tbilisi, but all hotels and guesthouses have gas heaters to get you through those chilly spring nights.
Because it's easier to get around in spring than winter, feel free to look a little further afield than the central Old Town area, which does tend to get crowded as soon as the weather warms up.
Vake, Vera and Saburtalo are popular neighbourhoods among students and expats, and all offer great restaurants, cafes and green spaces. Check out my favourite Tbilisi Airbnbs here.
If you're looking for hostel accommodation in Tbilisi, the yard at Fabrika is the perfect place to hang out in spring. Hostel dorms and private doubles and suites are very reasonably priced, and they often offer special deals in spring shoulder season. Check prices & availability for Fabrika on Booking.com.
---
Tbilisi in spring: Final thoughts
Tbilisi and Georgia are all-weather destinations – there's no 'bad' time to visit. As long as you're flexible and plan ahead, you can find plenty of things to do no matter the season.
Spring is definitely one of my favourite times to visit Georgia and the Caucasus generally, partly because of all the events that are on, but also because of the warm atmosphere that flows through the streets at this time of year. Are you thinking of visiting Tbilisi this spring?
---
Georgia essentials
Here are some of the websites and services I use when I'm planning a trip to Georgia and the Caucasus. Remember to check out my full list of travel resources for more tips.
– Find affordable flights to Tbilisi, Batumi or Kutaisi on Kiwi.com, a booking site that mixes and matches airlines to find the best route (there's a money back guarantee if you miss a connection).

– Use iVisa to check if you need a tourist visa for Georgia and apply for an expedited visa online.

– Pre-book a private transfer from Tbilisi Airport to your hotel or from Kutaisi Airport to Tbilisi with my preferred partners at Friendly.ge.

– Get a great deal on a rental car in Georgia by using MyRentACar to find a local agent.

– Buy your tickets for the Tbilisi to Baku or Yerevan sleeper train online in advance through my partners at Geotrend (get a discount when you use the code in this post).

– Find the best Georgia hotel deals on Booking.com, book a Georgia hostel, or find a unique Airbnb.

– Find the best city tours and day excursions in Georgia.

– Compare mobile providers and pick up a local Georgian sim card.

– Order a copy of the new Lonely Planet Caucasus guidebook (published July 2020).
You might also be interested in…