With echoes of medieval Georgia, fragments of Tsarist Russia and plenty of souvenirs from the Soviet Union, Borjomi is a fascinating layercake of history and heritage.
Borjomi is known globally for its briny mineral water, bottled from ancient volcanic sulfur springs. Within Georgia, the spa town's proximity to Borjomi-Kharagauli National Park and close connection to the Bakuriani Ski Resort has safeguarded its popularity as a holiday destination for almost 200 years.
Borjomi has never been my favourite place in Georgia, but it's somewhere I find myself coming back to again and again.
For whatever reason, I never seem to be able to 'complete' my list of things to do in Borjomi – I've visited five times now over the past three years, and there are still places I've yet to see.
This Borjomi Travel Guide brings together my favourite things (so far) to see, do, eat and drink in the town and surrounding area. I've also included practical advice for planning a trip to Borjomi, a bit of history about the resort, and plenty of travel tips.
---
Please note: This post contains affiliate links, meaning I may earn a commission if you make a purchase by clicking a link (at no extra cost to you). Learn more.
---
---
Briefly about Borjomi
Located in south-central Georgia's Samtskhe-Javakheti region, Borjomi is a town of around 11,000 people. The area got its start in the 19th century when it emerged as a popular spa resort, with mineral water pavilions and medicinal baths that tantalised the Russian nobility.
If you've heard the name 'Borjomi' before, it was likely in connection with the mineral water brand. Water rich in sodium bicarbonate has been bottled here since 1890 and remains a beverage of choice in Georgia. It's also one of the country's biggest exports.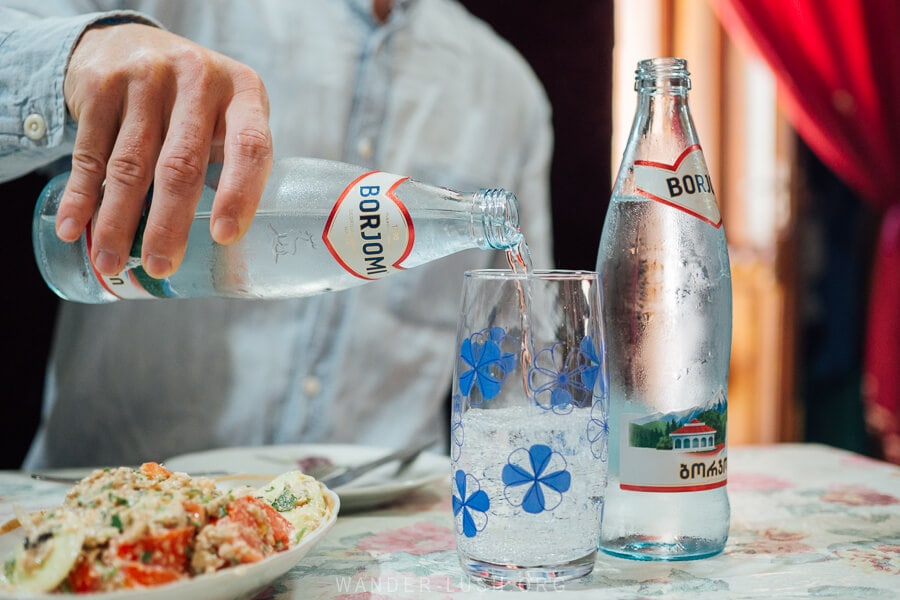 Officially, the Borjomi springs were discovered by members of the Imperial Russian military in the 1820s. Archeologists have found evidence to suggest the waters were used for medicinal purposes as early as the 7th century AD.
The first bathhouses and drinking fountains were built in the 1830s and according to a plaque in Borjomi Central Park, the resort was officially established in the year 1842. By the 1870s, it was an established summer resort for the Russian aristocracy. They called it the 'Pearl of the Caucasus'.
Grand Duke Michael Nikolaevich, Viceroy of the Caucasus, and his son, Nicholas, oversaw much of the town's development as well as the beginnings of the bottled water business.
Nikolaevich's younger son, Grand Duke Michael Mikhailovich, ended up living off the profits of the Borjomi Mineral Water Factory throughout his decades in exile following his morganatic marriage to Countess Sophie von Merenberg, granddaughter of Alexander Pushkin.
In addition to a seemingly endless supply of bubbly water, Borjomi was lauded for its close proximity to Bakuriani, a mountain resort town and now a popular winter sports destination. For decades the two were linked by Georgia's only scenic railway, the Kukushka or 'Cuckoo' in English – a 37-kilometre narrow gauge train that left the platform for the first time in 1902.
One of the first railway lines in the country, it includes the Tsageri-Tsemi Bridge designed by French engineer Alexandre Gustave Eiffel (yes, that Gustave Eiffel). Unfortunately the Kukushka was put on pause during the pandemic and has not yet resumed services.
When Georgia was part of the USSR, Borjomi became a retreat for the party elite. Seized aristocratic mansions were converted into hotels, and several more sanatoria were built in town and atop other mineral springs in the hills surrounding Borjomi, including at Libani and Tsemi.
Borjomi was never totally abandoned, but it did fall on hard times in the 1990s. The town's fortunes started to change with the launch of several high-end hotels, including the Crowne Plaza in 2016, and the refurbishment of the Tsar's Sulfur Baths, AKA the Borjomi open-air sulfur pools.
Downtown Borjomi is split in two by the Mtkvari River, the same waterway that divides Tbilisi. While the north-western side of town is dominated by newer apartments and Soviet-era buildings, architecture from the Tsarist period still survives on the opposite bank.
One tourist information board in Borjomi describes it as 'a coquette place'. I love that description. Borjomi does have a old-world grandeur about it – but like so many places in Georgia, it's a bedraggled beauty.
Efforts are now being made to rebrand Borjomi along historic lines as a 'Museum City'. A new Borjomi History Museum, a Museum of Industrial Legacy, a Mineral Water History Museum and a Cavalry Museum are all set to open in various heritage buildings in the coming years.
There are also plans to reopen the spectacular Romanov Palace in Likani, which has sadly been closed to the public since at least 2019.
One of the Romanov family's many residences in Georgia (they also kept houses in Abastumani and elsewhere), the Likani Palace was designed by Russian architect Leon Benois for Grand Duke Nicholas in the late 1800s.
Is the Romanov Palace at Likani open?
No – the Romanov Palace (AKA Likani Villa) south of Borjomi remains closed to tourists. It has been closed for restorations for several years now, and the entire area (from the road side) is gated off and patrolled by security.
However, there are two ways you can get a glimpse of the palace. Firstly, you can book a stay at the Borjomi Likani Health & Spa Centre. The hotel backs onto the palace grounds, and you can view it from the riverside.
Secondly, you can try walking around 'the back way' from Borjomi via the abandoned railway tracks. I have not tried this myself, so I don't know how close you can get (or if it technically involves trespassing). See directions here on Google Maps – and let me know if you try it.
There is no timeline for the reopening of the palace. Every time I ask the security guard, he tells me 'next year'. In the meantime you can view furniture and other items from the palace at the Borjomi Museum (item 8 on the list below).
Is the Kukushka train running from Borjomi to Bakuriani?
No – the Kukushka Railway from Borjomi to Bakuriani is not running. It was put on hold in spring 2020 and as of summer 2023, it has not started back up again.
There were rumours that the train would recommence in winter 2023, but nothing came of it.
While it's unfortunate that two of Borjomi's biggest draws are closed, there is still plenty to see and do in the area!
---
When is the best time to visit Borjomi?
Clean air and pockets of cool forest make Borjomi a very popular summer destination. Consequently, July and August are the worst months to visit – the small town centre is crowded with tourists, the sulfur pools are squishy, and ATV vehicles and jeeps roar up and down the forest trails.
I have personally visited Borjomi in every season (hence why the photos in this post are a bit of a jumble!). Autumn is my favourite time of year – this area has lots of deciduous trees, and the fall colours are great from mid October through to November.
You don't have to go far to find amazing foliage – this photo was taken right in the centre of Borjomi town.
Winter is also nice, especially if you want to try skiing in Bakuriani. Spring arrives early in this part of Georgia, making Borjomi-Kharagauli National Park a great place for shoulder season hiking when the high mountain trails are still inaccessible. But May/June can be very rainy.
---
How to get to Borjomi
For more tips, see my detailed guide: How to travel to Borjomi.
Borjomi is easy to reach from any major city in Georgia by minibus (marshrutka van). There are direct vans every day to Borjomi from Tbilisi, Batumi and Kutaisi. Some have Akhaltsikhe as their final destination.
In low season, it might be necessary to transit through Khashuri, a larger city and major transport hub 30 km from Borjomi on Georgia's main east-west highway.
It's also possible to travel to Borjomi with a private transfer booked through GoTrip. This is exactly what I did on my last visit.
If you prefer to travel by rail, there is a daily train service from Tbilisi to Borjomi. It uses the old electro trains, so the journey is quite slow (over 4 hours) with lots of stopping and starting.
Tickets cost a couple of GEL and are purchased on board. It's not possible to reserve seats for this train online, but you can check the timetable here on the Railways website.
---
---
---
Things to do in Borjomi town
1. Stroll through Borjomi Central Park
Borjomi Central Park or Borjomi Mineral Water Park is a strip of parkland in the centre of town. Cultivated around several of the original mineral water springs and boreholes, it runs parallel to the plateau and wraps around the Borjomula River.
The main attractions inside the park include Ekaterina's Spring and the old Bottling Factory – items 2 and 3 on this list of things to do in Borjomi. You need to walk through the park to access the open-air sulfur pools (see item 4 below).
Apart from these landmarks, there are pretty arbours, children's play areas, and several restaurants and bars. On the narrow river gorge, a Monument to Prometheus appears alongside one of the largest waterfalls. There is also an impressive Soviet-era mosaic inside the park (see item 12 below).
As you stroll the walking paths and cross the little bridges back and forth over the Borjomula, you can just imagine dukes and duchesses promenading with their mink hats and parasols. Actually, you don't have to use your imagination – there are large-scale, colourised archival photos printed on some of the buildings inside the park that show Borjomi back in the day.
The main entrance to Borjomi Central Park is gated. There are set opening hours, and you will need to buy a ticket to enter.
Opening hours: 6am-8pm daily
Ticket price: 5 GEL (free for kids under 8 years) or free from 6am-9am
---
2. Sip from the original Borjomi Mineral Spring
There are an estimated 150 mineral springs scattered around Borjomi, around 60 of which are tapped. Several of these have fountains and are numbered chronologically, just as they are in Sairme in Western Georgia. The specific mineral composition and temperature of each of the waters is slightly different.
The original Borjomi font is located inside Central Park under a shimmering turquoise-and-glass pavilion (pictured above). Known as Ekaterina (Yekaterinsky) Spring, it is named after the daughter of Yevgeni Golovin, Viceroy of the Russian Tsar in the Caucasus, who visited Borjomi in 1841 for health treatment.
Step down into the marble pavilion and you will see several taps arranged around the main spring, which is covered with glass. The water runs continuously, spouting up to 1,400 litres every day, direct from a 193-metre-deep borehole.
The water at this particular spring is warm – and be warned, it is an acquired taste! It's free to fill up a bottle – you will find empty plastic bottles sold in shops all over Borjomi for this purpose. Of course it's better to bring your own reusable bottle.
Waters from this spring are said to be particularly good for one's digestive system.
Tip: If you're short on time or you don't want to pay the park entrance fee, there is a free water spring adjacent to the ticket booth, near the Crowne Plaza Hotel. The water from this fountain, in contrast, is cold.
---
3. Stop by the old Borjomi Bottling Factory
As you enter the gates to Borjomi Park you will notice a grand two-storey, stone-and-brick building immediately to your left. This is the former Borjomi Bottling Factory.
It took me a couple of visits to Borjomi before I thought to wander inside. The doors are usually open, but I never realised you could go in.
The main part of the building houses a chess club, a library and a concert hall. The entryway has been set aside for a small museum of sorts. There is a beautiful four-spouted marble fountain in the centre, and a permanent exhibition of archival photos arranged around the periphery. The captions don't offer much detail, but you can easily identify some of the buildings in the pictures.
Many of the photos were taken outside this very building, the first industrial bottling plant in Borjomi – established by Grand Duke Mikhail Romanov in 1894.
Bottles arrived courtesy of a nearby glass factory, established in 1896. The patented blue-green colour of the glass has its own name: Georgian Green. Quite incredibly, Borjomi Water was still bottled on this site in manually blown bottles right up until the 1950s.
The factory relocated before production peaked at 400 million bottles per annum in the 1980s. That facility is one of two that operate in Borjomi today.
---
4. Soak in the Tsar's Sulfur Baths
Now known as the Borjomi Sulfur Pools, this set of open-air thermal springs was arranged by the Romanovs in the 19th century. In the mid-2000s, the baths were restored and modernised.
The trio of pools are located deep in the forest, adjacent to the river, and are fed by a natural hydrogen-sulfide thermal spring. They are open year-round – including through winter – but it might surprise you to learn that the waters are not actually that hot. The temperature is a steady 30-32 °C, much more mild than the sulfur baths in Tbilisi, for example.
Getting to the Tsar's Baths involves a bit of a hike. There is an option to go by car or ride the cable car up and walk down the hill – but I highly recommend walking the long way through the forest if you have time.
First, you must walk the entire length of Central Park, around 850 metres. After the small amusement park, the path turns from paving stones to a dirt track, the flashing lights and loud cafes melt away, and you soon find yourself deep in the forest.
The rest of the trail runs parallel to the plateau, hugging the Borjomula River. The track is marked with painted flags and is very easy to follow – you can't go wrong. Along the way, you cross over multiple small bridges, each with different decorations.
The way is mostly flat with a few gentle rises and falls towards the end. It's incredibly lush and overgrown (and mostly shaded in summer) – but be warned that it can be very muddy after rain.
With the paved section through the park plus the dirt track, you're looking at a total of 3 kilometres. You need at least 30-45 minutes to reach the pools, so give yourself a good 2 hours to complete the return journey with stops.
Jeep Wranglers are available to hire if you don't want to walk, but keep in mind that they are quite expensive (drivers charge around 300 GEL).
There is a separate (additional) entry fee for the pools, paid at the ticket booth. Restrooms and change rooms are available. The pools themselves are quite small, so if it's crowded, you will certainly feel squished.
Tip: There is an incorrect pin for the baths on Google Maps. The real Borjomi Sulfur Pools are located at this point.
Opening hours: 6am-8pm daily
Ticket price: 10 GEL (free for kids under 8 years)
---
5. Walk the historic Seven Paths (Ardasenovski Alley)
The easy hike to the sulfur pools is a must-do in Borjomi. If you're up for more walking, a second trail known as the Seven Paths also starts from inside the park, behind Yekaterinsky Spring.
Also known as Ardasenovski Alley after the manager of the Borjomi Estate in 1850, this path links the main park to Vorontsov Park on the plateau. As you climb the hill, you complete seven turns – hence the name.
Borjomi being a health resort and all, this isn't just any walking path – it is a Terrenkura, a special route of a specific length and inclination. Back in the day, someone suffering from heart disease might have been prescribed a walk on Ardasenovski Alley by their doctor. Apparently this kind of treatment was quite popular in the region – there is a park called Almatinskiy Terrenkur in Kazakhstan.
The path is 1 km and takes around 35 minutes one-way. When you reach the end, you will pop out near the main road. To get back into town, you can walk back the same way or find a marshrutka/taxi travelling down the plateau.
---
6. Ride the Borjomi Cable Car up to the plateau
The area east of Borjomi town, between the Mtkvari and Gujaretistskali rivers, is known as the Borjomi Plateau. This elevated highland is covered in thick fir and pine forest and is very beautiful. The road that winds along the plateau, Plateau Rise, goes all the way up to Bakuriani.
Established in 1962 and refurbished in 2005, the Borjomi Cableway runs from the edge of Central Park to the plateau. It still has its Soviet-style gondolas. The bottom station building is quite striking and reminds me a bit of the base station for the Mtatsminda cable car Tbilisi.
At 15 GEL per person, one-way for a ride that lasts little more than 2-minutes, it is very pricey. I have to admit that I have never been on this cable car – I usually drive or walk up to the plateau instead. At the top, there is a Ferris Wheel and a couple of restaurants, but honestly I find this part of Borjomi very touristy.
I'm including the Borojmi Cable Car here because it is one of the main attractions. But in my opinion, it is not a must-do. Walking to the sulfur pools is a much better use of your time – and if you want a beautiful vista, you can climb to one of the nearby fortresses instead (suggestions later on this list).
Opening hours: 10am-8pm daily
Ticket price: 15 GEL one-way
---
7. Photograph Firuza
Baratashvili Street, the road that leads to Borjomi Central Park, is crawling with interesting architecture, including sweet wooden cottages and several impressive dachas that could well date all the way back to the Romanov era.
The showstopper is a house known as Firuza – a two-storey ensemble of balconies and blue fretwork right at the entrance to the park.
Built in 1892, it was originally a private summer residence for Mirza Riza Khan, a Persian diplomat who served as the Consul General of Iran to Russia in Tiflis from 1889-94. The building's design blends Georgian, European and Islamic elements.
Notice the Iranian coat of arms and poetic inscriptions in Persian, Russian and French on the facade. Of particular note is the ornate Qajar-style mirrorwork and muqarnas on the ceiling of the top balcony, visible from the street. The name 'Firuza' refers to the particular shade of blue that adorns the facade.
Firuza is now home to the 4-star Golden Tulip Borjomi Hotel. The cafe in the courtyard is open to the public.
If you like period architecture, it's worth having a good look around this area. On my most recent visit I spotted another grand balconied house tucked away on the opposite side of the river, among many other gems.
Tip: Khan's second residence in Sololaki in Tbilisi is similarly interesting, but unfortunately it is in very bad condition. You can find similar Persian decorations at the Tbilisi State Academy of Arts, a former private mansion turned museum.
---
8. See Romanov relics at the Borjomi Museum
As well as being one of the best things to do in Borjomi when it rains, the local museum is worth a walk through even when the sun is shining. For as long as the Romanov Palace at Likani remains closed, the best place to view objects from this important epoch in Borjomi's history is at the museum.
Officially the Borjomi Museum of Local Lore, it is located on the 'new' side of town inside the pseudo-gothic Romanov chancellery building. Founded in 1938, the museum covers a huge range of topics, including flora and fauna found in the nearby national park.
The highlights for me are Romanov relics (plates, pottery and furniture salvaged from the palace) and the exhibition on Borjomi Mineral Water. I loved seeing the retro bottles and labels.
As mentioned earlier, the Borjomi Museum will eventually be relocated to a new building and several more, including the Museum of the Cavalry inside Kostava Park, will open.
Note that the museum closes an hour earlier in the off season.
Opening hours: 10am-6pm (April-October) & 10am-5pm (November-March)
Ticket price: 5 GEL (plus 30 GEL for an optional English guide)
Tip: If you want to learn more about the history of Borjomi Mineral Water, be sure to visit the Museum for the History of Georgian Medicine in Tbilisi.
---
9. Make a whistle-stop at the old Borjomi Park Railway Station
The smaller of Borjomi's two railway stations, Parki Station on Kostava Street is walking distance from Central Park and would have been the main station to receive guests from abroad.
It's impossible to find information about the building's history, but from the design, I'm guessing it definitely dates to the Soviet period.
Today only a handful of trains pass through this station, including the old electro train to/from Tbilisi.
Even if you're not travelling to Borjomi by train, I still recommend stopping by the station for a look inside. The front part of the building has been restored and all its retro flourishes – including old train timetables hand-lettered in Georgian and Russian and the old ticket desks – have been preserved.
---
10. Admire the 19th-century architecture in Borjomi Old Town
West of the Railway Station, at the foot of the Bridge of Beauty, there is a small area called Kostava Square. This is considered the heart of Borjomi's 'old town'.
Previously known as Olga Embankment after Grand Duke Mikheil Romanov's sister, this was once the most happening place in town. There are several lovely red-brick and pink-plaster buildings gathered around the square, including the former Hotel Central (1890) and the former Central Post Office (1900).
There are renovations going on now, so it will be interesting to see how this part of town develops.
---
11. Eat lunch at Cafe Iggy – one of the best things to do in Borjomi for foodies
There are plenty of places to eat and drink in Borjomi (more recommendations coming up soon) – but if you only have time for one meal, I suggest you prioritise this restaurant.
Cafe Iggy opened in 2022 inside one of the heritage buildings on Kostava Square. I've eaten here a few times now and I'm always impressed by the food.
The menu is quite short. My top picks are the khinkluks (mini khinkali dumplings) in pepper sauce, the Borjomi trout baked in vine leaves with pomegranate sauce, and – best of all – the pork with spicy adjika and mesquite potatoes.
---
12. Hunt down Borjomi's Soviet-era mosaics
From Kostava Square, cross the Bridge of Beauty to reach Rustaveli Street and step (literally) into Borjomi's Soviet side.
Popular as it was during the Soviet period, Borjomi is prime territory for mosaic hunting. This term is particularly apt because a lot of the decorative panels depict hunters pursuing deer. (As well as being a Pagan motif, the deer is a symbol of Borjomi and the nearby national park, which has a population of around 800 red deer.)
Here are the four Soviet-era mosaics I recommend seeing in Borjomi:
1. Various decorative walls in the park near the Bridge of Beauty – author and dates unknown – located here and around.
2. Mosaic wall at the cafe Mozaika – by Zurab Tsereteli (1975) – located here inside Borjomi Central Park.
3. Abstract building facade near the bus station – by Tanguli Ortoidze (date unknown) – here on – located here on Rustaveli Street.
4. Decorative wall (maybe a bridal shop or a beauty shop?) – author and dates unknown – located here on Rustaveli Street.
One of the most spectacular mosaics in all of Georgia is just down the road from Borjomi in Likani – see item 19 on this list.
---
13. Find the abandoned House of Composers
Built in 1973-5 in a heavily forested area atop the Borjomi Plateau, the House of Composers was a performance space and 'artists retreat' managed by the Composer's Union, one of many such collectives operating in the USSR.
Similar to the Sevan Writers' House on Lake Sevan in Armenia, creatives from across the Soviet Union were invited to live and work at the Composers' House – something like an artist-in-residence program.
Dozens of compositions were arranged within these walls, including several numbers by Tbilisi-born Gia Kancheli, who is considered Georgia's most preeminent composer of the day. The house also hosted international festivals, and welcomed up to 100 guests in summer.
As an interesting side note – Russian composer Pyotr Tchaikovsky visited Borjomi in summer 1887 and apparently composed several works from his holiday cottage, including part of Suite No. 4 Mozartiana. There is a statue of him in the park near the Borjomi Museum. I guess there was something in the water…
Designed by a team of architects led by Shota Davitashvili, the House of Composers is seven stories high. With layers of concrete balconies, timber paneling and turned wooden balustrades, it's an almost perfect example of Soviet Brutalism meets Borjomi forest chateau.
There are several auxiliary buildings and pavilions scattered around the main building – and much to my delight, a derelict bus out front. Having recently re-visited the abandoned UAZ ambulances in Zugdidi, I'm always on the hunt for vintage cars.
The House of Composers is a huge complex that must have been buzzing back in the day.
Today it's abandoned and in ruins – smashed Petrof pianos strewn all around the main hall. There is an ongoing dispute over its future. From what I can gather, the last performances were held here in 2006 before the building was transferred to the Ministry of Economy and for whatever reason, shuttered.
Ownership of the Composers' House remains with the state and although it is abandoned, it is protected by a guard station at the main entrance. Having come around the back way where there are no signs, I didn't realise the area was technically off-limits until it was too late.
---
14. And the Sanatorium Tbilisi
Another Soviet-era monolith, this time in the centre of Borjomi, the former Sanatorium Tbilisi is much more innocuous.
Rising high above the rooftops before the entrance to the park, it is still listed as a hotel online – and I did indeed notice that a few of the rooms were occupied at the time of my last visit. With tourists or permanent residents, I'm still not sure.
The reception area on the bottom level is completely empty and ramshackle a-la Tskaltubo. There are some design elements – such as the plaster ceiling and the metalwork around the stairs – that are very similar to the sanatoriums in Tskaltubo.
I haven't been able to find any information about this sanatorium or its history online – if you have any leads, please let me know!
---
15. Climb to Gogia Fortress
Going back much further in Borjomi's history – before the Romanovs and long before the Soviets – this area was part of Tori, an historic region associated with the noble Avalishvili family.
Lying at the crossroads of western and eastern Georgia, the Borjomi Gorge was of great strategic importance and therefore often a theatre for battle. (This also explains the name – in Georgian, borj means 'solid wall' and omi means 'war'.).
A series of fortifications were erected during the Middle Ages to shelter the valley from Ottoman invasions: Gogia Fortress and Sali Fortress to the north, and Petre Fortress to the south on the opposite side of the river. As with other tower networks in Georgia, in the event of an enemy incursion the keepers would light bonfires to send smoke signals to each other.
Gogia Fortress is the closest to town and suitable for an easy hike. It is high atop a ridge in the very centre of town, almost directly above the museum. The second time I stayed in Borjomi I ended up walking here one morning from my guesthouse, which was located nearby.
It only takes 10 minutes to reach the fort. There are a few stone walls and remnants of a tower along with an information board. It's worth the climb for the lovely views of the valley and Borjomi town.
---
16. Buy a jar of pinecone jam
One thing Borjomi has in spades is pine trees – so it's no surprise that locals have come up with a clever way to utilise pinecones for a sweet treat.
Pinecone jam – a thick, saccharine jam with tiny pinecones in it – is a specialty in this area. The pinecones are harvested in late spring when they are 1-3 centimetres in length and boiled down with sugar. The finished product is said to do wonders for one's immunity and to be a salve for asthma.
You can find jars of pinecone jam and other typical Borjomi souvenirs – including wood crafts (kitchen accessories such as chopping boards, spoons and honey dippers), woolly socks and vests, other preserves and chestnut honey – sold at the markets along 9 April Street.
---
17. Chew on Borjomi Kevi, a natural chewing gum made from PINE tree RESIN
Another famous Borjomi product is pisis kevi or pichvis kevi, a natural chewing gum that is made locally from pine tree resin. It has a unique piney taste and is purportedly a natural antibacterial agent.
Borjomi kevi comes in two versions: Processed and wrapped in plastic wrap (similar to a regular stick of chewing gum) or as loose gems of sap. I wanted to try both, so I paid 3 GEL for one of each. You can find it at any of the markets near the park.
As you start chewing it, the sap breaks up into small pieces in your mouth. Eventually it comes together into one 'blob'. (It expands significantly so do not put the whole stick in your mouth! Break a small piece off, or just place one of the gems in your mouth to start with.)
The piney taste might remind you of car air freshener! I quite liked it at first, but as it becomes tougher and more difficult to chew, it is quite hard on your jaw.
Pichvis Kevi brand sells the gum online – and you can often find them at street markets on Rustaveli Avenue in Tbilisi, including at the annual Christmas Fair.
---
More things to do around Borjomi
For more ideas and transport information, see this guide: The best day trips from Borjomi.
18. Spend a day in Bakuriani
Bakuriani, one of Georgia's four ski resorts, is located in the Trialeti Mountains above Borjomi, around 40 minutes from town by taxi or marshrutka.
Once considered the 'ski capital of the Soviet Union', it boasts 29 km of runs serviced by 8 lifts and a funicular. Outside of the winter months, Bakuriani is beautiful and green, known for its fresh air and scenery. Some of the ski lifts stay open throughout summer, ferrying visitors up the mountains for beautiful views.
One of the best things to do in Bakuriani is head up to Kokhta hill for a meal at Rooms Hotel. As with their other properties in Tbilisi and Rooms Hotel in Kazbegi, the restaurant and common areas are just as lovely as the boutique suites. Walk-ins are welcome for breakfast, lunch or dinner. I was particularly impressed by the a-la-carte breakfast. Mains start from 20 GEL.
There are several points of interest to see on the way to Bakuriani from Borjomi, including the Eiffel Bridge in Tsemi and the abandoned sanatorium at Libani.
Just off the main road, near Tsaghveri, there are castle ruins, an important Orthodox Church (Timothesubani Holy Dormition), and a hiking trail that leads through the Arjevanidze forest to a beautiful waterfall.
---
19. More mosaics at the former Mountain Valley Sanatorium
If you're a fan of mosaics, this is one you absolutely shouldn't miss. One of the finest large-scale Soviet-era mosaics in all of Georgia lives down the road from Borjomi in the much smaller health resort town of Likani.
Created in the 1970s by an artist whose name has sadly been lost to history, it consists of huge colourful panels that wrap around all four sides of a rectangular block building. The motifs reference different local industries and other Soviet themes, including rockets and ships.
Formerly the Mountain Valley Sanatorium, the main building was repurposed and is now an apartment block with many families living inside.
To get to Likani from Borjomi, you can either take city bus #1 from Rustaveli Street or a taxi. Bolt app works in Borjomi – the fare to Likani is around 13 GEL. Expect to pay slightly more for a street taxi.
---
20. Hike the Footprint Trail in Borjomi-Kharagauli National Park
There are 9 marked hiking trails in Borjomi-Kharaguali National Park, including the popular 4-day St. Andrew's Trail, a 54 km hike that follows the footsteps of Apostle Andrew and traverses the entire park from north to south.
The most popular day hike in the Borjomi area, the Footprint Trail is a 13-kilometre route that takes around 6-8 hours to complete. It starts from the Guard Station in Likani, a short bus or taxi ride from the centre of Borjomi.
The trail is fully marked and relatively easy, provided you have a moderate fitness level and proper gear. It will show you some of the finest landscapes inside the Borjomi-Kharagauli National Park, including rolling evergreen forests at mountain peaks over the Kvabiskhevi Gorge.
Note that you must obtain a (free) safety permit from the National Park Administration Office in Borjomi before you set off.
---
21. Visit the stunning Mtsvane Monastery in Chitakhevi
Just past Likani in Chitakhevi, the Mtsvane Monastery (or 'Green Monastery') is a beautiful medieval Orthodox monument.
Tucked away in the forest, it is accessed via a road or walking path that follows the Chitakhevi River. It's a very beautiful area, so if you get the chance to walk to the monastery, do. It takes around 45 minutes on foot from the main road.
Also known as the Chitakhevi Church of St. George, the complex probably dates to the late 9th century and was abandoned for more than 200 years before being rehabilitated.
It's a very popular pilgrimage site in Georgia, partially thanks to a local legend: Some believe that the stones in the nearby river took on a reddish hue after a group of local monks were massacred on this site by Persian invaders in the 1550s.
---
22. Do a wine tasting at ​​Khachapuridze Winery in Kvabiskhevi
Located 30 minutes' southwest of Borjomi in the village of Kvabiskhevi on the way to Vardzia, this lovely marani is managed by Nikoloz Khachapuridze, a local lawyer who turned in his career to carry on the family business of winemaking.
The property has an ancestral cellar filled with antique treasures and a cosy tasting room big enough to accommodate small groups.
There are some vines in the yard, but the majority of grapes are grown elsewhere on properties owned by Nikoloz's family members. In the near future, he plans to cultivate local Meskhetian varieties in his garden using the terrace planting method that is traditional to this area.
Wine tastings accompanied by local cheese and honey (seriously the best honey I've had in my life!) can be organised in advance.
Contact Niko on Facebook or by phone for more details.
---
Where to eat in Borjomi: Best Borjomi restaurants & cafes
Cafe Iggy is my top choice in Borjomi – but there are plenty of other restaurants and cafes around town that are also worth trying.
If you have time for more than one meal, here are my picks:
Pesvebi Borjomi
Another of my favourites, this local restaurant near the train tracks serves typical Georgian fare plus a few local Meskhetian specialties (their Tatarboragi 'pasta' with garlic sauce is excellent).
Pizza Semolina
If you need a break from Georgian food, this family run 'elevated fast food restaurant' in the bottom of an apartment block serves delicious burgers and pizzas. Portions are huge, prices are great, and the owners are lovely.
Cafe Tourist
This humble eatery feels more like a family dining room than a restaurant. It's very popular among tourists, both for the friendly service and for the unique decor (note the portrait of Stalin behind the red velvet curtains in the dining nook!).
My House
For something more upscale, this restaurant in Borjomi centre has a huge menu of Georgian, Ukrainian and European dishes. Standouts are the Meskhetian apokhti (small dumplings) and the local trout.
Inka Cafe
Located right by the entrance to the park, Inka serves decent coffee plus a nice range of homemade cakes and tarts. A great place to stop for a sweet pick-me-up.
Rio
Another one for sweet tooths, Rio is a tiny juice bar near the park that also sells mini donuts. For 3 GEL, you get 8 sugar-dusted donuts – and they are really good!
---
Borjomi map
See my Borojmi Tourist Map for all the above points of interest, restaurants, cafes and other handy locations: Click here to open and save the map via Google Maps.
---
Onward travel from Borjomi
You can quite easily travel onward from Borjomi to virtually anywhere in Georgia – either with a direct connection or by changing vans in Khashuri.
Minivans depart from Borjomi's small bus station on the northern side of the river. Taxis wait around the market area nearby. Both locations are pinned on the map above.
The bus station has an office where you can check schedules and pre-purchase tickets (cash only).
If you're travelling north, buses leave from in front of the office building and around the flyover. If you're travelling south (to Akhaltsikhe or Likani), you should wait on the opposite side of the road, beneath the colourful apartment building, and flag down a driver as they pass by.
Have you been to Borjomi? What are your top recommendations? Please share your tips in the comments below.
---
---