My complete guide to Piran, Slovenia's dreamy seaside town. Includes the best things to do in Piran, city viewpoints, hiking trails, Piran day trips, unique restaurants, and more.
Slovenia's coastline may only cover a mere 47 kilometres – but it's packed with cute towns. None of them is more picturesque than Piran.
The gem of the Slovene Riviera and one of the most beautiful places in the entire country, Piran is a historic harbour town set on a narrow peninsula, hemmed in by the Gulf of Trieste on three sides.
Half a millennium of Venetian rule left its mark on the town (as you can probably see from the architecture) and forged a close relationship with Italy that endures to this day. Along with two other Slovenian municipalities, Italian is the co-official language in Piran – or should I say, Pirano. Venice is just 2.5 hours away by road.
Piran is of a similar ilk to other Adriatic walled towns such as Kotor and even Dubrovnik. And yet it feels completely different – quieter, more peaceful, more lived-in.
Viewed from above, Piran is a wedge of terracotta rooftops wrapped in the blue satin ruffles of the Adriatic and fringed with dusky green olive trees. On ground level, there's a never-ending supply of quaint alleyways to get lost down, plazas to wander, wine bars to perch yourself at, and seafood restaurants to sample.
It doesn't stop there – Piran is surrounded by beautiful nature: Olive groves, salt pans and pebble beaches are all within walking distance. Long, wide paths trace the coast from north to south and are ideal for walking or cycling.
Best of all, Piran is just 1.5 hours from Ljubljana by road, making it an easy addition to even a short Slovenia itinerary, and a great base for exploring the rest of Istria.
In this guide, I'll show you the best things to do in Piran and offer my practical advice for planning a visit.
---
Please note: This post contains affiliate links, meaning I may earn a commission if you make a purchase by clicking a link (at no extra cost to you). Learn more.
---
Piran essentials
When to go: Piran is a coastal town with a defined 'on' and 'off' season. Summer is by far the busiest time of year, when prices are highest and crowds are thick. Winter, by contrast, sees the population shrink and many (but not all) restaurants, cafes and hotels close. Spring (May/June and September/October) are a nice compromise.

We visited Piran in May. It was lovely and quiet, the weather was ideal, and most things were open.

How many days in Piran? Piran is a small town that can easily be explored in a day. I recommend spending one day in Piran itself and setting aside one more day to explore the surrounding coastline, salt pans and national parks.

How to get to Piran: Piran is easily reached from Ljubljana, Bled or elsewhere in Slovenia by bus. I recommend using the company Arriva.

Best Piran city tour: If you only have one day to spend in Piran, I highly recommend investing in a guide to show you what's what. This private guided walking tour of Piran is ideal for getting an intimate look at the city through the eyes of a local.

Hire a car in Slovenia: If you want to get out and explore Slovenia with your own wheels, I recommend using Discover Cars to find the best deal on a rental car. Note that the nearest service point to Piran is at Portoroz Airport.
---
Where to stay in Piran
Mid-range apartment: There are lots of self-contained apartments in Piran and these are the best value for money option in my opinion. We stayed four nights at Apartments Lara, a petite apartment in the very centre of the city with a full kitchen for preparing meals. I loved the private rooftop terrace with lovely views over the city.
Check prices and availability for Apartments Lara on Booking.com.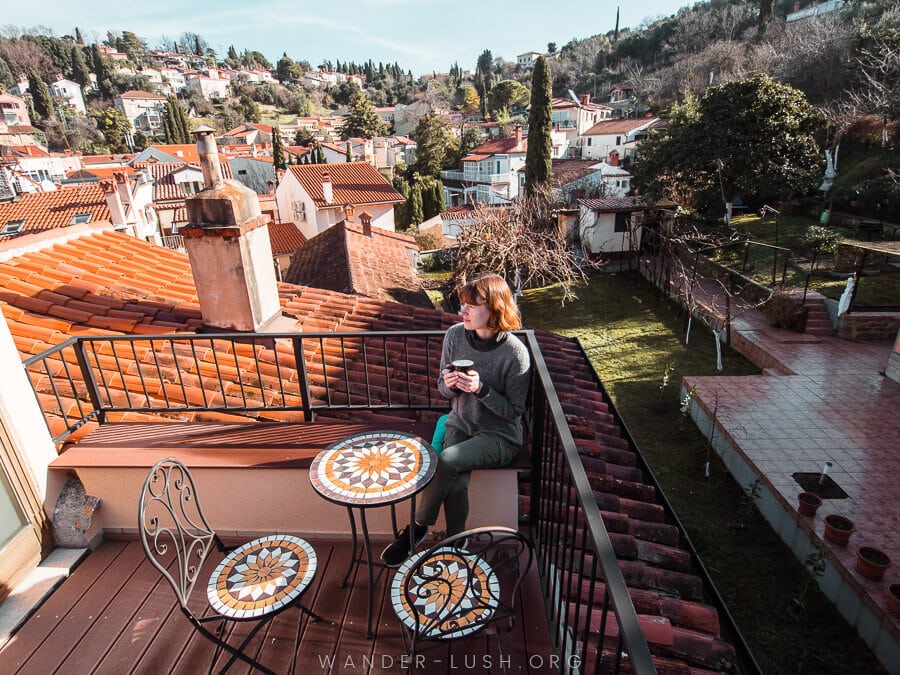 ---
20 wonderful things to do in Piran
Here is a curated list of the best things to do in Piran that no visitor should miss.
1. Do a 360 in the magnificent Tartini Square
Tartini Square (Tartinijev trg / Piazza Tartini) is the elegant Italian-style plaza at the heart of Piran. Oblong in shape, it faces onto Piran's petite inner dock on one side, and on the other is fringed by a row of neoclassical facades painted in a subdued rainbow of pastel hues.
Tartini Square was completed 1894 and is the most visually beautiful part of Piran – both when viewed from ground level and from above (more on that in a moment).
When wandering the square on foot, pay special attention to the blue-and-white Municipal Hall and the Gothic-style Benečanka (Venetian House), the only building on the square that retains its original 15th century facade. See if you can spot the Lion of Saint Mark – the Venetian Republic's unmistakable insignia – inscribed in stone.
The prominent yellow building, Tartini House, is now a small museum dedicated to the square's namesake, violinist and composer Giuseppe Tartini. His statue stands in the plaza and inside the museum, you can view his violin. The canary yellow Teatre Piran on the edge of the harbour is another particularly pretty facade.
---
2. Walk the Piran promenade to Punta
At its southern end, Tartini Plaza fronts onto a small inner harbour where fishing vessels and private boats are docked in a tangle of nets and brightly coloured buoys. From here, you can easily follow the wide seafront path west all the way to the lighthouse (Piranski svetilnik) at the top of the peninsular.
Large, white rocks buff the shoreline and protect the path from crashing waves. As you walk, look out for stone sculptures made by local artists. Some, like the mermaid pictured below, are obvious while others are more difficult to spot.
The lighthouse marks Piran's apex, known as Punta. It's worth stopping here for a peek at the interior of the 13th century Church of St. Clement, which is attached to the lighthouse by a round tower.
After the lighthouse, you can continue for roughly 250 metres around the top of the peninsula to a viewpoint before the shore turns to steep cliffs and the path ends. Further down, the Pešpot Piran – Fiesa path leads you along the opposite side of the peninsular – more on this second trail later.
---
3. Get lost down Piran's charming alleyways
Picturesque as the coastal walk is, it bypasses what I think is the best bit of Piran: The winding streets of the old town.
Peninsular Piran is comprised of dozens of narrow stone passageways, cobbled alleys and pitched streets interspersed with small market squares, fountains and sculptures.
Wandering through the rows of flower-box facades, colourful shutters and cream-and-rose-coloured buildings is the stuff of dreams. And if it's sunny out, you can be sure that every Piran resident will have their laundry on display, taking the street scenes to the next level of sweet.
Work your way back to Tartini Square from the lighthouse by following your nose through the maze of back alleys. My favourite streets in Piran are the steep ones that lead up the hill away from the square, towards the Town Walls.
---
4. Teeter along the Town Walls for a view of the sea
The stone Walls of Piran (Obzidje Piran) were constructed from the 7th century to fortify against invasion from the east. As Piran grew, the walls were rearranged to accommodate the expanding city.
In 1470, work began on a large town wall and fortress that follows the natural curve of the sloping terrain behind Punta, enclosing the peninsular and the adjacent Campo Quarter. This newer wall is the one that remains largely in-tact today.
Two elaborate gates, the Gate of Rašpor and the Gate of Marciana, are still standing, along with seven fortified towers, each topped with a decorative battlement. The northern part of the wall is open to visitors and is accessed via an entrance off Ulica IX. korpusa.
Once inside, you can climb steep stairs to trot along the elevated walkways that follow the crest of the wall. A few of the towers can be summited for panoramic views.
The aspect is unreal: You can see the entire peninsula – a knot of orange rooftops, church towers and olive trees – with the matte Gulf of Trieste beyond. It's a very different view from the more-popular bell tower – both are absolutely worth doing when in Piran.
Tips for visiting the Walls of Piran

The walls are open from 8am until dusk, around 9pm in summer and around 5pm in winter. The entrance cost is 2 Euro per person (prices have increased since I took the above photo). In case of rain, the walls are closed for safety reasons.

To enter, you must first buy a token from the vending machine then deposit it into the automatic gate. The machine only accepts coins, so remember to bring the correct change. When it rains, the walls are closed off for safety reasons.
---
5. Pop into St. George's Parish Church
Perched on a hill above the northern part of Punta, St. George's Parish (Župnijska cerkev sv. Jurija) is Piran's prettiest church. It was finished in 1614 and follows a classic Venetian Renaissance style, showcasing the handiwork of Venice-born stonemason Bontante Torre.
The virgin white facade and distinctive stone bell tower can be spotted from all over Piran. Viewed up close from the lawn in front of the main entrance (a former graveyard), you can appreciate the craftsmanship.
The steep path that runs along one side of the church offers breathtaking views of the rooftops and the bay – just a little taste of the panorama you get from the top of the bell tower.
Tips for visiting St. George's Church

This is an active Roman Catholic Church, so the ornate interior and ceiling frescoes can only be viewed between 7am and 8pm, while the inner hall is only open during mass.
---
6. Climb the Bell Tower for another epic view
The most iconic views of Piran can be found from the top of the 45-metre-tall Zvonik Campanile Bell Tower, which was built in 1608 adjoining St. George's. If the design looks familiar, there's a reason for that: It's actually a replica of the famous St. Mark's Campanile in Venice.
Unlike the tower over St. Mark's Square, Piran's sadly lacks an elevator – the only way to get to the top is by navigating a spiral wooden staircase of 146 steps!
Don't worry though, it's more than worth the climb. Once you catch your breath, you'll be rewarded with a bird's eye view over Tartini Square and the inner marina.
A narrow open-air balcony wraps around the entire tower so you can photograph Piran from all angles. The view eastwards towards the cliffs and Strunjan National Park is also very pretty.
Four hefty bells set inside the tower ring out at 15-minute intervals. If you happen to be on the stairs when they start chiming, shield your ears – the noise is deafening!
Tips for visiting the Piran bell tower

The bell tower is open daily from 10am until 8pm in summer. Note that in the winter off season, it's only open on weekends. Entrance costs 2 Euro per person and can be paid to the attendant at the desk inside the entryway. Change is available.
---
7. Discover Piran's tiny niche churches & monasteries
Beyond the stately St George's, Piran's tightly wound streets are riddled with smaller Catholic churches, convents and chapels.
The Minorite Monastery is particularly enigmatic and worth making a detour for as you climb up or down the hill from Tartini Square. It consists of a series of pretty arched cloisters set around a tiled courtyard, dotted with ancient Piran Buga olive trees (some over 500 years old) and a well in the centre.
This is an active Franciscan monastery with a library and an important collection of artwork and manuscripts in the basement. It's long been a centre of learning – indeed Giuseppe Tartini himself was a music student here back in the day.
Keep an eye out for St. Marija Snezna and Cerkev Marije Tolažnice, two more churches tucked away in the back streets not far from the Minorite Monastery.
---
8. Eat lunch at Ladja Podlanica, Piran's quirkiest restaurant
If you only have time for one meal in Piran, make it lunch at Ladja Podlanica. This is by far Piran's (and probably Slovenia's) most unique dining experience.
I have our hosts at Apartments Lara to thank for pointing us towards Podlanica. I never would have found it otherwise. That's partly because there's no fixed address – this restaurant is located on a fishing boat!
Run by a local fisherman and his wife, Podlanca has just 3 tables and no menu – whatever the catch of the day happens to be, that's what you get. On our visit, we ate spaghetti with mussels and fried fish accompanied by local wine. Everything is cooked to order on an impossibly small stove at the back of the boat.
It's barebones, simple and hearty – but you won't find fresher seafood anywhere in Piran. If the thought of dining on a wobbly boat makes you uneasy, don't fret: The harbour is calm and on a still day, you can barely tell you're floating.
Tips for visiting Ladja Podlanca

When she's not out on the water, you can find Podlanca docked in the harbour in front of Tartini Square. Lunch and dinner is available daily except on Tuesdays, and reservations must be made in advance by phone (+ 386 41 338 612).

It's a good idea to re-confirm your booking the morning of just in case bad weather is on its way.
---
9. Shop for handmade souvenirs
Dotted all throughout Piran's streets you'll find cute art galleries and souvenir shops peddling handmade take-me-homes. Watercolour paintings of seascapes are particularly popular, as are nautical-themed handicrafts.
Nika's Tiny House on the street above Tartini Square is my personal favourite. Here you'll find magnets, postcards and tiny sculptures of Piran's distinctive colourful houses.
---
10. Visit an art gallery or museum
Piran has been a playground for artists and creatives for eons – it's not hard to imagine why people find inspiration here given the beautiful environment.
If you fancy browsing a gallery or museum during your visit to Piran, there are several noteworthy institutions in the town centre.
Apolonijeva palača galerija is located near Tartini Square and exhibits works by young Slovenian artists. For something different, The Magical World of Shells showcases treasures collected from the shores around Piran and is a great choice for families.
The most fascinating chapter of Piran's local history, it's salt-making heritage, is catalogued at an open-air museum further along the coast. It features later on this list.
---
11. Pick up some delicious morsels at the open-air produce market
Held every morning in a square behind City Hall, Piran's open-air market (⚑ Tržnica) is a vibrant display of fruit and veg. Come before 11am to browse the undercover stalls and see what fresh ingredients Piranese chefs favour.
On weekends, artisanal food producers join the ranks of vendors, adding to the market's offerings.
Do yourself a favour and pick up a packet of čokolada iz kaper, delicious fudge-like squares of chocolate made with salty capers. The caper pesto is also delicious.
---
12. Eat Istrian fare
Istria is a gourmet's paradise and Piran's location on the peninsula means chefs here are privy to some of the region's finest offerings. Apart from Ladja Podlanica, Piran sports dozens more eateries that showcase the best of Istrian produce.
Depending on the season, you may be treated to wild asparagus or fresh truffles. Istrian honey, olive oil and wine are all world-renowned and can be sampled at Piran's cafes. Add to that a year-round supply of plentiful fresh-caught seafood, coveted sea salt, capers and an artisanal chocolate industry, and Piran is a bit of a foodie haven.
Recommended restaurants include:
Gostilna Park (Slovenian cuisine)
Fritolin pri Cantini (seafood)
Okrepčevalnica "Kantina" (seafood)
Pri Mari (seafood)
Pizzeria Petica (pizza)
If Slovenia is your first entre to the Balkans, then it's also worth seeking out some classic Balkan cuisine. Sarajevo 84 is a terrific budget-friendly restaurant with a lovely outdoor dining area near the bus station.
They serve cevapcici Sarajevo-style with Bosnian bread and sliced onion, prebranec beans with sausage, and baklava and tufahija (baked apple stuffed with walnuts) to finish – paired with a Bosnian coffee, of course. Prices are around 6 Euros per dish.
---
13. Drink a coffee al fresco
Nothing beats settling down for an Italian-style ristretto (or a cold-brew in summer) at one of the cafes on the edge of Tartini Square. This is people-watching at it's absolute finest – from a sheltered cafe table on the sidelines, you can simply sit back and watch the world go by.
The following cafes were recommended to me by our local hosts in Piran:
Mestna Kavarna (they also serve raw vegan desserts)
Mestnakavarna
Neptun Caffee
---
Best things to do around Piran
14. Dip your toes in the Adriatic
As you wander along Piran's seafront, you'll notice there are numerous swimmers' ladders leading down to the water's edge. If you feel the need to take a spontaneous dip right in the centre of town, you can!
There are more secluded swimming areas away from the centre on either side of the peninsula. Fornače Beach is just a short 10-minute walk south from Tartini Square and features a pleasant pebble beach, while the stony beach under the cliffs below St. George's Church is also popular with locals.
Salinera Beach between Piran and Strunjan Nature Reserve is one of the prettiest stretches of shore and features a long wooden jetty plus a number of cafes, restaurants and bars.
If you're travelling to Piran in summer, you can also take boat trips from the harbour to explore the Istrian coastline, or even complete your PADI certification with Piran Diving.
---
15. Walk the #2 Route through Fiesa's olive groves
Once you've walked the Piran promenade, I recommend tracing the cliffs on the opposite side of the peninsula for a different aspect. From there, you can detour up through the olive groves around Fiesa on a trail known as the #2 Walking Route. It's a marked loop that takes about an hour to complete.
Start by following the Pešpot Piran – Fiesa track, a wide pathway under St. George's Church that follows the sea, to Hotel Fiesa. After the hotel, head uphill, and look for the trailhead that opens up on the right. (It's clearly marked by red-and-white painted flags and later by stripes of yellow paint.)
This forest walk is mostly over shaded paths, making it ideal for warm weather. If you follow the trail to the end, it will eventually lead you down to Pacug and the coastal path. You can either continue on to Strunjan, or follow the seafront back to Piran.
---
16. Cycle or walk to Strunjan Nature Reserve
Strunjan Nature Reserve is located on the coast further north from Fiesa. The portion of the park near Strunjan Bay is still only 5km from the centre of Piran, making it a perfect destination for a longer coastal walk or a bike ride.
To get there on foot, follow the same path to Fiesa but instead of detouring through the hills, continue walking along the coast. After another 2.5km of walking, you'll see signs for the reserve.
There are numerous cafes along the waterfront – we stopped at Plaža bar Cavedin to refuel on the way. If you don't fancy a 14km round-trip, you can easily take a local bus from Piran to Strunjan then walk back.
---
17. Explore the Soline Strunjan salt pans
There's a Slovenian saying, "Piran is made of salt." This is a reference to the area's heritage of salt production, which dates back to the 14th century.
You can see salt pans up and down the coast, including in Portoroz south of Piran and in Strunjan to the north. The latter, the Soline Strunjan, form part of the Nature Reserve.
If you find yourself up this way, take some time to walk the concrete bridges and dykes around the salt pans. Even if it's not the right season, the man-made landscape of shallow pans carved from the boggy ground is still quite impressive.
There is a small display of traditional machinery nearby one of the Strunjan salt pans and a more developed museum in Portoroz.
---
18. Walk down the coast to Portoroz
The spa resort town of Portoroz could be described as Piran's posh cousin. The two towns are located just 4km apart, but they couldn't feel more different.
You can walk all the way to Portoroz's waterfront area from Piran via the coastal path that starts at the southern end of Tartini Square. It's an easy stroll that takes roughly an hour at a slow pace, and there are plenty of things to see along the way, including churches (Cerkev sv. Bernardina is particularly nice), viewpoints and beaches.
The highlight is the old salt warehouses that are located right on the path, roughly at the halfway mark. One of the distinct slanted buildings has been turned into a museum that chronicles the area's salt-making heritage.
If you prefer not to walk, there are frequent buses to Portoroz leaving from Piran's small depot. Tickets cost 1.20 Euro per person.
---
19. Try the famous Salt Flower Cake at Cafe Central
I didn't get much time to explore Portoroz, but one thing I definitely did not miss was Cafe Central on the ground floor of the Grand Hotel Portorož. I stumbled on it by chance, taken in by the grand lobby, which resembles the hull of a ship. Little did I know that this is a purveyor of award-winning cakes.
Like Perast in Montenegro, Portoroz has its own signature sweet that utilises local produce. The Salt Flower Cake (Torta Solni cvet) is a masterpiece: Soft cheesecake topped with salted crumble, peanuts and apricots.
While you're in Portoroz, don't miss having a gander at the magnificent Kempinski Palace, a luxury hotel built in 1912 when Portoroz was considered the most prestigious resort town on the Austrian Riviera.
---
20. Indulge in a salty spa treatment
Salt isn't just used for cooking, it's also used for health and beauty treatments. Mud and brine from the Sečovlje Salina salt pans is renowned for its curative properties and is used in a range of treatments at spas around Piran and Portoroz, including at the new Kempinski Palace Hotel.
There are a range of venues in Portoroz that offer traditional salt and mud treatments. These range from up-scale spas to more budget-friendly wellness centres that you can visit with a day pass.
---
What are your favourite things to do in Piran? Leave your Piran recommendations in the comments below!
---
More Slovenia & Balkans travel resources
Best things to do in Piran: Share it on Pinterest