Planning a trip to Slovenia and wondering how to get from Ljubljana to Lake Bled? This 2023 transport guide shows you how to travel safely and affordably.
As much as I hate to use the phrase 'must-see', there's really no other way to describe Lake Bled. Blejsko Jezero sits at the foot of the Julian Alps and is an absolute icon of Central Europe – and the poster child of Slovenian tourism.
I strongly believe it should feature on every traveller's Slovenia itinerary. Even if you're in a neighbouring country, it's worth making a special day trip just to cast eyes on one of Slovenia's most beautiful landscapes.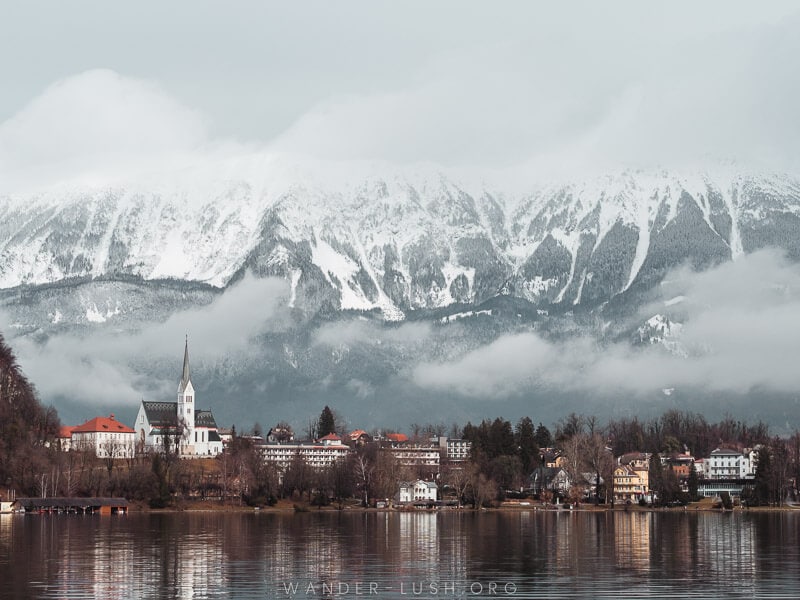 Visiting Lake Bled was one of the highlights of our 10-day trip around Slovenia. On the whole, Slovenia is small, affordable, and pretty much everything runs like clockwork. This makes it very easy to travel around. Because Bled is so close to Ljubljana, it makes for a perfect excursion, overnight or side trip from the capital.
In this post, I'll show you exactly how to travel from Ljubljana to Lake Bled. I've gone to great lengths to ensure all the information presented here is up-to-date, and I'll be updating the details regularly. I've also included a few helpful tips for planning your visit to Lake Bled.
---
Please note: This post contains affiliate links, meaning I may earn a commission if you make a purchase by clicking a link (at no extra cost to you). Learn more.
---
Distance from Ljubljana to Lake Bled
Lake Bled is located 54.4 kilometres (33.8 miles) from Ljubljana.
How long is the bus from Ljubljana to Lake Bled?
The bus from Ljubljana to bled takes between 1 hour and 1 hour 20 minutes give or take depending on traffic and the number of stops (both express and local buses are available).
By car, the journey can take as little as 40 minutes.
How to get to Lake Bled from Ljubljana
There are five ways to travel from Ljubljana to Lake Bled: On an organised day tour from Ljubljana, by bus, train, taxi or hire car.
Whichever mode of road transport you choose, you'll be travelling on highway E61. It leads almost due north from Ljubljana in the direction of the Austrian border.
Here is a quick overview of the different options:
---
Option 1: Day tour from Ljubljana to Lake Bled
Because Lake Bled is so close to Ljubljana (1.75 hours by road at most), it's entirely possible to visit on a long day trip. You can do it yourself using public transport, following the instructions below. Or you can organise a Lake Bled day trip from Ljubljana.
The latter has the added benefit of a guide to show you around and narrate some of the history. It's a great option for solo travellers, or anyone who has left it to the last minute and is concerned about the availability of bus seats.
I highly recommend booking your day tour through German platform Get Your Guide. They offer an excellent range of itineraries from independent tour providers, combined with the ability to pay securely online. If plans change, they have a very generous cancellation policy.
Recommended Ljubljana to Bled tours
This full-day trip from Ljubljana combines Lake Bled and Lake Bohinj. It includes an optional boat trip, a visit to Bled castle and a slice of Cream Cake. If I had to choose a Lake Bled day trip, it would be this one.
If you're interested in caves, this itinerary pairs a visit to Postojna Cave with Bled's highlights, including a boat trip and the climb up to the castle.
There are also tours to Bled from cities in a number of neighbouring countries, including from Trieste, Italy (7 hours duration), from Zagreb, Croatia (11 hours duration), and from Vienna (13 hours duration). All of these itineraries incorporate a short stop in Ljubljana.
---
Option 2: Bus from Ljubljana to Bled
If you're going DIY, the Ljubljana Bled bus is my preferred mode of transport for this journey. Arriva (the most popular bus company in Slovenia) runs large coaches between Ljubljana and Bled throughout the day.
A lot of people live outside the city and use this bus to commute to Ljubljana. The buses are both reliable and safe.
And if you travel on a Saturday or Sunday, you'll save some cash – tickets are much cheaper on the weekend!
Ljubljana to Lake Bled bus schedule
Ljubljana to Lake Bled is one of the most popular bus routes in Slovenia so departures are very frequent. The first bus of the day leaves between 5am and 7am depending on the season. After that, buses depart every 30-60 minutes, with the final departure around 9pm/10pm.
Check the latest bus schedule here on the Ljubljana Bus Station website.
Buying bus tickets online
Because buses are so frequent, you can usually chance it and buy your ticket on the day. If you're travelling in peak season, it might be wise to reserve a seat ahead of time.
To buy your tickets in advance, you can either go to the station in Ljubljana a few days prior (instructions below), or you can reserve a ticket online using the Ljubljana Bus Station website.
To find tickets, go to the homepage and search for buses from 'Ljubljana Bus Station' to 'Bled'. Enter your date to bring up a list of departure times. After you click the cart icon, you can choose either a one-way ticket or a return ticket.
Return tickets are good for 30 days from the time of purchase. You can return on any bus you want, but you must travel with the same bus company. Arriva is the most popular company on this route.
Tip: Before you buy your ticket, click the 'Details' tab to expand a full list of stops. Some buses make only a couple of stops while others make more than a dozen stops and therefore take much longer.
Currently a one-way ticket from Ljubljana to Bled costs 6.30 Euro on a weekday and 2.10 Euro on weekends. An open return ticket (valid for 30 days) costs 12 Euro. After entering your email you can then go ahead and pay online using Visa or Mastercard.
After you complete the purchase, you will either receive a ticket or a ticket invoice in your email inbox. The only way to board a bus is with a physical ticket – you cannot show the driver a ticket on your mobile phone, and they will not accept an invoice either.
If you received a ticket with a barcode on it in your inbox, then you'll need to print it out before you get to the bus station.
If you only received a ticket invoice, then you must arrive early at the bus station and exchange the invoice for a paper ticket before you travel (note the opening hours in the next section).
Do not attempt to board the bus with a ticket invoice or a digital ticket on your phone as you will be turned away!
How to get to Ljubljana bus station
The main bus station in Ljubljana (Avtobusna Postaja) is located in front of the train station on Trg Osvobodilne (see the exact location here). It's very close to the centre, roughly a 10-minute walk from the Dragon Bridge. A taxi from anywhere in the centre should only cost a few Euro. Note that taxis in Ljubljana are fitted with metres.
When you arrive at the bus station, you'll see it's laid out like a long parking lot with numbered bays. The Lake Bled bus should depart from position 7, which is right in front of the ticket office. You will be able to see 'Bled' clearly printed on a sign in the bus windscreen.
Buying or picking up tickets at the station
If you hold off and buy tickets in person at the station, prices are the same. Ticket desks are located inside the bus station building. If you need cash, there is an ATM at the station.
The first time we visited the bus station, we walked into the railway station by accident. The bus office is actually the smaller building situated in the centre of the parking lot (here).
Inside, there are TV screens that display upcoming departures. Walk straight up to one of the cashier desks to buy your tickets (or exchange your e-invoice). Staff are friendly and speak perfect English. You can pay either in cash or by card.
The ticket office is open from 5am-10.30pm Monday to Friday, from 5am-10pm on Sundays, and from 5.30am-10.30pm on Sundays and holidays.
If for some reason you want to buy tickets on the bus, you can do that too using cash. This is handy if you're boarding the bus from elsewhere in the city (the bus makes a few stops on the way out of Ljubljana, including across the road from Tivoli Park).
Storing luggage at Ljubljana Bus Station
There is a luggage storage office behind ticket desk #3 inside the Ljubljana bus station. It opens when the ticket desks opens and closes at 9.30pm. It costs 3.50 Euros to store one bag (up to 30kg) for a full day.
Luggage space on the bus
Coach buses have overhead storage racks for keeping small bags. Like most buses in the Balkans, you have to pay an extra fee to store a larger backpack, a suitcase or an oversized item such as skis under the bus. In Slovenia, you need to pay an extra 1 Euro per item.
When you're boarding the bus, the driver or an attendant will tag your bag, take your Euro and give you back a ticket stub. Keep hold of it, because they might ask to see it when you disembark.
Is there a toilet on the bus?
Yes! Arriva coaches have a toilet, air conditioning and WIFI. They are very comfortable.
Arrival at Bled bus station
Buses stop at two stations in Bled: Bled Union and Bled. The second stop, Bled, is the best one to jump off at if you're staying the centre of town or you want to head straight down to the lake. The bus terminates here, so you can't miss it.
From the station office, walk south along Cesta Svobode to reach the lake. It's pretty obvious, and remember, Bled is very small so it's almost impossible to get lost.
Is there a Flixbus from Ljubljana to Bled?
No, Flixbus does not service this route.
---
Option 3: Ljubljana to Lake Bled train
If you're a fan of train travel, there are plenty of passenger trains between Ljubljana and Bled. The journey is quite scenic and comfortable, and it takes about the same amount of time (or less) as the bus, around 45-60 minutes depending on the service you choose.
The only downside is that Bled Railway Station is located 5km from the lake, so you'll need to take a taxi or a bus the rest of the way.
Train schedule & ticket prices
There are frequent trains every hour or so from Ljubljana's main station (adjacent to the bus station) to Lesce-Bled, the most convenient station for accessing the lake. Local trains make a dozen or so stops along the way, including in Kranj and Skofja Loka.
The first train leaves Ljubljana at 4.45am, and the last train is at 11.50pm. Check the latest schedule on the Slovenian Railways website.
There are two types of trains: Older trains (abbreviated with LPV) and newer trains (marked MV or EN or EC). The newer trains are slightly faster.
Tickets for the LPV trains (second class only) cost 5.10 Euro per person. Tickets for the newer trains cost 6.60 Euro (second class) or 9.10 Euro (first class). Tickets can be purchased online here or in-person at the station.
How to get to Ljubljana Train station
The main train station in Ljubljana is located on Trg Osvobodilne along with the bus station (see the exact location here). It's very close to the centre, roughly a 10-minute walk from the Dragon Bridge. A taxi from anywhere in the centre should only cost a few Euro. Note that taxis in Ljubljana are fitted with metres.
On the train
There is plenty of luggage space on the train, and every carriage has a toilet. If you are taking a bicycle to Bled, look for the bike symbol next to the train number – these are the services you can carry a bike on.
Arrival at Lesce Bled Railway Station
Lesce Bled Railway Station is located 5km from the lake. A taxi should cost 5-10 Euros.
Alternatively, Arriva buses coming from Ljubljana stop at the train station and can take you to the lake for 1.30 Euro (10 minutes travel time).
---
Option 4: Ljubljana to Lake Bled by taxi
Ljubljana Airport is located almost halfway between the centre of Ljubljana and Bled. If you want to transfer to Bled straight from the airport, it makes more sense to jump straight in a taxi rather than going into town first.
Additionally, if you're travelling with a group of more than 4 people, it can work out cheaper to go from Ljubljana to Lake Bled by taxi. I would highly recommend organising a car in advance through a reputable company rather than trying to hail a cab on the street.
There are two popular companies that come recommended: Bled Taxi Transfer and Airtrail Slovenia. Both offer taxis from Ljubljana airport to Bled for between 40-45 Euro, and from anywhere in Ljubljana city to Bled for around 45-55 Euro.
Submit an online enquiry through their website for more information.
---
Option 5: Ljubljana to Lake Bled by car
Having your own car in Bled can be handy if you want to explore beyond the lake. If you plan on driving yourself from Ljubljana to Lake Bled, familiarise yourself with the route before you set off. It's a pretty easy drive along the same highway until the very end, where you turn off for the town.
There is one long tunnel just after the town of Kranj – make sure you know how to work your headlights!
You'll obviously need to choose accommodation in Bled that comes with parking (most do). If you're only in Bled for the day, secure parking is available here and at several other locations nearby for around 2 Euros/hour.
Read next: 18 epic road trip itineraries for the Balkans (including Slovenia!).
---
Lake Bled to Ljubljana: The return trip
Travelling the opposite way from Bled to Ljubljana is pretty straightforward. A taxi should cost you about the same, or maybe a tiny bit more. There are regular trains running from Lesce-Bled to Ljubljana, with the first service at 4.35am and the last train at 10.20pm.
Buses are just as regular going back to the city so again, bus is my preferred way to travel.
The first bus of the day departs Bled at 5am. After that, there are departures every 40-60 minutes until around 9.30pm at night. Check the schedule and purchase tickets online here.
The bus station in Bled is located off Cesta svobode (see the exact location here). It's very modest and shares an office space with a tourist agency. There is a small cash window where you can purchase tickets.
---
Ljubljana to Bled FAQ
What is the road to Bled like?
As someone who suffers from motion sickness, I'm always eager to know what kind of road conditions to expect. I'm pleased to say the highway between Ljubljana and Bled is straight and flat for the most part. I didn't have any trouble on the journey – in fact, it was very unmemorable. The scenery is lovely no matter which side of the bus (or car) you sit on. The trip is fast and smooth.
On the final approach into Bled, you'll leave the highway for about 4km or 6 minutes of driving. But even this road is well-maintained and unremarkable.
We always felt safe on buses in Slovenia (which is more than I can say for some other countries… Hint hint, Albania!). If your bus has seat belts (most do), you're obliged to fasten them.
---
Where to break the journey between Ljubljana and Bled
If you're self-driving around Slovenia or you have time to stop somewhere along the way, I can recommend two places to break the journey.
The first is the small city of Kranj. It's located just off the highway, almost exactly halfway between Ljubljana and Bled. Popular things to do in Kranj include Brdo Castle, Strmol Castle and Lake Zbilje. The city itself is gorgeous and filled with interesting architecture.
Every bus travelling from Ljubljana to Bled makes a mandatory stop in Kranj to let off some passengers and pick a few people up up. I'm sure you can store your luggage at the bus office in Kranj for a few hours before jumping on another coach to continue the journey.
Skofja Loka is one of my favourite places in Slovenia and also worthy of a look in your way to Bled. It's a little bit further east of Kranj along the same road, so you can easily combine the two.
In Skofja Loka, you should eat lunch at the Old Granary and if you have time, stretch your legs by walking up the hill for a view of the castle.
---
Bled travel essentials
Best time to visit Lake Bled
Lake Bled is a destination for all seasons, but the time of year you choose to visit depends on your travel style and what kind of activities you want to do.
Summer is peak season in Bled so crowds can be thick (especially on weekends) and prices are high. This is a good time for hiking in the Alps and for water sports. Winter in Bled is chilly and snowy, and the lake freezes over most years. Oftentimes it's too frozen for the boats but not quite frozen enough for ice skating.
Late spring and early fall are probably the best times to visit Lake Bled, when temperatures are mild, the landscape is green and the wildflowers are out, and the lake is still accessible. I visited Bled in late winter and although it was beautiful, it was very foggy and the landscape was a touch too dry.
How long should you spend in Bled?
If you're reading this, you've probably already hashed out most of your Slovenia itinerary. You might even be in Ljubljana right now planning to travel to Bled in the next few days (in which case, all I can say is – jealous!).
So how long are you going to spend on the lake?
You could do a Ljubljana to Lake Bled day trip. Or you could book yourself a nice little chalet on the water and relax for a couple of nights. There's no wrong answer: Lake Bled is always a good idea, no matter how much or how little time you have.
When we visited Slovenia recently, we chose to spend three nights on the lake. We found this was plenty of time to see the historical attractions, get some fresh air, and sample some of the best traditional Slovenian food on offer at restaurants in the area.
If you want to tick Lake Bled off your list, a day trip from Ljubljana will suffice. If you're into hiking, I would recommend staying at least two nights to give yourself one full day for exploring. And if you want to relax, budget anywhere from two to five nights for Lake Bled.
Where to stay in Bled
When visiting Lake Bled, most travellers base themselves in the adjacent town of Bled. Bled town is located on the eastern corner of the lake, just off highway E61. This is where you'll find the best range of accommodation options and most restaurants.
When we visited Bled, we stayed at this Airbnb on the outskirts of town. It was lovely, but it was a bit far from the lake (we didn't have a car). If you're driving, it would be perfect to stay somewhere in this area because there's ample street parking available.
Here are my recommended accommodations for different budgets:
Things to do in Lake Bled
This guide is all about travelling to Bled from Ljubljana – but I wanted to share a couple of recommendations for what to do when you get there.
Hike to the Mala Osojnica Viewpoint for a post-card perfect view of the lake. This is a short but steep trail that's open year-round (just make sure you have appropriate footwear and gear). The trailhead is at the western end of the lake, above the island.
Take a pletna to the Pilgrimage Church of the Assumption of Maria. Pletna is the name given to the traditional wooden boats that ply the lake's surface. You can hire a private captain or join a group to paddle over to the island, where you can visit the church.
Eat Bled Cream Cake. This cream and crisp pastry dessert is a revelation! Variations are eaten all over the Balkans, but Bled Cake is famous for being perfectly portioned (7cm by 7cm precisely) and extra indulgent. Confectionery Zima serves one of the best Bled Cakes in town.
Tour Bled Castle. Perched high above the lake, this is the oldest castle in Slovenia. I highly recommend the free audio app tour which guides you through the various rooms and viewpoints. Lovely views of the lake are available from the courtyards outside the castle
Walk a lap around the lake. The circumference of the lake is roughly 6km with a walking path the entire way. With plenty of stops for photos, it took us around 3 hours to complete. Hotel Park is a good landmark to start from, walking clockwise.
Take a day trip to Vintgar Gorge, Lake Bohinj or Triglav National Park. If you have more time, I recommend taking a day trip from Bled to nearby Vintgar (roughly 12km north) or Lake Bohinj (roughly 30km west). Organised day tours are available from Bled if you don't have your own car – but it's also an option to cycle.
→ Check out this post for more great things to do in Bled.
---
Slovenia travel essentials
Here are some helpful websites and resources you can use to organise your trip to Slovenia.
FLIGHTS: Find affordable flights to Slovenia on Skyscanner.
VISAS: Use iVisa to check if you need a tourist visa for Slovenia and apply for an expedited visa online.
TRAVEL INSURANCE: Insure your trip with HeyMondo, my preferred provider for single-trip and annual travel insurance.
SIM CARD: Buy an eSIM and data package for Slovenia online before you go. My top choice is the Eurolink eSIM from Airalo (10 GB for 30 days).
ACCOMMODATION: Find the best hotel deals in Slovenia on Booking.com.
CAR HIRE: Use Discover Cars to find the best price on a rental car in Slovenia.
CITY TOURS & DAY TRIPS: Find the best city tours and day excursions in Slovenia on Viator.
SLOVENIA GUIDEBOOK: Pick up a copy of the latest Lonely Planet guidebook for Slovenia (May 2022).
And there you have it! I hope this has answered your questions about travelling from Ljubljana to Lake Bled. If there's anything else you want to know, please leave a comment below and I'll do my best to help out.
---
Ljubljana to Bled: Save it on Pinterest