If you're a fan of this classic film about one woman's journey around the world in search of fulfilment, you'll be glad to know there are plenty more travel movies like Eat Pray Love out there.
In Eat Pray Love, Elizabeth (Julia Roberts) travels from India to Italy and beyond with the objective of healing old wounds, feeding her spirit, learning new skills, and reinventing herself. It's an inspirational and uplifting flick that illustrates the power of travel for self-betterment.
If you like Eat Pray Love, you'll love these 27 soulful films that explore similar themes of self-discovery, self-improvement, and the quest for meaning through travel.
---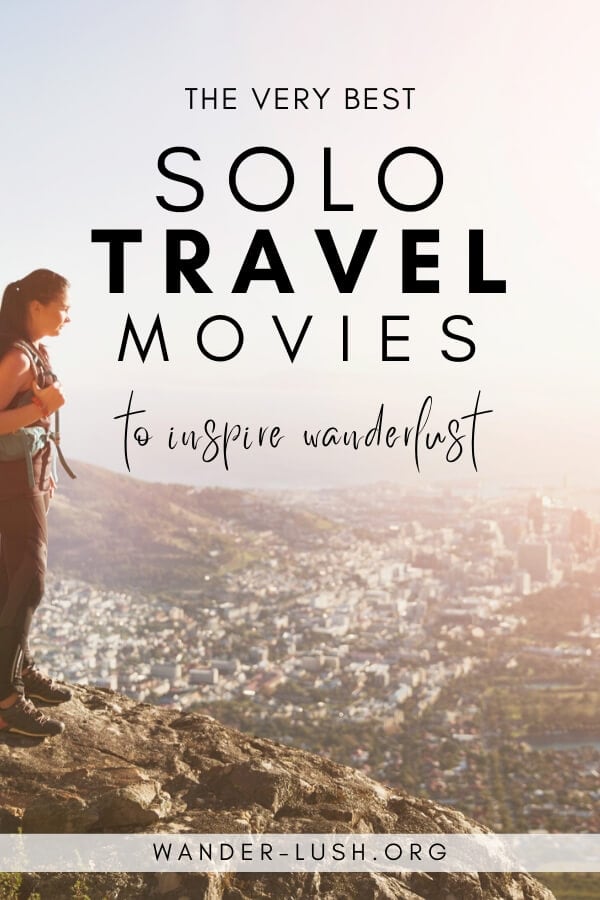 ---
Please note: This post contains affiliate links, meaning I may earn a commission if you make a purchase by clicking a link (at no extra cost to you). Learn more.
---
Movies similar to Eat Pray Love – quick links
---
27 inspirational travel movies like Eat Pray Love
This list spans a number of genres – from romantic comedies to biopics and documentaries. You'll find a mix of brand new releases and classics, all available to stream on Amazon Prime or Netflix.
If you like Eat Pray Love and you're looking for something new to watch, you're bound to find a few movies on this list that pique your interest!
Here are my top inspirational travel movies that are similar to Eat Pray Love. Drop me a comment at the end of the post and let me know which one is your favourite!
---
1. Nomadland
Released at the end of 2020, Nomadland is exactly the sort of poignant, touching film we all needed to put a full-stop on the tumultuous year that was.
Based on a true story, it stars Frances McDormand as Fern, a woman whose life is turned upside down after her husband passes away and her little town in Nevada is literally wiped off the map by the 2008 recession.
Fern takes to the road in a camper van, working odd jobs to satisfy her need to contribute to society. The people she meets along the way – real individuals who play themselves in the film – each teach her a lesson about life, love or loss.
She joins a temporary caravan and finds a community, but she's constantly drawn back to the road. When she visits her sister, she's forced to grapple with the questions: Why did I leave home in the first place? Did I find what I was looking for?
How to watch it: Rent or buy on Amazon Prime.
---
2. Paris Can Wait
There's nothing like a road trip through France to reawaken the senses. Paris Can Wait (2017) follows Anne, a middle-aged woman at a crossroads in life, as she makes an impromptu trip from Cannes to Paris with her husband's business partner in tow.
Riding in a blue Peugeot, the pair draw out their route, making detours in search of picturesque views, good food and wine.
This film is all about spontaneity, slowing down, and taking the time to enjoy the finer things in life. Who better than a handsome Frenchman to teach one such life lessons!
How to watch it: Rent or buy on Amazon Prime.
---
3. Wild
Like Elizabeth in Eat Pray Love, the protagonist in Wild (2014), Cheryl, finds herself at a juncture in life with more than a few demons to overcome.
To give herself a much-needed confidence boost and kick-start her new life after her divorce, she decides to set herself a seemingly insurmountable physical challenge.
Based on a true story, Wild follows Cheryl as she hikes the Pacific Crest Trail across the continental US. This movie is as much about mental fortitude as physical endurance.
If you like Wild, check out this list of awesome adventure travel films.
How to watch it: Rent or buy on Amazon Prime.
---
4. Tracks
Maybe you'd rather be wandering the streets of Florence then trekking through the Australian desert.. Like Wild, Tracks (2014) proves that we all define 'adventure' in our own way.
When Robyn, a young Brisbane woman, sets out to walk from Alice Springs to Western Australia's coast, she has no idea of the challenges that lay ahead.
This inspirational travel movie explores solo travel and the restorative power of solitude.
How to watch it: Rent or buy on Amazon Prime.
---
5. The Secret Life of Walter Mitty
If you like Eat Pray Love but you haven't seen the cult classic The Secret Life of Walter Mitty (2013), you need to fix that immediately! This movie has a similar tone, exploring themes of introspection, discovery and healing through travel.
Based on a fictional short story, this movie tracks one man's escape from corporate America as he turns his romantic and far-flung travel fantasies into reality.
He's on the hunt for something specific – but what he ends up finding along the way is totally unexpected.
How to watch it: Rent or buy on Amazon Prime.
---
6. Enchanted April
An oldie but a goodie, Enchanted April (1991) tells the story of four British women who respond to a newspaper advertisement and end up taking a life-changing spring trip to stay in a castle in Italy.
The change of scenery does its job, and as each of the women reflect on their marriages, they also find common ground and forge new friendships.
Interestingly, this classic film was shot on location in Portofino at the Castello Brown – the very same castle where Elizabeth von Arnim, author of the book the film is based on, stayed in the 1920s.
How to watch it: Rent or buy on Amazon Prime.
---
7. Everything is Illuminated
Despite being a huge fan of the Jonathan Safran Foer novel this film is based on, I must confess that Everything is Illuminated (2005) is still on my watch list! By the time you read this, there's a good chance I would have watched it multiple times.
This is another film about a deeply personal quest for meaning. Alex, the main character, sets off from his home in the US to Ukraine to track down the woman who saved his grandfather during WWII. Along the way, he must confront the pain of the past once and for all.
This film examines the impact where you come from has on where you're going – all in a lighthearted, poignant and slightly quirky format.
How to watch it: Rent or buy on Amazon Prime.
---
8. The Beautiful Country
Like the previous title on this list of inspirational travel movies, The Beautiful Country (2005) is all about embarking on the one journey some people were born to take:
The one to discover your roots. It follows Binh, a young Vietnamese man, who was abandoned by his father, an American GI, during the Vietnam War.
Binh's determination to connect with father and discover his true identity compels him to leave his village in Southern Vietnam behind and travel all the way to rural Texas.
It's an epic 6-month saga fraught with disaster; but for Binh, it's worth it to unravel the mysteries of his past. This film also looks at themes of belonging and community, and is very interesting from a historical perspective.
How to watch it: Rent or buy on Amazon Prime.
---
9. The Tree
Proving that it's never too late for an adventure, The Tree (2017) is the sweet, life-affirming tale of an 88-year-old widow who travels across middle America to visit a childhood friend.
Despite concerns from family, headstrong Dorothy is set her ways and wants to conquer the road back home from Kansas to Indiana on her own terms. There's nothing fancy about this film – it's subtle and pure, and looks at confronting issues such as ageing and independence in a soft, relatable way.
The story was inspired by the director's mother and her best friend – how cool is that!
How to watch it: Rent or buy on Amazon Prime.
---
10. Midnight in Paris
This one is for the romantics. Woody Allen's Midnight in Paris (2011) is a tour of the city through the eyes of a young couple. It's a visual feast with a rousing soundtrack. If you've visited Paris, you'll recognise many of the locations.
But, there's a twist. After the two lead characters have a lovers' spat, Gil decides to walk Paris's streets alone. While out late one night, he is swept up in a time-warp that sees him travel back to the Paris of a different epoch.
Part fantasy, part romantic comedy, this is a unique and memorable film about love, passion, and the beauty of getting lost.
How to watch it: Rent or buy on Amazon Prime.
---
11. Away We Go
When Verona and Burt learn they're expecting their first child, they decide to embark on a journey across America to find a place to raise their baby.
Similar to Eat Pray Love, Away We Go (2009) is about the search for belonging and the quest for clarity when life presents you with a difficult decision.
As the couple crisscross the country visiting relatives and friends, they gradually start to appreciate the true meaning of 'home' and how it's often a fluid concept. This indie film is a lighthearted comedy and a very easy watch.
How to watch it: Rent or buy on Amazon Prime.
---
12. Chocolat
While there isn't a lot of travel going on in this classic film, the evocative setting of Chocolat (2001) will transport you instantly to small-town France.
Remember in Eat Pray Love when Elizabeth starts learning Italian and almost instantly feels more grounded in her surroundings? The similarly free-spirited protagonist of Chocolat also goes to great lengths to form bonds with her adoptive community.
In the story, Vianne and her daughter move to a small, conservative village to open up a chocolate shop. They fight to win over the hearts (and taste buds) of their neighbours, eventually ingratiating themselves into the community.
Romance, adventure, poignant life-lessons – this uplifting story has it all.
How to watch it: Rent or buy on Amazon Prime.
---
13. Il Postino
I hadn't heard of Il Postino (1994) until I visited the Aeolian Islands off the Sicilian coastline last summer. Parts of the movie were filmed on the island of Salina (we got to visit many of the locations), making this a cult-classic Italian film.
The plot line reminds me a bit of Chocolat. Pablo, a poet exiled from Cuba, travels to the tiny Italian island to seek refuge. Once there, he meets Mario, a local resident who is employed as a postman with the sole duty of delivering Pablo's letters.
The two form a bond and Pablo teaches Mario the art of poetry, a tool he uses to woo a barmaid and bring the stories of his local community to live.
The picturesque setting combined with the motif of 'fitting in' in a foreign place make this a wonderful film for travel lovers.
How to watch it: Rent or buy on Amazon Prime.
---
14. Roman Holiday
Speaking of Italy – Audrey Hepburn's Roman Holiday (1953) is another cult classic travel film set in Bel Paese. Interestingly, this movie has its own genre. It emerged during what's know as the 'Hollywood on the Tiber' era, when international directors flocked to Rome to use the enchanting capital as a backdrop to their romance films.
Watching Roman Holiday is like taking a virtual tour around the Rome of the 1950s. The story line almost plays second fiddle to the location.
In the film, Princess Ann escapes her highly regimented life of luxury (not dissimilar to the idea of escaping from corporate America, a theme you see in many modern-day films like Eat Pray Love) and falls in love with a newsman who shows her a new side of the city, and a new side of herself.
How to watch it: Rent or buy on Amazon Prime.
---
15. Year by the Sea
When it comes to self-discovery and self-improvement, the 'sea change' is a motif that repeats across many of these films. In Year by the Sea (2016), the sea change is quite literal!
It follows Joan (a wife and mother) who decides to leave her husband in search of a new life in Cape Cod, Massachusetts.
As she tries to start afresh, she oscillates between feeling guilty and empowered, eventually turning to her local community and a mentor for encouragement. Like Eat Pray Love, this movie also features a male hero – described as 'a sexy fisherman' in the film's synopsis!
Year by the Sea proves just how powerful escaping the mental confines of one's comfort zone by physically relocating to a new place can really be.
How to watch it: Rent or buy on Amazon Prime.
---
16. The Best Exotic Marigold Hotel
I automatically put this film into the 'oldies' box when it was released; but truthfully I love it! The Best Exotic Marigold Hotel (2012) combines British humour (the best in the world – admit it!) with themes of self-discovery, breaking stereotypes and shifting perspectives through travel.
In the charming story, a group of retirees travel to India to stay at the eponymous hotel, most as part of a quest to give their life new meaning. Relationships form, revelations unfold, and group dynamics produce some interesting and very humorous situations.
Filmed in Rajasthan (Jaipur and Udaipur), this movie is a sensual feast – you can almost taste India in some of the scenes.
How to watch it: Rent or buy on Amazon Prime.
---
---
17. Under the Tuscan Sun
Just like Eat Pray Love, this movie is based on the real-life memoirs of an author who transports herself to the other side of the world in the hope of transforming her life.
As the name suggests, Under the Tuscan Sun (2003) is set in the Tuscan countryside – the perfect backdrop for such an adventure.
Leaving her old reality (and cheating husband) in San Francisco behind, Frances joins a group tour of Italy in search of inspiration. She winds up buying a villa (we've all fantasised about it!) and starting afresh in the idyllic town of Cortona.
The eclectic bunch of people from all over the world that she surrounds herself with all come to teach her important life lessons.
How to watch it: Rent or buy on Amazon Prime.
---
18. A Walk in the Woods
You're probably familiar with seminal American travel author Bill Bryson. Did you know that one of his novels was transformed into a movie? A Walk in the Woods (2015) draws on Bryson's 1998 memoir, dramatising his overland journey along the scenic Appalachian Trail.
Not wanting to complete the long hike alone, he calls on an old buddy to join him. The two butt heads constantly, but they end up solidifying their friendship.
As with the other inspirational travel films on this list that involve physical endurance, A Walk in the Woods conveys much wisdom about the human spirit and our impulse to press on through times of hardship. This isn't my favourite film (I found the pace a bit slow), but it's an easy watch nonetheless!
How to watch it: Rent or buy on Amazon Prime.
---
19. Vicky Cristina Barcelona
What would you do if a tall, dark and handsome stranger offered to whisk you and your girlfriend away for a weekend in the Spanish countryside? This is exactly the predicament Vicky and Cristina find themselves in when they travel to Barcelona.
The second Woody Allen film on this list, Vicky Cristina Barcelona (2009) is simple, but extremely entertaining. Juan Antonio is one of my favourite movie characters of all time – he delivers so many great one-liners throughout the film.
The trio's Spanish dalliance (it becomes a foursome when Juan Antonio's passionate and slightly crazy ex-wife gets involved) is romantic, hilarious, and a train wreck waiting to happen. Similar to Eat Pray Love, it explores impulsiveness and the transformative power of 'just say yes'.
How to watch it: Rent or buy on Amazon Prime.
---
20. Roma
Rendered in black and white, award-winning indie film Roma (2018) is subtle and stirring. Set in 1970s Mexico City, it tells the semi-autobiographical story of an affluent family and their housekeeper.
The setting may be unfamiliar, but the themes this movie explores are universal and will surely hit close to home.
A marriage in turmoil, an affair, a secret pregnancy – the characters' personal trials are sharpened by the political and social instability unfolding around them. This film is an interesting lesson on Mexico's modern history.
Travel comes into the story when the two lead female characters embark on a trip to stay at a friend's hacienda and again later in the film when they travel together to the beach. Both trips are intended to restore clarity to a very cloudy situation, and the women grow to form a unbreakable bond.
How to watch it: Stream it on Netflix.
---
21. Dare To Be Wild
One of the lesser-known movies like Eat Pray Love that features on this list, Dare To Be Wild (2018) received mixed reviews when it was released. Many critics say it's far too sappy and cliched – I'll let you be the judge!
The true story this movie is based on is quite an incredible one. It recalls a chapter in the life of Mary Reynolds, an Irish landscape designer and environmental activist, whose life mission was to change the way people think about nature.
In the film, Mary and environmentalist Christy Collard join forces and travel to Ethiopia in search of inspiration. Mary's final destination is London, where she hopes to realise her dream of showcasing nature's wild beauty at the prestigious Chelsea Flower Show.
How to watch it: Rent or buy on Amazon Prime.
---
22. The Darjeeling Limited
For me, nothing beats the nostalgia, romance and poignancy of Wes Anderson's The Darjeeling Limited (2007). Part overland journey, part personal quest, it follows three brothers as they travel across India by train in an effort to mend their relationship and find spiritual enlightenment.
The soundtrack is a delight, and although it's definitely a romanticised depiction of train travel in India, this movie put the Sub-Continent on my radar, never to be erased (I will travel across India by train one day if it's the last thing I do!).
The idea of releasing one's baggage, lightening the load, is a beautiful, universal motif that carries across this film.
How to watch it: Rent or buy on Amazon Prime.
---
23. Lion
Another personal favourite of mine, Lion (2016) tells the incredible true story of an Australian-Indian man's search for his birth mother.
In Eat Pray Love, Elizabeth sets off in search of 'something', not knowing what it is, but having a good idea of where she might need to go to find it. In Lion, Saroo's situation is quite the opposite – he's looking for something very solid and real, he just doesn't know where to start.
I can't tell you how moving this film and the book it's based on are. You just have to watch it to see what I mean!
I particularly like the scenes at the end of the film when Saroo travels to India and has an opportunity to compare his memories and fantasies with reality.
How to watch it: Rent or buy on Amazon Prime.
---
24. Up in the Air
Up in the Air (2009) is a travel movie of a slightly different ilk. The lead character, Ryan, is a corporate type who flies constantly for work and aspires to earn 10 million frequent flyer miles. When he strikes up a relationship with Alex whilst in transit, he starts to question his motivations.
Rather than exploring travel as an escape, this movie conversely paints 'normal life' as an escape from travel. Themes of impermanence and escapism emerge as Ryan is forced to weigh up the pros and cons of his travel-heavy lifestyle, reflecting on the old adage 'a rolling stone gathers no moss'.
This movie also imparts some practical lessons, like the benefits of travelling with carry-on only and tricks for getting through airport security more quickly!
How to watch it: Rent or buy on Amazon Prime.
---
25. The Terminal
Like the title above, The Terminal (2004) takes the theme of travel to heart and is mostly set in an airport rather than an exotic location. If that doesn't sound like your cup of tea, stick with it – this Steven Spielberg movie is actually very good!
The movie begins when a bureaucratic glitch leaves Viktor stranded in that otherworldly, interstitial space most travellers loathe: The airport lounge. He never makes it to his destination, but his experience is life-changing nonetheless.
This movie shows that oftentimes, you don't have to travel far (or at all, really) for a transformation to take place.
How to watch it: Rent or buy on Amazon Prime.
---
26. Lost in Translation
Like Eat Pray Love, Lost in Translation (2003) is a movie about a fish-out-of-water travel experience. Set in Tokyo – mostly in a hotel room – it's a comedy drama that examines themes of loneliness, culture shock and detachment in a poignant, profound way.
Bob and Charlotte strike up an unlikely friendship when they meet at their Tokyo hotel. They end up confiding in each other about their respective relationship struggles.
This movie illustrates how being in a foreign environment is a like a pressure cooker for relationships, forging friendships in a matter of hours. It also looks at the theme of finding familiarity in within the complete unknown.
How to watch it: Rent or buy on Amazon Prime.
---
27. The Trip to Spain
Here's a lighthearted comedy to end the list! The third film in the British movie series based off the hit TV series of the same name, The Trip to Spain (2017) follows Rob Brydon and Steve Coogan (who play themselves in the dramatised film) as they travel together through Spain.
'Misery loves company' and 'wherever you go, there you are' are the resounding themes of this movie. As the duo do their best to live in the moment, real life keeps on intruding. It's a comedy for sure, but there are dark and thoughtful undercurrents to this film as well.
Quite apart from the story line, this movie is a great way to feast on Spanish scenery and food through the screen. I must admit I let out a little squeal when I saw the pair dining at the Parador in Sos del Rey, the same little village I visited on my Spanish road trip many years ago.
If you enjoy this film, The Trip to Greece (2020), The Trip to Italy (2014) and The Trip (2011) are also worth watching (back to back if you want to make a movie marathon of it!).
How to watch it: Rent or buy on Amazon Prime.
---
Movies like Eat Pray Love: Pin it