Preparing for an overnight train or a long day overlanding by rail? These 25 train essentials will ensure you have a comfortable, safe and enjoyable journey.
Trains are my favourite way to travel – bar none.
And I might be in the minority here, but I love long, drawn-out rail journeys the best.
I've done an 18-hour trip by rusty train through corn fields in Northern Myanmar, and rode the Amtrak from Austin to New Orleans. I've taken the Reunification Express from Hanoi to Saigon, the Marrakesh Express from Tangier, and the scenic route across Austria from Vienna to Ljubljana.
I've been in a train on a ferry to cross from mainland Italy to Sicily, and I was there for the grand re-opening of Cambodia's Royal Railways from Phnom Penh to Kampot.
Some of my favourite rail journeys of all time are in the Caucasus, particularly the overnight trains between Tbilisi and Yerevan (Armenia) and Tbilisi and Baku (Azerbaijan).
All this to say that I've done my fair share of train travel and picked up a lot of handy tips along the way. This list of 25 train essentials includes all the things I pack for a comfortable and safe train journey.
Don't forget to check out my travel resources page for a list of websites and services I use to book train tickets around the world.
---
What to pack for a long rail journey: 25 train essentials
The basics
1. Travel documents
You're not going to get very far without the correct travel documents.
If you pre-purchased your train tickets online or through an agent, make sure the document you're holding is a valid ticket for boarding and not an e-voucher that you have to exchange at the station (I got caught out with this once in Budapest!).
If you're travelling across an international border, make sure you have your visas and identification in order. Keep your documents somewhere handy – you never know when a ticket inspector might appear.
2. A small bag for valuables
Separate to my main luggage and carry on, I always travel with a third 'small bag' that I keep on me at all times. It's big enough to hold my passport, my phone, my wallet, and one of my external hard drives – i.e. my most precious possessions.
A small bag is particularly handy on a train, when you might want to walk to the dining cart or the bathroom without lugging your backpack around.
Some people might use a money belt or a fanny pack, but I personally prefer a simple sling bag like this one (as a bonus, it's also anti-theft).
3. Luggage locks
If you're on a long train trip, chances are you're going to be in and out of your carriage or seat throughout the journey.
It's just not practical to carry all your luggage all the time, so I recommend investing in some good-quality luggage locks to keep your gear safe.
I like these these locks because they have a long, flexible mechanism that I can loop through multiple zippers.
Food & drink items
4. Insulated water bottle
A good-quality refillable water bottle is absolutely essential these days. All the better if it's insulated and will keep your drinking water chilled throughout the journey.
I personally use a S'Well water bottle when I travel and at home. After I left my 17oz version at the airport in Bangkok (devastating!), I upgraded to the 25oz volume, which I actually prefer. The insulation is top-notch, and the exterior coating prevents it from sweating in warm weather.
Not all trains have potable water fountains, so that's something you need to check in advance. In the absence of a refill station, you'll need to bring enough water to last you the journey (or else buy bottled water on the train).
5. Snacks
If there's one thing I've learned after all my years of train travel, it's not to skimp on the snacks. Even if your train has a dining cart and you're able to eat a hot meal, I still recommend bringing plenty of healthy things to nibble on throughout the journey.
To keep things fresh and tidy, you're going to want to pack a few sealer clips and reusable silicone bags. Again, these items are really helpful for cutting down on single-use plastics and food waste.
6. Something to share
One of the quickest ways to make friends on a long train journey (aside from #21, which we'll get to soon) is by bringing a few food items you can easily share around.
It's quite typical for people to share food on trains in Eastern Europe and Southeast Asia, particularly with tourists. It's nice to have something to give back in return.
While I usually recommend nuts or dried fruit, those things can be difficult to share. Biscuits or chocolates might be more appropriate in this case. In the Caucasus, it's a great idea to bring a few pre-sliced churchkhela. A bottle of wine or brandy also works!
---
Train essentials for keeping organised & tidy
7. Packing cubes
If you don't already travel with them, packing cubes really come into their own on a long train journey. This is especially true on an overnighter when you need quick access to a change of clothes or your toiletries.
When you're packing for the train, be sure to keep the things you're going to need in the top of your bag or in your day pack. It's never fun having to rummage around for something or turn your backpack upside down in a confined space such as a train berth.
8. Travel clothesline
A portable travel clothesline that doesn't require pegs (like this one) can come in very handy on an overnight train. String it up between bunks to air out a wet face towel, or use it to jury-rig a makeshift privacy curtain if you're on the bottom bunk.
9. Rubbish bag
Not all trains have trash bins inside the compartments. Some have tiny bins that are quick to overflow. Bring your own bag for trash – either a paper bag or a reused plastic bag – to keep your seat area or compartment tidy.
Train essentials for staying clean & fresh
10. Hand sanitiser
If you've ever been on an overnight train in Southeast Asia, you'll know full well that the bathrooms often aren't very glamorous.
These days, you can find hand soap and even paper towels on most trains – but I don't know if that's ever going to be enough to get the germs off. I always carry hand sanitiser on the train – and remember to keep it somewhere handy so you don't have to rummage through your things to find it.
11. Biodegradable wet wipes
Biodegradable wet wipes are great for cleaning down train tables, cleansing sticky fingers, and for using in the place of toilet paper when none is provided (not unusual on a train).
Biodegradable wet wipes are better for the environment. These ones are multi-purpose, and these ones are created especially for bathroom use.
12. Re-hydrating face mist
One of the easiest ways to freshen up without having to set foot in the train bathroom is by using a re-hydrating face mist.
I carry this non-irritant aloe and cucumber one whenever I travel and use it all the time on train, bus and plane journeys.
---
Train essentials for getting a good night's sleep
13. Sleeping bag liner
If your train journey is overnight, you'll be given clean linens to make up your bed (this is typical throughout Southeast Asia, the Caucasus, and in Europe). However, if you're at all fussy about the quality of your bedclothes, it can be a good idea to bring your own.
Silk sleeping bag liners are lightweight, compact, and perfect for this purpose. I've been on overnight trains in Vietnam where the sheets were, uh, sub-par – I just hopped into the safety of my silky bag and forgot all about those suspect mattress stains.
If the train pillow looks dodgy, you can also use it as a pillow case. For winter travel, you might prefer to use a fleece version.
14. Roll-up travel pillow
I suffer from migraines that are often triggered by sleeping in a bad position, so I always travel with my own pillow. This roll-up travel pillow has been by my side since 2013 (don't worry, it's machine-washable and I clean it regularly).
I swear by it – it's so much better than a neck support pillow while still being compact and lightweight. I use mine on trains, buses, and as my regular sleeping pillow.
15. Silicone ear plugs
Even if you have a private berth, trains can be noisy at night – especially with the clunking and crunching of machinery. Reusable silicone ear plugs like these ones are absolutely essential if you're a light sleeper and a good idea even if you're not.
16. Weighted eye mask
One of my worst overnight train trips was from Bangkok to Butterworth in the third-class open-bunk carriage. I was on the top bunk, and they left the fluorescent ceiling lights on all night. Even with a curtain drawn around my mattress, the light still came in through the top and kept me awake.
I only wish I had thought to pack an eye mask (duh). I now travel with a weighted eye mask which does wonders for my migraines, too.
What to wear on the train
17. Plastic slippers or thongs
If you're on a long train trip, you're going to need a pair of shoes you can easily slip on to wear in common areas and to the bathroom. These lightweight slippers are machine-washable and great for travel.
Just remember to bring a bag to put them in when you're ready to pack up – you don't want those tainted soles touching the rest of your luggage, trust me.
18. Light cardigan or cotton scarf (summer)
Depending where you are, train air-conditioning systems can be notoriously overzealous. Night trains in particular can get very chilly very fast when the central air is left on.
Remember to pack a light cardigan or oversized scarf that you can use to keep your shoulders warm.
19. Warm socks and a comfortable sweater you can sleep in (winter)
If you're travelling in winter, you're obviously going to need to take proper gear on the train. In the Caucasus and Eastern Europe, trains all have central heating.
---
Gadgets to bring on the train
20. Powerbank
Don't just assume that your train seat or berth is going to have easy access to power. On some trains in the Caucasus and in Vietnam, the only outlets are communal ones located in the corridors.
If you plan on using your phone throughout the train journey, you'll certainly need to carry a powerbank.
21. Portable WIFI hotspot
Not all trains have WIFI, either – especially older locomotives. A portable WIFI hotspot is worth the investment if you need to stay connected throughout the journey.
And like I mentioned earlier, sharing a hotspot is a surefire way to make new travel buddies – it's probably even better than sharing a bottle of wine.
22. Headphone splitter
If you're travelling with a partner or friend and you want to pass the time by watching a movie or listening to a podcast, etc., this little device is indispensable for sharing audio.
It's one of my travel essentials!
23. E-reader
Another travel gadget I couldn't live without is my Kindle. I can't read on buses or in cars because I get motion sick. Long train journeys are one of the rare times I can settle down with a book and not feel guilty that I should be working.
When it comes to books that are ideal for reading on trains, Amazing Train Journeys and Monisha Rajesh's Around the World in 80 Trains are both apropos.
24. Reading light or headlamp
Most trains are fitted with reading lights but there's no guarantee they will be working. A reading lamp like this one or even a headlamp is always good to have so you don't disturb other people. It can also come in handy for making your way around the train in the dark.
Of course you could just use the torch on your phone, but that's going to wear your battery down pretty fast.
25. Your camera
One of the best things about travelling by train is of course the scenery. A lot of people get so caught up in the logistics of the journey or finding ways to pass the time that they forget to look outside.
Make sure your camera is easily accessible so you don't miss out on any photo opportunities. Oftentimes, trains pass through landscapes other travellers miss out on when they're moving around by plane or car – so here's your chance to see something truly unique.
I recently upgraded to the Olympus OM-D E-M5. It's super lightweight and when paired with a prime lens, perfect for snapping fast-moving scenes from train windows.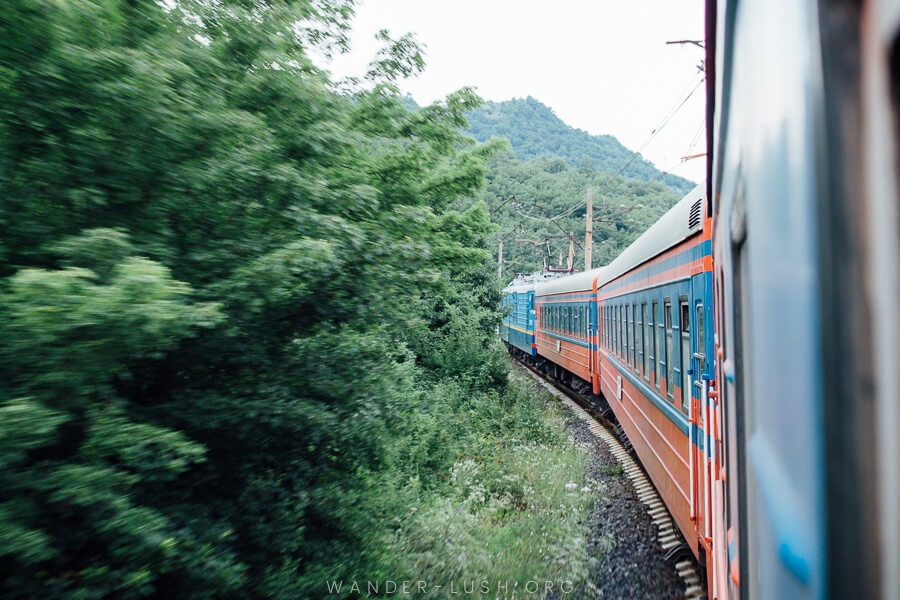 More packing tips
Pack light. The less you carry, the more freedom you have. Besides, who wants to have to worry about squeezing their stuff into train luggage racks. Here are 10 excellent tips for travelling light.
Choose a minimalist backpack. It will help you keep your pack under control and maybe make you less of a target for pick-pockets. Here are my favourite minimalist backpacks and day packs.
If you're travelling to the Caucasus, check out my detailed packing list for Georgia, which includes tips on what to wear – and a few handy gadgets you probably hadn't thought to bring with you.
---
I'm curious – what are your train essentials, the things you can't go without on a long journey? Let me know in the comments!