With a rich heritage of Indigenous crafts, access to beautiful raw materials and an exciting contemporary design scene, Colombia is truly a paradise for shoppers.
One of the highlights of travelling in Colombia is exploring the country's colourful markets and gift boutiques. You can learn a lot about the different regions through the different handicraft traditions – and of course pick up some special mementos along the way!
For this list of 30 Colombian souvenirs, I've purposefully chosen authentic and meaningful items – handcrafted and locally made products that will keep the memories of Colombia alive long after your holiday has ended.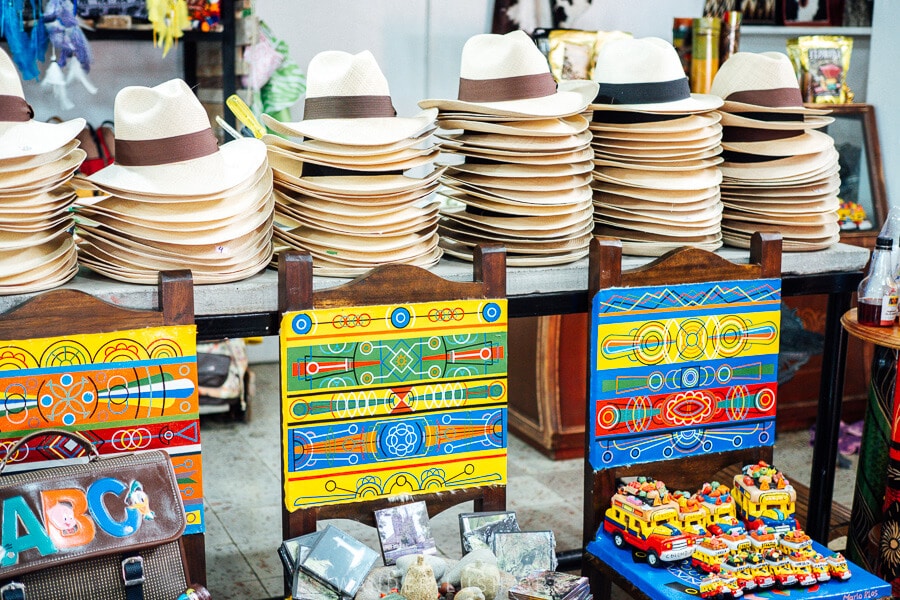 This guide is presented in three parts: Traditional Colombian handicrafts (including clothing, jewellery and homewares) that are specific to different towns and regions; quirky and fun Colombian gifts that you can find anywhere in the country; and souvenirs for your pantry, including specialty food items and Colombian kitchen gadgets.
You'll also find lots of tips for where to shop in Bogota, Medellin, Cartagena and beyond, and where to find Colombian gifts online.
---
Please note: This post contains affiliate links, meaning I may earn a commission if you make a purchase by clicking a link (at no extra cost to you). Learn more.
---
What to buy in Colombia: Traditional Colombian handicrafts
1. Wayuu Mochila bag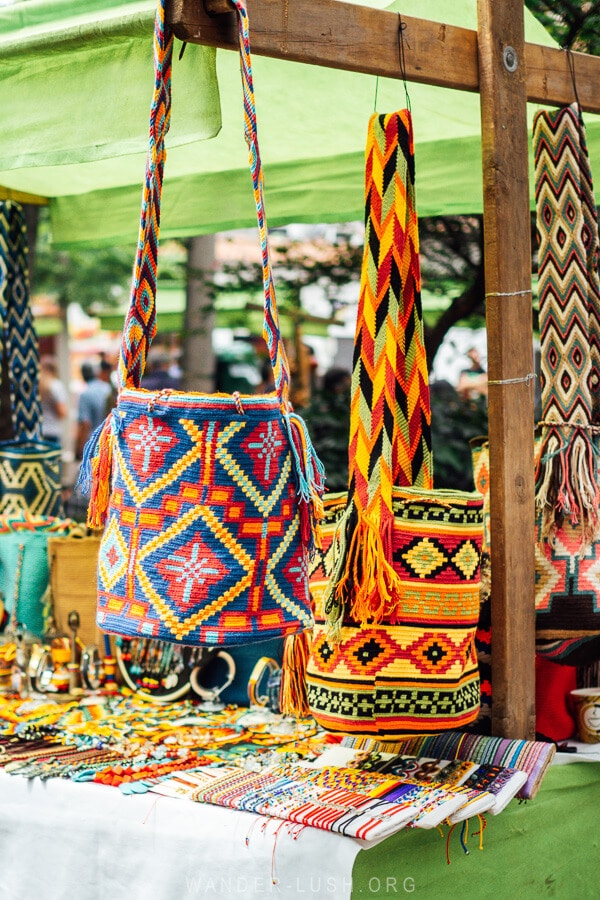 Wayuu Mochila bags are arguably the most famous of all Colombian souvenirs. Almost every tourist (including myself!) gets enticed by these bright and cheerful handmade shoulder bags – the only trick is holding out long enough for a pattern and colour scheme that suits you to a T.
Mochila bags are made by women from the Wayuu ethnic group, whose traditional lands are in the northernmost part of Colombia and in Venezuela. Members of the Kogui, Kankuamo and Arhuaco groups also make Mochilas.
The cylindrical bags are crocheted by hand and finished with thick woven straps and oversized tassels. These days, most artisans work with acrylic threads, which makes the bags durable and machine-washable. Vibrant pinks, greens and maroons are the norm, but I have a soft spot for Mochila woven from natural fibres in more subtle, earthy hues.
There are a few different ways of making a Mochila bag, and the technique used influences the price point. Single-thread bags are delicate with finer designs and take a longer time to make (up to 8 weeks per bag), while double-thread bags have bolder motifs and can be whipped up in a couple of weeks.
The best place to buy a handmade Mochila is in the north of Colombia where the Wayuu live, around Santa Marta and the coast. However, you can find these bags absolutely everywhere, at markets and shops all around the country.
2. Carriel satchel from Jerico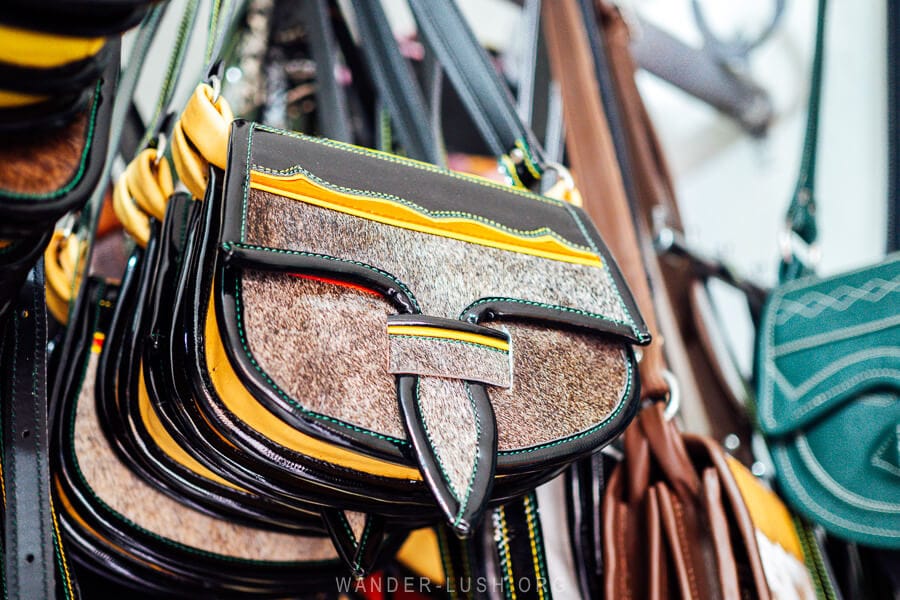 The little Antioquian town of Jerico is very close to my heart. One of the things that made me fall in love with Jerico is the unique handicraft traditions.
Like many small towns in Colombia, Jerico has an unofficial uniform: Leather boots, a wide-brim hat, and a white scarf thrown over one shoulder. One thing you'll see here that is less common is Carriel bags, ornately designed leather satchels used by both men and women.
The Carriel is definitely Jerico's signature product. Up and down the quiet streets, skilled craftspeople sit behind antique Singers sewing the bags by hand.
Carriels are traditionally small but thick, with dozens of pouches and hidden pockets. In the past, this design feature was intended to conceal valuables and love letters alike! Back in the day, gauchos would use their Carriels as makeshift pillows during long horseback journeys.
Some Carriels are pared-back and made from one tone of leather. Other more distinctive designs feature pieces of leather cut along scalloped lines, bright trimmings, and patches of furry cowhide.
I must admit that I wasn't a huge fan of Carriels in the beginning, but once I learned the story behind the Carriel and saw them being made, I was hooked! My Jerico Carriel bag comes with me everywhere to this day, and my husband's Carriel-inspired wallet is still part of his daily uniform.
3. Kuna Mola textiles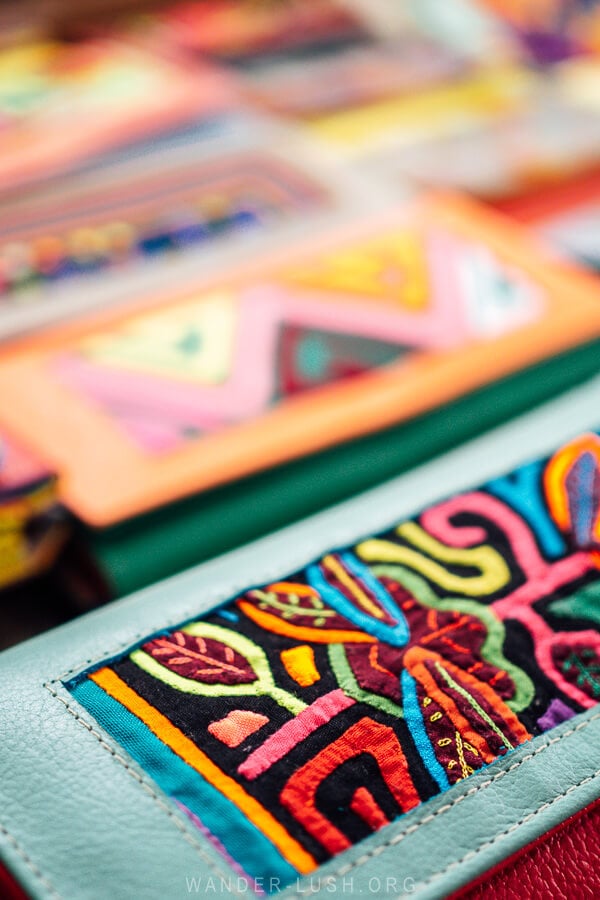 Exuberant mola textiles are not unique to Colombia – in fact, they are more readily associated with the Guna community in neighbouring Panama. In Colombia, the indigenous Kuna people from the far north-west of the country and the Caribbean islands off the coast of Panama give these multipurpose textiles their own flare.
Molas are handmade using reverse appliqué, where up to 7 layers of cotton fabric are sewn together then cut apart to form geometric patterns. Some depict local flora and fauna – birds are a popular motif – while others are purely abstract.
For the Kuna, mola patterns are a language used to express emotions, tell stories, and interpret the world around them. The tradition has been practised for centuries, but its form has changed dramatically over the years. Before European colonisation, mola designs were painted onto women's bodies using natural dyes. When the Spanish brought new fabrics to the area, the Guna started transferring the designs to their clothing.
You can find Kuna Mola fabrics all over Colombia, sold as fabric swatches (these make for lovely wall hangings when framed) or combined with leather and other materials to make purses and other accessories.
4. Ruana Colombian poncho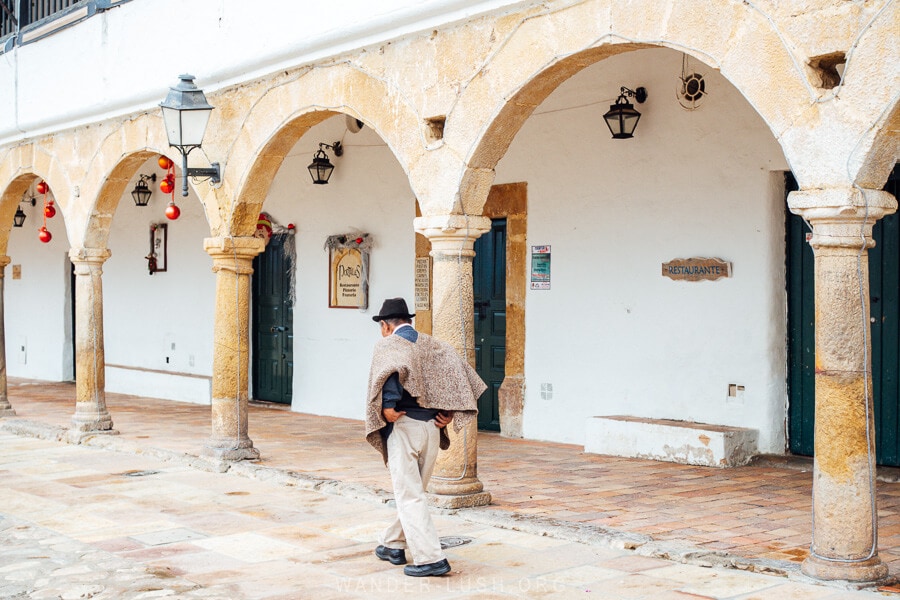 Ponchos are a ubiquitous garment in South America, embraced by almost every culture for their practical design and beautiful silhouette. The Ruana is Colombia's answer to a poncho (Venezuela also shares this tradition) – and it has a couple of special characteristics that set it apart.
Traditionally made from thick wool, ruanas have a rectangular shape and sleeveless design. Unlike ponchos, the front is often left completely open so that the wearer can 'wrap' the two halves around their body. This makes it extra cosy and snug.
Ruana are worn and sold all over Colombia, including in Antioquia Department. In the past, designs often came with thick red and yellow stripes, but today most ruana are simplified and come in solid colours. Dark tones are most popular: Grey, black and deep blue.
5. Sombrero Vueltiao hat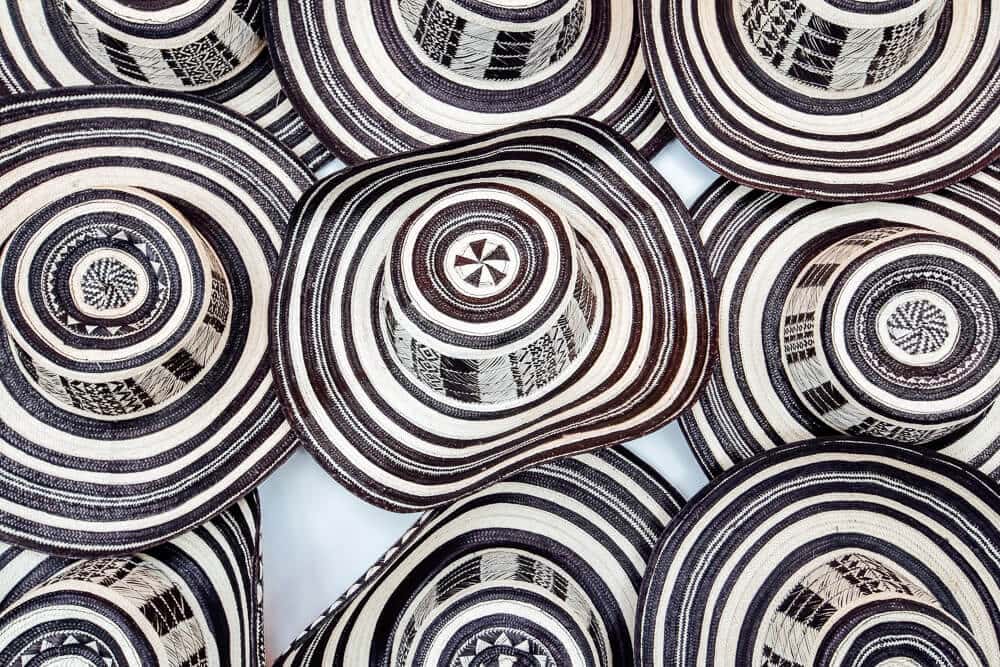 Also known as caña arrow (arrow cane) or 'turned' hats, the Sombrero Vueltiao is perhaps Colombia's most iconic piece of headwear. The loud and proud black-and-white design has its origins with the pre-Columbian Zenú tribe, and their descendants in Cordoba and Sucre continue to make the hats according to the old methods today.
The hats are made from caña flecha, an endemic cane. Darker fibres are soaked in mud and boiled with plant dyes to give them a black tone, while lighter fibres are kept white. The two colours are then braided together to form the body of the hat and its wide brim.
The hallmark of a good Vueltiao is its flexibility. The more dense, soft and supple the hat is, the higher its quality – and the higher the price tag. Every hat is labelled with the number of 'laps', which denotes the number of caña strips the artisan used to make it.
The quality varies from 15 pairs of cane, a loosely woven hat called a Quinciano, all the way up to the Veintisiete, which uses 27 pairs of cane and takes up to a month to make. As a general rule, 19-23 pairs makes for a good quality hat that is adequate for daily use.
6. Aguadeño hat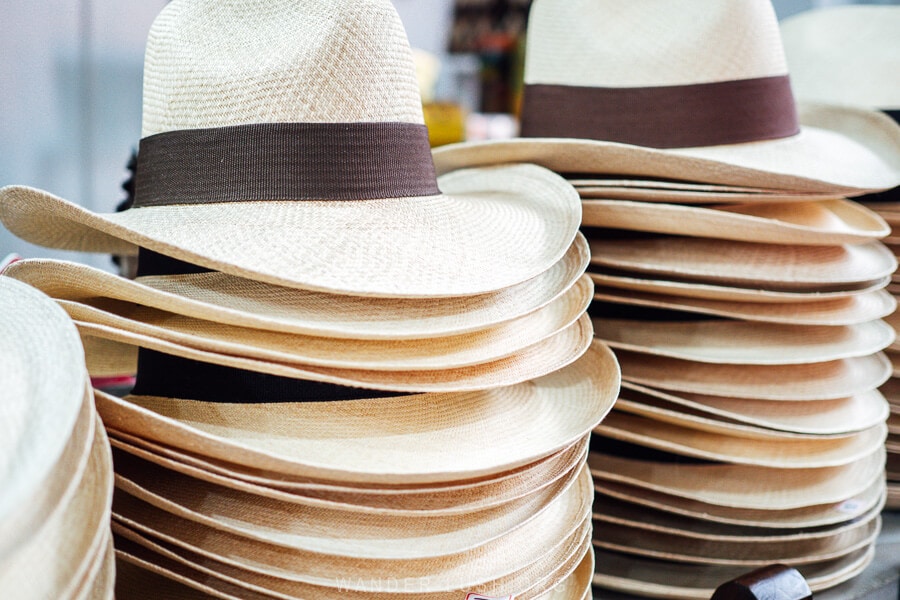 Another iconic piece of Colombian headgear, Aguadeño hats are commonly worn by farmers in the Coffee Axis. This distinguished design is a specialty craft that belongs to the town of Aguadas, located 4 hours south of Medellin by road.
Aguadeños (the name of the hat comes from the town) trace their history back to the 1870s. Woven from milk-coloured Iraca palm, they are beautifully shaped and can either have a wide brim or a smaller brim that resembles a classic Panama hat. Both are finished with a dark leather or fabric band.
These hats are high-quality – super fine and soft. When you see them up close, you'll notice there's not a fibre out of place.
Go straight to the source in Aguadas to buy an original from a family-run Aguadeño workshop, or look out for this label in shops around Antioquia and other parts of Colombia.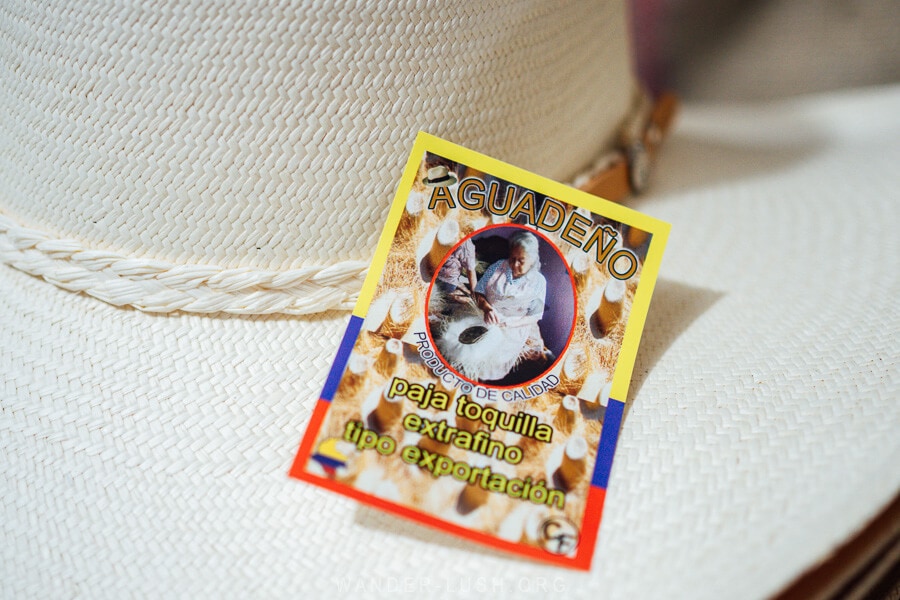 7. Filigree jewellery from Mompox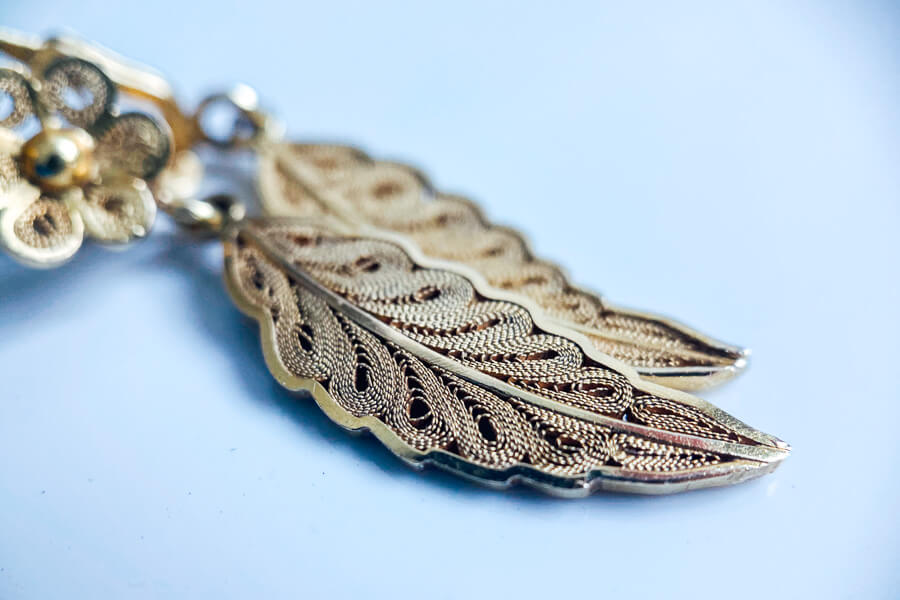 Santa Cruz de Mompox is a small town in northern Colombia's Bolívar Department, around 275 km inland from Cartagena. A UNESCO World Heritage Site since 1995, Mompox is known for two things: First and foremost, it's well-preserved colonial architecture, and secondly its traditions of filigree.
Filigree is a metalwork technique whereby minuscule pieces of gold and silver wire are worked into ornate designs. I first saw filigree in action in Prizren in Kosovo – it's hard to overstate just how much attention to detail and precision it requires.
Mompox's filigree workshops date back to the 16th century when artisan guilds were first established in the port town and gold became more readily available. Artisans drew on the skills of local goldsmiths, Arabic techniques learned from the Spanish conquistadors and ancestral methods introduced by African slaves to create their own kind of filigree. Ultra-fine and full of spiralling shapes, it's famed throughout Colombia and the world.
You can find all sorts of delicate and beautiful filigree jewellery from Mompox, including pendants, earrings and brooches. Silver is much more common than gold these days.
8. Clay pottery from Raquira
Just over 3 hours by road from Colombia's capital city, Bogota, the town of Raquira is a popular day trip destination. Plan to visit on a Sunday when the town's biggest market takes place.
The thing to buy in Raquira on any day of the week is clay pottery. Raquira literally means 'City of Pots' in the native Chibcha language – and that's all you really need to know!
Workshops and pottery wheels line every street in Raquira. Red clay pottery done in the northern Andean style is the specialty here. Visitors can shop a huge range of homewares, decorative ceramics and my favourite, clay wind chimes that sing a beautiful dulcet tune.
Raquira's brightly coloured houses and overflowing pottery shops gives it an absolutely charming vibe.
9. Black ceramics from La Chamba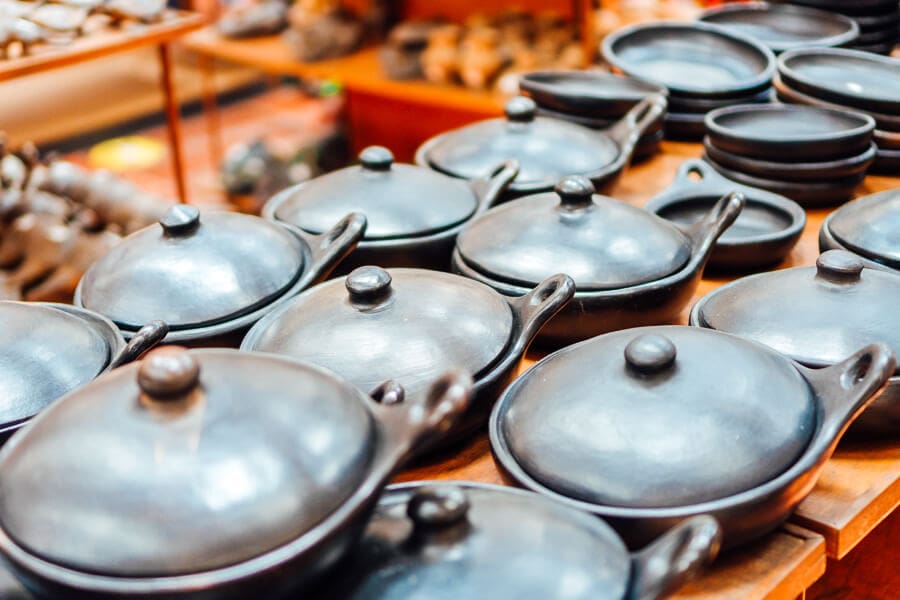 Located 170 km from Bogota in precisely the opposite direction, the town of La Chamba in Tolima also has rich pottery traditions. But as you can see, the finished product is very different from the red clay earthenware made in Raquira.
The beautiful matte black finish on traditional La Chamba ceramics comes from the firing and stone-smoothing processes, something that artisans have been working to refine over generations. Family workshops use micaceous clay sourced from the nearby Magdalena River, so these ceramics are truly local.
Unlike Raquira where designs have been adapted for tourists, La Chamba pottery is much more utilitarian and true to its design roots. Forms that originated with the indigenous Poinco people endure to this day. Instead of ceremonial vessels, La Chamba artisans craft practical cooking utensils: Small pots for cooking and serving beans, casserole pans, and comals for tortillas.
You can also find black ceramics in Raquira, but the most authentic iterations come from the workshops of La Chamba.
10. Arrow cane jewellery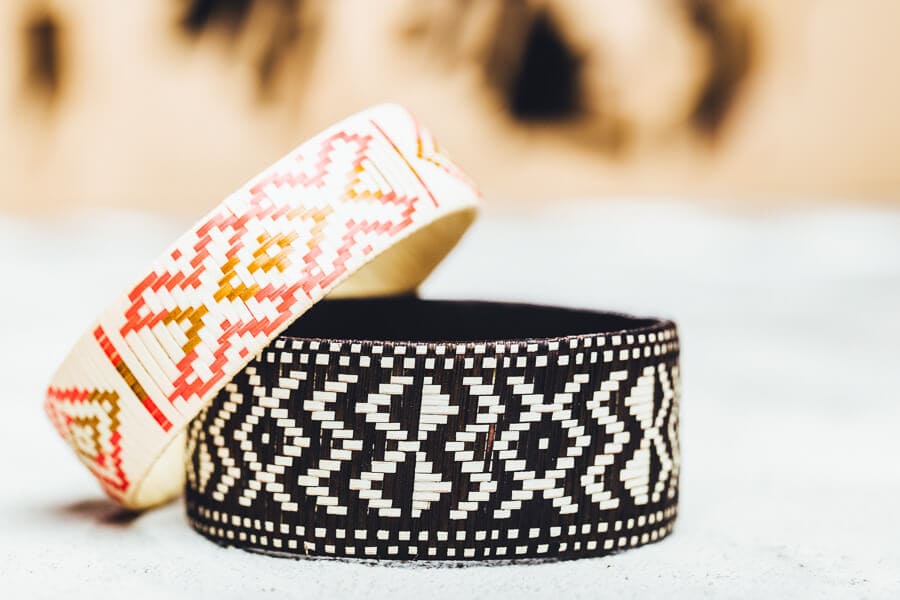 Native caña arrow (arrow cane) is not only used for crafting spectacular Vueltiao hats, it can also be manipulated into other forms – including jewellery.
If you don't have room in your suitcase for a full-size sombrero, a smaller bracelet made from woven arrow cane fibres is a good compromise. You can find these and other cane knickknacks at markets all over Colombia.
11. Iraca hand-woven straw placements
Iraca is another versatile natural fibre used for a range of Colombian handicrafts. It is extracted from the toquilla palm, which grows all over Central and South America and can also be found in the Philippines and Singapore.
Fans, placemats and coasters woven from iraca make for beautiful souvenirs from Colombia for the home. The texture is similar to a very fine wicker, with a smooth and easy-to-maintain finish.
If you like woven crafts, also keep an eye out for Guacamayas, traditional bowls and vases made by the U'wa people. They use another natural fibre called fique, which is dyed in a rainbow of colours before it is woven.
---
Quirky Colombian souvenirs & gifts
12. Handmade maracas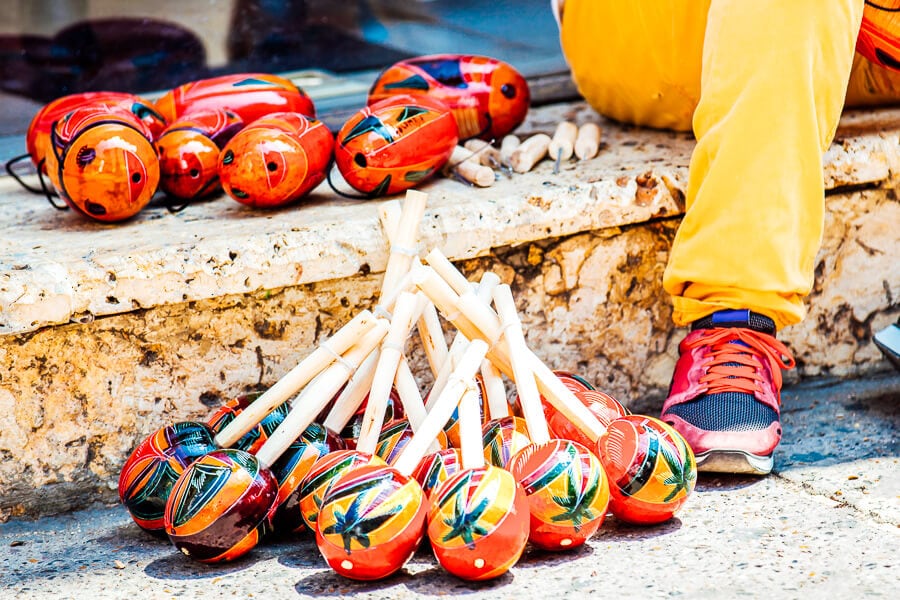 Music and dance is an integral part of Colombian culture, so it's no surprise that musical instruments make an appearance at almost every gift shop around the country.
National instruments such as the 12-string Colombian tiple and the accordion might be a bit too big to pack in your suitcase. For something more suitably sized to remind you of Colombia's rhythm, try a pair of hand-made maracas.
In Cartagena, craftsmen hand-make maracas like these with funky palm tree designs.
13. Woven hammock
If you're planning to visit a beach in Colombia, chances are you'll find yourself lounging in a hammock at some point during your trip. More than just a comfy place to stretch out and soak up some sun, hammocks have a special place in Colombian culture.
Ethnic groups including the Wayuu (who also craft those beautiful Mochila bags) have been making and using hammocks for generations. When shopping for a hammock in Colombia, pay special attention to the Cadejos, hand-plaited coloured threads between the main part of the hammock and the arms. Not only do they add extra strength, they also carry beautifully intricate patterns.
14. Mini chiva bus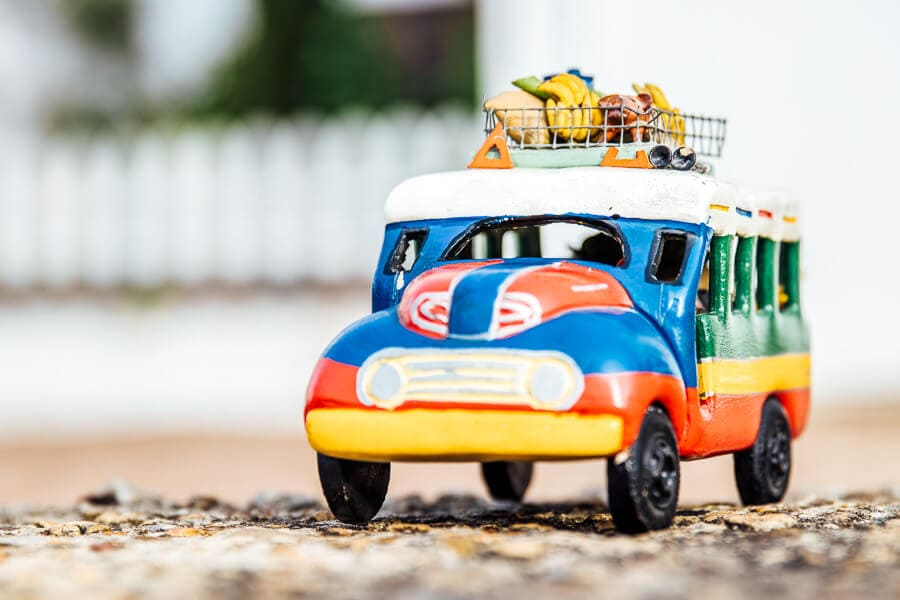 Riding a chiva bus is a must-do in Colombia! These exuberantly decorated trucks ply country roads in the Coffee Region and beyond, bringing joy to passengers and passers-by alike.
Each chiva is a work of art, painted with the colours of the Colombian flag (red, blue and yellow) and festooned with imaginative patterns and designs. A mini chiva bus is the perfect take-home to remember Colombia by. I especially love the model toys with baskets of fruit and coffee on the roof racks – real Colombia style!
15. Mini Paisa house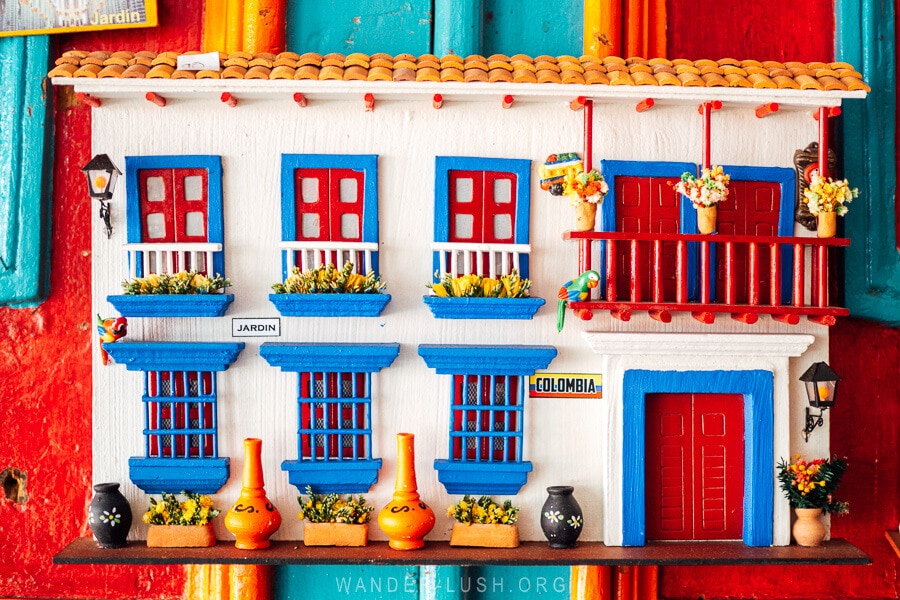 Another feature of Colombian culture that brings colour and joy to the everyday are the country's pueblos. Guatapé and Jardin are known as two of the most vibrant small towns in the country, each boasting row upon row of rainbow-coloured facades, front doors and patios.
If you live in one of these small towns, it's polite to do a colour consultation with your neighbours before deciding on your home's palette. After all, they are the ones who will be seeing your facade most often!
A miniature version of a Paisa house from Antioquia Department is the perfect model decoration or magnet for your refrigerator. Find them in all good shops in Jardin and beyond. In Santa Fe de Antioquia and Villa de Leyva, shops sell white-and-tan houses and model cathedrals that mirror the town's pueblo blanco colour scheme.
16. Leather & suede goods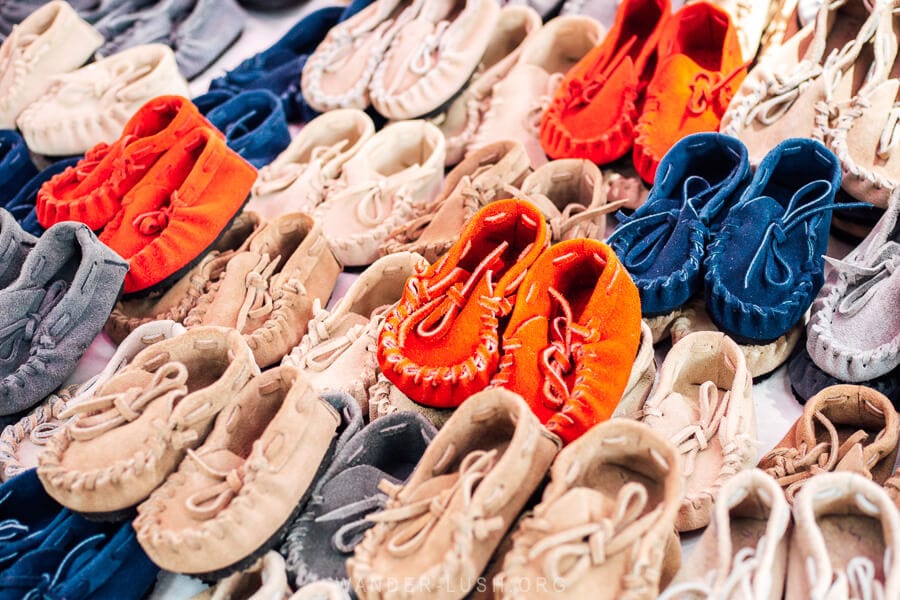 Home to some 28 million head of cattle, Colombia is certainly a meat-eating nation. It's no surprise, then, that leather and suede handicrafts have made their way into many artists' repertoire over the years.
Leather bags, wallets and purses are very popular in Colombia, both as traditional designs such as the aforementioned Jerico Carriels and in contemporary form. I love these cute kids' moccasin shoes sold at the San Alejo Handicraft Market in Medellin.
If you're in the market for a new pair of boots or a jacket, Colombia is a great place to pick up high-quality, heirloom-worthy leather goods.
17. India Catalina statue from Cartagena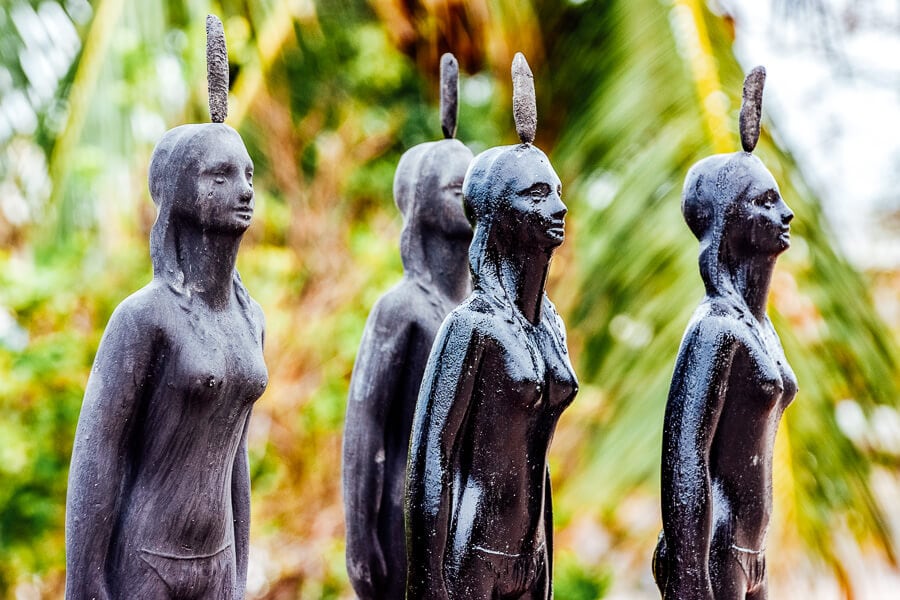 India Catalina is regarded as a Colombian hero and a symbol of the coastal city of Cartagena. Born in 1495 into an Indigenous Mokaná family on the Atlantic coast, she was abducted by a Spanish conquistador and later accompanied Pedro de Heredia on his travels around the region, serving as his interpreter.
In 1974, a statue of India Catalina designed by Eladio Gil Zambrana was erected in the centre of Cartagena. Scaled replicas of the monument are given out as awards at the annual Cartagena Film Festival, and you can buy your own at any market or shop in the city.
18. La Pollera Colora traditional skirt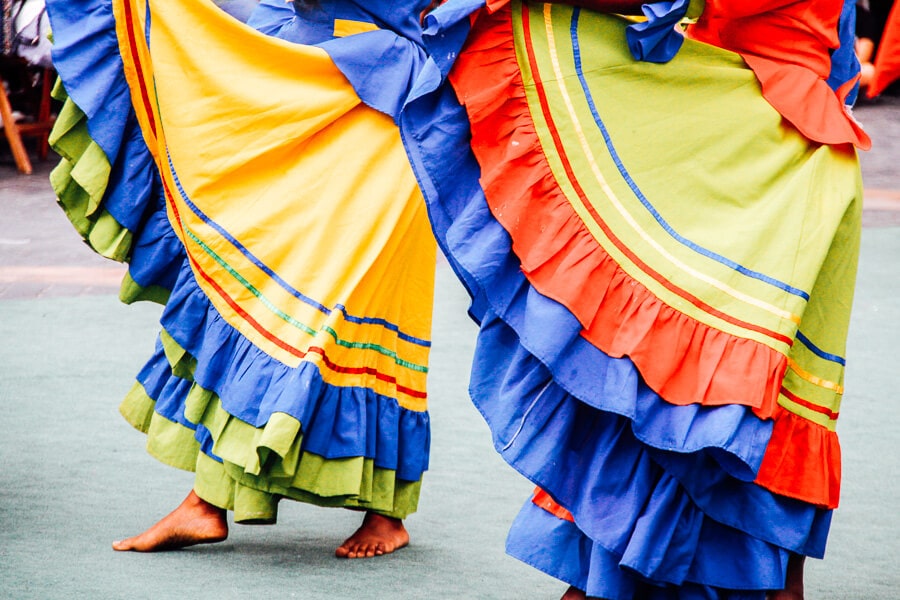 Pollera are beautiful flowing skirts worn throughout Latin America. In Colombia, the folded dress is colloquially known as La Pollera Colora (literally 'bright coloured skirt') after a popular 1960s Cumbia song.
Pollera started out as mandatory dress for Indigenous women, forced on the community by the Spanish colonists in the 16th-17th centuries. Each country has since made the pollera their own, adding flourishes of embroidery, ribbons, and other embellishments.
In Colombia, the skirts are worn during various celebrations and parades. Many boutiques sell them – just be aware that some are very heavy due to the many layers of fabric.
19. Colombian football jersey
If music is the bedrock of contemporary Colombian culture, then football (soccer) could be a close second!
Football is Colombia's national sport and a beloved tradition. Show your support for the home team by picking up a Colombian jersey. There are many different designs available, most with a solid yellow body and blue and red stripes or patterns that reflect the colours of the national flag.
Every sportswear shop in Colombia sells jerseys, and you can find affordable knock-offs at street markets in every city.
21. Cumbia record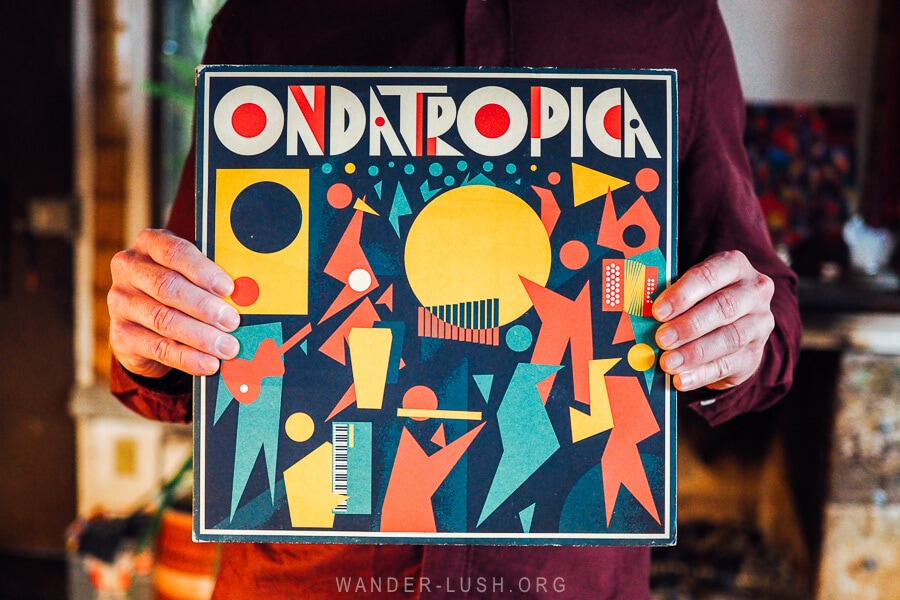 ---
Colombia souvenirs for your kitchen & pantry
23. Arepa flour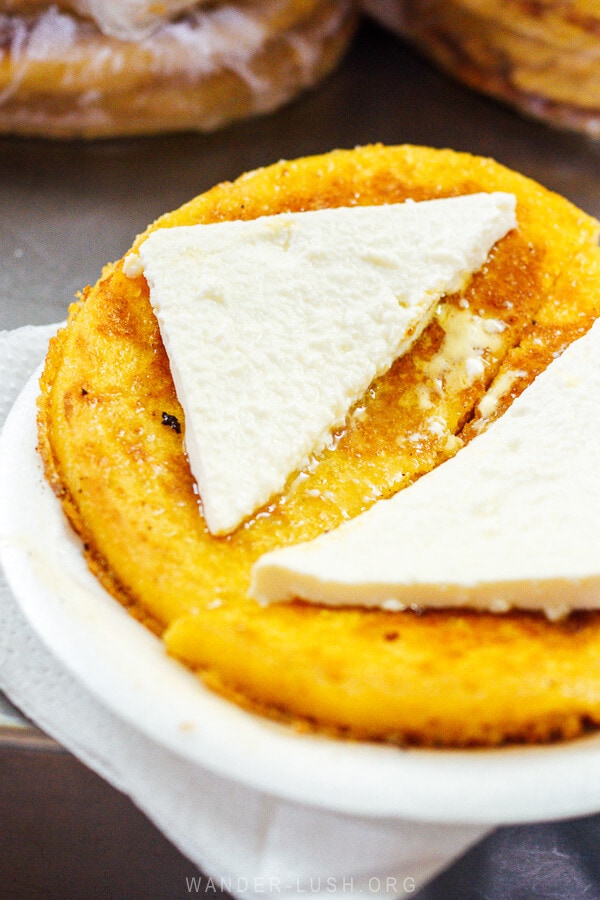 If you want to recreate delicious Colombian arepas and empanadas at home, you'll need a few special ingredients. Arepa flour is a refined, pre-cooked corn flour – it can be substituted with a mix of cornmeal, plain flour and starch, but nothing beats the real deal.
White and yellow pre-packaged flours are available at all supermarkets in Colombia and online.
24. Panela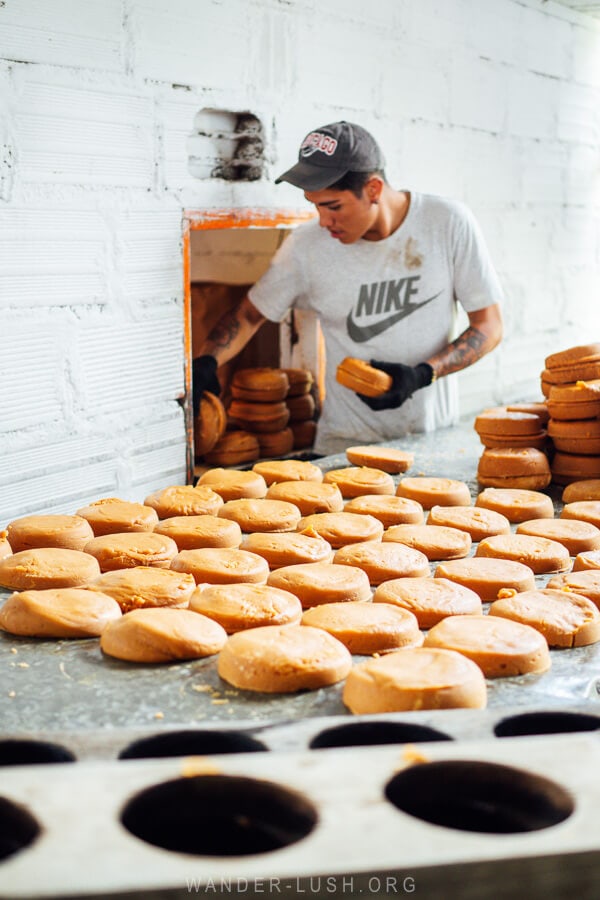 Known as jaggery in India and some other parts of the world, panela is a solid sugar made from evaporated sugarcane juice. Colombians consume the most panela per capita in the world – a whole pound per person per week! – so you'll naturally find it incorporated into many recipes.
I was lucky enough to visit a panela factory near Jardin and see how the hard sugar disks are made by hand. It's quite a lengthy (and dangerous) process, but the results sure are delicious. Panela has a warm, rich, caramel-like taste and a moorish texture. I don't think you're supposed to nibble on it by itself, but I definitely ate my pound's worth that day!
Buy a few rounds of packaged Colombia panela to take home and use it as an unrefined, raw substitute for white/brown sugar in your baking recipes. Or you can use it to prepare your own aqua de panela, a popular beverage made by dissolving panela in water and adding a hit of citrus.
25. Colombian coffee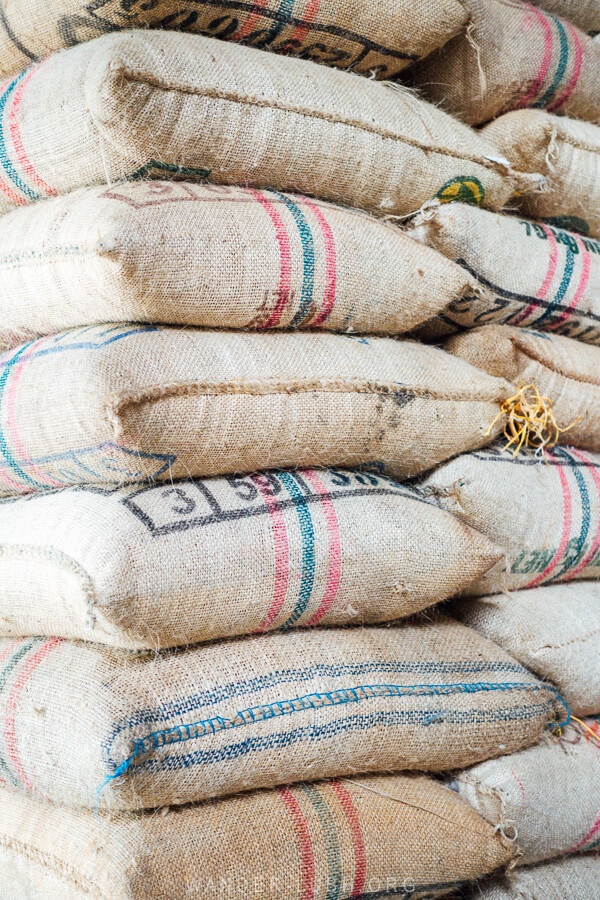 Arabica is a way of life in Colombia. As the third-largest coffee producing country in the world, you can find Colombian beans absolutely everywhere – but nothing beats a little brown paper packet of locally roasted coffee purchased direct from the source.
If you're touring the coffee region, ask if you can buy a bag to take home with you. Otherwise you can find homegrown coffee brands in shops around the country and freshly roasted beans in various markets.
Sidenote: Coca tea is another popular hot beverage in Bogota, but just remember that transporting coca leaves into some countries – including the US – is illegal.
26. Chocolatera pot, molinillo whisk & pastillas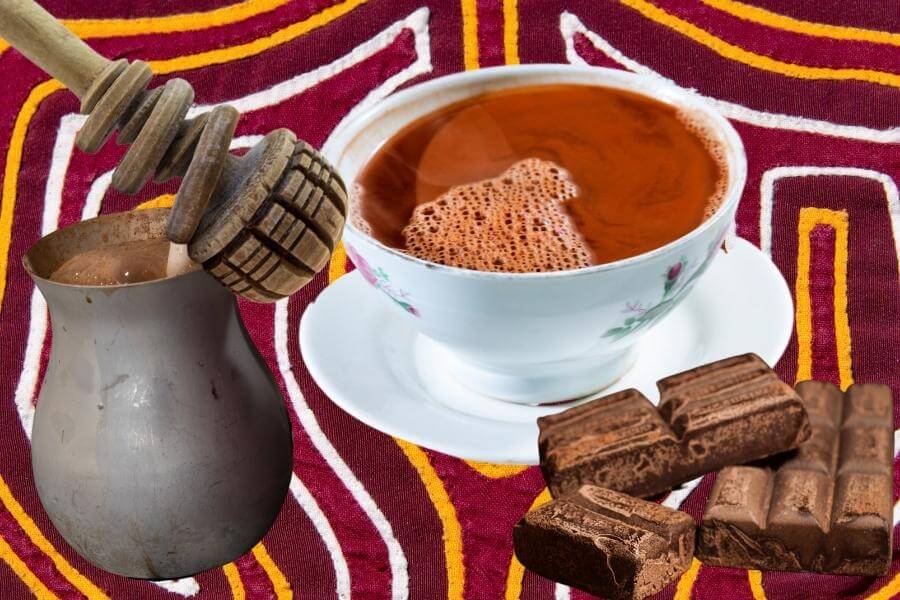 Chocolate santafereño (hot chocolate with cheese) was my favourite traditional morning beverage in Colombia, beating even coffee! If you develop a taste for this luxurious breakfast libation like I did, here is a starter kit to help you make your own at home.
You'll need 3 main things for your set up: A chocolatera aluminium pitcher; a wooden whisk called a molinillo (the same tool is used to make traditional Mexican hot chocolate); and chocolate pastillas to melt down. The addition of cheese is optional!
You can find all these tools at markets and shops around Colombia. There are some really beautiful hand-carved decorative wooden molinillos available online and at specialty markets.
27. Colombian candies
Tempting as it may be to try and bring home a basket of tropical Colombian fruit, it's just not practical for most people. The next best thing is a box of Bocadillo de Guayaba, a fruity jelly made from guava pulp and panela sugar. Yum!
Other popular Colombian confectionaries also have fruity flavours – dulce preserves are widely available and come in sealed jars that are very easy to transport home. Dulce de Uchuvas made with gooseberries is a great choice.
Galleta biscuits and obleas con arequipe, wafer sandwiches with caramel, are popular sweets you can pick up from any supermarket.
30. Guaro (Aguardiente)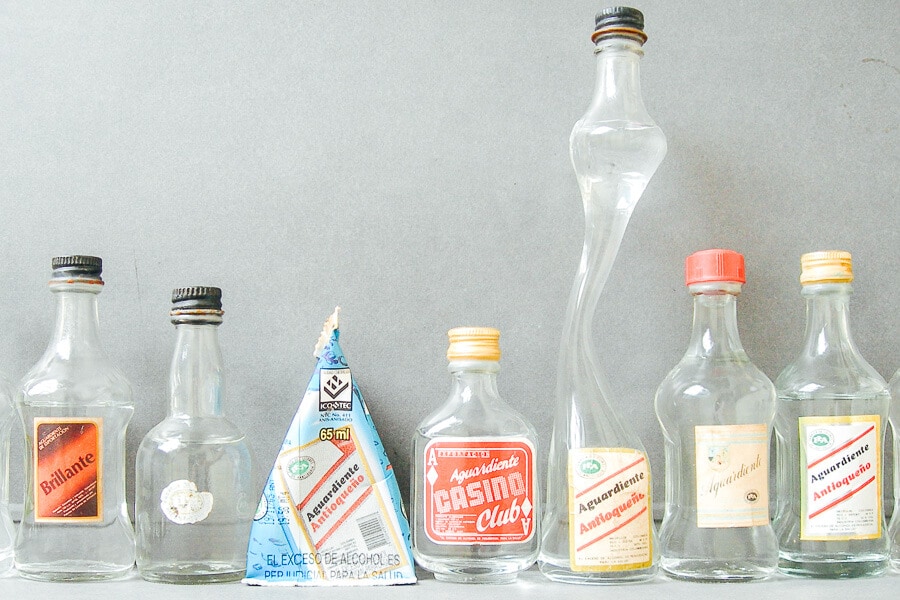 Last but certainly not least, here is a souvenir your liquor cabinet will thank you for! Aguardiente (or guaro as it's also known in Colombia) is a fiery, clear spirit. I'm told it has notes of tropical fruit and anise – but to be perfectly honest, whenever I drank it all I tasted was burning. No wonder the name literally means 'fire water'.
Colombian guaro is only 29% proof, but it still packs a punch. The cool thing about this drink is that every region has its own brand and own distilleries – it's almost impossible to find an aguardiente from Bogota in Medellin, and vice versa. So whichever bottle you choose to bring home with you, there won't be any mistaking its place of origin!
---
---
More Colombia travel resources
Bogota cooking class, a local Colombian experience
30 best things to do in Medellin, my favourite city in Colombia
2 days in Medellin, the ideal city itinerary
Markets in Medellin, for fruit, flowers and more
30 best places to visit in Colombia, the ultimate bucket list
Things to do in Colombia, from hiking to immersive cultural experiences
Visiting Medellin's Comuna 13, things to know before you go
Guide to Jerico, Antioquia's loveliest pueblo
El Despertar Hotel, the best accommodation in Jerico
Guide to Jardin, Colombia's colourful colonial town
Colombian coffee tour, bean to cup in Concordia