Food, coffee, street art, markets, galleries, history and amazing city views: Medellin has it all and then some. This is undoubtedly one of the best cities in South America.
With as little as one or two days in Medellin you can experience the best of this mesmerising city – just be prepared to wake up early!
Read on for a detailed, tailor-made two day itinerary for one my favourite places in Colombia.
---
Please note: This post contains affiliate links, meaning I may earn a commission if you make a purchase by clicking a link (at no extra cost to you). Learn more.
---
Is 2 days in Medellin enough?
To be completely honest, two days is pushing it. Medellin is a huge city that's very spread out, with lots of different neighbourhoods.
There are enough things to do in Medellin to keep you busy for a week or more. I spent a full three weeks in the city and still didn't get to see everything.
Knowing that not everyone has the luxury of time, I've tried to condense my favourite parts of Medellin into a practical short itinerary. But know that with just 48 hours in Medellin, you'll inevitably have to make a few sacrifices.
This itinerary focuses on El Centro (the historic district) and includes parts of San Javier (Comuna 13), El Poblado and Laureles. There is one major omission: Parque Arvi. If you have an extra morning or afternoon in Medellin, try to find time to visit this green space to experience the walking trails and waterfalls. It's very beautiful, as is the Metrocable ride over the hills and valleys to get there.
---
Where to stay in Medellin
If you only have 48 hours in Medellin, you'll want to stay somewhere central to avoid losing too much time to transportation. I recommend the Laureles neighbourhood, which has connections to both El Centro and El Poblado. There are dozens of great restaurants, cafes and bars in this district. The northern part of Laureles is especially convenient because it's close to the metro line (with the closest station being Estadio).
El Poblado is another great option, especially if you're looking to experience Medellin nightlife.
Check out this list of awesome Airbnbs in Medellin for apartment rentals in Laureles, El Poblado and beyond.
---
How to get from Medellin Airport to the city
Medellin's international airport, José María Córdova, is located 20-25km from the centre of the city or around 45-60 minutes by road.
Taxis are available, but for ease, I recommend you pre-book an airport transfer to your hotel. My preferred provider Impulse Travel offers 24/7 transfers to any hotel in Medellin starting from $25. Someone will be there to meet you at arrivals, and since payment is made online before you go, you don't need to worry about having pesos on you.
Alternatively, the airport bus 'busetas' runs every 15 minutes 24/7 and costs around 10,000 COP. The buses depart from outside gates 2A and 2B. Tickets can be bought from the driver using cash. The bus stops at San Diego Mall before continuing to Hotel Nutibara in the centre. From there, you'll need to walk or take a taxi the rest of the way to your accommodation.
---
How to move around Medellin
Medellin has a top-notch public transport system that makes it easy and affordable to get around the city. During the day, you can travel virtually anywhere using the interconnected metro rail and Metrocable (gondola) system.
A single metro fare currently costs 2,750 COP (around 70 US cents). You can save money by picking up a free rechargeable Civica card, currently available to buy at several metro stations including Itagüí, San Antonio and San Javier (bring your passport). You can top up your card at the station or at these locations around the city.
Civica fares are slightly cheaper (2,430 COP), but the main advantage is not having to queue for a single ticket, which can take a very long time during peak hour. It's best to avoid the metro altogether between 5pm and 7pm Monday to Friday as it's very crowded.
After dark, you should stick to using taxis and avoid walking or using the metro. I recommend downloading a taxi app such as Cabify or inDriver.
---
Day one in Medellin: El Centro & El Poblado
Get the perfect introduction to Medellin on the Free Walking Tour
My number one thing to do in Medellin is join the Free Walking Tour hosted by Real City Tours. Everyone who takes this tour raves about the knowledgeable guides and I'm no different. In my case, I have Caro to thank for giving me the best introduction to Medellin possible.
The itinerary focuses on downtown (El Centro) and traverses the city's major streets, parks and plazas, including the Square of Lights, National Palace, Botero Square, Berrio Park, Junin pedestrian street, and Bolivar Park. Along the way, you'll pick up tons of information about the city's history and transformation along with practical travel tips – including what it means to 'not offer papaya' whilst in Colombia.
Tours depart Monday to Saturday at 9.30am from Alpujarra metro station. Average duration is 3.5-4 hours. Online reservations for the Free Walking Tour are essential – book here, and don't forget to confirm your place by following the instructions on the website.
If your first day in Medellin is a Sunday or a holiday when the free tours don't operate – or even if you just prefer a one-on-one tour – this private 5-hour city tour covers a similar itinerary with a few additions and includes hotel transfers.
Bandeja Paisa for lunch at Hacienda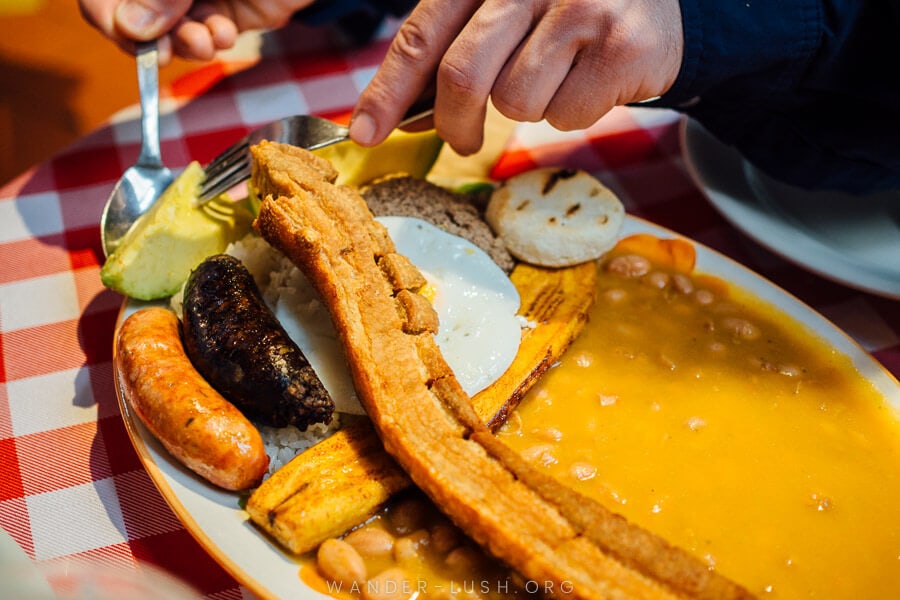 After a long morning on foot, it's time to recharge the batteries with a hearty Colombian feast. Bandeja Paisa ('Paisa platter', Paisa being the name for people from this region) is the country's national dish and it has its roots in Medellin and the coffee farms of Antioquia Department.
The traditional worker's lunch (or breakfast) is essentially a heavy medley of beans, blood sausage, chorizo and chicharrón (deep-fried pork rind) served alongside rice, arepas, and topped off with fresh avocado and a fried egg. If it sounds like a heart attack on a plate, that's because it kind of is. But heck, it's totally worth it.
Everyone has their own opinion on who serves the best Bandeja Paisa in Medellin. Personally, I really love the finca-to-table version served at Hacienda. Their Juna branch near Parque Berrio is convenient to reach from the end-point of the Free Walking Tour, and it has a lovely open-air dining veranda where you can sit in the fresh air.
With a side of Patacones (plantain fritters), one portion of Bandeja Paisa is enough for two people, or you can opt for a single-serve 'Mini Bandeja'. Order a glass of icy cold lemonade to wash it down.
The Museum of Antioquia
With a full belly and a full heart, briefly return to Plaza Botero (a key stop on the Free Walking Tour) so reexamine any of the 23 Botero sculptures that caught your eye first time around. The bulging forms might hit a little closer to home now that you have the first Bandeja Paisa under your belt!
The Museum of Antioquia (Museo de Antioquia) is my top choice of museum in Medellin and opens directly onto the plaza. Budget around 45-60 minutes to stroll through the permanent exhibitions of Botero and Pedro Nel Gómez paintings. The museum's Mona-Lisa-moment is standing in front of Botero's 'Death of Pablo Escobar' (1999), which depicts the infamous gangster's demise on Medellin's rooftops.
The museum is open 10am-5pm Monday to Saturday. Entrance costs around 18,000 COP. If you're planning to visit Medellin in high season, you may want to pre-purchase a skip the line ticket to save time.
Before departing El Centro, take a moment to duck into the Rafael Uribe Palace of Culture (also on Plaza Botero). On your way to Parque Berrio metro station, pop back to Berrio Plaza for the Basilica of Our Lady of Candelaria, Medellin's oldest church. A great view of the church facade over the treetops can be found from the station platform.
Spend the afternoon cafe-hopping in El Poblado
Ride the metro A line south to Poblado station and set about exploring one of Medellin's most vibrant districts by foot. El Poblado is a cornucopia of coffee shops, street art and hip bars. Sample Colombian specialty at Pergamino ahead of an early dinner at Carmen.
Optional: Sunset at Pueblito Paisa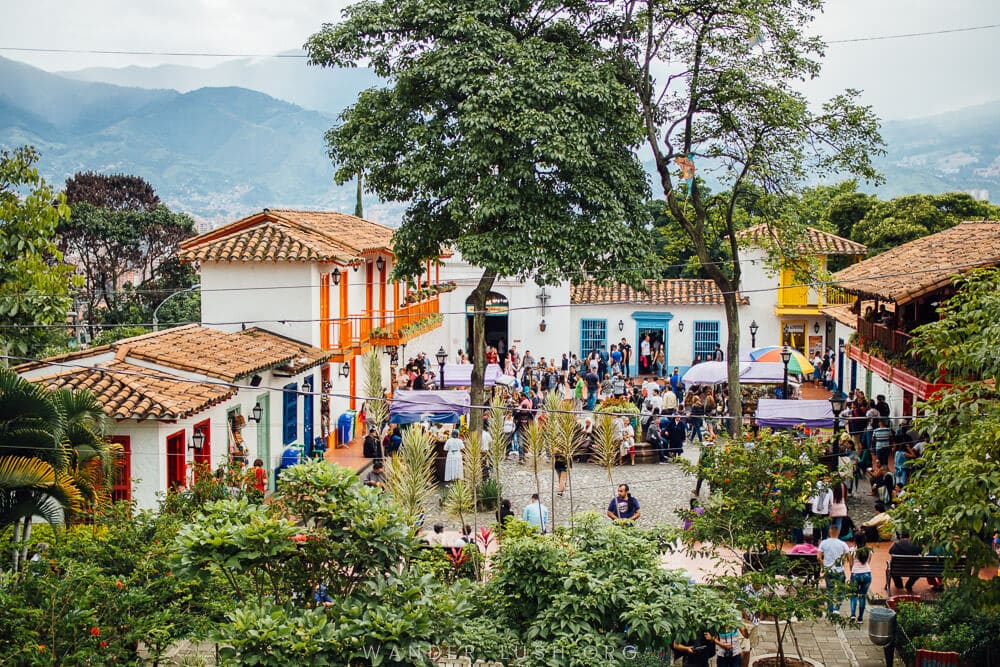 Party on at one of the bars near Park Lleras in El Poblado, or if you have the energy, take a 20-minute taxi ride across the river to the top of Nutibara Hill. As well as astonishing sunset city views, you can see the cute Pueblito Paisa lit up at twilight.
Pueblito Paisa is a model Antioquian pueblo or small town with a central square and colourful facades built using materials salvaged from a real pueblo near Guatape. As one of the most popular attractions in Medellin, it's very touristy and can be overcrowded, but it's a nice spot nonetheless especially at blue hour.
Grab a quick drink or a late-night snack at one of the bars before heading back to your accommodation by taxi. The park closes at 9pm.
---
Day two in Medellin: Markets, street art & barrios
Wake up early for the Plaza Minorista fruit market
The Plaza Minorista José María Villa is one of Medellin's many vibrant fruit markets where you can taste the tropical delights Antioquia Department (AKA Colombia's Fruit Bowl) is so famous for. It kicks off bright and early at 4.30am daily; I recommend arriving by 9am to see the most plentiful array of produce and experience the full-throttle energy that grips the market in the morning trading hours.
The multi-storey market hall houses more than 3,000 stalls. You can find all kinds of Colombian fruits here, from the slimy to the spiky, including maracuyá, zapote, mangosteen, curuba, avocados as big as your head, and much more.
Take the stairs to the upper concourse to peer over the balcony onto the market floor. Before you depart, grab a juice from one of the stalls – the fruit combo of your choice blended fresh to order over milk or ice – but save breakfast for the next stop.
Breakfast at Placita de Florez
Take a taxi or bus 3.5km to Bombona district and the Placita de Flórez, your second market of the day. The oldest covered market in Medellin (it first opened in 1891), it's not quite as atmospheric or photogenic as the Minorista, but it's still very much worth a visit.
After a quick lap of the ground level to admire the fresh-cut orchids and bouquets, head downstairs for the star attraction: A delicious breakfast of arepas de chócolo, sweet corn arepas served with a slab of soft, salty queso cheese on top. These babies are life-changing and this particular shop sells some of the best in the city.
Memory House Museum
Staying in the Bombona district, walk 5 minutes east to the Memory House Museum (Museo Casa de la Memoria). Founded in 2006 by the Victim Assistance Program of Medellin City Hall, this is a unique space created for local people and outsiders to reflect on Medellin's history of gang violence and armed conflict.
You need at least an hour to read the moving first-hand accounts and watch the interactive displays. It's beautifully curated and not at all in-your-face; though sombre, it will deepen your understanding of modern-day Medellin and prepare you for your afternoon to come.
The museum is open from 9am Tuesday to Friday and from 10am on weekends (closed Mondays). If you have time, a stroll around Bicentenario Park along the Santa Barbara stream behind the museum is a nice way to end your visit.
Lunch in Laureles
Take a bus or taxi back across the river to Laureles, one of Medellin's leafy suburban districts. As well as beautiful churches and parks, you'll find a surplus of outdoor restaurants in this area serving up Menu del Día or Menu of the Day specials.
A fixed price lunch normally includes a cold drink, a soup or salad, a hearty main meal and a small dessert for around 15,000 COP (3.80 USD). Naturalia Café (vegetarian), Saludpan and Achiote Bistro are all fine choices.
Comuna 13 street art tour with a local guide
After lunch, it's time to head up into the hills and visit Medellin's most iconic barrio, San Javier – better known as Comuna 13.
It's essential to visit with a local guide both for practical reasons and to make the most of your time. This private Comuna 13 tour starts at 2pm and includes hotel pick-up. Rendezvous with your driver and guide somewhere in Lareles.
To get to Comuna 13, you'll be riding the iconic Metrocable cable car over the Alburra Valley. Soak up the views from the gondola window as you zip along the scenic J Line to San Javier. Once the murder capital of Colombia, Comuna 13 is now a symbol of the 'new Medellin' and a powerful reminder of the country's social transformation. Your guide will lead you to the most poignant murals and the most scenic viewpoints, accessed via the famous escaleras electricas (outdoor escalators).
As with the Free Walking Tour, a local guide is invaluable for adding context and colour to your experience. You'll hear personal (often heart-wrenching) personal tales, and get a chance to stop and speak with other people who call Comuna 13 home.
Optional: End your 2 days in Medellin by listening to live tango at Salon Malaga
The tour wraps up at around 7pm. Request a transfer back to your accommodation or if you're still buzzing from your epic day, get dropped off on Calle 51 in La Candelaria for one more truly unforgettable Medellin experience.
A Medellin institution since 1957, Salón Málaga is one of the city's last remaining traditional piano bars. It beats even the best Medellin nightclubs any day if you ask me. Find a seat amongst the vintage jukeboxes and listen to the smooth sounds of live tango or salsa over a shot of anise-flavoured Aguardiente. If you feel like cutting a rug, mix it with the locals who love to dance the night away here (until closing time, around 11pm, anyway).
Take a taxi back to your accommodation and say goodnight to Medellin one last time.
---
Further reading for Medellin & Colombia