30 of the very best things to do in Medellin, Colombia's spellbinding second city.
The second-largest city in the country and capital of the north-western Antioquia Department, Medellin (Medellín) is indisputably a must-visit place in Colombia.
I knew Medellin was my kind of city even before I arrived – which is why I booked a three-week stay to kick-start my Colombia trip. Just as I had predicted, it took me all of two minutes on the airport bus to decide that I loved the 'City of Eternal Spring'.
Medellin is a hub of vibrant Paisa culture, with an incredible food and local coffee scene, great museums and galleries, public sculptures and street art, bustling fruit markets, colourful neighbourhoods, and lots of urban green spaces.
It's a city that has undergone dramatic changes in recent decades. I would describe it as a city with an old soul and a young, energetic, creative spirit.
This list of the 30 best things to do in Medellin brings together quintessential Medellin must dos, alternative attractions in Medellin, immersive experiences for food and coffee lovers, and outdoor adventures to help you enjoy Medellin to the max.
---
Please note: This post contains affiliate links, meaning I may earn a commission if you make a purchase by clicking a link (at no extra cost to you). Learn more.
---
Medellin Quick Links
Where to stay in Medellin: The Wandering Paisa (hostel); 574 Hotel (mid-range); Quinta Ladera (boutique hotel); Sites Hotel (luxury).

Pre-book your airport transfer: 24/7 transfer to any hotel in Medellin, operated by Impulse Travel (from $25).

Best city walking tour: Private City Tour with Metrocable and Comuna 13 (from $53).

Best Comuna 13 tour: Comuna 13 Graffiti Tour with Local Guide (from $25).

Best coffee experience: Coffee Tour With Tastings and Lunch (from $42).

Best day trip from Medellin: Guatape & El Peñol Rock (from $37).
---
Essential things to do in Medellin
Let's start with the top Medellin attractions and must-have Colombia experiences.
If you have just one or two days in Medellin, prioritise these 15 activities to ensure you leave with a holistic picture of the city.
1. Take the Free Walking Tour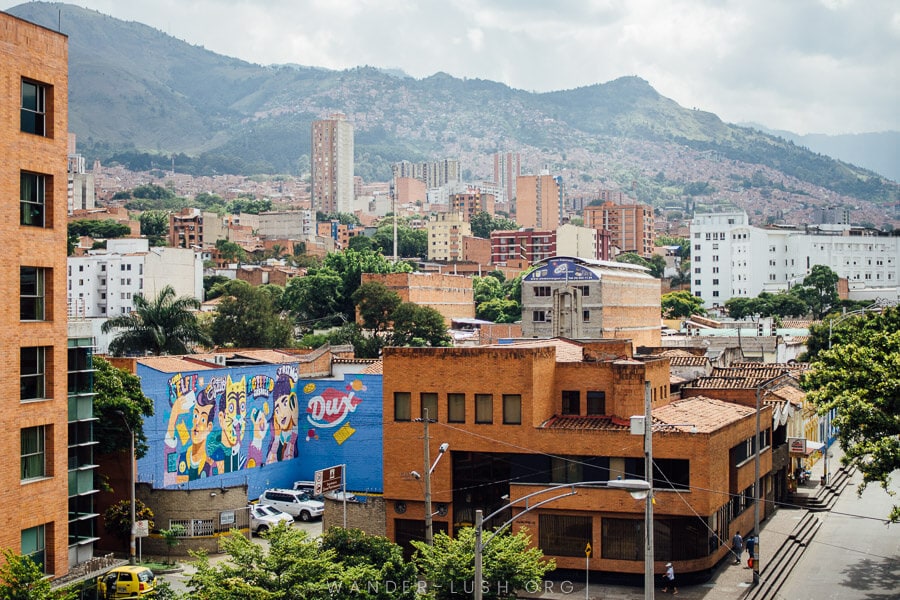 A city walking tour is one of the best free things to do in Medellin and the perfect way to get your bearings when you first arrive. There is only one company worth mentioning, and that's Real City Tours.
This is honestly one of the best free walking tours I've done anywhere in the world (and I've done a lot!). Groups are small (currently capped at six people) and the local guides are very engaging.
If you're lucky enough to get Caro, you're in for a real treat: She knows everything there is to know about Medellin and is truly one of the most memorable guides I've had the pleasure of meeting.
The itinerary focuses on Medellin's downtown (El Centro). Whilst covering the major streets, parks and plazas, you'll pick up lots of information about Medellin's history and social change.
The tour runs twice a day Monday-Friday and once in the morning on Saturday (no tours on Sundays). It lasts 3.5-4 hours, and payment is based on tips. Bookings are essential – reserve a place online.
Specialty city tours:
---
2. Ride the iconic Medellin Metrocable
The Metrocable (cable car system) is a symbol of Medellin. For locals, it's a way of life: The cable cars are the only practical way to access the hillside barrios where the streets are too steep and narrow for buses.
For us tourists, soaring above the rooftops in a gondola is a fun and affordable way to get spectacular views. It's definitely a must do in Medellin.
The Metrocable has six lines that connect downtown Medellin in the Alburra Valley basin with different settlements in the surrounding hills. My favourites are the K/L Lines to Parque Arvi (more on that later), and the J Line from San Javier (the location of Comuna 13 – see the next section for more) to La Aurora.
The gondola stations connect up to the Medellin metro system for seamless travel around the city. See #16 on this list for more info about the metro and how you can use it to go on a self-guided 'tour' of Medellin.
A single fare for the Metrocable costs 2,750 COP (around 70 US cents) or 2,430 COP if you have a (free) rechargeable Civica card. The L Line to Parque Arvi costs 10,600 COP. For more tips, see this comprehensive guide to using public transport in Medellin.
---
3. Explore Comuna 13 with a local guide, a Medellin must-do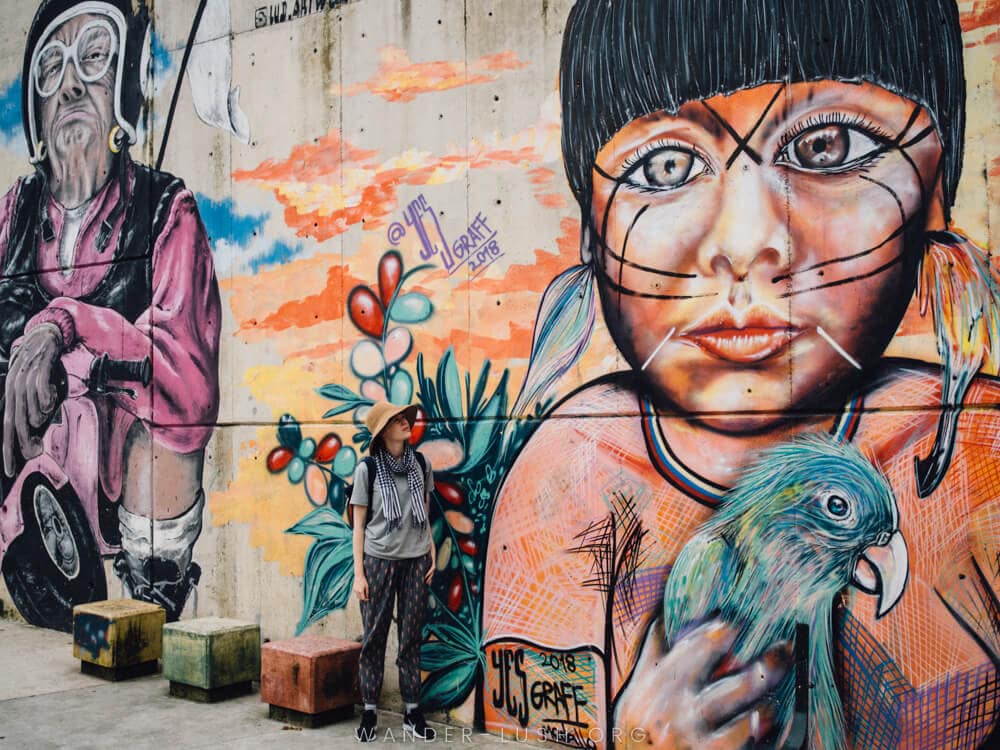 The Comuna 13 commune is home to the most well-known of Medellin's hillside barrios. Once considered the most dangerous place in the country (and one of the deadliest places in the world), the neighbourhoods that make up Comuna 13 have undergone immense transformation in recent decades thanks in no small part to projects such as the escaleras electricas (outdoor escalators) that 'reconnected' the area with the rest of the city.
Today, Comuna 13 is known for its vibrant street art and large-scale murals. Walking through this open-air gallery is an immersive history lesson: You'll learn a lot about the events of the past, including Medellin's gang violence, and most of all witness how hopeful people are for a brighter future.
I highly recommend visiting Comuna 13 with a local guide who can add context and narrative to the experience. This small-group tour lasts 4 hours and will lead you to the most important street art pieces and the best viewpoints. Here is a private tour option if you prefer.
Before you go, read my 13 tips for visiting Comuna 13 so you know what to expect.
---
4. Eat Bandeja Paisa at Hacienda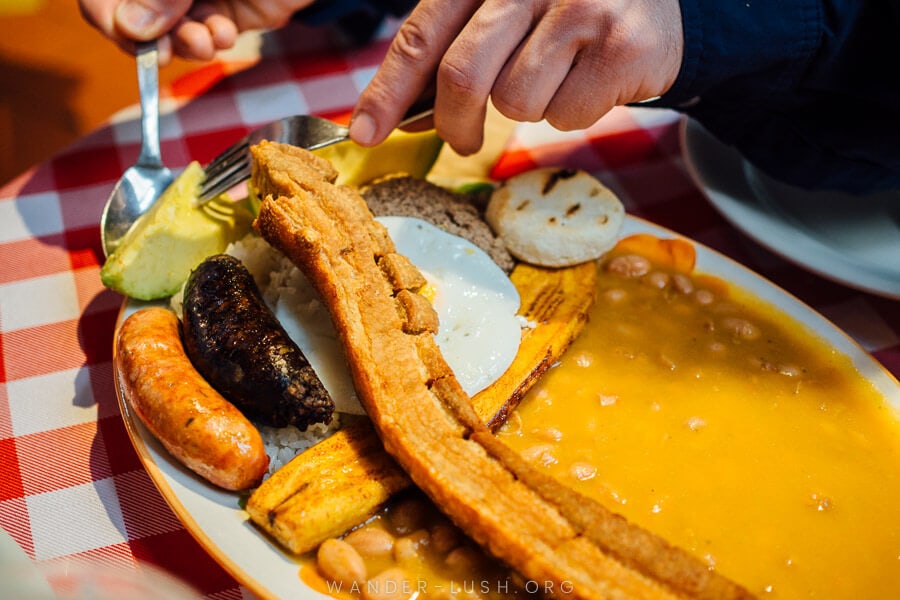 There's a whole food-focused section of this guide coming up later, but I have to mention one foodie experience now: Eating Bandeja Paisa! Colombia's national dish and a regional specialty in these parts, it's one of the top things to do in Medellin not just for foodies, but for all travellers.
A worker's lunch born on the coffee plantations of Antioquia Department, Bandeja Paisa is a work of culinary art. I didn't know it was possible to cram so many flavours and textures (and calories!) onto one plate.
Every version is a bit different but in essence, Bandeja Paisa is a medley of beans, blood sausage, chorizo and chicharrón (deep-fried pork rind) served with rice and an arepa, and topped off with fresh avocado and a fried egg.
And everyone has their favourite rendition – mine is the finca-to-table Bandeja Paisa served at Hacienda. Their Juna restaurant near Parque Berrio is particularly nice, with its open-air dining veranda. One portion is big enough for two people, or you can opt for a single-serve 'Mini Bandeja'.
---
5. See how you measure up in the Plaza Botero
The heart of Medellin's historic Old Quarter, Plaza Botero is one of the loveliest squares in the city. You'll find several monumental pieces of architecture and important museums around the periphery (more on those later), but the plaza itself is a great place for a stroll.
Botero Plaza is dedicated to Medellin-born artist Fernando Botero, who donated 23 of his larger-than-life sculptures to the city. I first encountered Botero's work at the Cascade Complex in Yerevan, Armenia, so it was a real treat for me to see his works displayed in his home city.
Botero's daring bronze forms push the boundaries of physics and political correctness alike! Some of his most iconic works include 'Roman Soldier' and the buxom 'Eve'. Rubbing the statues is said to bring good luck, so you'll notice that many are buffed in certain 'special' locations.
If you're looking for fun things to do in Medellin, wandering the Botero Plaza and admiring the bulging statues is definitely a must. For something more in-depth, this Botero-focused city tour explores the artist's life and legacy in Medellin.
---
6. Ohh and ahh at the Museo de Antioquia
Located on Botero Plaza, the Museum of Antioquia (Museo de Antioquia) is my top choice of museum in central Medellin. This was the first museum established in Antioquia and is devoted to who else but two of the city's most acclaimed artists, Botero and painter-muralist Pedro Nel Gómez.
I love Botero's sculptures, but I adore his paintings. The work that most people make a beeline for is 'Death of Pablo Escobar' (1999), which depicts the infamous gangster's demise against a backdrop of Medellin's orange rooftops.
The museum is open 10am-5pm Monday to Saturday. Entrance costs around 18,000 COP. There is a free guided tour available every afternoon at 2pm.
If you're planning to visit Medellin in high season, you may want to pre-purchase a skip the line ticket to avoid having to queue.
---
7. Stop by the Palace of Culture
Also facing onto Plaza Botero, the Rafael Uribe Palace of Culture is one of the most distinctive buildings in Medellin. The black-and-white stonework and Gothic-style arches are the work of Belgian architect Agustín Goovaerts, who designed the Palace as a venue for cultural programs and exhibitions staged by the regional government.
The building is open to the public. Inside, the Institute of Culture and Heritage of Antioquia houses a photo archive. There's also a library, an art gallery and a cafe.
---
8. Shoot the breeze in Parque Berrio
Nearby Berrío Park sits smack-bang in the centre of Medellin and is therefore often thought of as the 'nucleus' of the city. It's a hive of activity at all hours, a place for families and groups of friends to gather, where old men come to play checkers and vendors come to peddle their goods.
When the nearby Catholic church was first built in the 1640s (more in the next section), Parque Berrio was simply known as 'Main Square'. Parishioners would gather here before and after services – so you can see that meeting in this spot is a long-standing Medellin tradition.
The square has been pivotal to the city's history through the ages: Various political announcements and demonstrations took place on these very paving stones.
Although it can be a bit rowdy (and a bit seedy at certain times of day), this is prime people-watching territory. With all the yelling and conversations going on, you might even learn some Spanish by osmosis!
For the best views down onto the square, head up to the adjacent Parque Berrio Metro Station platform.
---
9. Visit Medellin's oldest church
The Basilica of Our Lady of Candelaria behind Parque Berrio dates back to Colombia's colonial era. As well as being one of the most beautiful churches in Medellin, it's also the city's oldest.
Roman Catholic parishioners have been worshipping at the stone church since 1649. Outside, the Neoclassical facade is grand and austere; inside, a gold-coloured altar sits beneath a painting of the Virgin of Candelaria, Medellin's patron saint.
You can get a great view of the church's exterior from the platform at the nearby Parque Berrio metro station. Just footsteps from Plaza Botero and the museum, it's a worthwhile addition to your itinerary when you're in the El Centro district.
---
10. Get lost in a fruit market
Antioquia is Colombia's fruit bowl, and Medellin is where the region's farmers come to trade their tropical delights. There are several fruit markets in the city worth visiting. My personal favourite is the Plaza Minorista José María Villa, or The Minorista for short.
The Minorista is an atmospheric green market made up of 3,000-plus undercover stalls. Roam the aisles, chatting with the friendly los vendedores (vendors) who are usually more than happy to offer free samples of their most exotic offerings: Maracuyá, zapote, mangosteen, curuba and more.
Watch your toes as people race around the aisles with trolleys and crates of fruit. Don't forget to look up at the beautiful hand-painted signs above some of the older stalls, family-run businesses that have been operating here for generations.
Climb the stairs to the second level to look directly down on the market floor and admire the chaos. Here's where you'll also find breakfast stalls and juice bars where you can pick your favourite fruit and have it blended to order.
The Minorista opens bright and early at 4.30am daily. It's best to arrive early for the best variety and the an energetic atmosphere.
---
11. Hike in Parque Arvi, Medellin's green lung
Located in a valley north-east of the city centre and reachable from downtown via the Line L Metrocable, Parque Arvi (Arví Park) is literally a breath of fresh air. The huge nature reserve and archaeological site offers walking and biking trails, waterfalls, a farmers' market, coffee shops, and more.
You could easily spend a full afternoon here recharging your batteries.
Much of the 16,000-hectare park can be explored over 56 miles (90km) of walking trails. Marked paths range from easy strolls through wildflower groves and butterfly habitat, to more strenuous hikes.
Short guided walks depart regularly from the visitor's centre and last from 1-4 hours. Or you can set out alone on one of the easier-to-follow hikes, such as the Trail of the hill.
Don't miss the Mercado Arví, a daily farmers' market next to the Metrocable station where you can buy local fruit, coffee and Colombian handicrafts.
---
12. Visit Pueblito Paisa, a model village in the heart of Medellin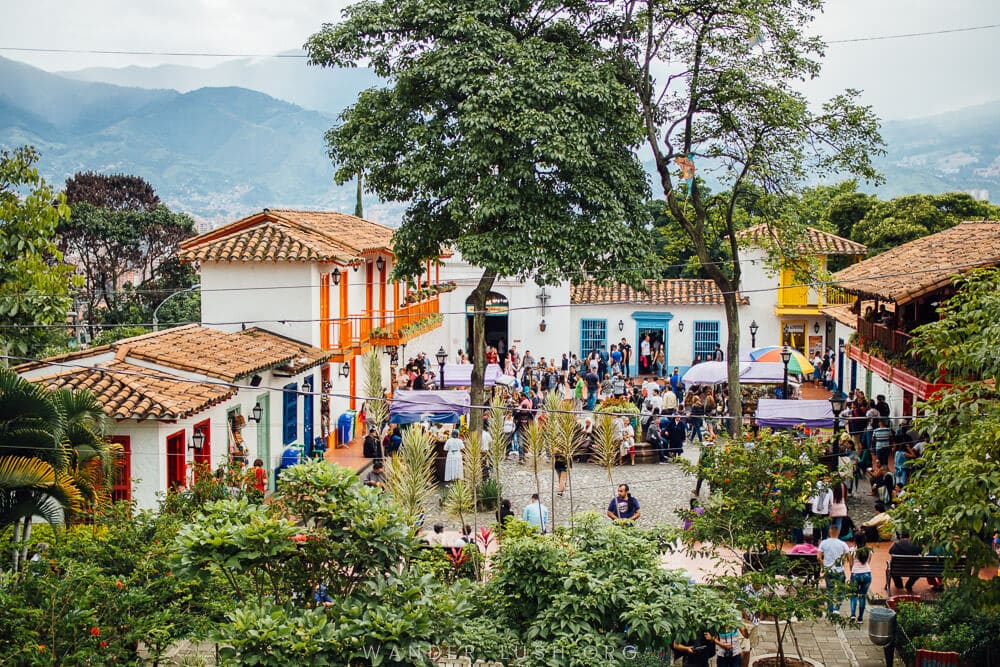 Perched atop Nutibara Hill in the city centre, Pueblito Paisa is a miniature version of a typical Antioquian pueblo or town. If you don't have time to travel out of the city to a real pueblo, this is the next best thing. (There's no comparison really, but at least you can get an idea of the architectural style!)
Make no mistake, this is one of Medellin's most popular tourist attractions and it's very commercial as a result. I just happened to be staying nearby and wandered up one night for a look. It is worth going out of your way for, but just be prepared for the crowds.
The village is laid out like a typical town, with a central cobbled square, church and fountain ringed by white facades with colourful trims. I later learned that some of the building materials used in construction were salvaged from a real pueblo near Guatape, including original wooden doors, windows, and the church altar.
The panoramic views from the top of the hill are worth the 20-minute walk up (don't worry, you can drive all the way if you wish). There are several viewpoints scattered around the area where you can look out over Medellin and the river.
Pueblito Paisa is open from 6am until late every day. The Medellin City Museum is also located on the hill, adjacent to the pueblo.
---
13. Shop for souvenirs at the San Alejo Handicraft Market
If you happen to be visiting Medellin on the first Saturday of the month, don't miss the San Alejo Handicraft Market in Parque Bolivar.
This showcase of local food projects and crafts only takes place once every four weeks. It's a 35-year tradition, drawing crowds who shop directly from 400 artists, makers, antique vendors and artisanal farmers.
Indigenous artisans from communities around Medellin are also represented, making San Alejo one of the few places in the city where you can buy authentic handicrafts such as hand-woven Wayuu Mochila bags and colourful Mola textiles, traditionally made by the Kuna people.
---
14. Go cafe hopping in El Poblado, one of the best places in Medellin for coffee & culture
Because of its proximity to Colombia's coffee region, Medellin is the ideal place to sample local beans. El Poblado district, the hub of cafe culture, has enough specialty coffee shops and outdoor cafes to keep you humming until the very last drop.
Spend an afternoon soaking up the atmosphere of Medellin's coolest neighbourhood (part of Comuna 14 but a world away from Comuna 13) by hopping between the many gorgeous outdoor cafes and trying different specialty brews. Pergamino is possibly the most popular venue in the city.
For a more in-depth experience, consider joining this coffee shop hopping tour of El Poblado and Laureles with Impulse Travel. It includes several specialty cafes and a behind-the-scenes look at coffee culture in Colombia. For something hands-on, learn how the Colombians percolate with a Coffee Brewing Workshop hosted by El Poblado's Avoeden Café.
El Poblado has a very different vibe after dark when it transforms into a bar district. If you're more of a night owl, this bar hopping tour of El Poblado will give you a local's insight into Medellin nightlife.
---
15. Sip Aguardiente and listen to Tango at Salon Malaga
One of the best things to do in Medellin at night is spend a few hours at Salón Málaga, a traditional piano bar with an old-timey feel and a wonderful atmosphere. It's been a fixture of Medellin since 1957.
Settle in amongst the jukeboxes and retro music posters to listen to live tango and salsa. It's not uncommon for couples to get up and start cutting a rug, so remember to wear your dancing shoes if you want to join in the fun.
A neat shot of aguardiente, Colombian 'fire water', should get things moving. Made from fermented sugar cane, it has a pleasant anise flavour and actually goes down quite smooth (well, sometimes).
Every region in Colombia produces its own aguardiente, but the liquor made in one department can't be sold to another – so you know this is the real-deal Antioquean stuff.
---
Alternative things to do in Medellin
If you have more time in Medellin, consider some of these lesser-known attractions and activities.
16. Visit the Museo Casa de la Memoria
Founded in 2006 by the Victim Assistance Program of Medellin City Hall, the Museo Casa de la Memoria (House of Memory Museum) is a unique institution developed to help people reflect on and overcome the hardships associated with the violence of the 1980s to early 2000s.
As you're probably already aware, Medellin was a very dangerous place in the 1990s especially. Countless people lost their lives to cartel violence and the military interventions that followed. The Casa de la Memoria gives their families and friends – and the community at large – a space to share their voices and rebuild.
It's a very moving experience as you see, read and hear first-hand accounts in the photographs, videos and hand-written materials. Though sombre, it will deepen your understanding of modern-day Medellin.
---
17. Smell the orchids at Medellin's oldest marketplace
If you can't be in Medellin for the annual Feria de Las Flores Flower Festival, which takes place every August, the next best thing is to browse the Placita de Flórez flower market.
The oldest undercover market in the city (it dates back to 1891), the Placita is a short walk from the Casa de la Memoria in Bombona district. You can quite easily combine them into one visit.
The market is a bit of an unusual combination: On one level you'll find beautiful fresh-cut flowers interspersed with butcher's shops. Downstairs, you'll find the fruit and vegetable vendors.
On the back wall of the lower level there's a wildly popular food stall you can't miss: It's where Medellin's best arepas de chócolo (sweet corn arepas served with a slab of cheese on top) are served.
Back outside the market, order a freshly pressed OJ from one of the roving juice carts while you sit on a plastic stool and observe the ins and outs of Colombian commerce.
---
18. Take a self-guided city tour by metro
Medellin's award-winning public transport system isn't just a way to get from A to B – you can also use it for a DIY, super affordable city tour. The Metrocable is one thing, but even the above-ground metro station platforms afford fantastic views of different plazas and notable buildings around the city.
I suggest taking Line A from El Poblado to Acevedo, disembarking at the Industriales, Exposiciones, Alpujarra, San Antonio, Parque Berrio, Prado and Hospital stations for different views of Medellin.
You can jump on and off and in most cases, transfer underneath from platform to platform, without having to buy a second ticket.
Just avoid using the metro during peak hour (Monday to Friday between 5pm and 7pm) as the stations and trains are always very busy around this time.
---
19. Stroll around leafy Laureles
Laureles is probably the most livable district in Medellin. I booked an Airbnb here without realising it was one of the city's hottest suburbs, and I was very happy to be able to explore a 'real' local neighbourhood.
Originally a working-class area, parts of Laureles are now quite swish. It's extremely leafy, with old growth trees lining wide roads, tons of dog parks and outdoor exercise areas, and open-air restaurants. Primer Parque de Laureles was my 'local' park during my short stay.
Parts of the district are laid out with roundabouts and curved streets, so it can be a bit confusing to try and navigate on foot. But getting lost and aimlessly strolling is all part of the fun.
There are a few notable attractions to seek out, including the Fundación Aburrá gallery-museum. For more things to do, see this detailed guide to the Laureles neighbourhood.
---
20. Attend a Colombian football match
Football (soccer) is a way of life in Colombia just as it is in many other parts of Latin America. To feel the pulse of the city and be part of one the nation's most beloved traditions, why not attend a local match at Atanasio Girardot Stadium.
The city has two clubs, Nacional and Medellin, and both are revered. If either are playing during your visit, don't miss your chance to cheer on the players alongside the home crowd. Match times are usually announced a few months in advance, and tickets can be purchased online.
For a different experience, sign up for an immersive football experience where you'll attend the game accompanied by a local and participate in the pre-game rituals most tourists miss.
---
Best things to do in Medellin for foodies
Medellin is a true foodie paradise, with street food, cafes and restaurants on literally every corner. I'm not exaggerating when I say that chicharrones and arepas de chocolo changed my life.
Here are my favourite food-focused activities in Medellin.
21. Experience life-changing arepas de chocolo
I already alluded to arepas de chócolo, sweet corn cakes topped with creamy queso cheese. Trust me, these babies will make you re-define your idea of 'delicious'.
This kind of arepa is traditional to Colombia's Andean region, but thank goodness some master chefs decided to bring their recipes up north to the big city. Steamy, sweet-salty and creamy, they go perfectly with a hot cup of black coffee for breakfast.
The best arepas de chócolo are made from fresh-ground corn and served inside the Placita de Flórez.
---
22. Eat like a Paisa at Mondongo's
Mondongo's is part of Medellin's old guard of bistros and an integral part of the city's food landscape. The family owned restaurant first opened in 1976 on Avenida San Juan and has since expanded to several other locations around the city including in El Poblado. (Oh, and they also have a restaurant in Miami.)
The original philosophy of using food to bring Antioquian families together around their shared heritage of Paisa cuisine still stands. Today, this is still a very family oriented restaurant, the sort of place where you expect to see at least one birthday party every lunchtime.
There are just a dozen or so dishes on the menu, all traditional to the area. The star is of course mondongo, a soup/stew of pork, tripe and chorizo. It's zingy and deep and a bit of an acquired taste, but definitely the thing to order if you want to eat like a local in Medellin.
---
23. Hunt down the city's best Menu del Dia
Another life-altering food concept, the Menu del Día or Menu of the Day is an institution in Medellin and a godsend for budget travellers. Essentially this is a set menu offered at lunchtime that allows you to stock up on a day's worth of calories for a very respectable price.
Sometimes called Ejecutivo in Colombia, Menu del Dia came by way of Spain where the notion of a fixed-price lunch was actually written into law by fascist dictator Francisco Franco. It normally includes a cold drink, a soup or salad, a hearty main meal, and a small dessert. Typically the cost is around 15,000 COP or 3.80 USD – not bad for a three-course meal.
If you have trouble deciding what to order at restaurants, this is a saviour. Just ask for the Menu del Dia and you'll be served up with something fresh, seasonal and nutritious.
Bandeja Paisa is a popular choice for obvious reasons, but every cafe and restaurant puts their own spin on it. They rarely serve the same thing two days in a row, so you can pick your favourite establishment and keep coming back for something new.
My favourites are Restaurante Santas Melonas near El Poblado Park for a meaty Colombian spread, and Naturalia Café in Laureles for a lighter vegetarian lunch.
---
24. Eat Argentinian empanadas at Salon Versalles
Located on busy Avenida Maracaibo, Salon Versalles is a real gem in Medellin and an essential pitstop on any food quest. The traditional tea house was founded in 1961 by an Argentinean expat and was the first place in the city to serve pizza!
Versalles continues to push the envelope by serving up Argentine-style empanadas. The flaky pastry and rich, slightly spicy filling is what sets them apart from their Colombian counterparts.
Versalles turns out approximately 2,000 crescent-shaped pastries every day, along with Chilean empanadas filled with meat, olives and hard-boiled egg.
For something more substantial, there's steak churrasco and Argentinian milanesa. Save room for dessert, specifically a big slice of Torta María Luisa, a traditional Colombian layer cake, or maybe a few buñuelos (fried dough balls). Pair your sweets with a tinto coffee and you're all set.
Dark wood, booth seating and coiffed waiters in pressed whites give the cafe a fun retro vibe.
---
25. Snack your way around the Mercado del Rio
The Mercado del Río is a very different kind of marketplace to the ones already mentioned on this list. Similar to the Time Out Market in Lisbon, it is a contemporary food hall where you can eat a range of world cuisines under one roof.
Think of it as the United Nations of snacks. Around 50 restaurants are represented, serving everything from sushi to waffles, pizza to traditional Peruvian ceviche.
The warehouse space is beautifully decorated with lots of seating, which makes it a favourite place for friends to meet in the evening. The atmosphere is great, especially when there's a local football game streaming on the big screen.
---
26. Join a Medellin food tour or cooking class
To learn more about Colombia's food culture, I highly recommend you join a Medellin food tour. This itinerary is led by my favourite community-focused tour company in Colombia, Impulse Travel, and includes plenty of city sightseeing to offset the snacking. They even make a special trip to the flower market for the arepas – see, I told you they were good!
If you don't mind getting your hands dirty, a Colombian cooking class in Medellin will arm you with arepa-making skills for life. I did a cooking class in Bogota and it was one of the highlights of my trip.
---
27. Tour a coffee plantation close to Medellin
Colombia's Coffee Triangle lies beyond the borders of Medellin and requires more than a day trip. If you have limited time and you still want to see the bean-to-cup process, you can visit a coffee farm on the city's doorstep instead.
This half-day coffee plantation tour includes private transfers, a cherry-picking tutorial, and a walk through the entire process of de-pulping, fermenting, drying, roasting and grinding.
I did a proper coffee cupping for the first time in the small town of Jerico and it changed the way I think about coffee forever. In Colombia, a coffee tasting takes on a whole new significance and will give you a huge appreciation for the farmers who toil to bring us our daily cuppa.
This professional coffee tasting in San Sebastián de Palmitas, 45 minutes from Medellin, takes place on a farm. You'll learn the history of Colombian coffee, try your hand at harvesting beans, then sit down for a coffee tasting alongside a hearty Colombian meal.
---
Adventurous things to do in Medellin
Another thing Medellin has going for it is its proximity to nature. Here are three adventure activities for exploring the landscape beyond Parque Arvi.
28. Go horseback riding Colombia-style
After so long being tempted by the lush mountains around the city – visible from almost every street corner – it's time to get out and explore. Horseback riding is an immersive way to soak up the magnificent landscapes on the fringe of the city.
This riding experience includes round-trip transfers from El Poblado and around 4 hours of riding in the hills, including to secret waterfalls and along jungle tracks.
---
29. Go paragliding for a bird's eye view of Medellin
After my paragliding experience in Jerico, I can confidently say that Colombia is one of the best places on earth to soar with the birds. There are tandem paragliding opportunities in Medellin just 45 minutes from the centre, where you can fly over the Aburra Valley towards the Medellin River, El Quitasol hill and Picacho hill.
I recommend going with a reputable company that uses internationally certified guides.
---
30. Go quad biking, one of the best things to do in medellin for adventure
Another way to explore the mountains around Medellin is by ATV. This company offers 550cc quad bikes and experienced guides to lead you through the Antioquian mountains.
---
BONUS: Take a day trip from Medellin to a real pueblo
If Pueblito Paisa got you thinking about a day trip into coffee country, you'll be glad to know there are dozens of gorgeous pueblos you can visit near Medellin. Colonial Santa Fe de Antioquia (pictured above), Guatape and Jardin are all fantastic day trips from the city.
All of these historic villages feature colourfully painted houses, grand churches and plazas, and historic architecture. Each one has its own unique museums and foodie experiences.
The most popular day trip from Medellin by far is an excursion to Guatape and El Peñol Rock. It requires a short drive and combines history with nature and a boat trip for a well-rounded day out.
---
Where to stay in Medellin
Medellin is a big city! Public transport connections are great, but everything is very spread-out, so you need to be strategic about where you stay (especially if you're on a short trip). Moreover, some neighbourhoods are safer than others for tourists.
I stayed in the lovely Laureles neighbourhood when I visited Medellin. It's leafy, it's very walkable, there are dozens of amazing restaurants and cafes – and it's away from the busy downtown area, giving it a more local feel. The northern part of Laureles is especially convenient because it's close to the metro line.
If you prefer to be in the thick of it, El Poblado is the beating heart of 'new' Medellin. It can feel a bit touristy, but at the same time that means lots of options for eating out and revelling in Medellin's nightlife.
Here are my top picks for where to stay in Medellin:
For more ideas, check out this list of excellent Airbnbs in Medellin for apartment rentals in Laureles, El Poblado and beyond.
---
Medellin travel FAQ
When is the best time to visit Medellin?
Medellin is an all-year destination, with pleasant temperatures throughout the seasons (hence why it's called the 'City of Eternal Spring').
High season (December-March) is the driest time of year, but it's also the busiest period. If you do visit in December, try to time your trip for the Alumbrados Navideños Christmas celebration.
June-August is shoulder season and also a pleasant time to travel, especially if you're interested in local culture and festivals. The biggest event on Medellin's calendar is the Feria de Las Flores flower festival, which normally takes place over 10 days in August.
Rainy season (April/May and September/November) is a great choice for budget-conscious travellers as things are quieter and you can usually find some great deals on accommodation and tours. Like in Southeast Asia, afternoon downpours are normally short and sharp, so you can still spend time outdoors.
How many days should you spend in Medellin?
You don't have to spend three weeks in Medellin like I did. Three or four full days is time enough to get a good overview of the city. With two days in Medellin, you can see the major highlights.
If you can, I do recommend travelling slowly and lingering a bit longer. One week in Medellin would be ideal.
Is Medellin safe for tourists?
Let me start by saying that I personally felt safe in Medellin at all times. Colombia often gets a bad wrap (a leftover from the 90s), but in reality things have changed a lot in the past few decades, especially in Medellin. You certainly shouldn't let old news reports or media stereotypes put you off travelling.
But you do need to exercise caution in the city, especially when it comes to pickpocketing. Wear your backpack on your front, be careful when using your mobile phone in public, and avoid carrying valuables or large amounts of cash on you.
One of the first things you'll hear in Medellin (especially if you join the Free Walking Tour) is the phrase, 'Don't give papaya'. It basically means don't set yourself up for disaster. Don't make yourself a target for petty crime. Be wary of your surroundings at all times, and don't walk around after dark, even in the touristy areas of El Poblado and El Centro.
For more insights, I'll refer you to Medellin expert Desk to Dirtbag who has lived in Colombia for years and knows the ins and outs of safety in Medellin.
How to get from Medellin Airport to the city?
Most visitors fly into Medellin. The city's airport, José María Córdova International Airport, is located 13 miles (20km) from the centre of the city or around 45-60 minutes by road.
Taxis are available, but for ease, I recommend you pre-book an airport transfer to your hotel. Impulse Travel offers 24/7 transfers to any hotel in Medellin starting from $25. Someone will be there to meet you in the arrivals hall, and since payment is made online before you go, there's no need to worry about having pesos on you.
Alternatively, the airport bus 'busetas' runs every 15 minutes 24/7 and costs around 10,000 COP. The buses depart from outside gates 2A and 2B. Tickets can be bought from the driver using cash.
I took this bus myself and it was packed – I almost missed out on getting a seat. If you have a large or heavy bag, I would avoid the bus as there is only room for 19 people and it's very squished already.
The bus stops at San Diego Mall before continuing to Hotel Nutibara in the centre. From there, you'll need to walk or take a taxi the rest of the way to your accommodation.
Is Bogota or Medellin better?
Bogota and Medellin are two very different cities. As the capital of Colombia, Bogota has amazing museums (including the Gold Museum) and impressive heritage architecture. But it has more of a big-city feel and is less intimate, in my opinion. Bogota also has a worse track record when it comes to safety.
Medellin, by contrast, is very livable, green and pedestrian friendly, with unique Paisa culture and incredible food. There are more day trip opportunities from Medellin, which makes it a better base for exploring Colombia.
In short: Neither Medellin nor Bogota is 'better', but most travellers I know tend to favour Medellin. Personally, I enjoyed my three-week stay in Medellin a lot more than my few days in Bogota.
If I had to choose just one big city to visit in Colombia, it would definitely be Medellin.
---
Have you been to Medellin? Do you have any more tips to share? Drop your Medellin recommendations in the comments below!
---
Colombia trip essentials
Here are some of the websites and services I recommend for planning a trip to Colombia. Remember to check out my full list of travel resources for more tips.
FLIGHTS: Find affordable flights to Colombia using the Skyscanner website.
VISAS: Use iVisa to check if you need a tourist visa or a Health Declaration form for Colombia and apply for your documents online.
TRAVEL INSURANCE: Insure your trip to Colombia with HeyMondo, my preferred provider for single-trip and annual travel insurance.
AIRPORT TRANSFERS: Book a safe and reliable private transfer from the airport to your hotel in Medellin, Bogota or Cartagena (prices start from $18 per group).
ESIM FOR COLOMBIA: Stay connected during your trip – pre-purchase an eSIM for Colombia and get online as soon as you arrive without having to visit a phone shop.
CAR HIRE: Use the Discover Cars website to compare prices and features across all the major car rental companies.
ACCOMMODATION: Find the best Colombia hotel deals on Booking.com.
CITY TOURS & DAY TRIPS: Browse the Viator website to find the best day trips, city tours, Colombian cooking experiences and more.
---
More Colombia resources