What to do during a short stay in Thessaloniki, Greece. Includes the best things to do in one day in Thessaloniki, what to eat, how to get around, and a handy Thessaloniki map.
Thessaloniki, or 'Saloniki' as she's known to locals, is Greece's second-largest city after Athens. Usually overlooked by tourists in favour of the capital, it has a similar gritty charm yet a vastly different feel.
Sitting in the shadow of Mount Olympus, whose peak looms on the horizon beyond the shimmering harbour, Thessaloniki is steeped in Ancient Greek and Roman history. Add to that layers of Byzantine and Ottoman heritage, the legacy of Thessaloniki's Sephardic Jews (present here since the 3rd century BC) and the Balkan-like socialist apartment blocks that dominate downtown, and you have an intriguing mix of influences.
Street art, vibrant markets, and a street food scene that some experts consider the best in Greece – Thessaloniki has it all.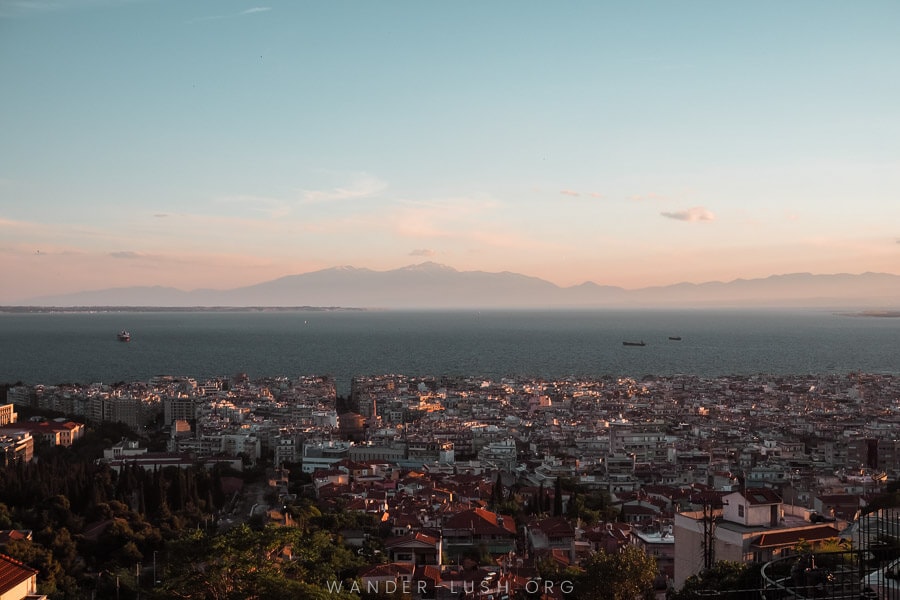 Thessaloniki is the perfect departure point for a Greece road trip and more than deserving of a place on your Greece itinerary. The presence of budget airline routes through SKG has also made it a convenient place for a stopover or short city break.
Recently I had not one, but two overnight stays in Thessaloniki – first on my way to Naples and again en route to Kutaisi after crossing overland into Greece from the city of Bitola in North Macedonia.
One day in Thessaloniki was just enough time to lure me in. As I boarded the airport bus back to the terminal in the wee hours of the morning, I promised myself that I'd return one day for a longer stay!
This Thessaloniki itinerary highlights the best of what the city has to offer. I hope you too will fall in love with Northern Greece's biggest city!
---
Please note: This post contains affiliate links, meaning I may earn a commission if you make a purchase by clicking a link (at no extra cost to you). Learn more.
---
✓ Thessaloniki essentials
Where to stay in Thessaloniki
If you're only in Thessaloniki for a short period of time, I recommend staying near the train station or in the very heart of the old city. The airport bus runs frequently from the centre of town, making this an easy option for anyone who's transiting.
On our first visit to Thessaloniki, we stayed at this fantastic Airbnb apartment near the train station. A huge apartment with two bedrooms, a separate kitchen and balcony, it's extremely comfortable and great value for money. It's walking distance from the centre via the waterfront – ideal for first-timers.
If you prefer a hotel, my top choice is Capsis Hotel Thessaloniki. It's similarly located near the train station at the top of the waterfront.
For a boutique option, I recommend The Modernist, which is just footsteps from the Modiano Market smack bang in the centre of old Thessaloniki. Rooms are clean and elegant, and there's a divine outdoor breakfast terrace where you can start your morning.
Find more hotels in Thessaloniki on Booking.com.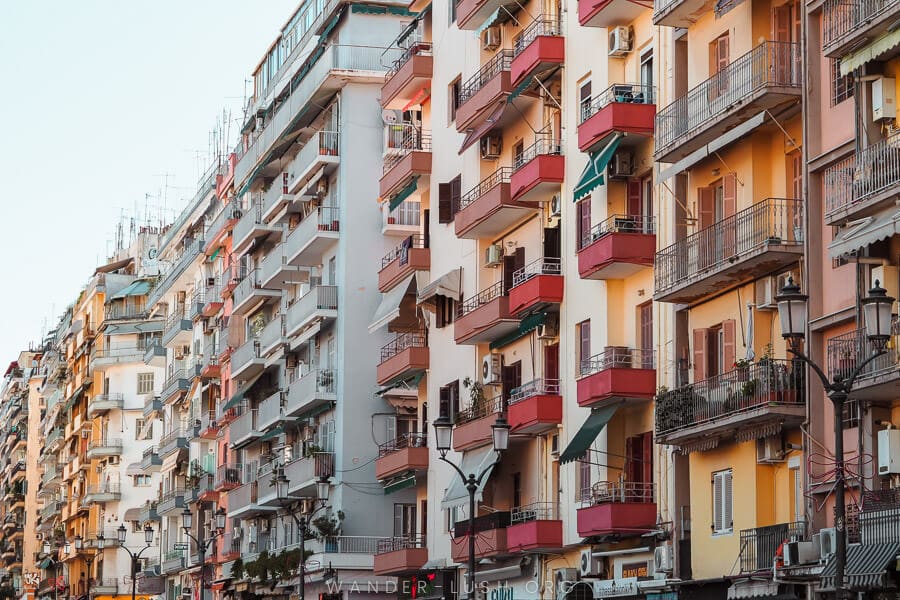 Recommended Thessaloniki walking tours
If you only have a day in Thessaloniki, consider joining a guided walking tour to make the most of your short visit. During our first stay in Thessaloniki, we explored the city centre with a local guide. It was worth every penny to cover the main highlights and learn a bit of history in the process.
Here are a few recommended city tours offered through Get Your Guide:
For a broad overview of Thessaloniki's culture and history, I recommend this private walking tour with a local guide. It's flexible, so you can choose your preferred duration (2 to 6 hours) and depart any time between 9am and 8pm.
What I love most about this personalised tour is that it starts at your accommodation, so you can get to know your local neighbourhood first before delving into Thessaloniki's iconic attractions and hidden gems.
→ Check prices and availability here on Get Your Guide.
There are also a number of specialty tours on offer, including this three-hour walking tour for foodies. Thessaloniki has an awesome culinary scene (as you'll soon see!) and I can't think of a better way to get to know the city than through its street food.
This particular itinerary covers the markets and takes in most of the city's main historical attractions at the same time.
→ Check prices and availability on Get Your Guide.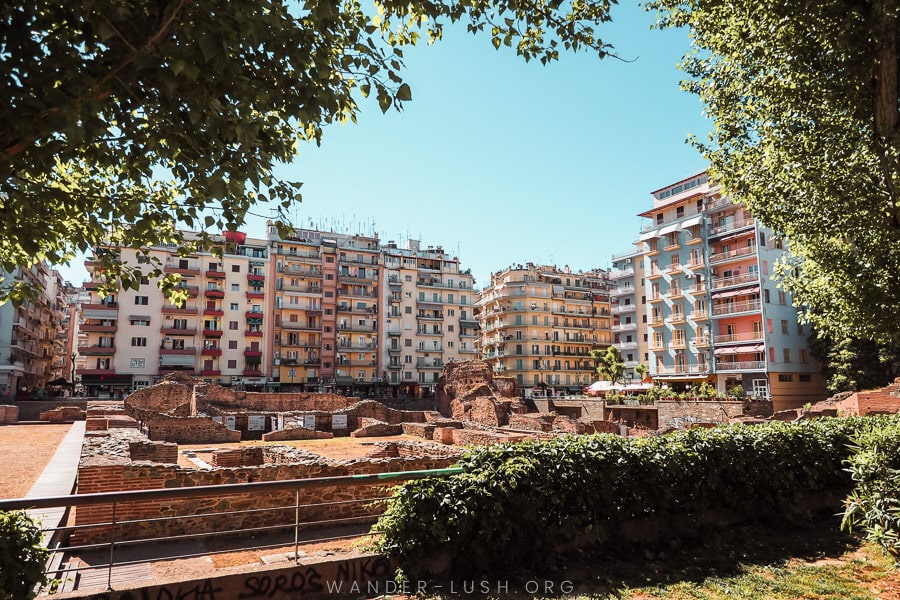 Apart from food traditions and history, Thessaloniki also has a reputation for its craft workshops. The Made in Thessaloniki tour, hosted by Urban Adventures, takes you to some of the city's finest art and craft studios to see how artisan wares are crafted. If you're interested in buying authentic souvenirs, this is the tour for you.
The itinerary has a strong focus on artisanal food products and medicinal herbs as well. First stop is at one of the oldest coffee companies in Greece where you learn a bit about Greece's contribution to European cafe traditions – always a good way to start the day!
Update: Unfortunately this itinerary is no longer available – try this food and culture tour instead.
---
One day in Thessaloniki: The perfect itinerary
Admittedly, one day in Thessaloniki isn't nearly long enough to see everything the city has to offer. But if it's all the time you have, you can definitely fit in a lot of the must-sees provided you manage your time.
Rather than overloading yourself with museums and churches, I recommend focusing on the architecture, markets, and of course as much Greek food as you can stomach. This Thessaloniki itinerary focuses on historical and cultural sites, including the city's UNESCO Monuments, and is pretty much the exact route we followed during our short summer visit.
---
Start your morning with a warm plate of bougatsa
At first glance, bougatsa, Greek custard pie made with flaky filo pastry, might look like a decadent dessert. But in Thessaloniki, sweet and savoury versions are commonly eaten for breakfast.
The dish originated in Asia Minor (AKA Turkey) before immigrants brought it to Greece and put their own spin on the recipe. Thessaloniki is considered the spiritual home of bougatsa, and there are dozens of specialty bougatsaria joints all over town, some of them still making the dough by hand.
The most basic version consists of layers of hand-stretched filo coated with butter and oil and sweetened with semolina custard. Traditionally served warm, it comes pre-cut into bite-sized squares and dusted with icing sugar and cinnamon. Pure ecstasy.
Everyone has their favourite bougatsa. I managed to sample three during my time in Thessaloniki and I liked each of them for different reasons. If your itinerary permits, I suggest trying them all!
Each of these places opens up bright and early before 7am.
Bougatsa Bantis: Located on Panagias Faneromenis, not far from the train station, this is a super local joint with just a few cafe tables out front and a smiling matriarch behind the counter. The classic bougatsa hits the perfect note sweetness-wise, and is ideal for first thing in the morning (especially with a strong espresso on the side). I later found out that the proprietor, Philippos Bantis, is considered the Bougatsa Master of Thessaloniki!
Bougatsa Giannis behind the White Tower is also well-regarded by locals. If you can't stomach custard for breakfast, the savoury version stuffed with meat and served with yogurt on the side (reminiscent of Balkan burek) is very popular here.
Serraikón near the Modiano Market is one of the oldest bougatsa cafes in town and is known for its super-crunchy filo.
Stroll along the waterfront and port
Thessaloniki is set on a natural harbour and has been an important port city throughout its history. Even today, the life of the city revolves around the waterfront.
Any good Thessaloniki itinerary involves spending some time on the promenade. I suggest doing it first thing after breakfast. With the sparkling Aegean on one side – with views all the way out to mighty Mount Olympus – and Thessaloniki's historic core on the other, a stroll here will set the perfect scene for the rest of your day.
One of the advantages of staying near the railway station is that you get to walk the entire length of the waterfront to reach the centre of downtown. Walking in a south-east direction along Leof. Nikis, you'll first pass the port and the pier where the Contemporary Art Center of Thessaloniki is located.
As you get closer towards downtown, you'll notice more and more cafes and wine bars along the waterfront. Thessaloniki's most recognisable landmark, the White Tower, looms at the end of the boulevard and is your next port of call.
Loop through Ladadika, Thessaloniki's old town
Before you reach the end of the waterfront, duck into Ladadika, one of the oldest parts of Thessaloniki. It accounts for the first several blocks back from the waterfront and stretches all the way from the port to the White Tower.
The gorgeous Aristotelous Square is located roughly halfway down the promenade and can't be missed. This vast open space fringed by classical cream and white facades, tall palm trees, knots of cafe umbrellas and small parks is a favourite place among locals for a stroll.
If you have time later, I recommend walking back to your hotel in the evening through the Square – it's even more atmospheric after dark.
Stop by Thessaloniki's most iconic building, the White Tower
The White Tower of Thessaloniki sits proudly on the waterfront, guiding pedestrians like a north star. Serving as a museum and a lookout tower, it's a mainstay of Thessaloniki's skyline that has borne witness to many a conquest and natural disaster.
The cylindrical fortification was erected by the Ottomans after they captured Thessaloniki in 1430. Before that, a different structure built by the Byzantines stood here to guard against invaders pressing against the city's eastern sea wall.
Used as a fortress and a garrison, the tower eventually became a notorious prison. So brutal were the conditions (and so plentiful the executions carried out at the hands of the area's Ottoman rulers) that it acquired the nickname the 'Red Tower' or 'Tower of Blood'.
When Thessaloniki was taken by the Hellenic State (modern-day Greece) in 1912, the tower was whitewashed to symbolise a cleansing of the city's sordid past. It only half worked – just a year later, Greece's monarch was assassinated near the tower.
Today the White Tower of Thessaloniki is more of an off-white, but the symbolic value of this landmark endures. Inside, visitors can see a small exhibition about Thessaloniki's history and climb a snaking staircase six floors up for panoramic views of the harbour.
If you really want to sink into the history, it's highly recommended to take advantage of the English-language audio guide. It's free when you deposit an ID card – don't forget to bring yours with you.
The White Tower is open daily from 8.30am until 3.30pm. Entrance costs 6 Euros, or you can buy a combination ticket for the White Tower, Archeological Museum, Byzantine Museum and Rotunda for 15 Euros.
Walk up historic Dimitriou Gounari Street
After visiting the White Tower and the end of the waterfront, it's time to delve properly into Thessaloniki's historic Lower Town. My favourite way to approach the rest of the city – the most picturesque walking route – is north via Dim. Gounari.
Dim. Gounari is one of Thessaloniki's most vibrant streets. Situated in the heart of the student area and linking the waterfront with the Upper Town, it's prime real estate for bustling pizzerias, coffee shops and hookah bars.
It was a lively spot in Roman times too – the city's hippodrome, which could hold a rowdy crowd of 15,000, was located nearby, as were many of the city's bathhouses. The Palace of Galerius, a complex of several stately buildings, is located in this vicinity.
Once you push through Ladadika, you start to see the slightly jarring combination of old and new architecture that gives central Thessaloniki its character. This part of the city is defined by row upon row of colourful high-rise apartment blocks with Roman and Byzantine ruins at their feet.
To understand how this bizarre skyline came about, you have to learn a bit about Thessaloniki's modern history. Over the centuries, the city has been plagued by earthquakes, which took down many historic structures. Then in 1917, a huge fire swept through the city, destroying a lot of what remained. After that, large apartment blocks were erected in the voids for a quick solution to the city's housing crisis.
Dim. Gounari Street is lined with some of the most striking buildings and the odd street mural. A wedge of green space runs through the centre and is a nice place to walk. The street has a gradual incline; as you approach the top, you'll see another of Thessaloniki's urban icons, the Rotonda, start to come into view.
Before you reach the Rotunda, be sure to stop for a look at these Thessaloniki landmarks:
Octagon: Part of the Roman-era Galerian complex, these are the ruins of an unfinished throne room. The octagonal shape along with the elaborate marble work that once covered the floors and walls make this one of the city's most intriguing archaeological sites.
Apsidal Hall: Also part of the Galerian complex, this is believed to be a triclinum where the Emperor would have hosted ceremonial banquets. The space is opulently dressed with inlaid marble, frescoes and mosaics.
Arch of Galerius: Commissioned by the Emperor in the 4th Century, this brick and marble arch complements the Rotunda. Originally it was an octopylon (an eight-pillared gateway) but only a small section still stands today. The marble reliefs depict Galerius' victory over the Persians.
Go inside the Rotonda
Dimitriou Gounari culminates with the Rotonda, officially the Rotunda of St. George or Rotunda of Galerius. This curious structure is one of 15 Byzantine and early Christian edifices recognised as part of Thessaloniki's UNESCO World Heritage-listed Monuments.
Thessaloniki's oldest church (and rumoured to be one of the oldest in the world), the Rotonda was originally built to be a mausoleum for Galerius. The cylindrical structure with its flat-domed roof dates back to 306 AD. It withstood Thessaloniki's aforementioned earthquakes, largely thanks to its super-thick walls.
Galerius was never buried here, though. By the 4th century, the building still lay empty until it was converted into a church. It was then that the Rotonda was bestowed with its interior mosaics – the asset that makes it a UNESCO Heritage Site. Only small fragments remain in-tact today.
When the Ottomans arrived in 1590, the Rotonda was converted into a mosque, hence the addition of a minaret on the left-hand side. After 1912, it was re-consecrated as a Greek church but the minaret was left in place.
The acoustics inside the Rotonda are apparently quite something – if you're lucky enough to be visiting Thessaloniki when there's a choral or orchestral performance on, don't miss your chance to attend.
Otherwise, you can go inside the building between the hours of 8am and 8pm (except on Tuesdays when it's closed) to view the mosaics. Entry costs 6 Euros.
Eat lunch at Derlicatesen all Souvlaki
After a busy morning of sightseeing, it's time to revisit Thessaloniki's street food scene. And what could be more apt than a typical Greek souvlaki.
Everyone has their favourite souvlaki joint in the city. After ample research, I settled on Derlicatesen all Souvlaki – a no-frills, local place right in the centre of downtown. One of the oldest in the area, it's a few blocks back towards the waterfront, an easy stroll from the Agora.
This place is tiny and perpetually packed to the rafters. Join the queue, order at the counter, and once you have your tray, take it outside to one of the standing tables – if you can find a space!
The specialty here is charcoal chicken souvlaki, which many locals consider to be the best in the city. Also order a side of kastanati, creamy baked potato topped with feta and red pepper.
Admire the ruins of the Ancient Roman Agora
Before you leave ancient Thessaloniki behind, take a moment to pause at the Agora, Thessaloniki's Roman-era forum. Behind the stadium you'll see the Church of St. Demetrios, erected atop Roman bathhouses, and in front, Bey Hamam, the city's old Ottoman baths.
Explore Thessaloniki's vibrant market district
Downtown Thessaloniki has three large open-air markets that merge together to form a buzzing commercial district. The whole neighbourhood is a colourful display of produce, cut flowers, seafood, artisan workshops, countless cafes, tavernas and bakeries.
I recommend setting aside the better part of your afternoon – a good 2-3 hours – to wander the maze of streets. Here's what to expect:
Modiano Market: A beautiful glass-roofed hall built in 1912 after the designs of Modiano, a local Jewish architect. Shops here trade in food products: Fish, spices, specialty cheese and sweets. Many fast-food joints, taverns and bars are also held here. I recommend coming back for dinner (more details later).
Kapani Market: The narrow cobbled alleyways of this market are reminiscent of the Ottoman bazaars in Istanbul, Skopje and Sarajevo. Locals love to do their grocery shopping here.
Bezesteni Covered Market: One of only three closed Ottoman markets that survives in Greece, this is an impressive six-domed building that houses carpet, flower and jewellery shops.
Beyond the defined market areas, you'll also find lots of street art and colourful alleyways in this part of town.
Visit a museum
If you have some spare time in the afternoon, this is the perfect time to visit one of Thessaloniki's history museums – particularly if you're there in summer and you have a few extra daylight hours to expend before dinner.
We unfortunately didn't get a chance to fit a museum into our Thessaloniki itinerary, so we have plenty to catch up on next time we visit. Popular choices include:
Archaeological Museum of Thessaloniki: The city's premier historical institution displays Byzantine and Roman relics and art objects unearthed during excavations.
Jewish Museum of Thessaloniki: Chronicles the city's Sephardic heritage from the 3rd century BC all the way to WWII. Thessaloniki was the largest Jewish city in the world for more than four centuries.
Ataturk Museum: A small house museum set inside the family home of Mustafa Kemal Ataturk, the founder of modern Turkey, who was born here in Thessaloniki.
Catch the sunset from the Old City Wall
The absolute best thing to do in Thessaloniki, in my humble opinion, is to watch the sunset over the harbour. The west-facing Byzantine Old City Walls in the upper part of town provide the perfect vantage point.
There are lots of different lookouts to choose from – my personal favourites are here and here.
At dusk, hoards of people (including groups of locals) gather here to watch the golden orb go down against a backdrop of Mount Olympus. On a Friday night, sunset is accompanied by music, drinking and much frivolity. Parts of the walls and towers are closed off, but that doesn't seem to stop people from clamouring over guardrails to get a better vantage.
There are plenty of 'safe' places to sit or stand. If you decide to climb up higher, just remember to take care.
As the sun starts to set, the rays set Thessaloniki's lower town ablaze. With a few tiny cargo ships dotting the harbour and the mythical home of the Greek Gods just visible through the dusty pink sky, it's a picture-perfect end to the day.
To get up to the walls, you can either walk from downtown (around 50 minutes uphill) or take a bus from the railway station or the centre.
If you plan on travelling back into the city by bus from the Old City Wall after sunset, just be sure to get a head-start before the crowds so that you get a seat.
Eat a fresh seafood dinner at the Modiano Market
Cap off your perfect one day in Thessaloniki with a well-deserved dinner. I highly recommend returning to the Modiano Market: The atmosphere is excellent, and there are plenty of quintessentially cute Greek tavernas – blue-and-white tablecloths and all – to choose from.
Seafood is popular, and you can also find Greek meze (and more souvlaki if you fancy!). Tsir Tsir Meze, Bazagiazi and Frutti Di Mare are all solid choices.
After dinner, wander back through Aristotelous Square, perhaps stopping for a nightcap at the popular Pantheon Bar along the way.
---
Thessaloniki map
Find all the above mentioned attractions and restaurants plotted out on an interactive map.
---
More time in Thessaloniki?
You could easily fill in another day with more of Thessaloniki's museums and churches. Or you could take a day trip like we did.
Since this was our first time in Greece, we couldn't pass up the opportunity to visit the mystical and romantic Meteora. It was a (very) long, very tiring day, but totally worth it.
I recommend the tour we chose – this full-day trip with Ammon Express. Even though we inevitably spent most of the 11 hours in the car, we still had time to visit three monasteries and eat lunch in a little village. The price is very reasonable, there's a guide for the monasteries, and plenty of photo stops along the way.
→ Compare prices and making a booking here on Get Your Guide or here on Viator.
Other popular day trips from Thessaloniki include:
Dion and Mount Olympus: This 8-hour tour includes the archaeological park of Dion, a hike to Enipeas Gorge, and lunch in Litochoro village.
Pozar Thermal Baths: Perfect for outdoor lovers, this 8-hour tour also includes a visit to Edessa to see the biggest waterfalls in the Balkans.
Kerkini Lake: If you need a nature break, this 8-hour tour includes a boat trip on the lake to get up close and personal with flamingos, buffalos and other wildlife. It concludes with lunch in Vironia village before returning to Thessaloniki in the early afternoon.
---
Have you been to Thessaloniki? Are there any other activities or food spots you'd like to recommend?
---
Greece travel essentials
Here are some helpful websites and resources you can use to organise your trip to Greece.
FLIGHTS: Find affordable flights to Greece using the Skyscanner website.
VISAS: Use iVisa to check if you need a tourist visa for Greece and apply for an expedited visa online.
TRAVAL INSURANCE: Insure your trip with HeyMondo, my preferred provider for single-trip and annual travel insurance.
ESIM: Buy an eSIM and data package for Greece online before you go. My top choice is the Eurolink eSIM from Airalo (prices from $5).
CAR HIRE: Find a great deal on a Greece rental car using Local Rent, an aggregator website that works with local agents.
ACCOMMODATION: Find the best hotel deals in Greece on Booking.com.
CITY TOURS & DAY TRIPS: Book skip-the-line tickets, day tours and city excursions on Viator.
---
More Greece inspiration
---
One day in Thessaloniki: Save it & share it