All the inspiration you need to plan the perfect Greek road trip itinerary.
Whether you're searching for secluded beaches or far-flung mountain villages, having your own car to tour Greece will give you the ultimate flexibility and comfort.
This guide brings together 10 of the best road trips in Greece, including road trips from Athens, scenic loops from Thessaloniki, and driving routes on five of the most popular Greek islands.
Each itinerary ranges from 3 days up to 2 weeks, with options to shorten or extend the trip depending on your travel style.
---
Please note: This post contains affiliate links, meaning I may earn a commission if you make a purchase by clicking a link (at no extra cost to you). Learn more.
---
Driving in Greece
You might associate Greece travel with island-hopping by ferry or long overland bus journeys. But hiring a car in Greece is a great way to get off the beaten track and enrich your trip. Not only will it give you more flexibility with your itinerary, it will allow you to visit small villages, remote archeological sites and secluded beaches.
As long as you avoid busy inner-city Athens, you'll find that driving in Greece is relatively straightforward. Here are a few key things to know before you get behind the wheel.
In Greece, you drive on the right-hand side of the road.
Seat belts are mandatory for front-seat passengers.
When renting a car in Greece, an International Driver's Permit is required by law for everyone except UK/EU residents.
It's illegal to use your mobile phone when driving in Greece. Be sure to bring a dashboard mount.
Google Maps is sufficient to navigate around Greece. No need to hire a GPS.
Speed limits range from 50km/hour in the cities to 120km/hour on highways.
There are only a couple of toll roads in Greece, including the national road and the Athens Airport Highway. Fees can be paid in coins or using a credit card.
Greece has a zero-tolerance policy on drink driving, so save your wine degustation for a day when you can leave the car parked.
Avoid driving in or out of Athens on the weekends – the roads are often gridlocked between Friday afternoon and Sunday.
---
Hiring a car in Greece
I personally recommend Local Rent for hiring cars (or scooters) in Greece. The platform partners with local agents, thus prices are often much lower than the big-name rental companies. Rates average 31 Euros/day depending on the season.
Most vehicles have no mileage cap, no deposit, and come with comprehensive insurance included for no extra charge. If plans change, Local Rent offers a generous free cancellation policy.
My Rent A Car has pickup locations in dozens of places around Greece, including all major airports and cities.
→ Browse prices here on the Local Rent website.
If you prefer to hire a car through a big-name international company such as Avis, Sixt or Hertz, I recommend using the Discover Cars website to compare deals.
→ Browse prices here on the Discover Cars portal.
Tip: Car ferries in Greece can be expensive so if you plan on driving around the islands, it usually works out cheaper if you rent a new car in each destination.
---
Greece road trip map
Click here to open & save a Google Map of these self-driving routes.
---
1. Short Greece Road Trip: Athens to Patras
Duration: 4-5 days
Distance covered: Approx. 215 kilometres (134 miles)
Highlights: The Acropolis in Athens, Corinth Canal, Patras Lighthouse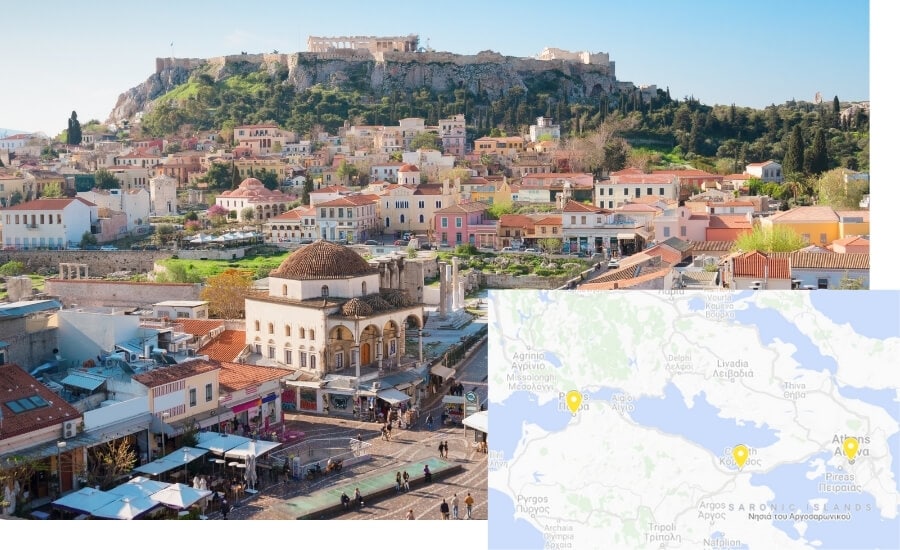 One of the best short road trips in Greece is the drive from Athens to Patras via Corinth.
Athens, the capital city of Greece and one of the most beautiful places in the country, needs no introduction. Explore the many ancient sites including the Acropolis, an old citadel. The Acropolis Museum is a great place to learn more about Greek culture. Soak up the beautiful nature in the National Garden, where you'll find fountains and walking paths, then head to the lively neighbourhood of Plaka to check out the many restaurants and shops. Give yourself at least 2 days to get acquainted with Athens.
At the end of the second day, it's time to go to Corinth where a 1-night stay is sufficient. Corinth is most famous for the Corinth Canal that connects the Gulf of Corinth with the Saronic Gulf. While you're here, wander through the Akrokorinthos ruins and indulge in a Greek wine tasting.
Finally, head to Patras, the third-largest city in Greece. The most iconic attraction here is of course the lighthouse of Patras, from where it's possible to see the city from above. With just 1 night in Patras you can see most of the highlights, including the wonderful Archaeological Museum.
Recommended by Dymphe from Dymabroad
2. The Ionian Coast: Road Trip from Athens to Parga
Duration: 4-5 days
Distance covered: Approx. 460 kilometres (286 miles)
Highlights: Ancient Nicopolis, boat cruise to Paxos and Antipaxos islands, River Acheron and Nekromanteion, beaches of Sivota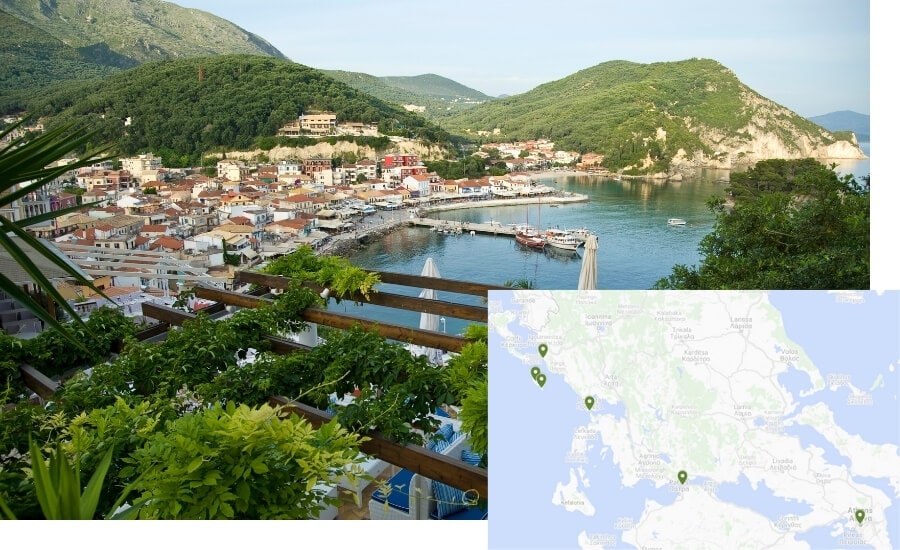 Less famous but no less incredible, this road trip route takes you from Athens to Parga.
After a few days in the capital, head towards Patra via the Ethniki Odos, taking the beautiful coastal north highway of the Peloponnese and passing over the Rio Antirio Bridge, one of the world's longest cable-stay bridges.
After the bridge you will see signs pointing you towards Preveza. Before continuing on, an overnight stop here is highly recommended. Preveza combines fascinating history with cosmopolitan cafes and swimming beaches. Pause here to indulge in the languid way of life.
The next day you will reach Parga in under an hour's drive from Nicopolis, taking the coastal EO Prevezas Igoumenitsas highway. Parga is a little picturesque town, bathed by the refreshing deep blue-turquoise waters of the Ionian Sea and dotted with colourful houses and an old Venetian fortification.
It's recommended to spend at least 3 nights in Parga as there is a lot to discover in the surrounding area. Spend a day visiting the natural landscape and crystal waters of the Acheron River and the ancient Greek temple of necromancy devoted to Hades, the God of the Underworld, and Persephone nearby.
The paradisiacal Sivota beaches less than an hour's drive from Parga are unmissable, as are the tiny scenic islands of Paxos and Antipaxos, which you should spend a day discovering by boat.
Recommended by Elena from Travel Greece, Travel Europe
3. Peloponnese Road Trip: Athens to Olympia
Duration: 10-15 days
Distance covered: Approx. 1,250 kilometres (777 miles)
Highlights: UNESCO World Heritage Sites of Mycenae, Epidaurus, Mystras and Ancient Olympia, Voidokilia beach, castle villages in Mani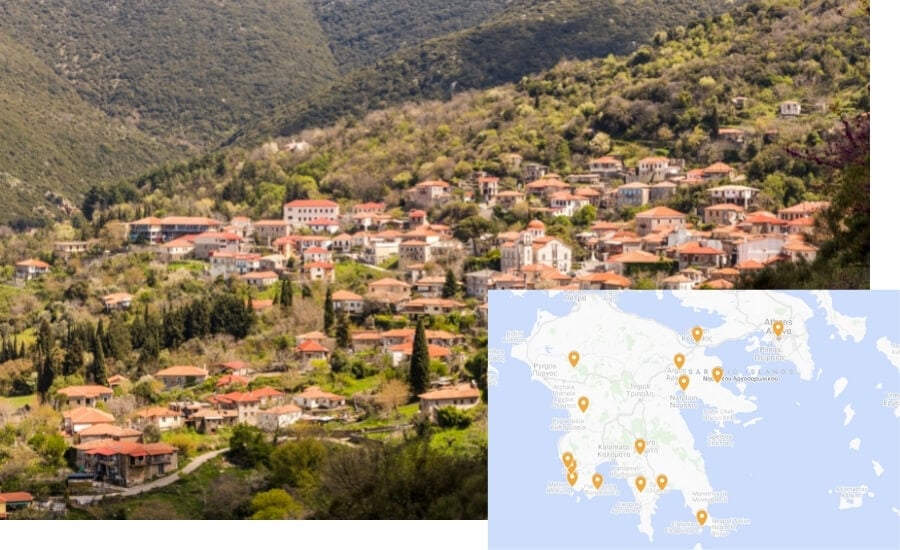 A road trip in the Peloponnese is a classic Greek road trip experience. The Peloponnese Peninsula is located in the southern part of the country and is brimming with archaeological sites, breathtaking natural scenery, and beautiful beaches.
This road trip itinerary starts in Athens, driving south through the Isthmus of Corinth, which is a great photo stop, to the UNESCO Heritage site of Mycenae and finally the picturesque town of Nafplio, the former first capital of Greece after the Ottoman occupation.
The following day starts with a visit to the ancient theatre of Epidaurus and further exploring Nafplio and its beaches. Your next destination is another UNESCO site, the fortified city of Mystras with its striking Byzantine churches, before arriving in the castle town of Monemvasia where you will spend the night.
The following day, visit Elafonisi island, which is worth the short ferry ride for its famous white-sand beaches and turquoise waters.
Back to mainland Greece and the next 2 days should be spent exploring the villages of Mani. Highlights include the village of Limeni, the fortified village of Vathia, a boat ride to the cave of Diros, and the Shipwreck Dimitrios. Your next destination is yet another interesting archeological site, Ancient Messini, and the town of Methoni with its breathtaking castle. The road will then lead you to more picturesque towns, Koroni and Pylos, before arriving at Voidokilia, one of Greece's best beaches.
The final destination of your road trip Ancient Olympia. On your way there, make sure to stop at the impressive Temple of Bassae Apollonas and to hike to the majestic Neda waterfalls.
You can cover all of the above places of interest in 10 days, but if you want a slower pace, you can easily extend it to 15 days or more. At the end of your road trip, loop back to Athens.
Recommended by Chrysoula from Greece Travel Ideas
4. Central Greece Road Trip: Thessaloniki to Meteora
Duration: 5-7 days
Distance covered: Approx. 350 kilometres (217 miles)
Highlights: Street food in Thessaloniki, Museum of the Royal Tombs at Aegae, hiking Mount Olympus, Monasteries of Meteora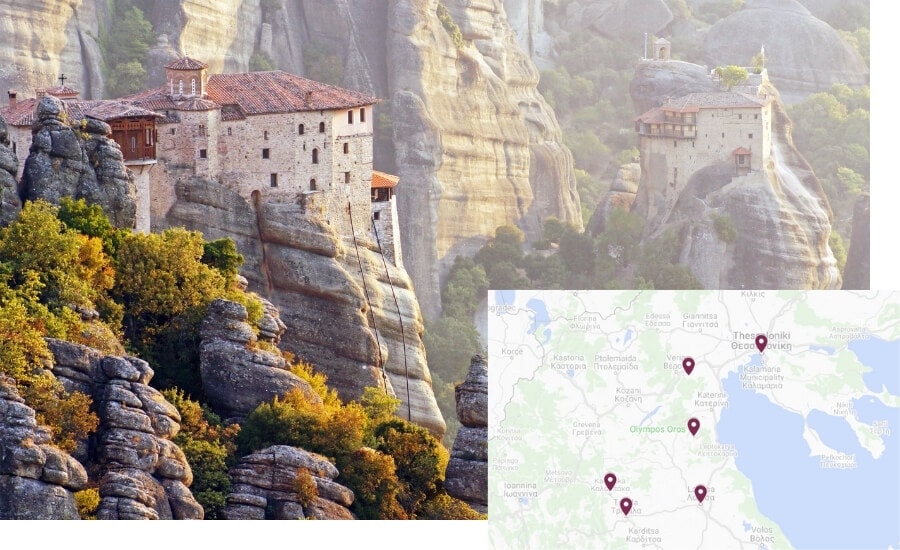 Thessaloniki, Greece's second city, is a fine place to depart for a journey by road around the country's north. This itinerary swaps bustling Athens and the coast for the laid-back pace and striking landscapes of Central Greece.
Spend a day or two getting to know Thessaloniki through its street food, lively produce markets and museums before easing into your road trip with a short drive to Vergina. Believe it or not, but this small town was once the capital of Macedon. Known as Aigai, it was the place where Philip II was assassinated and his son, Alexander the Great, took the throne. Take a day to explore the UNESCO-Listed tombs and palaces, and relive this pivotal moment that shaped world history.
Mythical Mount Olympus, the highest peak in Greece, lies a little further down the coast. However you choose to experience this majestic landscape – whether from afar with a view from one of the nearby towns or up close by hiking to the summit – there's no doubt this mainstay of Greek mythology will leave a lasting impression.
Take your time driving between the cities of Larissa and Trikala, both of which offer more archaeological gems and monuments from the Byzantine and Ottoman periods, before ending your road trip in Meteora. This UNESCO World Heritage Site is one of the most recognisable landmarks in Greece. Clamber over staircases and pathways cut from the rock to visit any of the 6 still-functioning Orthodox monasteries, the following one of the hiking trails to get a faraway view of this most magical landscape.
Finish your trip by returning to Thessaloniki, or join up with one of the previous Greece itineraries to travel all the way down to Athens. Alternatively, head back to the city and overland into Bulgaria, extending your road trip into the heart of the Balkans.
5. Halkidiki Road Trip: Thessaloniki to Xanthi
Duration: 5-7 days
Distance covered: Approx. 310 kilometres (193 miles)
Highlights: Beaches at Vourvourou, ancient Philippi archaeological site, Panagia (Kavala old town), monastery at Lake Vistonida
To see a less-explored but still-beautiful side of Greece, try travelling through the east from Thessaloniki. This road trip takes you from Greece's second city to the peaceful Halkidiki Peninsula before moving on to the ancient cities of Kavala and Xanthi.
Thessaloniki is a lively, vibrant city and it's definitely worth spending a few days before starting your road trip. Less than 2 hours' drive away, you'll find Halkidiki, where three 'fingers' of land stretch out into the ocean. A popular destination for locals, Halkidiki has white, sandy bays, mountain hikes and small villages. Be sure to visit the Kassandra Peninsula for the best, most-sheltered beaches.
The next stop is Kavala, a beautiful coastal city first founded in the 7th century BC. After exploring the centre, visit the fishing harbour at the east of the city for good restaurants and sea views. From Kavala, it's only a 20-minute drive to Philippi, a former Macedonian city and home to some of the best Greek ruins in the region. The trip finishes in Xanthi, built at the foot of the Rodopi mountain range and renowned for its unique and delicious local food.
This road trip is only 310km and it's possible to do it in three days, spending one night in each location. However, taking a week or more allows ample time to explore Halkidiki and enjoy some downtime on the beach.
Recommended by Roxanne from Faraway Worlds
6. Santorini Road Trip: Oia to Akrotiri
Duration: 3 days
Distance covered: Approx. 50 kilometres (31 miles)
Highlights: Blue domed churches in Oia, swimming at the Red Beach, panoramic views from the top of Santorini, sunset at Akrotiri Lighthouse
Santorini is one of the most famous islands in Greece for both travel and for destination weddings – and for good reason! Beautiful blue domed churches, white-washed villages along the caldera, cute little streets dotted with shops and restaurants, world famous sunsets and delicious local cuisine: What more could you ask for?
This is a relatively small island, so 3 days in Santorini grants you enough time to visit not just the highlights where most tourists go, but also to discover some of the lesser-known parts of Santorini as well. Although there are some local buses available, doing a Santorini road trip is a much more enjoyable way to explore. You can choose Oia or Fira as your base and go for day trips from there.
Spend your first day in Oia, which is arguably the most beautiful town in Santorini. You can take a stroll around the narrow streets, have a traditional gyros at Pitogyros and take in those scenic views you only see on postcards. It's also worth going on a sunset boat tour to admire the island from the water.
On your second day, visit the other towns located along the caldera, such as Fira or Imerovigli. If you're up for a little hike, you can visit Skaros Rock as well. Santorini is famous for its vineyards so going for an evening wine tour is also recommended.
For your last day, it's time to leave the caldera and drive a bit further away. Walk around the cute town of Pyrgos, drive up to Mount Profitis Ilias to admire the panoramic view, swim at the Red Beach or on the black-sand beaches in Perissa and Kamari, and end your day by watching a marvelous sunset at the Akrotiri lighthouse.
Recommended by Krisztina from She Wanders Abroad
7. Crete Road Trip: Chania to Rethymno
Duration: 7-10 days
Distance covered: Approx. 360 kilometres (224 miles)
Highlights: Beaches of Crete, hiking in Samaria Gorge, pottery workshops, natural baths at Loutro
One of the best ways to explore western Crete is to take a road trip from Chania to Rethymno. These towns are two of the highlights of the island of Crete, and travelling between them by car gives you the freedom to stop off at some fascinating spots along the way.
This road trip route between Chania and Rethymno takes you through Balos, Elafonisi, Loutro, Samaria Gorge, Falassarna, Preveli Monastery and beach, Margarites Village and Argyroupoli. It offers a good mix of nature, history, culture and relaxation – which is what exploring the Greek Islands is all about!
The picturesque town of Chania, with its stunning Venetian harbour front, meandering streets of the Old Town and eclectic combination of European, Egyptian and Ottoman influences, is a fantastic place to start this road trip. From here, you'll move to Balos Beach, arguably one of the most beautiful beaches in the whole of Greece (and that's saying something!).
Elafonisi Beach is next, and is another island beach connected to Crete by a sand bank across shallow waters. After Elafonisi you can stop for a swim at yet another stunning stretch of sand, Dalassarna.
The fishing village of Loutro is another harbour-side stop. This one is known for its ancient natural baths. As Loutro can only be reached by boat, it is relatively unexplored, meaning you can have a relaxing few days here away from the crowds.
The next stop is Samaria Gorge, a great spot for hikers. Spend the next few days visiting the Preveli Monastery, Margarites Village (known for its pottery) and Argyroupoli, the town that was once Ancient Lappa. End your trip in Rethymno, a lovely Cretan city with a fortress, lighthouse and, of course, plenty of traditional Greek tavernas!
Giving yourself between 7 and 10 days to complete a Crete road trip between Chania and Rethymno should allow you enough time to get a taste of the towns and an insight into Cretan culture.
Recommended by Chrysoula from Travel Passionate
8. Skopelos Road Trip: Glossa to Skopelos
Duration: 3 days
Distance covered: Approx. 45 kilometres (28 miles)
Highlights: 'Mamma Mia' Chapel, Kastani Beach, Cape Amarandos, Skopelos town
Skopelos is a small island in the Aegean sea within the archipelago of Sporades. With a car, you could circle the island within a few hours – but that's obviously not the point! It's best to set aside at least 3-4 days to fully enjoy all the island has to offer.
As with most other Greek islands, a car is the best means of transportation in Skopelos. You should rent one in either Glossa or Skopelos depending on which of these two ports your ferry arrives at, then start your route from there.
This road trip itinerary will take you to several spots you might recognise from the film Mamma Mia: Glossa, Agios Ioannis, Hovolo Beach, Kastani Beach, Amarandos Cove, Stafilos beach, and Skopelos town.
Starting in Glossa, take your time in the charming old town built at an altitude of 300m above the Loutraki port. Next up is the famous church of Mamma Mia. It's only a 15-minute drive from Glossa, but the road is very curvy. Try to avoid arriving at the church in the middle of the day as there are 200 steps to climb! Finish the day at Hovolo beach, a beautiful stretch of sand that can only be reached by walking along the coast from Elios.
Day two is a fun beach day. Driving along the coast from Hovolo towards Cape Amarandos, you can visit the famous Kastani Beach where the majority of the scenes from Mamma Mia were shot and the less-popular Milia beach. The last stop is Cape Amarandos, a rocky cape with two lonely pines sticking out of a cliff. Bring comfy shoes as there is no path to follow.
Start day three at Stafilos Beach. With its clear waters, it's a great destination for avid snorkellers. After a fun day on the beach, finish by discovering the charming, colourful, waterfront capital of the island of Skopelos. During your exploration of Skopelos town, you will come across some great little artisanal shops and traditional Greek tavernas.
Recommended by Marta from Where Life is Great
9. Beach-lover's Greek Road Trip: Zakynthos Island Loop
Duration: 3-4 days
Distance covered: Approx. 120 kilometres (75 miles)
Highlights: Navagio Shipwreck, golden sands of Banana Beach, turtles at Daphni Beach
Located off Greece's Ionian coast, Zakynthos (also known as Zante Island) is small enough to navigate in a couple of days by car, making it an ideal Greek island for a driving holiday.
This route will take you clockwise around the island, discovering the most popular beaches and locations. You can stay overnight after each second stop en route or return to your base every evening. Laganas is a good option as it is close to the airport and also a popular hub for nightlife and restaurants.
For your first stop, head to Plakaki Beach, a stunning rocky cove that's perfect for swimming. Further up the west coast, you can find more opportunities for cave swimming and snorkelling at Porto Limnionas Beach.
The next day, take a drive to the Navagio harbour and board a boat to the famous shipwreck cove. This is a full-day experience in itself, and not to be missed. Make sure you opt in to see the blue lagoon and caves during your boat trip.
The following day, head to the south-east coast. Banana Beach is a stunning strip of golden sand with many trendy beach bars and restaurants. If you'd like to watch the sunset, the Garden restaurant in Argassi nearby is the perfect location.
If you have the time, visit Dafni Beach and stay in this area. This beach is unofficially known as 'turtle beach' because of the many turtles that nest here. Head to the beach at night and see if you're lucky enough to encounter them in action.
Recommended by Kerry from VeggTravel
10. Paros Road Trip: Naousa to Paros
Duration: 2-3 days
Distance covered: Approx. 50 kilometres (31 miles)
Highlights: Fishing village of Naoussa, Cycladic island architecture, white-sand beaches
This road trip around Paros Island will show you traditional villages, delicious Greek food, quality beaches, and amazing sunsets.
If Mykonos is considered to be the party island of the Cyclades and Santorini the romantic one, Paros' image seems still undefined and yet full of potential. Although less visited than some other nearby islands, there are many amazing things to do in Paros that make this island worthy of a road trip.
Like most Cycladic islands, Paros' architecture is all about the white houses and churches with blue rooftops. But besides the picturesque villages, what else does Paros have to offer?
To find out, start from the village of Naoussa and drive to Santa Maria Beach. After taking a nice morning swim, head to Molos Beach through Naoussas to Marpissa road, then to Kalogeras Beach, a few minutes further on. Here, you can enjoy the red cliffs and swimming beaches. Another 15-minute drive brings you to Golden Beach for some watersports and lunch at Blue Restaurant Bar.
Lefke town, a 15-minute drive from Golden Beach, was the previous capital of Paros before Parikia. Spend a few nights here before finding one last place to stay in Paros for your final night.
Recommended by Paulina from Paulina on the Road
---
Greece road trip FAQ
When is the best time to do a road trip in Greece?
Summer is by far the most popular time of year to visit Greece. However, if you plan to get around with your own car, it's a very good idea to avoid peak season.
Spring (May/June) and autumn (September/October) are the best overall times of year for a Greece road trip. If summer travel is your only option, try going for an alternative road trip itinerary such as Halkidiki.
For a unique experience, try road tripping in northern Greece during winter. The mountain villages of Zagori, for example, are incredible when dusted with snow. Just make sure you have the right tires and equipment.
Driving in shoulder or off-season means greater availability of rental cars to choose from, less traffic overall, and thus less stress on the roads. It's also much easier to find a car park outside of tourist season.
Is driving in Greece difficult?
Generally speaking, no. Driving in Greece is much like driving in any other European country. The roads and highways are in good condition, and there are road rules in place.
The things most people struggle with are 1) narrow streets on the Greek islands, and 2) the traffic in Athens and Thessaloniki.
Driving in Athens is certainly not for the faint hearted! The best approach is to avoid driving through larger cities altogether. One of my favourite things about Local Rent is that you can pick up and drop off your car virtually anywhere in Greece, including in small towns and villages. Unlike with some big companies, you're not limited to renting from the airport or downtown, which means you can collect your car somewhere quiet.
When driving on the Greek islands, give yourself a day or two to warm up to road conditions. Always choose accommodation with secure onsite parking as street parking can be difficult to come by in some locations.
What documents do I need to drive in Greece?
Under Greek law, an International Driver's Permit is required to drive in Greece along with your driver's license. This is the case for everyone except UK/EU residents.
Travellers from the US who are staying in Greece for 6 months or less are permitted to drive with their US-issued license. If your stay exceeds 6 months, you might need to apply for a Greek license.
Is it worth renting a car in Greece?
Yes, driving in Greece is definitely worth it! Greece is an incredible country and car rentals are surprisingly budget friendly, especially when you go through the Local Rent platform.
Self-driving is not for everyone, but you'll be surprised how much more you can see and do with your own car in Greece.
---
I hope these Greece road trip ideas have inspired you to start planning your own driving holiday in Greece!
---
Greece travel essentials
Here are some helpful websites and resources you can use to organise your trip to Greece.
FLIGHTS: Find affordable flights to Greece using the Skyscanner website.
VISAS: Use iVisa to check if you need a tourist visa for Greece and apply for an expedited visa online.
TRAVAL INSURANCE: Insure your trip with HeyMondo, my preferred provider for single-trip and annual travel insurance.
ESIM: Buy an eSIM and data package for Greece online before you go. My top choice is the Eurolink eSIM from Airalo (prices from $5).
CAR HIRE: Find a great deal on a Greece rental car using Local Rent, an aggregator website that works with local agents.
ACCOMMODATION: Find the best hotel deals in Greece on Booking.com.
CITY TOURS & DAY TRIPS: Book skip-the-line tickets, day tours and city excursions on Viator.
---
More road trip inspiration