20 of the very best things to do in Bucharest, Romania, plus my tips for visiting Bucharest in winter.
In my 6-ish months travelling around the Balkans, I got to experience the region in every season – from the deepest, darkest depths of winter through to the first days of summer. Because of the way my route worked out, I happened to be in two of the region's coldest countries – Bulgaria and Romania – for the coldest months of winter.
Let me tell you: Bucharest, Romania's biggest city, is a pure winter wonderland in January! I spent a cosy fortnight in the capital before making my way up to Transylvania and enjoyed every bone-chilling minute.
In this guide, I'll share my favourite weather-appropriate things to do in winter in Bucharest, from Romanian cuisine to cosy indoor activities and outdoor attractions that are worth braving the frost for.
---
Please note: This post contains affiliate links, meaning I may earn a commission if you make a purchase by clicking a link (at no extra cost to you). Learn more.
---
How cold does it get in Bucharest in winter?
Bucharest gets pretty darn chilly in winter, even by European standards. Compared to Transylvania and Romania's mountainous areas, the weather in the capital is fairly mild.
Winter temperatures in Bucharest average 4 to -2 degrees Celsius in December, 3 to -4 degrees Celsius in January, and 7 to -2 degrees Celsius in February. The winter months are fairly dry, but heavy snowfall is common, especially in January and February.
Despite the chill, Bucharest still sees plenty of blue-sky winter days. (Watch out though, it's often the clearest days that are the coldest!) Provided you dress appropriately and manage your time outdoors, Bucharest in winter can be very pleasant indeed.
---
20 magical things to do in Bucharest in winter
1. Get to know Bucharest's bizarre downtown on a city tour
I don't care how cold it is – walking around Bucharest, the ultimate city of contrasts, is a must. The history here is impossible to escape: Everything is laid out in plain sight in the city planning and the crumbling facades. You can learn a lot about Romania's recent past just by taking in the capital's architecture.
If you think downtown Bucharest looks suspiciously modern for a city whose history spans 500 years, you're not wrong. In the 1970s and 80s, Romania's communist leader, Nicolae Ceaușescu, embarked on a massive 'urban renewal' project to completely transform Bucharest in his image.
Standing on any street corner today, it's not hard to believe that Ceaușescu's architectural inspiration came from a state visit to North Korea. The Communist Party's systematic plan to cleanse the nation of its religion, history and culture and implement a more 'organised' system saw many of Bucharest's most precious buildings and monuments destroyed. In their place, huge concrete blocks were erected to house the many thousands of families forcefully relocated to Bucharest from rural areas to work in the city's new factories.
So devastating was Ceaușescu's campaign, it's now remembered by Bucharestians as the 'Architectural Apocalypse'.
It's easy to discount Bucharest as an ugly city. To get to the core of the history, you really need to take a walking tour of the downtown area and let a local bring the streets to life for you. In winter, when you want to limit the amount of time you spend outdoors, a walking tour is the most efficient use of your time.
Recommended walking tours:
There is also a Walkabout Free Tour in Bucharest. I took part in the free tour on my first day in Romania and loved it. Groups are limited to 10 people for a more intimate experience. Online reservations are essential – enquire here.
2. Admire the architecture in Bucharest Old Town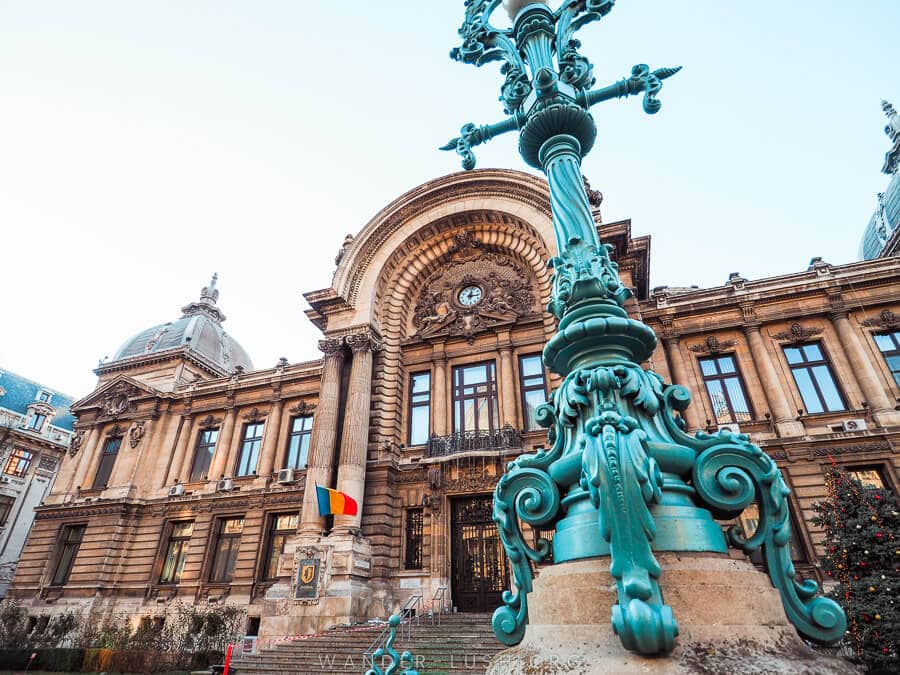 Around 25% of Old Bucharest was demolished at Ceaușescu's hand, making the buildings that somehow dodged the bulldozer all the more precious.
Bucharest lost more than 50 of its churches to the urban renewal project. But thanks to some enterprising locals, a dozen consecrated buildings were saved by painstakingly uprooting and relocating them to different parts of the city.
This incredible story of defiance is one you have to hear from a local to believe.
Gems to look out for in the Old Town include:
CEC Palace: A distinctive glass-and-metal domed building erected in 1900.
National Bank of Romania: An impressive building flanked by Corinthian columns that was finished in 1885.
Macca-Vilacrosse Passage: A gorgeous Parisian-style covered arcade with a glass atrium and decorative plasterwork.
Pasajul Englez (English Passage) – another covered passageway. In the warmer months, this is where the famous 'Bucharest umbrellas' are found.
3. Wander the snow-covered grounds of Stavropoleos Monastery
Stavropoleos Monastery deserves a special mention as one of the most beautiful buildings in old Bucharest. It's located right in the centre of the Old Town's most lively precinct – but once you enter the church yard, you'll be swept away into another world.
Built in 1724 and restored numerous times over the years, the complex has fulfilled various roles for the Romanian Orthodox Church, including as a nunnery and library.
In winter, ivy laced with ice crystals climbs the walls and drapes itself over engraved stones. Take refuge from the cold in the cloisters or inside the candle-lit chapel.
4. Explore Bucharest's historic mahallas
The centre of Bucharest may have been all but destroyed, but the spirit of the old city lives on in its mahallas or outer neighbourhoods.
Today there are at least four distinct historic neighbourhoods to explore in Bucharest: the Butcher's, Potter's, Armenian and Jewish mahallas. These areas were not the product of a segregation policy nor were they considered enclaves, rather they were distinct communities within the city at large that grew up quite organically.
Before WWI, Bucharest was nicknamed 'The Little Paris' for its architectural style. Residents of these inner neighbourhoods wanted their city to look more European (a pushback against the Ottomans, who were ejected from Romania in the late 1880s) and so added 'very continental' decorative flourishes to their facades and interiors.
The mahallas are home to some of Bucharest's oldest surviving buildings. The Theodor Pallady House, now an art museum, is thought to be the oldest private home in the city. It was built by an Armenian merchant in 1750.
Under communism, most private residences in Bucharest were seized by the state. After the revolution in 1989, conflicting laws over ownership meant that a lot of older properties got stuck in limbo. Unoccupied, they fell to ruin. Some have since been rehabilitated, but you'll definitely see more crumbling facades than restored ones.
Negustori Street, the traditional trade street in the Jewish Quarter, and Diari Strata, the old pottery street, are among the highlights.
Separate to the architecture, the Jewish Quarter holds a number of attractions, including the Coral Temple and the Jewish Museum. The quiet winer streets take on a haunting character when you consider the history. Bucharest's 800,000-strong Jewish community was devastated by WWII. Today, the community is barely 10% of what it was.
Cartierul Armenesc, the Armenian Quarter, features an Armenian Orthodox Church with a sign pointing the way to Yerevan and Mount Ararat out front. Take a break at the nearby Cofetaria Armand, a lovely little Armenian bakery.
5. Tour the Palace of Parliament
There are lots of superlatives associated with the Palace of Parliament: It's the world's heaviest building, and the most expensive administration building ever built. Despite that, a shocking 70% of the floorspace remains unused.
Ceaușescu ordered the construction in 1984. As you can imagine for a building with such a huge footprint, an entire district of Old Bucharest had to be cleared to make way for it. This resulted in the city's most atmospheric neighbourhood, 'the Montmartre of Bucharest' as it was described to me, being levelled. Yet more houses and churches were pushed aside so that Ceaușescu could realise his dream of making Boulevard Unirii, the street that leads to the Palace, longer than the Champs Elyse.
It's widely agreed that the Palace was completely unnecessary for a nation of Romania's size. More than that, it was a slap in the face for the people of Romania suffering under the ruling Communist Party's policies at the time.
Today, the Palace is a monument to Ceaușescu's twisted dream. There are many quirks to discover as you tour the mammoth building – there's no AC (he was paranoid about being poisoned), and you'll notice there's a chair missing from the main meeting hall. The leader never took his seat at the table or used the Palace at all: He was executed before it was finished.
The only way to get inside the Palace of Parliament is by joining an escorted tour. Tours are held throughout the day and last for around an hour. Advance reservations are essential – book skip-the-line tickets here.
6. Wander the empty halls of Ceauşescu's former residence
Another building worth touring is the perfectly preserved Primaverii Palace, AKA Casa Ceaușescu. Walking through the deserted rooms and empty halls of the leader's former family home – his last place of residence before the revolution – is eerie to say the least.
When they fled Bucharest, the family left behind most of their personal possessions (they left in a hurry). Mrs. Ceaușescu's furs still hang limply in the closets, and framed family photographs sit lifeless by the bedsides.
The estate itself is palatial: Bohemian crystal for the table settings, Venetian glass for the fountains, Persian silk for the carpets (a gift from the Ayatollah himself). You can visit the private cinema room where Ceaușescu watched her favourite show, Dallas, while the rest of Bucharest was limited to two hours of state-run television per day.
Out back, there's an indoor pool covered with mosaics a la Stalin's bathhouse in Tskaltubo.
Similar to the Palace of Parliament, the only way to visit the house is on an escorted tour. Reservations must be made at least 24 hours in advance via the official website.
7. Experience the flipside at Ferestroika
There's only so much you can learn from a museum display (not that Bucharest has any museums dedicated to the country's communist past anyway). The Feresroika Experience, the brainchild of three local academics, aims to show tourists and young Bucharestians alike what life was like for everyday Romanians under Ceaușescu's thumb. And it takes a very personal approach.
Located in a typical Bucharest apartment building, Ferestroika is a living museum that showcases a day in the life of a middle-class military family. The home belonged to one of the founder's grandparents – his mother actually grew up here.
Everything appears just as it would have in the 1970s, right down to the scant kitchen rations and the toilet paper made from pulped bibles. As you make your way through each room, detailed descriptive plaques reveal a wealth of information, while the guides add more detail through personal anecdotes. You can touch, taste and smell what life was like at the time.
One thing that stays with me: The family's radio, their only connection to the outside world, was kept inside the kitchen pantry. Why? It was the only place they felt safe to tune into Radio Free Europe. If a neighbour heard you listening to something so subversive, they would report you to authorities.
Advance reservations are required to visit Ferestroika. Inquire via the website.
8. Throw back some hearty Romanian cuisine
On a much lighter note – food!
There's no two ways about it: Romanian food is made for winter. Hearty, heartwarming (and so rich, it's almost heart-stopping), just about every national delicacy is heavy and tasty and goes down very very well on a chilly winter day.
My favourite Romanian dishes are sarmale (stuffed cabbage rolls) and mici (grilled meat patties similar to cevapi). Mămăligă, soft and buttery polenta, is a popular accompaniment. Frankly nothing fills a growling winter belly better!
Just save room for dessert… Which is so special, it deserves it's own spot on this list.
My favourite Bucharest restaurants are:
La Mama: Simple homestyle fare in the centre of the Old Town. Prices are a touch high, but the location is convenient.
Caru' cu bere: An atmospheric beer hall serving classic Romanian and German-inspired dishes (more on Caru' cu bere later).
Hanu' lui Manuc: Traditional Romanian served inside a historic caravanserai.
A wise friend of mine recommended eating a few international meals in Bucharest because it's very difficult to get non-Romanian food outside of the capital. If you're heading to Transylvania next and you want to mix it up a bit while you still can, these are my top picks:
Simbio: Cafe-style meals, burgers and smoothies halfway between the Jewish and Armenian districts.
Dianei 4: Amazing breakfasts and light meals in a beautiful old house in the Armenian Quarter.
Gyros Thessalonikis: Thessaloniki-style gyros. Need I say more?
Dristor Kebap: Legendary Turkish-style kebabs – a Bucharest institution. Ideal for a fast, cheap meal. They have several branches throughout the city.
9. Indulge in papanasi, the ultimate winter treat
If you haven't heard of papanași, allow me to illuminate you. This Romanian dessert consists of fluffy, cheesy donuts deep-fried to perfection and topped with lashings of jam (cherry or wild berry are both traditional) and sour cream. Sounds simple, but the contrast of textures and temperatures – and the timeless combination of sour cherry, silky cream and sweet, slightly umami donut – is nothing short of mind-blowing.
I ate my first plate of papanasi on my very first day in Bucharest. Like total rookies, my husband and I decided to split a single serving of two donuts between us – wrong! This is not a dish that's made to be shared!
After that first meeting, I ate papanasi at least every other day during our one-month stay in Romania. (I really struggled to pick my favourite papanasi photo for this post since I have around a dozen to choose from!)
The dessert is ubiquitous on restaurant and cafe menus throughout Bucharest and in the rest of the country, so you won't have any trouble feeding the beast should you accidentally develop a raging cheese donut addiction like I did.
10. Cosy up with a beer at Caru' cu Bere, Bucharest's most beautiful restaurant
Caru' cu Bere, 'The Beer Wagon', is a Bucharest culinary institution. Its history dates all the way back to 1879 when it began life as a brewery. It certainly has a German beerhall feel about it
The lavish Neo-Gothic interior with dark wood paneling, stained glass, original floor tiles and a stunning wrap-around bar was finished in 1899 and refurbished in the early 2000s. Waiters don't at all mind if you climb the stairs and walk the balconies to get the perfect photo.
We ended up eating here twice – on our first visit, we had a German-style tasting plate. We came back again just for the papanasi!
11. Shop at Carturesti Carusel, Bucharest's most famous bookstore
Made famous on Instagram, Cărturești Carusel is even more stunning in person than it is in photos – especially in low season when you don't have hoards of other 'Grammers to contend with.
The building started life as a bank and unbelievably, lay abandoned and in disrepair for several decades up until 2015 when restorations began.
The plaster detailing on the columns, the pure-white balconies and the spiral staircases and fluid lines of the lower balcony make Carturesti Carusel truly one of the most beautiful bookshops in the world.
12. Browse the lively Piata Obor for winter produce
Piata Obor, Bucharest's main produce market, is a joy to explore at any time of year. In winter, the aisles are packed with apples, pears and other winter produce.
Huge windows let the winter sun flood the main market building, giving the whole place a warm glow. Outside, simple restaurants and bars serve up paper plates stacked with hot mici to groups of friends gathered around picnic tables sipping mulled wine and pálinka liquor.
Learn more about visiting Piata Obor here.
13. Take a twilight stroll through the twinkling Cismigiu Gardens
Remember when I said that some Bucharest landmarks look extra special in winter? Well Cișmigiu Gardens is one of them.
This huge English-style garden in the centre of the city is the oldest and largest public park. Rotondas, pretty bridges, promenades and two lakes are enclosed within the grounds.
In winter, an artificial ice skating rink is added to one part of the largest lake.
There's nothing better than strolling through the snowy grounds on a winter's eve, guided by the lamp posts that emerge from the crystal-covered foliage.
14. Embrace Bucharest's third-wave coffee culture
Coffee is certainly the warm beverage of choice in Bucharest. As I learned on my mahallas tour, Armenian merchants brought beans to Bucharest 200 years before coffee landed in Vienna – making the cafe scene here one of the oldest in Europe.
There are dozens of third-wave cafes in Bucharest for eager sippers, most of them located beyond the Old Town core. My personal favourite is Dianei 4 in the Armenian Quarter. Located inside a historic building with flaking wallpaper and wonky chandeliers, it's absolutely gorgeous and epitomises Bucharest's old timey character. The dining room vibe and cosy fireplace are perfect for winter.
Bandit Specialty Coffee, Orgio and BOB Coffee Lab are other popular cafes in Bucharest. Prefer tea?Ceainaria Bohemia Tea House has you sorted.
---
15. Discover the underrated street art scene
Bucharest is full of surprises. The city's street art scene, like it's cafe culture, is burgeoning and offers an insight into the mindset of contemporary Bucharest.
There are now more than 50 impressive large-scale murals scattered throughout the city. Use this guide to track down some of the best works, or better still, join a street art tour offered by Urban Adventures and Lonely Planet to learn the stories behind the murals.
16. Visit the Bucharest Christmas markets
Being a predominantly Christian country, Romania celebrates Christmas, or Crăciunul, with much fanfare. Christmas is marked on December 25 on the Romanian calendar, with a number of different markets and light displays held across the city in the lead-up to the big day.
The official Bucharest Christmas Market at Universitatii Square runs from November and is the largest of the city's fairs. Traditional Romanian handicrafts are sold alongside winter food and drinks.
Also worth seeing is the Christmas light display on Magheru Boulevard.
---
17. Get acquainted with Romanian wine
What better way to while away a winter's night than with a wine degustation. Romania is the world's 13th-largest wine producer and although still relatively low-profile, vineyards such as Dealu Mare are fast making a name for themselves on the European wine scene.
A wine tasting at Bucharest's first wine bar includes four glasses of local vino accompanied by traditional Romanian cheeses. Delish!
Keen winos can go a step further and tour the country's finest wineries on a day trip from Bucharest to Dealu Mare.
18. Treat yourself to a night at the opera
Get rugged up in your finest winter coat for a night on the town Bucharest style! The city has two concert halls: the Romanian Athenaeum and the Romanian National Opera. Both host theatre, concert and opera performances year-round. Check times for the opera house here.
Even if there's nothing on during your visit to the city, I still recommend popping inside the Romanian Athenaeum to view the interior. It's one of the most distinguished buildings in the entire city.
---
19. Warm up at Therme Bucharest
I'm not exaggerating when I say that my day at Therme Bucharest was one of my most memorable travel experiences to date. After two weeks of roaming the chilly streets of Bucharest, it was exactly what I needed to warm my bones.
Romania's biggest wellness retreat, Therme is a massive modern complex of baths, saunas and therapeutic treatment rooms. Oh, and there's a huge waterpark too! Locals flock here year-round to soak in the thermal pools, but it's a particularly desirable destination in winter.
Therme is divided into three zones. The piece de resistance is The Palm, with its adults-only outdoor bath where you can loll in a steamy pool under a cold winter sky. The experience is similar to the thermal baths in Budapest.
Therme is easy to reach via a free shuttle from the city centre. This detailed guide tells you everything you need to know before you visit.
My top tip is to arrive as early as possible, as it tends to get very busy around mid-morning. Head to The Palm first (grab a drink at the underwater bar while you're there), then make a beeline for the waterpark before you have to cue for the slides.
Don't forget to pack a wet bag to bring your swimmers home in.
20. See Transylvania on a day trip from Bucharest
Think Bucharest looks beautiful in winter? Just wait until you get out of the city.
Transylvania has all the makings of a real-life fairytale, and the landscape is roughly ten-thousand times more ethereal in winter. The region's fortified churches, the Saxon cities of Sighisoara and Sibiu, and the splendid medieval castles are next-level enchanting when they're cloaked in snow.
While I strongly recommend extending your stay in Romania to make time to travel around Transylvania by train or car, if you're short on time, you can still see a slice of the region on a day trip from Bucharest. Peles and Bran Castles and the beautiful Romanian city of Brasov can all be visited within a day.
Best Bucharest day trips:
---
Where to stay in Bucharest in winter
If you're visiting Bucharest in winter, it makes sense to stay somewhere central so that you can get around easily and limit your time outdoors travelling from place to place. My favourite neighbourhoods to stay in Bucharest are the Old Town and the Jewish Quarter.
Apartment: Bucharest has some excellent apartment offerings that are very well-priced, so I recommend starting your search using the apartment filter on Booking.com. We stayed for two weeks at this gorgeous apartment in the old Jewish Neighbourhood. The area is atmospheric, and the apartment is stylish and cosy, and a full kitchen makes it perfect for self-catering. Check rates and availability here on Booking.com.
Mid-range: Central Guesthouse offers no-frills single and double rooms that are comfortably furnished. The hotel has a great location in Sector 3 near the Old Town. Check rates and availability here on Booking.com.
Boutique: Filitti Boutique Hotel is conveniently located in the heart of the city, 200m from Stavropoleos Church. Rooms are stylishly decorated, and the property has a sky bar. Check rates and availability here on Booking.com.
Budget: Podstel Bucharest is a solid choice for budget travellers. Both mixed dorms and private doubles are on offer, the common areas are lovely (even if it's too cold to enjoy the outdoor terrace), and the location in Sector 4 at the southern edge of the Old Town is great for restaurants and bars. Check rates and availability here on Booking.com.
---
Tips for visiting Bucharest in winter
Remember that during winter, the days are much shorter days – factor this in when you're planning your Bucharest itinerary.
There are so many beautiful buildings in Bucharest, if you're anything like me, you'll be constantly clicking. Keep your spare camera batteries in your pocket otherwise you'll find the cold weather drains them very quickly.
To make it easier to get around the city in winter, I recommend downloading a taxi app. Uber and Taxify both operate in Bucharest.
---
Dressing for winter in Bucharest
As you can probably tell from my photos of Bucharest in January, it gets pretty darn chilly! Since so many of the best things to do in Bucharest are outdoors, you definitely need to dress for the weather if you want to experience everything the city has to offer.
I highly recommend wearing an insulated down jacket like this one. Thermal leggings and an undershirt like these are also required, along with thick socks, gloves, a hat and scarf.
Sensible footwear is critical! I wore thin sneakers in Bucharest, even in the snow, and always had cold and wet feet. Huge mistake! Boots like these with a good grip and fleece lining are ideal for staying warm and slip-free on the slick cobbled streets of Bucharest's Old Town.
Remember to pack something fancy if you plan on spending a night out at the opera or on the town. I always travel with my lightweight Kosan Travel Dress for exactly this reason.
---
Romania essentials
Here are my favourite resources to help you organise your trip to Romania.
FLIGHTS: Find affordable flights to Romania on Skyscanner.
VISAS: Use iVisa to check if you need a tourist visa for Romania and apply for an expedited visa online.
TRAVEL INSURANCE: Cover your trip with HeyMondo, my preferred provider for single-trip and annual travel insurance.
SIM CARD: Buy an eSIM and data package for Romania online before you go. My top choice is the Eurolink eSIM from Airalo (10 GB for 30 days).
CAR HIRE: Use Discover Cars to find the best price on a rental car in Romania.
ACCOMMODATION: Find the best hotel deals in Romania on Booking.com.
DAY TRIPS & CITY TOURS: Use Get Your Guide or Viator to find the best Bucharest city tours and day excursions around Romania.
More Eastern Balkans travel inspiration
Bucharest in Winter: Save it for later