19 of the best things to do in Zagreb in winter –  including cold-weather activities, Christmas festivities and offbeat off-season experiences.
I'm a huge fan of off-season travel. But even I was a bit skeptical about visiting Croatia during winter.
When our 6-month overland journey through the Balkans routed us through Croatia at the end of February – peak winter – we had no choice but to make the most of it.
After exploring beautiful Istria and enjoying the peace and quiet in Rovinj and Pula, we opted to spend a fortnight in Zagreb.
I soon found that frosty weather was no barrier to enjoying the best of Croatia's capital. In fact, I wouldn't hesitate to recommend Zagreb as an ideal winter city break destination.
There are stunning mountain landscapes and ski resorts on the outskirts of Zagreb – but I decided to stick to the city and explore the Upper and Lower Towns from top to bottom.
Here are my favourite things to do when visiting Zagreb in winter, plus a few handy travel tips.
---
Please note: This post contains affiliate links, meaning I may earn a commission if you make a purchase by clicking a link (at no extra cost to you). Learn more.
---
Zagreb essentials
How to get to the city from the airport: Pre-book a private airport transfer.

Where to stay in Zagreb: Chillout Hostel (budget); Annie's Bed & Breakfast (boutique on a budget); Hotel Capital (historic high-end).

Best Zagreb walking tour: 2.5-hour hidden gems tour with a local guide, including a ride on the funicular.

Must-see museum: The Museum of Broken Relationships – pre-purchase tickets here and skip the line.

Best foodie experience: Culinary walking tour with food and wine tasting.

Best winter day trip: Full-day tour of Croatian Istria, including Pula, Rovinj and Porec.
How cold does it get in winter in Zagreb?
Zagreb has four distinct seasons. Winters are cold and frosty, with temperatures averaging 0-3°C during the day, dipping to a few degrees below freezing overnight.
Snow usually falls from early December, but heavy snow is becoming less common every year. When I visited Zagreb in February the skies were clear and blue – not a hint of snow or rain in sight.
Although it's very chilly, one of the best things about visiting Zagreb in winter is that it's normally quite dry. Remember this is Europe's ninth wettest capital so it's not uncommon for rain to interfere with your plans!
But February is the driest month of the year, so you're likely to encounter those same clear skies and crisp temperatures I did rather than grey clouds.
---
19 wonderful things to do in Zagreb in winter
Keep in mind that most of the activities and experiences on this list can be enjoyed in any season.
1. Explore the two sides of old Zagreb
Zagreb might be one of the smallest capitals in the region by population, but it's also one of the oldest. For most of its history, Zagreb was not one city at all but two separate settlements: Kaptol, the eastern side, was traditionally the domain of the clergymen while sprawling Gradec to the west was inhabited by merchants and craftsmen. It wasn't until 1851 that Zagreb was united.
The man responsible for consolidating the city was Ban Josip Jelačić, an army lieutenant and politician who was born in Petrovaradin (part of modern-day Novi Sad in Serbia). His statue stands proudly in Ban Jelacic Square, Zagreb's main piazza.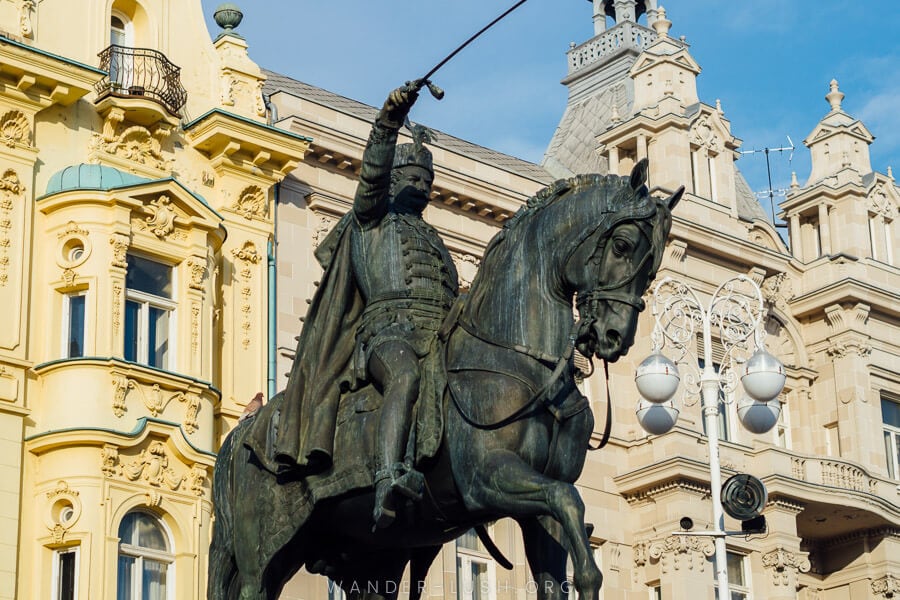 The Zagreb of today still has two distinct 'halves'. The Lower and Upper Towns each have their own monuments and points of interest, but generally speaking the Upper Town has a more historic feel while the Lower Town is known for its cosmopolitan cafes and shopping streets.
In winter, you'll likely find the alleys and squares of the historic Upper Town all but empty. Don't miss seeing the Stone Gate (Kamenita vrata) and St. Mark's Cathedral. More on Zagreb's iconic church in a moment.
---
2. Ride the world's shortest funicular
There are two ways to reach the elevated Upper Town: By stairs, or by funicular. This isn't any old funicular, though – spanning just 66 metres, Zagrebačka uspinjač is the shortest public transport funicular in the world.
Twin blue wagons have been crawling up this hillside since the track opened in 1890. For 0.66 EUR one-way you can enjoy the one-minute jaunt – the service runs every 10 minutes or so starting from 6.30am.
The 52% inclination also makes this one of the world's steepest funiculars, so hold onto your hat.
---
3. Climb the Lotrscak Tower for a view of St Mark's
What better way to warm up on a chilly winter's day than by climbing a long flight of stairs! The narrow wooden case that leads up the Lotrscak Tower in Upper Town has one big reward waiting at the top: Panoramic views of historic Zagreb, including a close-up look at the colourful roof tiles on St Mark's.
Built in the 13th century, Crkva sv. Marka is one of the oldest buildings in Zagreb. The parish church's southern portal is considered its most important feature: Look out for the carving of St. Mark and the Lion above the door.
But the most eye-catching angle is of course the church's roof. Designed by Viennese architect Friedrich Schmidt, it's laid with colourful tiles depicting two coats of arms: One for the city of Zagreb, and the other for the Kingdom of Croatia, Slavonia and Dalmatia.
The best views of the roof can be found from the narrow observation deck atop the Lotrscak Tower (Kula Lotrščak). You can also see the spires of the stunning Zagreb Cathedral in the middle-distance.
When scaling the stairs, keep an eye on the time: Every day at 12pm midday a cannon inside the tower is fired, marking go-time for Zagreb's church bell ringers.
It's a tradition that has been observed since 1877. If you happen to be on the stairs or the deck when the cannon goes off, cover your ears as the boom is very loud!
---
4. Step inside the stunning St Catherine's
Adjacent to St Mark's Church and square, St Catherine's can also be seen from the Lotrscak Tower. It has a completely different look, with a simple white-washed Baroque facade. It's very similar in appearance to St George's Parish in the Istrian town of Piran.
Devastated by fire twice, it was restored using funds from local nobles who were allowed to display their family coat-of-arms inside the church as a thank-you. The richly decorated interior is a warm and inviting sanctuary after the blustery square.
---
5. Wander the Hauntingly beautiful Mirogoj Cemetery
Located on the northern outskirts of Zagreb, Mirogoj Cemetery – Croatia's national pantheon – is one of Zagreb's most important historical and architectural landmarks. Spending an afternoon in this eerie wonderland is one of the most unique things to do in Croatia.
Built in a Neoclassical style in 1876-1929, Mirogoj is a vast complex of green spaces and graveyards knitted together with Italian-style arcades, pavilions and chapels.
Interestingly, persons of any creed have always been permitted to be buried here. Thus through the ages, some of Croatia's most illustrious artists, scientists and politicians have been laid to rest at Mirogoj, commemorated with elaborate headstones and sculptures.
High walls clad with green ivy, sapphire-coloured domes and crumbling columns give Mirogoj an otherworldly atmosphere. It's surprisingly green in winter – and oh so quiet, which further adds to the ambiance.
Entrance to Mirogoj is free. You can reach the cemetery by city bus from the stop outside St Catherine's in around 30 minutes.
---
6. Walk the Green Horseshoe in winter in Zagreb
When you look at a map of Zagreb, you'll notice a sequence of parks arranged in a U-shape in the Lower Town. The Green Horseshoe of Zagreb consists of eight parks, fountains and gardens – and it's surely the loveliest walking route in the city.
Starting from Zrinjevac, stroll anti-clockwise through the Botanical Garden, Marulic place and Marshal Tito place, barely setting foot on concrete at all. Along the way, you'll see some of the city's most important buildings, including the Croatian National Theatre and the Esplanade Hotel.
While not exactly green in winter, the parks are beautiful nonetheless – especially the section with silvery gum trees, remnants and fall foliage and a pretty wrought-iron bandstand.
Walking the Green Horseshoe is the best way to bask in crisp winter air and get a tour of downtown Zagreb at the same time.
---
7. Go underground at the Gric Tunnel
If it's really cold out, seek shelter underground. One of Zagreb's more unusual attractions, the Gric Tunnel (Tunel Grič) is an old WWII bomb shelter that runs under the city.
In the 1990s it famously hosted one of Croatia's first ever raves. Today, the tunnel is still a symbol of subculture and like some of the old bunkers in Tirana and the tunnels in Berat, it has been repurposed as an art gallery and public event space.
There are multiple entry points including one on Mesnička Street and another on Stjepan Radić Street. Some of the entrances are decorated with colourful street murals. As you walk the 350-metre-long tunnel, look out for the old signage that still hangs on some of the walls. You'll eventually come to the central hall, a voluminous cathedral-like space where exhibitions are held.
The Gric Tunnel is open daily between 9am and 10pm.
---
8. Stop by the pretty Kallina House
From the underground gritty to the downright pretty, Kallina House (Kuća Kallina) takes the cake for one of my favourite pieces of architecture in the Balkans. (Also on the shortlist: Vurnik House in Ljubljana and the Raichle Palace in Northern Serbia's Subotica.)
I must have walked past Kallina House a dozen times during my stay in Zagreb and I couldn't help but pause on the corner every time.
Built in 1904, the residential building is a wonderful example of Secessionist architecture, with a ceramic tile facade decorated with beautiful Art Nouveau floral patterns and elaborate iron balconies.
You can find Kallina House at the corner of Masarykova and Gundulićeva streets.
---
9. Shop for winter produce at the Dolac Market
Back in the historic Upper Town, the Dolac Market is Zagreb's main farmers' market. Every day, tables spread out through the piazza under bright-red umbrellas, boasting a smorgasbord of produce from all over Croatia. In winter, you'll see mountains of apples, nuts and root vegetables among other goodies.
Whatever you do, don't miss the downstairs indoor section of the market where the cheese and cured meats are sold.
Amidst the fray of the Dolac, you'll notice a bronze statue poised stoically at the top of the stairs. Zagreb loves its statues, and Kumica Barica ('Little Godmother') is the most beloved of all.
The name is a colloquial term for peasant women from this region of Croatia who in years gone by would bring their produce to the Dolac. If you look closely, you'll see the staircase is painted with red apples which appear to be rolling out of the basket propped on her head.
The Dolac is open from 7am daily and winds up at around 3pm. For the most colour and variety, it's best to visit before 1pm.
---
10. Rummage for treasure at the Hrelic Flea Market (Jakusevac)
A different but no less plentiful market, the Hrelic Flea Market or Jakuševac doesn't trade in fruit and veg but rather in clothing, furniture, antiques, knickknacks, car parts – and just about anything else you can imagine. It's one of the largest and most interesting flea markets I've seen anywhere in the world.
If you live in Zagreb, this is where you come to buy – well, everything. There is a Croatian saying to describe the offerings – 'From needle to locomotive' – and you can indeed find anything your heart or home desires here.
Old Yugoslav memorabilia, records, and a wonderful array of vintage clothing make for great Zagreb souvenirs. If you forgot to pack your winter coat, this is the place to pick up a swish jacket.
The Jakusevac market takes place every Sunday from 7am until noon. Again, it's best to arrive early if you want to see it in full swing. It's located in southern Zagreb on the bank of the Sava River and can be reached by bus from the centre followed by a short walk along a ridge (just follow the crowds – you can't go wrong).
---
11. Browse the award-winning Zagreb Christmas Market (November-January)
If you're visiting Zagreb over the holiday period then you won't want to miss the city's legendary Christmas market, part of a larger annual festival known as Advent in Zagreb.
Starting from early November and lasting until the first days of January, Advent was voted Europe's Best Christmas Fair for three years between 2016-18.
Alongside the sprawling craft and food market, Advent includes a range of cultural activities and performances as well as extravagant light displays that sweep the entire city into a festival mood.
Licitar painted biscuits, a Croatian culinary tradition, are among the many treats sold from the quaint wooden market huts.
---
12. Join a Christmas walking tour with Secret Zagreb
If you want to embrace the winter atmosphere in Zagreb, an offbeat city tour with Secret Zagreb, one of my favourite female-led tour companies, is in order.
Secret Zagreb offers a special Christmas-themed walking tour throughout the months of November, December and January.
True to their penchant for the original and the alternative, you'll be immersed in the city's holiday spirit as you visit Christmas displays and learn about folk traditions and quirky winter customs along the way.
The tour lasts for 2 hours and prices start from 47 EUR. See details and reserve a place here on the Secret Zagreb website.
---
13. Pop into a few of Zagreb's many museums
Zagreb is brimming with interesting museums and galleries to pique any interest, from vintage cars to folk art. Among the more intriguing institutions are the Museum of Torture and of course the famous Museum of Broken Relationships.
The latter is a must-do in Zagreb, if only to experience one of the world's quirkiest curatorial concepts in person. If you don't know the premise: Everyday objects in the rotating exhibition are crowdsourced from people around the world, all united by the fact that they symbolise the demise of a relationship.
From the hilarious to the heartbreaking, each accompanying story is riveting – you simply have to read them all from start to finish.
The museum is open daily from 10am-9pm during winter. There's often a long queue to get in, so I recommend you pre-purchase skip the line tickets to avoid having to wait out in the cold.
---
14. Gaze up at the Zagreb Oktogon
Who doesn't love a good neo-classical passageway, especially when it gives you an excuse to dive into a toasty warm shopping arcade for a while. The Zagreb Oktogon features a stunning glass octagonal atrium (not dissimilar to the Galleria Umberto in Naples) connected by two covered passageways that stretch from Petar Preradović Square to Ilica Street.
Built in 1900, the Oktogon was part of the First Croatian Savings Bank building, designed by prolific architect Josip Vancaš whose work can also be found in Ljubljana and Sarajevo.
Come for the photo opportunities, stay for the street music performers, cute boutiques and most of all the knödels (potato dumplings) served at a little cafe inside.
---
15. Take a trip around the sun with Nine Views
Another alternative Zagreb attraction, Nine Views is a scaled model of the solar system dispersed throughout the city streets. While away a sunny winter afternoon by pinning down all the planets – the ultimate Zagreb treasure hunt.
The origins of the public art project date back to 1971, when Croatian artist Ivan Kožarić installed his sculpture 'The Grounded Sun' ('Prizemljeno Sunce') – a huge metallic orb – in the centre of Zagreb.
In 2004, artist Davor Preis decided to build on the concept by adding the planets to the mix, giving Zagreb its own down-to-earth 'Grounded Solar System'.
The permanent installation consists of spherical sculptures representing the nine planets (including Pluto), each rendered to scale and placed at the correct distance from the sun as they fall in the real solar system. To get the measurements spot-on, some had to be installed in unexpected locations, including on building facades and in underground passageways.
Because they're proportional, some are teeny tiny and easy to miss compared with the 2-metre-diameter sun. See if you can find all the minuscule metal plaques, each bearing the planet's name and dimensions. You can find a full list of the locations here.
---
16. Eat hearty Croatian food
Soul-warming Croatian food is nourishing and perfect for winter. Seasonal favourites include Sarma (cabbage stuffed with minced meat, rice and spices), Rastika (collard greens stew with pancetta) and my personal favourite Zagrebacki strukli, a cottage cheese strudel that's either oven-baked or boiled. La Štruk specialises in this Zagreb delicacy and is the best place to try both sweet (blueberry) and savory (truffle) versions.
Then there's the perennial Balkan favourite that transcends seasons and borders, Cevapi (minced meat patties served with pita bread and chopped onions).
In winter, go for an extra scoop of Ajvar red pepper spread – that's sure to heat things up! My favourite Cevapi in Zagreb is at Plac Kitchen & Grill under the Dolac Market.
---
17. Warm up with a Rakija on Ivana Tkalcica Street
Rakija, a heady 40% proof clear spirit, is another tradition shared among the Balkan nations. Nowhere is it revered quite as much as Croatia. The national drink is distilled from fruit, walnuts, herbs, lavender or even honey (the latter being an Istrian specialty) and served in tiny glasses called Biska.
One shot is enough to warm your body, mind and spirit. Ivana Tkalčića Street (or 'Bar Street') is the place to try it. My go-to spot is Rakhia Bar, a popular drinking hole with a dozen different flavours of firewater on hand.
---
18. See a show at the Croatian National Theatre
Croatia's National Theatre, locally known as HNK Zagreb, is the stomping ground of the country's best theatre, opera and ballet performers. First established in 1860, it later moved to its current location in a delightful canary-yellow building on Republic Square.
(As a fun bit of history, Austro-Hungarian emperor Franz Joseph attended the unveiling of the building in 1895.)
The theatre has been a fixture of Zagreb ever since, hosting a year-round rota of opera, drama and ballet. After a brief pause in 2020/21, performances have resumed.
If you're lucky enough to be in town when a show is on, don't miss your chance – setting eyes on the luxe theatre interior, with its red velvet curtains and detailed balconies, is worth the price of a ticket alone.
Speaking of, prices start from just 14 EUR. Check the schedule here on the official website.
---
19. Follow the lamp lighters through the Old Town at dusk
Remember when I said that Zagreb's Upper Town has a more historical vibe? Well there's no better example of this than the 200 gas lanterns that illuminate the cobbled streets.
Zagreb is the only city in the world where gas lanterns are still lit manually every evening. A team of 'Lantern Lighters' are charged with this important task and usually walk around ununiformed.
As the winter sun starts to set, see if you can spot a lantern lighter with their long stick. Each lantern is numbered with a small plaque – they start from Number 1 near the cathedral and progress from there – so you can try to follow their route.
If you're too late, come back at dawn when the lantern lighters return to snuff out the flickering flames one by one.
---
Where to stay in Zagreb
Budget: Chillout Hostel is located close to Bar Street and offers dorm accommodation and budget-friendly double rooms with private bathrooms. The onsite restaurant/bar is very popular and they organise regular tours and pub crawls, making it a great choice for solo travellers.
→ Check prices & availability on Booking.com
Mid-range: Boutique on a budget, Annie's Bed & Breakfast is superbly styled with big and bright double rooms. The communal area is similarly spacious and light-filled – perfect for lazy winter mornings – and the complimentary breakfast is highly rated. The Lower Town location is convenient to most major landmarks.
→ Check prices & availability on Booking.com
High-end: Hotel Capital is a historic property walking distance from Ban Jelacic Square. The Art Deco design perfectly combines heritage elegance and modern flourishes. My top choice if you want to splash out.
---
Have you ever spent winter in Zagreb? What are your favourite things to do in Croatia's capital?
---
More winter Balkans inspiration