The perfect Georgia itinerary for 1-4 weeks of travel in the Caucasus. Includes detailed transportation info, recommended things to do in Georgia, and up-to-date travel advice for 2021.
Oh Georgia. Where do I begin?
Georgia is a place that first captured my heart in 2017 and has been pulling me back ever since. I eventually gave in and moved to Tbilisi at the beginning of 2020.
I've been lucky enough to experience Georgia in every season from the perspective of both a tourist and an expat. Now that I've seen almost everything this country has to offer, I finally feel qualified to recommend the perfect Georgia itinerary for first-time visitors, with options for 1, 2, 3 or 4 weeks of travel.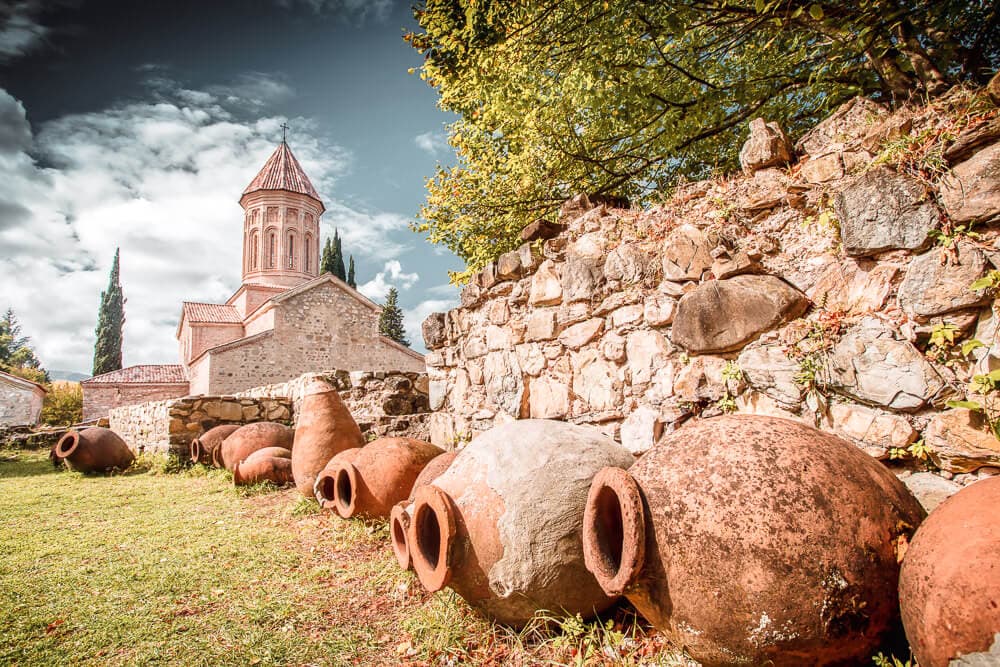 These itineraries aren't copied out of a guidebook, and they certainly weren't designed for me by a tour company. Each one is cobbled together from my various travels around Georgia and based on my personal experiences, mistakes and successes. I've personally visited each and every place mentioned here, and I've done everything I can to make sure these itineraries are both realistic and up-to-date.
I've tried to balance the must-sees and not-so-popular spots for a good mix of nature, culture, history and adventure. For each destination, you'll find detailed transportation instructions, personal recommendations for where to stay, and my insider tips for making the most of your time.
This guide includes:
First time in Georgia? Read my 23 Practical Georgia Travel Tips.

Want to see more of the Caucasus? Check out my epic Georgia Armenia Azerbaijan itinerary for the perfect route through all three countries.

Hiring a car? See my alternative adventurous Georgia road trip itinerary and tips for self-driving.

Questions? My Georgia Travel Guide has more FAQ, tips and advice.

Want more Georgia travel goodness? Please consider subscribing to my e-newsletter for regular updates from Georgia.
---
5 things to consider when planning a Georgia itinerary
There are a couple of crucial things to consider in the early planning stages that will affect how your Georgia itinerary comes together. To give you a heads up – and to put my own itineraries into context – I'm going to briefly touch on just five.
If you're all over the logistics and you want to get straight to the fun stuff, click here to skip to my Georgia itinerary.
Remember you can find tons more valuable information about trip planning here in my Georgia Travel Guide.
1. How long should you spend in Georgia?
Many people start planning a short trip to Georgia thinking they can see the whole country in a couple of days. But it's important to understand that moving around chews up a lot of time.
Anything less than one full week and you'll just want to base yourself in Tbilisi and stick to day trips (possibly with an overnight stay in Sighnaghi or Kazbegi). It's possible to see a decent amount of the country in 2-4 weeks – but even then, you'll be travelling at quite a fast pace and with several long travel days back to back.
The itineraries I've created don't include specialty activities such as multi-day treks. If this is of interest, you'll have to carve a few days out of your itinerary to fit it in. (I've included a couple of key multi-day hikes and where to do them below.)
If you have extra days, I recommend using them to slow down your overall pace and spend a bit longer in each place rather than trying to squeeze more in.
2. When to visit Georgia
There is no 'bad' time to visit Georgia – every season offers something different. Spring is nice for mild weather, wildflowers and Orthodox Easter celebrations, fall for the rtveli wine harvest and festivals, summer for hiking and outdoor activities, and winter for experiencing Tbilisi's cosy side and Christmas festivities plus skiing/snowboarding.
The only time I suggest avoiding is peak summer – July/August – as it's very warm in the cities and many places (including Tbilisi and Batumi) are overcrowded. My absolute favourite time to visit Georgia is late spring (late April/May) or fall (late September/October). If you want to hike or visit remote mountain regions, avoid the colder months as many roads snow over and are impassable.
My itineraries are specifically designed to be trans-seasonal. The only exceptions are Ushguli and the Goderdzi Pass, which may be inaccessible in the middle of winter.
For more insights, see my month-by-month guide to the seasons in Georgia.
3. Where to start your Georgia itinerary
If you're flying into Georgia, you have a choice between starting your itinerary in either Tbilisi or Kutaisi. Both cities have international airports with regular connections to Europe, Turkey and the Middle East. Budget travellers usually choose Kutaisi, which is serviced by WizzAir. Tbilisi, meanwhile, has regular connections from Istanbul, the UAE and Qatar.
I love Kutaisi, but I generally recommend starting your trip in Tbilisi, the capital. The itineraries I've designed all start and end in Tbilisi. If you're flying into Kutaisi, I recommend heading straight to the capital by coach. Georgian Bus runs buses direct from the airport that are timed to leave when planes land. The trip takes around 4 hours and tickets cost 20 GEL. See here for more info.
Do NOT take a taxi from Tbilisi Airport to your accommodation. Refer to my Airport Guide for information about using the airport bus and organising a reliable transfer.
4. How to get around Georgia
Intercity transport is something you want to consider well in advance as it will impact how long you need to spend in Georgia to see everything you want to see.
That's because Georgia is small, but transportation is quite basic – it can take a long time to get from place to place if you're using 'public' transport. Marshrutka vans are affordable, but schedules are flexible. Road safety is a concern in Georgia, so I strongly suggest you only travel by road during daylight hours and avoid using marshrtuka vans for long journeys or dangerous mountain roads.
Unless you hire a car (recommended for maximum flexibility, but only if you're a confident driver), you'll probably end up using a combination of marshrutka vans and trains, with a few transfers for more complex journeys.
If you do plan on self-driving in Georgia, you can broaden your itinerary even more. Here is my suggested road trip itinerary for 10 days in Georgia, focusing on harder-to-reach corners and hidden gems.
Organised day trips are very affordable in Georgia. They're a good way to make the most of your time, and to get access to harder-to-reach areas without self-driving. Even if you're not a tour person, I suggest you at least consider an organised day trip from Tbilisi.
I recommend booking day trips through Get Your Guide, as vendors are vetted and more likely to observe good road safety practices. The platform also has a generous refund policy. There isn't a huge variety on offer currently but more itineraries are added every month.
Friendly.ge is my preferred day tour operator in Tbilisi. Their itineraries are top-notch, as are the expert guides. Browse their private and small group tours here, and use the code wanderlush at checkout to get 10% off when you book direct.
I've sprinkled some specific day trips throughout these itineraries – or you can browse all Georgia day tours using the links below.
Most cities and towns in Georgia have a local bus system that is cheap and easy to use. I highly recommend downloading a taxi app (Grab works in most major cities) rather than hailing taxis on the street – they're unmetered and can be difficult to navigate if you don't speak the language. See my taxi tips here.
5. Budgeting, insurance, visas & other logistics
Georgia offers visa-free travel for passport holders from 95-plus countries (including Australia, the US and all EU citizens) – and you can stay for up to one year.
Passport holders from most countries in Asia and Africa are required to obtain either an e-visa or a visa in advance. I recommend using iVisa to check if you need a visa for Georgia and to apply for an expedited visa if you do.
You might like to bookmark these helpful guides for future reference:
Recommended pre-trip reading
– How to get from Tbilisi airport to the city
– How to buy and activate a Georgian sim card
– 12 things I wish I knew before I visited the Caucasus
---
Georgia itineraries for 1-4 weeks of travel
Here is a brief outline of the four itinerary options included in this guide.
Under each section, you'll find a day-by-day breakdown including things to do, recommended accommodations, and detailed transportation instructions for travelling from place to place.
Georgia itinerary map
Click here to open an interactive map of my Georgia itinerary in a new tab. Each of the four different options is included as a separate layer.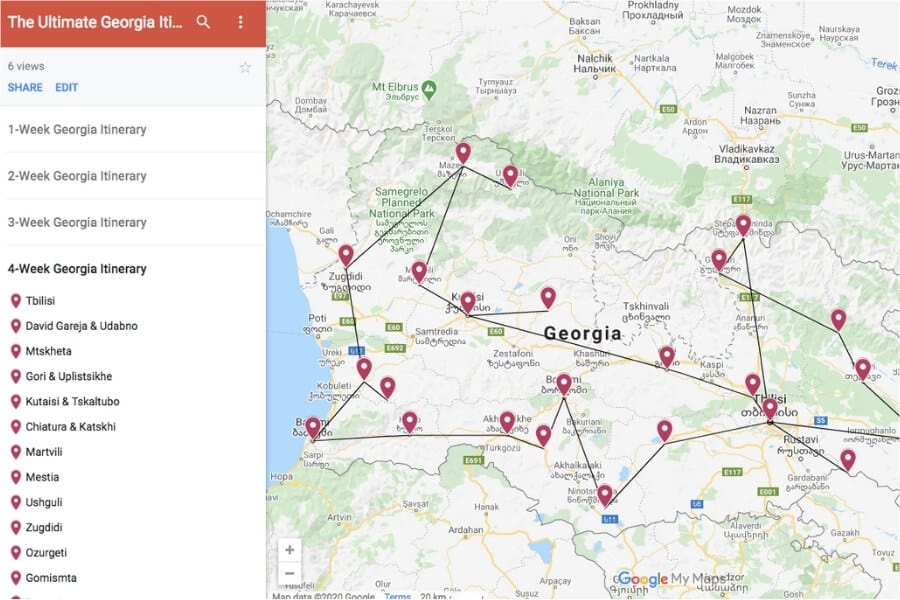 ---
Days 1 & 2: Tbilisi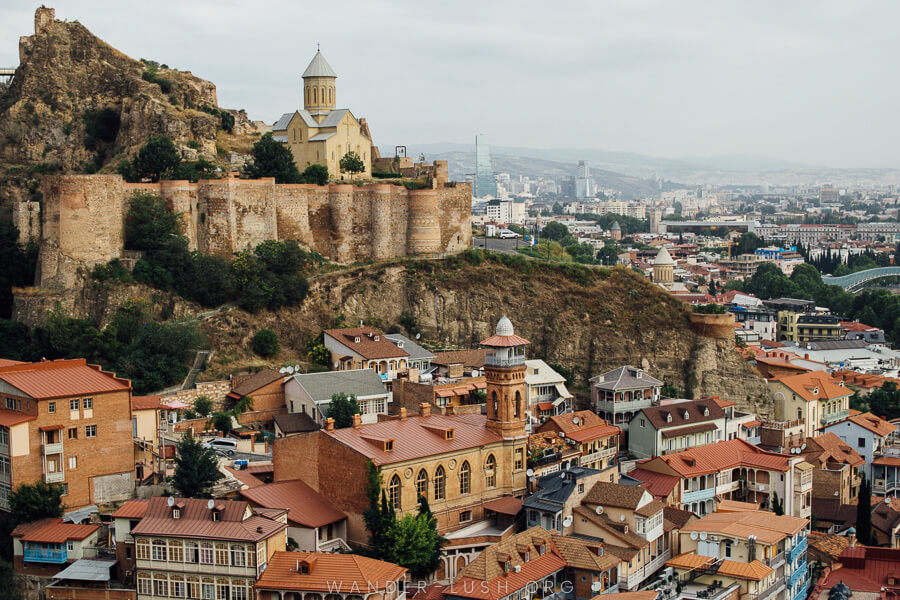 Tbilisi – the coolest city in the Caucasus and one of Europe's most talked about up-and-comers – is the logical place to begin your Georgia itinerary. This is where you'll find some of the country's best museums, restaurants and wine bars.
It might be the capital, but Tbilisi has an intimate feel – especially around Sololaki, the oldest neighbourhood, and in the historic Old Town proper. Tbilisi is a layer cake of different histories and influences collected over a lifetime spent sitting at the nexus of East and West, Asia and Europe.
Ottoman-Persian style bathhouses fed by sulfur springs and an urban waterfall, opulent mansion homes built by Armenian merchants and beautiful Orthodox churches sit side by side with Zoroastrian fire temples, grand synagogues and leftovers from Georgia's Soviet period. The cherry on top – the thing that gives the Tbilisi of today its unmistakable character – is a slew of quirky additions to the city's skyline in the form of ultra-modern architecture.
Scaling the walls at Narikala Fortress, watching the sunset at Mtatsminda, and rummaging the Dry Bridge Market for the perfect souvenir are all must-dos. Spend some time in the trendy Vera neighbourhood visiting coffee shops and cocktail bars, and pop over the river to Chugureti, the old German district, for unique architecture and the Fabrika creative space.
Two full days is the perfect amount of time to revel in the contrasts between old and new Tbilisi. For a full list of things to do in Tbilisi – including alternative attractions and local favourites – refer to my Tbilisi city guide.
Recommended reading
– 51 unique things to do in Tbilisi
– 35+ best Georgian restaurants in Tbilisi
– Recommended Tbilisi walking tours
– Best day trips from Tbilisi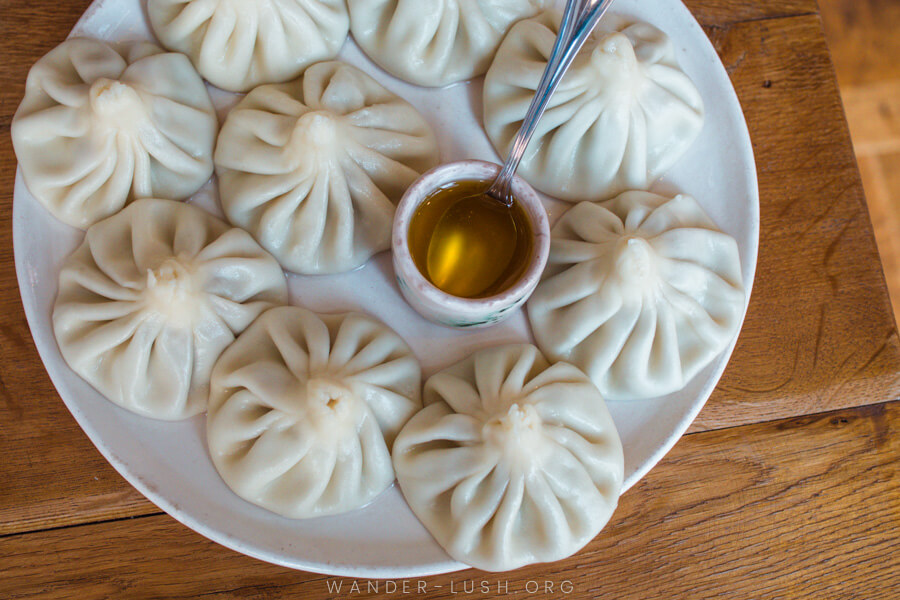 If you're not a huge fan of cities and two full days in Tbilisi feels like too much, you might choose to do a day trip on day 2, or dedicate another day to Kakheti or Kazbegi later in your itinerary.
Where to stay in Tbilisi
There is no shortage of accommodation options to choose from in Tbilisi, ranging from boutique hotels to budget-friendly hostels. My Tbilisi neighbourhood guide explores the different districts and accommodation options in details. Here are a few of my favourites.
Day 3: Day trip to Mtskheta, Gori & Uplistsikhe
Georgia's capital city from the 3rd century BC to the 5th century AD, Mtskheta is home to the country's first UNESCO World Heritage Site, the Monuments of Mtskheta. This is one of the most important places to visit in Georgia in terms of both religion and culture. Svetitskhoveli Cathedral, one of the oldest and most important Orthodox churches, and the stunning Jvari Monastery that overlooks the confluence of the Mtkvari and Aragvi rivers, are both located here.
Mtskheta is a short 45-minute drive from Tbilisi, so to make it a full day trip, it's usually paired with a visit to Gori and Uplistsikhe. Gori is a small city famously known for being the birthplace of Joseph Stalin, who is remembered in an oh-so-Soviet museum dedicated to his life. Uplistsikhe is Georgia's oldest cave city and an impressive introduction to the country's medieval history and the legacy of the much-beloved Queen (King) Tamar.
Recommended reading
– 10 best things to do in Mtskheta
– 15 excellent things to do in Gori
– What to expect when you visit the Stalin Museum
– Tips for visiting Uplistsikhe
→ If this day trip doesn't take your fancy, there are plenty of other options to choose from. See my guide for the 15 best day trips from Tbilisi for more ideas.
How to do a Mtskheta, Gori & Uplistsikhe day trip from Tbilisi
You have three options here: Join an organised day tour from Tbilisi, hire a private driver, or go DIY by marshrutka.
An organised tour is the most time-efficient option, but you don't get much flexibility. In Gori, guides tend to focus almost exclusively on the Stalin Museum, so you won't get to see any of the city beyond that. Still, having a guide and guaranteed comfortable transport is the best option for some travellers. I recommend either this budget-friendly 10-hour group tour or this flexible-start, 10-hour private tour. Both visit Mtskheta (including Jvari), Gori and Uplistsikhe, with a stop for lunch in either a local home or restaurant.
Doing this trip DIY by marshrutka is possible, but it will be very rushed. I would recommend eliminating Mtskheta and focusing just on Gori and Uplistsikhe (or vice versa). If you want to try this day trip DIY, jump to full transport instructions in the 2-week itinerary here.
The better option in my opinion is to hire a car and driver for the day through GoTrip. You won't have a guide, but you will have a lot more flexibility to depart Tbilisi when you want, explore Gori at your own pace, and make extra stops whenever you like.
This example itinerary I designed for Mtskheta, Gori and Uplistsikhe starts from a very affordable $38 per car, inclusive of transfers to and from your front door in Tbilisi. You can design your own route with different stops using the GoTrip platform.
Days 4 & 5: Sighnaghi & Kakheti wine region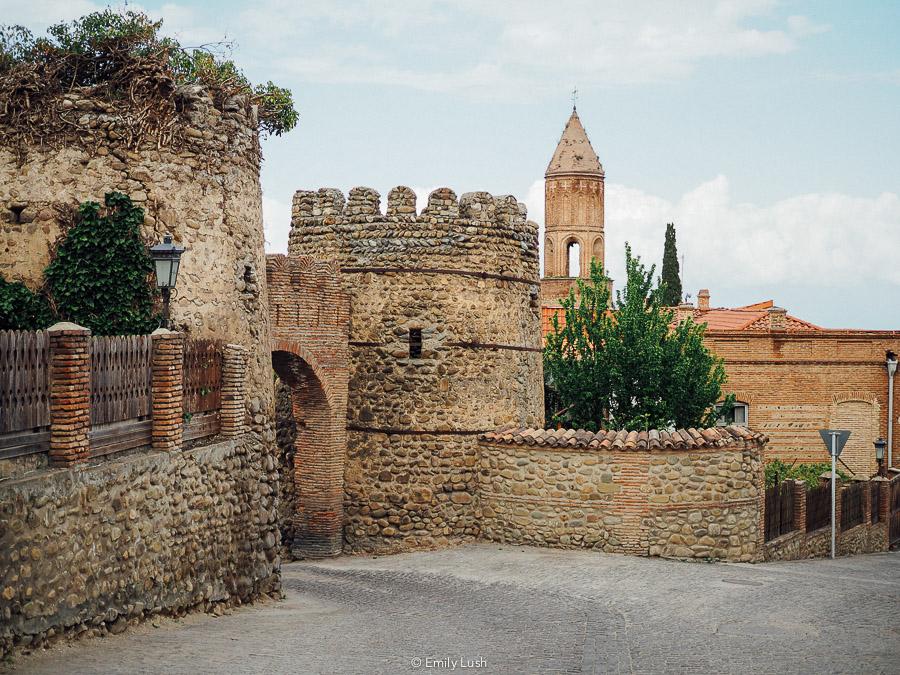 Now that you've experienced the best of the capital and surrounds, it's time to escape Tbilisi and head east to Kakheti, the country's most productive wine region. The Alazani Valley is a stunning landscape of vineyards and mountain-top churches.
You could easily spend a week or more travelling the tributaries of Kakheti's Wine Route, visiting the different family-run maranis (cellars) that still make wine the old-fashioned way in clay qvevri and the many larger European-style vineyards. With two full days, you can see a good selection of the region's most important churches and indulge in a healthy number of wine tastings.
Sighnaghi, the most charming town in the wine region, or Telavi, the biggest city and transport hub, are both ideal places to stay. There are plenty of guesthouses that specialise in good old-fashioned hospitality (and home cooking), so you have that to look forward to on your first night outside the capital.
In Sighnaghi, climb the City Walls, visit the local museum to see the exhibit of Pirosmani paintings (Georgia's favourite artist was born in this region), walk to the exquisite Bodbe Monastery, and drink in the panoramic mountain views from any of the restaurants and wine bars in town. On a clear day you can see across the valley all the way out to the Greater Caucasus.
Recommended reading
– Suggested itinerary for Kakheti
– Telavi City Guide
– Kakheti accommodation guide
Where to stay in Sighnaghi
For this itinerary, I recommend staying in Sighnaghi rather than Telavi. Sighnaghi is the more 'atmospheric' of the two major hubs in Kakheti and has a good range of comfortable guesthouses.
Telavi has more boutique hotel offerings so if that's more your style, you might consider staying there instead. Seventeen Rooms and Communal Hotel are my personal favourites.
How to get to Sighnaghi from Tbilisi
Sighnaghi and Kakheti Region in general is very easy to get to from Tbilisi with either a marshrutka or shared taxi. Vans depart throughout the day (roughly every 60-90 minutes) from the bus station near Samgori Metro. Shared taxis leave on demand from behind Isani Metro Station.
One thing to be aware of is that there are two possible routes drivers may take. It's faster to take the Kakheti Highway rather than the Gombori Pass through Telavi, so try to make sure your driver is heading this way.
The first marshrutka is scheduled to leave Tbilisi at approximately 7am. Tickets cost around 7 GEL, and the journey takes 2-2.5 hours via the Kakheti Highway.
A seat in a shared taxi from Isani Metro Station costs around 15 GEL per person. Travel time is slightly faster, and the driver will drop you off closer to your accommodation in Sighnaghi rather than at the bus station.
→ For schedules and fares, see my full guide to travelling between Tbilisi and Kakheti.
How to get around Kakheti & travel the Wine Route
The wineries and churches around Sighnaghi are spread out across the valley so you really need your own car to explore the area properly.
The easiest option is to organise a driver for the day through your guesthouse, which you can either do in advance or during your stay. This should cost somewhere in the neighbourhood of 25-35 GEL per person for a full day depending on the number of people you have and how far afield you're going. It's cheaper if you pool with other travellers, so you might want to wait until the day and see who else is up for a road trip.
Normally your host will recommend a standard route, but you can always make special requests if there's a particular winery or monastery you want to see (or skip).
Days 6 & 7: Georgian Military Highway & Kazbegi
It wouldn't be a trip to Georgia without an up-close look at the Greater Caucasus mountains. Just three hours by road from Tbilisi, the town of Kazbegi (Stepantsminda) is the most convenient place to immerse yourself in picturesque scenery and do a day trek or two. The Alps without the crowds (or the price tag), this is one of the most beautiful and underrated mountain regions in Europe.
Gergeti Trinity – arguably Georgia's most iconic Orthodox church – is perched in the hills above town against the snowy peak of Mount Kazbegi. End your Georgia itinerary on a high (literally) by hiking up to the church from town (just make sure you follow the right trail – directions here). This is one of my absolute favourite things to do in Georgia, especially when you treat yourself to lunch at Rooms Kazbegi afterwards.
The road that links Tbilisi and Kazbegi (and continues up into Russia) is an attraction in and of itself. There are a dozen or so places to stop along the Georgian Military Highway, ranging from Soviet mosaic monuments to scenic viewpoints, important medieval churches, and even a small village that many believe is the birthplace of khinkali!
You really want to take your time on this route so set aside a full day to make the most of it. Hire a car and driver (details below) so that you can make as many stops as possible.
Recommended reading
– 21 things to know before you visit Kazbegi
– Where to stay in Kazbegi, the best accommodations for every budget
– Guide to the Georgian Military Highway
– Essential guide to the Gergeti Trinity Church hike (must read!)
How to travel the Georgian Military Highway to Kazbegi
This is the one route I definitely recommend hiring a car and driver for. There are lots of places to see along the Georgian Military Highway, and if you're travelling by marshrutka, you simply won't get to stop. Even if you take the special 'tourist' van from Tbilisi that stops in Ananuri and Gudauri, you'll still feel rushed.
GoTrip is the most convenient way to book a car. If you're coming from Sighnaghi, you should organise for your driver to pick you up from your guesthouse as early as possible. The journey up to Kazbegi takes the better part of 5 hours without stops.
A flexible transfer with GoTrip from Sighnaghi to Kazbegi via the GMH – with as many stops along the way as you like – starts from $70 per car. Customise your own itinerary and book here.
Where to stay in Kazbegi
If A-frame is more your style, there are some stunning luxury mountain cabins and bungalows in and around Kazbegi. Here are my favourite mountain cabins in Georgia.
→ Find plenty more accommodation recommendations in my guide on where to stay in Kazbegi.
---
When it's time to say farewell to Georgia, head back to Tbilisi by marshrutka or taxi. If your flight leaves from Kutaisi, take a Georgian Bus directly to Kutaisi Airport.
---
Days 1 & 2: Tbilisi
Refer to days 1 & 2 of the one-week itinerary above.
Day 3: Day trip to David Gareja & Udabno
David Gareja and Udabno is probably my favourite day trip from Tbilisi. The David Gareja cave monasteries are a set of religious sanctuaries composed of chambers and cloisters hewn from rock. The most famous, Udabno Monastery and Lavra Monastery, straddle the border between Georgia and Azerbaijan, and also house a collection of important religious frescoes painted directly onto rock. As of 2022, the complex is partially closed due to an ongoing border dispute – but it's still worth visiting.
The semi-desert around Udabno is absolutely unreal. Unmarked hiking routes can be found in the rainbow hills, a wild landscape of multi-coloured striations created by mineral deposits. It's best to avoid visiting this area in summer as venomous snakes are common.
Recommended reading
– Guide to visiting David Gareja (with up-to-date information about closures)
How to do a David Gareja day trip from Tbilisi
In the absence of a marshrutka service, there are two ways to get to David Gareja from Tbilisi: Either by joining an organised day trip, or by using the Gareji Line transfer.
Gareji Line is the best option for budget travellers or anyone who is content with just visiting the main monastery. It's essentially a transfer van that runs between Tbilisi and David Gareja, with a stop for dinner on the way back at the Oasis Club. Vans run daily in high season and on-demand in shoulder/low season. The cost is 30 GEL per person. More details can be found on their Facebook Page.
If you want to visit the monasteries with a guide and explore more of Udabno, including the rainbow hills, you'll need to either hire a car and/or driver, or more conveniently, join an organised day tour from Tbilisi.
There are several different itineraries offered through Get Your Guide that combine a visit to David Gareja with either hiking in Udabno or a wine tasting in Sighnaghi. My top choice is the off-road tour with Friendly.ge.
Day 4: Mtskheta, Gori & Uplistsikhe
Since Gori is located between Tbilisi and Kutaisi, I suggest spending a night here as you transit from east to west rather than visiting as a day trip like I recommended for the one-week itinerary.
The easiest option is to book a one-way transfer with GoTrip (Tbilisi-Mtskheta-Uplistsikhe-Gori) so that you can leave your bags in the car while you explore Mtskheta and Uplistsikhe. This itinerary I created starts from $50/car and includes Zedazeni, another spectacular monastery near Mtskheta that you can only reach by car.
Once in Gori, use your extra time to explore the city beyond the Stalin Museum, starting with the impressive Gori Castle, the unexpected old town, and the Great Patriotic War Museum, which chronicles the city's experience of the South Ossetian conflict in 2008.
Where to stay in Gori
How to get to Mtskheta from Tbilisi
If travelling by public transport: Marshrutka vans pass through Mtskheta on the way to Gori. This is one of the most popular routes from Tbilisi, so vans depart frequently – at least every 30 minutes – throughout the day from Didube Station. Travel time to Mtskheta is 45 minutes and tickets cost 1.5 GEL.
How to get to Gori from Mtskheta
To travel onwards to Gori, it's simply a matter of jumping back on a west-bound van. You can easily flag a marshrutka on the roadside. Travel time is roughly an hour, and tickets cost around 2 GEL.
When you arrive in Gori, jump off near the park and Stalin Museum. If the marshrtuka terminates at the bus station in Gori, you'll need to take a taxi into the centre of town.
How to get to Uplistsikhe from Gori
Uplistsikhe is located 14km (around 20 minutes by road) from the centre of Gori. To get there, you can take a local bus from Gori's Central Bus Station (see location here) to Uplistsikhe village (1 GEL) and then walk 700m to the cave entry point.
Or you can take a taxi from Gori, which should cost around 30-40 GEL round-trip including wait time. Taxis wait behind the Stalin Museum near Chinebuli restaurant. Your guesthouse owner can usually organise a reliable driver for you.
Days 5 & 6: Kutaisi, Chiatura & Tskaltubo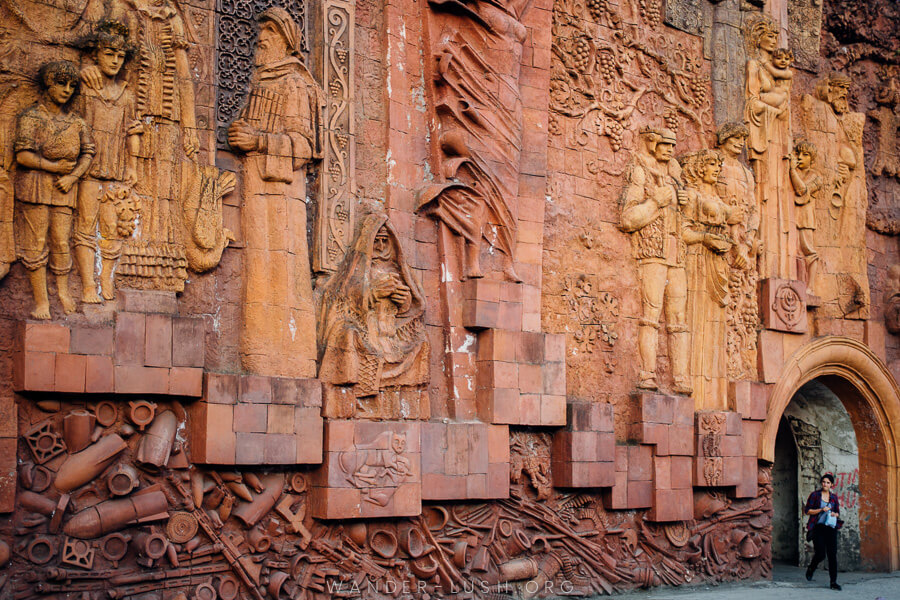 Kutaisi is Georgia's third-biggest city and the main hub in the country's west. It has a completely different vibe to the capital – it's much quieter, and the lush forests of Imereti give it a unique backdrop.
I love Kutaisi, not least of all because there are so many cute restaurants and wine bars around town. UNESCO-Listed Gelati Monastery and Motsameta Monastery, linked by a forest walking trail, are both must-sees – as is watching the sunset from the grounds of Bagrati Cathedral.
In the city centre, the sparkling Colchis Fountain pays tribute to the ancient kingdom that once enveloped Kutaisi, one of the oldest continually inhabited cities in Europe. The synagogues, cable car and bustling undercover market are just a few more of my favourite spots.
Tskaltubo is located 20 minutes by road from Kutaisi and is an ideal side trip. A popular summer retreat during Soviet times, it's home to a collection of sanatoriums that were used for state-mandated health treatments. Many of these sanatoriums and bathhouses now lay abandoned – a real playground for urbexers and photographers. You can even visit Stalin's dacha, his former suite at the old Military Sanatorium and Stalin's personal bath, which is located inside one of the spas that remains open.
Some of the larger buildings were converted into temporary accommodation for IDPs who fled Abkhazia in the 1990s. When exploring Tskaltubo, be a responsible traveller and keep in mind that many families still live here and that some buildings are off-limits (it's fairly obvious which ones to avoid).
While you're in Kutaisi, I also suggest taking a full-day trip to Chiatura and Katskhi Column. Chiatura is a small mining city that flourished in Soviet times but has since gone into decline. In the 1950s, the state erected a network of 17 cable cars across Chiatura to ferry workers to and from the manganese mines.
Some of the original cars were still running up until just a few years ago (I was lucky enough to ride on 'Stalin's Rope Roads' back in 2017), but in 2021, they were replaced with a new set of gondolas. If you're interested in Soviet nostalgia and brutalist concrete architecture, this is the perfect day trip for you.
On the way to Chiatura, stop off at Katskhi Column, a striking monastery that sits atop a tall limestone stalactite.
Recommended reading
– Things to do in Kutaisi
– Best Kutaisi restaurants
– Detailed guide to Tskaltubo
– How to do a Chiatura day trip from Kutaisi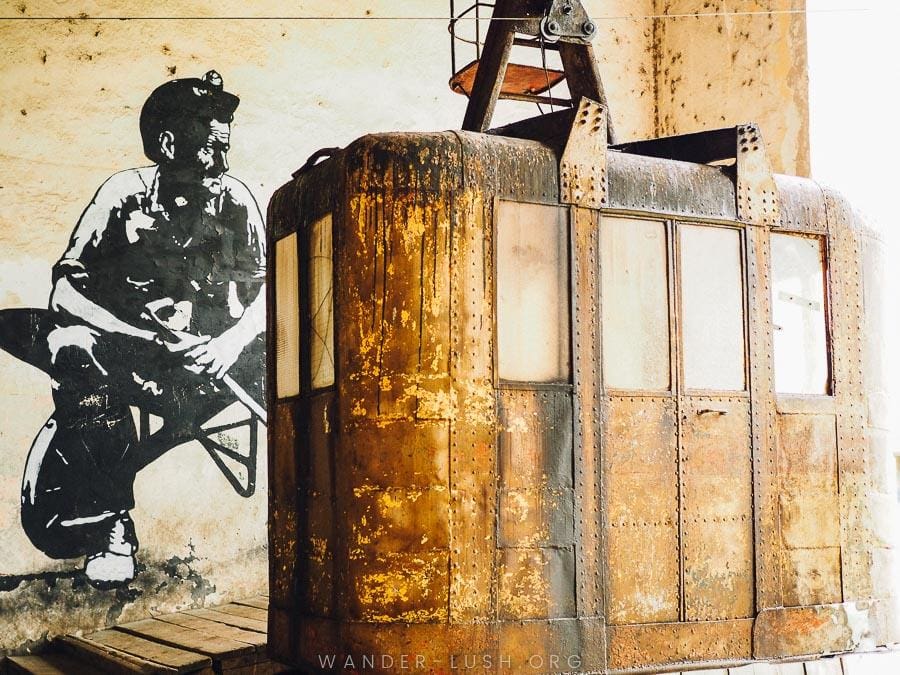 Where to stay in Kutaisi
Budget-friendly guesthouse: Artists House is a fine option for an affordable, comfortable private room. The location is a short walk from the centre of the city, and the views from the balcony are wonderful.
Click here to check rates & availability on Booking.com.
How to get to Kutaisi from Gori
There are regular marshrutka minivans and shared taxis departing Gori bus station for Kutaisi throughout the day, starting from as early as 7am. Travel time is around 2.5-3 hours, and the fare costs approximately 12 GEL.
Kutaisi's main bus station where most vans terminate is located next to the McDonalds, around 4km from the centre (see location here). City bus #1 will take you from the bus station to the Colchis Fountain for 40 tetri.
How to visit Tskaltubo from Kutaisi
Vans to Tskaltubo depart from the end of Rustaveli Bridge (near Kutaisi Tourism Info) every 15-20 minutes between 8am and 7pm. Travel time is 25 minutes, and the fare is 1.20 GEL. When you arrive in Tskaltubo, jump out at the park. Alternatively, a taxi to Tskaltubo costs 15 GEL when booked through Bolt.
To get back to Kutaisi, just flag down a van travelling the opposite way. The fare is the same.
How to visit Katskhi Column & Chiatura from Kutaisi
There are a dozen daily vans to Chiatura from Kutaisi's main bus station starting from 7am and departing every 40-60 minutes until 5pm. Drivers normally make a short stop in Zestafoni on the way, and they can drop you off on the highway at the trailhead for Katskhi Column on request. Travel time is 1.5 hours to Chiatura or just over an hour to Katskhi Column. Tickets cost around 7 GEL.
After you've visited Katskhi, you can just jump back in a van to continue to Chiatura. See my detailed instructions for visiting Katskhi and Chiatura from Kutaisi for more tips and important information about getting back to Kutaisi at the end of the day.
Top tip: Visit Kutaisi is one of the more proactive regional tourism offices in Georgia. Staff at the Tourism Center office near Rustaveli Bridge (see location here) are exceedingly helpful.
Days 7, 8 & 9: Mestia & Ushguli
Remote Svaneti Region is one of the most ruggedly beautiful corners of Georgia. Located in the country's far north-west, the stunning scenery here is matched by a fascinating cultural mix that comes from the diverse ethnic groups who have lived in the mountains and valleys for eons. Svaneti offers the best mountain hiking in Georgia. You won't have enough time for the multi-day Mestia to Ushguli trek on this itinerary, but there are a range of alternative day hikes available.
Mestia is the main hub for Svaneti and has a good selection of guesthouses and restaurants, along with frequent transport connections. This is the place to indulge in hearty mountain fare (kubdari beef pie and spiced Svanetian salt are two regional specialties that you must try), and learn about the legendary Svans at the wonderful Svaneti Museum of History and Ethnography.
Ushguli is just a day trip away from Mestia. One of the highest inhabited villages in Europe (by some measures), it's a UNESCO World Heritage Site recognised for its iconic medieval stone fortified towers. In the village of Chazhashi, more than 200 towers still stand proud today.
Where to stay in Mestia
How to get to Mestia from Kutaisi
Kutaisi to Mestia is quite the journey so be prepared for a long and winding day of travel. Depending on the time of year, you might have to change vans in Zugdidi as direct marshrutky only tend to run in the high season. This is nothing to worry about though – mention your final destination to your first driver in Kutaisi and they will phone ahead to another driver and ensure you make the transfer.
Travel time by marshrutka to Mestia from Kutaisi is approximately 5-5.5 hours. There is one direct van from Kutaisi Central Bus Station at 9am, and the fare is around 25 GEL. Alternatively, take a van to Zugdidi (every 40-60 minutes starting from 6am; 8 GEL) and change to a Mestia van from there.
This road was recently upgraded, but it's still a nail-biter. If you prefer to go with a driver (not a bad idea, especially in winter), a private transfer with GoTrip starts from $120.
How to visit Ushguli from Mestia
Ushguli is located 50km east of Mestia deeper in the mountains. Unless you're trekking, you can travel between the two by road in around 2 hours. Most people visit Ushguli as a day trip. It's possible to stay overnight (there are plenty of guesthouses) but in my opinion, a day is enough.
Tourist vans ply this route and there are always a couple of daily departures leaving Mestia at around 9am and returning before nightfall. The going rate for a seat is 25 GEL per person, and itineraries usually include lunch and a few scenic pit stops on the way to Ushguli. Your guesthouse owner should be able to phone ahead and save you a seat the day before – or you can try your luck by approaching a driver near the main square (there are usually 4WDs waiting here as well if you prefer to go in a private car).
This road has improved considerably in recent years, but about 10km is still unpaved. Note that if snow is particularly heavy or there's a landslide, the road to Ushguli may be closed for several days or more.
Day 10: Zugdidi
Zugdidi is a convenient place to stop for a few hours on the way down from Svaneti before you cross back into Eastern Georgia. I have a soft spot for the biggest city in Samegrelo Region, a part of Georgia that's very culturally distinct from the rest of the country. It also happens to be home to my favourite regional cuisine. Mingrelian specialty restaurants such as Diaroni serve up kharcho (beef stew with walnuts) and elarji (cheesy cornmeal), or you can opt for a home-cooked meal at Folk House.
The biggest attraction in Zugdidi (apart from the food) is the Dadiani Palace, a former royal residence-turned-museum that holds a rare Napoleon death mask in its collection (weird, I know). Zugdidi Botanical Garden, the former palace grounds, is now a beautiful public park. The city's aristocratic heritage and connection to the French royal family is quite fascinating.
If you have time, take a 20-minute bus ride to Rukhi Castle for a view of Abkhazia before boarding the train back to Tbilisi.
Recommended reading
– 15 things to do in Zugdidi
– Visiting a traditional Mingrelian pottery workshop in Zugdidi
– The perfect day trip around Samegrelo region (coming soon!)
How to get to Zugdidi from Mestia
There are at least three direct vans from Mestia to Zugdidi daily departing from the bus station off Seti Square (see location here). Check times when you arrive in Mestia – the owner of your guesthouse should know. Travel time to Zugdidi is around 3 hours with a stop at Enguri Dam, and the fare is around 25 GEL.
Taking the sleeper train from Zugdidi to Tbilisi
Please note: As of 2022, the sleeper train is still not running. There is only one day train departing Zugdidi in the afternoon.
The rest of this two week Georgia itinerary is based in the east of the country. You'll need to transfer through Tbilisi to get to Kakheti, so I recommend taking advantage of the night train to get back to the capital from Zugdidi. This will save you a full day on the road.
The train departs Zugdidi nightly at 9.15pm and arrives in Tbilisi at 6.30am the following morning. Tickets can be purchased online in advance on the TKT.GE website or in-person at the station in Zugdidi.
---
When you arrive in Tbilisi on day 11, take a metro or taxi to Samgori/Isani to catch a marshrutka/taxi straight to Kakheti (the first van of the day is scheduled for 7am). You'll arrive bright and early in Sighnaghi, so you can afford to have a rest morning to recover from the long journey. Make sure you organise an early check-in with your guesthouse in advance.
Days 11 & 12: Sighnaghi & Kakheti wine region
Refer to days 4 & 5 of the one-week itinerary above.
Days 13 & 14: Georgian Military Highway & Kazbegi
Refer to days 6 & 7 of the one-week itinerary above.
---
Days 1, 2 & 3: Tbilisi & day trips
For things to do in Tbilisi, refer to days 1 & 2 of the one-week itinerary above.
This itinerary allows for an extra day in Tbilisi. You might choose to spend it visiting the Chronicles of Georgia and Tbilisi Sea, exploring the outdoor market at Navtlugi and visiting the Stalin Printing House Museum, or by venturing up to the Open Air Ethnography Museum, Turtle Lake, and one of my favourite restaurants in Tbilisi, Rachis Ubani.
Or you might choose to add on an extra Tbilisi day trip instead.
Day 4: Day trip to David Gareja & Udabno
Refer to day 3 of the two-week itinerary above.
Day 5: Mtskheta, Gori & Uplistsikhe
Refer to day 3 of the one-week itinerary above.
Days 6 & 7: Kutaisi, Chiatura & Tskaltubo
Refer to days 5 & 6 of the two-week itinerary above.
Days 8, 9 & 10: Mestia & Ushguli
Refer to days 7, 8 & 9 of the two-week itinerary above.
Day 11: Zugdidi
For things to do in Zugdidi, refer to day 10 of the two-week itinerary above.
For this itinerary, I recommend spending the night in Zugdidi before you continue down the coast to Batumi.
Where to stay in Zugdidi
Days 12 & 13: Batumi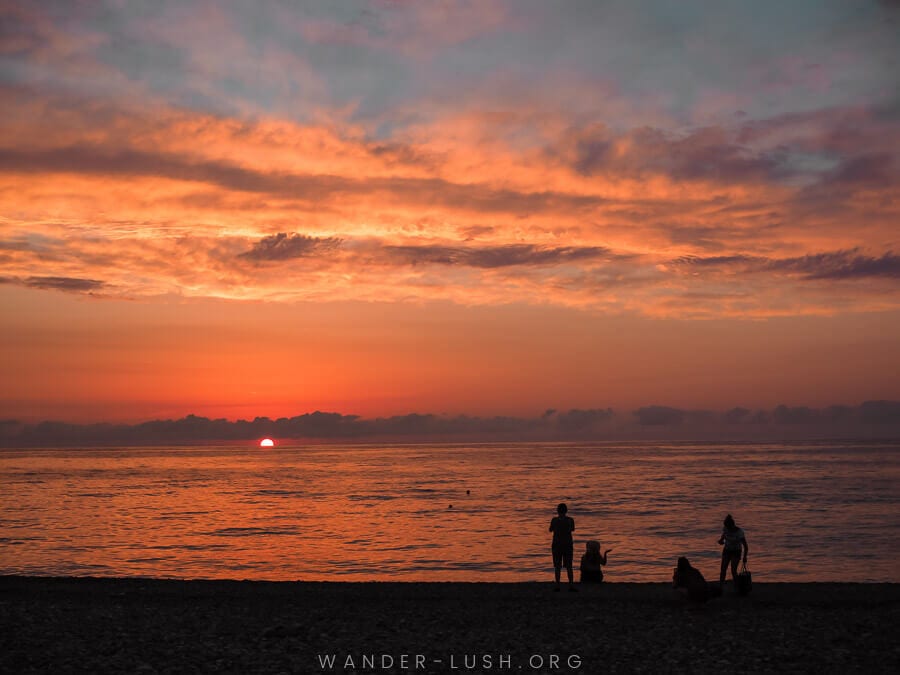 Batumi is Georgia's biggest Black Sea resort city. I'll be the first to admit that it's not everyone's cup of tea (it wasn't mine either at first) – but with three weeks in Georgia, it would be a shame not to visit the Black Sea region, which is very important to Georgian culture.
Adjara (the region Batumi is part of) is another culturally distinct pocket of the country with a strong Turkish influence, a distinct language, and yet another scrumptious local cuisine to its name. Adjaruli Khachapuri – that iconic boat-shaped bread oozing with molten cheese, butter and a gooey egg – was born in Adjara.
Batumi revolves around the stony beachfront and Batumi Boulevard, a scenic park that traces the sealine and has been a fixture of the city since 1881. Hire a bike and cycle along the foreshore – all the way to Sarpi and the Turkish border if you're game.
Batumi Botanical Garden was the largest in the Soviet Union and is a must-visit for easy hiking and sea views. Eat lunch at the Fish Market, walk the old town, then take a bus down the coast to Gonio Fortress or north to Petra Fortress, Seaside Shukura at Tsikhisdziri Hidden Beach and the magnetic black sand beaches around Ureki.
Some of Georgia's best national parks (and the country's newest UNESCO World Heritage Site, the Colchic Rainforests and Wetlands), are a day trip away. Go hiking in Mtirala National Park or take a boat ride at Kolkheti National Park.
Admire Batumi's street art and imaginative architecture, then finish your day with sunset drinks at high-rise Kartuli. As long as you're visiting outside of peak summer season, you'll no doubt find plenty of reasons to love Batumi.
Recommended reading
– 35 things to do in Batumi
– 10 excellent day trips from Batumi
– Guide to visiting Batumi Botanical Garden
– Where to find Batumi's best street art
– Cycling to Sarpi and the Turkish border from Batumi
– Guide to the best short hike near Batumi
Where to stay in Batumi
How to get to Batumi from Zugdidi
There are at least eight daily vans to Batumi departing from the bus depot near Zugdidi Railway Station (see location here). Travel time is 3 hours and the fare is around 13-16 GEL. If there's no van available when you arrive at the station, you can always transfer through Poti.
The journey down the Black Sea Coast is a real treat. Grab a seat on the righthand side of the van for the best views.
Days 14 & 15: Khulo & Upper Adjara
Upper Adjara is the mountainous region east of Batumi. Majority Muslim, it's known for its opulent painted mosques. In summer, shepherds come here to pasture their flocks. In winter, picturesque mountain towns dotted with sweet cabins transform into ski slopes.
Khulo is the biggest city in Upper Adjara and offers a good selection of accommodation and food options. They do things a bit differently here – one of the ways to get around town is using a cable car to travel across the valley.
Where to stay in Khulo
How to get to Khulo from Batumi
Marshrutka vans bound for Khulo and the villages in Upper Adjara leave every 30-60 minutes from Batumi's old bus station (see location here). Travel time is around 2.5 hours and tickets cost approximately 7 GEL.
The road into the mountains is windy and a bit rough, so if you suffer from motion sickness remember to have your medication on-hand.
Day 16: Akhaltsikhe & Vardzia
Akhaltsikhe is a small city in Georgia's Samtskhe–Javakheti region, a culturally diverse part of the country that's loaded with historical monuments and archaeological sites. The most famous of them all is of course Vardzia, Georgia's biggest cave city, which lies just east of Akhaltsikhe.
Composed of more than 4,000 individual cells and chambers hewn from a sheer rock wall, it cuts an impressive figure. It's enthralling to explore on foot, especially when you have a guide to point out the copper pipes, bread ovens and clay qvevris – ancient amenities that once supported a large community of resident monks.
Recommended reading
– Things to do in Akhaltsikhe (city guide)
– My tips for visiting Vardzia
The biggest attraction in Akhaltsikhe city is Rabati Castle, a massive fortification that was originally built by the Ottomans in the 9th century. Some say the recent renovations went a step too far and left the castle feeling like a theme park. I still think it's quite beautiful, despite not being able to tell where history ends and fantasy begins! I'll let you be the judge.
Where to stay in Akhaltsikhe
How to get to Akhaltsikhe from Khulo
The road between Khulo and Akhaltsikhe is still unpaved in sections and quite slow-going as a result. A vehicle with high clearance is required, and it's not recommended to travel after heavy rain. If in doubt, call the Roads department hotline (+995 322 313 076) to check conditions.
There is only one daily direct marshrutka van during summer that I'm aware of – check times locally – or else you can travel by shared or private taxi. The trip takes around 3.5-4.5 hours via a beautifully scenic stretch of mountain road that passes Goderdzi ski resort.
Note that the high pass is normally closed in winter, so some forward planning is required for this journey.
How to visit Vardzia from Akhaltsikhe
Vardzia is 30km east of Akhaltsikhe and can be reached in around 60 minutes by road. There are infrequent marshrutka vans to Vardzia from Akhaltsikhe's bus station (see location here) for around 7 GEL one-way, but the more convenient way to travel is by hiring a car and driver to take you there and back. This should cost around 60 GEL including wait time, and your guesthouse in Akhaltsikhe will be able to organise it for you.
For times and fares, see this guide on how to get to Vardzia.
Day 17: Borjomi
In Georgia and across the former USSR, Borjomi is associated with one thing: Mineral water. Natural carbonate springs were 'discovered' here in the 1850s, but archaeological evidence suggests the waters have been used for health purposes since at least the 7th century BC. Today you can visit the original spring inside Borjomi Central Park – a leafy slice of parkland with walking trails, a cable car and open-air thermal baths – and fill up a bottle with water straight from the source.
Borjomi has traditionally been a place for rest and respite, so it's a good place to pause for a day. There isn't a whole lot to do here, but there is lots to see on the outskirts of the city. From Borjomi, you can ride Georgia's only scenic railway, the Kukushka train, to the mountain resort of Bakuriani where you'll find beautiful resorts and skiing in winter. (Please note, the train is currently not running).
The stunning Romanov Palace in nearby Likani (currently closed for renovations) is worth visiting, and outdoor enthusiasts can find easy hiking trails in Borjomi National Park. In Borjomi, don't miss eating Meskhetian cuisine at Pesvebi, one of my favourite restaurants in all of Georgia.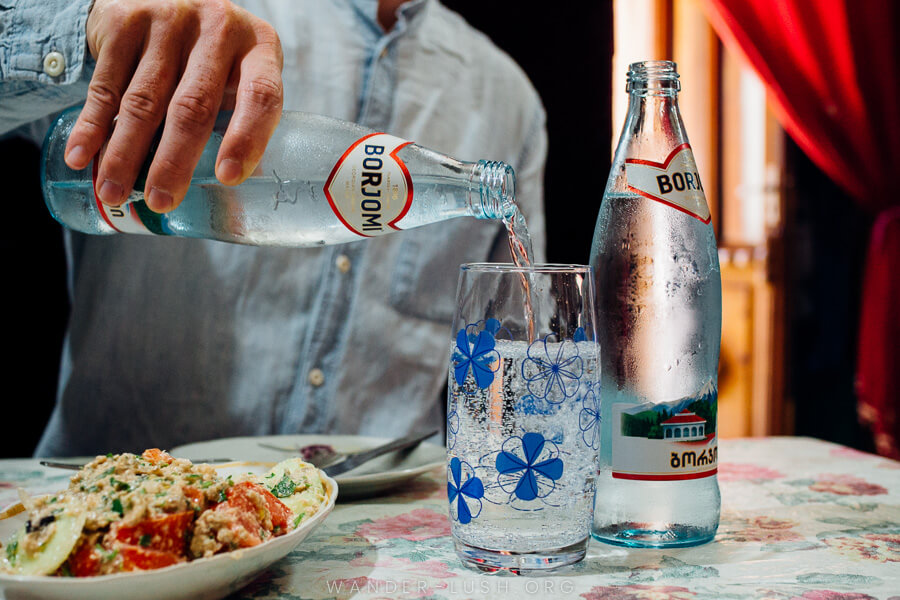 If you're looking for an alternative to Borjomi, Abastumani is another old spa resort around 40 minutes north of Akhaltsikhe in the mountains. It has hot springs, Romanov palaces, heritage architecture and a Soviet-era mountain observatory, where you take a tour of the restored telescopes or book in for an evening stargazing session. See my Abastumani guide for more information, transport tips and accommodations.
Where to stay in Borjomi
How to get to Borjomi from Akhaltsikhe
Borjomi is 50km (around an hour by road) from Akhaltsikhe. There are minivan connections from the bus station in Akhaltsikhe throughout the day – check times the day before. The fare is around 5 GEL.
Days 18 & 19: Sighnaghi & Kakheti wine region
Refer to days 4 & 5 of the one-week itinerary above.
Days 20 & 21: Georgian Military Highway & Kazbegi
Refer to days 6 & 7 of the one-week itinerary above.
---
Days 1, 2 & 3: Tbilisi
Refer to days 1, 2 & 3 of the three-week itinerary above.
Day 4: Day trip to David Gareja & Udabno
Refer to day 4 of the three-week itinerary above.
Day 5: Mtskheta, Gori & Uplistsikhe
Refer to day 4 of the two-week itinerary above.
Days 6 & 7: Kutaisi, Chiatura & Tskaltubo
Refer to days 5 & 6 of the two-week itinerary above.
Day 8: Martvili
This one month Georgia itinerary is full to the brim, so I recommend enjoying a bit of downtime whenever you can. Martvili, a small town in Samegrelo region, is the perfect place to pause between Kutaisi and Svaneti, giving you a chance for some much-needed rest between long drives. If you want to power through, you can easily travel directly from Kutaisi to Mestia and enjoy an extra day in the mountains.
There are a couple of noteworthy attractions in and around Martvili, including Martvili Monastery and two popular canyons, Martvili and Okatse. I'm not a huge fan of the canyons (or the nearby Kinchkha Waterfall) – all of these sites are overdeveloped in my opinion and charge a hefty entrance fee.
Personally I would suggest using your time in Martvili to relax at Karma Hostel, visit lesser-known canyons such as Balda and perhaps the hot springs at Nokalakevi, enjoy a meal at Oda Family Marani, and maybe visit the Martvili tea fields instead. Don't miss the monastery and if you happen to be in town on a Friday, be sure to attend the weekly farmers' market.
Where to stay in Martvili
How to get to Martvili from Kutaisi
There a dozen daily vans to Martvili from Kutaisi starting from around 7.30am and leaving every hour until 6pm. The trip takes around an hour, and the fare is approximately 4 GEL. In Martvili, vans terminate in the centre of town. If you're staying at Karma Hostel, you'll want to jump off early at or near this gas station.
Days 9, 10 & 11: Mestia & Ushguli
Refer to days 7, 8 & 9 of the two-week itinerary above.
Day 12: Zugdidi
Refer to day 11 of the three-week itinerary above.
Days 13 & 14: Guria
Western Georgia's Guria Region is well and truly off the beaten track. I didn't know anything about this part of Georgia before I visited this summer, but it quickly became one of my favourite places. I've been back several times since. The train station in Ozurgeti has passenger connections to Batumi and Tbilisi, making it relatively easy to get in and out.
As soon as you arrive in Guria, you immediately notice the change in climate. This part of the country is very warm and humid, perfect conditions for growing hazelnuts and tea, the two crops this area is famous for. Georgia's little-documented tea heritage is absolutely fascinating and it all begins in Guria, where massive plantations and factories were built to furnish the entire Soviet Union with provisions for their daily cuppa.
There isn't a whole lot of infrastructure in Guria, so I recommend staying centrally in or near Ozurgeti, the region's small capital. It's worth coming this way just to spend a few nights at Komli, a family run guesthouse and tea farm 10 minutes from Ozurgeti.
To explore further afield – such as the tea fields in Anaseuli, the Soviet mosaics around Meria and the incredible Soviet architecture in the village of Shroma – you'll need to organise a car and driver. Don't miss visiting either Gomismta or Bakhmaro, Guria's twin mountain-top summer resorts that both offer stunning views (roads open in the warmer months only, unless you want to travel by snowmobile!).
Recommended reading
– Things to do in Ozurgeti & Guria
Where to stay in Guria
How to get to Guria from Zugdidi
Ozurgeti, Guria's biggest city and main transport hub, is 100km south of Zugdidi via Poti and the Black Sea Coast. Travel time by marshrutka is around 2.5 hours. Check times and fares at the bus station in Zugdidi.
Days 15, 16 & 17: Batumi & the Black Sea Coast
For things to do in Batumi, refer to days 9 & 10 of the two-week itinerary above.
This itinerary allows for an extra day on Black Sea Coast, which you can use to explore another of Adjara's national parks. My personal favourite is the Machakhela Protected Areas, a magical landscape of primary Colchic forest along the Turkish border.
Recommended reading
– 10 day trips around Adjara (with transport instructions)
– How to visit the Machakhela Protected Areas
How to get to Batumi from Ozurgeti
To get from Ozurgeti to Batumi, I recommend taking a direct marshrutka van (2.5 hours) or marshrutka via Ureki.
Days 18 & 19: Khulo & Upper Adjara
Refer to days 14 & 15 of the three-week itinerary above.
Day 20: Akhaltsikhe & Vardzia
Refer to day 16 of the three-week itinerary above.
Day 21: Borjomi
Refer to day 17 of the three-week itinerary above.
Day 22: Tsalka & Javakheti
Another of Georgia's lesser-visited areas, the Javakheti Protected Areas is a high-altitude plateau of volcanic lakes and endless plains. This is one of Georgia's most majestic landscapes – a complete contrast to the lush west and mountainous north – and absolutely worth the detour if you have time. You can see a lot in the space of a day if you hire a car and driver to take you through Javakheti on your way from Borjomi back to Tbilisi.
This area is known as the 'Georgian Arctic' because of the unforgiving climate. The landscape is covered with deep snow for much of the year, so make sure you have the right gear if you're travelling in the colder months. In late summer and fall it becomes one of the region's most important nesting grounds for endemic and migratory birds.
Each of the lakes has a bird watching tower and short hiking routes nearby. If you only have time for a couple of lakes, I suggest visiting Bughdasheni Managed Reserve and the nearby Doukhobor village of Gorelovka, plus Paravani Lake and Poka St. Nino Monastery (don't miss the convent shop that sells delicious preserves and skincare products made from local beeswax and botanicals). If there's time, stop off in the city of Tsalka for lunch at Restaurant Pontia before visiting Dashbashi Canyon and the petroglyphs in Trialeti. Birtvisi Canyon and Samshvilde Canyon are two alternatives.
If you have time, drop by the historic German villages of Asureti and Trialeti in Kvemo Kartli region, and make a stop at Manglisi Cathedral the spectacular Didgori Battle Memorial before arriving back in Tbilisi.
If the lakes district doesn't interest you, you can always head straight back to Tbilisi from Borjomi by marshrutka or train and spend an extra day in the capital instead.
Recommended reading
– Things to do in Tsalka and Javakheti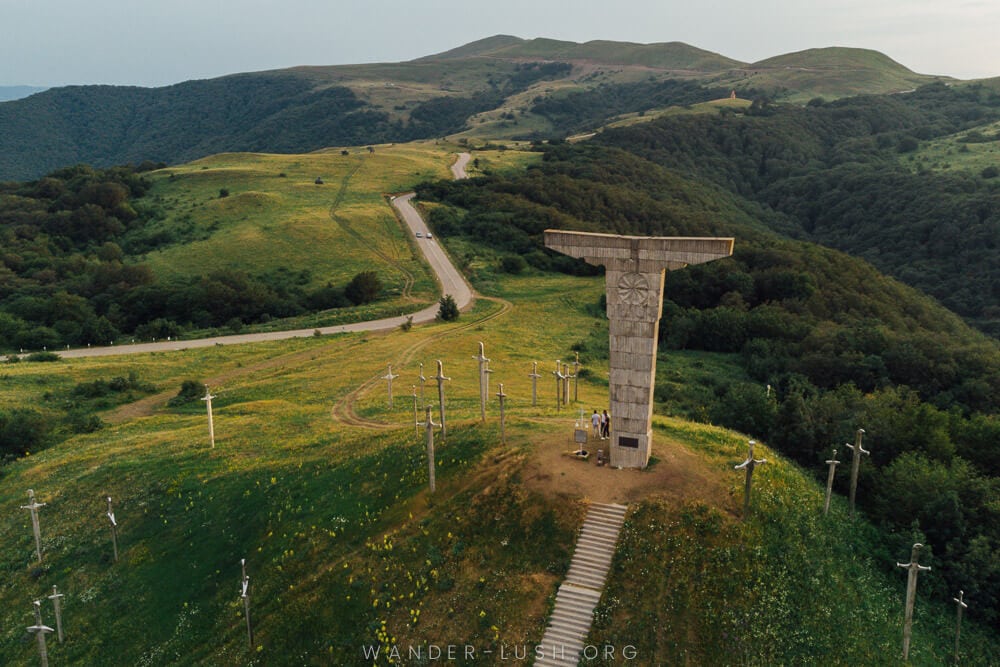 How to get to Tsalka & Javakheti from Borjomi
To travel between Borjomi and Tbilisi via Tsalka and Kvemo Kartli, you'll need a car. I recommend hiring a driver for the day through GoTrip for this route so that you can make as many stops along the way as you please.
Prices for Borjomi-Tsalka-Asureti-Didgori-Tbilisi start from $70 per car. Customise your itinerary and book a driver here.
Days 23 & 24: Sighnaghi & Kakheti wine region
Refer to days 4 & 5 of the one-week itinerary above.
Day 25: Telavi
This extended Georgia itinerary allows for an extra day in the wine region. I recommend you spend it in Telavi, Kakheti's biggest city. You can find dozens more wineries in and around town for tours and tastings (Akido and Togonidze's Wine Cellar are two of my favourites). If you skipped it on your first days, the historic Tsinandali Estate outside Telavi is a must-visit.
Telavi city itself is a very pleasant place to spend an afternoon. Wander beneath the balconies of the old town, visit the Giant Plane Tree – Telavi's pride and joy – and explore the mammoth undercover market.
Where to stay in Telavi
How to get to Telavi from Sighnaghi
There are only a handful of marshrutka services from Sighnaghi to Telavi – and the journey is quite slow as they stop frequently to pick up passengers from the villages along the highway.
It's much more convenient to take a taxi between the two towns. This should take around 1.5 hours and cost somewhere in the neighbourhood of 60 GEL for a car. In Sighnaghi, taxis wait at the top of the park and down the road in front of the large building near the donkey statue.
If you're already travelling the Wine Route, it might make more sense to throw your bags in the back of the car and ask your driver to drop you off in Telavi at the end of the day.
Days 26 & 27: Pankisi Valley
Visiting Pankisi Valley is one of the most memorable and enriching experiences you can have in Georgia. Located in the north-eastern corner of Kakheti, the valley is defined by a series of small villages inhabited by families from the Kist community, whose ancestors migrated to Georgia from Chechnya 200 years ago. The area only opened to tourism relatively recently – it's a real privilege and an honour to be able to observe the Kists' rich and beautiful culture as a guest of the community.
Nazy's Guest House in the village of Jokolo is the leading accommodation provider here. As well as offering comfortable rooms, Nazy can organise activities around the valley including guided cultural walks. If you're visiting on a Friday, you can attend the women's zikr, a fascinating Sufi ritual that takes place every week. Eat copious amounts of delicious Kist food, and visit some of the many watchtowers, mosques and other historical monuments that dot the landscape.
Pankisi lies in the shadow of the Tusheti Protected Areas and is right on the doorstep of some immaculate nature. Marked hiking trails, guided mountain biking and horse trekking are all available.
Recommended reading
– What to expect when visiting Nazy's Guest House
Where to stay in Pankisi
How to get to Pankisi from Telavi
Pankisi Valley is located less than an hour's drive from Telavi. Marshrutka vans to Jokolo and Akhmeta, the nearest city to Pankisi, depart frequently from Telavi's new bus station (see location here). The fare should cost around 7 GEL.
Alternatively, there are plenty of taxi drivers that know this route and will take you to Jokolo for around 30 GEL. They tend to wait near the bus station – just ask around and you will find someone.
Days 28, 29 & 30: Georgian Military Highway & Kazbegi
For things to do in Kazbegi, refer to days 6 & 7 of the one-week itinerary above.
This one month itinerary allows for an extra day in Kazbegi which you can either use for an additional day hike or for relaxing in town at Rooms. For alternative hiking routes, Juta and Truso are both popular choices and easy to reach from Stepantsminda (see more in the next section below).
How to travel the Georgian Military Highway to Kazbegi from Pankisi
It's possible to get onto the Georgian Military Highway from Pankisi without having to double-back through Tbilisi. Since I recommend using GoTrip for this route even if you are travelling from Tbilisi, you can simply organise for a driver to pick you up from Jokolo instead.
They will likely cut through to Tianeti, a very scenic drive with a few places to stop along the way (including Kvetera Fortress's Church). When I last travelled this road there were a few unpaved sections but my guess is that it will be completely finished by the time you get there.
From Tianeti, the road continues to the base of Zhinvali Reservoir and the start of the Georgian Military Highway, which you can then follow all the way up to Kazbegi with all the stops mentioned previously.
Total travel time from Jokolo to Kazbegi is just under 4 hours without stops. A car and driver for the day starts from $65 when booked through GoTrip.
---
More places to visit in Georgia
These itineraries hit on all the major highlights – but that's really just the tip of the iceberg. If you have more time in Georgia (or you're already planning your return trip), there are lots more places that are worthy of your time.
Here is a small handful. I've also included suggestions for where to slot these into your Georgia itinerary so as to avoid backtracking.
Tusheti – add 4-5 days
Tusheti Protected Landscape is located in far north-east Georgia along the border with Russia. It's extremely remote – and extremely beautiful – but you need a good amount of time and an experienced driver to get there.
Tusheti is all about dramatic peaks and valleys, clusters of stone tower houses and massive herds of sheep, all shrouded in mist because of the high altitude. Remote villages are only inhabited during summer and offer basic guesthouses, but infrastructure is overall pretty limited. This of course is part of the appeal. The main things to do in Tusheti are hike, horseback ride and enjoy the mountain hospitality.
The road up to Tusheti is only open in the warmer months, meaning you only have a small window to visit. The season changes year to year depending on the weather but it's usually from late May until early October.
You must go with an experienced local driver who knows the roads and has a good car. Shared and private cars can be arranged from Telavi, thus it makes the most sense to visit Tusheti after Kakheti wine region. Adventurers can travel up by horseback from Pankisi Valley.
Khevsureti – add 3-4 days
Similar to Tusheti, Khevsureti is a remote region of the Greater Caucasus in Georgia's north-east. It's sandwiched between Kazbegi and Tusheti.
The main attraction here is the village of Shatili, home to yet more stone tower houses. It takes at least 5 hours to reach Shatili from Tbilisi by road via Roshka, so it's recommended to spend at least 2 nights in a local guesthouse to make the most of it.
Racha-Lechkhumi – add 2-3 days
Racha is a mountainous region in Western Georgia between Svaneti and South Ossetia. It's very popular with locals but doesn't attract many foreign visitors, mainly because it was always a bit trickier to get to without a car. That changed in 2021 when a new road opened from Sachkhere in Upper Imereti, making it possible to reach Oni in under 4 hours from Tbilisi.
Oni is a magical town with a stunning old synagogue. Shovi, an old Soviet summer retreat, is home to 'Stalin's Dacha', and the more remote villages such as Ghebi offer hiking and homestays where you can eat 'real' Rachan cuisine and sip famous Khvanchkara wine pressed from grapes that only grow in Lower Racha.
It's possible to get to Racha by marshrutka van from Kutaisi to Ambrolauri or Oni. But once you're there, it will be difficult to get around. The wonderful Guest House Gallery in Oni can organise day transport but it's much better to go up with your own car.
Adjacent Lechkhumi has magnificent rock karst formations and high-altitude villages. This is where you'll find the Instagram-famous Lailashi Secret Pool.
→ Read my full guide to Racha-Lechkhumi.
Vashlovani – add 3-4 days
The far south-eastern corner of Kakheti region, approaching the border with Azerbaijan, is a wicked landscape of savannah plains and mud volcanoes. Vashlovani Nature Reserve is definitely an off-the-beaten track destination and only for the adventurous. You need your own 4WD to make the most of it.
I'm yet to visit Vashlovani myself. This guide tells you everything you need to know about planning a trip.
Lagodekhi – add 2-3 days
Also in the eastern corner of Kakheti, Lagodekhi Nature Reserve is a lush forested landscape with plenty of hiking trails. One of the most popular routes is Black Rock Lake, a 2-day hike to the border with Azerbaijan and Russia. Duende Hotels offers delightful A-frame cabins on the edge of the park and is a great place to base your stay.
If you're travelling to Azerbaijan next, you'll pass right through Lagodekhi on your way to the border. Otherwise you can easily get to the villages around the park from Tbilisi or Telavi by marshrutka.
Juta or Truso – add 1-2 days
If you're looking for more hiking opportunities in the Greater Caucasus, Juta is an easy addition to your Georgia itinerary after Kazbegi. Fifth Season is a popular cabin accommodation in Juta and a good place to pair up with hiking buddies to tackle the trails around the valley.
Mountain Freaks organises transfers to Juta and Truso from Kazbegi throughout the trekking season.
---
Georgia essentials
Here are some of the websites and services I use when I'm planning a trip to Georgia and the Caucasus. Remember to check out my full list of travel resources for more tips.
– Find affordable flights to Tbilisi, Batumi or Kutaisi on Kiwi.com, a booking site that mixes and matches airlines to find the best route (there's a money back guarantee if you miss a connection).

– Use iVisa to check if you need a tourist visa for Georgia and apply for an expedited visa online.

– Pre-book a private transfer from Tbilisi Airport to your hotel or from Kutaisi Airport to Tbilisi with my preferred partners at Friendly.ge.

– Get a great deal on a rental car in Georgia by using MyRentACar to find a local agent.

– Buy your tickets for the Tbilisi to Baku or Yerevan sleeper train online in advance through my partners at Geotrend (get a discount when you use the code in this post).

– Find the best Georgia hotel deals on Booking.com, book a Georgia hostel, or find a unique Airbnb.

– Find the best city tours and day excursions in Georgia.

– Compare mobile providers and pick up a local Georgian sim card.

– Order a copy of the new Lonely Planet Caucasus guidebook (published July 2020).