Your one-stop guide to driving in Georgia in 2022 – including up-to-date information about road conditions, essential safety tips, and the ins and out of renting a car in Tbilisi.
---
Please note: This post contains affiliate links, meaning I may earn a commission if you make a purchase by clicking a link (at no extra cost to you). Learn more.
---
This post was created in partnership with Local Rent (formerly MyRentACar), who supplied my rental car for 10 days free of charge in exchange for a fair and honest review. And that's just what this is – all opinions, recommendations and criticisms are 100% my own.
When I first travelled to the Caucasus, I would never have dreamed of putting the words 'Georgia' and 'road trip' in the same sentence.
I'm an experienced driver – and I'm a huge fan of road trips, having driven around Spain, Oman and Montenegro in recent years. But the thought of getting behind the wheel in Georgia always terrified me.
The main reason I've always been so hesitant about renting a car in Tbilisi is the style of driving I've observed over the past three years of living and travelling in Georgia. If you've spent any time in the country, you'll know the roads are not exactly safe by any standard, and reckless driving is a big part of the problem.
After chatting to a few friends who swear by self-driving, I finally decided to take the plunge and rented a car for 8 days. After an epic trip, the way I feel about driving in Georgia has completely changed.
I loved it – and I would absolutely do it again. (Update: I did do it again a few months later – and again a few months after that – and it was every bit as excellent!).
Now I don't hesitate to recommend driving in Georgia to others – it's a lot safer and more straightforward than I expected, provided you know what you're getting into.
In this guide, I'll paint you a picture of the road conditions and driving style in Georgia. I'll offer loads of practical tips for a successful road trip, including important information about staying safe.
I'll also give you some itinerary inspiration, plus information about renting a car in Tbilisi or elsewhere through an international company or a local agent.
This is an epic guide packed with helpful tips. Feel free to jump ahead using the links below, or else buckle up for a detailed and brutally honest look at driving in Georgia.
---
Should you rent a car in Georgia?
First things first: Do you even need to hire a car in Georgia? Georgia is a small country, and the transport system is quite easy to navigate if not a little slow and clunky.
It's definitely not mandatory to rent a car in Georgia – you can see and do a lot just by getting around using marshrutka vans, trains, shared taxis and GoTrip cars.
If it's your first time visiting Georgia, I recommend an itinerary like this one that uses 'public' transport. If you're a repeat visitor or you're feeling adventurous, there are some major advantages to having your own vehicle.
You can keep to your own schedule. The thing about marshrutka vans is that drivers don't always keep to a set schedule. Driving your own car isn't necessarily any faster than taking a van – it may actually take longer if you make lots of stops – but you'll end up fitting a lot more into each day if you can make early starts and set your own pace.
You'll feel a lot safer. Road safety is a huge problem in Georgia. I've had one too many nail-biting marshrutka rides with drivers who have no regard for speed limits. You definitely need to keep your wits about you when driving in Georgia, but in my experience, self-driving gives you a much-needed sense of control over your own fate.
You'll see a lot more. Needless to say, so much of what makes Georgia Georgia lies off the main highways, away from the big cities. Driving gives you unprecedented access to all the small villages, rural homestays, backstreets, roadside stops and remote areas that will make your trip all the more memorable.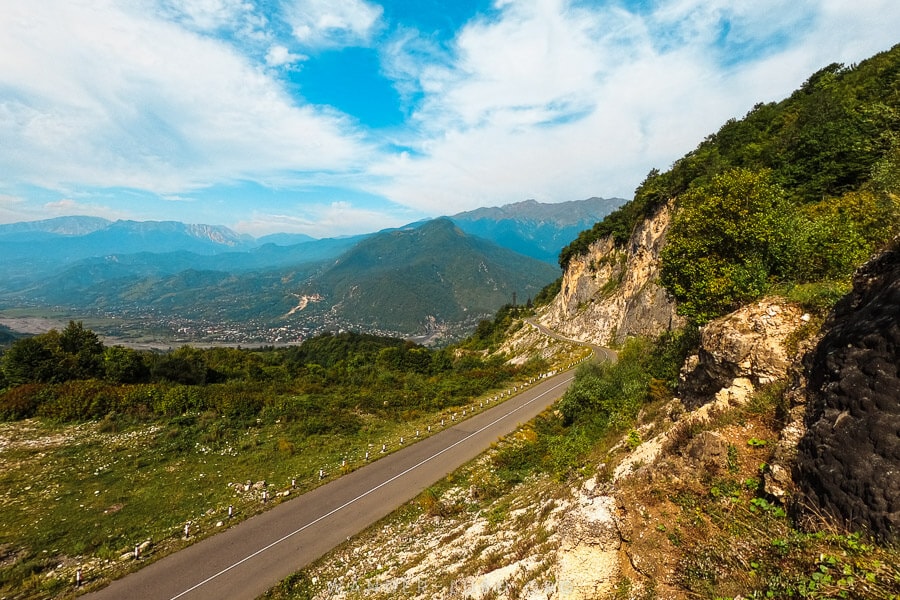 No worrying when (or whether!) the marshrutka driver is going to make a bathroom break; no lamenting that you couldn't pull over for a photo.
Hiring a car in Georgia is totally worth it for me for these two reasons alone.
---
Where can you go on a Georgia road trip?
The possibilities are endless. Here are just a few examples: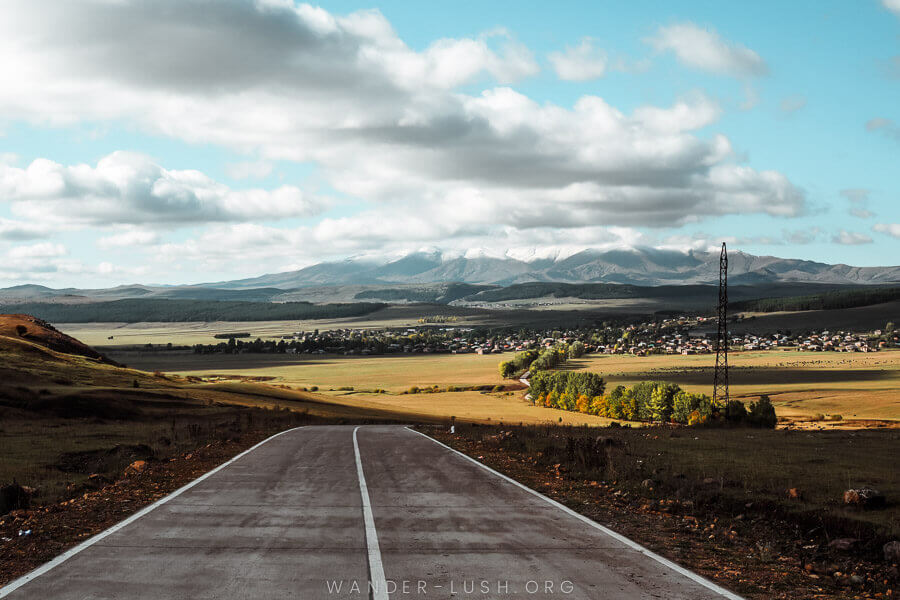 There are some places I wouldn't recommend self-driving in Georgia because the roads are more demanding. Tbilisi to Kazbegi via the Georgian Military Highway, for example, is much better done with an experienced driver booked through GoTrip.
The roads to Tusheti, Khevsureti and to a lesser extent, Mestia, are all challenging mountain roads that are much better done with a Georgian driver who is familiar with the conditions. Note that many many roads and passes are seasonal and only open for a very short window during the warmest months of the year.
When renting a car in Tbilisi, note that the company may prohibit driving on certain roads. Always check first.
I do not recommend driving in Tbilisi city – the traffic is terrible and many roads are very narrow. Use the city's public transport system instead.
---
Quick facts about driving in Georgia
Here are the key things you need to know about driving in Georgia. I'll go into more depth about some of these topics in the next section.
In Georgia, people drive on the right-hand side of the road. Although both left and right-hand drive cars are present on the roads.
Seat belts are compulsory in Georgia, but only for the driver and the front seat passenger/s. Back seat passengers are not required to wear a seatbelt by law – but obviously it's still wise to buckle up.
Kids under 7 years old must use a children's car seat. Most rental companies have these available to hire, but you must request one at the time of booking.
The speed limit in Georgia is 100-110km/hour on highways, and 80km/hour in non-residential areas unless otherwise indicated. In villages, the speed limit is 60km/hour, but it can be very tricky to know whether you're in a village or not. Look out for the big white signs (pictured below) – sometimes they are hidden by trees. Whenever you leave a village, you will see the same sign but with a big cross through the name.
Traffic lights in Georgia flash amber before they turn red. There is no right turn on red, and wherever you see a green arrow, no left turn on a green light.
Hazard lights are used very frequently to alert other cars to an obstruction on the road (such as cattle). Make sure you always have your finger ready to hit the hazard lights. When I drive, my husband is in charge of hitting the hazard lights.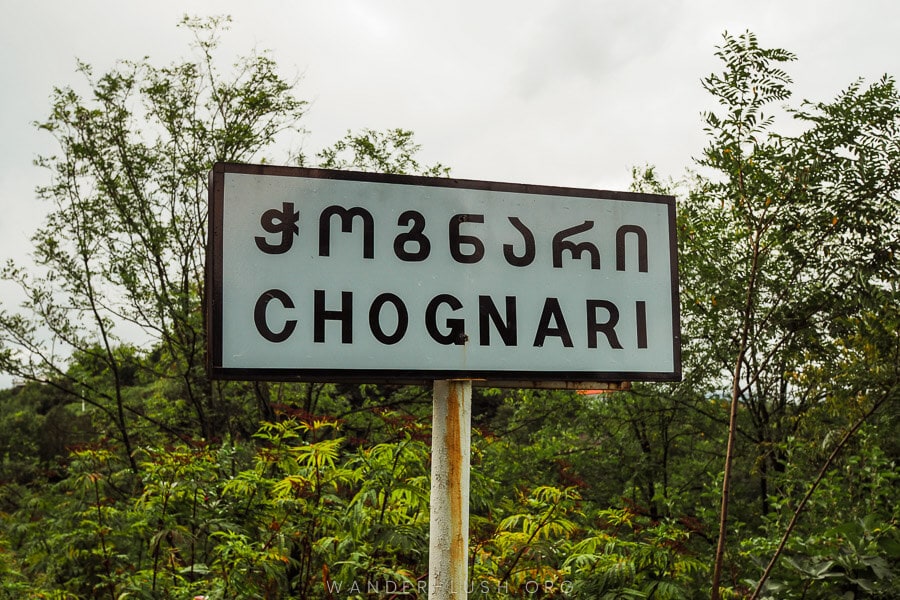 Georgia is party to the Vienna Convention on Road Signs and Signals, meaning traffic lights and signage is much the same as the rest of Europe.
Georgia has strict rules around drink driving. The legal blood alcohol level is set at 0.03%.
It is illegal to use a mobile phone when driving in Georgia (not that many people follow this rule). If you need to use your phone for navigation, make sure you pack a hands-free mount like this one.
There is a heavy police presence on the road in Georgia. Speed cameras and red-light cameras are ubiquitous throughout the entire country. If you're driving a rental, fines go to the agent and are paid when you drop-off the car.
Georgia is known for an aggressive driving style and lackadaisical approach to road rules in general. This is definitely something to keep in mind when deciding whether or not you want to drive in Georgia. I'll explore this topic in detail later.
There are no toll roads in Georgia.
All major highways and most smaller roads in Georgia are sealed with a few notable exceptions (more details below). 'Village roads' vary from new, sealed roads to very rough backroads. Use the map below to identify any potentially problematic roads before you set off.
Many high-altitude mountain roads are completely closed off in winter (usually late October to May depending on the location). Extreme weather events such as flooding and landslides occur semi-regularly in some areas, including Khevsureti and Racha.
---
What are the roads like in Georgia?
It's a well-known fact that infrastructure is still developing in Georgia. Huge strides have been made since I first visited in 2017, especially with regards to the roads.
Overall, the roads in Georgia are of a high standard. Much higher than you might expect. Through a combination of self-driving, travelling in vans and being driven around on tours, I've travelled almost every highway and many backstreets, and I've only encountered a handful of bad stretches.
99% of the roads you'll use as a tourist driving around Georgia are paved. Not only are they paved, but they're mostly smooth and pothole-free. Two things to keep in mind are that mountain roads are often narrow, and line markings on major highways are sometimes faded or missing altogether.
Village and rural roads are more likely to be unpaved – either compacted rubble or loose rock. Some cities (notably Poti) have worse roads than others.
A new east-west highway is now under construction in Georgia, which will eventually allow drivers to bypass Kutaisi and reach the Black Sea Coast in under 3 hours, cutting cross-country travel time in half. For now, it's very slow going around Khashuri (because of road works), but the part of the highway outside Zestafoni that is already complete is magnificent!
There are a few stretches of road that are unpaved and should be approached with caution. These include:
Part of the road between Akhaltsikhe and Khulo in Upper Adjara (unpaved and quite difficult to drive)
Part of the road between Akhmeta and Tianeti in Kakheti (partially a gravel road, currently under reconstruction)
The road from Mestia to Ushguli (unpaved)
The road to Gomis Mta in Guria (unpaved as of 2022)
The Zekari Pass (after Abastumani, towards Sairme and Baghdati)
The roads to popular attractions such as David Gareja Cave Monastery, Vardzia and Katskhi Column are paved.
Roadworks and upgrades are underway all the time, so take everything you read online about road conditions with a grain of salt.
Two roads that probably won't change anytime soon are the roads to Tusheti and Khevsureti. These are both extremely dangerous mountain roads that I do not recommend you tackle yourself. Most rental companies actually prohibit driving on these roads in their T&Cs.
Some national parks and protected areas, including Vashlovani, require a 4WD to navigate.
Some roads are closed in winter and only passable from late May until October (depending on weather conditions and snowfall). Floods and landslides are not uncommon; shortly before my first road trip, the road in Upper Racha completely washed away, leaving villages cut off for a week until a temporary road was constructed (I actually drove the new road).
An up-to-date list of road closures and restrictions can be found here on the GeoRoad website (in English).
It's always a good idea to check road conditions and closures before you set out. Call the Roads Department Hotline on +995 322 313 076 and follow them on Facebook for regular updates.
Map of roads in Georgia
Here is a quick map I created of notable roads in Georgia, including popular unpaved, gravel and sealed roads that you might encounter. Click to open the latest version in Google Maps.
---
Driving style & road safety in Georgia
The roads in Georgia are better than you might expect, but the driving style is worse than you could ever imagine! I've lived in Cambodia and Vietnam and trust me, the roads there are nothing compared to Georgia.
It's not that traffic is particularly heavy – outside of the major centres, it can actually be very sparse, especially in the early morning. It's more that drivers tend to be impatient, aggressive and heavy handed. This is of course a generalisation, but it's based on my personal experience – and I think you will find that most people agree.
I could advise you to brush up on Georgian road rules before you get behind the wheel, but there's really no point. No one seems to follow the rules, despite there being a heavy traffic police presence.
My best advice is to take your time, be hyper aware of other cars, stay out of other people's way as much as you can, and try to avoid making any sudden moves.
Here are a few things I learned the hard way:
Lane markings are just a suggestion. Lanes stop and start without notice, even on highways.
Right of way (including on roundabouts) seems to go to the most expensive or biggest vehicle. There's not much rhyme or reason to roundabouts – just take it slow and hope for the best.
People love overtaking at high speeds on single-lane roads and highways. This includes crossing solid lines (technically illegal). In some cases, a car will come up the middle or appear on your right side, creating a third traffic lane. In addition, cars constantly drift from lane to lane without indicating. This is just something you just have to get used to. Check your mirrors constantly and be aware of people overtaking you from every angle.
Drivers will do anything to not have to stop. Slowing down is seen as a sign of weakness. This means that drivers always dodge parked cars and other obstructions at high speed. If you do stop suddenly, there's a high chance the car/s behind you – which will invariably be hugging your rear bumper – will collide. Yes, this happened to me once!
Watch out for merging traffic and slip lanes as people rarely look when merging.
Be alert to pedestrians and especially animals. In rural areas, there will almost always be livestock on the road. If you need to slow down for an obstruction, put your hazard lights on. Watch out for mopeds and motorbikes as well.

Traffic and aggressive driving in general is much, much worse in the big cities. I suggest you avoid driving in the cities at all costs. A good way around this is to rent a car through a local agent, who can deliver your rental to a spot on the outskirts of the city.

Some roads are poorly lit, so I highly recommend you refrain from driving at night – just as I advise against any kind of road travel after dark in Georgia.
---
Renting a car in Tbilisi
Now that you have a basic idea of what to expect when driving in Georgia, here are the different options for hiring a car in Tbilisi or elsewhere.
Local rental companies vs international rentals
There are two major types of car rental agents operating in Georgia: International and local.
By international, I mean standard brand-name car hire companies such as Hertz, Avis, etc. that you can organise at the airport or online. Local companies by contrast are independent agencies that run a smaller fleet of cars and deal directly with their customers or through different aggregators.
Not surprisingly, local agents tend to offer much lower prices compared with international car hire companies. There are a number of other factors beyond price to weigh-up when deciding which road to take.
International company
Local agent
Newer cars
Older models
Higher deposit (min. $300 USD)
Low (or no) deposit required
Payment by credit card
Cash only
Insurance as an add-on
Insurance (usually) included, unlimited mileage &
no fees for an additional driver
Fixed pick-up location (usually the airport)
Free delivery to any address
Drop-off only in major cities
Drop-off anywhere
High one-way fee
Lower one-way fee
As you can see, there are pluses and minuses on both sides. If you go with a local agent, your car might be a bit banged up and not exactly clean. But on the plus side, the car will be privately owned and thus fully insured, meaning no extra insurance charge or add-on fee for a second driver.
If you can get your car delivered to a convenient location, you can start your road trip without having to drive through Tbilisi – a huge bonus given that traffic in the capital is atrocious.
Another bonus is that you'll be supporting a small local business owner over a big brand.
On the flipside, there is a certain peace of mind that comes with choosing a company you know and trust. Local agents take a much more relaxed approach – but they are legit.
For an extra layer of security and assurance, I recommend booking your rental car using an aggregator website. I'll explain more in the next section.
Process for hiring a car through a local agent
If you opt for a local rental, I recommend using a website such as Local Rent to make a booking. This website aggregates local agents and smaller rental companies to display a wide range of options similar to any other car hire portal. They currently represent more than 1000 cars, and the average cost of a car in Georgia is $41 USD per day. You can find deals for as little as $25 USD per day.
Local Rent has an easy-to-use interface. Start by plugging in your location, dates, and any search filters (gearbox type, optional extras). You can then browse the available listings and make your selection. I love that you get to see real photos of the cars as opposed to just factory images.
Extras such as a child seats, wheel chains and ski racks can be added here. Depending on the agent, you may or may not be required to pay a deposit. If you do, it will be low – around $40-60 USD.
To finalise the reservation, you pay a small fee by credit card to cover the booking charge. The remaining balance is paid in cash (in local currency, GEL) to the agent when you collect the car.
Search for a rental car in Georgia by following this link.
Process for hiring a car through an international company
Most major car rental companies have a presence at Tbilisi Airport. To secure your preferred vehicle and get a better price, I suggest booking your car in advance using a website such as Discover Cars.
---
Georgia car hire FAQ
Can anyone rent a car in Georgia?
Most car rental companies (including Local Rent) require drivers to be over 23 years of age and to have at least 3 years of driving experience.
The lowest age limit I've seen for a rental company here is 21 years (with 1 year of driving experience).
Driving in Georgia with a foreign license – Do I need an international Driving Permit?
Majority of car rental companies do not require you to present an International Driving Permit (IDP) when renting a car in Georgia, provided your local driving license is in Latin alphabet. However, if you get into an accident, the police might ask you for an IDP or a notarised copy of your license in Georgian.
In addition to your home country license, you also need to carry a valid passport/ID card with you at all times.
Note that in Georgia, the license from your home country is technically only valid for one year after you arrive. After that, you need a Georgian license to legally drive here. If you cross the border and renew your passport stamp, this re-activates your 'permission' to drive on a foreign license.
What cities can I rent a car in?
The bigger rental companies typically have offices in Tbilisi, Kutaisi and Batumi. Renting a car outside of Tbilisi is usually more expensive since there are fewer vehicles available outside of the capital.
Local Rent gives you much more flexibility in this regard. As well as the three cities mentioned, you can pick up/drop off in Borjomi, Zugdidi, Telavi, or half a dozen other cities and towns.
What kind of car do I need for Georgia?
In most cases, a Sedan is all you need for Georgia. If possible, I do recommend looking for a car that has a higher undercarriage clearance. I also recommend going for a mid-sized vehicle for safety.
If you plan on travelling any of the unpaved roads mentioned above or doing any offroading, then a 4WD is essential. The first time I rented a car I got a Pajero and used the 4WD function a handful of times. The second time I drove to Kakheti was in a Prius, and that was totally fine for regular roads and highways.
Local Rent offers gas, diesel and hybrid cars. There are also a handful of campervan rental companies in Georgia, including Mta Campervans based out of Kutaisi.
Is it easy to find an auto transmission?
Yes, there are plenty of automatic transmission cars in Georgia. In fact, it seems to be the norm. Local Rent currently lists more than 550 automatic cars and only a few dozen with manual gearboxes.
I only drive auto and I found plenty of options.
One thing you definitely need to check is that the wheel is on the lefthand-side. Georgia has a mix of both lefthand and righthand vehicles.
Is insurance compulsory?
Third-party car insurance is compulsory in Georgia. Most rentals include third-party liability insurance and collision damage waiver insurance at a minimum.
When booking through Local Rent, super collision damage waiver, which includes tyres, windows and undercarriages, is either free of charge, or can be added for an additional fee.
As always, I recommend taking out a travel insurance policy before driving in Georgia so that you're covered in case of accident or injury.
What is a Georgian car passport, and do I need one?
Every car in Georgia must carry a 'car passport', a small ID card that proves the vehicle is registered. Before you take off, it's important to double-check your car has one, and you know where to find it in case you get pulled over by police (it's usually kept in the glovebox).
Can I cross the border in a rental car?
Some companies allow you to cross the border with a rental car, but it's essential to prepare your documentation and insurance in advance.
It's not possible to drive a rental car from Georgia into Turkey, Russia, or either of Georgia's occupied/breakaway territories. If you decide to drive into Armenia or Azerbaijan, you'll need a valid car passport and a border crossing permit, which costs around $80 USD. This must be organised well in advance with your rental agent. Note that not all companies will allow you to cross the border in one of their cars.
There are only three agents I know of that will allow you to drop off a car in Armenia: Hertz, Cars4Rent and Naniko.
Is fuel cheap in Georgia?
At the time of my first road trip, the cost of fuel in Georgia was very reasonable. When I drove around Georgia, I paid about 50 GEL for half a tank. Prices have since gone up due to inflation and global events. Check current petrol prices here.
There are several varieties of fuel available in Georgia. Your rental car contract will usually specify which type the car requires – usually premium 95 octane or higher.
Not so long ago, smaller petrol stations had a reputation for dishing out dodgy fuel, but this apparently isn't the case anymore. Still, it's best to go with a bigger station (Wissol, Gulf, Socar) if you can.
When you pull in, stay in the car and an attendant will fill up the tank for you. (Tip: If there's a language barrier, point to your bowser of choice or just say 'Premium', then say 'full'.) Payment is made direct to the attendant and both cash and card are accepted. At one rural station I visited they even threw in a free window wash – old school!
Petrol stations are ubiquitous across Georgia, even in mountain areas, so you don't have to worry about filling up or carrying an extra tank unless you're going really remote
Are there many garages in Georgia?
If you have car trouble on the road, you shouldn't have any problem finding a garage (unless you're in a remote area). The best thing to do in these situations is call the rental agent.
When driving in Kakheti, our Prius got a flat tire. We called the agent to ask for his advice and he informed us that it wasn't covered under insurance (as we suspected). With the help of a friendly neighbour in Telavi, we took the Prius to a local garage and had the tire mended and re-fitted. This cost us a grand total of 20 GEL. I'm told this is double the normal price – but I didn't mind since it was a Sunday and the garage opened just for us.
Is it easy to find a car park in Tbilisi?
Parking in Tbilisi can be difficult – another reason I advise against driving in the city.
Tbilisi, Kutaisi and Batumi all have their own parking payment systems. Passes can be purchased online:
Outside of these three cities, free parking is plentiful.
Often parking spaces are guarded by an attendant wearing a brightly coloured vest. They are there to help you in and out of the spot, and to watch over the cars. If you end up using their service, it's polite to give a small tip. A few coins will do.
---
My experience hiring a car in Tbilisi through a local agent
I have rented a car in Georgia three times now – the first time to drive from Tbilisi to western Georgia, the second time I did a shorter road trip around Kakheti wine region, and most recently I drove through the south from Tbilisi to Kutaisi. Things went very smoothly every time.
This section refers to my first car rental experience in Georgia.
Reservation: I booked my car a few weeks in advance using the Local Rent website. The only additional fee I paid was for a one-way rental – the car I chose came with all insurance included. I went through the entire process as a normal customer would and had no issues at all. Once my reservation was confirmed, I received confirmation by email.
A few days before I was set to pick up my car, I decided to change my itinerary slightly and wanted to nominate a different pickup address closer to the highway. I emailed Local Rent and they did this for me straight away and sent me a new confirmation.
Pick up: The day prior, I received an email from the agent supplying my car asking for a photo of my passport and driver's license so that he could prepare my contract. The night before, I received a text message to confirm the pickup address. They also asked if I had the correct amount of cash on hand or if I'd need change.
On the day of the handover, a representative from the agency met me on a street corner at the parked car. I did a quick inspection of the vehicle, then he presented me with a contract in English that I signed. This included a diagram of the car with all scratches and dings marked out. I paid him in cash and we parted ways.
My car, a 2003 Pajero, was definitely worn in, but it ended up serving me well. The interior of the car wasn't very clean, but I didn't mind. The tank was full.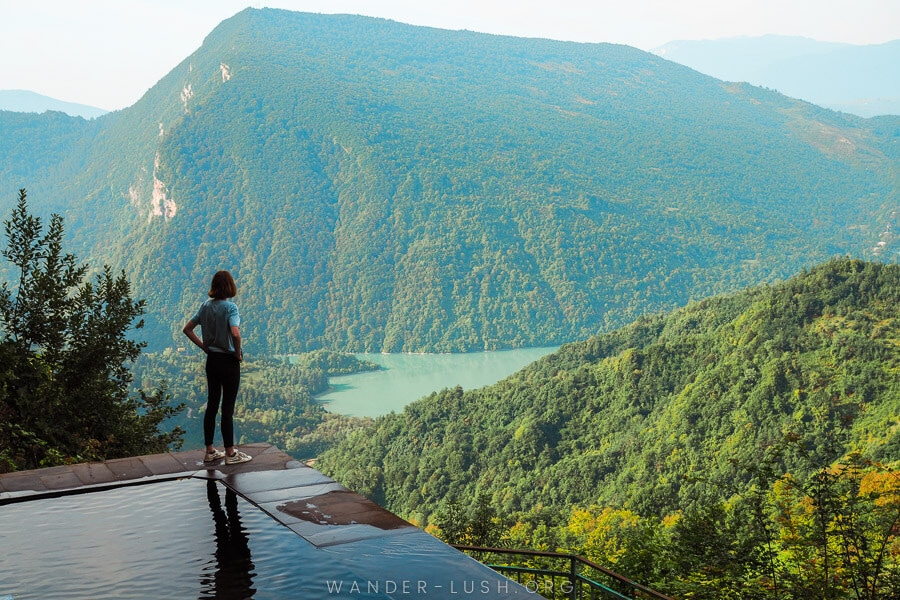 Drop off: Towards the end of my road trip, I had to change my itinerary again and re-route because of lockdowns. I emailed Local Rent and they advised me to contact the agent directly. I was able to organise a new drop off address (in a different city, mind you) without any hassle. All I had to do was confirm the final address the night before.
On the morning I was set to drop off the car, I sent an email with my ETA of 12 midday. The agent asked me to hold onto the car for a few more hours to give his driver time to reach me from Tbilisi. Brilliant!
When we eventually had our rendezvous, the driver did a cursory inspection of the outside of the car and checked that the tank was full. He gave me a big thumbs up, and that was it. Too easy.
The process of going through a local agent was a lot more relaxed than what I'm used to. But everything went smoothly, and I really appreciated the flexibility of being able to adjust my pickup and drop off location at the last minute.
---
When I rented a car for Kakheti a few months later, I again used Local Rent but took a Prius from a different agent. This experience was a bit different.
Unlike the first time, I was not asked to provide my ID or driver's license. In fact, the agent never inquired about whether or not I even had a license. I didn't receive a contract to sign either.
This made me a bit nervous at first, but now I realise that every agent does things a bit differently. This guy was far more relaxed about the whole thing!
---
Conclusion: My top tips for driving in Georgia
My first time driving in Georgia was an overwhelmingly positive experience. These are the most important tips I can offer:
Use a local agent, but go through an aggregator such as Local Rent. This gives you the best of both worlds in terms of value, security and flexibility.
Organise to pickup and drop off your car up on the outskirts of the city to avoid heavy traffic.
Buy a local sim card to use for navigation. Google Maps works perfectly in Georgia. There's no need to hire a GPS unit.
At pickup, be sure to inspect the car thoroughly for damage and take lots of photos. Check the lights are working and note down the fuel level. Often these cars come with a low tank, so you might need to visit a petrol station first up.
Request a contract. In my experience not every agent will make you sign one, but you should always have something on paper before you set off.
Re-confirm your drop off time. When you use Local Rent, the process for returning a car is very different! Many agents don't hold you to the return time like international outfits do. Be sure to contact the agent a few hours beforehand to make sure they are there to meet you – otherwise you might get stuck waiting for them.
Hit the road bright and early. Georgia as a whole is late to rise so you can have the roads almost to yourself if you get an early start.
Avoid driving at night.
If you get into any difficulty or damage your car in any way, call the agent immediately. Insurance normally requires you to report any incident to the police immediately – so don't wait until you return the car.
If you are involved in an accident, stop the car immediately. Moving the car even one centimetre might void the insurance. Call the police, the agent and the insurance provider.
Go slow. If in doubt, stick to the far right and most other drivers will leave you be. I didn't cop a single honk in 10 days.
Be confident! Driving in Georgia really isn't that bad.
---
So, would you drive in Georgia? Anything else you'd like to know about renting a car in Tbilisi or driving in Georgia? Let me know in the comments below and I'll do my best to help.
---
More Georgia travel resources
Tips for driving in Georgia: Save it on Pinterest