From the historic cities of Lisbon and Porto to the tiny cobbled villages of the north, the vast wine region to the wild Atlantic coast, there is certainly no shortage of beautiful places in Portugal to capture travellers' imaginations.
This list brings together 22 of the prettiest places in Portugal, each totally distinct but all renowned for their history, charms, scenery, and above all good looks.
If I've missed your favourite, please let me know in the comments at the end!
---
Please note: This post contains affiliate links, meaning I may earn a commission if you make a purchase by clicking a link (at no extra cost to you). Learn more.
---
How to see these beautiful places in Portugal
Most of the destinations mentioned here can be easily accessed by train or bus (I've included brief details for each one below). But to see more of the country, I highly recommend renting a car and setting off on a Portugal road trip.
As with a Spain road trip, driving in Portugal will give you freedom to explore harder-to-reach areas and stay at more remote, unique accommodations including quintas (farmhouses).
I personally use Discover Cars to find the best rate on a rental car whenever I'm in Europe. Click here to browse their offerings and choose from pickup locations all over mainland Portugal and in the Azores.
---
22 most beautiful places in Portugal you have to visit
1. Lisbon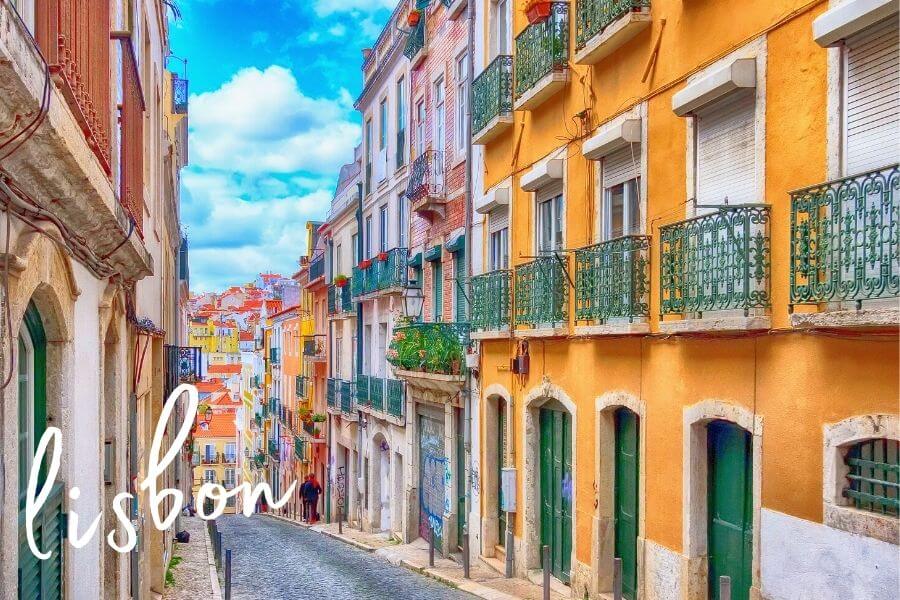 The capital city of Lisbon rightly tops just about every traveller's Portugal bucket list. One of the prettiest cities in Portugal and in the whole of Europe, Lisbon is a mosaic of winding streets, open plazas, stunning churches and miradouro lookouts waiting to be discovered.
There's beauty around every corner in Lisbon, whether it's the slightly ramshackle kind of glamour you find in historic Alfama, the paradisiacal beauty of the Tagus River, or the grand charm of landmarks such as the Tower of Belem, one of the oldest of Portugal's 17 UNESCO World Heritage Sites.
Despite welcoming more and more visitors every year, Lisbon remains an affordable destination. From browsing the racks at the oldest bookshop in the world for the perfect souvenir, to chowing down on Pasteis de Belem custard tarts, or bar hopping in the trendy Bairro Alto, there's never a dull moment when visiting this vibrant place.
Get there: Fly into Lisbon Portela Airport or take the train from Porto (4 hours).

Where to stay: For a truly local stay, check out my list of the best Lisbon Airbnbs.
2. Sintra – one of the prettiest places in Portugal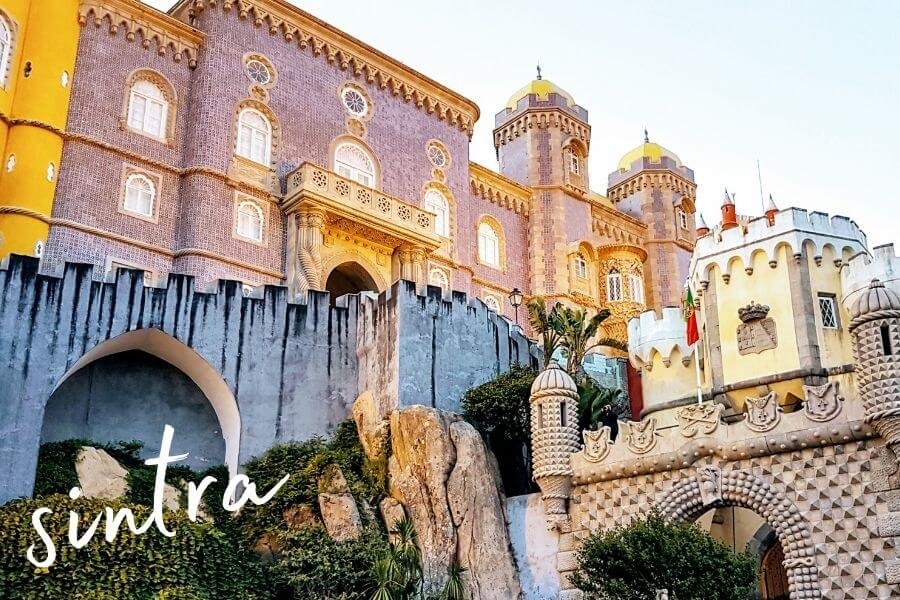 The charming town of Sintra is nestled in the pine-covered hills of the Serra de Sintra mountains west of Lisbon. This is where every tourist comes to live out their fantasy of wandering through a fairytale.
The area is best-known for its collection of castles, most notably the colourful Palácio Nacional da Pena (Pena Palace) and the more classical Quinta da Regaleira. One of the most distinct palaces anywhere in Europe, Pena especially can't be missed.
Pretty as it is, there's a more serious history behind Sinta, including tales of how the nobility were forced to flee on the eve of the country's bloody revolution. The Initiation Well at the Quinta da Regaleira – a deep hole that resembles an inverted tower – has a dark side too: The design is said to reflect Dante's nine circles of Hell.
Get there: Sintra is located 30km (19 miles) from Lisbon and can be reached by train within 40 minutes, making it an ideal day trip destination from the capital.

Guided day trip: This 5-hour small group tour of Sintra includes hotel transfers from Lisbon.

Where to stay: Chalet Saudade is a historic 19th-century property in Sintra with gorgeous period finishings and scenic views.
3. The Algarve
The Algarve is home to some of the most beautiful sandy beaches in Portugal and what is surely the country's most dramatically beautiful stretch of coastline.
From the charming streets of old town of Lagos to the cliffy Ponta da Piedade, with its natural sea arches and rock formations that frame picture-perfect Atlantic ocean views, The Algarve may be popular, but there's a good reason for that.
The beach region and its four major towns draw thick summer crowds, especially in July and August. For those looking to get away from the tourist hordes, there are some stunning secluded beaches to be found – as long as you're prepared to do some off-track walking.
Get there: Fly into Faro Airport, or take a fast train from Lisbon (3 hours travel time).

Where to stay: Refer to my write up of the most beautiful beaches in Portugal for a selection of amazing villas and beachfront apartments in Lagos.
4. Estoi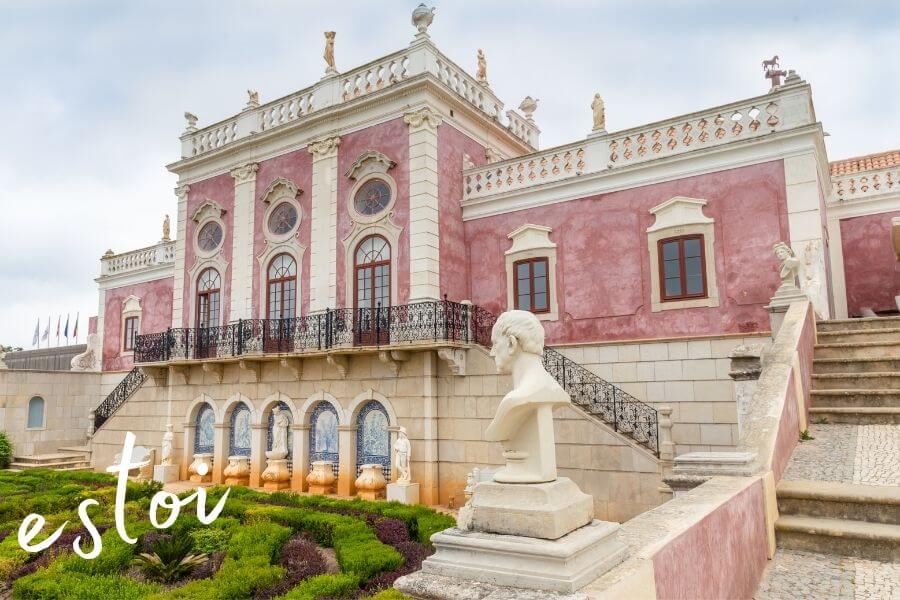 Located inland from Faro and Portugal's Algarve coast, the tiny town of Estoi is a bit of a hidden gem. Its biggest attraction is the restored Palácio do Visconde de Estoi, a 19th-century palace with a pretty pink Rococo facade.
Not all that long ago, the palace was in tatters after lying abandoned for several decades. It was recently renovated and relaunched as a Pousada (a luxury historic hotel). The sprawling manicured gardens that surround the palace also received a facelift and today, you can enjoy a stroll here beneath the palm trees, drinking in one of the most romantic buildings in Portugal in all her glory.
Also in Estoi, don't miss the Roman Ruins of Milreu, which are located a short walk from the palace. Here you can view the remains of an opulent Ancient Roman villa – replete with vivid mosaics and columns – that archaeologists have dated back to the 2nd century AD.
Estoi itself is a typical Algarvian town with tightly woven cobbled streets, whitewashed houses fringed with pastel accents, and creeping bougainvillea trees. The local, laid-back vibe (and lack of tourists) makes Estoi a terrific place to retreat from the crowded coast for a couple of hours.
Get there: Estoi is located 15 minutes by road from Faro. To get there, you can take a taxi or a local bus from anywhere on the Algarve.

Where to stay: For an unforgettable experience, stay at the Pousada Palacio de Estoi, a Small Luxury Hotel of the World. For something more affordable, Casa de Estoi is a family home from the 1900s-turned boutique hotel.
5. Obidos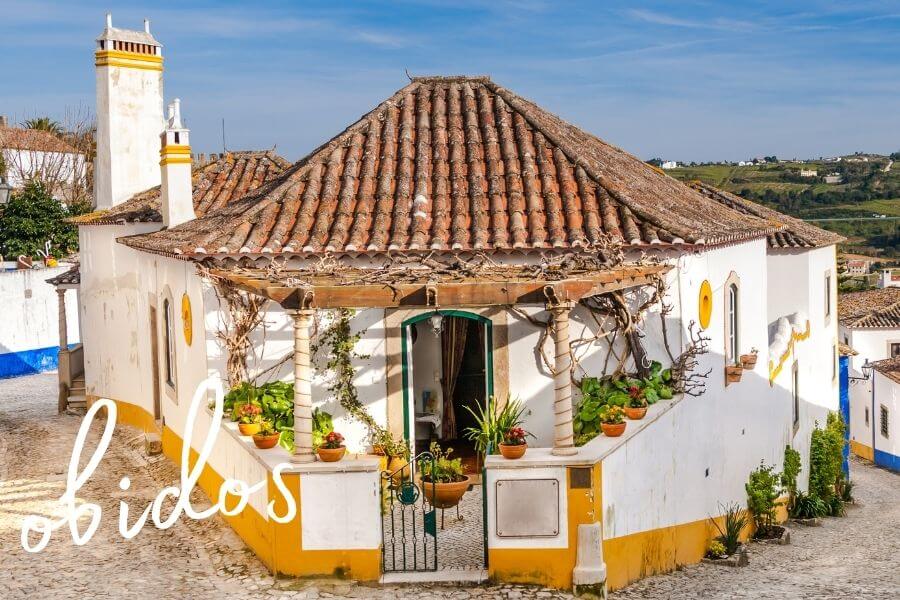 Located in central Portugal's Oeste region, Obidos is considered by many to be the country's finest example of a traditional Portuguese walled town. With a history that dates back to Paleolithic times, Obidos has been shaped by centuries of Phoenecian, Roman and Moorish influence.
As soon as you enter through the Porta da Vila, the tiled gateway to Obidos, you know you're in for a treat. The cobbled streets of the historic centre rise and fall with the gently undulating hills the town is built atop, leading you through clusters of sweet whitewashed houses that huddle together under shared slate roofs.
Sawtooth fortified walls loom in the background, enveloping Obidos like a shining jewel in the palm of a great, rocky hand. The imposing limestone-and-marble Obidos Castle has been turned into a Pousada, offering anyone who overnights in the plush rooms an unforgettable experience. In July, the annual Óbidos Medieval Market takes over the Old Arms Square, which was once used as a training ground for the king's squires and knights.
There's little doubt that this is one of the most beautiful towns in Portugal. It's recommended to stay at least one night so you can explore the streets after the day-trip crowds have departed.
Get there: Obidos is located 85km (53 miles) or roughly 1.5 hours by road north of Lisbon. To get there, take a taxi or opt for a local train (2.5 hours travel time).

Guided day trip: This popular 8-hour day trip from Lisbon visits Obidos, Nazare and the Catholic shrine of Fatima.

Where to stay: For a totally unique stay, The Literary Man Obidos Hotel is the world's largest literary hotel. Located inside a former convent next to Obidos Castle, it features a cocktail bar and a huge collection of antique books.
6. The Douro Valley – Portugal's premier wine region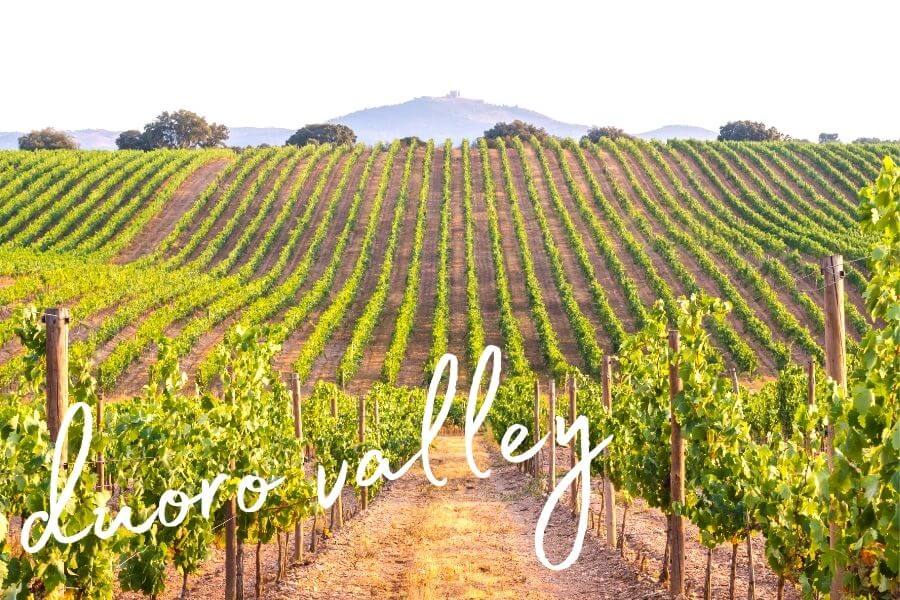 Named for the mighty Douro River that cuts across the Iberian Peninsular, the Douro Valley has become one of the most coveted destinations in Europe for wine lovers in recent years.
This exquisite landscape east of Porto – a UNESCO World Heritage Site – includes Barca de Alva, one of the oldest wine regions in the world. Grapes have been cultivated on these steep banks and billowy plains for centuries, and the area's viniculture heritage flavours everything – from the beautiful tiled railway station at Pinhao which bears elaborate vine designs, to the old rabelo boats, traditional vessels used for carrying wine from farms to the mouth of the river, that still cut across the water.
Wine tastings are available at dozens of cellar doors and in Vila Nova de Gaia, you can visit the lodges where Port wine is fortified.
Apart from wine tourism, Douro Valley promises visitors some of Portugal's most stunning natural landscapes. Like Port wine, it's best to sip on the views slowly, ideally while seated on a train chugging along the iconic Douro railway line.
Get there: Peso da Régua makes a convenient base when exploring the Douro Valley. To get there, drive from Porto (1.5-2 hours travel time) or take a local train (2 hours travel time).

Guided day trip: This day trip includes transfers from Porto to the Douro Valley where you'll tour two vineyards, either as a small group or in private, enjoy a traditional Portuguese lunch, and end the day with a scenic river cruise.

Where to stay: Check out this list of the best hotels and quintas (farmhouses) in Peso da Régua and elsewhere in the Douro Valley.
7. Porto – one of the most beautiful cities in Portugal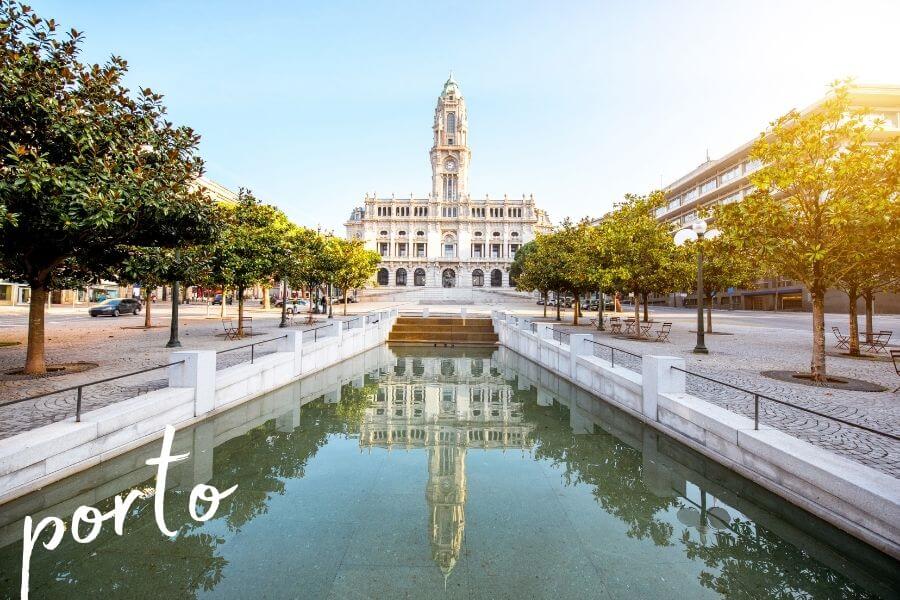 Portugal's second-largest city may at first seem to resemble Lisbon in many ways, particularly in the architecture, riverside profile and hilly streets. A great alternative to the capital, Porto is a cultural beacon that shines just as bright and has just as much to offer visitors.
One of the most beautiful sections of Porto is the riverside, where rows and rows of houses bejewelled with Azulejos tiles sit pressed together. Get an overview of the city on a Rabelo boat trip before wandering the plazas and streets on foot, stopping off every now and then for a spot of Fado music and a libation at one of the many Port wine cellars.
Porto's gardens, medieval castles, cathedrals and palaces are many and varied, each pretty in its own way.
Get there: Fly into Francisco Sá Carneiro Airport or take the train from Lisbon (4 hours).

Where to stay: Torel Palace Porto is the perfect choice for the visitor who wants to immerse themselves in Old Porto's charms. The heritage property is decked out with antique trouvailles and even features an outdoor pool. The location 800m from City Market Bolhao is ideal for sightseeing.
8. Cascais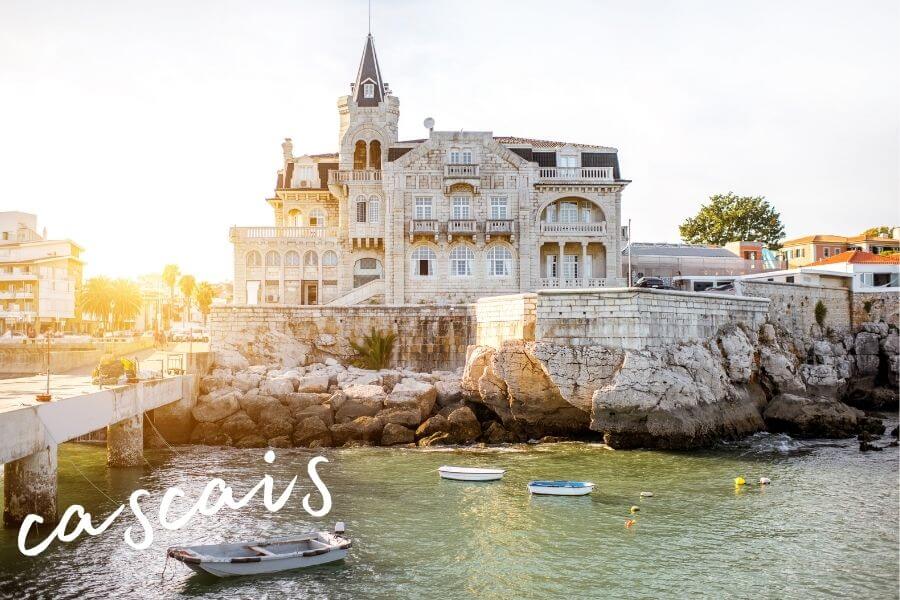 A municipality within the District of Lisbon, Cascais is a coastal settlement comprising cute towns hemmed in by a striking coastline of cliffs and sea arches. Spots like the Boca do Inferno bear a resemblance to the rugged formations around Lagos on Southern Portugal's Algarve.
Cascais was made popular in the 1870s when King Louis I of Portugal chose this spot as his summer retreat. The area still has a feel of old-world glamour and elegance about it, especially in the stunning palaces that dot the coastline. There are no fewer than 17 beaches in the area as well, some suitable for swimming.
One of the most beautiful spots in Cascais is the City Hall Square, which is adorned with typical Portuguese black-and-white paving in a mind-bending pattern that emulates rolling waves. Interestingly, you can see the exact same design a world away in Macau, a former Portuguese colony.
Get there: Cascais is located just 35km (22 miles) from Lisbon, on the coast close to Sintra. To get there, take a local train (1 hour travel time).

Guided day trip: This full-day trip from Lisbon to the coast pairs Cascais and the stunning Cabo da Roca coastline with a visit to the nearby Pena Palace in Sintra. Perfect if you're on a tight timeline.

Where to stay: Perched on a cliff overlooking the Estoril coastline and Cascais Bay, The Albatroz is a charming 5-star unit with a sea-view swimming pool and sun-drenched terrace.
9. Madeira – a wild beauty in Portugal
When it comes to natural beauty, there are few places in the world that rival Madeira. Portugal's four-island archipelago is the star of the North Atlantic and a cornucopia of wild, ruggedly beautiful landscapes.
The largest island, Madeira, offers visitors the chance to sample everything this remote part of Portugal is famed for in one convenient location. Starting at Funchal, wander the exquisite harbour gardens and sample local wines at the Madeira cellars.
The best way to explore Madeira is by car. Circumnavigate the island, stopping to wander the narrow streets of the various fishing villages, soak in the lava pools in Porto Moniz, and spot whales and dolphins in the clear waters off the southern coast (best from April to October).
Remember to venture inland to the vast Natural Park, where easy trails guide visitors around the prehistoric Laurisilva of Madeira forest. The island is crowned with the ominous Pico do Arieiro, a volcanic peak that rises high above the clouds.
Get there: Fly into Funchal Airport (1.75-hour flight from Lisbon or 2-hour flight from Porto).

Guided option: No car? Join an Around The Island 2-day trip to see the best of Madeira in 48 hours.

Where to stay: If you want to stay close to the action within easy reach of the island's best restaurants, Funchal is your best bet. ARTS IN Hotel Conde Carvalhal is a restored Madeiran mansion within walking distance of the Old Town with sea views.
10. Coimbra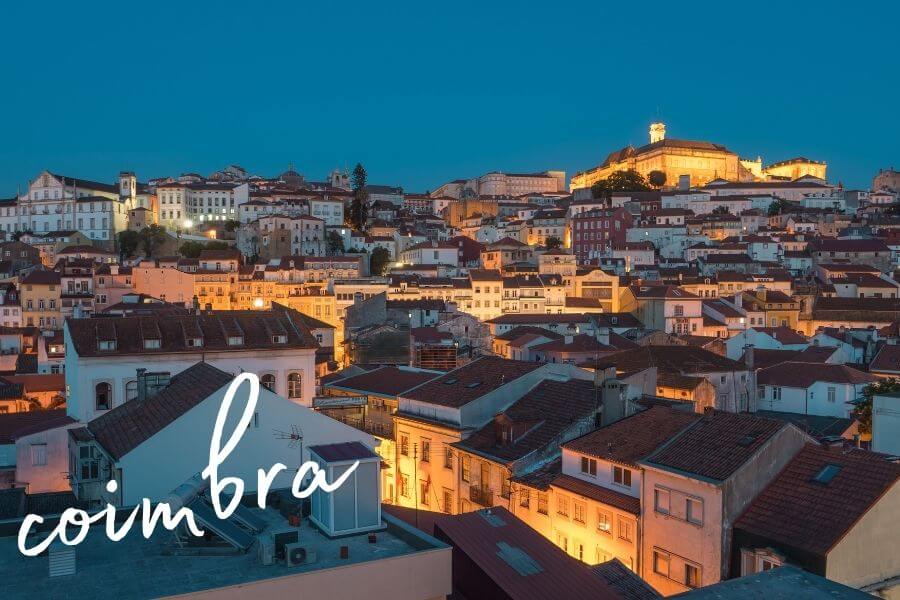 The ancient city of Coimbra, home to one of Portugal's oldest institutions, Coimbra University, served as the country's medieval capital for over two-hundred years and birthed no fewer than six monarchs. Elegant, learned and classically beautiful, it's more than worthy of a spot on your Portugal itinerary if your travels are taking you to the northern regions.
Coimbra has a large student population and a colourful cafe and nightlife scene as a result. The historic university complex – which has been around in one form or another since the 1200s – adds to the heritage charm. Be sure to take a walk around the university's Jardim Botânico, one of the oldest and most important botanical gardens in the country.
Then there is Coimbra's ancient aspect, attached to the city's Gothic structures and Moorish fortifications to which many tales and legends are attributed. Enjoy an authentic Portuguese dinner and watch an intimate Fado performance before strolling through Coimbra at night – lit up by candle-like lights against an inky blue sky, the city takes on a whole other kind of surreal beauty.
Get there: Fly into Coimbra Airport or take a train from Porto (2 hours travel time).

Guided day trip: For an intimate experience, this full-day tour from Porto includes a walking tour of Coimbra and a visit to the sacred pilgrimage site at Fatima.

Where to stay: Trendy Sapientia Boutique Hotel is located 1.5km from the university and features gorgeous designer rooms, an onsite bar and restaurant, and a spectacular rooftop terrace overlooking Coimbra.
11. Aveiro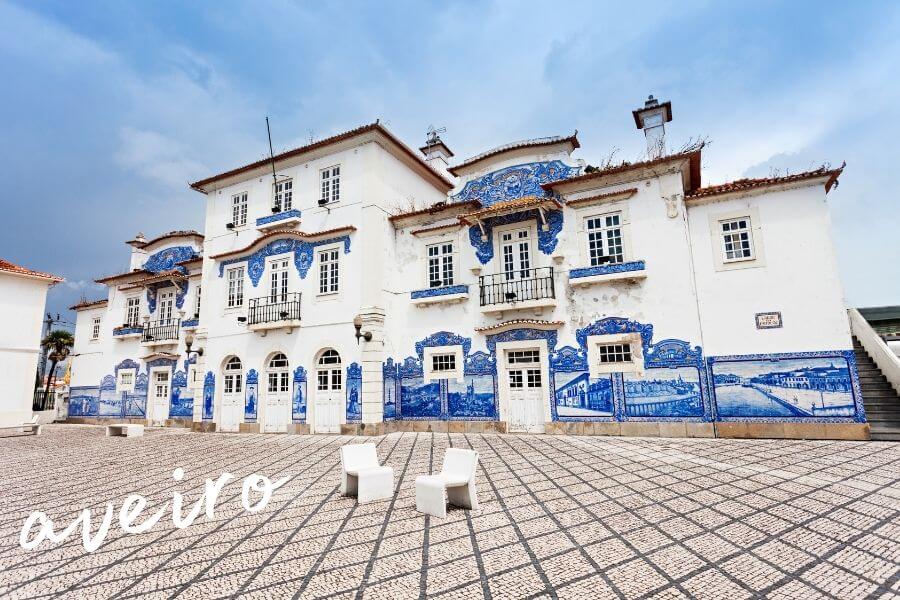 Often called 'The Venice of Portugal', Aveiro is located on the coast south of Porto. Like the Italian city, Aveiro has a lagoon (the Ria de Aveiro) and a network of canals that serve as water highways not for vaporettos, but for Portugal's own colourful boats known as Barcos Moliceiros. Traditionally these vessels were used to harvest seaweed. These days, captains are used to transporting other types of precious cargo, including tourists!
Parts of the Aveiro lagoon are ringed by stout, square Art Nouveau buildings painted in a rainbow of pastels. Paired with the colourful boats and palm trees, it's quite a sight to behold indeed.
Aveiro is located close to the coast and the iconic fishermen's houses at nearby Costa Nova – more on those later.
Get there: Aveiro is located 75km (47 miles) south of Porto, making it a convenient day trip from Porto. To get there, take a local train (40 minutes travel time) or join a guided day trip.

Guided day trip: This half-day trip from Porto includes hotel transfers and a trip on a traditional boat to see the best of Aveiro.

Where to stay: Aveiro 5 Estrelas Palace is a comfortable self-contained apartment with easy access to both the historic city centre and nearby hiking trails.
12. The Azores
The autonomous region of Azores is made up of nine islands located off the coast of Portugal and North Africa. Known for their dramatic landscapes and outdoor activities, the Azores serve as a dedicated destination for nature tourism.
Each of the nine islands – spread over 600km from Corvo to Santa Maria – is of volcanic origin. Extinct craters and basin-like lakes, towering waterfalls and hiking paths set atop verdant ridges are some of the most recognisable landscapes associated with the Azores.
Activities on offer range from whale watching and diving to canoeing and kayaking. You can hike inside the volcanoes or explore the islands by car. Sao Miguel, the biggest and most beautiful Azores island, also features several pretty whitewashed towns. It's main city, Ponta Delgada, is a great place to base your explorations.
Get there: Fly into João Paulo II Airport on the island of São Miguel (2.5-hour flight from Lisbon or Porto).

Where to stay: On Sao Miguel, Furnas Boutique Hotel is located in Vale das Furnas – home to one of the largest concentrations of thermal waters anywhere in Europe – and features a natural spring spa alongside luxe rooms.
13. Sortelha – one of the most beautiful villages in Portugal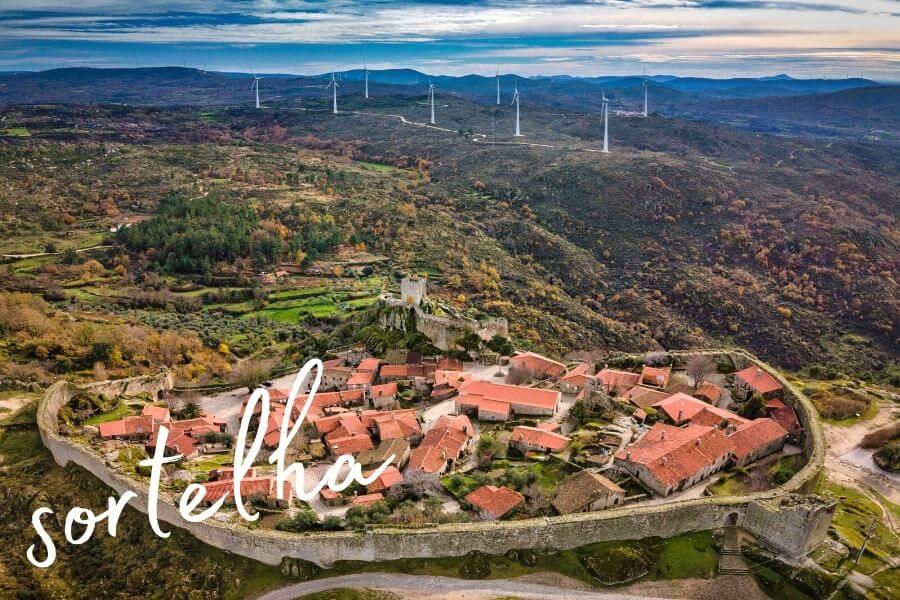 Seated in the foothills at an elevation 760 metres and completely surrounded by formidable fortress walls, Sortelha has managed to retain its medieval appearance until this today. A series of castles built across the borders of Sortelha provide a clue as to this area's strategic importance to defend the border east of Guarda.
The entrance to Sortelha is via a Gothic gateway. Gaze up at the balcony from where projectiles were hurled at those who dared to attack the village. Inside, streets, plazas, houses and the castle all conform to a similar shade of stone – a strategic decision that adds to the town's low-key profile.
Walking through the quiet streets of Sortelha is like treading on the cobblestones of history. Not only is this one of the prettiest places in Portugal, it's also one of the most historically captivating, with all the charm of a medieval hamlet.
Get there: Sortelha is located 175km (109 miles) inland from Coimbra. To get there, travel by road from Coimbra (3 hours travel time) or from Porto (3.5 hours travel time). Because of its close proximity to Serra da Estrela, it's an ideal stop-off or side trip when visiting the park.

Where to stay: O Cantinho da Ana is one of the most unique accommodations in all of Portugal. Located in the heart of historical Sortelha village, the property offers three rustic stone-walled houses, all with modern kitchens and bathrooms, comfortable furniture and antique fittings.
14. Peneda-Geres National Park
Portugal's one and only Parque Nacional (national park), Peneda-Geres is the oldest protected biosphere in the country. It extends over some 700-square-kilometres in the north of Portugal, hugging the Spanish border.
Peneda-Geres is a veritable wonderland for outdoor enthusiasts. Whether it's walking through temperate broadleaf forests, summiting one of the park's granite massifs, enjoying water sports on the fast-flowing streams or the glassy Vilarinho das Furnas Dam, or hiking through glacial valleys, you can try it all right here.
The nature reserve also has a fascinating human history, having been inhabited from as early as 6000 BC. Megalithic tombs can be spotted in some areas. For a unique experience, hike a section of the old Roman Road that once criss-crossed the park's territory. Stone millenarium markers still stand today as a reminder of The Roman Geira, a trade route that stretched 320km from Braga to Astorga.
Get there: Peneda-Geres National Park is located 75km (47 miles) from Braga, or roughly an hour by road. It can also be visited as a day trip from Porto (under 2 hours by road).

Guided day trip: This full-day program with transfers to and from Porto includes hiking, hot springs and a picnic lunch.

Where to stay: Soajo is the largest village within the park and has a nice selection of traditional country house-style accommodations. Casa de Pereiró is a gorgeous stone abode with cosy rooms and easy access to nearby hiking trails.
15. Serra da Estrela Natural Park
Spread over 100,000 hectares, Serra da Estrela Natural Park is a place of exceptional beauty. The first parque natural in Portugal and the largest of its kind in the country, it's a must-visit for hikers and nature buffs.
The park's geographical isolation has produced a rich flora and fauna, resulting in the designation of Biogenetic Reserve status, while the high elevation means conditions are cool year-round, ideal for hiking.
Trails of varying difficulty thread their way through the park's glacial valleys, green meadows and rocky outcrops, leading visitors to one stunning viewpoint after another. Not all trails are well signposted so it's best to go with a local guide.
Get there: Serra da Estrela is located inland from Coimbra, close to Sortelha. To get there, travel by road from Coimbra (2 hours travel time) or from Porto (2.5 hours travel time).

Where to stay: If you want to wake up to majestic mountain views each morning, Casa das Penhas Douradas design hotel is situated in Manteigas in the heart of Serra da Estrela Nature Park.
16. Costa Nova do Prado – one of the most colourful places to visit in Portugal
A short drive from the town of Aveiro, the Costa Nova do Prado is a patch of rugged beachfront favoured by the area's surfers.
But it's not the windswept sand dunes nor the cresting waves that makes this area one of the most beautiful places in Portugal – rather it's the cute wooden houses that can be found along the shore.
Originally built by local fishermen to store their equipment between sea voyages, the huts – or 'haystacks' as they're known to locals – are each painted with vertical candy stripes in a different shade of pink, blue or green. Some have since been transformed into holiday homes.
Get there: The Costa Nova is located 85km (53 miles) south of Porto. The easiest way to get there is by road from either Porto or Coimbra (1 hour travel time from either direction).

Where to stay: Ilhavo is an ideal base on the Costa Nova, being just a short walk from the shoreline. Montebelo Vista Alegre Ílhavo Hotel features luxury rooms and an outdoor pool and spa centre close to Aveiro.
17. Braga
Capital of the northern Minho region, Braga was once the seat of the Romans and is steeped in architectural treasures and ancient history. One of the oldest cities in Portugal, its biggest drawcard is the iconic Bom Jesus do Monte Basílica, fronted with a stunning set of 630 zig-zagged steps.
While visiting the third-largest city in modern day Portugal, don't miss seeing the country's oldest cathedral, Braga Cathedral. The golden interior and the various side chapels – one of which hold the mummified remains of Dom Lourenco Vicente and the tomb of Archbishop Geraldo – are more than worth the ticket price.
When you're finished sightseeing, kick back in the main square with a glass of vinho verde 'green wine', a refreshing beverage associated with this part of Northern Portugal.
Get there: The city of Braga is just 55km (34 miles) north-east of Porto. To get there, take a train or local bus from Porto (1 hour travel time).

Guided day trip: This day trip from Porto includes private transfers. Over the course of 8 hours, you'll discover the best of the city's architectural and religious heritage, and also visit the nearby city of Guimarães where the first king of Portugal was born.

Where to stay: Located in the centre of Braga footsteps from the cathedral, The Arch – Charming Apartments in the Historic Center pairs the elegance of a historic building with all the modcons required for a comfortable stay.
18. Amarante
'Amar' means love in Portuguese and it's hard not to fall for this softly-spoken beauty at first sight. Located in the rich agricultural Minho province, Amarante straddles the river Tamega.
Countless restaurants and cafes have sprung up to take advantage of the picturesque water views with the arched stone bridge, Ponte Sobre o Tamega, reflected in its glassy waters. The tomb of Sao Goncalo, the town's revered Saint, lies in the chapel of the church by the same name and shouldn't be missed.
Dating back to the 4th Century BC, Amarante is all charm and yet another fairytale-like beauty in Portugal.
Get there: Amarante is located 60km (37 miles) east of Porto, making it another great day trip destination. To get there, travel by local train (40 minutes travel time).

Where to stay: For an immersive stay in the wine region, Vila Coura is a gorgeous agroturismo with wood-burning fireplaces and an outdoor pool for summer.
19. Evora
Capital of Portugal's southern-central Alentejo region, Evora is the kind of city whose beauty grows and grows the more you learn about it. That's because Evora has one of the oldest and most interesting histories of any town or city in the country – even by Portuguese standards, which is saying a lot.
A member of the Most Ancient European Towns Network, it's home to one of the world's oldest universities, The University of Evora, which was founded in 1559. The heart of downtown is built around the ancient Roman Temple of Evora (AKA the Temple of Diana), and it's this structure's columns that frame the Evora of today.
A Gothic cathedral, Baroque architecture, whitewashed houses built under the arches of an old aqueduct, and finally the strange yet beautiful-in-its-own-way Chapel of Bones are among the other things to see here.
The Alentejo countryside around Evora holds yet more beauty in its olive groves, fortified villages and sun-bleached plains.
Get there: Evora is located 135km (84 miles) inland from Lisbon. To get there, take a train from Lisbon (1.5 hours travel time) or from Faro (4 hours travel time).

Guided day trip: This full-day tour to the Alentejo Region from Lisbon combines a wine tasting with a walking tour of medieval Evora.

Where to stay: The incredibly atmospheric Convento do Espinheiro is a historic 5-star hotel housed in a 15th-century convent. Find it on a leafy property just outside Évora, with free parking onsite.
20. Mafra
There are several important royal palaces scattered around the outskirts of Lisbon. Sintra might be the most famous royal outpost, but few rival the scale and grandeur of the Palacio Nacional in Mafra.
Also known as the Palace-Convent, Mafra National Park has a rich history and served both the monarchy, and as a monastery! Its design combines Baroque and Neoclassical elements, with a facade fashioned almost entirely from local limestone. Inside, you'll find lavishly decorated king's apartments and salons, a Carrara marble basilica, Rococo library, and workshops belonging to the seminal Mafra School of Sculpture.
The palace was constructed between 1717-55 under King John V and is a UNESCO World Heritage Site. The sweet municipality is a wonderful place to escape from Lisbon for a day – and because of its great location, you can easily pair it with other attractions in the surrounding area: Hiking or biking in the Tapada Nacional de Mafra (the former royal hunting grounds), or watching the big waves at the World Surf Reserve at Ericeira.
Get there: Mafra is located 41km (25 miles) north-west of Lisbon and is serviced by the frequent Lisbon-Ericeira bus route, making it easy to reach from the capital city in under an hour.
Guided day trip: A must for history buffs, the Palaces of Portugal Private Tour visits Sintra, the National Palace of Queluz and the Palacio Nacional de Mafra, with an option to extend the route.
21. Fatima
An alternative day trip from Lisbon, the small town of Fatima has a big reputation amongst the world's Catholic community. In 1916, three shepherd children from the area experienced a sighting of the Virgin Mary here. Five more apparitions occurred later, prompting Fatima to become recognised as an important pilgrimage site.
The events that occurred are memorialised at the Chapel of the Apparitions hermitage. The Sanctuary of Our Lady of Fátima remains the town's principal attraction, with dozens more sanctuaries, churches and Stations of the Cross having been added in the intervening years.
The sprawling complex of white-stone structures, Holy statutes and flower gardens inspires reverence and awe, especially among the 6-8 million religious pilgrims who journey here every year. A number of sweet house museums remember the apparitions and their impact on different townsfolk. When visiting Fatima from Lisbon, be sure to make a stop in Valinhos, where the original visions occurred.
Get there: Fatima is located 125km (78 miles) from Lisbon. To get there, take a local bus or the train to the nearby town of Chao de Macas.
Guided day trip: This guided Divine Fatima Full Day Private Tour from Lisbon is suited to those looking for an in-depth tour of the sacred site and its surrounding history.
Where to stay: A 2-minute walk from the sanctuary, Hotel Santa Maria is a modern accommodation with a long standing reputation for great food and quality service.
22. Azenhas do Mar
The coastal town of Azenhas do Mar floats above the Atlantic in Portugal's Colares Parish, part of the community of Sintra. If you're looking for the perfect add-on to your Sintra palaces day trip from Lisbon, this could be it.
Arriving in Azenhas do Mar, you'd be forgiven for thinking you had made a wrong turn and ended up on the Mediterranean. A collection of pretty white fisherman's houses bundled together on the edge of a steep cliff wall sets the scene. Further out, you can gander at sumptuous summer homes owned by elite families from Lisbon and Sintra.
Azenhas do Mar is one of Portugal's natural wonders. The name means 'Watermills of the Sea', a nod to the raucous stream that once ran through the area and powered a set of waterwheels. More ruggedly beautiful scenes can be found in the sequence of wild beaches that run up and down the coast, none more sought-after than the popular Praia do Magoito.
For the best views of the seaside town, head to this marked viewpoint on the northern shore.
Get there: Azenhas do Mar is located 10km (6 miles) from Sintra and is easily reached by local bus.
---
Most beautiful places in Portugal: Share it on Pinterest
---
More Portugal travel inspiration
---
More beautiful places in Europe