No visit to Portugal would be complete without picking up the perfect keepsake to remember this incredible country. Thankfully, there are no shortage of authentic and meaningful Portugal souvenirs to choose from.
Whilst it's too easy to pop into the nearest souvenir shop, it's best to steer clear of tourist traps, especially if you want to get your hands on traditional and Portuguese handicrafts and food products.
When you're packing for Portugal, leave some space in your suitcase for a few of these awesome Portugal souvenirs. This guide covers no fewer than 21 of the very best, ranging from ceramics and tiles to wine and food items.
I'll also show you my favourite shopping spots in Lisbon, Porto and beyond.
Planning a trip to Portugal? Don't miss my other guides:
---
Please note: This post contains affiliate links, meaning I may earn a commission if you make a purchase by clicking a link (at no extra cost to you). Learn more.
---
Where to buy souvenirs in Portugal
While you can easily find souvenir shops, gift stores and handicraft markets in every city and town around Portugal, there are a couple of retailers that are known for offering high quality, authentic Portuguese products.
A Vida Portuguesa is the country's leading souvenir store, with multiple locations around Lisbon and a branch in Porto. They offer a huge range of handicrafts, paper goods and time-honoured Portuguese food and beauty brands, all beautifully packaged and presented. If you only have time to visit one souvenir shop, make it A Vida Portuguesa.
Silva and Feijoo (⚑) sells beautifully packaged food products, vintage-style soaps and other keepsakes. The Lisbon Shop (⚑) is run by the Lisbon Tourist Office and offers a nice collection of souvenirs. This retailer is geared more towards tourists, but the quality of products is very high.
For handicrafts such as Azulejos, embroidery, Barcelos roosters and Portuguese guitars, head to Arte Rustica (⚑) or folk art shop Santos Ofícios (⚑), both in Lisbon. For posters and paper goods by local illustrators and graphic designers, Ó! Galeria has branches in Lisbon and Porto.
Loja Portugueza (⚑) has two branches in Lisbon and carries a nice selection of typical Portuguese food and wine products, including preserves, biscuits and Port wine. Manuel Tavares (⚑), a gourmet grocer founded in 1860, sells Pasteis de Belem alongside other Portugal food souvenirs.
If you don't mind rummaging and haggling, you can also turn up some terrific gems at Portugal's flea markets. Feira da Ladra (the 'Thieves Market') in Lisbon (⚑), Mercado de Santa Clara in Lisbon (⚑) and the Vandoma Fleamarket in Porto (⚑) are well worth a visit.
Find lots more specialty shop recommendations in the next sections below.
---
Beautiful Portuguese handicrafts
1. Portugal ceramics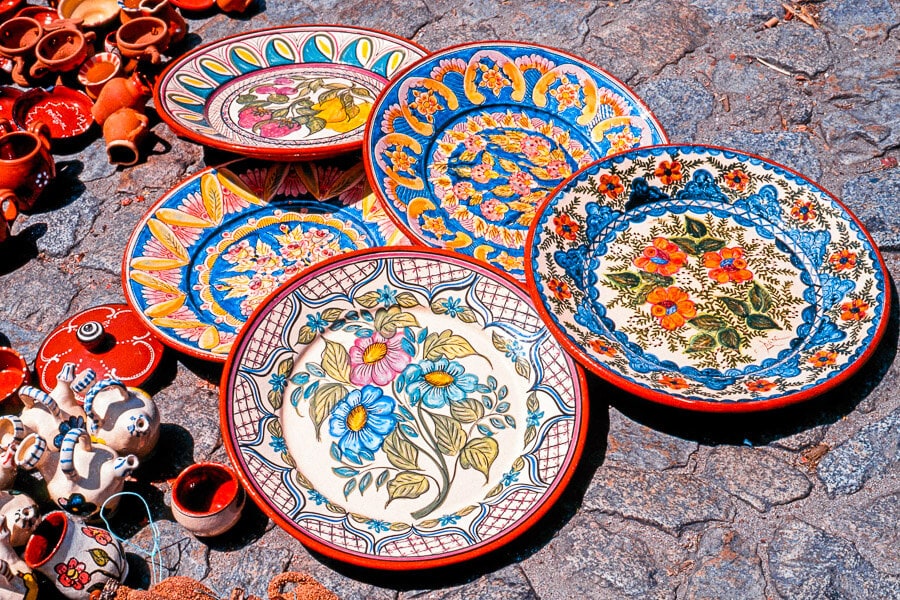 Food is a big deal in Portugal and an intrinsic part of the culture. The country's growing popularity as a tourist destination has earned Portuguese cuisine a spot on the global gastronomic stage. Given the cultural importance of food to the Portuguese people, it's no wonder that Portuguese ceramics are one of the best souvenirs to scout out during your visit.
Pottery has been practiced in Portugal for centuries, with regions such Alentejo and Coimbra being home to artisanal workshops and pottery museums, and Evora being known for its rustic clay pots. Earthenware plates and bowls are extremely popular products, as are decorative figurines and keepsakes shaped from local clay.
Where to buy authentic Portuguese ceramics
Top ceramic houses Vista Alegre and Bordallo Pinheiro are known for their exquisite designs and world-class craftsmanship. Whilst Vista Alegre has standalone stores in both the capital and the city of Porto, Bordallo products can be found in many high-end souvenir shops including A Vida Portuguesa.
For a slightly more affordable alternative, head over to the Feira da Ladra flea market in Lisbon (open Tuesdays and Saturdays) for good quality pre-loved items. Be on the lookout for the Armazem das Caldas ceramics shop, where you can bag yourself a few colourful swallows, sardines, fridge magnets, and other beautiful Portuguese ceramics.
Also for bargain hunters, Cerâmicas na Linha in Lisbon carries a huge range of ceramic tableware, all 100% made in Portugal. Items are sold by weight so you can always find a great deal.
2. Traditional Azulejos – Portuguese ceramic tiles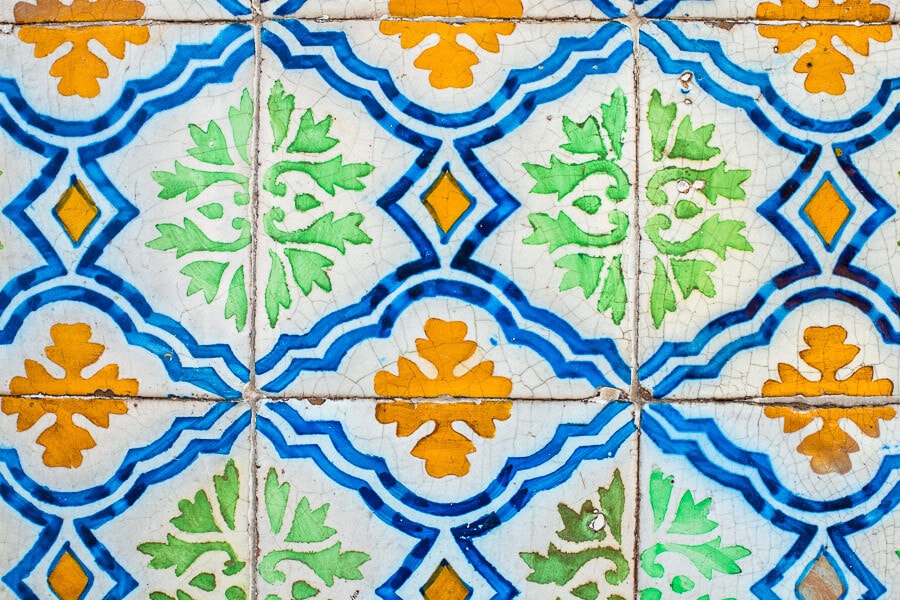 It doesn't get more traditional than Portuguese tilework. Known as azulejos, Portuguese tiles adorn buildings, churches, train stations and miradouro viewpoints, and can be found just about everywhere you look. A visit to the Museu Nacional do Azulejo in Lisbon will leave you enamoured with these stunning creations.
With a colourful history dating as far back as the 13th century, Portuguese tiles have been part and parcel of Portuguese architecture and design for centuries. Available in all shapes, sizes, patterns and colour combinations, you'll no doubt be entranced by their beauty and want to take a few home with you in your suitcase!
Use them as the Portuguese do to jazz up a facade or interior, mount them on the wall, or use them as paperweights or coasters. You can also find azulejo tiles paired with cork to make coasters and cut into delicate earrings.
Local tip: Avoid buying tiles from Lisbon's Feira da Ladra flea market. Many of the azulejos have been chipped off buildings and are sold illegally. Instead, head to an authentic tile shop such as the ones mentioned below.
Where to buy authentic azulejos
In Lisbon, head over to Cortiço & Netos, a shop dedicated completely to selling azulejos, including many heritage and discontinued designs. Fabrica Sant'Anna is a ceramics wholesaler with some beautiful patterns and colour combinations.
Gazete Azulejos in Porto sells newly made tiles and also offers tours and workshops where you can see the masters at work.
Insider experience: Make your own Portuguese tiles at this Azulejos masterclass in Azeitão near Lisbon (also includes a visit to the National Tile Museum).
3. Cork products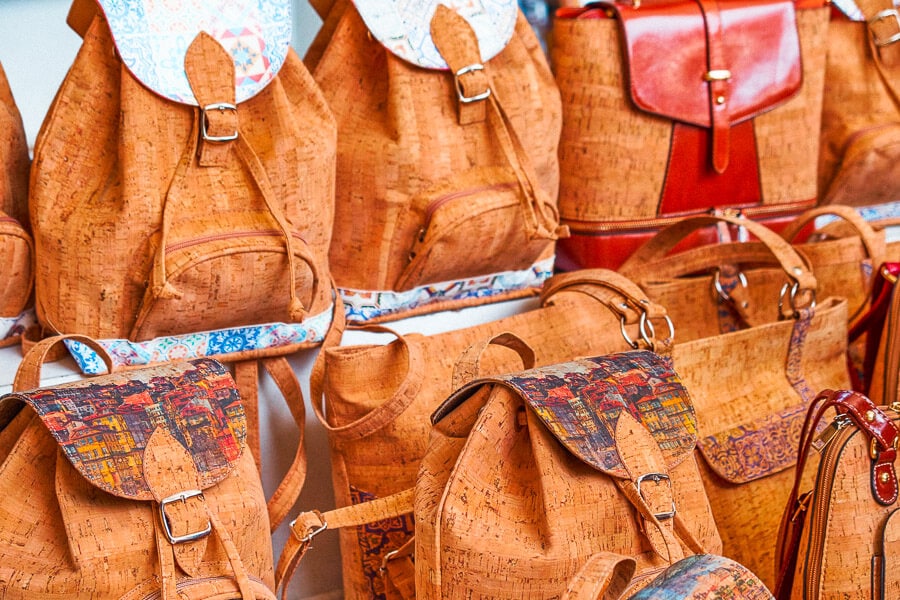 Did you know that Portugal is the world's leading producer of cork? When visiting the Alentejo countryside, you'll not only see the cork tree plantations as you drive along, but you'll also be able to tour them and learn more about cork production in Portugal.
This incredibly versatile material has long been used to fashioned a variety of imaginative and practical products. A piece of authentic cork craftsmanship makes for an excellent long-lasting and sustainable Portugal souvenir.
Popular accessories crafted from durable, waterproof cork include handbags, purses, necklaces, fans and even suitcases.
Where to buy authentic cork products
Cork & Co and House of Cork, both in Lisbon, carry high-end accessories made from the best quality cork oak bark. In Porto, head to Cultura Portuguesa for contemporary cork products.
Insider experience: See how local artisans ply their trade on this cork workshop tour in The Algarve or take a guided walk around the Alentejo Cork Forest.
4. Portuguese embroidery and linens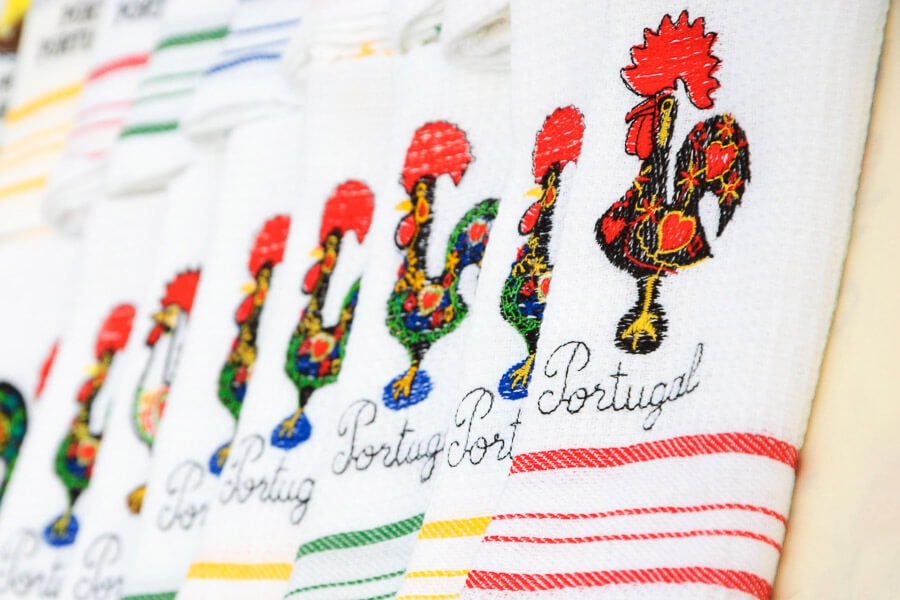 Another example of craftsmanship and skill is the intricate embroidery and linen found in Portugal. In fact, some of the top producers in Portugal are known to supply large global retail stores, a testament to their speciality in this field.
Artisans create beautiful tableware, clothing, scarfs and accessories with delicately embroidered motifs and patterns. Colourful stripes and Barcelos Roosters (more on those in a moment!) are two popular symbols you'll see over and over again.
Another thing to look out for is traditional Portuguese folk costume, which includes embroidered shawls and shoes, and bouffant skirts made from a special patterned fabric called saia.
Where to buy Portuguese textiles
There are plenty of souvenir shops and markets all over the country where you can find embroidery. A Vida Portuguesa carries an exquisite selection of carefully crafted pieces for visitors to choose from.
5. Barcelos Rooster statue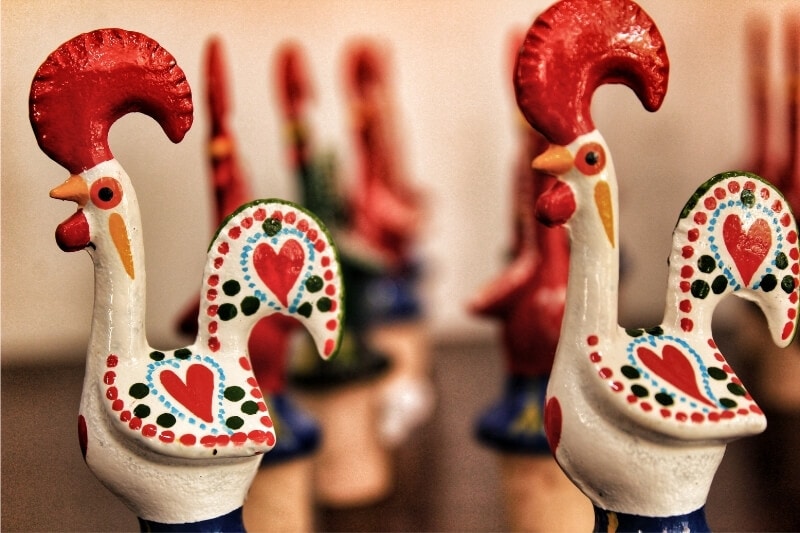 The Barcelos Rooster (Galo de Barcelos) is Portugal's national symbol and can be found across all kinds of souvenirs, from woodwork to embroidery. A ceramic Barcelos Rooster, colourfully hand-painted with intricate patterns, is perhaps the best rendition. The traditional Galo comes in a range of shapes and sizes, from tiny trinkets to impressive statuettes.
The image of the rooster has its origins in a popular folktale from the town of Barcelos, and has come used to symbolise the Portuguese passion for life – making this an ideal item to remember your trip and the amor da vida Portugal tends to inspire.
6. Statue of Fatima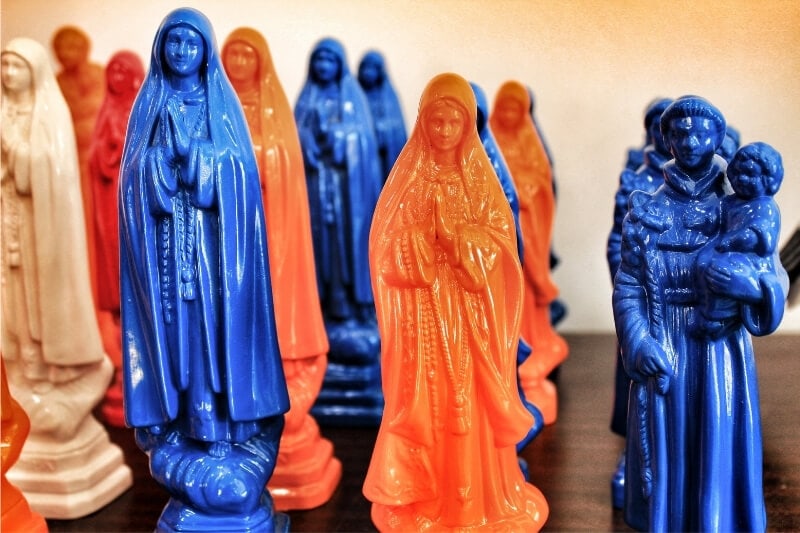 Our Lady of Fatima (Nossa Senhora de Fátima) is the Guardian Angel of Portugal and her image is another ubiquitous motif found in lots of different traditional handicrafts. Keeping an effigy of Fatima – who is usually depicted in flowing robes with her hands clasped in prayer – in your home is considered good luck in Portugal.
You can find statuettes of Our Lady of Fatima all over Portugal, ranging from traditional blue and white ceramic to more contemporary versions painted in a lively palette of bright hues.
7. Filigree (filigrana) jewellery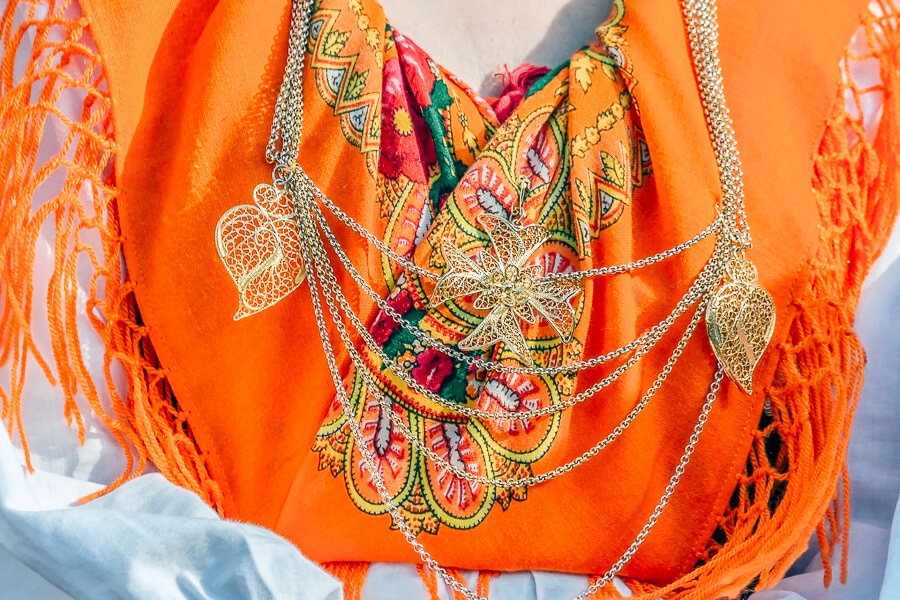 Filigree is one of the world's oldest jewellery making techniques and has been practiced in Portugal since at least the beginning of the 16th century. Goldsmiths twist and plait fine threads of metal to create delicate lace-like patterns, which are then often dotted with semi-precious stones.
Many Portuguese filigree masters still ply their trade today, fashioning fine necklaces, brooches and rings from gold and silver. You can also find vintage filigree in many of the country's markets.
For a truly authentic Portuguese souvenir, look out for designs bearing the Heart of Viana (Coração De Viana), a traditional motif from the Minho region that represents life, love and friendship.
Where to buy filigree jewellery
In Lisbon, the master goldsmiths at Joalharia Do Carmo and Gomes & Gois both have a reputation for producing high-quality filigree in traditional and modern designs. Boheme Lisboa stocks a range of more minimalist, contemporary pieces.
---
Best Portugal souvenirs for foodies
8. Pack of Pastéis de Belém or Pasteis de Nata Portuguese custard tarts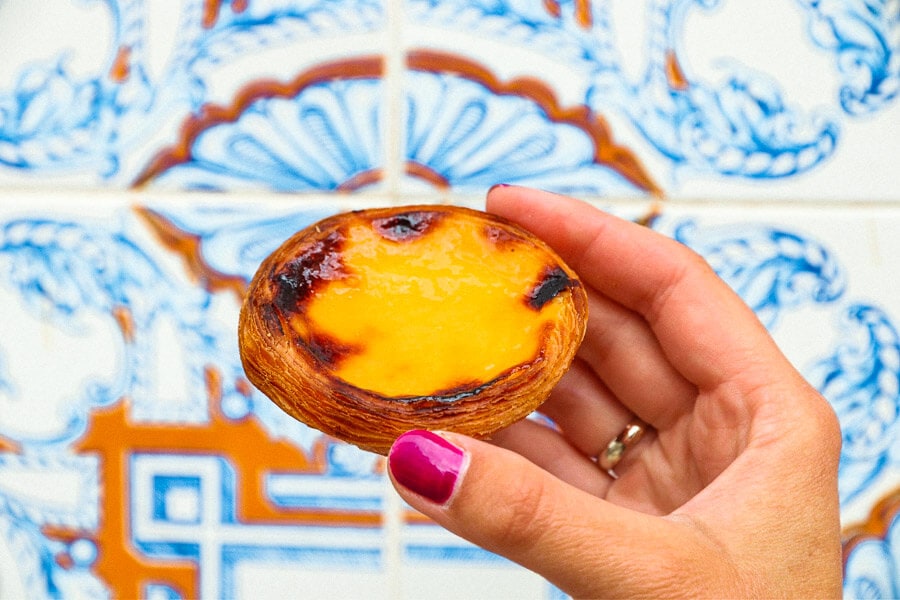 It's no secret that the Portuguese love their sweet treats. A firm favourite – and probably the most well-known of all Portuguese pastries – is the crunchy and delicious Pastel de Nata, egg-yolk custard tarts.
The original Pasteis de Belem dates back around 300 years and was originally created by the monks of the Jeronimos Monastery in the Belem area of Lisbon. When the monastery closed down, the monks sold the original (and still secret) recipe to the nearby Pasteis de Belem bakery, which still produces these tasty treats to this day.
You can buy the humble and delicious Pastel de Nata in just about every bakery across the country. Some even offer hands-on workshops where you can learn the tricks of the trade. Apart from the Pasteis de Belem bakery, my all-time favourite has to be Manteigaria, which has several shops in both Lisbon and Porto.
If you haven't eaten enough of these creamy, crunchy tarts during your stay, you can take home a six-pack for later. That's if you can resist the temptation to eat them all in transit!
Where to buy Portuguese tarts
In Lisbon, you can't beat Pastéis de Belém, the oldest specialty bakery in the capital. In Porto, you can find tarts at the popular Manteigaria cafe/bakery and at the Mercado do Bolhão, which stocks a huge range of edible Portuguese souvenirs.
Insider experience: Make your own at this Pastel de Nata baking class in a real Lisbon bakery.
9. Canned sardines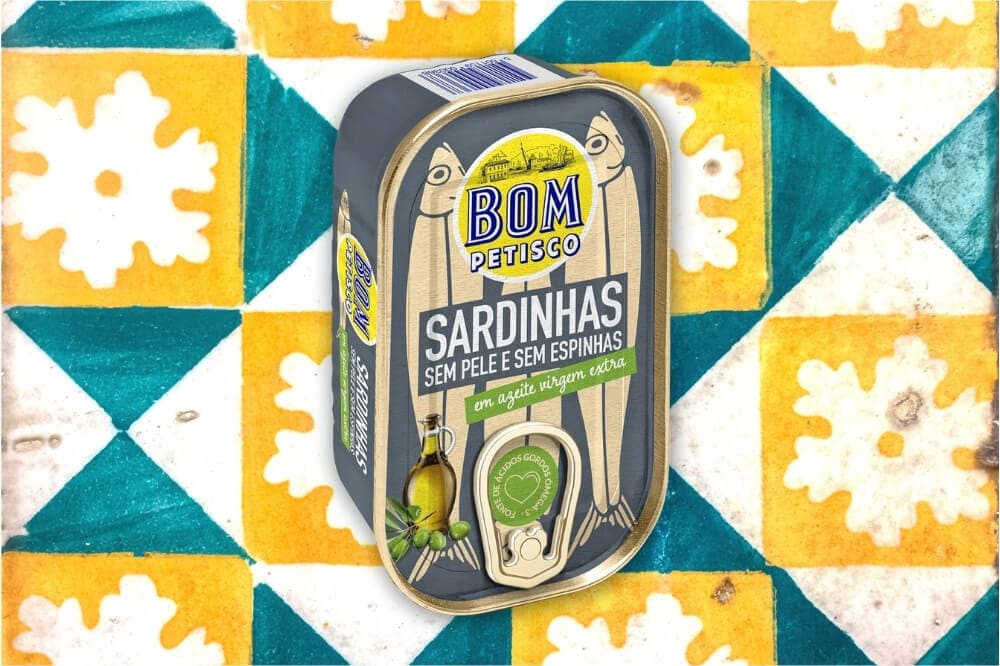 Canned sardines may seem like an odd choice of souvenir! Grilled sardines are considered one of Portugal's most iconic fish dishes, so it only fits that canned sardines are one of my top picks for a Portuguese food souvenir.
Brands such as Conserveira de Lisboa, purveyor of fine canned food since 1930, and Loja das Conservas feature pretty packaging. In Lisbon, pay a visit to the magical Mundo Fantástico da Sardinha Portuguesa (that translates to the 'Fantastic World of Portuguese Sardines'), a vibrant carnival-inspired shop where you can buy a colourful can or two. Search out your birth year and read the fun facts printed on the back.
If fish isn't your thing, I can suggest a box of Arcadia Chocolate Sardines from A Vida Portuguesa instead!
10. Fortified Port wine & other Portuguese wines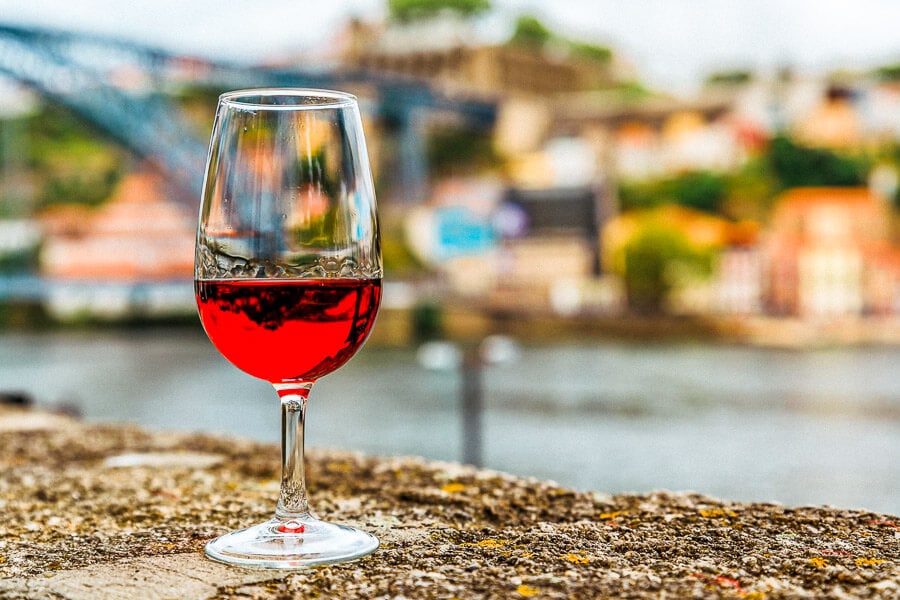 The strong and bold flavours of Porto's fortified Port Wine is known and loved the world over. As such, it's understandable why many consider a Port wine tasting and tour one of the top things to do whilst visiting charming Porto.
Located right across the Douro river from Porto's Ribeira waterfront lies an area known as Gaia. It's here that you'll find all the top Port Houses such as Taylors, Graham's, Croft and Porto Cruz to name but a few.
Settle on your favourite Port Wine variety after a wine tasting and purchase a few bottles to remind you of your time visiting beautiful Porto!
---
Of course, Portugal is also regarded as one of the top wine producers in the world and there isn't a single region in the country that doesn't produce its own wines.
With 14 distinctly different wine regions, you can expect to find a fantastic selection of bottles ranging from rich reds in Alentejo to the fresh and zesty Vinho Verde (Green Wine) from the Minho region, to the sweet Moscatel dessert wine from down south in Setubal.
The most notable wine region though is the Douro Valley in the north of Portugal, located within easy driving distance of Porto. Visit some of Portugal's best wine estates, such as Quinta da Pacheca where you can also overnight in a large oversized wine barrel, and bag a bottle (or 10) of Portugal's finest vino while you're there.
Where to buy Portuguese wine
The best place to buy your wine is direct from the source at the cellar door. Otherwise, Porto's Garrafeira do Carmo has a convenient location near Livraria Lello where you can pick up a bottle of Port Wine. This wine shop also sells different flavours of liqueurs and other edible Portuguese gifts.
Inside experience: Go straight to the source on a Douro Valley wine tour.
11. Ginjinha cherry liqueur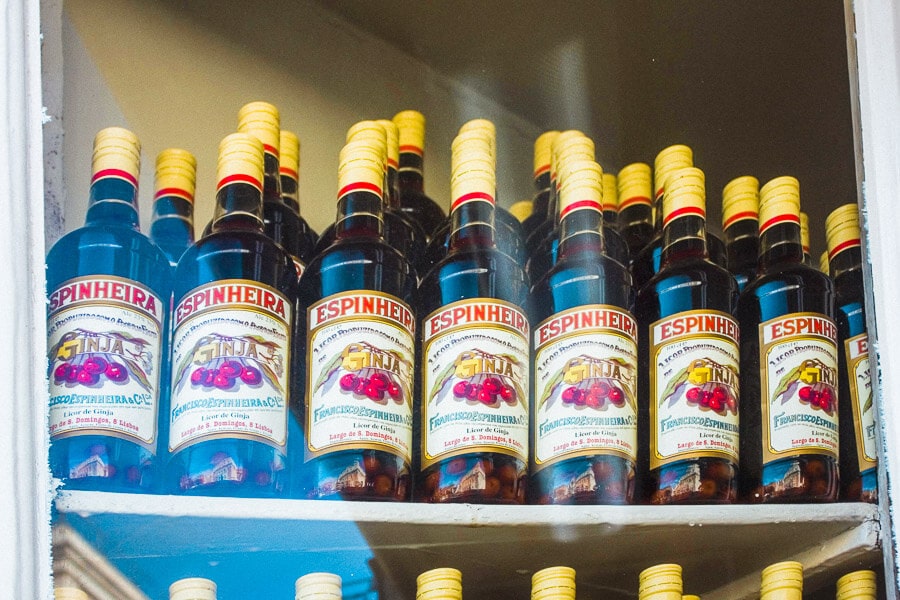 Another traditional Portuguese drink you have to try when visiting Portugal is the sour cherry liqueur known as Ginjinha (often shorted to Ginja). Often flavoured with cinnamon and cloves, it's both sweet and strong.
This tasty beverage is made from the sour Morello cherry and is particularly popular in the medieval city of Obidos, where it's served in an edible chocolate cup. There are specialty Ginja bars in Lisbon, too – including Ginjinha Espinheira, which has been serving up the cherished brew since 1840.
The Ginjinha industry is quite small, only around 150,000 litres are produced annually, 90% of which is reserved for domestic consumption. It's very difficult to find outside of Portugal so if you develop a taste for this most authentic tipple, be sure to buy a bottle of Ginjinha to take back for your liquor cabinet.
Where to buy Ginjinha
Located only an hour by bus from Lisbon, Obidos is a fantastic day trip option and the perfect to grab a bottle or two of delicious Ginjinha straight from the source.
Otherwise, you can find it sold in bottle shops all over the country. Lisbon's iconic Ginjinha Espinheira, located behind Rossio Metro, sells artisanal Ginjinha by the bottle.
12. Portuguese olive oil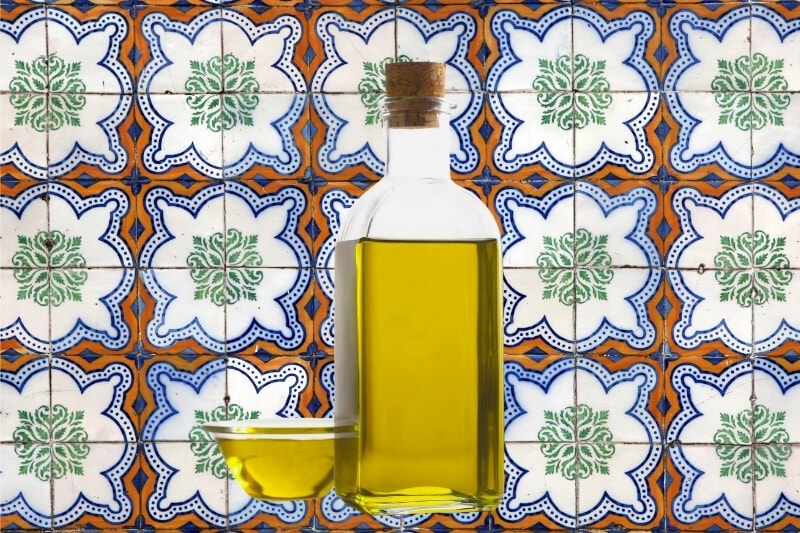 Portugal is world-renowned for its fruity, golden-coloured olive oil that's produced in six protected olive-growing regions, including Alentejo and the Terra Quente. As well as being a staple of Portuguese cooking, pure olive oil has also been used as a traditional medicine, paired with honey to soothe stomach aches and other ills.
Pick up a bottle or two of this completely natural product from any oléoteca (specialty olive oil shop), which can be found in most cities and towns. Oliveira da Serra, named the world's best olive oil several years running, and Saloio, which comes in beautiful retro tins, are two brands to look out for.
There are varieties for every palate so if you're serious about your oil, it's recommended to do a tasting before you buy.
Inside experience: Discover Portugal's olive oil heritage on this day trip to Alentejo, which pairs wine tastings with visits to several groves for a behind-the-scenes look at olive oil production.
Where to buy Portuguese olive oil
Olistori in Lisbon is a specialty olive oil producer, selling regional versions from across Portugal alongside house-made balsamic. They offer complimentary in-store tastings.
13. Peri-peri hot sauce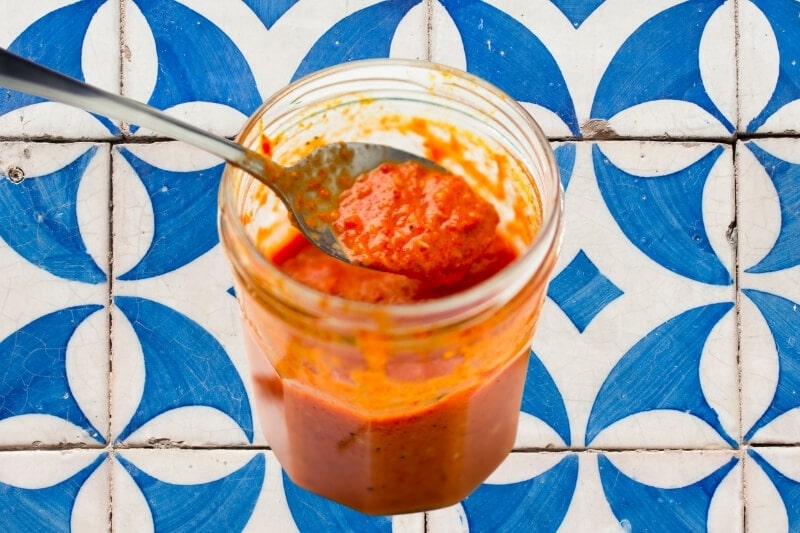 There's a good chance you would have tasted peri-peri (piri piri) hot sauce long before arriving in Portugal (and you might have fast-food restaurant chain Nandos to thank for that!). While you're in the country, pick up a bottle of authentic peri-peri so you can recreate your favourite recipes at home.
This fiery sauce has its origins in Portuguese colonial times, when 15th century settlers started marinating African bird's eye chillies with garlic, lemon, red wine vinegar, paprika and other spices to create tasty marinades. The exact origins of peri-peri are still the subject of debate, with Portugal, Angola and Mozambique all laying claim to the recipe.
In Portugal, peri-peri is usually a light chilli oil rather than the thick sauce you might be used t. It is sometimes referred to as Portugal's answer to Tabasco.
Where to buy peri peri sauce
Pick up a popular brand such as Ferbar or Continente from any grocery store for a couple of Euro. The 100mL bottles are a perfect size for travellers.
14. Portuguese cheese (Queijaria Nacional)
Portugal is a dairy lovers' dream, and locally made cheese (Queijaria Nacional) is another must-buy edible souvenir. Hard cured cheeses such as Transmontano goat's cheese and Rabaçal cheese from Coimbra tend to fare better in transit as they're hardier and can withstand changes in temperature.
Super-soft cheeses made from sheep's milk such as Azeitão, which is produced 30 minutes from Lisbon and is vegetarian-friendly (it uses thistle flower instead of animal rennet), are also popular. Pungent Serra da Estrela, 'the king of Portuguese cheeses', is an acquired taste, but it's buttery texture that calls for a spoon rather than a knife can be quite addictive!
Remember to pack a compact insulated pouch such as this one in your suitcase if you're planning on buying cheese or any other perishables.
Where to buy traditional Portuguese cheese
Queijaria Nacional in Lisbon is a one-stop-shop for all things queijaria, with countless fresh and aged Portuguese cheeses available to eat in (paired with wine) or to take away by the wedge or round.
15. Portuguese preserves & honey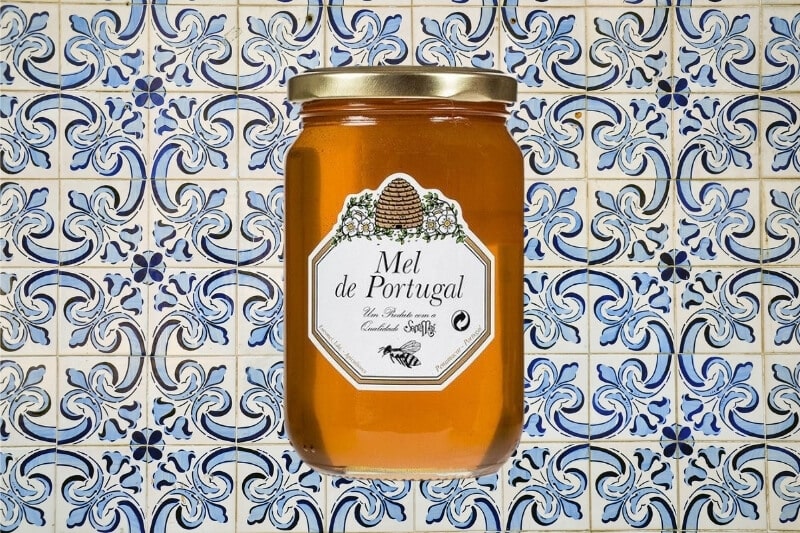 Searching for something sweet to pair with your wine and cheese? Portugal is also famous for its fruit preserves and heritage honey. Mel da Serra de Monchique, a wildflower honey from Faro with notes of lavender, heather and eucalyptus, is widely considered the country's best honey brand.
Jams, jellies and marmalades – collectively known as doces ('sweet preserves') – are a pantry staple in most Portuguese homes and make for the perfect easy-to-carry food souvenir. Look out for quince marmalade, a national favourite, and doce de figo (fig jam), a special recipe from The Algarve.
Where to buy preserves & honey
A Vida Portuguesa carries a great range of doces, and you can find jars at most food markets and specialty grocers around the country.
16. Paupério Cookies
Portugal's favourite biscuit brand dates back to 1874 and is still produced in the northern city of Valongo even today. The cookies come in imaginative flavours inspired by local produce, such as quince marmalade with walnuts.
Beautifully packaged in vintage-style tins or boxes bearing Art Deco designs, this is one souvenir your pantry will thank you for.
Where to buy Paupério Cookies
Find them at A Vida Portuguesa and in food stores in all major Portuguese cities.
17. Portuguese tea from the Azores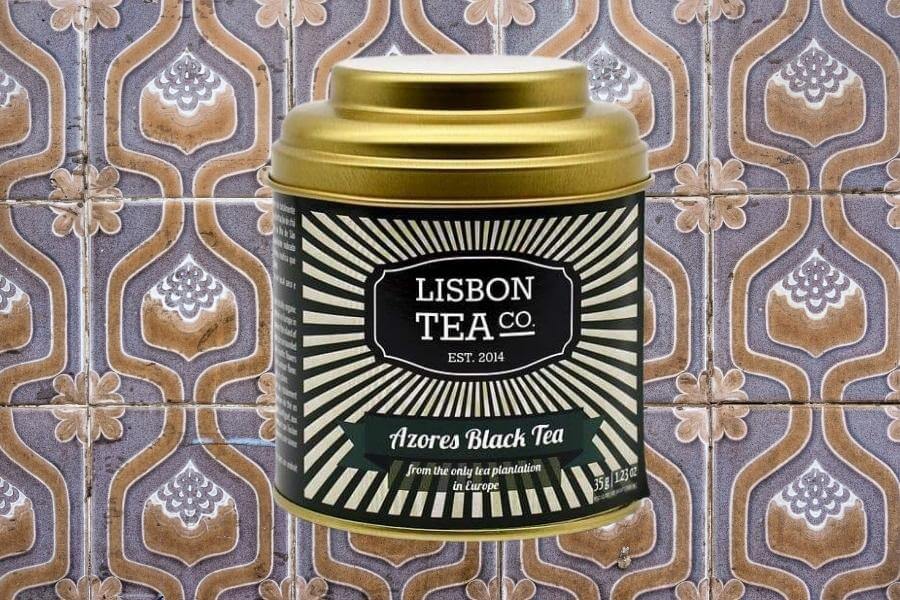 Portugal's Azores are a mecca for tea tourists who come to taste the goods from the only tea plantations in Europe. Leaves picked on the island of Sao Miguel are used to craft beautiful black, green and white teas, which are then sold all over Portugal.
Lisbon Tea Co. has come of the most interesting offerings, including White Tea with peach from Cova da Beira, herbal teas with the flavours of Pasteis de Nata, and even Madeira Wine Tea!
Take home a gorgeous tin of local tea and sip and savour your sweet memories of Portugal.
Where to buy Portuguese tea
Companhia Portugueza do Chá is one of Lisbon's most unique shopping experiences. The spectacular 19th-century-style salon has loose-leaf and packaged teas from Portugal and beyond, plus a treasure trove of beautiful tea accessories and ephemera.
---
More excellent Portugal souvenirs
18. Retro-inspired soaps & toothpaste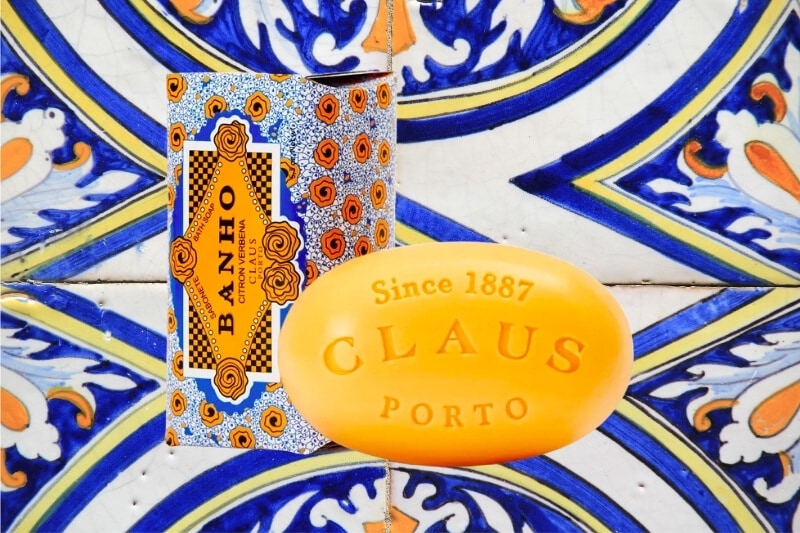 It might seem strange to stock up on common items such as soap or toothpaste – but trust me, you don't want to miss out on these uniquely Portuguese cosmetics. These brands are packaged so beautifully, you'll never want to unwrap them!
Portugal's two iconic heritage soap brands, Claus Porto and Ach. Brito, both date back to 1887. They produce luxurious soaps, colognes, creams and scented candles, all crafted from Portuguese botanicals and wrapped up in gorgeous Art Nouveau-inspired packaging.
Castelbel is a newer brand that makes bar soap in Azulejos-inspired packaging and home products such as fragrance sachets. Meanwhile Couto toothpaste has been a bathroom essential in Portugal since 1932 and retains its original, delightfully retro branding to this day.
Where to buy soaps & toothpaste
Claus Porto's flagship stores in Porto and Lisbon are a real treat to browse, while Castelbel also has a shop in Porto. All brands are carried by A Vida Portuguesa.
19. A book from the world's oldest bookstore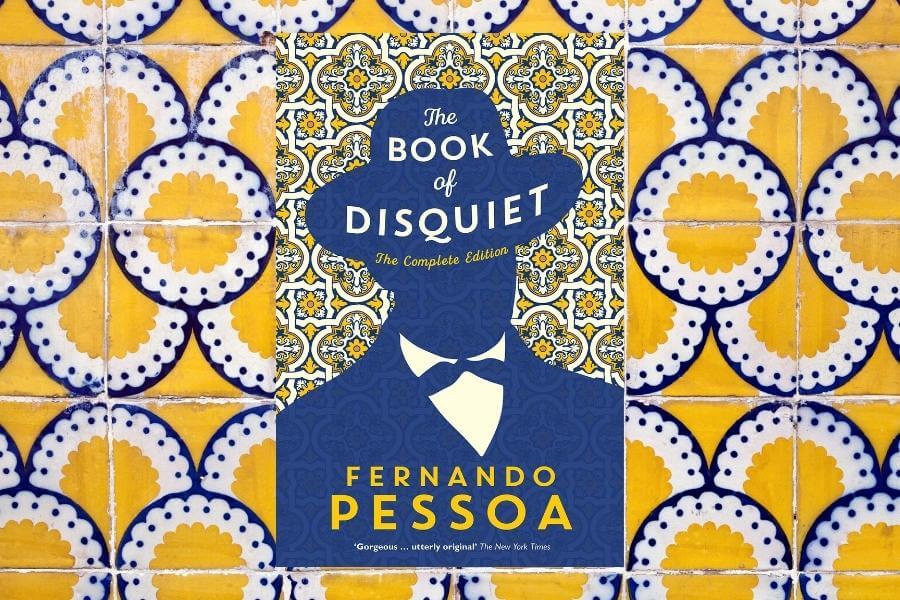 For literary fans, it doesn't get much better than a book from Lisbon's Livraria Bertrand. A fixture of the Chiado neighbourhood since 1732, the original branch is considered to be the world's oldest bookstore.
Livraria Bertrand sells a huge range of hard and soft-cover tomes in Portuguese, English and other world languages, ranging from Portuguese recipe books to the latest novels. For something really special, look for a book of poetry or a translated novel by Fernando Pessoa, the Lisbon-born father of Portuguese literature. After seeing signage in Sintra commemorating a visit by Danish author Hans Christian Andersen in 1866, my husband and I decided to buy a copy of his Complete Fairytales!
When it comes time to purchase, ask the attendant to add an ex libris to the inside cover, a beautiful sticker that carries the bookstore's name and founding date.
20. A Portugese Fado guitar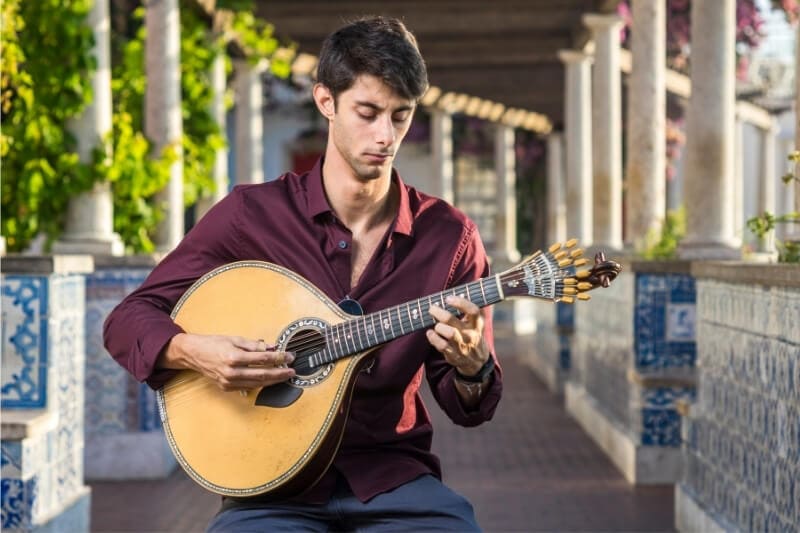 No doubt your ears will be treated to at least a few bars of national Fado music during your time in Portugal. The instrument most readily associated with Fado, the traditional Portuguese guitar (Guitarra Portuguesa), is a 12-stringed instrument as beloved as the music genre itself.
Certain families from the cities of Lisbon and Coimbra specialise in the generations-old techniques required to make the instrument.
If you're musically inclined, a hand-crafted guitarra makes for a wonderful souvenir to remember your time in Portugal. If not, it's still a rather beautiful object to display in your home. Just take care when transporting it back – carry-on only!
Where to buy a Portuguese guitar
Salão Musical de Lisboa in Bairro Alto is the go-to for beautiful hand-crafted guitars and other instruments – most made locally here in Lisbon. They even have travel-sized guitars!
21. Portugal-inspired paper goods
If you're limited on luggage space, posters and paper goods are an excellent lightweight memento. Portugal is home to countless illustrators and graphic designers who take inspiration from Lisbon's colourful doorways and Porto's riverscape when designing home decor.
Ó! Galeria in Lisbon and Porto is a good place to find uniquely Portuguese posters, art prints, postcards and more.
---
Portugal souvenirs to last a lifetime
---
Which of these Portugal souvenirs would be most tempted to buy? Do you have a favourite shopping spot in Portugal? Let me know in the comments below!
---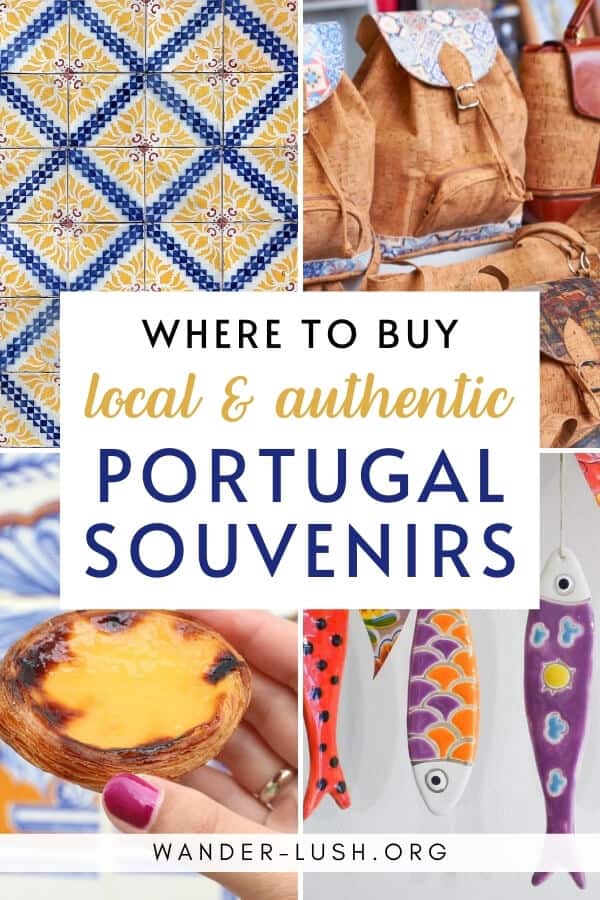 Best Portugal souvenirs: Save it on Pinterest