Portugal is a beautiful country with no shortage of vibrant and historic cities to visit. Discover 15 of the most charming and fascinating cities that Portugal has to offer.
From historic cities festooned with castles, cathedrals and gorgeous gardens; UNESCO Listed old towns and colourful port cities; to cosmopolitan metropolises with vibrant food and wine scenes, Portugal is a country of urban oases.
This list of the best cities in Portugal pulls together 15 of the very finest city destinations, from the must-sees to the lesser-knowns and the completely underrated.
---
Please note: This post contains affiliate links, meaning I may earn a commission if you make a purchase by clicking a link (at no extra cost to you). Learn more.
---
Portugal essentials
15 best cities in Portugal to visit
1. Lisbon
The largest and one of the most famous cities in Portugal, Lisbon (Lisboa), really needs no introduction. All roads lead to the country's capital city and spending at least a few nights in Lisbon is an absolute must for any first-time visitor to Portugal.
The second-oldest European capital city after Athens, Lisbon is dripping with history and tradition. From major landmarks such as São Jorge Castle to the city's many mirador lookouts to the winding streets of fascinating old neighbourhoods, of Mouraria and Alfama, Lisbon is a treat for the senses.
Lisbon is the place to experience some of the best things to do in Portugal: Ride the famous tram, gorge on flaky pasteis de nata, listen to live Fado, and browse the many boutiques for tinned sardines, sweet-smelling soaps and other cute souvenirs to take home.
If you're into handicrafts and hand-made, be sure to visit the tile museum in Lisbon that showcases Portugal's famous painted Azulejos.
Get there: Fly into Lisbon Airport.
Where to stay: Check out these unique and homely Lisbon Airbnbs.
Top-rated city tour: Lisbon Essential Tour: History, Stories & Lifestyle.
2. Coimbra
Known as the 'City of Students', Coimbra is renowned for its prestigious university. Founded in 1290, the University of Coimbra is the oldest in Portugal and a UNESCO World Heritage Site. The campus features memorable buildings in proud Renaissance style, such as the Chapel of São Miguel and the Joanine Library.
Beyond the campus, Coimbra is a bustling city, Portugal's fourth largest. Admire the many ancient buildings, some of which date back to Roman times. The Monastery of Santa Cruz contains the tomb of Alfonso Henriques, Portugal's first king.
Coimbra is indisputably one of the top cities in Portugal for history lovers. Other sites to see include Machado de Castro National Museum and the Portugal dos Pequenitos miniatures park.
Get there: Train from Lisbon (2 hours) or Porto (1.5 hours).
Where to stay: The Luggage.
Top-rated city tour: Private World Heritage Site Tour.
3. Leiria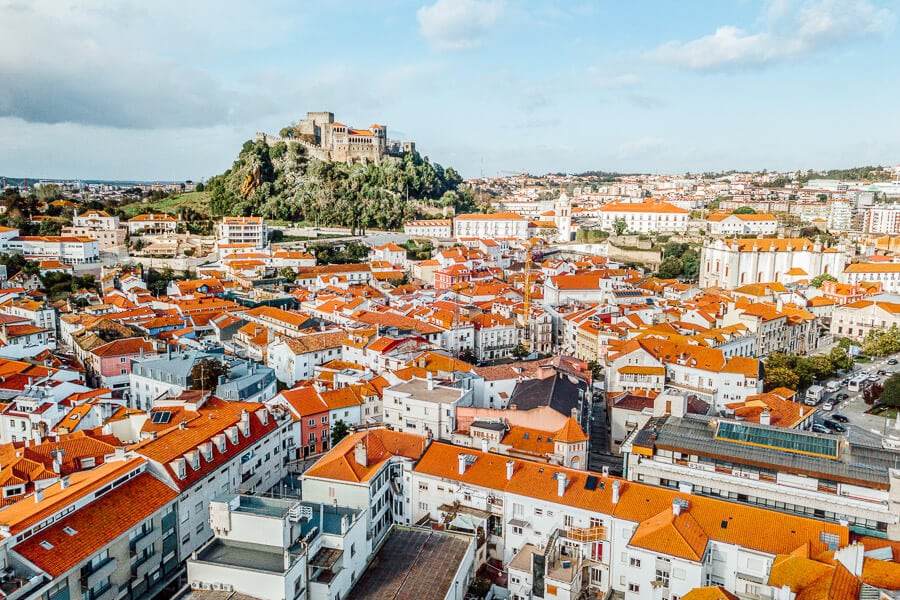 In Medieval times, Leiria was a prominent city, serving as host to feudal cortes and even as a residence for King Alfonso II. Today, the city's quaint profile belies that grand history.
One of the most beautiful cities in Portugal, Leiria takes pride in its quiet charm and authenticity. Its main calling card are its shopping centres, which can be found in the city's two main squares, Rodriguez Lobo and Sant'Ana.
Along the Lis River, unique amongst Portugal's rivers for flowing north rather than south, Leiria boasts two museums, the Museum of Leira and the Paper Mill Museum. There is also the castle district, which every August draws Gothic tribes celebrating a music festival called Entremuralhas.
Get there: Drive from Lisbon (1.5 hours).
Where to stay: Sant'Ana Guest House.
4. Funchal
Funchal is the capital of Madeira, Portugal's autonomous island region. It is younger than many of the cities in Portugal proper, first settled in the early 14th century when the island was settled. It served as an important midway point between the new and old worlds.
Today, Funchal is a charming port city which serves as the entry point to beautiful Madeira island. The centre features dozens of museums, most notably the Sacred Art Museum.
Also be sure to visit the Old Town which, in addition to the typical tourist sites, also features a wide variety of colourful street art. Another highlight is the tropical Jardim Botânico da Madeira, one of Portugal's best botanical gardens.
Get there: Fly from Lisbon (2 hours).
Where to stay: Quinta Da Penha De Franca.
Top-rated city tour: Funchal Old Town Walking Tour.
5. Guarda
Guarda is known as 'the city of five Fs': Farta, Forte, Fria, Fiel, Formosa (Abundant, Strong, Cold, Loyal, Beautiful). Situated along the eastern border with Spain within the Serra da Estrela mountains, Guarda is the highest city in Iberia, a distinction it shares with its Spanish counterpart, the city of Avila.
Due to its geography, Guarda was historically a crucial city for Portugal's defence against Spain. Some of the old fortifications can still be seen, with medieval walls tracing the edges of the city.
Within the centre of Guarda is a cathedral designed in Gothic and Manueline style, as well as an ancient Jewish district (Judiaria) which retains much of the 14th century ambiance.
Get there: Drive from Porto (2-3 hours).
Where to stay: Quinta do Rio Noémi.
6. Aveiro
The idyllic canals, picturesque bridges, and vibrant moliceiro boats earn the coastal city of Aveiro the nickname 'Portugal's Venice.' Beyond its beautiful waterways and Art Nouveau homes painted in cheerful pastels, Aveiro is a city replete with history.
The convent Moneteiro de Jesus is the city's most famous landmark. It served as the residence of Joanna, Princess of Portugal, who served as regent in her father's absence. Joanna, who was beatified by the Catholic Church, is laid to rest in the convent.
Nearby is the Aveiro Museum, which is housed in an old convent of the Dominican Order and offers an extensive collection of religious art on display.
Get there: Drive or train from Porto (1 hour).
Where to stay: Histórias Por Metro Quadrado.
Top-rated city tour: Aveiro Traditional Moliceiro Boat Tour.
7. Évora
The capital of Alentejo Region in southern Portugal, Évora is a city with a long history. It was a major destination along the main trading route with Spain and moreover served as an important religious centre.
Much of the architecture from that period of prosperity remains, and Évora's old town centre has the designation of being a UNESCO World Heritage Site.
Key locations include the Roman Temple, constructed in the 2nd and 3rd centuries. From the Medieval Era, there is the Cathedral of Evora, as well as the Capela dos Ossos, a small Franciscan chapel which is decorated with the skulls and bones of over 5,000 exhumed corpses.
Get there: Drive from Lisbon (1.5 hours) or Faro (2.5 hours).
Where to stay: Vintage Guest House – Casa do Escritor.
Top-rated city tour: Evora 3-Hour Private Walking Tour.
8. Viana do Castelo
Another of the top cities to visit in Portugal for history, this maritime city in the Norte Region is famous for being a centre of exploration during the 16th century, having served as the starting point for many maritime journeys.
Much of the city's famous architecture dates back to this period, especially in the Praça da Republica, the central square. Buildings of note include the Paços do Concelho (Town Hall) and Sé Catedral de Santa Maria Major.
Viana do Castelo has a modern flavour as well, its newer buildings and neighbourhoods having been designed by many of Portugal's most famous contemporary architects. Due to this, Viana is considered to be a 'Mecca of Architecture' in Portugal.
Get there: Drive or train from Porto (1-1.5 hours).
Where to stay: Hotel FeelViana.
Top-rated city tour: Santiago de Compostela and Viana do Castelo Tour From Porto.
9. Braga
Home of the oldest archdiocese in the country, Braga is considered the religious capital and is one of the most important cities in Portugal for believers. Central to that legacy is the Cathedral of Braga (Sé de Braga), which was built in the 12th century.
Adjacent to the cathedral is the Chapel of Kings, which holds the tombs of Henrique and Theresa, Count and Countess of Portugal and parents of Portugal's first king Alfonso.
Holy Week (Semana Santa) is perhaps the best time of year to visit Braga, when elaborate ceremonies and processions commemorating the death and rebirth of Christ are held on the city's cobbled streets.
Get there: Train or drive from Porto (1 hour).
Where to stay: The Arch – Charming Apartments in the Historic Center.
Top-rated city tour: Braga and Guimarães Full Day Tour with Lunch from Porto.
10. Porto, one of the best cities in Portugal for history & culture
Though it often plays second fiddle to Lisbon, Portugal's second city is no less charming. Perched along the Douro River, a cascade of colourful houses and dramatic bridges forms one of Europe's most iconic skylines.
Porto's historic core, Ribeira, was proclaimed a UNESCO World Heritage Site in 1996 and contains dozens of treasures. One day in Porto is enough for the highlights: Climb the Clérigos Tower for a view, sip coffee in a historic cafe, sample the city's finest export, Port wine, then step out of the city limits to the nearby Douro Valley, one of Europe's finest wine regions.
Don't miss the sunset at Morro Garden overlooking the Dom Luís bridge.
Get there: Fly into Porto Airport or train from Lisbon (3 hours).
Where to stay: Ceuta Terrace Suites.
Top-rated city tour: Porto Wine Tour.
11. Viseu
Viseu is an old city in the heart of Portugal's Centro Region. It is considered the home of the legendary Lusitanian warrior Viriathus who led a rebellion against Roman rule.
Viseu also has a strong connection with the Portuguese monarchy, serving as the main court of Count Henrique and Theresa, parents of the first king of Portugal Alfonso I, who may have been born here.
Vasco Fernandes, one of Portugal's most famous Renaissance painters, was also born in Viseu. The Grão Vasco Museum is home to many of his works. The city has a great deal of religious art between the Viseu Cathedral and the Religious Art Museum found on the second floor.
Get there: Drive or train from Porto (1.5-2.5 hours).
Where to stay: Pousada De Viseu.
Top-rated city tour: Historical Viseu Regional Tour and Wine Tasting From Porto.
12. Ponta Delgada
The port city of Ponta Delgada is the largest city and executive capital of the Azores, the Portuguese archipelago off the coast of Morocco. Ponta Delgada grew exponentially in the 19th century as a major commercial and maritime centre.
Central to the city's identity is its connection to the Portuguese navy. Along the Harbour Front is the 16th century Forte de São Brás which is still used by Portugal's navy. The fort is home to the Azores Military Museum.
Elsewhere in the city is the Convent and Chapel of Nossa Senhora de Esperança, which is notable for its religious art and annual celebration of Festa do Senhor Santo Cristo dos Milagres.
Get there: Fly from Lisbon (2.5 hours).
Where to stay: Garoupas Inn.
Top-rated city tour: Ponta Delgada Historical Walking Tour.
13. Faro
Faro is the capital of the Algarve, the country's southernmost region (excluding the islands), and the best city in Portugal for accessing the country's top beaches. Faro is a resilient city, having endured raids from English privateers in the 16th century, as well as a devastating earthquake and tsunami in 1755.
Today, Faro is perhaps most notable for its airport, yet the city itself has much to offer. The main plaza, Largo da Sé, features whitewashed buildings, cobbled roads, and an ancient cathedral.
Along the coastline is the Parque Natural da Ria Formosa with saltwater lagoons and tranquil waters which can be explored by kayak.
Get there: Fly into Faro Airport or train from Lisbon (4 hours).
Where to stay: Lemon Tree Stay.
Top-rated city tour: Cultural Faro 90-Minute Segway Tour.
14. Santarém
Along the River Tagus is the old town of Santarém, which served as a royal residence and fortress. Relics of that past are scattered throughout the city, although most of the old buildings were destroyed by two earthquakes in 1531 and 1775.
An archaeological museum preserves the city's historic roots, with artefacts dating back to Roman and Moorish periods. Other sites include the Seminary, a former Jesuit college, and the remains of an old Franciscan monastery from the Burgundian period.
Santarém today is renowned for agriculture. It is the location of a ten-day fair at the beginning of June which assembles the agricultural prowess of the Ribatejo area in central Portugal.
Get there: Drive from Lisbon (1 hour).
Where to stay: Chalet Santa Iria.
15. Castelo Branco
Located in Central Portugal, Castelo Branco has an unforgiving climate and endures some of the hottest summers in the country. But don't let that dissuade you from visiting: In spring and fall, this historic small city is well worth the drive.
The city's walls and castle, its namesake, were built by none other than the Templar Knights. The Jardim do Paço Episcopal (Garden of the Episcopal Palace) in Castelo Branco is considered the most beautiful Renaissance-Baroque gardens in Portugal.
Cool relief from the scorching city can be found as you explore the royal and astrological statues set amongst ponds, terraced gardens and stately staircases.
Get there: Drive from Lisbon or Porto (2.5-3 hours).
Where to stay: Casa de Perais.
---
More Portugal inspiration