There's no better way to slow travel through Europe than by train. Here are 20 itinerary ideas for 10 days in Europe by rail – with options for every travel style, budget and season.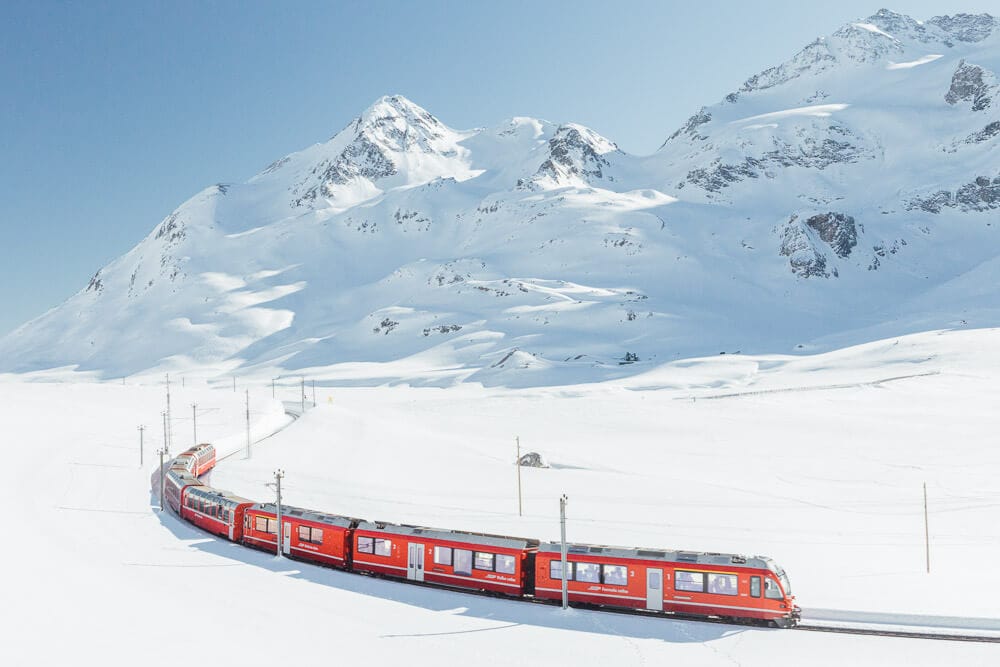 ---
Please note: This post contains affiliate links, meaning I may earn a commission if you make a purchase by clicking a link (at no extra cost to you). Learn more.
---
Europe is experiencing something of a railway renaissance, with old tracks being revived and new rail routes opening up.
Whether you're looking for a fast-paced, multi-country itinerary or you prefer to explore one country in depth, travelling by train is an easy and affordable way to get around.
Some of these train journeys are among the most beautiful on Earth; others are a convenient way to get from A to B. Whatever you're looking for, here are 20 of the best Europe 10-day itinerary ideas to get on board with.
10-day itineraries for travelling Europe by train
Each of these Europe train itineraries is perfectly suited to 10 days of travel but can easily be shortened or extended depending on how much time you have.
Central Europe by Train: Hungary to Slovenia
Route: Budapest – Bratislava – Vienna – Ljubljana
Editor's pick
This route traverses four of Central Europe's great capitals: Budapest, Bratislava, Vienna and Ljubljana.
Made for travellers who don't mind moving at a fast pace and want to make the most of their 10 days in Europe, this itinerary hits all the urban highlights of Hungary, Slovakia, Austria and Slovenia with plenty of opportunities for day trips to castles, wineries and hiking areas in between.
Start in Hungary's enthralling capital and spend a few days experiencing the best of Budapest. Don't miss a morning wander around the covered market, a soak in the Gellert or Széchenyi Thermal Bath, and sunset at Fisherman's Bastion.
After the impressive scale of Budapest, Slovakia's capital (3.5 hours away by train) seems diminutive in comparison – but don't be fooled, Bratislava has a lot to offer visitors. With one full day in the city you can catch all the highlights, starting with a morning walking tour of the historic Old Town core and culminating with a view from the castle grounds.
For something different, cross the famous UFO Bridge to wander around Petrzalka, a colourful neighbourhood on the opposite side of the river.
Continue to Austria, following the mighty Danube River. For this leg you can choose between a morning train (1.5 hrs) or if the weather is good, the ferry (1.5 hours). Vienna needs no introduction – there are countless things to keep you occupied in this classic European capital for 2-3 days, ranging from historic cafes to museums and churches.
When you've had your fill, board the train for a final time for the scenic journey to Ljubljana. This train ride takes the better part of a full day and leads you through some of southern Austria's and northern Slovenia's most beautiful countryside. Stopovers in Graz or Maribor (Slovenia's second-largest city) can easily be arranged if time permits.
Fall in love with petite and pretty Ljubljana by wandering the river's edge through the Old Town, browsing the produce market and taking the funicular up to the castle. Bled is within easy reach (under 1.5 hours by train or bus) and you won't regret adding on a half-day trip to visit the region's most iconic lake.
---
Northern Italy: Milan to Trieste
Route: Milan – Verona – Padua – Venice – Trieste
Designed by: Sophie from Just Heading Out
This route takes you to some of the most popular cities in the north of Italy plus a few underrated places.
Start in Milan, the elegant fashion capital. Spend two nights here to eat, drink, shop and see the highlights: The Duomo, the Galleria Vittorio Emanuele II, and the Castello Sforzesco. The next day, take either the regional train (2 hrs) or the fast train (1.25 hrs) to Verona.
Verona's biggest claim to fame is as the setting of Shakespeare's Romeo and Juliet, so you must visit Juliet's balcony and Romeo's house. But there's much more to Verona! Climb up to the Castel San Pedro for a great view of the city, visit Castelvecchio, and see an opera performance at the historic Arena.
After two nights in Verona, board an early train to Padua (1 hr). Padua is noticeably less touristy than Verona or Milan. As one of the oldest cities in Italy, it features a beautiful historic city centre. Visit the Cathedral, the Botanical Gardens, and the Prato della Valle.
After dinner, it is time to take a train to Venice (30 mins). When you arrive, check into your hotel and rest up for three days of sightseeing. Aside from the highlights – such as Ponte Rialto, Doge's Palace and Piazza San Marco – be sure to leave some time to explore the streets and get lost down the alleyways. A day trip to Murano and Burano is certainly worth the effort.
From Venice, it is a 2-hour train ride to Trieste. This underrated city lies close to Italy's borders with Austria and Slovenia, and both influences can be clearly felt in the food, culture and architecture.
Trieste is the perfect place to slow down and relax for a day at the beach. Finish your trip around Northern Italy by visiting the Castello di San Giusto and Miramare Castle.
---
Southern Spain's Andalusia: Madrid to Granada
Route: Madrid – Toledo – Cordoba – Seville – Granada
Editor's pick
While a road trip in Spain might be the best way to explore the country from top to bottom, you can still see a lot when travelling on the country's railway network. This itinerary focuses on the southern part of the country: the culturally distinct and utterly mesmerising Andalusia region.
Spain's capital is a natural place to begin. If it's your first visit, pause for a day or two to visit the most important landmarks in Madrid before boarding a train to Toledo. Half an hour later, you'll find yourself walking the streets of one of Spain's most magical and history steeped cities. For all the best things to do in the imperial city, see this guide to Toledo.
For the remainder of your Spain train itinerary, divide your time between Cordoba (4 hours from Toledo by train), Seville (40 minutes from Cordoba) and Granada (1.5 hours from Seville). Each of these three Andalusian cities has its particular charms and fair share of awe-inspiring landmarks, most notably the Mezquita in Cordoba, the Alcazar in Seville and the one and only Alhambra in Granada.
If you have more time, finish with a couple of days on the coast or head west to Lisbon to continue travelling around Portugal by train.
---
Poland & Germany: Krakow to Berlin
Route: Krakow – Wroclaw – Dresden – Berlin
Designed by: Kami from Kami and The Rest of The World
This train journey takes you through some of the most beautiful and interesting cities of Poland and Germany and allows you to see some lesser-known yet amazing corners of Central Europe.
Featuring historical sites, beautiful nature and hip spots, the itinerary is good for anyone who's interested in culture and history but also wants to venture beyond the expected.
Start your journey in Krakow, the former capital of Poland and one of the most beautiful cities in Europe. You need at least two days to see all the main sights, starting with the Old Town and the Wawel Castle, the riverside and the Jewish quarter, Kazimierz. Krakow is a perfect base for side trips, the most popular being the UNESCO-listed salt mine in Wieliczka and Auschwitz-Birkenau concentration camp. Both are easily reached by train.
From Krakow, continue by direct train to Wroclaw (3 hrs), one of the main cultural capitals of Poland. Set aside a full day to see the city, taking your time to fall in love with the colourful Market Square and to find as many quirky dwarfs as possible. In the evening be sure to find the magical 'neon yard'.
From Wroclaw, you can easily explore part of the Lower Silesia region – probably the most interesting part of Poland. Easy train trips include beautiful Swidnica, with its spectacular 17th-century Church of Peace (a UNESCO World Heritage Site), the stunning Ksiaz Castle (the third largest castle in Poland), numerous spa towns, and the Sudety mountains.
From Wroclaw, continue by train toward Dresden but stop on the way in Goerlitz, the city divided by the Polish-German border. It's one of the prettiest and best-preserved German cities and you'll surely recognise it from numerous movies, including The Grand Budapest Hotel and Inglourious Basterds. The train trip from Wroclaw to Dresden takes a little over 3 hours and Goerlitz is more or less halfway.
Even though the city was badly destroyed during WWII, Dresden has some of the most impressive Baroque architecture you can find in Europe. You need two days to see it properly, but the main highlights of the city are conveniently located in the centre.
Finish your trip in the cool and vibrant capital of Germany, Berlin (2 hrs by train from Dresden), where you can enjoy a variety of attractions – from historical monuments and mementos of 20th-century world events – and alternative sites such as Kreuzberg.
---
The Swiss Alps: Geneva to Tirano via the Glacier Express
Route: Geneva – Bern – Interlaken – Zermatt – St Moritz – Tirano
Designed by: Allan from It's Sometimes Sunny in Bangor
This 10-day itinerary is breathtaking all year round – but at the same time it's winter-inspired as it follows some of the highest peaks in Europe and takes you to some of the most popular destinations for winter sports in the Swiss Alps.
Many of the stops are hard to reach, so the most convenient start is Geneva near the France/Switzerland border.
A day or two is enough time to explore Geneva, the largest city in Switzerland, before forwarding to the charming administrative capital of Bern (2 hrs). You can cover the main attractions of this small but beautiful city in a day – the connecting bridges are a must see – before the next stretch to Interlaken (1 hr), a resort town known as the 'adventure capital of Switzerland'.
Interlaken is an ideal base to explore the many surrounding mountain peaks including the famous Jungfrau. The 3-Day Jungfrau Travel Pass offers great value for money when exploring this area's mountains by train and cable car.
This Swiss rail itinerary then takes you high into the alps to visit some of the most beautiful winter resort towns in the world. The first is Zermatt (2.5 hrs), set beneath the majestic Matterhorn (AKA the Toblerone mountain). Cable cars from Zermatt whisk you up towards the peak.
A day is long enough to explore the town before joining the Glacier Express, one of the most scenic train rides in the world. After 7 hours riding the rails through mountainous terrain you'll finally reach St Moritz where you can connect to yet another breathtaking train, the Bernina Express, to cross into Italy. The trip ends at Tirano (4 hrs). Spend a day in this resort town before continuing on to Milan or Turin for onward travel.
---
The Balkans by Train: Zagreb to Bar
Route: Zagreb – Belgrade – Bar
Editor's pick
Bus is by far the preferred way to travel around the Balkans region – but there is one rail route that should be on every traveller's radar. The train from Belgrade (Serbia) to Bar (Montenegro) is easily one of the most scenic and yet underrated in all of Europe.
With 10 days up your sleeve, you can tackle this full-day journey (the day train is highly recommended) plus add a few days in Croatia's capital, Zagreb, at the beginning of your trip.
Zagreb is often overlooked in favour of Venetian cities along the Dalmatian Coast – yet Croatia's capital is easily one of its most beautiful destinations, albeit in a slightly unconventional way. Zagreb is loaded with history, street art and beautiful churches, including the iconic St. Mark's, with its colourful tiled roof.
After a day in Zagreb, board a train for Serbia's capital, Belgrade (6 hrs). The former administrative centre of Yugoslavia is a must-visit for those interested in modern history and Brutalist architecture. Spend a morning at Avala Tower, climbing up to the viewing deck for a panorama, cycle around the concrete jungle that is New Belgrade, and wander the old neighbourhood of Zemun. House of Flowers, the final resting place of Josip Broz Tito, is a fascinating visit – but if you only have time for one museum in Belgrade, make it the Tesla Museum.
Completed in 1976 and officially opened by President Tito himself, the Belgrade to Bar train passes over no fewer than 435 bridges on its way to the Adriatic Coast. It's all about the journey: The part of Montenegro the train traverses is absolutely stunning, especially when the train passes over marshy Lake Skadar.
When you arrive in Bar, make a detour to Stari Bar to explore the ruined old town and the aqueduct before finding a spot to relax on the beach. Pleasant swimming beaches can be found down the coast in Ulcinj – itself a good jumping off point for travelling into Kosovo or Albania.
---
The Netherlands' Randstad: Rotterdam to Amsterdam
Route: Rotterdam – Den Haag – Amsterdam
Designed by: Erin from Pina Travels
This European train route brings you to three beautiful Dutch cities within a region of the Netherlands known as 'The Randstad', the most heavily populated and developed part of the country.
On this route, you'll get to experience the best of Dutch culture, architecture, history and food. Travel times between cities are short and direct, which makes this an easy train itinerary with maximum time to explore each destination.
The route begins with three days in Rotterdam. During WWII, Rotterdam was completely flattened by bombing. The city has since been rebuilt, and is now a modern metropolis that's packed with history, art, good food and amazing architecture. While in Rotterdam, check out the city's famous 'cube houses' to walk among the blocks and visit the Show Cube Museum. You'll also want to check out the Erasmus Bridge, the Van Nelle Factory (a UNESCO World Heritage Site), and Market Hall, where you can enjoy Dutch art and food all under one roof.
From Rotterdam, take a quick 25-minute train ride to your next destination, Den Haag (The Hague). Plan to spend three days in this city, which is known for being the seat of the Dutch government since 1588. Den Haag is home to the Gothic-style Binnenhof complex and the 16th-century Noordeinde Palace, which is one of the Dutch Royal Family's official palaces. You'll also find plenty of museums, churches, and restaurants that are worth visiting.
Next, take a 45-minute train ride from Den Haag to the capital of the Netherlands, Amsterdam to witness the artistic heritage, elaborate canal system and iconic narrow houses for yourself. You'll want to spend four days visiting popular attractions plus experiencing alternative things to do in Amsterdam.
Visit the Rijksmuseum to see the work of the Dutch masters and visit the Anne Frank Museum to learn the story of the Jewish wartime diarist. When you're hungry, be sure to drop by Upstairs Pannenkoekenhuis to try some classic Dutch pancakes!
---
Portugal by Train: Lisbon to Santiago de Compostela
Route: Lisbon – Coimbra – Porto – Santiago de Compostela
Designed by: Or from My Path in the World
Covering three of the biggest cities in Portugal along with the endpoint of the famous Camino de Santiago pilgrimage, this route is perfect for history and culture lovers, as well as for anyone looking to immerse themselves in Portugal's laid-back yet lively atmosphere, taste great food and wine, and meet friendly locals.
Lisbon is a contagiously vibrant city and it's worth dedicating four days to experience the best of it, including its landmarks, museums, enchanting neighbourhoods and culinary and nightlife scenes. Some of the must-sees are Sao Jorge Castle, the National Tile Museum, Belem Tower, and the Santa Luzia Lookout Point – but the bucket list goes on and on.
A 2-hour train ride will take you to Coimbra, a postcard-perfect city on the Mondego River. Coimbra is known for its 13th-century UNESCO-Listed university, one of the oldest in Europe. While touring it, it's possible to visit the Baroque Joanine Library, the Botanical Garden, gorgeous courtyards, and much more.
Other things to do here include visiting Sé Velha (Coimbra's cathedral), admiring the Manga Cloister, and watching a Fado de Coimbra concert. This music genre originated in Lisbon but Coimbra has developed its own typical style.
After two days, continue to Porto (1.5 hrs), another must-visit place in Portugal. Spend another two days in this city, a fantastic base to explore the Douro Valley if you feel like hiring a car. Visit Livraria Lello (an astounding bookstore), wander through the Crystal Palace Gardens, visit the Bolsa Palace, and cross the bridge over to Gaia to tour some top port wine cellars.
Lastly, Spain's train company, Renfe, can take you from Porto to Vigo (2.5 hrs) and from Vigo to Santiago de Compostela (50-90 mins), where you can spend your last day and a half. As the endpoint of the pilgrimage route Camino de Santiago, its highlight is, of course, the impressive UNESCO-Listed cathedral, built in the 11th-13th centuries.
---
Mainland Greece: Athens to Thessaloniki
Route: Athens – Meteora – Thessaloniki
Designed by: Chrysoula from Greece Travel Ideas
This 10-day train journey in Mainland Greece covers the country's two major cities and the natural wonder of Meteora.
The train ride from Athens to the port city of Thessaloniki via Meteora is dramatic, as it passes through narrow valleys and steep mountainous countryside. The greatest treat is the chance to discover Meteora, with its amazing rock formations and six monasteries perched on high rocky crags.
Athens is rich in archaeological treasures that are easy to visit on foot. Other things to see include the Archaeological Museum, the various markets, and the Changing of the Guard ceremony in Syntagma Square. Four days or longer is required to enjoy all of these attractions.
The train from Athens to Meteora (Kalambaka station) leaves Larissis Athens station in the early morning and takes 4.5 hours. The journey passes through beautiful mountainous countryside with narrow valleys. It's quite a long walk to the first of the monasteries and they are spread out across a wide area, so it's best to take a taxi or pre-book a guided Meteora tour.
Most visitors to Meteora stay for two days in nearby Kastraki or the larger town of Kalambaka. All 6 of the monasteries are open to the public and accessible via stone-cut steps, but it's advisable to limit yourself to 3-4 per day.
The train journey from Kalambaka to Thessaloniki takes 3.5 hours. Thessaloniki is an attractive port city with a rich history and reputation for good food, so it's ideal to spend at least 2-3 days here. Thessaloniki has several notable Byzantine, Roman, Ottoman, and Sephardic Jewish monuments. In contrast, there are lovely beaches within easy reach, good shopping and a vibrant nightlife.
---
Czechia & Germany: Prague to Munich
Route: Prague – Nuremberg – Munich
Designed by: Riana from Teaspoon of Adventure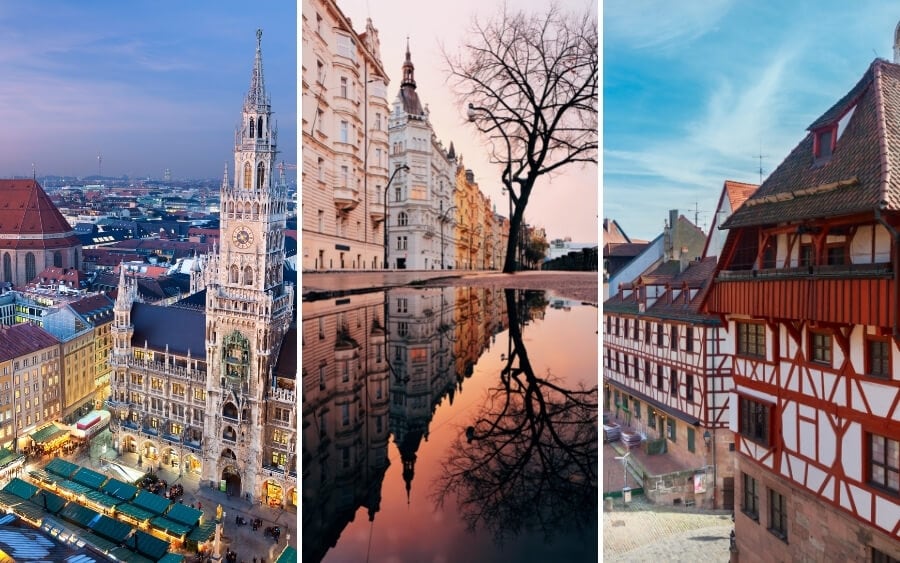 This 10-day train journey is all about beautiful buildings, rich history and – if you're a fan – drinking lots of delicious beer!
Each of these cities has something special to offer and no shortage of things to keep you entertained. They're also all quite close to one another, so you won't waste too much time getting from one spot to the next.
The trip starts in Prague, one of the most beautiful capital cities in Europe, where you'll spend three nights. On day one, walk through some of Prague's most beautiful neighbourhoods before checking out Vysehrad castle in the afternoon. End your first day trying Czech food classics such as pork, dumplings and of course, beer!
Start the second day with a walking tour through the Old Town and Wenceslas Square, take photos on the Charles Bridge, then enjoy a river cruise in the evening. On your third and final day in Prague, see the John Lennon Wall, visit the famous Prague Castle, and end with a beautiful view from Letna Beer Garden.
From Prague, head out on a 6-hour train journey to Nuremberg, where you'll spend three nights. Your first day in Nuremberg should be dedicated to exploring the Old Town. Don't miss Weissgerbergasse, a street filled with historic timber houses.
Take a guided tour of the Nuremberg Memorial to learn more about the Nuremberg Trials and visit the courtroom where the trials took place. For more history, visit the Nazi Rally Grounds and Documentation Centre on the afternoon of day two. For something lighter, admire the artwork at Albrecht Dürer's House and visit the Imperial Castle of Nuremberg.
To finish, take a one-hour train ride from Nuremberg to Munich for your final 4 days. Get your beer fix at a local beer hall or garden, tour the beautiful Old Town, including Marienplatz and Frauenkirche, shop the food markets, and visit local museums.
On your last day in Munich, head out on a day trip. Visit Dachau, the oldest and largest concentration camp in Germany for an important tour through history, or head to Neuschwanstein Castle, the inspiration behind Sleeping Beauty.
---
Ukraine's Big Three: Kiev to Lviv
Route: Kiev – Odessa – Lviv
Designed by: Amy from Moonshine and Minibuses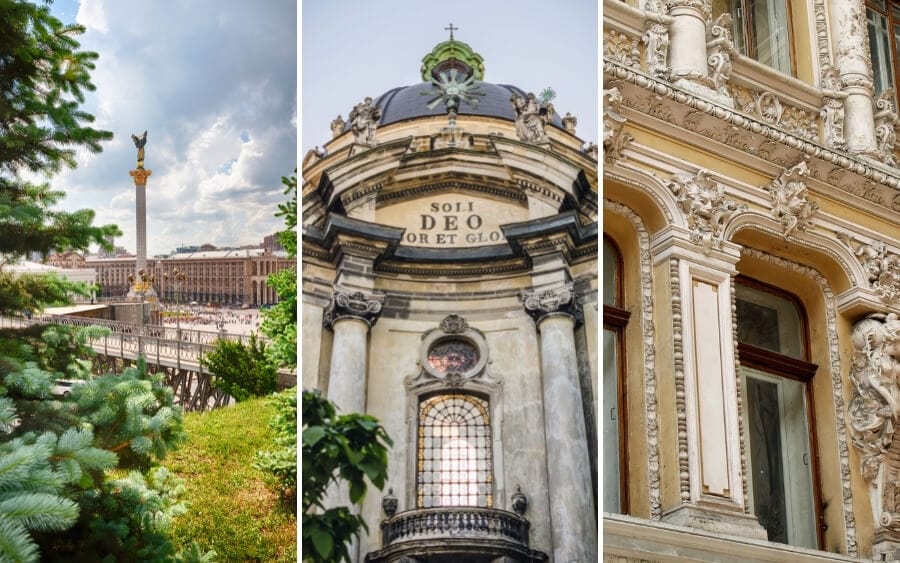 This itinerary hits the three most-visited cities in Ukraine, giving you an eclectic overview of Europe's biggest country.
While you can take the day train in order to enjoy the views, Ukraine's night trains are the recommended affordable way to cover a lot of ground quickly. If you're nostalgic, the overnight trains are often a trip into the past!
Landing in Ukraine's capital will launch you right into the middle of one of the most dynamic countries in Europe. From colourful medieval legends to stoic Soviet architecture, centuries of history are on display at every corner.
With four days in Kiev, join the pilgrims in the monastery caves of Lavra Pechersk and peek at mummified monks, explore the luxurious private residence of ousted President Yanukovych, and dine at restaurants headed by internationally renowned chefs.
Just when you're getting into the groove of Ukraine, head to Odessa, the Pearl of the Black Sea, travelling either by intercity or overnight train. Odessa has a reputation for being a party town (that it gleefully lives up to), but in addition to the beach clubs and Gilded Age bars, make sure you take some time to learn about the history of the city. Established under Catherine the Great, it has a diverse and dramatic background.
After two or three days of living life to the fullest in Odessa, head towards Lviv. This city is nearly 800km from Odessa, so it's best to take the overnight train. Considered a cultural hub, Lviv is a tapestry of idyllic European scenes, from its cobblestone streets to its skyline of church spires. Wander down alleys, pop into coffee shops, and peer into the myriad of churches.
End your trip to Ukraine at an underground bunker-style pub, a craft beer 'theatre,' or the regal opera house (or even the cocktail bar below it!).
---
Transiberian Express: Siberia to St. Petes
Route: Irkutsk, Siberia – Moscow – St. Petersburg
Designed by: Sinead from Map Made Memories
This itinerary offers something for everyone as it combines historic sites and the fantastic architecture of the big cities with small-town rural Russia, nature trails and scenic landscapes.
Spend a day exploring Irkutsk on foot following the city's 'green line', a tourist trail painted on the pavement that covers points of interest around the city. Take a full day trip to Lake Baikal 70km away. Shop in the fisherman's market at tiny Listvyanka, visit the wooden Church of St Nicholas, take a boat trip on the world's deepest lake, or enjoy a scenic hike in the hills surrounding the lake.
The train from Irkutsk to Moscow takes around three-and-a-half full days following a popular stretch of the Trans-Siberian Railway route.
When you arrive in Moscow, spend 3-4 days visiting the imposing Kremlin, Lenin's Tomb and the incredible Armoury. Tour opulent churches such as the iconic St Basil's Cathedral and the Cathedral of Christ the Saviour.
For an amazing view of sprawling Moscow, head to the deck on the top of the Central Children's Store, an enormous toy store in the centre. Spend a day riding the elaborately decorated Russian Metro system and make a stop at VDNKh to view the sculptures and to visit the Museum of Cosmonautics.
The journey from Moscow to St. Petersburg takes 4 hours on the fast train or 8 hours on a slower overnight train.
Enjoy a leisurely trip on St. Petersburg's canals before exploring the elaborate Winter Palace (try to book tickets in advance as there are usually long queues). Make time to visit the ornate Church of the Spilled Blood, decorated from floor to ceiling in tiny, colourful mosaics depicting intricate biblical scenes.
---
The Best of Britain: London Loop
Route: London – Bath – Cardiff – Liverpool – Edinburgh – York – London
Designed by: Tracy from UK Travel Planning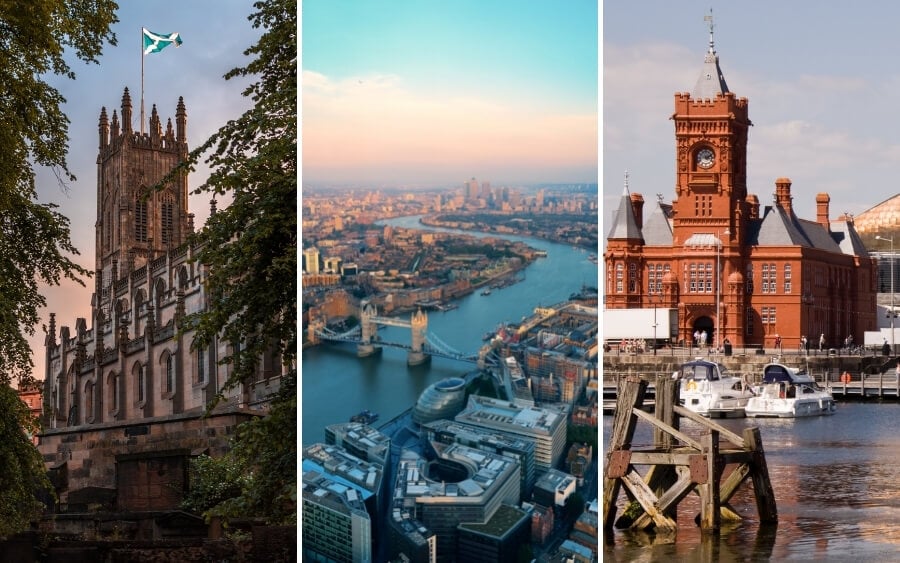 This 10 day best of Britain by rail itinerary is the perfect way for first-time visitors to explore some of the most popular cities across Britain's three nations. In addition to visiting the three capitals, the itinerary also includes a trio of England's most beautiful and interesting smaller cities.
A round trip itinerary, the journey starts and ends in London. To start, explore the sights, landmarks and attractions of the UK capital. A guided tour may be the best option to make the most of your day.
Departing from London, head to the UNESCO World Heritage Listed city of Bath. Travel time by train between the cities is around 1.5 hours with direct services departing from London Paddington to Bath Spa. The main highlights of Bath include the Roman Baths, Bath Abbey and the Royal Crescent. Sally Lunn's is a popular cafe for a cake and a cuppa. On your third day, continue exploring Bath or jump on the train to Salisbury and Stonehenge.
After spending two nights in Bath, travel to the Welsh capital Cardiff (1 hr). In Cardiff, visit the castle, stroll the centenary walk or join a Gavin & Stacey or Dr Who themed tour.
Travel from Cardiff to Liverpool (3.5 hrs) and spend an afternoon exploring the main sights of the city including Albert Dock. Another option here is to take a Beatles tour and visit the childhood homes of Paul McCartney and John Lennon.
The Scottish capital, Edinburgh, fills the itinerary for days 6-7. There are plenty of things to do and see over two days, including Edinburgh Castle, walking the Royal Mile, shopping on Princes Street, and enjoying the views from Arthur's Seat.
Then, travel from Edinburgh along the Northumberland Coast and through the cities of Newcastle and Durham before arriving in York (2.5 hrs). Walk the city walls, visit York Minster, learn about the city's history at the Jorvik Viking Centre, and shop on the Shambles. For the best afternoon tea, head to the iconic Bettys Tea Rooms before travelling back to London on day 10 (2 hrs) to complete your loop.
---
Norway by Train: Bergen to Oslo via the Flam Line
Route: Bergen – Voss – Myrdal – Flam Fjord – Gudvangen – Laerdal – Flam – Myrdal – Oslo
Designed by: Tracy from Tracy's Travels in Time
This rail itinerary from the coastal city of Bergen to Norway's capital, Oslo, is perfect for those who want to experience the breathtaking beauty of this Scandinavian country. Train lovers will enjoy travelling on the Flam railway, which is recognised as one of the most scenic rail journeys in the world.
Spend the first couple of days exploring the city of Bergen. Not-to-be-missed highlights include the UNESCO World Heritage Site of old Hanseatic wharf and the buildings at Bryggen, Bergen's fish market, and a ride on the funicular to Mount Floyen for spectacular views of the city.
On day three, hop on the train to the small resort town of Voss. The journey takes 1.5 hours with beautiful views along the way. If you're visiting in summer, enjoy the hiking trails around Voss. In winter, make sure you book accommodation in advance as Voss transforms into a popular ski resort.
After spending the night in Voss, take the train to Myrdal (1 hr) where you alight and transfer to the Flamsbana Line. This is one of Norway's most popular attractions, so book your tickets in advance.
As well as the Flamsbana, there are a few things to do and see in Flam including the museum – but the main attraction is the fjord on which Flam sits. Catch a boat and enjoy a spectacular scenic trip along two of Norway's most famous fjords to the neighbouring village of Gudvangen.
The next few days offer the perfect opportunity to explore the local area. Stay in Gudvangen overnight before catching a bus to the nearby town of Laerdal via one of the longest road tunnels in the world.
Relax for a few days, enjoy a few hikes or cycle around. Explore the Gamle Laerdalsoyri village in Laerdal, whose wooden houses date back to the 18th and 19th centuries. The Borgund Stave Church near Laerdal is the best preserved stave church in Norway and can be reached by bus or bicycle.
On day eight, take the bus to Flam (50 mins) and jump onto the Flam railway back to Myrdal. Trains run from Myrdal to Oslo up to four times a day, but be sure to check connections.
The final two days of this itinerary are spent in Norway's capital, Oslo. Explore the city's museums (fans of artist Edvard Munch can experience his works at the new Munch Museum) and enjoy the architecture, cafes and foodie culture.
---
Northern Spain: Madrid to Barcelona via Basque Country
Route: Madrid – Bilbao – San Sebastián – Zaragoza – Barcelona
Designed by: Vicki from Vicki Viaja
While many visitors to Spain only travel back and forth between the most popular destinations, this Spain 10-day itinerary leads you to the north of the country – an area known for its great food and unique culture.
The itinerary starts in the capital of Spain, Madrid. In three days, you can get a good first impression of Spanish culture and visit essential sights such as the Plaza Mayor and the Almudena Cathedral.
The journey continues to the north of Spain. In Bilbao (4-5 hours from Madrid by train), you can experience the unique culture of the Basque Country. Bilbao is also the ideal destination for art lovers. Besides the world-famous Guggenheim Museum, the art museum Museo de Bellas Artes de Bilbao awaits you.
San Sebastián, also called Donostia, is another example of a great city in the Basque Country. After taking the train from Bilbao (2 hrs), get to know the northern beaches. The most famous in the area is the Playa de la Concha. Don't miss the sunset.
Continue 3 hours by train to Zaragoza, a beautiful city in Spain that is unfortunately overlooked by most travellers. The city is built in the typical Spanish style and its restaurants allow you to try lots of delicious dishes from the region. Particularly impressive is the Pilar, the city's basilica, which is located in the center. It's the largest of its kind in Spain and is considered one of the most important churches in the country.
The last stop is in the Catalan capital Barcelona, 90 minutes by train from Zaragoza. Spend a few days relaxing on the beach, soaking up Catalan culture, and discovering some of the most impressive buildings of the Modernisme movement, including the Sagrada Família, La Pedrera and Casa Batlló.
---
East Meets West: Istanbul to Bucharest
Route: Istanbul – Edirne – Plovdiv – Sofia – Bucharest
Editor's pick
This train journey is unique because it crosses continents, taking you from Istanbul from East to West, Asia to Europe, and through to Bulgaria and Romania. Trains in this part of Europe might be a little slower and less comfortable than what you're used to, but that's all part of the fun.
Start your epic rail journey the best way possible by crossing the Bosphorus into Europe. Istanbul is a huge, heaving city. Whatever time of year you visit – winter or summer – and however you choose to explore it – by focusing on the highlights, by wandering the less-touristy neighbourhoods or by letting your stomach guide you between the best restaurants and markets – you really can't go wrong. Just make sure to set aside time for the Hagia Sophia and Grand Bazaar.
Before leaving Turkey, make an overnight rest stop in the city of Erdine (4 hours from Istanbul by train) to see the stunning 16th-century Selimiye Mosque before crossing the border into Bulgaria. As you continue moving north, you'll see how the historic Ottoman influence has permeated the Balkans region.
While Sofia, Bulgaria's capital city, has its draws and is worthy of a day or so of your time, Plovdiv is where you should direct most of your attention. One of the oldest cities in Europe, Plovdiv counts an immaculate Roman Amphitheatre and exquisite Bulgarian Revival architecture among its many virtues. To get there, you'll need to take a bus or local train from Sofia.
The Sofia to Bucharest leg over the Danube River is another highlight of this itinerary – just be warned that it takes a full day to reach Romania's capital and in the winter months, you may need to change trains at the border.
Devote some of your time in Bucharest to learning about Romania's tumultuous recent history and don't leave without visiting the vibrant Piata Obor market. One of the best things to do in winter is hop between the many cafes and wine bars, an experience that will show you a different side to the city.
---
Transylvania by Train: Bucharest to Sibiu
Route: Bucharest – Brasov – Sighisoara – Sibiu
Editor's pick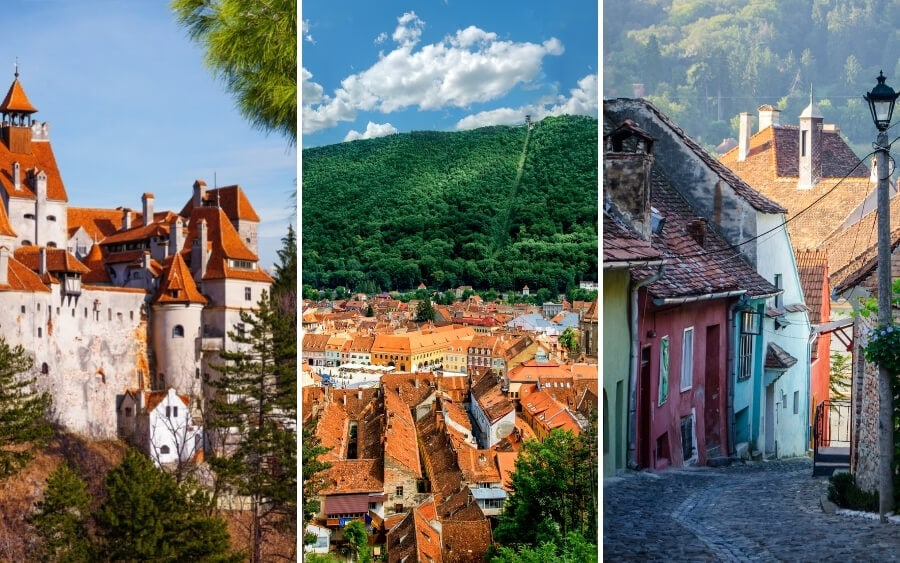 A perfect extension on the previous itinerary (or a wonderful rail journey all on its own), Transylvania by train is a slow travel experience that will allow you to soak up the magnificent landscapes and wild nature this part of Romania is known for.
This trip is all about the fortified churches, Saxon cities and magnificent castles, with a side of hiking (or skiing) plus plenty of opportunities to immerse yourself in Transylvania's unique culture along the way.
A road trip through this area of the Balkans will give you more flexibility, but the romance and nostalgia of the train can't be beat. Connections are reasonable, times fast and fares extremely affordable, making this a great choice for budget-conscious travellers.
Departing from Bucharest, take an early morning train (1.5 hrs) to the small city of Sinai to visit the awe-inspiring Peles Castle. As you break through into mountainous territory and enter Transylvania proper, your first stop is Brasov, another hour north by rail. Brasov is the first of three charming cities on this itinerary and warrants at least two full days, with an afternoon set aside for visiting Bran Castle.
The fortified city of Sighisoara (4 hours by train) is smaller than Brasov but even more charming. Walk the old walls, admire the craft guild gates and climb up both the bell and church tower for a view.
Sibiu (3 hrs) is known for its distinctive vernacular architecture and grand main square – there are towers here that you can climb for an aerial view, too. Connections back to Bucharest are easy to find, or you can continue west to Timisoara then cross into Northern Serbia.
---
Classic Italy: Venice to Rome
Route: Venice – Florence – Rome
Designed by: Samantha from The Wandering Wanderluster
Train travel is arguably one of the most romantic ways to travel. So why not travel by train through three of Italy's most romantic cities?
Venice, Florence and Rome are three of the most-visited cities in Europe and fortunately they are very well connected by Italy's high speed rail network, which means you can easily visit them all in 10 days.
The beauty of this short Italy itinerary is that it can be done in either direction and thanks to the frequency of train departures, you can pretty much leave and travel onto your next destination anytime you want.
Start your trip in the serene 'Floating city' of Venice in the north, known for its charming canals, gondolas and beautiful architecture that lines the main artery through the city, the Grand Canal. There is a lot to see in Venice but for first timers, three days is plenty for the main highlights.
Jump on a 2-hour train and arrive in the heart of the Renaissance city of Florence for another three-day stay. Art lovers will trip over their tongues at the sheer volume of masterpieces to see in the city, while foodies will want to devour their body weight in Bistecca alla Fiorentina and drown themselves in Tuscan wine.
Finally, head to Italy's magnificent capital city, Rome, where there are as many ancient ruins as there are churches – the main must-visit being St Peter's Basilica inside Vatican City.
---
Three Great Capitals: Paris to London
Route: Paris – Brussels – London
Designed by: Dymphe from Dymabroad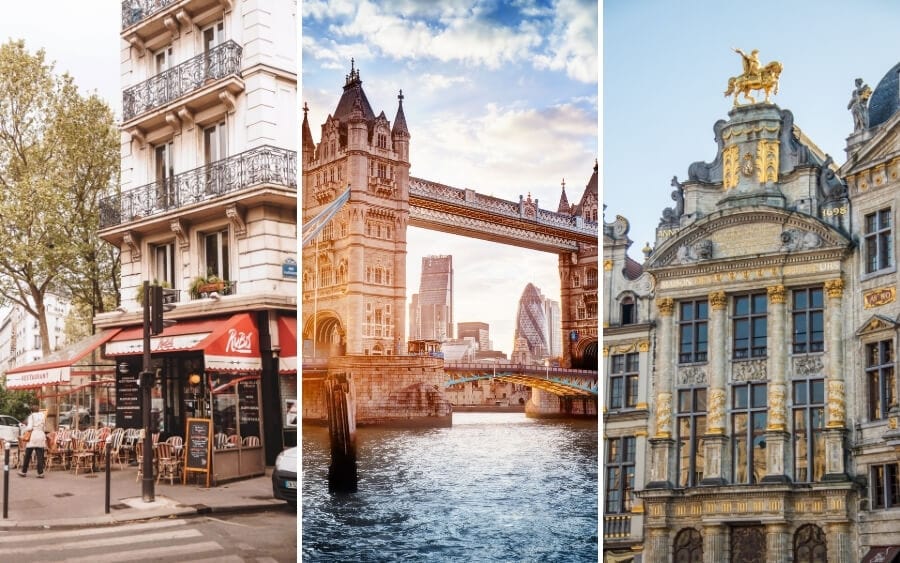 This is the perfect itinerary by train for visiting three of the greatest European capitals.
Start in the French city of Paris where you can glimpse the Eiffel Tower, Louvre Museum and Sacré-Cœur in Montmartre. To explore the highlights of the city, three days is a good amount of time.
The train journey from Paris to Brussels takes about 1.5 hours. The capital of Belgium houses some of the institutions of the European Union. After two days, continue to London (2.5 hrs) for Big Ben, London Eye, Tower Bridge, and Oxford Street.
There are plenty of Instagrammable places in London to check out. Three days in the city is plenty of time to see the most iconic sights.
---
Christmas Market Route: Frankfurt to Metz
Route: Frankfurt – Cologne – Aachen – Liege – Metz
Editor's pick
This festive-themed train trip around Europe takes you between five of the region's most atmospheric Christmas Markets in Germany, Belgium and France. Travel times are short, so you can easily accomplish this route while the markets are in full swing.
Frankfurt's Christmas Market dates back to 1393 and is one of Germany's largest and most spectacular festive events. While you wait for Römerberg square to transform into an open-air market, spend your days in Frankfurt roaming the riverside and the reconstructed Altstadt Old Town. For more things to do in Frankfurt, see this list.
If you're looking for something special to buy from the market in Frankfurt, a locally made blue-and-white pitcher jug is a great choice. Save some room in your suitcase, though, because there's lots more shopping to come.
Cologne (60 minutes from Frankfurt by train) and Aachen (30 minutes from Cologne by train) boast two more gorgeous German-style Christmas Markets.
When your time in Germany draws to a close, cross the border by train to visit Liege (20 mins) where you'll find yet another classic market, this time with Belgian souvenirs and food. Finish with a scenic train trip through Luxembourg to the French city of Metz (4 hrs), where a special gastronomic market awaits.
---
More Europe travel inspiration