Packed with insider tips and travel advice, my Phnom Penh itinerary blog shows you how to spend a perfect 1, 2 or 3 days in Phnom Penh, Cambodia's unforgettable capital city.
Phnom Penh often gets a bad wrap.
Of all the capitals in Southeast Asia (with the exception, perhaps, of Vientiane), Phnom Penh is the one city most travellers tend to overlook.
I lived in Phnom Penh for 12 months, so I completely get it. Unlike when I lived in Hanoi, I had a hard time convincing friends and family to come and visit me in Cambodia. Everyone knows someone who's been to Phnom Penh and has later used the word 'underwhelming' (or worse!) to describe their experience.
On first impressions, Phnom Penh seems to represent many of the things I detest about big cities – not least of all the incessant construction. I'd be lying if I said I adored everything about Phnom Penh. I know the city pretty well, and some of the criticisms are deserved.
But despite our differences, I have a soft spot for Phnom Penh. I miss it everyday, and I go back as often as I can. I strongly believe that with the right knowledge and a good itinerary under your belt, you can have a Phnom Penh experience that's meaningful, fun, and memorable for all the right reasons.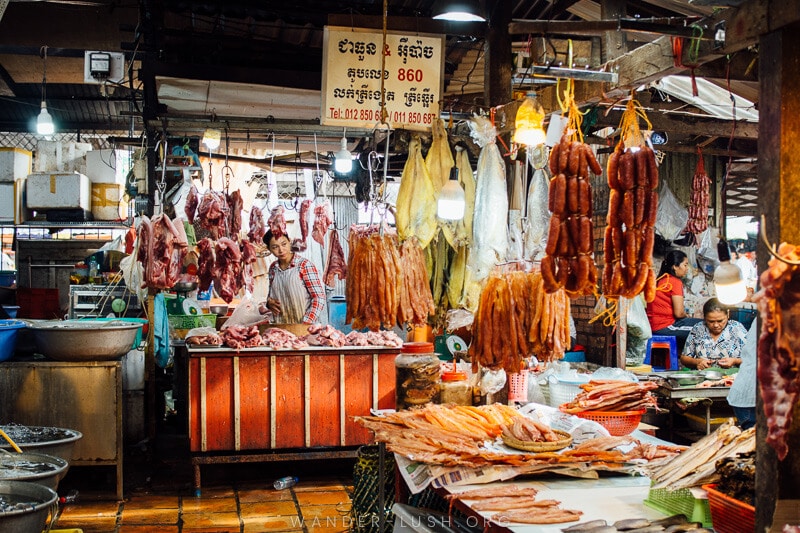 Besides, unless you're flying in and out of Siem Reap, it's inescapable. All roads lead to Phnom Penh – quite literally. If you're planning to travel around Cambodia, logistics will compel you to set foot in the capital at least once or twice.
If you're reading this, you've probably resisted the urge to bypass Phnom Penh completely on your way to Angkor. My advice – don't just fly through Phnom Penh. Take a few days, ideally 2 or 3, to see some of the sights, explore a few of the upbeat local neighbourhoods, and learn what this city is all about.
My Ultimate Phnom Penh Itinerary brings my extensive knowledge of the city together into one succinct guide. In it, you'll find everything you need to know before you visit Cambodia's capital, plus detailed itineraries for spending 1, 2 or 3 days in Phnom Penh.
Read on to discover my favourite Phnom Penh shops, cafes, bars and restaurants, the tourist attractions and hidden spots you should focus on, and what you should skip.
---
Please note: This post contains affiliate links, meaning I may earn a commission if you make a purchase by clicking a link (at no extra cost to you). Learn more.
---
Top 5 Phnom Penh experiences
1. Learn about Cambodia's modern history at Tuol Sleng and Choeung Ek
2. Enjoy traditional dance at the Cambodian Living Arts live show
3. Explore central Phnom Penh by cyclo
4. Experience the food scene with a guided street food & craft beer tour
5. Escape from the city on a half-day cycling tour of the Mekong Islands
Phnom Penh itinerary overview
Day 1: Choeung Ek Killing Fields & Tuol Sleng Genocide Museum; lunch at Cuisine Wat Damnak; Royal Palace & Silver Pagoda; the National Museum; Riverside; rooftop drinks at Juniper Gin Bar; Cambodian Living Arts show; late dinner at Friends the Restaurant.
Day 2: Khmer architecture tour; brunch at Malis; shopping & cafes on Street 240; Independence Monument; Wat Langka; evening street food tour; drinks on Bassac Lane.
Day 3: Cycle the Mekong & Tonle Bassac islands; Russian Market & Tuol Tompoung cafes & shops; drinks at Sundown Social Club.
Planning your trip to Phnom Penh
When is the best time to visit Phnom Penh?
Cambodia has a tropical climate with two distinct seasons: dry and wet. Dry season (usually late November to January) is the coolest time of year. It's also peak tourist season.
March, April and May are the hottest and driest months of the year and should be avoided at all costs. The rains start in June/July and peak in September to form the wet season (or green season, as I prefer to call it).
My favourite time to visit Phnom Penh and Cambodia in general is late September to November. Crowds are relatively thin, and prices are good. It's warm but not too hot, and since it's the tail end of the monsoon, everything still has a green tinge.
Afternoon downpours do happen, but they're usually short bursts. The rain actually does wonders to clear the air and bring down the temperature. In a city like Phnom Penh, you can always escape inside if it rains. Flash flooding is an issue in the inner-city and something to be mindful of.
How many days in Phnom Penh?
Three full days is a generous amount of time to spend in Phnom Penh. This will allow you to see the main tourist sites plus some of the best off-beat attractions and local neighbourhoods.
Not everyone has the luxury of time, so I've optimised this Phnom Penh itinerary to be suitable for 1, 2 or 3 days of travel.
Where to stay in Phnom Penh
Recently, I published an extensive Phnom Penh neighbourhood and accommodation guide. Here is a basic summary plus my recommendations for where to stay in Phnom Penh if you're a first-time visitor.
Most tourists stay near Riverside (Sisowath Quay). Personally, this is my least favourite part of Phnom Penh. However, it is convenient to most of the must-see attractions, so I'm not completely averse to staying at Riverside if you have limited time (truthfully, I've stayed here a bunch of times, too).
A solid mid-range option at is Riverside, Point Boutique Hotel has views of the water, a gin-themed rooftop bar, and is close to all the action of Sisowath Quay. For budget travellers, I recommend Sla Boutique Hostel.
Raffles Le Royal is Phnom Penh's premier hotel and can't be beat for a luxury experience. For something different, designer hotel The Balé is located a bit further out of town and has a river-facing pool, exquisite designer suites with private courtyards, and a great on-site restaurant. Read my review of The Balé.
Tuol Tompoung (Russian Market) is my favourite neighbourhood in Phnom Penh. It has a local feel, and because it's very popular with expats, it has an incredible food and bar scene. It's a bit further out, so factor in travel times.
Double Leaf is my go-to hotel in Russian Market. It's where I stayed on my most recent trip, and where I put my dad up when he visited me. It's away from the buzz of riverside but still close to some of the city's best cafes, restaurants and markets. The double rooms are very comfortable, there's a pool, and the buffet breakfast is better than most.
For a good compromise, BKK 1 is roughly halfway between Riverside and Tuol Tompoung. Plantation Urban Resort is a great choice for luxury on a budget. It also has the best pool in Phnom Penh.
Tea Palace and Baitong are both lovely boutique hotels in BKK 1. Patio, is slightly more upmarket. For budget travellers, I recommend Envoy Hostel or Mad Monkey.
How to get to the city from the airport
Getting from Phnom Penh International Airport into the city can be a traumatic experience for the uninitiated. The easiest way to travel to your hotel when you first arrive is by pre-booking an airport transfer.
At $25 per car including meet-and-greet, it's very reasonably priced. I highly recommend this hassle-free option – especially if it's your first time in Phnom Penh.
It is of course possible to pick up a taxi or tuk tuk at the terminal. However, I suggest using PassApp, Cambodia's ride booking app, to avoid confusion.
An auto-rickshaw booked through PassApp will cost you somewhere in the neighbourhood of 13,000-15,000 KHR to get from the airport to Tuol Tompoung or Riverside.
How to move around Phnom Penh
Phnom Penh isn't the most walkable city. Sidewalks are often missing, and the traffic can be a hazard. It's safe to walk around the central area, but for anything over 10-20 minutes, I recommend finding an alternative.
Phnom Penh doesn't have a public transport system, so the best (and only) way to travel longer distances is using tuk tuks, auto-rickshaws and taxis. Download PassApp, the local equivalent of Grab or Uber, to easily book rides on the go.
Brush up on how to use the service with my complete guide to using Pass App Cambodia. It also includes some important information about staying safe when using tuk tuks.
Phnom Penh cheat sheet
Tips for being a responsible traveller in Phnom Penh
Avoid using single-use plastics. Bring your own refillable water bottle and smoothie cup. Silicone snack bags, a reusable straw and a portable cutlery set will also come in very handy in Phnom Penh.
Try to support independent and local businesses whenever possible. This Phnom Penh itinerary includes lots of recommendations.
Do not give money to children on the street. If you see a child who you think is in danger – or indeed you happen on a situation where you think a child is at risk of harm or abuse – report it to ChildSafe via their hotline. I also urge you to choose hotels and businesses in Cambodia that are ChildSafe Certified.
---
Phnom Penh itinerary: How to spend 1, 2 or 3 days in the capital
About this Phnom Penh itinerary
This itinerary is based on my own experience of travelling, living, and showing friends and family around Phnom Penh. It's built around a couple of key principles:
Pace yourself. Don't try to squeeze too much into each day.
Take a break after lunch. Avoid the hottest part of the day.
Don't shy away from Cambodia's history. Taking the time to learn about Cambodian history – including the Khmer Rouge, Pol Pot and the civil war – is, in my mind, absolutely essential. Just make sure you approach it in a sensitive, respectful way.
If you see a wat or a market, take a detour. There aren't many formally included on this itinerary, but they're everywhere. Whenever you see a market or pagoda that looks interesting, duck in for a few minutes.
Don't bother with the Phnom Penh Night Market. Just trust me on this one.
Important: If you have more than one day in Phnom Penh, I encourage you to swap days 1 and 2 of this itinerary. Day 1 is dedicated to the must-sees, but it's a packed schedule and very heavy. In my experience, it can be too much if you've just come off a flight.
Note that I've used a star system to 'rank' activities on this itinerary: *** (must-see), ** (recommended), * (only if you have time).
Phnom Penh itinerary map
Click here to open my Phnom Penh map in Google Maps. To save a copy to your device for later, simply click the star icon under the title. Note that each of the three days is colour coded.
---
1 day in Phnom Penh itinerary: Must-sees
If you only have a day in Phnom Penh, these are the must-sees.
The Killing Fields (Choeung Ek) and Tuol Sleng Genocide Museum (S21) ***
It would be a disservice to go all the way to Phnom Penh and not take the opportunity to learn about Pol Pot, the Khmer Rouge and the Cambodian civil war. The finer details of this disturbing chapter of 20th century history are still relatively unknown outside the region. But remember, the events of the 1970s are living memory for any Cambodian over a certain age. Call it what you want – dark tourism, perhaps – but in my opinion, travellers have an obligation to both learn about and pay respect to this aspect of Cambodia's past, confronting as it may be.
Tuol Sleng Genocide Museum and Choeung Ek Genocidal Center, also known as The Killing Fields, both elucidate the events of the Khmer Rouge period. These are not easy places to visit, which is why I only recommend tackling them on your first morning if you only have one day in Phnom Penh.
---
Choeung Ek Genocidal Center is located 20km south of the city. A former fruit orchard, it was used as an execution site by the Khmer Rouge, one of many infamous 'Killing Fields' across the country where at least one million people were murdered between 1975 and 1979. (The total human cost is estimated to be between 1.7 and 2.5 million people, counting the victims of forced labour and starvation.)
Mass graves uncovered at Choeung Ek revealed the remains of more than 20,000 people, including many political prisoners who were held at S21. A stupa was erected on the site – if you've seen photos of the 'tower of sculls', this is where it's located. It was decided that the best way to memorialise the victims was by turning Choeung Ek into a learning centre.
When you arrive, you'll be supplied with an audio guide, which is narrated in parts by Choeung Ek survivors. Walking around the grounds, over low hillocks, around lakes and through groves of trees, it actually feels like a very peaceful, idyllic place. The contrast only sharpens the horrors that went on there.
---
Tuol Sleng Genocide Museum was an inner-city secondary school before the Khmer Rouge turned it into a Security Prison, the notorious S21. Political prisoners, including soldiers and government officials, academics, doctors, teachers and even monks were brought here by the thousands for interrogation. Most of them did not survive to see Pol Pot ousted.
Like Choeung Ek, it's a very raw experience. You can clearly see how the tiled classrooms were subdivided into tiny cells. Some still have beds and chains on the floor. Everyone who was held at Tuol Sleng was made to write out their autobiography, from childhood up to their arrest. These documents and sham confessions have been used to piece together the terrors of Tuol Sleng. One of the most moving exhibits is a wall of black-and-white photographs of the prisoners.
---
Although you can visit both Choeung Ek and Tuol Sleng independently, an easier option is to join this half-day hop-on-hop-off tour. It includes transportation between the two sites (almost 1.5 hours of driving in total) in an air-conditioned van, with hotel pick up and drop off included.
If you want a deeper look at these sites, this small group tour with a local guide will give you a window onto Cambodia's recent past.
Choeung Ek: 7.30am–5.30pm daily; $6 (including audio guide)
Tuol Sleng: 8am–5pm daily; $5 (extra $3 for an audio guide)
---
Late lunch at Cuisine Wat Damnak ***
Visiting Choeung Ek and Tuol Sleng takes a full morning. Afterwards, return to Phnom Penh to have lunch and escape the heat during the hottest part of the day.
For a life-changing culinary experience, I highly recommend booking a table at Cuisine Wat Damnak. This legendary restaurant started out in Siem Reap and recently expanded to the capital in 2021. Chef Joannès Rivière blends Khmer flavours (including rare and foraged ingredients) with French techniques. I've eaten at the original branch and it was mind-blowing – this is truly the best restaurant in Cambodia and not one to miss.
The 7-course tasting menu changes every month with the seasons. Expect such delights as Angkor Farm quail salad with holy basil, burnt garlic and wild mangosteen, and for sweets, toasted coconut panna cotta with pineapple and turmeric jam. A separate plant-based menu is available for vegetarians.
If it's anything like the Siem Reap restaurant, tables will often fill up weeks (or months!) in advance, so I recommend making your reservation via the website as soon as you've finalised your travel dates.
Cuisine Wat Damnak Phnom Penh: #29 Street 228; open 11.30am–11pm Mon-Sat (closed Sundays)
The Royal Palace and Silver Pagoda ***
Taking up prime position right on the waterfront, Phnom Penh's shimmering Royal Palace is hard to miss. It's the city's most recognisable landmark and definitely the most popular tourist attraction.
In the late afternoon, the gardens in front of the palace become a picnic spot for local families. It's a great place for people-watching – the atmosphere is electric – and there's lots of food going around. If you want a photo of the lemon-coloured palace walls and turquoise gates without the crowds, come down when the palace is closed, between 10.30am and 2pm every day.
When it's time to go inside, I recommend visiting in the late afternoon. The grounds are generally quieter in the lead-up to the 5pm close, and you can take your time to discover some of the nooks and crannies.
The palace complex includes the residence of Cambodia's Royal Family, several important historical buildings, and the luxe Silver Pagoda. Some parts are closed off for security reasons. My favourite part of the complex is the Ramayana Mural, a huge outdoor gallery decorated with one long, vivid wall mural depicting an epic battle scene. The mural was created at the turn of the century and was recently restored.
Other things to see include the palace gardens, with their spectacular traveller's palms, and the various halls and prayer rooms. You can hire a guide at the ticket booth to take you around – not a bad idea, since printed information is quite limited.
Royal Palace & Silver Pagoda: 8am–10.30am & 2pm–5pm daily; $10
The National Museum *
Cambodia's National Museum houses the country's largest collection of Angkorian antiquities. If you're headed to Siem Reap next and you have a particular interest in history and/or archaeology, it might be worth taking up the offer of an audio guided tour of the museum. But I do think you need some solid background knowledge in order to appreciate the exhibits (there's not a lot of context provided).
If not, you're probably safe to skip it. The museum building itself is gorgeous, but the exhibits are a bit dusty and hard to digest.
If you can't justify the entrance fee, do what I did on my most recent visit and walk around the museum grounds instead. You can find some interesting stone statues nestled in the gardens. At the very back of the complex, there's a small outdoor workshop where a team is restoring items from the collection.
National Museum: 8am–5pm daily; $10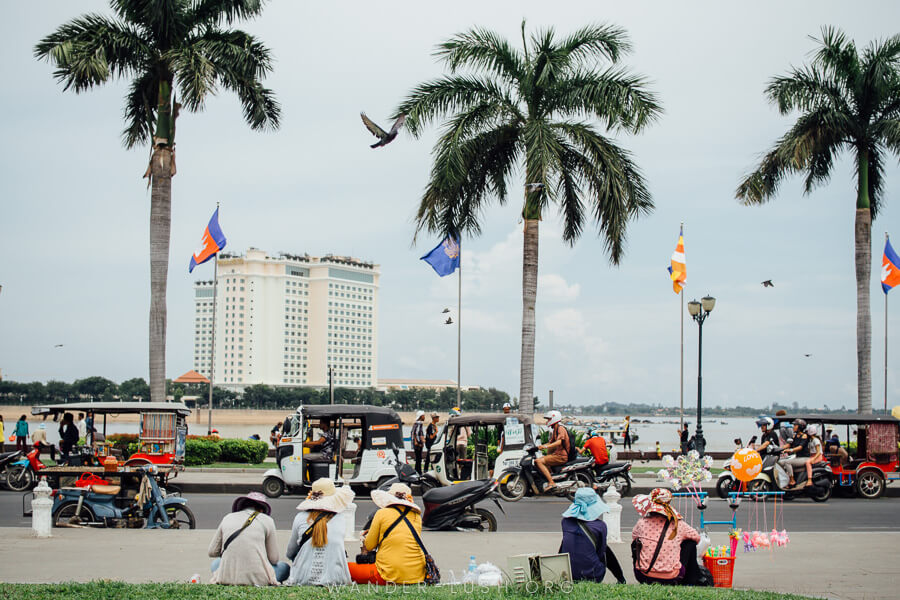 Riverside (Sisowath Quay) **
Riverside Park is a wide, paved boulevard that runs along the edge of the Tonle Sap river through the central part of Phnom Penh. Because it's so exposed, it's usually desolate in the middle of the day. Come late afternoon, it's a very popular local hangout and a great place to take a stroll.
From the National Museum, head towards the river to reach Sisowath Quay then start walking north. Stop for a snack, pause to look at the colourful fishing and cruise boats, and duck down some of the side streets to find street art and other curiosities.
There can be some seedy characters around, so take care of your valuables when you're in this part of town.
Juniper Gin Bar ***
Sisowath Quay, the street that faces onto Riverside Park, is lined with restaurants and a number of 'rooftop' bars. These aren't Bangkok-style sky bars, but rather three or four-story buildings with a terrace bar on top.
Foreign Correspondents Club (FCC) is the most iconic bar on the Quay. There's nothing wrong with FCC – as the meeting place for foreign journalists during the war, it has a lot of history. But there are other options available.
Juniper Gin Bar is located roughly 700 metres north from the National Museum, down a side street away from the river. Being on the 12th and 13th floor, it has a great vantage over the river and on a clear day, unbeatable sunset vistas. The bar itself is Art Deco-style and serves a lovely selection of cocktails, wine and beer.
Juniper Gin Bar: Sisowath Quay (corner of Street 130); open 4pm–midnight daily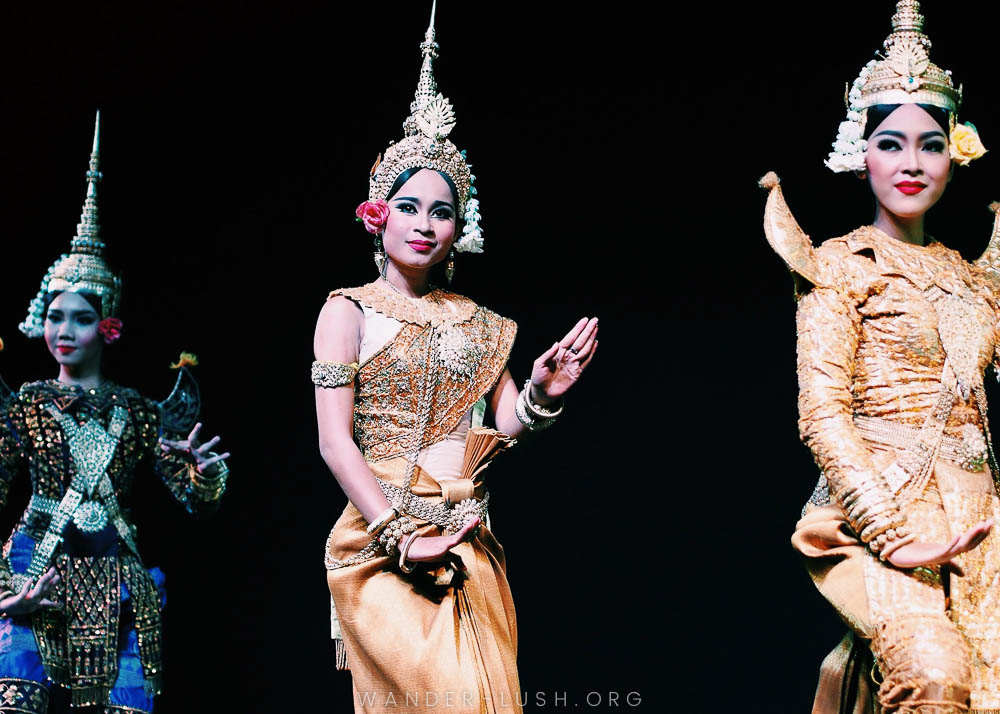 Cambodian Living Arts ***
After sunset, walk back the way you came to return to the National Museum. Cambodian Living Arts' nightly cultural performance kicks off at 7pm in an open-air theatre on the museum grounds.
Cambodian Living Arts was founded by a genocide survivor to safeguard Cambodia's artistic heritage for future generations. The one-hour show, entitled Plae Pakaa (Earth and Sky), features exquisitely-costumed dancers and musicians performing Apsara (Cambodia's national dance), classical dances from the courts of the Angkorian Palaces, and contemporary folk numbers that depict scenes from village life.
It's very popular, so I suggest buying your tickets for the show online in advance (especially if you're travelling during high season). For a hands-on experience, a short dance masterclass with the troupe is unforgettable.
Cambodian Living Arts: 7pm–8pm daily; $15
Friends the Restaurant and Futures Factory ***
End the night with dinner at Friends, a social enterprise restaurant where students and graduates of Cambodia's leading vocational training program hone their skills. The imaginative menu features Khmer and European dishes. If you want to try tarantulas or crickets, this is the place to do it. (I've had both, and they are prepared in a very palatable way!) Sit inside the heritage building or outside in the new courtyard.
Friends is one of the most popular restaurants in town, so I recommend making a reservation in advance. If you're coming from the National Museum, allow 15 minutes to walk down.
In late 2019, Friends expanded the venue to include the Friends Futures Factory (3F), a collection of shops set inside a refurbished colonial-era warehouse. It's open until 8pm, so have a walk around before dinner if you can.
As well as Friends 'n' Stuff, their own gift boutique, there's vintage and second-hand shopping, a hair dressing salon, and a nail bar. Many of these businesses are staffed by Friends students and graduates. It's a vibrant, creative space – and it supports a great project. If you want to get in early with your Cambodia souvenir shopping, this is a great place to start.
Friends the Restaurant: #215 Street 13; open 11am–10pm daily
Friends Futures Factory: 9am–8pm daily
---
2 days in Phnom Penh itinerary: Backstreets & local spots
If you have 2 days in Phnom Penh, I suggest keeping to central Phnom Penh but focusing on some of the lesser-known sights.
Khmer Architecture Tours ***
Phnom Penh is a mishmash of different architectural styles, and you can learn a lot about the city's heritage and character through its built environment.
There are dozens of Phnom Penh city tours available – I always recommend Khmer Architecture Tours (KAT). Their tours follow unique thematic itineraries and hit on a lot of the major points of interest while giving you a totally fresh, local perspective.
When I first moved to Cambodia, I joined KAT's Central Phnom Penh by Cyclo tour. Riding in an old-fashioned, peddle-powered bucket cyclo, you visit some of the city's most iconic buildings, including the Old Post Office and the Central Market. You even have a chance to go inside some 'hidden' apartment blocks.
These structures all tell stories, and KAT's guides – many of them architects or architecture students – parlay the narratives incredibly well.
I've since returned to do two more of KAT's tours. They are all outstanding, and just one component of the organisation's work to promote the value of Phnom Penh's architecture, especially New Khmer Architecture.
Central Phnom Penh by Cyclo: 8.30am–11.30am; $15
Brunch at Malis ***
After your tour of central Phnom Penh, head to Malis for brunch. My favourite 'elevated' Khmer restaurant, Malis serves up traditional breakfasts such as kuy teav noodle soup using organic ingredients. I especially love their breakfast sets, which are great value for money. If you're too late for brekky, the lunch menu is just as good.
Malis Restaurant: #136 Norodom Boulevard; open 6am–7pm daily
Save your caffeine fix for Feel Good Coffee Roasters, just up the road. Their fairly traded beans are roasted in-house and prepared by expert baristas to make the best cup of coffee in Phnom Penh.
---
After brunch, it's time to relax and take advantage of your hotel pool.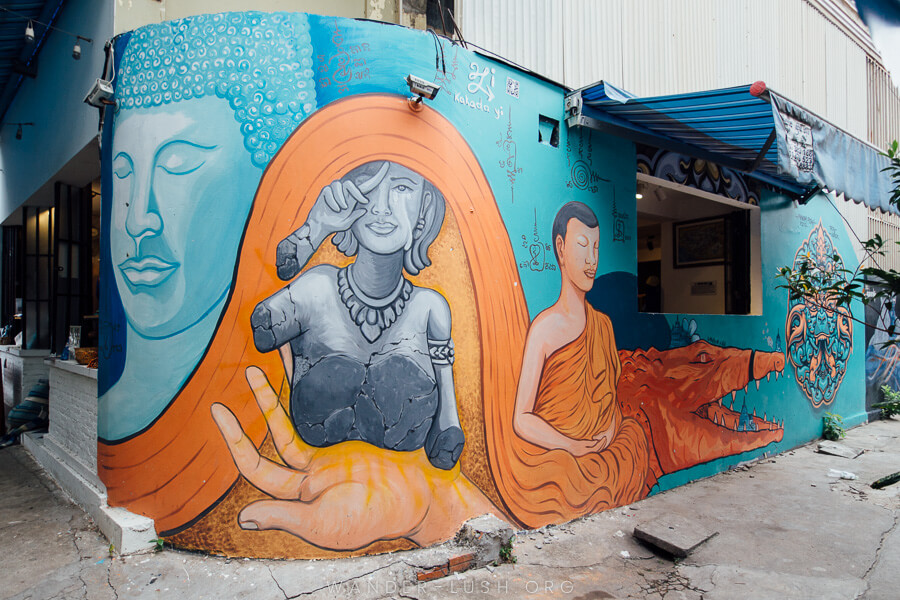 Street 240 **
In the late afternoon, walk yourself down Street 240, one of Phnom Penh's coolest shopping and cafe precincts. If you need a place to start, aim for ARTillery Arts Cafe, where you can grab a smoothie or raw dessert before you commence your explorations by foot.
Alleyway 240, where ARTillery is located, shouldn't be missed. Huge street murals created as part of the annual Cambodian Urban Art Festival depict Buddhist symbols and famous characters from Cambodia's recent history.
There are dozens of gorgeous little shops and boutiques along Street 240 and in the alleyway. Lotus Silk, Rajana and AND all sell beautiful cotton textiles and funky clothing sewn from lightweight, upcycled fabrics. I love Mekong Quilts' range of delicate scarves and tote bags.
Ethical fashion pioneers Dorsu have a new studio-shop down the narrow alley before The Chocolate Shop. Their women's and men's wear is made from end-of-roll fabrics and follows easy-to-wear styles that are perfect for travelling. Everything is made ethically at their studio-shop in Kampot.
Each of these ethical boutiques has a strong social underpinning, working to support women, especially rural artisans, and/or disabled Cambodians.
Also on Street 240, you'll find a couple of book shops where you can restock your travel library. When you need a break, find a table at one of the many cafes and bakeries in the area. The Chocolate Shop, specialising in Belgian truffles flavoured with Kampot pepper and honey from Mondulkiri, is a good choice.
Independence Monument **
Once you reach the end of Street 240's shopping precinct, it's only a short 500m-walk south to reach Independence Monument. Built in 1958 to celebrate Cambodia's independence from France, this iconic traffic circle was designed by Vann Molyvann, the country's most prolific architect and patron of the New Khmer Architecture style.
The distinctive shape of the monument, made to represent a Buddhist stupa, blends modernist and traditional forms drawn from the Temples of Angkor. The base is surrounded by a fountain and is usually fenced off, but it's better to admire the 37 metre-high monument from afar, anyway.
Monument Park stretches out east towards the river and is a lovely place to walk, especially in the late afternoon when the sun has lost its bite and people come out to exercise and do aerobics. The monument also looks pretty spectacular lit up at night.
Meditation class at Wat Langka *
Wat Langka, located at the southwest corner of Independence Monument, is one of the most elegant pagodas in the city. The gates are open throughout the day, and you're free to mosey around the various buildings and statues. It's an active monastery, so you'll often see monks wandering about the gardens (in the morning, a sea of saffron robes pours out onto the streets around the pagoda as the monks go to collect their morning alms).
At 6pm on Mondays, Thursdays and Saturdays, Wat Langka hosts a free public meditation class. If you can squeeze it in, it's a special experience. The session includes Pali chanting and mainly focuses on breathing (nothing strenuous).
Note that you should cover your shoulders and knees, take off your shoes, and leave a small donation in the box as you leave.
Evening street food tour **
If you've got to the end of Day 2 and you still haven't tried Khmer street food, you need to correct that immediately! Cambodia doesn't have the same night market scene as Vietnam or Thailand, but there are still lots of delicious things to sample. It's a bit trickier to figure out what (and just how) to order, which is why I highly recommend joining a food tour.
Lost Plate stands out from all the other food tour providers in Phnom Penh. Their 3.5-hour evening tour covers the best of the city's local food offerings and highlights a couple of craft beer bars, too.
These are intimate, small group tours. The price includes unlimited food and drinks, hotel pick up, transport by tuk tuk, and a guide, who will narrate each dish and explain how it fits in with Cambodian culture. Vegetarians/vegans are welcome.
Evening Local Food Tour: 6pm–9.30pm daily
Bassac Lane **
Uber-trendy Bassac Lane is my favourite place to experience Phnom Penh nightlife. Basically, it's a narrow alleyway carved out from a suburban block in the BKK 1 neighbourhood and crammed full of classy cocktail and up-market craft beer bars, each with its own theme (one is decked out to look like a library, another a motorcycle garage).
There is live music some evenings, which adds to the atmosphere. It's a very nice place to be if you want to get out after dark, but you want to avoid the rowdy backpacker scene.
Bassac Lane: Off Street 308 (corner Street 29); open from 5pm–midnight daily
---
3 days in Phnom Penh: Beyond the city
After 2 full days in Phnom Penh, you'll likely feel like you need some respite from the concrete jungle. On Day 3, it's time to get out of the city centre and explore the rural areas just a stone's throw from Riverside.
Cycle the Mekong & Tonle Bassac islands ***
My favourite part of Cambodia is the northern Mekong region – Kampong Cham, Kratie and Chhlong. You don't have to travel far from Phnom Penh to get a taste of small-town Cambodia, where life revolves around the river.
The Mekong and Tonle Bassac islands are a set of elongated islands that sit in the middle of the two rivers, just off shore from Phnom Penh. Koh Dach (Silk Island) is the biggest and most well-known. A network of car ferries crisscross the rivers constantly, delivering people, produce and swarms of motorbikes to and from the islands. For many people who live and work in Phnom Penh, this trip is part of their daily ritual.
On the islands and on the opposite side of the riverbank to Phnom Penh, there are lots of small villages and agricultural communities clinging to the edge of the river and embedded in pockets of forest further inland.
These are quintessentially rural landscapes, made up of never-ending rice paddies, swaying palm trees, and beautiful Khmer-style stilted houses. Every now and then, you'll see a fabulously extravagant pagoda. Buxom buffalo and bony cows mill about market gardens, while roosters flash their flamboyant red and blue feathers against a backdrop of iridescent green.
It's the perfect place to take some time out from the city.
You can either hire a bike and do it DIY, or go with a local guide. Departing at 8am, this cycling tour with Grasshopper Adventures covers 25km of flat tracks around the islands. I love that Grasshopper is a socially responsible company and emphasises meeting and chatting with local people as part of the tour experience.
Rural Half-Day Bike Tour: 8pm–12.30pm daily
---
After the tour, grab an easy lunch and cool off at your hotel.
Russian Market neighbourhood ***
Every city has a neighbourhood where the coolest cafes, boutiques and bars tend to congregate. In Phnom Penh, it's Tuol Tompoung, or Russian Market. This is my old stomping ground and my favourite part of the city bar none. Every time I go back, there are half a dozen new cafes and shops to check out.
Dedicate your last afternoon in Phnom Penh to a slow-paced exploration of Russian Market on foot.
Be sure to visit Psar Tuol Tompoung (Russian Market), the undercover food and sundries market that gives the neighbourhood its name. Lots of people get put off by the cheap souvenir and antique shops at the front of the market. However, the dimly lit depths – the belly of the market where all the food stalls and restaurants are located – is local through and through. It's a sensory overload just walking around and trying to comprehend everything that's going on around you.
Wat Tuol Tompoung, the local pagoda, is also worth stopping off at if you have time.
If you've saved your souvenir shopping for the last day, you won't be disappointed. There are interesting independent brands and retailers on almost every street.
At Dai Khmer, you can shop for hand-crafted soaps, solid shampoo bars and other body care products made with Cambodian turmeric, coconut oil, aloe, and other goodies. They also have a refill station where you can top up your travel-sized toiletries bottles.
The hand-woven fabrics at Goel Community are another stand out. This social enterprise works with cotton weavers in Takeo to create clothing, kids' wear and toys that are Fair Trade Guaranteed. The beautiful hues are derived from natural dyes.
Smateria has several shops in the city, including a branch in Russian Market. Their bags, luggage and pouches made from recycled plastic make for colourful and practical gifts.
There are lots of places to stop for coffee in Tuol Tompoung. Try La Chronique for specialty coffee served on the balcony of a beautiful corner house, or Lot 369 for Melbourne-style flat whites.
If you want to wind down with something harder, La Pétanque Bar in the alleyway off Street 155 is the perfect place for an afternoon beer or glass of wine.
For dinner in Tuol Tompoung, you have a huge variety of international cuisines to choose from – including Bruneian, Iraqi and Korean. For something light and fresh, Eleven One Kitchen serves Khmer classics and Western dishes in a beautiful courtyard setting. I really like their banana flower salad and the beef lok lak burger.
Sundown Social Club ***
The perfect way to end your final day in Phnom Penh is with drinks at Sundown Social Club. Unlike the rooftop bars along Sisowath Quay that face the river, this cabana-style bar boasts aerial views over Tuol Tompoung market. Personally, I think the view here is much more interesting!
As you sip on a cocktail or craft beer, peer over the edge of the balcony to look directly down on the undercover market, a patchwork of tin roofs that stretches out to the horizon, hemmed in by a row of skyscrapers. At dusk, the street directly below is crowded with food vendors and people gliding along on their motorbikes, pausing to pick up dinner supplies.
It's the perfect motif for Phnom Penh, an ever-changing city. You can't help but wonder how much longer local markets like this one can hold out against the ferocious pace of change.
Sundown Social Club: #86 Street 440; open 4pm–midnight daily
---
Day trips from Phnom Penh
If you have 4 or more days in Phnom Penh, you might like to consider taking a day trip to explore the provinces around the city.
Here are a couple of my favourites. You can find more suggestions and alternatives in my full guide to the 12 best Phnom Penh day trips.
Silk Island (Koh Dach)
Back in the day, Cambodia was known for its 'golden silk' – a rare and coveted fibre extracted from a particular species of silkworm brought to the Kingdom from India. The art of growing, spinning and weaving with silk has waned overall, but it lives on in small artisanal workshops and co-ops around the country.
If you're particularly interested in Cambodian art and textiles, Koh Dach (Silk Island) is an easy day trip from Phnom Penh. The island in the middle of the Mekong River is famous for its community of silk weavers who work on looms set under stilted houses. There's also a silk learning centre with a small display and demonstrations.
Koh Dach is (roughly) 20km ride by bicycle or motorbike from the centre of town (via car ferry). Alternative, you can get there by hiring a tuk tuk (or taxi) and driver for the day, or join a boat cruise.
Read more about visiting Koh Dach from Phnom Penh.
Phnom Tamao Wildlife Rescue Center
Phnom Tamao is a massive wildlife sanctuary and protected forest reserve 40km south of Phnom Penh in neighbouring Takeo Province. Part of the complex acts as a refuge for animals – including elephants, big cats and monkeys – that have been rescued from wildlife trafficking.
I don't normally promote animal tourism because of the ethical concerns. But having personally visited Phnom Tamao, I can vouch for the sanctuary portion of the Center. I especially recommend visiting Free the Bears – a charity that works across the region to free Sun and Moon Bears from trafficking and the illegal pet trade.
Free the Bears runs a tour program that includes transfers from Phnom Penh by van. This is by far the easiest way to get to Phnom Tamao. For more information and booking details, read my review of the Bear Care Tour.
Oudongk
Cambodia's old capital city, Oudongk (also spelled Oudong) is located 40km up river from Phnom Penh. There is a cluster of significant (and beautiful) wats and stupas around the base of Oudongk mountain, culminating with the eponymous Wat Oudongk, which is seated at the top. You can hike up for some pretty amazing views.
You can cycle or moto to Oudongk – or you can join an organised tour from Phnom Penh or even a boat cruise up the Tonle Sap. The Facebook Group Phnom Penh Hike organises group trips to Oudongk almost every weekend. It costs $17 per person (including transfers from Phnom Penh) to join.
Takeo Weaving Village
Another option for fans of arts and crafts is to visit the weaving studios run by social enterprise Takeo Waving Village. If it's a weekend, I recommend taking the train from Phnom Penh to Takeo then jumping in a tuk tuk to travel the rest of the way. If you want to escape from the city for a night, they also run a lovely homestay.
Click here to reserve your train tickets online through Baolau.
Kampong Cham
Just shy of three hours' drive north from Phnom Penh, Kampong Cham can technically be done as a day trip from the capital. However, I highly recommend spending at least a night in Kampong Cham to find out why it's my favourite town in Cambodia.
If you do want to attempt a Kampong Cham day trip, you should consider joining a guided excursion. This full-day tour includes private transportation by car.
Click here to reserve Phnom Penh to Kampong Cham bus tickets online through Baolau.
What to wear in Phnom Penh
Loose, lightweight clothing is the way to go in Phnom Penh. Cambodian culture is quite conservative, so I always recommend wearing something that covers your shoulders (both for ladies and men).
If you're visiting temples, you'll need to have longer pants that cover your knees. Shoes that are easy to slip on and off are also a great idea.
I always recommend carrying a lightweight cotton scarf (ladies) or a buff (men) in Cambodia. It could come in handy for covering your shoulders in temples, covering your mouth if the road is dusty – and a million other uses.
A wide-brim hat is absolutely essential at any time of year, and especially if you're going to be out in the middle of the day.
---
5 things to pack for Phnom Penh
A reusable water bottle. Absolutely essential in Cambodia for minimising plastic waste and staying hydrated. I love my S'Well water bottle – it's vacuum insulated to keep water icy cold for the whole day, and it doesn't sweat. If you like your mango smoothies, pack a reusable smoothie cup as well.
Rehydration tablets or sachets. At the end of a long day bike riding or exploring temples, your body will be crying out for electrolytes (believe me!). I prefer Hydralyte tablets because they come in a handy tube. If you forget to bring some from home, the Double D brand is sold at most pharmacies and grocery stores in Cambodia.
Rain jacket and travel umbrella for the wet season. Wet season is my favourite time to travel in Cambodia because the countryside is so verdant. Downpours come out of nowhere, so it's essential to have a rain jacket with you at all times (I love the packable rain jackets by Lomon for women and EZRUN for men). I also carry a travel umbrella in case it's too hot and steamy to wear a jacket. This one is UPF 50+, making it great for sun cover as well.
A sturdy day pack. An anti-theft backpack is particularly good for the cities, especially Phnom Penh. Opt for a minimalist backpack that doesn't stand out like a sore thumb.
Cambodia guide book. I prefer Lonely Planet's dedicated Cambodia guidebook or regional guidebook that also covers Laos, Vietnam and Northern Thailand.
---
Staying safe in Phnom Penh
Phnom Penh is a relatively safe city. The main concern is pickpockets and bag snatching, which does unfortunately happen far too often. Petty criminals mainly target tourists around Sisowath Quay, so I always advise extra caution when you're in the Riverside area.
It's also important to know that petty crime tends to escalate in the lead-up to religious festivals. Holidays demand a lot of expenditure – bus tickets to get back to the provinces, cash gifts for family – which puts financial pressure on a lot of people.
Secure your bags when you're riding in an open tuk tuk (more advice here), especially on your way to and from the airport. Be careful when pulling out your camera or phone on the street, and avoid dark areas at night. In essence, exercise common sense – and use a bit more caution than you would in other cities in the region.
For peace of mind, consider travelling with an anti-theft day pack.
---
Where to next? More Cambodia travel resources
---
Cambodia essentials
Planning a trip to Cambodia? Here are some of the resources and tools I personally use to organise my travel plans in the Kingdom.

– Find affordable flights to Cambodia on Kiwi.com, a booking site that mixes and matches airlines to find the best route (there's a money back guarantee if you miss a connection).

– Use iVisa to check if you need a tourist visa for Cambodia and apply for an expedited visa online.

– Pre-book your hotel transfer from Phnom Penh Airport or Siem Reap Airport.

– Find the best hotel deals in Cambodia on Agoda or book a Cambodia hostel.

– Buy your Cambodia bus tickets online in advance through Bookaway or organise a private car and driver through BookMeBus.

– Download Pass App to book tuk-tuks and taxis on the go.

– Find the best cooking classes and foodie experiences in Cambodia.

– Find the best city tours and day excursions in Cambodia.

– Try an alternative tour or DIY experience with social enterprise Backstreet Academy.

– Pick up a copy of the latest Lonely Planet guidebook for Cambodia.
---
The Ultimate Phnom Penh Itinerary: Pin it!