Wondering where to stay in Phnom Penh, Cambodia? This complete guide to finding the perfect accommodation in Phnom Penh includes the best neighbourhoods for tourists, areas to avoid, and a hand-picked list of the 25 best Phnom Penh hotels, guesthouses and hostels for this year.
As someone who has lived in Phnom Penh and visits Cambodia often, I know the capital extremely well. Over the years, I've learned (sometimes the hard way!) what are the best areas to stay in Phnom Penh and what are the places to avoid.
Most Phnom Penh accommodation guides only consider the popular Riverside area, by far the most touristy (and honestly my least favourite) part of the city. I've widened the net much further to show you the best local neighbourhoods and expat areas where you can find awesome boutique hotels and unique accommodations.
---
Please note: This post contains affiliate links, meaning I may earn a commission if you make a purchase by clicking a link (at no extra cost to you). Learn more.
---
Best Phnom Penh accommodations: Quick links
Short on time? Here are my quick recommendations for the best hotels in Phnom Penh.
Where to stay in Phnom Penh: Area guide
Before you start looking at specific properties, I highly recommend deciding which part of Phnom Penh you'd like to stay in. The city is deceptively big, and each neighbourhood offers something for different tastes and budgets.
It helps to have an idea of what you want to do in Phnom Penh – is the purpose of your visit to tick off the tourist staples, or do you prefer cafe hopping and boutique shopping? It's very easy to get around Phnom Penh using PassApp. But if you end up staying at the opposite end of town to where you want to spend your days, you could end up spending a lot of your precious holiday time stuck in traffic!
In this section, I break down the pros and cons of the 6 most popular areas for tourists: Riverside (Sisowath Quay), Doun Penh, Street 240, BKK1, BKK2, and Tuol Tompoung.
---
Riverside & Doun Penh – best place to stay in Phnom Penh for first-time visitors
Phnom Penh's Riverside is officially part of Khan Doun Penh, a large district that stretches along the Tonle Sap from the Japanese Bridge all the way to Independence Monument.
'Riverside' usually refers to the 1.5km portion of waterfront between the Night Market and the Royal Palace. As well as Sisowath Quay (the main road), it also encompasses two or three city blocks back from the river.
Doun Penh is a district that includes Sangkat Voat Phnum and Sisowath Quay – but for the purposes of this guide, I'm using it to refer to the area behind Riverside that runs from Wat Phnom down past Central Market to the back of the Royal Palace.
This area is walking distance from all the main attractions but a touch quieter and less touristy. You can find some great budget accommodations here as well as several highly rated resorts.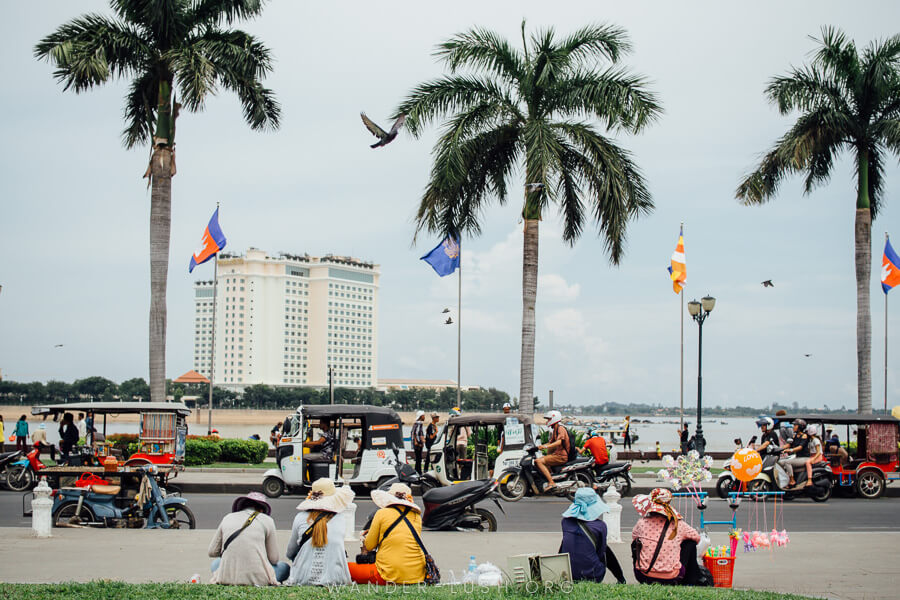 Pros: River views; sky bars along Sisowath Quay; walking distance to most of the city's top attractions.
Cons: Riverside Park is notorious for pickpockets and touts; the back streets are extremely seedy – proliferation of 'girly bars', which I personally can't stand; it's the most expensive part of the city for accommodation, food and drinks; tourist-heavy with less local character; noise pollution from hostels and bars.
Nearby points of interest: The Royal Palace and Silver Pagoda; the National Museum; Wat Phnom; Central Market; Riverside Park promenade; Mekong boat cruises; the Night Market.
Good for: First-time visitors who want to be close to the action.
---
Street 240 – best area to stay in Phnom Penh for cafes & shopping
Nestled inside Doun Penh, Street 240 is it's own little microcosm. The street runs east-west between Independence Monument and Wat Botum Park, along the southern wall of the Royal Palace. It's one of my favourite places to hang out in Phnom Penh.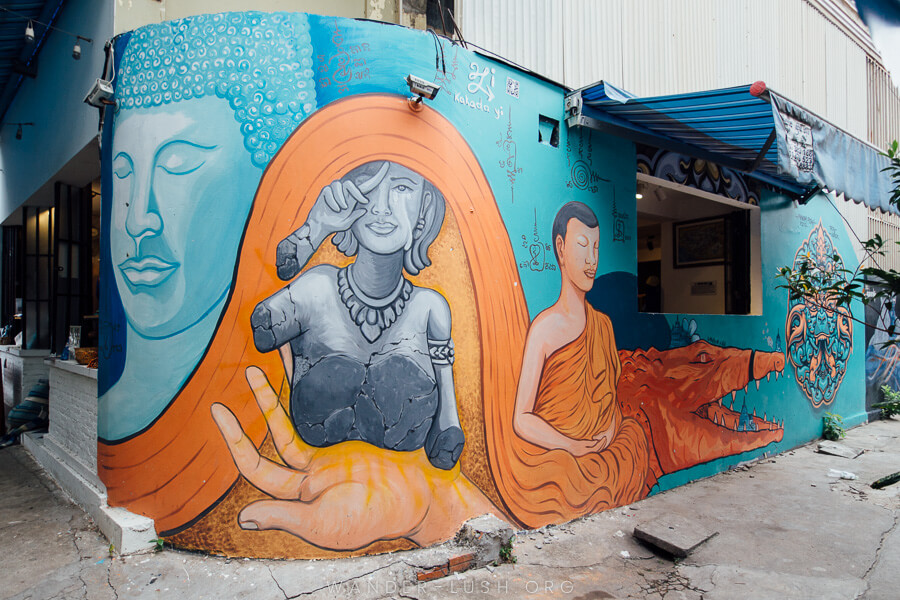 Pros: Excellent cafes and restaurants; best shopping precinct in the city; laneway culture and street art; lots of boutique hotels to choose from; still walking distance from many top attractions, including the Royal Palace.
Cons: Fewer local/street food options; eateries are tailored to expats and prices can be high.
Nearby points of interest: Street 240 and Laneway 240 (cafes and boutiques); Wat Botum Park; the Royal Palace and Silver Pagoda; Independence Monument.
Good for: Couples or singles interested in up-scale dining and shopping.
---
BKK 1 – best place to stay for families
BKK 1 (Sangkat Boeung Keng Kang 1) refers to the area southwest of Independence Monument. BKK 1 is part of Khan Chamkar Mon district, which takes in the entire southern portion of the city. Popular among UN staff and other well-to-do expats, this is by far the most gentrified part of the city.
Pros: Very safe on account of the demographics and proximity to embassies; never-ending supply of specialty coffee shops and laptop-friendly cafes; excellent restaurants, including lots of vegetarian and vegan options; laneway bars and nightlife on nearby Bassac Lane; green space and leafy streets; plenty of yoga studios, hair salons, and other services.
Cons: Expat-heavy, feels gentrified; because of the demographics, prices are high; fewer local and street food options; no local market within close proximity; further to travel to attractions around Riverside.
Nearby points of interest: Wat Langka; Independence Monument; Bassac Lane; Wat Thann.
Good for: Families who need space to stretch out by a resort-style pool or anyone who loves boutique hotels with character.
---
Tuol Tompoung – best location to stay in Phnom Penh for local vibes
Also part of Khan Chamkar Mon, Tuol Tompoung (AKA Russian Market) sits east of Monivong Boulevard and south of Mao Tse Toung. (A friend of ours calls it SOMAO, our very own SOHO.)
This is my old neighbourhood, and by far my favourite place to spend time in Phnom Penh. Whenever I go back, I stay here. Russian Market offers a near-perfect blend of local vibes and tourist/expat conveniences. It's an area on the up and up – I hope it doesn't change too much in the months and years to come.
Pros: Charming local vibe – great place to get lost; plentiful supply of street food and local restaurants; lively local market; great cafes, bars, and international restaurants; cute gift shops and fair trade boutiques.
Cons: Far from the tourist sights near Riverside (minimum 20 minute tuk tuk ride); heavy traffic in the evenings, especially around the market.
Nearby points of interest: Russian Market; Wat Tuol Tompoung; Tuol Sleng Genocide Museum.
Good for: Solo travellers & digital nomads.
---
BKK 2 & 3
BKK 2 and BKK 3 are less well-defined. Generally they are grouped together to refer to the area east of Monivong Boulevard and north of Mao Tse Toung. This is another local neighbourhood with great street food, local restaurants and charming residential streets.
Pros: Local vibes; quiet; lots of markets and street food options.
Cons: Fewer accommodation choices; not many tourist attractions in close proximity; less residential and more commercial so not as pleasant to walk around; far from the tourist sights near Riverside (minimum 15 minute tuk tuk ride).
Nearby points of interest: Tuol Sleng Genocide Museum; Russian Market; Olympic Market and Stadium; Wat Moha Montrei.
Good for: Budget and long-term travellers.
---
Where not to stay in Phnom Penh – areas to avoid
Tuol Kork is a residential district that's popular among expats and families. But it's not really suitable for visitors to Phnom Penh because it's very far from the city centre, and there aren't as many restaurant options.
The touristy part of Riverside is generally considered unsafe and unsavoury. It's my least favourite part of Phnom Penh and an area I normally try to avoid at all costs. I've included Riverside in this guide because it is so central and so popular – but as you'll see, I've only selected a handful of hotels near Sisowath Quay.
Anywhere near a canal. Phnom Penh has a couple of open canals that are very polluted and stinky. Some are marked on Google Maps as a thin blue line running parallel to main streets. I used to live right above one (fondly dubbed 'Sh*t Creek') – it actually didn't bother me that much, but if you don't want to smell that first thing in the morning, avoid staying near Street 105 and Street 396 (Tuol Tompoung and BKK 2).
---
Tips for choosing the perfect Phnom Penh hotel
Is it secure? This is my number one concern when deciding where to stay in Phnom Penh. You can only do so much before you actually arrive, but I do recommend looking for a place that has security guards (most hotels do), and is in a safe area (close to embassies or apartment blocks when looking on Google Maps).
Does it have a pool? Phnom Penh is hot! There are lots of resort-style pools you can use for a small fee, but you might prefer to have one on your doorstep.
Is it locally owned? Again, this can be really hard to gauge before you actually get there. If supporting local businesses is important to you, do a bit of digging before you book. I've included a few locally owned hotels below.
Is it close to a local market? Markets are the best place to find street food and budget eats. If there's a market nearby, it's a pretty good indication that the area will have an interesting local vibe.
---
Where to stay in Phnom Penh: Best accommodations for every budget
This curated list of hotels, guesthouses, resorts and hostels is organised by price category. Although I have not personally stayed at each and every one of these properties, I have friends and family who have. To provide you with the best recommendations possible, I've elected to only list hotels that have a guest rating of 'Excellent' or better.
All prices shown are in USD when booking through Agoda. Rates are only approximate and are subject to change at any time.
Luxury hotels in Phnom Penh
If you're in the mood to treat yourself, these luxury and luxe-for-less properties combine Khmer heritage, elegant colonial architecture and first-class service for an unforgettable stay.
No buffet? Here's where to find the best breakfasts and brunches in Phnom Penh.
---
Best boutique hotels in Phnom Penh
These small-but-beautiful accommodations offer travellers an intimate experience. Many of these urban resorts feature incredible pools and leafy tropical gardens.
---
Mid-range hotels in Phnom Penh
Economical, efficient but no less glamorous, these mid-range Cambodian hotels are perfect for a short inner-city trip or a longer stay in a self-contained apartment.
---
Budget hotels & hostels in Phnom Penh
These budget-friendly accommodations are perfect for anyone who wants to save some cash without compromising on features or service.
---
How (and when) to book accommodation in Phnom Penh
How far in advance should you book your Phnom Penh hotel? That depends on the time of year you're travelling. If your visit is during peak period (November to January), I would recommend booking your accommodation 4-8 weeks out to secure the best price possible. If you're travelling in low or shoulder season, you can get away with booking a few weeks (or even days) in advance.
'Abundance mentality' is key in Phnom Penh. There are so many properties to choose from, it will almost always be possible to show up and find a room on the spot.
Ninety-nine percent of hotels and guesthouses in Phnom Penh accept credit card as well as cash (USD or Cambodian riel). A few may ask for a small safety deposit ($10-$30) at check in, so it's a good idea to have some cash on you when you first arrive. Hotels are required to register all foreign tourists, so you'll be asked for your passport at check in.
Booking with Agoda
Agoda is by far my favourite online booking service for accommodation in Southeast Asia. I prefer it to Booking.com for a few reasons. Firstly, I find the interface and app much easier to use. Pre-payment in full is the norm, which comes in really handy in Cambodia where smaller hotels often don't accept cards, and ATM fees for withdrawing cash are high.
Agoda always has specials on – I've been able to find some outstanding deals using the app. If you sign up for an account, you accrue points that you can use to get a discount off future reservations.
Agoda currently has more than 1,000 Phnom Penh listings. Browse them all here, or read on for my specific recommendations.
Can you use Airbnb in Phnom Penh?
Airbnb is legal in Cambodia, but it's not as popular as in neighbouring Vietnam or Thailand. I have only used Airbnb in Phnom Penh once, and personally I do not recommend it.
Don't get me wrong – there are some great properties on the site – but the problem is that most are located in residential areas. Hotels, guesthouses and even hostels have good security, whereas you have to be much more wary about private homes and apartments. Unfortunately personal security is something you have to be on guard about when visiting Phnom Penh.
---
How to get to your accommodation when you first arrive
When you first arrive in Phnom Penh – be it by plane, bus or train – I strongly advise you do not pick up a taxi or tuk tuk at the airport/station. Unfortunately, unsuspecting new arrivals often get taken advantage of by drivers.
Instead, download PassApp before you arrive and jump on the nearest WIFI connection to order a tuk tuk that way. Giant Ibis buses have WIFI on board, so if the connection is strong enough, you can order a ride as you're pulling into the coach station.
Prices are always 30-50% cheaper if you book using the app. As an example, I used to pay a flat $10 to get from the airport to my apartment in Russian Market. There was no other option. On my recent visit, I paid just $3 for the same trip when I used PassApp.
If you don't want to fiddle around with the app or you can't get on WIFI, just ignore the drivers who will no doubt approach you and walk a few blocks in any direction to pick up a driver from the street.
If you're arriving at night or you just want a hassle-free experience, I highly recommend pre-organising pick up through your accommodation in Phnom Penh. Most hotels do it for a reasonable flat fee (around $12) and will have someone there ready to meet you. Alternatively, you can book an airport transfer online.
---
5 things to pack for Phnom Penh
A reusable water bottle. Absolutely essential in Cambodia for minimising plastic waste and staying hydrated. I love my S'Well water bottle – it's vacuum insulated to keep water icy cold for the whole day, and it doesn't sweat. If you like your mango smoothies, pack a reusable smoothie cup as well.
Rehydration tablets or sachets. At the end of a long day bike riding or exploring temples, your body will be crying out for electrolytes (believe me!). I prefer Hydralyte tablets because they come in a handy tube. If you forget to bring some from home, the Double D brand is sold at most pharmacies and grocery stores in Cambodia.
Rain jacket and travel umbrella for the wet season. Wet season is my favourite time to travel in Cambodia because the countryside is so verdant. Downpours come out of nowhere, so it's essential to have a rain jacket with you at all times (I love the packable rain jackets by Lomon for women and EZRUN for men). I also carry a travel umbrella in case it's too hot and steamy to wear a jacket. This one is UPF 50+, making it great for sun cover as well.
A sturdy day pack. An anti-theft backpack is particularly good for the cities, especially Phnom Penh. Opt for a minimalist backpack that doesn't stand out like a sore thumb.
Cambodia guide book. I prefer Lonely Planet's dedicated Cambodia guidebook or regional guidebook that also covers Laos, Vietnam and Northern Thailand.
---
Phnom Penh must-dos
---
More Cambodia travel resources
---
Thoughts or questions about Phnom Penh accommodation? Drop your comment below and I'll do my best to help out!
---
Where to stay in Phnom Penh: Pin it!
---
Property images courtesy of Agoda.