The Stalin Museum is one of Georgia's most popular dark tourism destinations. Here's what to expect when visiting Stalin's hometown, plus visitor's info and practical tips.
2022 update: This blog was written during my first trip to Georgia in 2017. Having since returned to re-visit the Stalin Museum several times, my opinions about the guides and exhibits have changed. I've decided to leave my reflections as-is for now and only update the visitor's info. Please take the opinions expressed here with a grain of salt. If you have any thoughts to share about your visit to the Stalin Museum, please leave me a comment at the end.
Also read: Great things to do in Gori beyond the Stalin Museum.
---
Please note: This post contains affiliate links, meaning I may earn a commission if you make a purchase by clicking a link (at no extra cost to you). Learn more.
---
'Out, damned spot', is all I could think of as I saw the scene unfold.
Standing in the shade of the sandstone cloister, I watched as a man in worker's garb approached the statue, removed his jacket, and traipsed it over the concrete plinth. He unfolded the step ladder he was carrying and once atop, splashed the stony face with clear fluid from a recycled Coke bottle.
A small crowd of bystanders gathered around as the man rigorously scrubbed Uncle Jo's shoulders and cuffs with what looked like an old shoe brush.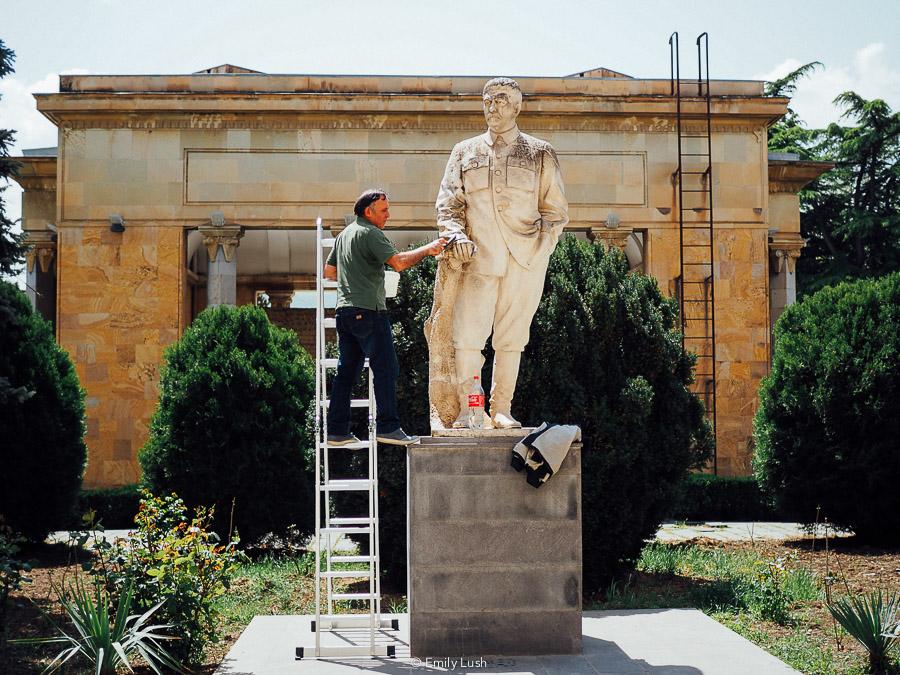 Most cities ceremoniously toppled their Stalin statues. In Gori in Georgia, there are still more than a few dotted around town.
This particular effigy in Stalin Park is kept in good nick – staff diligently scour the black and grey mould from his upper half every now and then. A leader must look his best, lest his legacy be tainted.
Visiting Stalin's birthplace, Gori
In preparation for our first trip to post-Soviet Europe, I read a short Stalin biography. I had always assumed that he was Russian and never realised that Stalin was actually born in Georgia, then part of the Russian Empire.
Gori, his birthplace, is a beautiful little city an hour west of Tbilisi.
It was here that Ioseb Besarionis dze Jughashvili was born and schooled before he went off to become Joseph Stalin and join the ranks of the 20th century's most loathsome figures.
Like the other Soviet Republics, Georgia suffered under Stalin's reign (cultural and linguistic oppression, for starters), but Stalin and Stalinism aren't uniformly hated in Georgia.
Georgia's relationship with Stalin is complicated. In Gori, he still has his fair share of devotees. Here, Stalin's name and legacy is a source of fame (or infamy), pride, and dark tourism dollars.
Gori's main avenue and city park both bear his name. At the railway station, another Stalin statue stands watch over one of the waiting rooms.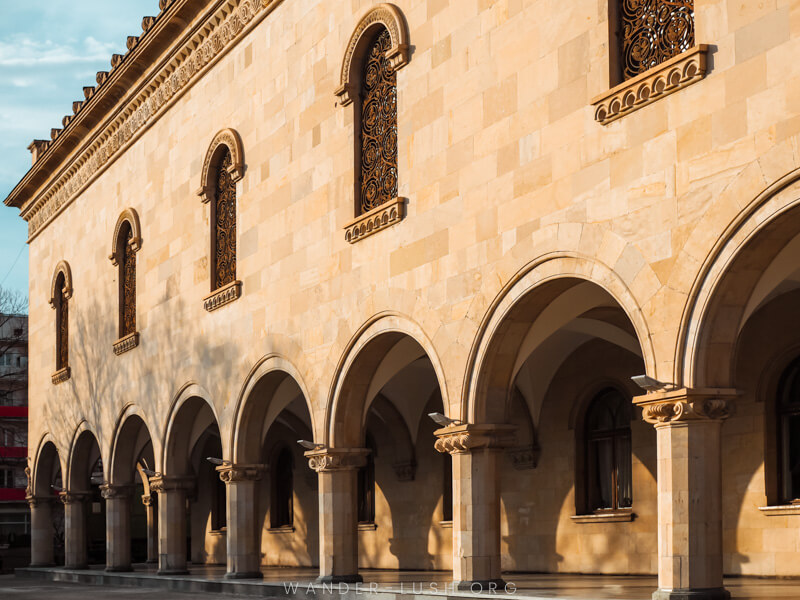 Visiting the Joseph Stalin Museum in Gori
The personality cult centres on the Stalin Museum in the middle of town: An elegant stone building with well-kept courtyards.
Inside, it's all red velvet, chandeliers and parquet floors. A grand staircase leads visitors from the ticket desk to the first floor exhibit; one of many stone Stalin busts sits on the landing.
Setting foot inside this Stalin temple is like stepping back into Soviet times.
Read next: Unusual things to do in Tbilisi, including Stalin and Soviet-themed sites.
Established in 1957, five years after Stalin's death, the museum exhibit spans Stalin's life, from his difficult childhood in Gori to his participation in the Yalta Conference at the end of WWII.
The museum conveniently omits almost all details of his reign of terror, focusing instead on the revolutionary spirit and Stalin's leadership qualities (soft skills, if you will).
The museum guides offer a similarly one-sided, heavily scripted commentary. I didn't take to our hard-nosed guide, with a her sharp black bob and permanent grimace, but I wish I had asked more questions.
Inside the museum, small groups of tourists huddle fervently before reams of yellowed newspaper clippings and granulated black and white photos, squinting as they try to place the face of a young Joseph Stalin in the back row of a faded school photo.
Near the doorway stands a scale model of Stalin's illegal printing press, now the Underground Printing House Museum in Tbilisi.
It's hard to glean the thought process behind the exhibition, which blatantly ignores some of the most basic curatorial principles. At times it feels less like a museum and more like a shrine, where people come to pay homage to decades' worth of ephemera that has been gradually collected and nailed to the walls.
Necks craned to take in the exhibits mounted where the walls meet the ceiling – far too high for anyone to properly appreciate – the group shuffles along the perimeter of the room. Most didactics are in Russian and Georgian, so an English-speaking guide is essential.
While the first part of the museum traces Stalin's journey from a wayward schoolboy to a revolutionary, the second rooms focuses on Stalin the politician.
Glass cabinets house a mix of Stalin's personal effects (stationary, his favourite tobacco pipe), and hundreds of personalised gifts he received from foreign governments and dignitaries during his tenure.
There is, quite literally, a Stalin-everything, and you can find replicas of some items downstairs in the museum gift shop. Naturally, I gravitated to the Stalin carpets and needlework from Eastern Europe and Central Asia.
The climax of the indoor exhibit is a macabre display of Stalin's death mask, which rests on a velvet cushion, encased in an aptly Soviet-style concrete chamber.
In the basement, an exhibit intended to shine a light on the darker side of Stalin and the Soviet regime catalogues personal items belonging to a Georgian family who were wrongly persecuted. There is also a recreation of a KGB interrogation room.
The tour concludes in the museum courtyard, where you can visit the modest wooden house where Stalin was apparently born (it was relocated here from elsewhere in Gori), and walk though the bullet-proof train carriage Stalin travelled in up until his death.
---
Stalin Museum opening hours & visitors' info
The Joseph Stalin Museum is open daily from 10am until 6pm (note that the museum closes an hour earlier at 5pm in winter, November 1 to April 1). The museum is closed on January 1 and on Easter Sunday.
Admission costs 15 GEL for adults and includes the guided tour, which lasts for approximately 45 minutes. Entry to Stalin's private train carriage is included in the price.
The museum building can be quite cold inside, so it's a good idea to bring a jacket or scarf with you. Photography is allowed inside.
Other things to do in Gori
The Stalin Museum is the reason most tourists come to Gori, and it can easily be done as a day trip from Tbilisi. On our first visit, we decided to spend a bit more time in Gori than most and overnighted there before taking the train to Kutaisi.
Beyond the museum, Gori is actually a very charming city. There's an old town brimming with historic facades, a wonderful local market, and a fortress with panoramic views – among other attractions.
On our third visit to Georgia, we spend a full three days in Gori. My guide to Gori, covers all the best things to do, Gori restaurants, and transport instructions for getting there from Tbilisi.
Where to stay in Gori
If you decide to spend a night or two in Gori, there are plenty of homely, family run guesthouses set up in local homes to accommodate travellers.
Nitsa Guest House
My top choice in Gori is Nitsa Guest House. The location close to the Stalin Museum and centre of town is perfect. Rooms are cosy, shared bathrooms, kitchen and laundry are all spick and span, and there's plenty of comfy common spaces to relax.
Most importantly, host Lia is a wonderful person who will absolutely overwhelm you with her generous hospitality and helpfulness. We stayed with Lia for 3 nights on our most recent visit and loved getting to know her (especially when she plied us with homemade wine and taught us a series of traditional Georgian dances!).
In the cooler months, ask for a room at the back of the house – these ones catch the afternoon sunlight. And definitely opt in for the traditional breakfast.
Check prices and availability on Booking.com.
Nukri Guest House
The first time we visited Gori, we stayed at Nukri Guest House. It's another solid choice, but the location across the river (near the Railway Station) is less desirable and requires a bit more walking to get into town.
The hosts, Nukri and his wife, speak Russian and Georgian – even if you can't communicate, they are warm people who will go out of their way to ensure you have a good time. During our stay, Nukri gave us the grand tour of Gori in his Lada!
Check prices and availability on Booking.com.
Hotel Continental
If you're looking for something with a bit more privacy, Hotel Continental offers tidy self-contained apartments with kitchenettes and washing machines. The location 800m from the Stalin Museum is ideal.
I haven't stayed here personally, but the hotel has high reviews from other guests (9.7 out of 10 on Booking.com).
Check prices and availability on Booking.com.
---
You might also be interested in
---
Georgia essentials
Here are the websites and services I personally use and recommend for Georgia. Check out my full list of travel resources for more tips.
FLIGHTS: Search for affordable flights to Tbilisi, Batumi or Kutaisi on Skyscanner.
TRAVEL INSURANCE: Insure your trip with HeyMondo, my preferred provider for single-trip and annual travel insurance (get 5% off when you book with my link).
SIM CARD: Magti is my preferred provider, with prices starting from 9 GEL/week for unlimited data. See this guide for all the details about buying a Georgian SIM card.
AIRPORT TRANSFERS: Most flights into Georgia arrive in the early hours. For ease, pre-book a private transfer from Tbilisi Airport to your hotel (from $17) or from Kutaisi Airport to Tbilisi (from $90) with my partners at GoTrip.ge.
ACCOMMODATION: Booking.com is the most widely used platform in Georgia. Use it to find family guesthouses, private apartments, hostels and hotels around the country.
CAR HIRE: Find a great deal on a rental car in Georgia – use the Local Rent website to book through a local agent (prices start from $20/day).
DAY TRIPS & CITY TOURS: Use Viator or Get Your Guide to browse a range of day trips and city tours. For off-beat programs, I recommend Friendly.ge (use the promocode wanderlush for 10% off). For in-depth day trips to Georgia's wine regions, I recommend Eat This! Tours (use the promo code wanderlush for 5% off).
PRIVATE TRANSFERS: GoTrip.ge is a terrific service for booking a private professional driver and car for the day. Use it for A-to-B transfers or to create a customised round-trip itinerary. You can stop wherever you like for as long as you like without the fixed price going up.
NEED SOME HELP?: Need feedback on your itinerary or personalised travel tips? I offer a one-on-one consultation call service for Tbilisi and Georgia. More information and bookings here.
Visiting the Stalin Museum: Bookmark this guide for later