It's hard to imagine a slice of the planet more diverse than the former Soviet Union.
At its peak, the USSR (Union of Soviet Socialist Republics) was the world's largest country, occupying one-seventh of the Earth's land surface. When it dissolved in December 1991, 15 states (and numerous other de-facto republics) emerged, revealing a patchwork of cultures, religions, languages, culinary traditions and customs laid out over one of the planet's most varied topographies.
Three decades on, referring to this collection of countries that share such a relatively small sliver of common history feels archaic. Each country has its own identity, yet the former Soviet Republics are destined to be grouped together out of convenience.
That's not to say there are no common threads. Remnants of the Soviet period that reshaped city skyline and subconscious alike can still be found across the region: From brutalist architecture, monuments and mosaics, to metro stations and bazaars, Ladas and marshrutka vans, to shashlik and kvass and samovar tea.
Some travellers are attracted to this part of the world because of its Soviet throwbacks and dark tourism. Others are drawn to the vibrant cultures and traditions that somehow endured though almost 70 years of suppression. My obsession with the Caucasus is a mixture of both.
As I've travelled around and lived in the region, it's fed my curiosity about the other countries that once fell under the Soviet umbrella. I hope to visit all 15 of them some day, but I'm still at the very beginning of my journey. So for this guide, I invited a group of other travellers to share their experiences of visiting the former Soviet Union.
What do these countries have to offer travellers? What is it like to visit today? I hope this guide offers some insights!
---
Please note: This post contains affiliate links, meaning I may earn a commission if you make a purchase by clicking a link (at no extra cost to you). Learn more.
---
What are the former Soviet Union countries?
When the USSR dissolved in December 1991, 15 states declared independence: Russia, Ukraine, Belarus and Moldova (Eastern Europe); Estonia, Latvia and Lithuania (the Baltic States); Georgia, Armenia and Azerbaijan (the Caucasus); and Uzbekistan, Kazakhstan, Kyrgyzstan, Tajikistan and Turkmenistan (Central Asia).
As borders were drawn and redrawn, a number of unrecognised republics and de facto states also emerged, including Transnistria, Artsakh (Nagorno-Karabakh), Abkhazia and South Ossetia.
This guide looks at the 15 former Soviet Republics that are now recognised states.
---
1. The Caucasus
Georgia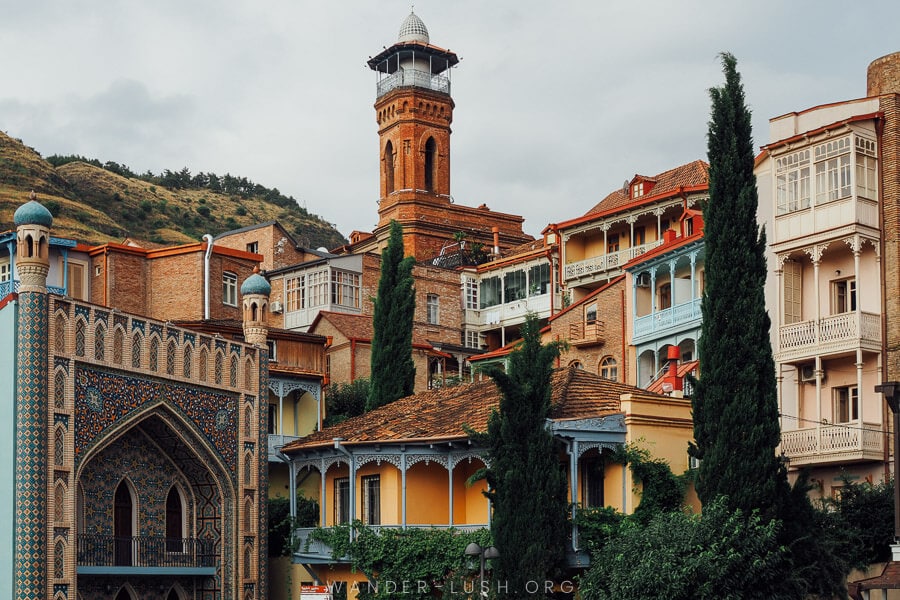 In Soviet times, Georgia was considered the most beautiful place in the USSR. Tourists flocked to the country's Black Sea resorts, workers enjoyed their state-mandated holidays at Georgia's spa towns, and the party elite built their dachas in the foothills of the Caucasus.
In the past decade, Georgia's popularity as a destination has surged again – only now it's hikers, wine lovers and foodies who are flocking to the country. Georgia is the darling of tourism in the Trans-Caucasus and features at the top of many a travel wish list.
And there's no question why – this country is home to some of the region's most spectacular landscapes. There are dozens of places to visit in Georgia for every interest, from pristine alpine hiking in the Greater Caucasus to wine tasting in Kakheti. Even the resort city of Batumi is experiencing a renaissance.
In the capital, Tbilisi, you can see, taste and smell the combination of east and west that has long characterised Georgia. After soaking in a Persian-style sulfur bath under the shadow of a Zoroastrian Fire Temple and the minaret of a Shia mosque, watch a show at the opera house, eat a Georgian feast, or visit one of the many Orthodox churches to hear polyphonic singing. Socialist-style apartment blocks and Soviet-era monuments remind visitors of the country's recent history, but Tbilisi feels a lot like a Western European city.
Georgia remains an extremely budget friendly and safe destination. Many nationalities can visit for up to 365 days visa-free, and the presence of budget airlines at Tbilisi and Kutaisi airports makes it easier than ever to get in. Roads are improving, public transport connections are good, and there are family run guesthouses all over the country waiting to welcome you with a warm bed, a homemade breakfast and a bottle of wine.
→ Also read: Georgia Travel Guide.
---
Armenia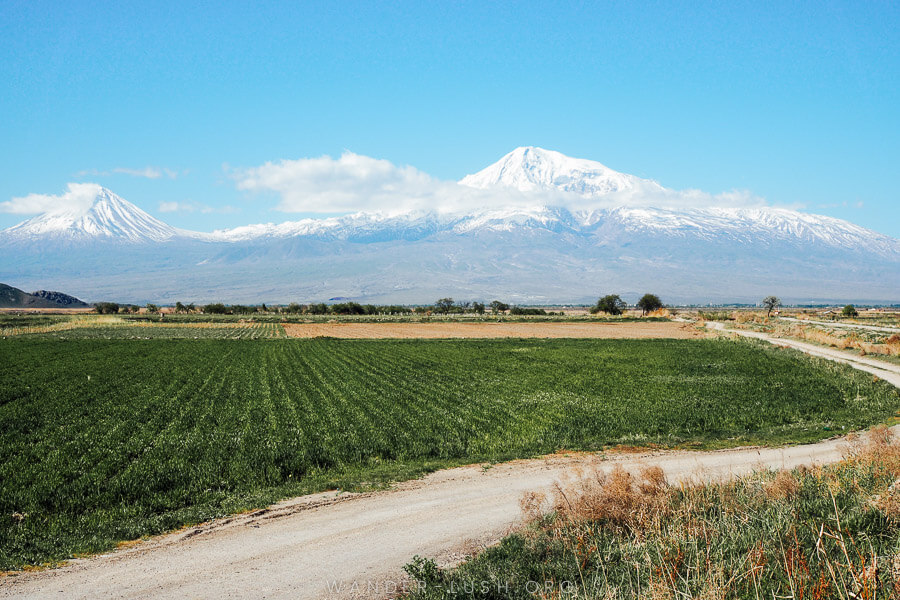 Sublime landscapes, dynamic cities and mountaintop monasteries that are nothing short of spectacular – Armenia may be small in terms of land size and population, but this former Soviet Republic packs a huge punch.
Armenia has a long history filled with superlatives – not least of all its claim to fame as the world's first Christian nation. Tragedy has plagued Armenia for much of its recent past, yet the country's relentless forward momentum is propelling it onto the world tourism stage.
The capital city, Yerevan, is the ideal place to start an Armenia itinerary. This is where you'll find some of the country's most important institutions, including the Genocide Memorial Complex. The second-largest city, Gyumri, was devastated by an earthquake in the final days of Soviet rule and is still rebuilding. Fabulous monasteries dot every corner of the country, most notable among them are Tatev in the far-south and Haghpat and Sanahin in the north.
Armenia is bubbling with creativity and social entrepreneurship, and tourists benefit from the new activities and attractions that are constantly popping up. From wine tasting in a 'wine cube' in Areni to hiking the Transcaucasian Trail through Dilijan National Park, Armenia blends heritage and innovation like few other places do.
Yerevan is Armenia's main transport hub and has an international airport. It's also easily accessible from neighbouring Georgia – but note that the land borders with Turkey and Azerbaijan remain sealed. Visa-free travel is available for many nationalities while others can apply for an e-visa online.
→ Also read: Armenia Travel Guide.
---
Azerbaijan
Nicknamed the 'Land of Fire' for its oil-rich soil and sea, Azerbaijan fared much better than other nations in the region after the collapse of the Soviet Union. As the only Islamic nation in the Trans-Caucasus, Azerbaijan is a total contrast to Georgia and Armenia.
Baku is Azerbaijan's strange yet delightful capital city. A wide boulevard wraps around the Caspian coast, encasing the walled Old City, Baku's historic district. Beyond the stone bathhouses, madrassas and Silk Road caravanserai that have been hollowed out and turned into hip restaurants, Baku's skyline features some of the most amazing modern architecture you'll ever see, including the iconic Flame Towers and the beautiful Heydar Aliyev Center. While in Baku, a day trip to the mud volcanoes and petroglyphs at Gobustan is a must.
Rural Azerbaijan couldn't be more different again. Visit Quba, the home of one of Azerbaijan's seven schools of carpet weaving, go hiking in Xinaliq, the highest village in the region, admire the UNESCO-listed Khan's Palace in Sheki, and visit Azerbaijan's last collective farm in Ivanovka.
Until a few years ago Azerbaijan was difficult to visit but thanks to the country's e-visa system, it's now a fairly straightforward process to get your paperwork in order. Baku in particular is a touch more expensive than other cities in the region so it's a good idea to budget slightly more for Azerbaijan.
→ Also read: Azerbaijan Travel Guide.
---
2. Eastern Europe
Russia
Travelling to the biggest country in the world might seem intimidating, but visitors to Russia are rewarded with everything you could possibly want in a post-Soviet country. From the huge cities of St Petersburg and Moscow to off-the-beaten-path adventures in the Far East, almost every type of trip is possible in Russia.
If you're sticking to the cities and areas in the western part of Russia, travel can be surprisingly easy. Public transport is cheap and fairly comprehensive, and – especially in St Petersburg and Moscow – there is good tourist infrastructure. Knowing a few basic words and phrases in Russian will be incredibly helpful, as many people do not speak English (even in the big cities). Carrying a Russian phrasebook is highly recommended.
Many travellers flock to Russia to ride on the Trans-Siberian Express, a once-in-a-lifetime journey, but there are plenty of other amazing things to do in Russia, including gorgeous palaces, Soviet monuments and iconic cathedrals. The food is delicious, and it's incredibly affordable. A 3-course meal in one of Moscow's best restaurants can cost as little as $30.
Although Russia is often viewed by the Western world as a dangerous place, it is perfectly safe for travellers provided you're sensible and avoid any commentary about politics. Remember to apply for your documents far in advance, as working out how to get a Russian visa can be complicated.
Visited by Ella from Many More Maps
---
Ukraine
Ukraine is one of the largest of post-Soviet Republics and you can expect a wide range of diverse destinations here. Cities in the west of the country are in a typical Central European style, with beautiful pastel houses and cobbled streets, while central and eastern Ukraine look more like other Soviet places, with impressive brutalist buildings and golden-domed churches.
Some of the best places to visit in Ukraine include Kyiv (the capital), Lviv, Chernivtsi, Kharkiv, Chernihiv and Odessa, which is probably the most popular destination on the Black Sea coast. And of course the infamous Chernobyl zone which is accessible with a tour from Kyiv (unfortunately it is not possible to visit independently). If you're looking for a nature getaway head to the remote Carpathian mountains in south-west Ukraine.
Despite the ongoing conflict with Russia in the eastern part of the country, Ukraine is a safe place to visit. Just follow the general rules, listen to your intuition and you will be fine.
The best and most efficient way to travel around, especially longer distances, is by railway. Trains are clean, cheap and always on time. In general, Ukraine is an affordable place to visit so you don't need to worry about draining your wallet.
Getting to Ukraine is easy as there are a few airlines (often low-cost) serving numerous local airports. Before going to Ukraine, be sure to check visa requirements as citizens of some countries still require a visa (fortunately in most cases, visas are available online).
Visited by Kami from Kami & the Rest of the World
---
Belarus
Even though the USSR collapsed over 30 years ago, some countries haven't changed all that much and have held onto Soviet heritage and values. Belarus is one such country.
When you arrive in Minsk, the capital of Belarus, you immediately feel transported back in time. Wide avenues with very few cars, impeccably clean streets, solid Soviet buildings and monuments, spacious parks and very little Western influence – Minsk is all that and more. It's a very green and pretty city, and if you're visiting in late spring to late summer you will enjoy walking around and exploring Minsk on foot.
Belarus is very safe and very affordable – it has to be one of the most affordable countries in Europe to travel around. A few years ago, it was pretty tiresome to apply for a Belarussian visa (if you needed one), however, visiting is much easier now. If you fly directly to Minsk airport, most people won't need a visa for 30 days. In order to be allowed in, you need to provide proof of valid health insurance and funds to cover your stay (approx. 25 Euros per day).
If you're wondering how long to spend in Belarus, you will be able to see a lot even in a week, spending 2-3 days in Minsk then heading out to explore other notable cities and towns including Brest, Vitebsk and Grodno.
Visited by Liza from Tripsget
---
Moldova
Moldova is definitely an underrated country to visit. Not only is it extremely affordable, but it still has very little international tourism, making Moldova the perfect place to go if you want to avoid overcrowded places. Most nationalities do not need a visa to visit Moldova and can stay in the country for up to 90 days visa-free.
Chisinau is the capital of Moldova and a hotspot for both wine tourism and brutalist architecture. You'll find surprisingly good nightlife here as well as a great selection of restaurants, cafes and bars. Just a short drive from Chisinau, Cricova is a small town that's home to some of Europe's largest wine tunnel cellars, estimated to be more than 120 kilometres long. Around half the length is lined in wine bottles – an impressive sight. Come here for fantastic wine tastings and tours.
Then there is the 14th-century Soroca Fortress, which is a must-visit in Moldova. Tiraspol, the second-largest city and capital of Transnistria, is also well worth a visit if you're planning your itinerary for Moldova. It's home to some beautiful architecture including the Noul Neamt Monastery and the Presentation of the Child Jesus Church.
Visited by Victoria from Guide Your Travel
---
3. The Baltic States
Estonia
Sharing a border with Latvia and Russia, Estonia is home to only 1.3 million people, making it one of the least-crowded countries in the European Union. What's amazing about Estonia is that besides the mainland, there are over two thousand islands. The country's untouched nature and fresh air alone makes it worth a visit.
There are many places to see in Estonia, starting with Tallinn, the country's largest city. Visit Alexander Nevsky Cathedral, a beautiful Orthodox cathedral built during Estonia's time as part of the Russian Empire. Other must-see sights in the city include the Kadriorg Art Museum and the Tallinn Town Hall. Beyond Tallinn, Estonia's smaller cities of Tartu Varska and Haapsalu are all worth seeing. If you want to visit nearby Latvia, it's also possible to take a day trip to Riga.
Estonia isn't the most affordable of the ex-Soviet countries, but costs are still very reasonable compared to nearby Finland or Scandinavia. Estonia is part of the Schengen Area so it's possible to travel freely from other EU countries. Depending on your nationality, you may require a Schengen Visa.
Visited by Dymphe from Dymabroad
---
Latvia
Sandwiched between Estonia and Lithuania, Latvia is strategically placed when it comes to visiting the Baltic States and the former Soviet republics. It is a small country with beautiful landscapes, architecture that rivals Western Europe, a rich culture, and strong national identity.
Riga is the capital and has the busiest airport in the entire region. There is plenty to see and do in the city, from the famous 'ThreeBrother' houses to the only Art Nouveau district in Europe and the House of Black Heads.
Despite being a former Soviet country, Latvian people like being associated with Europe and Russian is fast disappearing as a language. The architecture has similarly followed suit but remnants can still be seen everywhere, from Riga to the countryside.
The beautiful beaches of Jurmala are a short train ride away from Riga and must be visited. Much of the country consists of vast green fields and spectacular forests, dotted with small castles and villages throughout.
Latvia is part of Schengen visa scheme and easy to reach from within Europe thanks to excellent transport links. It is also a very safe destination when it comes to travelling, with low crime rates.
Latvia is a medium-expensive country with relatively good value for money by European standards. Being in the middle of the Baltics, it's a great starting point to head either north to Estonia and Finland or south towards Lithuania and beyond.
Visited by Ucman from Brown Boy Travels
---
Lithuania
Lithuania was the first country to leave the USSR in 1990. It is a lovely place to explore thanks to its beautiful churches, monasteries, castles, and quirky museums including the Beekeeping Museum and the Money Museum. Lithuania boasts beautiful landscapes and forests which are perfect for hikers plus great coastal areas as well.
Vilnius is the country's charming capital. The Old Town is UNESCO-listed and one of the best-preserved medieval towns in Europe, with wonderful architecture and cobbled streets. The second city, Kaunas, is situated at the point where the country's two major rivers meet.
Curonian Spit is interesting to visit as half of it is in Russia and half in Lithuania. It stretches 98km from the Curonian lagoon to the Baltic Sea and has some of the highest sand dunes in Europe – 60 metres in some parts. Trakai is an area of 200 lakes and another must-see.
The city itself dates to the 13th century and is a lake resort with an island castle. Siauliai, the 'Hill of Crosses', is covered with thousands of wooden and metal crosses in different sizes and is another iconic destination in Lithuania.
The country is known for its local cuisine. Tasty morsels to try include Capelinai, the national dish of large dumplings filled with minced meat and served in a white sauce.
Lithuania is reasonably priced; allow for 35 Euros per person per day. A visa may be required if you're a resident of a non-Schengen country.
Visited by Chrysoula from Historic European Castles
---
4. Central Asia
Uzbekistan
If you're dreaming of silk-heavy caravans roaming from market to market across the steppes of Asia, you may be thinking of the Silk Road, part of which lies in modern-day Uzbekistan.
This is an old part of the world: more than 2000 years ago, Alexander the Great swooped down and conquered Samarkand. Then came Islam, Genghis Khan, Tamerlane and, finally, the Soviet Union. Today, Uzbekistan remains a Muslim country, although religion doesn't permeate every facet of society.
Its trio of fairy-tale cities – Khiva, Bukhara and Samarkand – are all protected as UNESCO World Heritage Sites, home to minarets, madrassas and mosaics that will transport you not only to another place but another time.
There's more beyond the cities, too: ecotourism in the Nuratau Mountains, the petroglyphs of the Sarmishoy gorge or the Kyzylkum Desert. If you head to the northern tip of the country, Nukus – the capital of the self-styled Republic of Karakalpakstan – hosts an unexpected world-class art museum, the Savitsky. A few hours away, you can glimpse the environmental disaster that is the Aral Sea, once the world's fourth largest lake, now only 10% of its original size because of poor water management.
Visiting Uzbekistan has become much easier in recent years and now, most citizens can get a visa online. Fly into the capital, Tashkent, go overland through some of Uzbekistan's neighbours (but check first because border openings change), or take the train all the way to Moscow. Some English is spoken in tourist areas but it isn't common, so hedge your bets by downloading a translation app for Uzbek and/or Russian. Failing that, a phrasebook will do.
However you visit, Uzbekistan is a country whose dazzling preserved heritage will stay with you long after you leave.
→ Also read: Best things to do in Uzbekistan for culture-seeking travellers.
Visited by Leyla from Women on the Road
---
Kyrgyzstan
Bordering Kazakhstan, Tajikistan, Uzbekistan and China, Kyrgyzstan was historically important as part of the great Silk Road trade route that brought goods back and forth across the continent. There are a few things you should know before visiting Kyrgyzstan, but the general gist is that this is one of the safest and most traveled destinations in Central Asia.
The country promotes its wild, open countryside as its main attraction, drawing intrepid hikers and overlanders alike. However, there are great historic monuments and cities in the country as well that all deserve to be seen. Just keep in mind that getting around the country can be a bit difficult in the off-season, and the off-season may start far earlier than one might think.
Be sure to set aside time to visit the stunning Lake Issyk Kul, which is near most of the country's most famous hiking routes. You will also find horse trekking to be a popular thing to do here, as is staying in yurts when visiting the rural parts of the country.
The city of Cholpen Ata is a great place to stay near the lake, as is the tiny Soviet resort town of Bosteri. Cholpen Ata is home to a Soviet World War II memorial if you're interested in seeing statues from that era that are still on display.
In the south, Osh is the oldest city in the country and is famous for its World Heritage Sites. And of course, don't skip the capital of Bishkek!
Overall, Kyrgyzstan is an inexpensive destination to travel compared to Europe (even Eastern Europe). However, getting there can be a bit pricey, and booking multi-day trekking tours does add up. Visas are not required for citizens from many countries if you are staying less than 60 days. Always check with your own embassy to determine the rules for your country.
Visited by Stephanie from History Fangirl
---
Tajikistan
At the heart of Central Asia, Tajikistan is all about the mountains. In the northwest, adorned with colourful high altitude lakes, the Fann Mountains are one of the world's great trekking paradises. To the southeast, the high altitude Pamir Highway travels through lunar-esque landscapes for a thousand kilometres or more. Dry and dusty, Tajikistan has a wild beauty that takes hold and doesn't let go.
The best day hikes in the Fanns can be found around Alauddin Lake, and the Haft Kul, a string of seven lakes stretching up a narrow, steep-sided valley dotted with villages. More challenging multi-day hikes across the region include camping treks to Kulikalon Lakes, Chimtarga Pass, or Iskanderkul.
In the Pamir, don't miss the fertile Wakhan Valley. This beautiful area is a highlight of the region with a multitude of historic fortresses, day hikes, and welcoming homestays. To explore more remote parts, head to Zorkul Nature Reserve and Jarty Gumbez.
Tajikistan is budget-friendly with a network of homestays providing dinner, bed and breakfast for 15-20 USD a night. Local transport (marshrutkas and shared taxis) is cheap, while hiring a 4×4 and driver will cost around 100 USD a day (economical if travelling in a small group).
Tajikistan is great for a standalone trip (fly into Dushanbe), or as part of a larger overland Central Asia journey through Uzbekistan and Kyrgyzstan. Passport holders of over 120 countries can obtain an eVisa (50 USD for 45 days within a 90 day period). For the Pamir Highway, purchase a GBAO permit (20 USD) at the same time.
Visited by Kim & Del from Going the Whole Hogg
---
Kazakhstan
Not many people would consider a trip to Kazakhstan. It's commonly seen as a country that's not quite ready for tourists – and although it might still be too off the beaten path for some, it is a wonderful place for those who dare to go.
The capital city is Nur-Sultan but most tourists go straight to Almaty, which until 1997 was the capital of Kazakhstan. In Almaty, you will find some of the very best activities Kazakhstan has to offer right on your doorstep. Kazakhstan has its own currency called the tenge and you will find it easy to use an ATM within the country to access your money. Within the larger cities, it's easy to pay with larger bills but if you're venturing out into the rural areas, you may want to consider taking smaller notes with you.
As an emerging destination, you will find that the cities are very tourist-friendly and most people very welcoming. While Russian is the local language you may find that locals want to talk to you to practice their English. This can lead to some great travel moments. It can also lead to finding some of the very best hidden gems Kazakhstan has to offer. Local knowledge is unbeatable.
From bustling cities to endless nature, Kazakhstan has it all. Almaty in particular is modern and a great place to learn about the country's history in one of the many museums. Call a Yandex (Kazak Uber) to take you to some amazing sites including Big Almaty Lake. Hiking, mountain bike riding and skiing are all popular pastimes in Kazakhstan.
For those travelling on a budget, Kazakhstan couldn't be more perfect. Staying in low-cost accommodations and sticking to free activities will help you to stretch your holiday dollar even further.
Visited by Bec from Wyld Family Travel
---
Turkmenistan
Turkmenistan is not only the least-visited, but it's also the strangest of the countries in Central Asia. It's known for being home to some of the most bizarre rules in the world – for example, black cars are banned in the capital, Ashgabat, and it's mandatory for all citizens in the capital to undertake a 37km steep trail once a year, known as The Walk Of Health.
The capital holds four Guinness World Records for having the most fountains, the most white marble buildings, the largest man-made star and the largest indoor Ferris wheel.
The main reason most tourists visit Turkmenistan is not to see the capital, but to visit the 'Gates To Hell'. Known locally as the Darvaza Gas Crater, this is a natural disaster and the most famous place in all of Turkmenistan.
Visiting Turkmenistan can be a pain, especially if you want to spend a bit of time in the country. In this case you will need to book a tour and you will be required to have a local guide. If a short visit will suffice, a 5-day transit visa might be the best option since it doesn't require a guide or a tour.
The local currency can also be a headache. While there are some ATMs in Turkmenistan that accept foreign bank cards, the exchange rate is horrible so you're better off exchanging Euros/USD on the black market. If you follow this route, you'll find that Turkmenistan is the cheapest country to travel in all of Central Asia. If you use ATMs, it will be the most expensive!
Visited by Christian from Unusual Traveler
---
Have you travelled in the former Soviet countries? Any additional tips or recommendations you'd like to share? Please leave your thoughts in the comments below.
---
Travelling in the former USSR: Save it