Looking for the very best day trips from Tbilisi, Georgia? This guide features independent Tbilisi day trips and organised Tbilisi day tours for every interest and budget – from hiking and cycling to medieval cave monasteries, castles, wine tasting, and much more.
I could happily spend a lifetime walking Tbilisi's charming streets and hopping between cafes and restaurants. But for first-time visitors to Georgia's capital, I recommend incorporating a few day excursions into your itinerary as well.
There are mountains, monasteries and wineries waiting to be discovered right on Tbilisi's doorstep – and many can be visited in a day using budget-friendly marshrutka minivans and affordable private transfers to get around.
As someone who has travelled all around Georgia and now lives in Tbilisi, I've experienced almost every day trip option that exists. This curated list brings together 15 of my personal favourite Georgia day tours, including typical day trips and more adventurous alternatives.
I've chosen to only include realistic day trips with an absolute maximum of 4 hours driving each way (most are in the 1.5-2 hour range). Transport information and ticket prices are all updated for 2021.
This guide covers:
---
Please note: This post contains affiliate links, meaning I may earn a commission if you make a purchase by clicking a link (at no extra cost to you). Learn more.
---
How to organise a day trip from Tbilisi
There are 4 main transport options available for taking a day trip from Tbilisi: marshrutka/train, organised day tour, private transfer, and hire car. Here's a quick overview of the pros and cons of each.
Train or marshrutka – the affordable option
There are a variety of day trips you can do from Tbilisi using 'public transport' – i.e. marshrutka minivan or train. Marshrutka is definitely the most affordable way to travel, but schedules are limited, and it can be slow going. The approach to road safety in Georgia is questionable (more on this in a moment), so I generally only recommend using marshrutky for shorter day trips.
Western Georgia has a good railway network, but be warned that many short-distance trains from Tbilisi are old Soviet locomotives that run incredibly slow and aren't particularly comfortable. There are only one or two day trips from Tbilisi I recommend doing by train. One is the scenic railway in Borjomi.
You can check train times on the Georgian Railways website and pre-purchase tickets for some routes via TKT.GE (not available for all trains).
Organised day tour – the efficient option
Private or small group tours are an affordable and efficient way to get around. Having a local guide will enrich your experience immensely, especially if your day trip is focused on culture or history.
Most day trip itineraries combine multiple stops, so you can fit a lot more in. Some places in Georgia (such as the wineries in Kakheti) are simply not accessible without your own vehicle, making day tours the only realistic option for day trippers.
I personally use Get Your Guide to find and book day tours in Georgia. It's a reliable platform with a huge range of offerings and a generous refund policy.
Shuttle services – by which I mean transport with a van and driver, but without a guide – are slowly becoming more popular. Currently there are two worth mentioning: Gareji Line (Tbilisi to David Gareja) and Uplistsikhe Line (Tbilisi to Uplistsikhe).
Finally, for social-focused day trips, Weekend Travelers Georgia organises regular day trips from Tbilisi geared towards expats and long-stay travellers. It's a great way to meet people and explore places away from the usual tourist path.
Private transfer with GoTrip – the most flexible option
GoTrip Georgia is a godsend for travellers who want more flexibility, but prefer to travel independently rather than with a guide or group. It's essentially a long-distance Uber – you use the website to book a transfer (one-way or return) with multiple stops, and you have a 24-hour window to complete the trip, meaning you can make as many pit stops as you like. Drivers and cars are vetted for safety, and prices are fixed in advance so you never have to worry about negotiating a fare.
GoTrip is perfect for longer day trips and routes where there are lots of points of interest along the way, such as the Georgian Military Highway up to Kazbegi. Read my personal review of GoTrip here.
Hire car – DIY option
A final option is to hire a car and drive yourself. Generally, I only recommend this if you're a confident driver. If there's mountain roads or long distances involved, it's much safer to go with an experienced driver who is familiar with conditions.
If you do decide to hire a car in Tbilisi, I recommend using the MyRentACar website to find an affordable rental from a local agent. Many come with insurance included and don't require any deposit. Read up on my tips for driving in Georgia here.
A quick note on road safety in Georgia
Road safety is a serious issue in Georgia and something you should be mindful of at all times – both when using marshrutka vans and when selecting day tours.
There are local tour companies in Tbilisi that are notorious for pushing their drivers to the limit, overfilling vans, and generally cutting corners. Combined with treacherous mountain roads, this is a recipe for disaster. There is usually at least one tragic accident every season involving tourists.
However you plan to travel, I highly recommend you avoid travelling after dark whenever possible, avoid very long day trips (4 hours on the road is the maximum distance covered here), and consider private cars or tours for longer journeys and more challenging roads.
I do not recommend visiting these places on a day trip from Tbilisi: Khevsureti, Tusheti, Vashlovani National Park.
---
Popular short day trips from Tbilisi (< 3 hours travel)
These 7 easy day trips from Tbilisi are all popular itineraries:
1. Mtskheta – Georgia's historic capital
2. Kazbegi & the Georgian Military Highway – Caucasus mountains adventure
3. Sighnaghi & Kakheti – Georgian wine country
4. Telavi & Kakheti – Alternative wine country route
5. David Gareja & Udabno – Cave monasteries and rainbow hills
6. Gori & Uplistsikhe – Stalin's hometown
7. Borjomi & Bakuriani – mineral water, hiking and a scenic railway
---
1. Georgia's historic capital: Day trip from Tbilisi to Mtskheta
Distance from Tbilisi: 25km (16 miles)
Travel time: 30-45 minutes one-way
Recommended transport: Marshrutka or day tour
Best time to visit: Year-round
Highlights: UNESCO heritage, Svetitiskhoveli Cathedral, views from Jvari Monastery
Why visit Mtskheta?
Mtskheta is by far the most popular day trip from Tbilisi. Georgia's former capital, the small city is home to a collection of UNESCO World Heritage monuments (one of four UNESO sites in Georgia) and is absolutely dripping with history.
Svetitiskhoveli Cathedral and Jvari Monastery, two of Georgia's most important religious sites, are both located in or near Mtskheta, making this a must-visit for history buffs and cultural travellers. This day trip also features stunning river views, an optional hike, a collection of smaller monasteries and fortresses to explore, plus lunch on the river.
Mtskheta is located on the highway between Tbilisi and Gori so you can easily combine it with Gori and Uplistsikhe to make this an extended day trip.
Things to do in Mtskheta
Mtskheta is a small city that's easily explored on foot. Start by visiting the centrally located Svetitskhoveli Cathedral, one of Georgia's oldest Orthodox churches and its second-largest. The current structure was completed in the 11th century at a location chosen by St. Nino – Georgia's patron saint – herself. Some of the country's most important kings are buried here, and the cathedral also houses a relic of Christ's mantle and a Holy wooden pillar. The frescoes and stone carvings are gorgeous.
Further up the road, just outside of Mtskheta proper, the 4th-century Samtavros Convent is celebrated for its intricate bas-relief carvings. Climbing the crumbling ramparts of Bebris-tsikhe affords lovely views of the Aragvi river and the city.
The high point of a day trip to Mtskheta is visiting Jvari Monastery, one of Georgia's most iconic houses of worship. Perched high on a hill overlooking Mtskheta, you can either hike up or hire a 4WD to drive you. Cars wait around Svetitskhoveli Cathedral (if in doubt, consult the staff at the tourist information office outside the cathedral). The going rate is 25 GEL per car return, and you can pool with other visitors to save cash.
Drivers give you an hour at the top, which is plenty of time to see the inside of the petite monastery and take in the amazing views from the yard. The church looks directly over the confluence of the Mtkvari and Aragvi rivers that meet in a mix of turquoise and inky blue waters, perfectly framing Svetitskhoveli and the rest of the city.
Back in Mtskheta, there are a number of small cafes and restaurants dotted around the town square, though it's better to eat on the river at Restaurant Check-In Garden. There's also a market outside the cathedral where vendors sell souvenirs (knitted socks, fridge magnets), mulled wine and churchkhela. It's a bit touristy but worth having a quick poke around before you head back to Tbilisi.
If you have time on the way back to Tbilisi, stop at the cult-classic House of Beans for dinner.
See my full list of things to do in Mtskheta.
How to get to Mtskheta from Tbilisi by marshrutka
Marshrutka minivans leave from Tbilisi's Didube Station for Mtskheta every 10 to 15 minutes throughout the day, starting from around 7am. Most continue on to Gori, so they tend to fill up fast. Tickets cost just 1.5 GEL per person. Vans stop in the centre of Mtskheta, near Svetitiskhoveli Cathedral. The trip takes around 45 minutes.
Heading back from Mtskheta to Tbilisi, you can simply flag down a van travelling the opposite way. One spot where they definitely stop is the bus shelter near the Liberty Bank on Agmashenebeli Street (see the location here on Google Maps).
Vans fill up fast, so if you want a seat, I recommend walking further north up the same road, towards Samtavro Monastery, and flagging down a marshrutka from there. Just gesture for a van when you see one. Signs propped in the window sometimes have place names written in English, but I recommend you note down the Georgian characters for Tbilisi (თბილისი).
Organised day trips from Tbilisi to Mtskheta
Most day trips to Mtskheta stop briefly at Svetitskhoveli and Jvari on the way to Gori. This private half-day tour of Mtskheta focuses exclusively on the ancient capital for a more in-depth look at the UNESCO monuments. It's my day trip of choice.
After touring Jvari and Svetitskhoveli, you also get to visit Samtavro Monastery and the lesser-known Shio-Mgvime monastery. The 4-hour itinerary concludes with lunch on the river.
For independent travellers, GoTrip also offers an unguided transfer to Mtskheta starting from just $12 with Jvari, Svetitiskhoveli and Samtavro, plus transfers to and from your accommodation in Tbilisi. Design your own Mtskheta itinerary or customise this one using GoTrip's Trip Planner.
---
2. Into the Greater Caucasus: Day trip from Tbilisi to Kazbegi via the Georgian Military Highway
Distance from Tbilisi: 155km (96 miles)
Travel time: 2.5-3.5 hours one-way
Best time to visit: Spring, summer or fall
Highlights: Gergeti Trinity Church, Russia-Georgia Friendship Monument, epic mountain views, authentic khinkali in Pasanauri
Why visit Kazbegi?
It just wouldn't be a trip to Georgia without an up-close look at the impressive Greater Caucasus mountains. While it's far better to spend at least one night and enjoy some of the hiking this area has to offer, it is possible to visit Kazbegi (often referred to by its new name, Stepantsminda) as a full day trip from Tbilisi.
Laying eyes on the magnificent Gergeti Trinity Church, the symbol of Georgian tourism, and eating lunch at one of the country's best boutique hotels are highlights of a day trip to Kazbegi.
But the real fun is in the journey. The Georgian Military Highway, the road that connects Tbilisi and Russia, is one of the most picturesque roads in the entire country and is dotted with viewpoints, monasteries, hot springs, villages and other points of interest to stop off at along the way.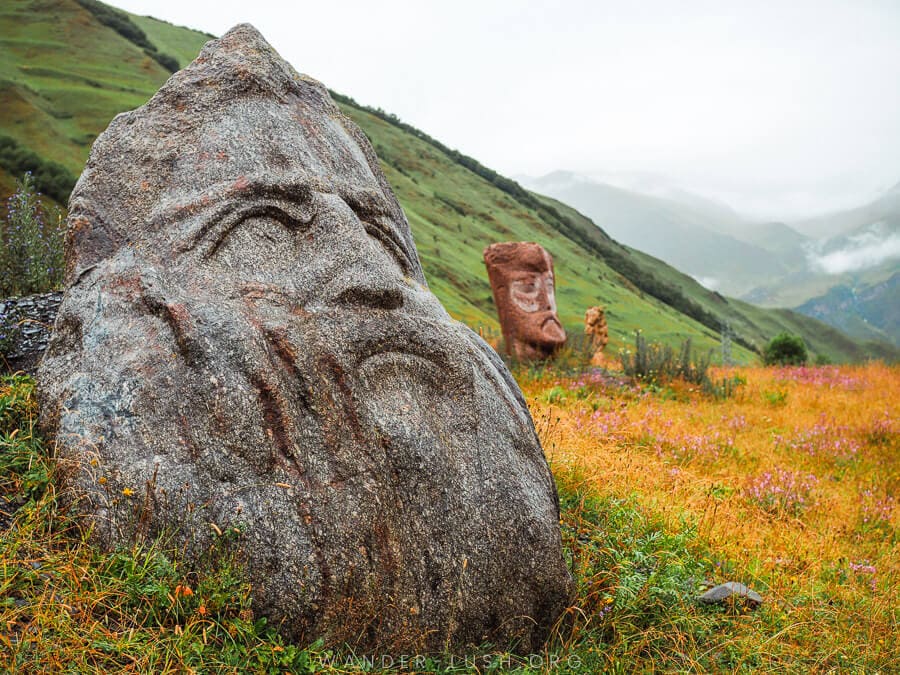 Things to do in & around Kazbegi
The Georgian Military Highway that leads to Kazbegi from Tbilisi is an attraction in itself. The further you drive up into the mountains, the better it gets. Your jaw will be on the floor.
Ananuri Fortress, Pasanauri village (allegedly the birthplace of khinkali – I recommend Restaurant Korbuda) and the Russia-Georgia Friendship Monument at Gudauri are all must-sees. There's also mineral water springs, viewpoints, the intriguing stone sculptures in Sno, hot springs and waterfalls to see just off the highway.
I recommend springing for a private car for at least one leg of the Tbilisi-Kazbegi journey so that you can make as many stops as possible.
My full guide to the Georgian Military Highway includes 9 epic places to stop.
Once you reach Kazbegi, you'll get your first look at Gergeti Trinity – perhaps Georgia's most iconic Orthodox church – perched high in the mountains above town. (Then again, you might not – locals call Gergeti 'The Bride' because she's often enveloped in a veil of fog.)
The winding route up to Gergeti is hands down Georgia's best short trek. If you're on a day trip, you might not have enough time to hike up to Gergeti from town, so you'll want to travel up by 4WD. Expect to pay around 50 GEL (per car, not per person) for a round-trip, which takes 30 to 50 minutes each way depending on road conditions.
Must read: Map for hiking from Kazbegi to Gergeti Trinity Church.
After visiting the church, I recommend spending the remainder of your time in Kazbegi at Rooms Hotel. Rooms has a ski lodge vibe (it's actually an old Soviet sanatorium), with wood fireplaces inside and a balcony overlooking the valley and Gergeti.
The restaurant is open to walk-ins and serves Kakhetian wine and Georgian fare. For a budget-friendly alternative, a home-cooked meal from Kazbegi Good Food can't be beat.
How to travel from Tbilisi to Kazbegi via the GMH
While it's possible to take a marshrutka to Kazbegi from Tbilisi, this isn't really suitable for a day trip. The journey is long, giving you limited time in Kazbegi – and vans don't make photo stops, so you won't actually see much along the way either. There are a limited number of 'tourist vans' that stop at Gudauri and Ananuri but again, it's not a comfortable journey and you'll have limited time in Kazbegi.
A much better way to travel to Kazbegi and experience all the Georgian Military Highway has to offer is by organising a round-trip transfer with GoTrip. This is exactly what I did on my most recent visit, and it was terrific. There's full flexibility to stop wherever you want for however long you need – handy, because this is one of the most breathtakingly beautiful roads in the entire region.
This GoTrip itinerary I designed includes stops in Ananuri and Pasanauri. You can easily edit the route or add additional stops. Prices start from a very reasonable $35, including door-to-door pickup and dropoff in Tbilisi. Use GoTrip's Trip Planner to customise this itinerary or design your own.
Day tours from Tbilisi to Kazbegi via the GMH
There are plenty of guided day tours to Kazbegi from Tbilisi. Most stop in Ananuri and the Friendship Monument at a minimum, and some also include transport up to Gergeti Trinity.
My pick is this private tour to Kazbegi that includes pickup in Tbilisi, a professional guide, and SUV transport to Gergeti. You also get to go beyond Kazbegi to Daryal Gorge and the Archangels Monastery (a spot most people miss), and eat khinkali in Pasanauri, on the way back. It's a really terrific itinerary.
If you're on a budget, this affordable group tour departs from Avlabari Metro Station and includes several stops on the way to Kazbegi. Transport to Gergeti, though, must be paid for separately.
---
3. Georgian wine country: Day trip from Tbilisi to Sighnaghi, Bodbe Monastery & Kakheti wine region
Distance from Tbilisi: 110km (68 miles)
Travel time: 2 hours one-way
Best time to visit: Year-round (best in late summer or fall)
Highlights: Sighnaghi walled old town, wine tasting, Bodbe Monastery
Why visit Sighnaghi?
You may have heard that Georgia is the cradle of wine. Georgians are incredibly proud of their winemaking heritage, which is intimately intertwined with local culture even today. Qvevri winemaking, the traditional technique of fermenting wine in clay amphora underground, is even recognised by UNESCO.
Grapes are grown and pressed all over the country, but Kakheti in Eastern Georgia is considered the heart of the wine industry. The medieval walled town of Sighnaghi – AKA the 'City of Love' – is a great base for exploring the Wine Route and visiting the many monasteries that dot the southern end of the Alazani Valley.
Sighnaghi itself is all charm: Cobbled streets, outdoor cafes and sweet museums. Further afield, there are countless wineries you can visit, ranging from family-run maranis to commercial cellar doors.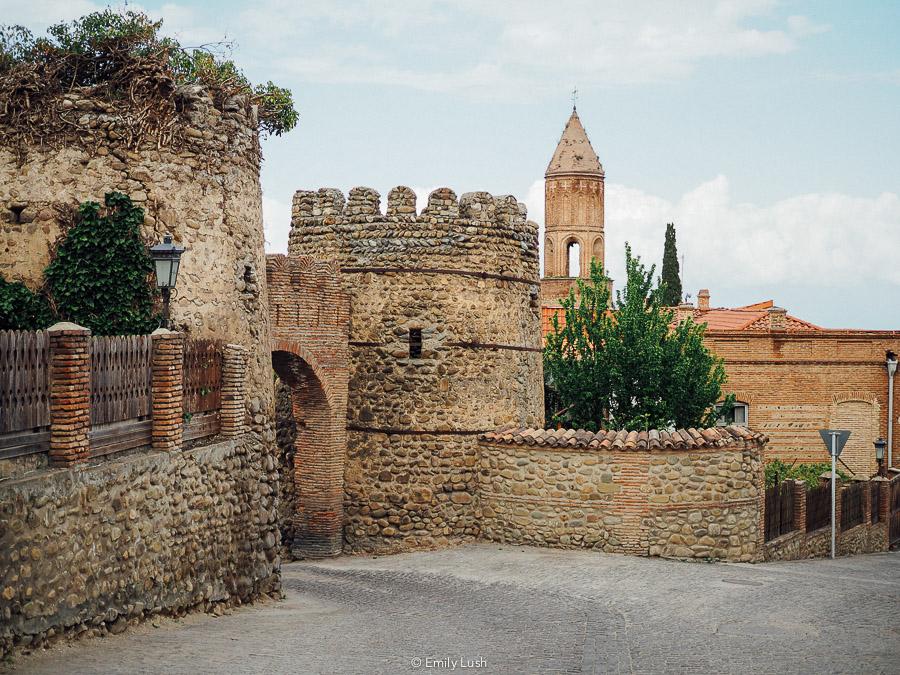 Things to do in & around Sighnaghi
Explore the central part of Sighnaghi on foot, including the old city walls and the town square. At the Sighnaghi National Museum you'll find a permanent display of artworks by Georgia's national painter, Pirosmani, who was born in the town. Don't miss the stunning views from the back of the museum.
Bodbe Monastery is located just outside Sighnaghi and can be reached by foot in around 20 minutes. An active convent with ties to Georgia's patron saint, this is one of the most beautiful religious complexes in the country. The flower gardens overlooking the valley are just magnificent. Don't miss walking down to St. Nino's Spring.
There are a couple of wineries in Sighnaghi, including a branch of the popular Pheasant's Tears, but to see qvevri wine-making up close and enjoy a proper degustation, you'll need to travel outside the town with a driver. Winery Khareba, a massive subterranean cellar set inside 13 interconnecting tunnels, is one of the more interesting wineries to visit.
For a full Sighnaghi itinerary, refer to Day Two of my 72-hour Kakheti Guide.
How to get to Sighnaghi from Tbilisi
If you're happy to just spend a day in Sighnaghi without venturing further to the monasteries and wineries in the valley, you can quite easily travel there by marshrutka from Tbilisi. A shared taxi costs slightly more but is worth considering to save on time.
Full details, including schedules and fares, can be found in my full transport guide for getting to Kakheti from Tbilisi. Once you arrive in Sighnaghi, you can either just explore the town on foot or hire a local driver to take you around for the day.
A private transfer with GoTrip is an affordable alternative. This pre-designed itinerary includes Bodbe, Sighnaghi, Winery Khareba and Gremi church, and costs just $40 per car including transfers to and from Tbilisi. Design your own itinerary and book a car using GoTrip's Trip Planner.
Day tours from Tbilisi to Sighnaghi & Kakheti
If you prefer to travel with a guide, this group tour from Tbilisi visits some of Kakheti's most popular cellar doors. There's also time to visit Bodbe Monastery and walk around Sighnaghi.
This alternative day tour to Kakheti focuses more on wine and includes specialty tastings of regional vinos with a shorter visit to Sighnaghi rolled in.
---
4. Georgian wine country (alternative route): Day trip from Tbilisi to Telavi, Alaverdi Monastery & Tsinandali Estate
Distance from Tbilisi: 95km (60 miles)
Travel time: 2-2.5 hours one-way (via Gombori Pass)
Best time to visit: Year-round (best in late summer or fall)
Highlights: Wine tasting at family maranis, monasteries, Telavi Bazaar
Why visit Telavi?
Also located in Kakheti, Georgian wine country, Telavi is an alternative base for exploring the wineries and churches in the area. This is Kakheti's biggest city and main transport hub – so while not as picturesque as Sighnaghi, it is convenient.
In reality you can visit any combination of the wineries and monasteries mentioned here from either Sighnaghi or Telavi. It's not possible to see everything in one day though (or even in 3 days), so I've tried to divide the major points of interest logically into two separate day trips.
Things to do in & around Telavi
There are a few family maranis in the centre of Telavi, so it's actually quite easy to do a wine tasting without venturing outside the city. Family Wine Cellar Rostomaant Marani and Togonidze's Wine Cellar are both recommended.
Beyond Telavi, Vazisubani Estate and Tsinandali Estate are both worth visiting – especially the latter, which doubles as a museum. Shumi and Brothers are also located closer to Telavi than Sighnaghi. Alaverdi Monastery and Ikalto Academy, two of Kakheti's most important historical sites, are also within easy reach of Telavi.
It's worth spending a couple of hours in Telavi city itself to see the beautiful balconied houses in the old town, pay pilgrimage to the Giant Plane Tree, roam the incredible Telavi Bazaar – a massive fruit and veg market – and maybe pick up some wine accompaniments at Marleta's Cheese.
See my Telavi city guide for more ideas of what to see and do.
How to get to Telavi from Tbilisi
If you're happy just to visit Telavi city (there's plenty to do to justify a visit), you can feasibly do this day trip by marshrutka. It's also possible to hire a local driver once you arrive in Telavi to visit the other places mentioned here.
There are two ways to get to Telavi from Tbilisi – the Gombori Pass takes around 2 hours, so it's preferable to find a marshrutka/shared taxi that will follow this route. See my guide to travelling to Telavi from Tbilisi by marshrutka or shared taxi here.
A more efficient option is to book a car and driver on GoTrip to take you around Telavi from Tbilisi. This itinerary I designed – with Alaverdi Monastery, Tsinandali and Telavi city – costs just $30. Customise it or plan your own day trip itinerary using GoTrip's Trip Planner.
Day tours from Tbilisi to Telavi
A guided tour from Tbilisi to Telavi will give you a more in-depth look at the region's history while visiting smaller wineries that are difficult to get to without a guide. This full-day itinerary includes a visit to Ujarma Fortress and a full tour/wine degustation at Tsinandali.
---
5. Cave monasteries and rainbow mountains: Day trip from Tbilisi to David Gareja & Udabno
Distance from Tbilisi: 70km (44 miles)
Travel time: 2.5 hours one-way
Recommended transport: Day tour or Gareji Line shuttle
Best time to visit: Spring or fall
Highlights: Cave monasteries, hiking, spectacular scenery
Why visit David Gareja?
If I could recommend just one day trip from Tbilisi, it would be David Gareja. The 6th-century Orthodox monastery complex located east of Tbilisi near the border with Azerbaijan really is a sight to behold.
When I first visited David Gareja, I followed a hiking trail up a steep ridge for an amazing view of Georgia's neighbour. As of 2021, the upper part of the complex is unfortunately still closed off to tourists. It's still worth visiting to see the lower Lavra Monastery and unusual semi-desert countryside around Udabno.
Read my recent Davit Gareji trip report here to see what's still open and what's closed.
Things to do in & around David Gareja
Lavra Monastery, the lower monastery, consists of dozens of chambers, living quarters and prayer rooms hewn from a rock wall. There's also a chapel, a grassy courtyard and some beautiful Kakhetian wooden balconies to see.
Udabno Monastery, the upper monastery that's currently off-limits, boasts more alcoves and some beautiful frescoes including a rare portrait of King Tamar. Many of the paintings were damaged in Soviet times, when David Gareja was used as a military base. At the top of the ridge, there's also a small chapel that overlooks the border zone. A new Visitor's Centre sells honey, icons and souvenirs crafted by the resident monks.
There are dozens of monasteries in the David Gareja complex spread across Georgian and Azerbaijani territory. Natlismtsemeli Monastery isn't as well-known as Lavra/Udabno but the caves are even more impressive. There's no paved road, so you need a 4WD to get there.
The territory around David Gareja offers some amazing hiking opportunities. The Udabno 'rainbow mountains' – hills painted in different shades by mineral deposits – are very very cool. The most colourful hills are around Mravaltskaro Reservoir, but you can also hike near David Gareja.
There aren't any marked trails, so be very careful if you go without a guide (use Wikiloc or Maps.Me for navigation). It's essential to wear good shoes and bring lots of drinking water for this day trip – and it's not advisable to visit this part of Georgia in summer because of snakes.
Finish your day with a meal at the Oasis Club in Udabno, a Polish-run hostel/restaurant that serves a wonderful array of international dishes made with local ingredients plus homemade wine.
How to get to David Gareja from Tbilisi
There is no marshrutka service to David Gareja. The most convenient way to travel to the monastery from Tbilisi is using the Gareji Line shuttle. Vans depart Pushkin Park daily at 10.45am in the high season (usually April 1 to the end of September or October) and on-demand during low and shoulder season. No reservations required, but you can message them on Facebook to enquire about availability if you wish. A seat costs 30 GEL.
This isn't an organised tour – there's no guide, and when we travelled, the driver didn't speak English. It's simply a hassle-free way to travel to David Gareja from Tbilisi and back. Guests get an A4 map of the complex with some basic information, which is useful given there's no signage onsite. The itinerary allows for 3 hours at David Gareja and includes a stop at the Oasis Club for dinner on the way back.
Day tours from Tbilisi to David Gareja & Udabno
If you prefer to experience Davit Gareja with a guide or you want to explore the beautiful Udabno landscape while you're there, this day tour from Tbilisi leads with a visit to the monastery and optional hike up the mountain before continuing to Sighnaghi for a short walk around town and a spot of wine tasting.
I also recommend this private day trip itinerary, which features a 2-3 hour hike in Udabno, a stop in Sighnaghi, and a wine tasting at Bodbe Monastery.
---
6. Dark tourism: Day trip from Tbilisi to Gori & Uplistsikhe
Distance from Tbilisi: 90km (56 miles)
Travel time: 75 minutes one-way (+20 minutes to Uplistsikhe)
Recommended transport: Marshrutka or day tour
Best time to visit: Year-round
Highlights: Stalin Museum, Gori Fortress & Old Town, Uplistsikhe cave city
Why visit Gori?
Gori is a small city located in Georgia's Shida Kartli Region, just west of Tbilisi. There are two main reasons for tourists to go to Gori: Firstly, to explore the ancient cave city, Uplistsikhe, and secondly to visit the birthplace of Soviet dictator Joseph Stalin.
It might not be for everyone, but visiting the Stalin Museum is a very unique experience – especially if you opt for the guided tour, which I highly recommend.
On my second visit to Gori, I realised there's a lot more to this city than just its connection to Stalin. This was once a stop on the Silk Road and you can find some fascinating reminders around the city, most notably in the very unusual Gori Fortress which cascades down one side of the protruding sandy hill that gave the city its name.
Things to do in & around Gori
Joseph Stalin was born in Gori in 1878. Many attractions and civic landmarks still bear his moniker, including the Stalin Museum, which is dedicated to chronicling his life (albeit quite selectively).
There's not much information in English, so it's best to pay a little bit extra for a guided tour. You can also visit Stalin's armoured train carriage and see the house where he was born, both of which have been relocated onto the museum grounds. There's a Stalin statue in the museum courtyard with an interesting history all of its own.
Despite its dark modern history, Gori is a very pretty city with trellis-lined streets and a big central park. Climb to the top of Gori Fortress for a view of the Mtkvari River. Wander the charming old town, and drive up to St. George's Church for a view. A meal at Shin Da Gori, the city's most delightful restaurant, is a must.
A Free Walking Tour of Gori with local guide Zhana is the best way to learn about Gori's complicated character and see more hidden gems, including the Gori Synagogue.
Essential reading: 15 things to do in Gori (besides the Stalin Museum).
Uplistsikhe cave city is located just 14km from Gori, so it makes sense to combine the two. Thought to have been founded during the Bronze Age, Uplistsikhe is a fascinating landscape of chambers and grottoes cut into the mountainside not dissimilar from David Gareja or Vardzia.
It was once a fully functioning 'cave town', with living quarters, churches and municipal services. Uplistsikhe is better set up for tourists than David Gareja, with information placards and roped walkways.
For opening hours, ticket prices and tips, see my detailed guide to visiting Uplistsikhe.
How to get to Gori from Tbilisi
A marshrutka from Didube Station to Gori costs 4 GEL per person. Vans leave regularly throughout the day, starting from 7am. The ride takes a little over an hour depending on traffic – jump out when you see the Stalin Museum (the large, unmistakable sandstone building with the Stalin Statue in the courtyard).
Heading back to Tbilisi, marshrutka vans depart from Gori's Central Bus Station, a 15-minute walk from the Stalin Museum, every half hour until late.
Shared taxis to Gori also depart from Didube Station and cost approximately 5 GEL per seat or 20 GEL for the whole vehicle. Leaving Gori, you can find taxis at the bus station and in front of the theatre. The price is the same.
There is a passenger train to Gori from Tbilisi every morning at 8.10am. It takes around an hour, and costs a couple of GEL. Note that Gori's railway station is located on the opposite side of the river, quite a walk from the Stalin Museum, so you should take a taxi when you arrive. Tickets can be purchased at Station Square in Tbilisi on your day of travel or online via TKT.GE.
How to get to Uplistsikhe
The easiest way to get to Uplistsikhe from Gori is by hiring a taxi from Gori's main square. It should cost 20-30 GEL round trip (including waiting time). There are two buses to Uplistsikhe from Gori Bus Station at 9am and 12pm, returning at 3pm. Tickets cost 1 GEL.
If you're willing to skip Gori and just want to visit Uplistsikhe from Tbilisi, the Uplistsikhe Line shuttle service (offered by the same team as Gareji Line) is a convenient daily transfer service. It costs 30 GEL per person and takes you directly to the caves, giving you a lot more time to explore. Note: Uplistsikhe Line is not running at present.
Day tours from Tbilisi to Gori & Uplistsikhe
This 9-hour itinerary departing Tbilisi includes a walking tour of Uplistsikhe and a guided tour of the Stalin Museum. On the way, you also visit Mtskheta and Jvari Monastery. It's like two day trips rolled into one! There's also the option to stop for lunch at a family wine cellar near Gori.
This private tour to Gori, Mtskheta and Uplistsikhe follows the same itinerary and has a flexible start time.
---
7. Fresh air and healing waters: Day trip from Tbilisi to Borjomi & Bakuriani
Distance from Tbilisi: 160km (99 miles)
Travel time: 2.5 hours by road or 4 hours by train one-way
Recommended transport: Marshrutka or train
Highlights: Borjomi Central Park, Kukushka scenic train, hiking in Borjomi Nature Reserve
Why visit Borjomi & Bakuriani?
If you're craving some fresh air and green space, Borjomi might be the best day trip from Tbilisi for you. Borjomi is famous for its mineral water springs which were once heralded as the best in the Soviet Union. Borjomi Water is still bottled here and exported all over Georgia and the region.
In Soviet times, Borjomi and the nearby town of Bakuriani were used as summer health retreats to escape from hot and sticky Tbilisi. There are still a few sanatorium-style resorts operating in the area.
Adventure lovers should note that Borjomi offers hikes and horse riding in summer, rafting and other water sports in spring, and skiing in the wintertime.
Things to do in & around Borjomi
Start your day trip with a wander around Borjomi CentralPark, stopping off to visit the gorgeous Golden Tulip Hotel (originally built for the Iranian consul). Inside the park, fill up your bottle with naturally fizzy water at the original Ekaterina Spring, and maybe even a dip in the public hot springs. There's also a cable car that you can ride up to Borjomi plateau overlooking the park.
Break for lunch at Pesvebi, one of my favourite restaurants in the entire country, before heading further down the highway to Likani, home of the pretty Romanov Summer Palace (currently closed for restorations until further notice) and an amazing Soviet mosaic. Follow one of the trails behind the house into Borjomi-Kharagauli National Park and track down the green-tiled Mtsvane Monastery, which is hidden inside the park.
To get to Likani from Borjomi, take a minibus from the main street (look out for vans with Likani on the front). The fare is 40 tetri per person, and the trip takes under 30 minutes.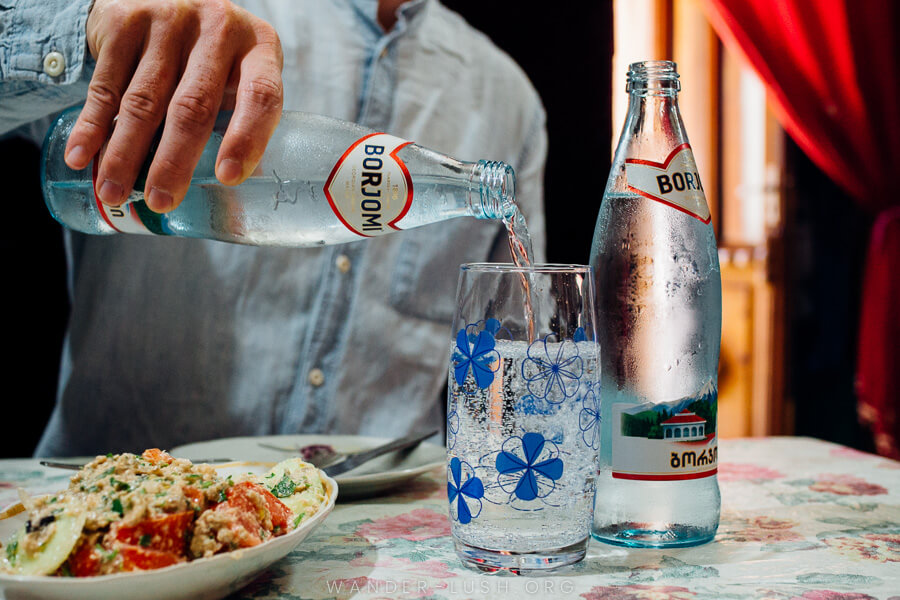 If you really want to unwind, head to Rooms Kokhta in the hills above Bakuriani, just 25km down the road from Borjomi. This summer-retreat-slash-winter-sports-mecca is beloved for its mountain air and healing waters.
You can travel between Borjomi and Bakuriani by taxi – or better still, take the scenic train. Known as the Kukushka ('Little Cuckoo' in Russian), this is an historic narrow-gauge railway that first opened in 1902. It leaves Borjomi twice a day at 7.15am and 10.55am (10am and 2.15pm return) and takes about 2.5 hours. The fare is 1 GEL for second class and 2 GEL for first. Note: The Kukushka is currently suspended until further notice.
Along the way, you'll pass over the Tsemistskhali River viaduct, designed by Gustave Eiffel himself. It's especially beautiful in winter when the whole area is a frosty wonderland of ice crystals and snow blankets.If you have a car, you can add on a visit to Tabatskuri Lake from Bakuriani.
How to get to Borjomi from Tbilisi by marshrutka
Marshrutka vans going to Borjomi depart from Tbilisi's Didube Station throughout the day, starting from 6am (this day trip is quite a packed schedule, so I recommend getting an early start if you want to fit everything in). A ticket costs 8 GEL per person and the journey takes around 2.5 hours.
Vans back to Tbilisi depart from Borjomi Bus Station every hour on the hour until 6pm.
How to get to Borjomi from Tbilisi by train
Another option is to travel to Borjomi by train. It takes the better part of 4 hours, but you will see some beautiful scenery along the way. The early train departs from Tbilisi at 6.40am and costs 2 GEL. The train terminates at the Borjomi Park station, which is central to the city and Central park.
The last train to Tbilisi from Borjomi leaves at 4.40pm – although you'll probably only want to do one leg of this day trip by train and swap for a marshrutka on the way back.
Organised tours from Tbilisi to Borjomi
Over the course of 12 hours, this full-day tour includes a ride on the Kukushka train and a visit to Borjomi Central Park. It's specifically designed as a winter day trip from Tbilisi, but it's available to book throughout the year.
---
Alternative short day trips from Tbilisi (< 3 hours travel)
If you've ticked off the big-ticket day trips or you're looking for unconventional alternatives, this section covers 4 alternative Tbilisi day trips.
8. Dashbashi & Tsalka – hiking and petroglyphs
9. Paravani Lake & Javakheti – Georgia's lake district
10. Rustavi – Socialist city planning and Soviet nostalgia
11. National Park of Tbilisi – hiking near the city
---
8. Canyons and culture: Day trip from Tbilisi to Dashbashi Canyon & Tsalka
Distance from Tbilisi: 95km (60 miles)
Travel time: 2.5-3 hours one-way
Recommended transport: GoTrip or marshrutka
Best time to visit: Summer or early fall
Highlights: Dashbashi waterfall, Tsalka Mosque, Greek food at Pontia
Why visit Dashbashi & Tsalka?
Dashbashi Canyon and the rocky landscape that makes up this corner of Georgia is one of the least-visited but most magnificent parts of the country. The canyon is the big ticket item here – currently parts are temporarily closed while a new sky bridge is being built, but you can still visit the area for hiking and views.
Tsalka, the nearest city to Dashbashi, is culturally diverse – you can visit an Adjarian mosque and an Armenian church before eating lunch at a Pontic Greek restaurant.
Tourism in this part of the country is still developing so infrastructure is quite limited – but the close proximity to the capital makes it relatively easy to visit. If you want to get off the beaten path for an alternative day trip from Tbilisi, this is a great option.
Things to do in & around Dashbashi Canyon
Hike into Dashbashi Canyon via a marked trail to see the cascading waterfalls up close, or head in the opposite direction up to the church overlooking the canyon for a panoramic view of the landscape. A collection of historic tombstones decorate the church yard. Have a picnic by Tsalka Reservoir, visit the smaller canyon at Beshtasheni and hunt down the petroglyphs in Trialeti.
In the small city of Tsalka, the colourfully painted Tsalka Mosque is a must-visit. FInish your day with a meal at Restaurant Pontia, a local institution run by a local Pontic Greek family.
For more ideas of what to see and do around Tsalka, refer to my guide to Tsalka and Javakheti.
If you're travelling by car, consider stopping at Kojori Fortress on the way back to Tbilisi for sunset. The 6th-century Manglisi Holy Dormition Cathedral is a short detour off the highway.
How to get to Dashbashi Canyon from Tbilisi
There are no vans that run all the way to Dashbashi, thus if you want to travel by marshrutka, you need to get off in Tsalka and walk from there. This is a pretty tight connection if you want to get back to Tbilisi before dark – you'll only have enough time to see the canyon and not Tsalka itself nor the petroglyphs.
Take the first marshrutka at 8am from Navtlughi Bus Station (near Samgori Metro Station). Tickets cost around 8 GEL. When you approach Tsalka, ask the driver to drop you off at the Wisol Petrol Station. From here, it's a 2km walk to the start of the canyon via a signed path. There is no official timetable for the return trip so you'll need to ask the driver when the last van leaves for Tbilisi.
Organised day trips to Dashbashi will likely recommence when the skybridge is finished. In the meantime, I suggest booking a car and driver through GoTrip. This itinerary I designed for Dashbashi Canyon and Tsalka starts from just $25 with transfers to and from your accommodation. Customise your trip and book here.
---
9. The edge of the Georgian Arctic: Day trip from Tbilisi to Paravani Lake & the Javakheti Plateau
Distance from Tbilisi: 130km (80 miles)
Travel time: 2.5-3 hours one-way
Recommended transport: GoTrip
Best time to visit: Summer or early fall
Highlights: Stunning scenery, walking or bike riding, wildlife, Poka St. Nino convent shop
Why visit Paravani & Javakheti?
Nicknamed the 'Georgian Arctic' because of its high elevation and long, hard winters, the Javakheti Plateau is probably the most underrated destination in all of Georgia. I was blown away by this region the first time I visited and I've been back for more several times since. There's something magical about the landscapes here – and the harshness – that's difficult to put into words.
The Javakheti Protected Areas is a chain of national parks and lakes on the plateau. In the warmer months, migratory and endemic birds – including grey flamingos – nest on the lakes, making this world-class birdwatching territory.
Even if you're not into birdwatching, the lakes are stunningly beautiful and offer opportunities for short hikes and cycling. Combined with some beautiful churches and small villages, it's a really fascinating area to explore.
Things to do around Paravani Lake
There's not much to do on the shores of volcanic Paravani Lake other than sit and gaze in awe at the sheer beauty of the landscape. Poka St. Nino Monastery on the southern tip of the lake has a lovely shop attached where you can buy natural beauty and food products crafted by the resident nuns.
Just down the road, the smaller Saghamo Lake has a strong Norwegian fjord vibe, while Bughdasheni Managed Reserve, a tiny, marshy lake near the border with Armenia, is probably the prettiest of the lot. There are several other lakes to visit in the area, including the larger Kartsakhi which is shared between Georgia and Turkey. Bring a bicycle and cycle around the shorelines or just explore on foot, driving between the lakes and jumping out wherever you fancy.
The nearby village of Gorelovka is home to members of the Doukhobor community, a religious sect with a fascinating history.
For more ideas of what to see and do around Javakheti, see my detailed travel guide.
How to get to Paravani Lake from Tbilisi
Marshrutka services are limited and there are no day tour offerings to Paravani at present so to travel to this part of Georgia from Tbilisi, your best option is to either hire a car or organise a driver for the day. The road out of the city is quite steep and windy – but once you reach the plateau, it's straight and flat, which makes driving quite straightforward and enjoyable.
A GoTrip transfer to Paravani Lake and back starts from $30. Customise your own day trip itinerary here.
---
10. Soviet city planning at its finest: Day trip from Tbilisi to Rustavi
Distance from Tbilisi: 37 kilometres (23 miles)
Travel time: 60 minutes one-way
Recommended transport: Marshrutka
Best time to visit: Year-round
Highlights: Socialist-style architecture, Soviet mosaics, old steel factory
Why visit Rustavi?
Rustavi is a purpose-built Soviet industrial city south of Tbilisi. While it might not be everyone's cup of tea, I highly recommend it to fans of Socialist architecture and Soviet history.
Rustavi has all the trimmings: Hulking apartment blocks, Soviet mosaics, and a magnificent steel works. It's a populous city with good local restaurants, leafy parks and a generally nice vibe – great for an easy break from Tbilisi.
Things to do in Rustavi
Rustavi is a playground for fans of Soviet history. The colourful 9-story Socialist apartment buildings that dominate the northern part of the city give Rustavi a spectacularly surreal skyline.
The other half of Rustavi features grand Soviet architecture, including the Mayor's Office and Theatre, beautiful parklands, and a HIstory Museum set next to a lake. Have a look around the Old Market before stopping at social enterprise cafe Cafune for coffee and cake.
The Metallurgy Factory cuts an imposing figure at the southern end of the city and features some breathtaking (and very well preserved) mosaics on the facade. Topped off with a meal at Askili, you have one unconventional yet memorable day trip from Tbilisi.
How to get to Rustavi from Tbilisi
Rustavi is a major city in Georgia – many people commute to/from Tbilisi for work. Marshrutka vans and shared taxis leave from outside Station Square Metro Station (Didube) and other points around the city throughout the day, starting from as early at 7am. Tickets cost 1-3 GEL depending on the service.
In Rustavi, you can ask the driver to let you out when you reach the newer part of the city. To get back to Tbilisi, you can simply flag down a van from the street if you don't want to go all the way back to the main bus station.
If you prefer to go by car, a one-way transfer to Rustavi with GoTrip starts from just $12.
---
11. Hiking and biking: Day trip from Tbilisi to National Park of Tbilisi & Martkopi Monastery
Distance from Tbilisi: 40km (25 miles)
Travel time: 30 minutes one-way
Recommended transport: Marshrutka
Best time to visit: Spring, summer or fall
Highlights: Hiking, fall foliage
Why visit National Park of Tbilisi?
This large swathe of green space on the north-east edge of Tbilisi, close to Mtskheta, is a great spot for hiking and dirt biking close to the city. There are a few monasteries hidden in the foliage, including the gorgeous Martkopi which can be reached via a hiking trail from a nearby village.
Things to do in & around National Park of Tbilisi
Start by taking a marshrutka to Norio village where you'll find the trailhead for the Martkopi Monastery hike. This is an asphalt track that takes about 4 hours to complete. Martkopi Monastery was founded in the 6th century on the side of a mountain slope. It's very picturesque, especially when viewed from above from the church tower.
If you have your own car, make a detour to nearby Sabaduri Forest on the way. The road through the forest is one of Georgia's prettiest drives, especially in fall and winter.
Alternatively, you can combine a trip to National Park of Tbilisi with a visit to Tbilisi Sea and the Chronicles of Georgia. Marshrutka vans stop here on the way to and from Norio.
How to get to National Park of Tbilisi from Tbilisi
Vans to Norio depart from outside Tbilisi's Samgori Metro Station regularly throughout the day. The fare is 1.5 GEL, and the journey takes roughly 30 minutes. Jump out here to start the hike.
---
Extended day trips from Tbilisi (> 3 hours travel)
If you have limited time in Georgia and you want to see more of the country on a side trip from the capital, these 4 extended Tbilisi day trips.
12. Vardzia & Akhaltsikhe – Cave cities and castles
13. Kutaisi & Tskaltubo – UNESCO monasteries and Soviet sanatoriums
14. Chiatura & Katskhi Pillar – Soviet mining town
15. Northern Armenia – UNESCO monasteries and another stamp in the passport!
---
12. Castles and cave cities: Day trip from Tbilisi to Vardzia & Akhaltsikhe
Distance from Tbilisi: 240km (150 miles)
Travel time: 3.5-4 hours one-way
Best time to visit: Year-round
Highlights: Vardzia cave monastery, Rabati Fortress, beautiful scenery
Why visit Vardzia & Akhaltsikhe?
Vardzia is disputably the most iconic and impressive of Georgia's three 'popular' medieval cave monasteries. Comprising thousands of small compartments cut from a sheer stone wall, it's both an admirable feat of engineering and a completely immersive, almost spiritual experience.
The closest city to Vardzia, Akhaltsikhe, is home to the weird and wonderful Rabati Fortress. These two sites combine to make an ideal day trip for anyone who's interested in Georgian history and culture.
Be warned that this is a long day trip from Tbilisi that involves a lot of time on the road. It's preferable to visit this part of the country from Western Georgia unless you're really pushed for time.
Things to do in & around Akhaltsikhe
If you're visiting this part of Georgia on a day trip from Tbilisi, you should focus your time and energy on Vardzia.
Excavated from the side of Mount Erusheli in 1185 on the orders of Queen Tamar, the site was originally built to protect a community of 2,000 monks from invading Mongols. It once consisted of more than 6,000 separate apartments in a thirteen-story complex; however, much of the city was later destroyed by an earthquake and looting.
The complex is navigated via a series of marked trails, tunnels and steep staircases.
For more things to do and restaurant recommendations, see my Akhaltsike city guide.
If Vardzia is a snapshot of pure history, Rabati Fortress in Akhaltsikhe, 50km away, is something else entirely. The complex dates back to the 9th century but underwent some heavy handed restorations in 2011. It's a bit difficult to tell where history stops and creative license begins – but there's no disputing that the grounds are beautifully kept, and there are numerous towers to climb up for different views.
We visited Rabati in summer (peak season) and were among the few tourists there – the peace and quiet is a welcome alternative to other tourist attractions in Georgia.
The castle is open from 9am until 7pm daily, and tickets cost 6 GEL. If you want to visit the Samtskhe-Javakheti History Museum located inside the castle, it will cost you an additional 2 GEL.
If you want a view looking down over the castle, continue up the hill to St. Marine Church. For lunch, I recommend Restaurant Mimino on Akhaltsikhe's main street.
Because of its close proximity to the border, Akhaltsikhe has always had a large Armenian population. Gyumri, Armenia's third-largest city, is just 160km to the south. This part of Georgia also has an interesting Islamic history, with many of the buildings (including mosques and bath houses) in Akhaltsikhe erected when the Ottomans conquered the region in the 1570s. Akhaltsikhe Synagogue adds another layer to the mix.
If you have time, Atskuri and Khertvisi Fortresses are also worth stopping at on the way from Vardzia to Akhaltsikhe. A view of the latter is all you need to satiate your appetite for beautiful medieval castles. The smaller and lesser-known Vanis Kvabebi cave monastery, located off the highway, also comes recommended.
How to get to Vardzia & Akhaltsikhe from Tbilisi
Visiting Vardzia in a day from Tbilisi is possible, but you have to time it perfectly. You might (no, will) feel rushed to make the tight connection, and you won't have time to visit Rabati either. For this reason, I recommend either GoTrip or day tour.
If you do decide to do this DIY, start by taking the first marshrutka to Akhaltsikhe at 8am (10 GEL), then connect to the 12.30pm marshrutka to Vardzia (5 GEL). This will get you to the caves at 2pm, giving you just 60 minutes to walk around before the last van back to Akhaltsikhe leaves at 3pm. Marshrutky to Tbilisi cease at around 7pm.
You can buy yourself a bit more time by taking a round-trip taxi from Akhaltsikhe to Vardzia (around 50 GEL), but in my opinion, this still doesn't give you enough time to appreciate the caves.
A better option is to book a car all the way from Tbilisi with GoTrip. This itinerary for Borjomi, Rabati and Vardzia starts from $50 depending on the driver. You'll have more time and flexibility, and the benefit of a comfortable car (it's a loooong drive). Plan and book a transfer from Tbilisi to Vardzia here.
Day tours from Tbilisi to Vardzia & Akhaltsikhe
Guided day tour is a good option for this route as both Vardzia and Rabati Castle have a lot of history behind them and not much information onsite. I recommend this full-day trip from Tbilisi because it starts with Vardzia, so you'll be fresh for the best part of the tour. It then continues to Rabati before making a stop in Borjomi to stretch your legs on the way back to the city.
This private day tour follows the same route but in reverse. It also gives you the option to start bright and early at 7am – highly recommended for a day trip that involves so much driving.
---
13. UNESCO heritage and Soviet sanatoriums: Day trip from Tbilisi to Kutaisi & Tskaltubo
Distance from Tbilisi: 240km (150 miles)
Travel time: 4 hours one-way
Recommended transport: GoTrip
Best time to visit: Year-round
Highlights: UNESCO-Listed Gelati Monastery, semi-abandoned spa resort, Imeretian cuisine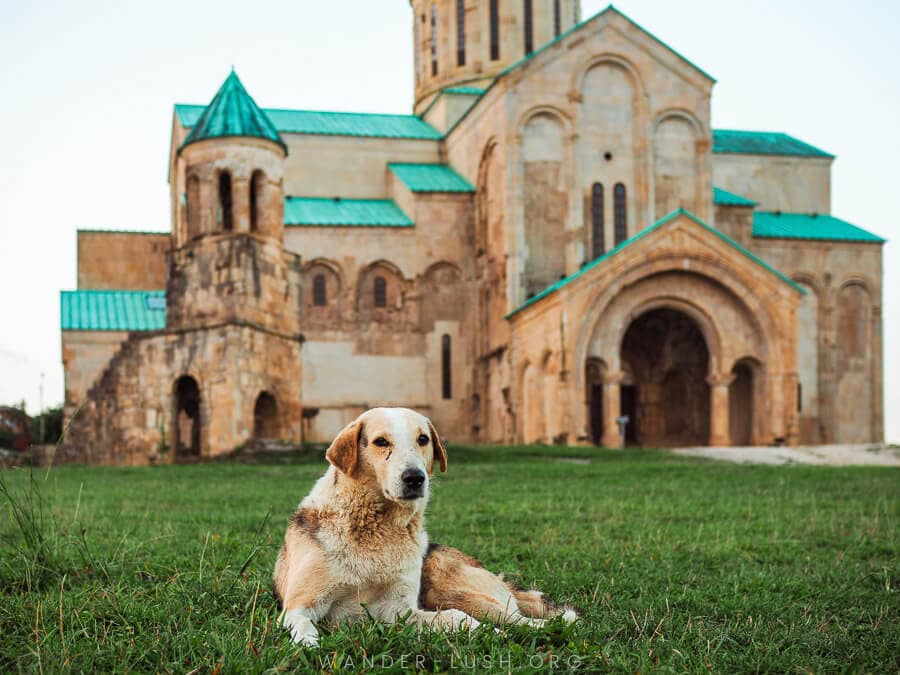 Why visit Kutaisi & Tskaltubo?
Kutaisi, Georgia's second-largest city, deserves several days of your Georgia itinerary all to itself. On a long day trip from Tbilisi, you can see some of the highlights – including the UNESCO-Listed Gelati Monastery – enjoy a brisk walk around town, and visit the nearby spa town of Tskaltubo.
This day trip is ideal for anyone who's on a tight itinerary that only covers Eastern Georgia. Otherwise, I recommend visiting this area separately and spending at least two nights in Kutaisi.
Things to do in Kutaisi & Tskaltubo
Start with the UNESCO World Heritage Listed Gelati Monastery, a masterpiece of stone carving and tile work. Wreathed in foliage, the nearby Motsameta Monastery is every bit as lovely. You can drive between the two or hike to Motsameta through the forest.
Closer to the city, the formerly UNESCO-recognised Bagrati Cathedral is definitely worth a look in as well. Note the addition to the exterior that UNESCO poo pooed, admire the frescoes inside, then wander out back for a stunning view of Kutaisi city.
In town, visit the Kutaisi Synagogue, the city market (one of my absolute favourites in Georgia) and the Colchis Fountain before taking a walk in the park. Duck down to the Rioni River to cross the White Bridge and ride on the Soviet cable car if you have time. If not, head straight to one of Kutaisi's best restaurants for some Imeretian fare (Sisters or Palaty are my top choices).
For more things to do in Kutaisi, see my complete Kutaisi city guide.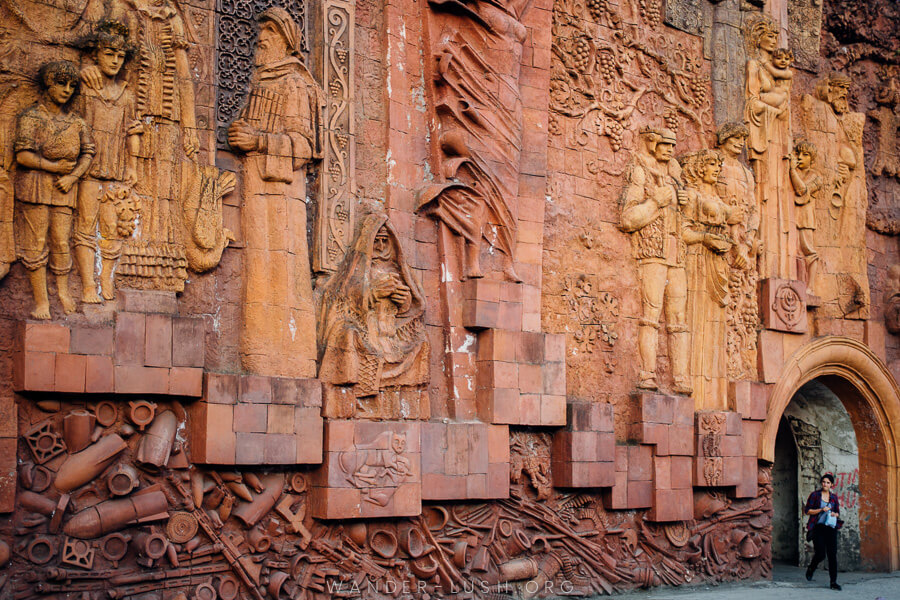 The nearby town of Tskaltubo is one of Georgia's more unusual dark tourism sites. Home to a slew of Soviet sanatoriums – some abandoned, others repurposed and a few still operating – it's a dreamland for urbexers. Explore the nooks and crannies of the crumbling architecture and step inside Stalin's personal bathhouse and former suite. Just take care not to trespass on private property, and be mindful that families live inside some of these buildings.
If you're travelling by car, stop at the wonderful Lia Deida for a meal and in Ubisa to buy some handmade pottery on your way back to Tbilisi.
If you're thinking of visiting Tskaltubo, don't miss my mega guide to the 25 best sanatoriums, hotels and bathhouses.
How to get to Kutaisi & Tskaltubo from Tbilisi
There aren't any organised day trips to Kutaisi and Tskaltubo at present – and with the long distance, it's not really feasible to travel by van. Thus your best option is to book a car and driver through GoTrip.
This quick Kutaisi/Tskaltubo itinerary that I designed costs from $45 with transfers to and from Tbilisi. Customise your own itinerary and book a driver here.
---
Other popular spots to visit near Kutaisi are Okatse Canyon and Prometheus Cave. Personally I don't think it's worth visiting these spots from Tbilisi – it's a very long distance to travel, and I don't think the scenery warrants it. If it's something you're interested in, this day trip from Tbilisi to Okatse Canyon and Prometheus Cave includes a dinner stop in Kutaisi for a taste of Imeretian cuisine. Note that the tour price doesn't include entry to the canyon or cave, which is quite pricey.
Alternatively, a transfer from Tbilisi to Okatse and Prometheus starts from $50 per car when booked through GoTrip. This option is unguided but more flexible, so you can make as many stops along the way as you like. If you leave early enough, you might be able to squeeze in some Kutaisi sightseeing as well. Customise and book a transfer here
---
14. Stalin's rope roads: Day trip from Tbilisi to Chiatura & Katskhi Pillar
Distance from Tbilisi: 185km (115 miles)
Travel time: 3-3.5 hours one-way
Best time to visit: Summer or fall
Highlights: Soviet-era cable cars, Katskhi Monastery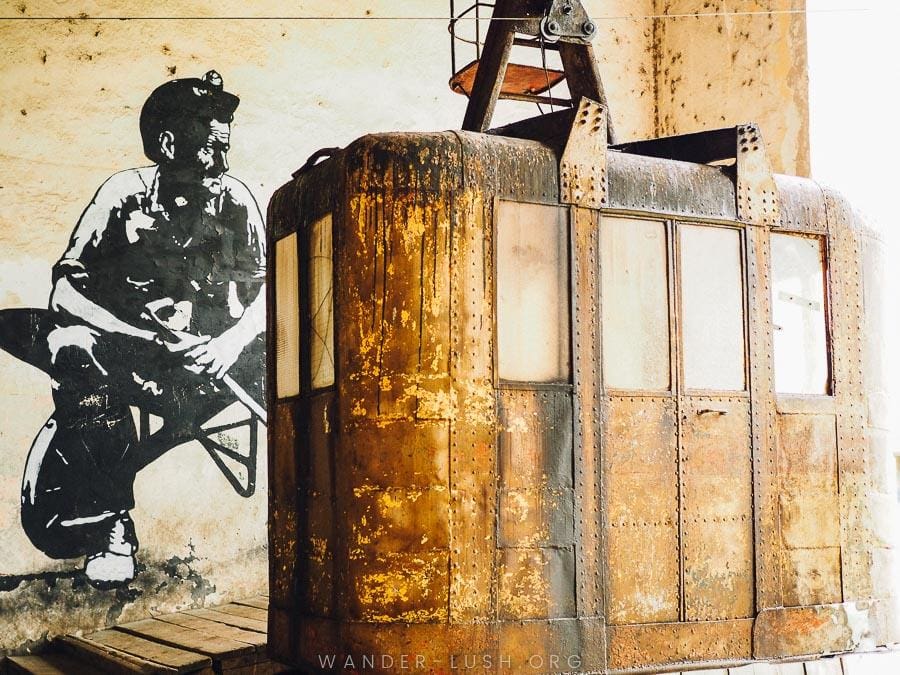 Why visit Chiatura?
Chiatura is an ex-mining town nestled in Imereti region, around 200km from Tbilisi. The main attraction here is the network of cable cars that criss-cross the valley floor, apparently built on Stalin's orders to boost productivity in the manganese mines.
My visit to Chiatura was one of the most memorable parts of my first visit to Georgia. It's a bit offbeat, but there's so much interesting history and atmosphere wrapped up in these small 'forgotten' towns – it's a really fascinating side of Georgia. Of course Chiatura isn't really forgotten at all – people here are incredibly kind and eager to meet tourists. We're a rare sight in these parts!
Katskhi Pillar near Chiatura is an 8th-century monastery built atop a limestone stylite, Meteora-style. It's unreal and an incredible sight to behold in the flesh.
The entire area around Chiatura and Katskhi is lush and verdant – a total contrast to Eastern Georgia.
Things to do in & around Chiatura
Fancy a ride in a 'steel coffin'? Chiatura's cable cars date back to the 1950s. Up until a few years ago, a dozen or so lines still criss-crossed the river valley, ferrying women with bags of groceries and school children instead of miners.
The old cable cars are now closed and the carriages gone, replaced with a new network of ropeways. However, the station buildings live on a blast from the Soviet past – awesome concrete creations with cantilevered arms and hammer-and-sickle insignia above the doorways. 
The Pioneer's Palace is another Soviet gem that will make architecture buffs weak at the knees. Just walking around downtown Chiatura is a treat – the architecture is very retro, and people are very kind and welcoming.
Katskhi Pillar is located 11km west from Chiatura just off the main road. The sky-high monastery's sole inhabitant, monk Maxime, recently passed away after spending a quarter of a century atop the pillar in solitude. View the column from afar before following a trail to the base. (Note that visitors aren't permitted to ascend the ladder to the monastery.)
For the latest info on the cable cars and more things to do in Chiatura, see my comprehensive Chiatura travel guide.
How to get to Chiatura from Tbilisi
The better option for independent travellers is to visit Chiatura and Katskhi on a day trip from Kutaisi.
It's definitely possible to visit Chiatura and Katskhi in a day from Tbilisi, but you'll need to join a group tour or book a private transfer to do it. Unfortunately the marshrutka times from Tbilisi to Kutaisi/Zestaphoni then onwards to Chiatura just don't line up.
I recommend this day trip from Tbilisi to Chiatura and Katskhi because it gives you the option to start early at 8am. The guides have great reviews and really bring the history of Chiatura to life.
If you prefer to go unguided, a transfer from Tbilisi to Chiatura and Katskhi starts from $40 per car when booked through GoTrip. This includes door-to-door transfers from Tbilisi and as many stops along the way as you like. Customise and book a transfer to Chiatura here.
---
15. Another stamp in the passport: Day trip from Tbilisi to Northern Armenia
Distance from Tbilisi: 110km (68 miles)
Travel time: 3-3.5 hours one-way
Recommended transport: Day tour
Best time to visit: Year-round
Highlights: UNESCO Monasteries, Armenian food, another stamp in the passport!
Why visit Northern Armenia?
Armenia is more than worthy of a place on your Caucasus itinerary (I recommend at least three days for Yerevan alone). But if you're eager for another stamp in your passport, you can take a day trip across the border to touch on two of the country's UNESCO-listed monasteries, Haghpat and Sanahin, which lie just 100km south of Tbilisi.
Debed Canyon is one of the most beautiful parts of the Caucasus and on a day tour from Tbilisi, you'll be driving through the area.
How to get to Northern Armenia from Tbilisi
There are regular marshrutka vans between Tbilisi and Yerevan – but given the travel time and border crossing logistics, there's no way you could do a day trip to Northern Armenia independently. An organised group tour is your only option.
I recommend this full-day trip from Tbilisi to Haghpat and Sanahin because it keeps group sizes small and also includes a delicious Armenian barbecue for lunch.
Alternatively, this private tour from Tbilisi is a little more expensive but you have the benefit of being one-on-one with your guide. It visits both UNESCO Monasteries plus lunch at a traditional Armenian restaurant.
---
More Tbilisi day trip ideas
Pankisi Valley – an alternative day trip from Tbilisi
Pankisi Gorge is a great alternative day trip from Tbilisi. Home to members of the Kist ethnic minority group, whose ancestors migrated to Georgia from Chechnya in the 18th century, the area is still relatively unknown to tourists. This is partly because of misconceptions surrounding the community.
The Pankisi Valley Tourism and Development Association, a wonderful grassroots tourism initiatve, is working to change perceptions about Pankisi and bring more tourists to the area. Read more about the initiative and my visit to Pankisi here.
Pankisi Gorge is made up of a string of small villages that run along the valley floor. Each one has its own attractions, including mosques, an ethnography museum, and house workshops where you can visit Chechen felt-makers and other artisans. On Fridays, visitors can watch Kist women perform a traditional Sufi ceremony.
New marked trails in the hills above Jokolo Village are perfect for short hikes. For a longer itinerary, visitors can use Pankisi Gorge as a departure point for visiting Tusheti Nature Reserve.
It's best to explore the area with a local guide. This, and perhaps lunch at one of the homestays, can be organised through the Association. Contact Nazy of Nazy's Guest House well in advance to organise your trip. Tourism is still developing in Pankisi, so watch this space for more developments!
Rkoni village
Just 76km (47 miles) from the capital, Rkoni village is a great off-the-beaten-track location for dirt biking and hiking around Tbilisi.
This day trip from Tbilisi to Rkoni Village involves less than two hours' of driving, making it a convenient option if you want to escape the city without travelling too far afield. This is an active tour, combining cycling with ruins, a national park and stone bridge.
I haven't been to Rkoni yet, but it's top of my list for next time.
---
Georgia essentials
Here are some of the websites and services I use when I'm planning a trip to Georgia and the Caucasus. Remember to check out my full list of travel resources for more tips.
– Find affordable flights to Tbilisi, Batumi or Kutaisi on Kiwi.com, a booking site that mixes and matches airlines to find the best route (there's a money back guarantee if you miss a connection).

– Use iVisa to check if you need a tourist visa for Georgia and apply for an expedited visa online.

– Pre-book a private transfer from Tbilisi Airport to your hotel or from Kutaisi Airport to Tbilisi with my preferred partners at Friendly.ge.

– Get a great deal on a rental car in Georgia by using MyRentACar to find a local agent.

– Buy your tickets for the Tbilisi to Baku or Yerevan sleeper train online in advance through my partners at Geotrend (get a discount when you use the code in this post).

– Find the best Georgia hotel deals on Booking.com, book a Georgia hostel, or find a unique Airbnb.

– Find the best city tours and day excursions in Georgia.

– Compare mobile providers and pick up a local Georgian sim card.

– Order a copy of the new Lonely Planet Caucasus guidebook (published July 2020).
What are your favourite day trips from Tbilisi? If you're planning a trip to Tbilisi in the future, which day trip/s would make your list? I'd love to hear your thoughts!
---
Day trips from Tbilisi: Pin it