The second largest city in Bosnia and Herzegovina and capital of the autonomous Republika Srpska (Bosnian Serb Republic), Banja Luka is a handsome city with layers of Ilyrian, Slavic, Ottoman and Austro-Hungarian history.
That description might remind you of another city, Sarajevo. Despite having similar influences, Banja Luka is nothing like Bosnia's capital.
Banja Luka sits at the confluence of the Vrbas and Vrbanja rivers in north-western BiH and is an open city of parks, wide boulevards and stately architecture.
When it became an important military centre for the Ottoman Turks after 1527, it was bestowed with some of its main landmarks, including the Ferhat Pasha Mosque – still considered one of the finest examples of Islamic architecture in the region. Orthodox churches and monasteries came later in the 19th century.
Both the main cathedral and mosque were destroyed during different conflicts and later rebuilt. Through it all, the pre-Roman Kastel Fortress – the stone heart of Banja Luka – stood silent sentinel.
Located close to the border with Croatia, Banja Luka is easily reached from Zagreb or Northern Serbia by bus. If you're flying into BiH with budget airlines Ryanair or WizzAir, you may find yourself arriving in Banja Luka.
Rather than just passing through as most travellers tend to do, I highly recommend spending a night or two getting to know Bosnia's second-largest city. It's a complete contrast to Sarajevo and a must-see if you want to gain a more complete understanding of the country.
---
Please note: This post contains affiliate links, meaning I may earn a commission if you make a purchase by clicking a link (at no extra cost to you). Learn more.
---
Where to stay in Banja Luka
---
12 best things to do in Banja Luka
We originally planned to spend two days in Banja Luka between visiting Tuzla and Jajce but ended up extending to three days because we liked the city so much.
Banja Luka is small, so you can get away with just one day to see the city sights plus an extra morning or full day for a nature side trip to Krupa na Vrbasu.
Here are the best things to do in Banja Luka during your visit.
1. Visit the incredible Ferhat Pasha Mosque
I'm not going to mince my words here: The Ferhat Pasha Mosque (also known as the Džamija Ferhadija Mosque) is simply one of the best mosques to visit in the Balkans region. Seeing this magnificent example of Ottoman Islamic architecture up close is reason enough to spend a day in Banja Luka.
Ferhadija was constructed in 1579 by a team of builders whose names have sadly been lost to history. Along with the main mosque, there was a courtyard, graveyard, fountain and trio of turbe mausoleums on the grounds, all protected by a high wall. The most eye-catching feature of the complex is the twelve-piped ablution fountain, which is fed by a nearby spring called Šadrvan.
The interior is paired-back and elegant, with vibrant ornaments decorating the domed ceiling.
Fashioned from gleaming white stone and featuring delicate painted ornaments in blue and red, the mosque is simply stunning – both inside and out. Aside from its good looks, the thing that makes Ferhadija so interesting is its history and symbolism.
For context, it's important to know that Banja Luka was the main Serb centre in northern BiH during the Bosnian War of 1992-1995. During this period, Bosniak Muslims were driven out of the city along with minority groups, and important cultural landmarks were strategically destroyed.
The Ferhadija was obviously a target and in 1993, it was demolished along with 16 other mosques. In 2007 work commenced to rebuild the mosque, stone by stone, and in May 2016 it opened its doors to worshippers from Banja Luka's small Muslim community once again.
Ferhadija is the perfect example of the phoenix-rising-from-the-ashes motif that plays out again and again in Banja Luka and across Bosnia and Herzegovina.
The mosque and grounds are open every day. Visitors are welcome to enter the main hall outside of prayer times.
---
2. And the equally impressive Christ the Savior Orthodox Cathedral
No less grand than Ferhadija and with an equally compelling tale of destruction and rebirth, the Christ the Savior Cathedral on Trg srpskih vladara is Banja Luka's main Serbian Orthodox temple and dominates the city centre.
It was constructed in the 1920s using gorgeous red and yellow-tinged travertine from Mesopotamia. Just a few short years after being consecrated in 1939, in April 1941, the church was hit and damaged by a German bomber. The Croatian Revolutionary Movement then ordered it to be demolished by hand.
The cathedral was reconstructed in the 1990s and reopened in 2009. When you visit today, you can see segments of original brickwork and fragments of white-stone ornaments displayed in a roped-off pen at the front – as if to say don't forget.
Another stunning religious building, the cathedral design features golden domes and intricate stonework. Inside, vivid frescoes against an inky blue background decorate every inch of wall and ceiling.
The Christ the Savior Cathedral is open daily between 7am and 7pm.
---
3. Wander the grounds of Kastel Fortress
The medieval Kastel Fortress long predates Banja Luka's religious landmarks and is the oldest monument in the city. Unlike other fortifications in the region, it isn't perched on a hilltop or mountainside, rather it sits flush with the rest of the city on the edge of the Vrbas river.
Maybe that's because the castle wasn't exactly built to defend the city from invaders, but rather to protect a precious asset: The road. The Roman Salt Route or Via Salaria passed directly through Banja Luka and traders came this way from the Adriatic coast to the interior of the Balkan Peninsula.
Kastel Fortress was built by the Romans atop older fortifications for the purpose of defending this trade route. When Banja Luka fell under Austro-Hungarian rule, additional towers, walls and underground tunnels were added.
The last round of renovations was completed in 2016 and has left Kastel Fortress in the splendid state it stands today. The huge complex comprises 11 bastions and towers, various silver stone buildings and an armory.
The whole area is very pretty, with swathes of green grass and shady trees. Walking paths lead you around the complex and along the river bank. At night the paths are lit by lantern lights, which adds a special magic. The layout reminds me a lot of Petrovaradin Fortress in Novi Sad.
In summer you can watch a live music performance on the outdoor stage within the castle grounds. I also recommend stopping off here for lunch – read on for the details.
---
4. Eat Banja Luka cevapi at Kazamat, one of the best things to do in Banja Luka for foodies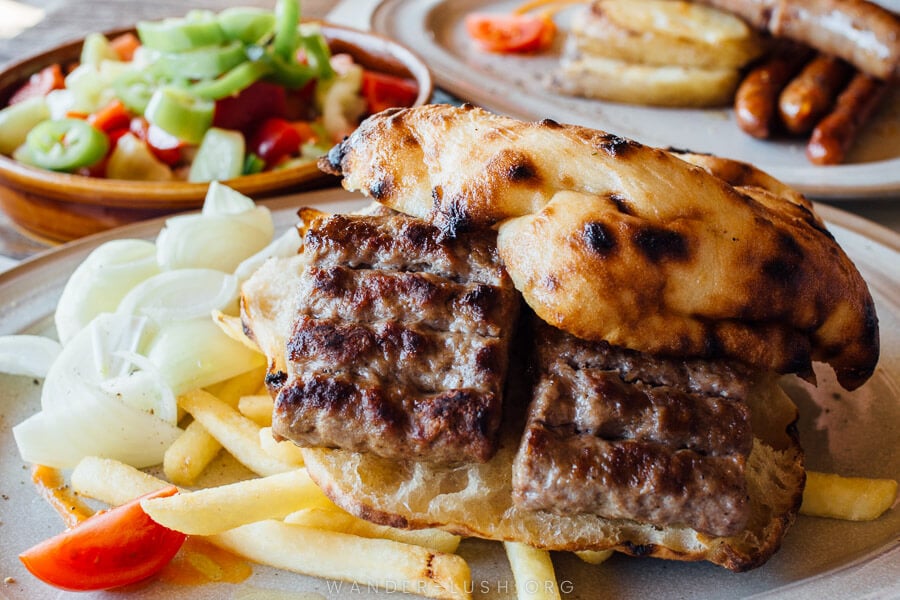 Kazamat is one of the oldest restaurants in Banja Luka. If you only have time for one sit-down meal during your visit, have it here.
The restaurant has a spectacular setting nestled inside the castle grounds with wonderful views of the fortifications and river from the outdoor terrace. The interior dining room is exactly what you'd expect from a castle restaurant, with iron chandeliers and suits of armour for decoration.
Kazamat has a long menu with all the classic Bosnian foods accounted for. The best thing to order is definitely Banja Luka Cevapi (banjalučki ćevapi) , the city's signature take on this Balkan staple.
Banja Luka-style cevapi differs because the ground beef patties (usually served separate) are connected to form one big patty. Traditionally a patty has four parts. At Kazamat, the grilled cevapi is served tucked inside a grilled somun bread, accompanied by french fries and plenty of chopped white onion.
---
5. Take a stroll down Gentleman's Street
Veselin Maslesa Street is Banja Luka's main pedestrian boulevard and a great place to go for a walk and people-watch. The street's local nickname, Gospodska, means 'Gentleman's Street', a moniker given to the avenue by a local businessman some time in the 19th century that ended up sticking.
The entire street is lined with gorgeous Art Nouveau facades in a palette of pastels, much like Širok Sokak in Bitola. Today's tenants include fashion boutiques, jewellers and sidewalk cafes.
The best time to go walking on Gentleman's Street is at dusk when the entire city of Banja Luka comes out to shop and stroll.
---
6. Shop for fresh produce at the Gradska Tržnica market
Gradska Tržnica or city market is the biggest farmers' market in Banja Luka. It consists of an undercover market hall plus a large open roofed area.
Hundreds of vendors congregate here every day to sell fresh fruit and veg, honey, cheese, herbs and cut flowers. Roam the rows of stalls to see what you can rustle up (perhaps provisions for a picnic at Krupa na Vrbasu). The upper level of the market is devoted to clothing shops and homewares.
As with all markets, this is a great opportunity to see what's in season and get a taste for the local food culture. The market is open every day from 7.30am (6am on Sundays, the main market day) and winds down by early afternoon.
---
7. Cycle to the Trappist Monastery and buy a wheel of cheese
Banja Luka is surrounded by beautiful nature and I highly recommend getting out and exploring the green fringes of the city. Krupa na Vrbasu village to the south is the most popular day trip (more on that later). For a quick and easy alternative, hire a bicycle in town and go cycling the opposite way, north-east along the Vrbas river.
The Mariastern Abbey or Trappist Monastery, 6km from the centre, is an ideal destination. The way is mostly flat and very scenic, passing over the river at the end.
The monastery complex is a bit of a hidden gem and turned out to be one of my favourite places in Banja Luka. Established in 1869 by monks from the Trappist order, it was once the biggest abbey of its kind in the world. Today it's the smallest, with only a couple of resident monks staying on to continue the traditions of cheesemaking and rakia distillation.
Yes, these monks really know how to do cheese! Trappist cheese is a unique, very mild cow's milk cheese that's only found in France, Belgium and here in BiH. Rounds are sold directly to the public at the small shop on the grounds of Mariastern.
Colourful bottles of flavoured rakia are also available.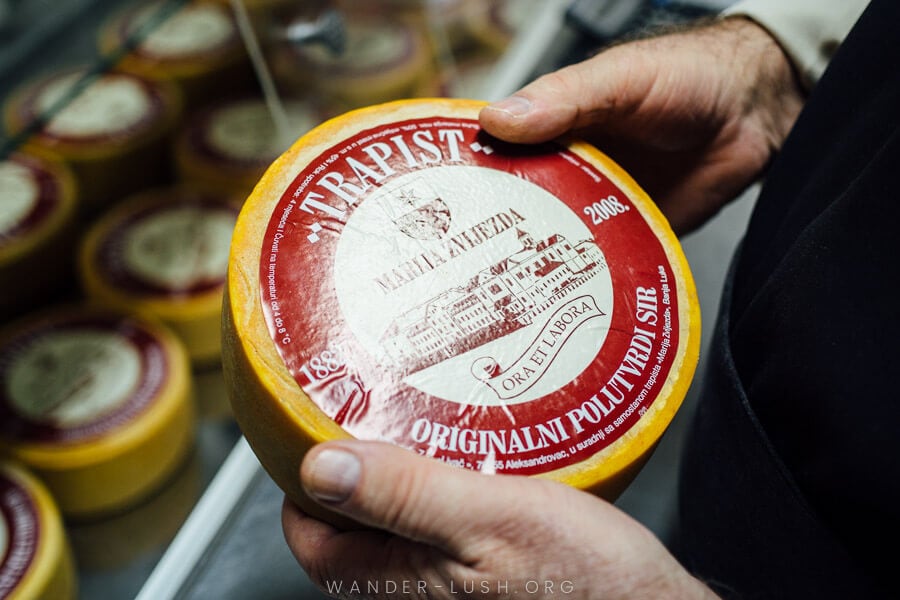 When we visited, one of the monks kindly gave us a tour of the monastery and church, and showed us part of the cheese-making process. Don's miss the chance to experience this wonderful example of almost-forgotten traditions at the only surviving Trappist Monastery in Southeastern Europe.
The area around the monastery is named Trapisti after the monks and is very beautiful. You can cycle further on if you wish. I recommend stopping for lunch at Lovački restoran on the way.
We hired our bikes from Sport Shop Jošo for 20 KM (around 12 USD) per person for the day.
---
8. Check out the street art in Borik
Borik district is one of the newer parts of Banja Luka, having been built up in the 1970s after an earthquake in 1969 devastated much of the city. There's nothing particular to 'see' in Borik, thus many people avoid this area. But if you're cycling to Trapisti, you'll pass right through.
The neighbourhood is mostly residential with row after row of Socialist-style concrete apartment blocks. Turns out those bland facades are the perfect artists' canvases. In the past few years, Borik has become the epicentre of Banja Luka's street art scene.
There were half a dozen interesting large-scale murals in Borik at the time of our visit, and many more have popped up since.
Pictured here is 'Chicha' (2015) by Bulgarian artist Bozko (top), 'Find Your Way To Fly' (2014) by Croatian-Serbian duo Artez and Lonac (above left), and 'Icarus' (2015) by Polish duo Etam Cru (above right).
---
9. Visit the Museum of Contemporary Arts
There are two museums in Banja Luka worth visiting. The first is the Museum of Contemporary Art of the Republic of Srpska, my personal favourite and top pick if you only have time for one.
Founded in 1971, the museum is set inside the old Austro-Hungarian train station. The building dates to 1891 and is one of the most beautiful pieces of architecture in the city – thus it's worth visiting the museum just to see the building.
The exhibition program focuses on local artists from Banja Luka and the region. At the time of our visit we saw part of the permanent collection of paintings, sculptures and new media art. Many of these young artists explore themes of identity in post-war Bosnia and Herzegovina, so in this respect the museum is a very interesting insight into modern society and politics.
The Museum of Contemporary Art is open from 10am-10pm daily. Entrance is free.
---
10. And the Museum of the Republika Srpska
The second museum on this list, the Museum of the Republika Srpska, is located behind the market. It's a much more austere Socialist-style building, purpose-built in 1992.
Exhibits cover local Banja Luka history from the Stone Age until 1945. The most interesting parts in my opinion are the Ottoman-period relics and the multimedia exhibition that covers the Jasenovac complex, a series of concentration camps built near Zagreb in the 1940s.
The museum doesn't touch on the collapse of Yugoslavia or the Bosnian War. All signage is in English, but be aware there is a pretty glaring bias in some of the didactics.
The Museum of the Republika Srpska is open weekdays from 8am-8pm and weekends from 10am-2pm. Admission costs 1 KM.
---
11. Stop by the beautiful Banski Dvor Cultural Centre
Across the road from Christ the Savior Cathedral, Banski Dvor or Ban's Court is another eye-catching building in Banja Luka.
It was built in 1931-2 as a home for the local military general. Today it serves as a cultural centre, hosting theatre performances, music recitals and art exhibitions.
---
12. Pop into the curious Cathedral of Saint Bonaventure
The Cathedral of Saint Bonaventure is one of only four Roman Cathdolic cathedrals in Bosnia and Herzegovina. Like Ferhadija Mosque, it was damaged in the Bosnian War and reconstructed in the early 2000s.
The hyper-modernist design is the work of Zagreb architect Ljubo Matasović, who unveiled the cathedral in 1973. It replaced an older cathedral from the 1850s that was destroyed in the earthquake. The unusual shape supposedly represents a tent, a tribute to the residents of Banja Luka who were forced to live in temporary accommodation after the 1969 earthquake destroyed their homes.
Inside, the church features stained glass and beautiful mosaics. The surreal clock/bell tower was added in 1991by Slovenian architect Danilo Furst. A concrete staircase spirals up the centre, it looks more like an air control tower than a church tower!
Crkva Svete Trojice (Church of the Holy Trinity) and the Eparchy of Banja Luka, two important Orthodox buildings, are located right next door.
---
BONUS: Take a day trip to Krupa na Vrbasu for canyoning & rafting
The town of Krupa na Vrbasu is just 25km or half-an-hour by road south of Banja Luka towards Jajce. This is a gorgeous landscape of rambling rivers, canyons and historic wooden water mills.
Swim in the gorgeous Krupa Waterfalls, hike to the old watchtowers for a view, visit the historic Krupa na Vrbasu Serbian Orthodox Monastery, and partake in a range of outdoor activities including rafting on the Vrbas river (summer only).
Like in the nearby Pliva Lakes, there are beautiful old water mills scattered around the water's edge. Some are still in use today – you can buy fresh wheat flour ground on the mill stones from shops in town.
To get to Krupa from Banja Luka, take a BOČAC company coach from the city bus station near the train station. There are 8 departures daily on weekdays between around 6am and 10pm. Check times locally. The fare is around 3.5 KM and the journey takes 45 minutes.
---
Where to eat in Banja Luka: Best restaurants & cafes
Restaurant Kazamat inside Kastel Fortress (number 4 on this list of things to do in Banja Luka) is definitely my favourite place to eat. Lots of other options for both Bosnian cuisine and international fare.
Mala Stanica: Another popular eatery in Banja Luka, Mala Stanica is set inside a historic building and has a very cosy interior. The food here is fine-dining-style (both local and European dishes). Save room for dessert: The chef here is famed for his chocolate souffle.
Kod Brke: A great option for a quick meal, Kod Brke is known for its thin-crust pizza (the prosciutto is my pick). They open bright and early at 7am and do great Italian coffee as well, making it a good option for breakfast.
Lovački restoran: This family restaurant is a good place to stop for lunch on your way to the Trappist Monastery. Meat is the star of the menu, but the grilled veg and salads are also very good, all prepared with fresh local produce.
---
Banja Luka map
Click here to open a Google Map of all the above mentioned Banja Luka attractions and restaurants.
---
How to get to Banja Luka
Banja Luka is an ideal place to start your Bosnia and Herzegovina travels. Direct flights to the city are available from Belgrade, Frankfurt, Milan and elsewhere in Europe with budget carriers WizzAir and Ryanair.
The international airport is located 25km north of the city centre or 30-45 minutes by road. Smiljić Travel runs regular shuttle buses from the airport to downtown BL for a couple of Euros. Check the timetable and fares on Facebook.
There are frequent bus connections between Banja Luka and other places in Bosnia and Herzegovina, including Sarajevo (5 hours), Jajce (1.5 hours) and Tuzla (5 hours). Check times and fares on Get By Bus.
If you're touring around the Balkans, it's also possible to travel overland from Croatia or Serbia. The most convenient road routes are from Zagreb and Osijek (Croatia), and Belgrade and Novi Sad (Serbia).
---
Have you been to Banja Luka or are you planning a visit? Leave your travel tips or questions in the comments below.