Everything you need to know before visiting Uplistsikhe, Georgia's oldest cave town.
Uplistsikhe is one of several 'cave cities' you can visit in Georgia. It's not striking as David Gareja or as vast as Vardzia, but it is the country's oldest cave town (some of the structures date back to the Iron Age).
In fact, Uplistsikhe is one of the oldest urban settlements of any kind in the region.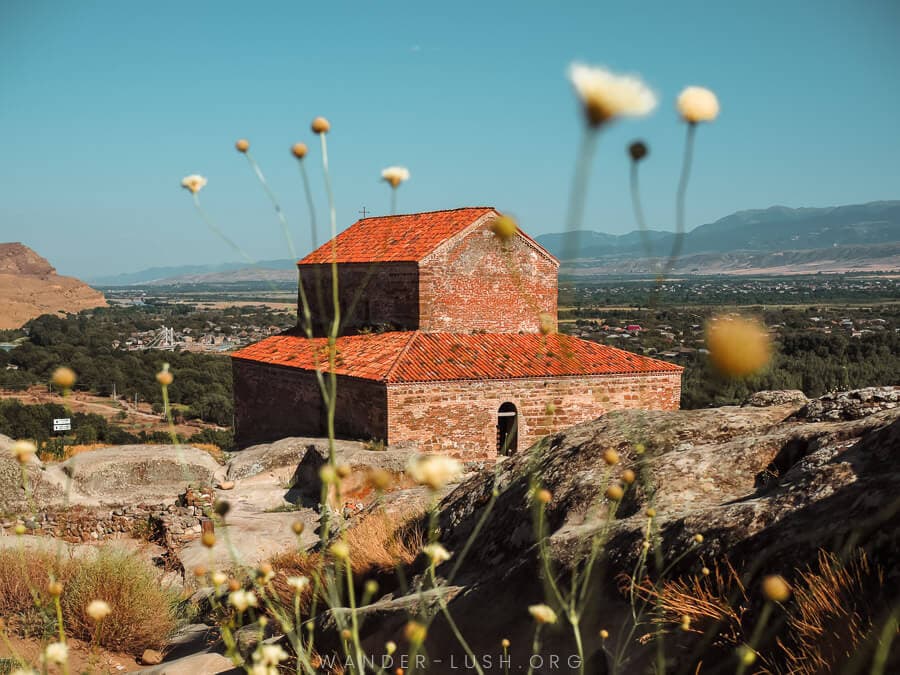 I first visited Uplistsikhe back in 2017 and recently returned for a second time. Having now been to Vardzia and David Gareja as well, I can now say that Uplistsikhe has a special charm, probably because it was inhabited by everyday folk – traders and Silk Road merchants – and not just royalty or monks.
Even if you've seen the other two, it's still worth spending an hour or so at Uplistsikhe – especially since it's so easily accessible from the city of Gori.
This Uplistsikhe guide, updated and accurate for 2021, will help you make the most of your trip to Georgia's oldest cave settlement. If you have any more questions, let me know in the comments and I'll do my best to answer!
---
Please note: This post contains affiliate links, meaning I may earn a commission if you make a purchase by clicking a link (at no extra cost to you). Learn more.
---
What makes Uplistsikhe special?
As well as being Georgia's oldest cave town, Uplistsikhe has a number of qualities that make it historically important.
To the untrained eye, Uplistsikhe looks like a childlike moonscape of oddly shaped rocks and rounded openings. But the technique and craftsmanship – and the sheer manpower – required to cut the complex from raw rock shouldn't be underestimated. The architects responsible for Uplistsikhe combined techniques and forms found in both Anatolia and Iran, in both pagan and Christian traditions.
Like Vardzia, Uplistsikhe is strategically located on a riverbank. It consists of several hundred (the exact number is unknown) chambers and rooms excavated from a relatively flat cliff face. The main central part of the complex stretches out across the plain for 8 hectares, and is connected to upper and lower levels by tunnels and stairs.
As you approach the main entrance, you immediately feel as if you're walking down a main street. Indeed this was Uplistsikhe's central thoroughfare. Alleyways and staircases branch off, leading to different caves used as living quarters, communal spaces and ceremonial halls.
All along the gently sloping ground you can spot a series of small and larger holes where poles for awnings or roof structures once stood. Uplistsikhe feels more 'lived in' than Vardzia, and reminds me a lot of Italy's Herculaneum in this respect (although it's nowhere near as well-preserved).
This feeling comes from the fact that regular folk once dwelled in Uplistsikhe. When Tbilisi was conquered in 645 AD, the Christian kings of Kartli moved to the complex, and the site became an important pitstop on the Europe-Asia Silk Road trading route. Uplistsikhe must have been a lively trading town in its heyday.
The oldest structures have been dated to the 1st century AD, but archaeologists now know that humans inhabited this site from as early as the 2nd millennium BC. Uplistsikhe was eventually eclipsed by Mtskheta and later Tbilisi as the region's cultural and political centre after a 13th-century Mongol invasion.
In 2007, UNESCO added Uplistsikhe to its Tentative List in recognition of its value to world heritage.
Visiting Uplistsikhe: Essential info
Uplistsikhe is located in Georgia's central Shida Kartli region, roughly 80km west of Tbilisi. The city of Gori lies just 15km east and is the ideal jumping-off point for visiting the caves, either on an easy day trip from Tbilisi or as part of a longer stay in Gori.
I recommend setting aside at least one full day in your Caucasus itinerary for Gori and Uplistsikhe.
Uplistsikhe opening hours
Uplistsikhe is open 7 days a week, including on Mondays and holidays. There are different opening hours for the summer and winter months, so take note of the schedule when planning your visit.
March 15–April 15: 10am until 6pm
April 16–September 30: 10am until 7pm
October 1–November 1: 10am until 6pm
November 15–March 15: 10am until 5pm
Recommended time to spend at Uplistsikhe
Unlike Vardzia, Uplistsikhe doesn't have a formally marked walking trail. There are two entry points (via a staircase or via a tunnel) – once inside, you can meander as you please.
You need 1.5 hours to do Uplistsikhe justice. If you opt for the audio guide, you may need slightly longer.
Ticket price
Entrance to Uplistsikhe costs 15 GEL. Children under 6 years old visit free. (Note than in the winter off season, the ticket price is sometimes lowered to 7 GEL. Double-check here.)
Do you need a guide?
If you're visiting Uplistsikhe independently, you have the option to hire a private English-speaking guide for 45 GEL or take an audio guide for 15 GEL. Since signage is sparse, I recommend taking the audio guide.
Accessibility
Visiting Uplistsikhe involves a fair bit of uphill walking and several steep staircases. The site is not wheelchair accessible, and may not be suitable for those who aren't steady on their feet. Staircases have guard rails, but do take care if you're visiting with kids as large parts of the site have precarious drop-offs.
There aren't as many tunnels or passages as at Vardzia, save for the long tunnel that you can enter or exit from.
Dress code
You're going to be doing a fair amount of treading on rough terrain and slick rocks, so it's a good idea to wear your best walking shoes.
There is no strict dress code for Uplistsikhe, but if you're visiting in summer, you should cover up to protect yourself from the sun (the site is very exposed).
To enter the church inside the complex, men need to be wearing long pants and women a long skirt. It's possible to borrow a wrap-around apron skirt at the entrance. Women must also cover their hair inside the church. I strongly recommend carrying your own lightweight scarf rather than using a communal one.
Related: Essential packing list for Georgia.
Tips for visiting Uplistsikhe
Visit in the late afternoon – Tour groups tend to visit in the morning and the area is a lot quieter in the afternoon.
Bring plenty of drinking water – There are shops and market stands at the entrance if you need to buy water or snacks.
Don't miss the views! – One of the best things about visiting Uplistsikhe is the panoramic view of the Mtkvari river basin you get from the higher rocks.
---
Uplistsikhe highlights
Pillar hall – One of the most important structures in the complex, it's recognisable for the two rock pillars that support the ceiling. A stone bench can also be found in this room.
Ceremonial Hall, Hall With Caisson & Queen Tamar's Hall – Some halls have coffered ceilings, all carved from the surrounding soft rock, and the largest has a Romanesque arch on its facade. If you look closely, many of the chambers have niches in the walls, some of which were probably used to secure livestock.
Three-Nave Basilica & the Church of Prince – Hewn from the rock next to one of the halls, this basilica was created in the 6th century. In the 9th century, a stone and brick church was also added. The above-ground Church of Prince, with its red-tiled roof, is an interesting contrast to the cave forms.
---
How to get to Uplistsikhe from Tbilisi
As mentioned, the easiest way to get to Uplistsikhe is by transiting through the nearby city of Gori. Just over 90 minutes by road from the capital, Uplistsikhe and Gori can be paired together for an effortless Tbilisi day trip.
Organised tours to Uplistsikhe
There are lots of options for organised tours to Gori and Uplistsikhe from Tbilisi, including this full-day tour that also includes Mtskheta and Jvari Monastery. At just $29 per person, it's extremely good value for money. I recommend going this route if you want to visit the site with a guide.
Private transfer
Another option is to hire a private driver to take you to Gori and Uplistsikhe. Booked through GoTrip, a car from Tbilisi costs around $25 return. It's a door-to-door service, and you can stop off at other points of interest along the way.
Read my full review of GoTrip or book a car online here.
Uplistsikhe Line
As of June 2019, there is a new transfer service for tourists who want to visit Uplistsikhe from Tbilisi. It's operated by the same folks behind the popular Gariji Line.
Uplistsikhe Line works much the same way – you meet in the morning in Tbilisi for a transfer by van to the caves, visit by yourself (you have 2 hours), then get back in the van to return to Tbilisi with a short meal break en route. Sometimes they adjust the itinerary to stop in Mtskheta and Jvari too.
A transfer with Uplistsikhe Line costs 30 GEL return. Advance reservations aren't required – but I would recommend messaging them on Facebook the day before to confirm if you're travelling in high season.
Marshrtuka from Tbilisi to Uplistsikhe
If you're on a tight budget, it's very easy to get to Gori and Uplistsikhe from Tbilisi by marshrutka. Vans bound for Gori depart from Tbilisi's Didube Station every 20-30 minutes throughout the day, starting from 7am. The journey takes 1.5 hours, and tickets cost 4 GEL.
Once in Gori, you can either take a local bus from the station to the entrance of Uplistsikhe (once an hour on the half-hour; 2 GEL) or hire a taxi (30-40 GEL per car, including wait time).
To get back to Gori, you can hail any minibus travelling along the main road.
---
Where to stay near Uplistsikhe
When visiting Uplistsikhe, I recommend staying in Gori.
Guest House Nitsa is my accommodation of choice in Gori. Hostess Lia is a delight, and the house features bright and airy rooms, comfortable common spaces, and full board if you wish. The location is perfect, walking distance from the centre of town and the Stalin Museum.
Check rates and availability on Booking.com.
I also recommend Nukri Guest House, which is closer to the train station.
Check rates and availability on Booking.com.
---
Other things to do in Gori
Gori may be known as the birthplace of Joseph Stalin, but there's a lot more to the city than just the Stalin Museum.
Personally I love Gori – I've visited several times, always staying for several days.
For more ideas of what to do in the area, my complete guide to Gori includes the best alternative activities plus restaurant recommendations and other travel tips.
---
Uplistsikhe cave town: Share it on Pinterest
---
Note: My most recent visit to Uplistsikhe was part of a press trip with Karavanly.