Gjirokaster (Gjirokastër) in southern Albania is a picturesque Ottoman-era city carved from stone. This complete travel guide includes the top 10 best things to do in Gjirokaster UNESCO Old City and beyond, plus where to find the best local cuisine, a map, and other travel tips.
Slate-roofed houses, vertiginous streets paved with limestone and a castle assembled from rock hewn from the surrounding mountains. Albania's 'Stone City' is a silvery beauty that shimmers in the rain.
Much like Počitelj in Bosnia and Herzegovina, the Ottoman-style Old City (inscribed along with Berat by UNESCO in 2005) completely captures your imagination from the first moment you tread its cobbled streets. Layers of Greek, Byzantine, Albanian, Ottoman and Sufi heritage have accumulated in the cracks of Gjirokaster's facades like moss.
The town is known locally for being the birthplace of revered Albanian writer, Ismail Kadare. Its more sinister claim to fame is as the site of Albania's most notorious political prison and the birthplace of Enver Hoxha, the country's one-time despotic leader.
Now, Gjirokaster is beloved for its massive open-air bazaar and incredible multi-story, fortified Ottoman-era houses, and its delicious regional cuisine.
I'll always remember it for two reasons: Firstly, it's the only place in the Balkans where we fell victim to a taxi scam (read on for my advice on how to avoid this).
On a far more positive note, this turned out to be my favourite destination in Albania – mainly because of the Old Bazaar and the Ali Pasha Bridge, which is a short hike from town.
Don your best walking shoes, brace your ankles and loosen your belt: Here is my guide to Gjirokaster's cobble-stoned streets, immaculate architecture, and best restaurants.
---
Please note: This post contains affiliate links, meaning I may earn a commission if you make a purchase by clicking a link (at no extra cost to you). Learn more.
---
Best time to visit Gjirokaster
Because the city centre is made from stone, it gets extremely hot in the middle of summer (40 Celsius-plus). We visited towards the end of summer high season and found that because of the altitude, the temperature was actually quite pleasant. It was a touch too crowded for my liking, though.
To avoid peak tourist season, I would recommend travelling either in late summer (from mid August) or during early autumn shoulder season. The weather should be quite nice and you'll still have lots of colour on the mountains.
How many days should you spend in Gjirokaster?
Just over an hour by road from Sarande, many people choose to visit Gjirokaster as a quick day trip. I highly recommend staying at least one night, though – it's a very relaxing little town and a good place to unwind.There are enough things to see and do to keep you occupied for at least a couple of days. We spent three full days in Gjirokaster and didn't get bored.
Where to stay in Gjirokaster
Mid-range: We stayed at Bed and Breakfast Kotoni, a quaint and nicely decorated guesthouse that's managed by a young family (with mum in the kitchen). The complimentary breakfast here was the best we had in Albania. The location halfway up the hill means spectacular views across the valley towards Gjirokastra Castle, plus easy access to great vantage points for sunrise/sunset. Check prices and availability on Booking.com.
Boutique: The incredible Hotel Muse'e is located inside one of Gjirokaster's historic 200-year-old homes. Proper coffered ceilings and original fireplaces are completely charming, and the breakfast is apparently very good. Check prices and availability on Booking.com.
Luxury: Gjirokaster's most luxurious and beautiful hotel, Kerculla Resort, is perched on a hillside overlooking the Old City. The design fuses Gjirokaster's old-world elegance with all the mod cons you'd expect from a 5-star hotel, including a very generous outdoor pool. Check prices and availability on Booking.com.
Budget: For budget-friendly accommodation, Stone City Hostel offers mixed dorms and a couple of private doubles. The decor is cosy, and it's a very popular place for backpackers to meet and hang out. They also organise free walking tours for guests. Check prices and availability on Booking.com.
Airbnb: Well-positioned within walking distance of all the town's must-sees, House of Art sleeps up to four people and boasts incredible views of the Old Bazaar from the lounge room. Perfect if you want your own self-contained space.
10 best things to do in Gjirokaster
Gjirokaster is a cultural city where you can learn volumes about Albanian history and literally walk back through time by treading the cobbled streets of the bazaar and exploring the depths of the underground city below.
Whether you're visiting as a day trip from Saranda or you choose to spend a few nights in town, here are the very best things to see and do in Gjirokaster.
1. Visit Gjirokaster Castle (Kalaja e Gjirokastrës)
Sitting atop the highest hillock like a white stone coronet, the fortress is Gjirokaster's crowning jewel. There are 158 castles in Albania, and I think this one is among the most impressive. It should be top of your wish list.
Construction on the walls began as early as the 6th century (some sources say the 3rd century). It's thought that the distinctive hue of the rock used gave Gjirokaster its name, which means 'Silver City' in Greek.
In the 18th century, a clock tower was erected. A church, fountains and stables were also added to the internal structure. Under the notorious King Zog, parts of the fortress were converted into cells for political prisoners. The castle continued to serve as a notorious prison under Albania's Communist Regime, right up until the 1970s.
I'm not a huge fortress person, but I really enjoyed walking through the grounds of the Gjirokastër Castle. The lofty stone arches are very impressive, the internal tombs are extremely eerie, and the open yard scattered with cannons offers awesome views over the Old Bazaar.
It's also noticeably cooler inside the stone tunnels – so put this one down for a middle-of-the-day activity if you're visiting in summer.
There is also a Fiat war tank from WWII and a United States Air Force T33 Shooting Star plane displayed on the castle grounds. (The plane was captured in 1957 when it was forced to land near Tirana due to technical problems.)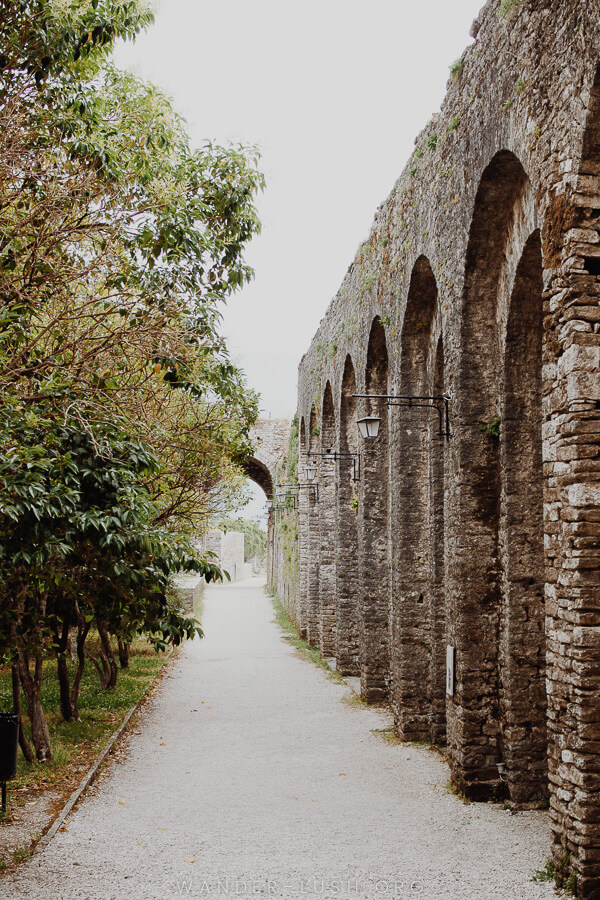 Once every 5 years in May, Gjirokaster Castle hosts Albania's National Folklore Festival, a showcase of traditional music and dance. There is a purpose-built outdoor stage just near the clock tower.
The last event was in May 2021, and the follow up is scheduled for May 2026. If you happen to be visiting this spring, I highly recommend checking it out.
Info: Gjirokaster Castle is open daily from 9am-6pm in summer and from 9am-4pm in winter. Admission costs 200 lek.
2. Immerse yourself in local history at the Gjirokaster Museum
Whatever you do, don't skip the Gjirokaster Museum inside the castle, where information about the city's rich history is presented alongside biographies of some of modern-day Gjirokaster's residents.
I can't remember the last time I read every single word of a museum display. It's well-written and completely gripping. I really can't recommend it highly enough. It takes around 1-1.5 hours just to go through the texts and photos. And once you start reading, you won't want to stop – so make sure you leave yourself enough time.
The upstairs Military Museum (officially the National Museum of Armaments) is less appealing and safe to skip unless you're particularly interested in war history.
Alongside Ljubljana Castle, this is one of the best castle museums in the Balkans and is absolutely worth paying the extra fee to visit.
Info: The Gjirokaster Museum is open from 8am-5pm in summer and closes early at 4pm in winter. Entrance costs an additional 200 lek per person.
3. Wander through the charming Gjirokaster Bazaar
Gjirokaster Old Town is a sprawling Ottoman-style Bazaar, originally constructed in the 17th century and completely rebuilt 200 years later following a devastating fire. The serpentine streets are decorated with a gorgeous interlacing pattern made from white and black stone.
As we learned at the Fortress Museum, most of the cobbles were laid by one man, the best stonemason in town!
Sadly for us, our visit coincided with the first time in years that the stones were being re-laid (of course!). Even though the bazaar looked like a construction site, we still found beauty in the white-washed stone buildings and slate roofs.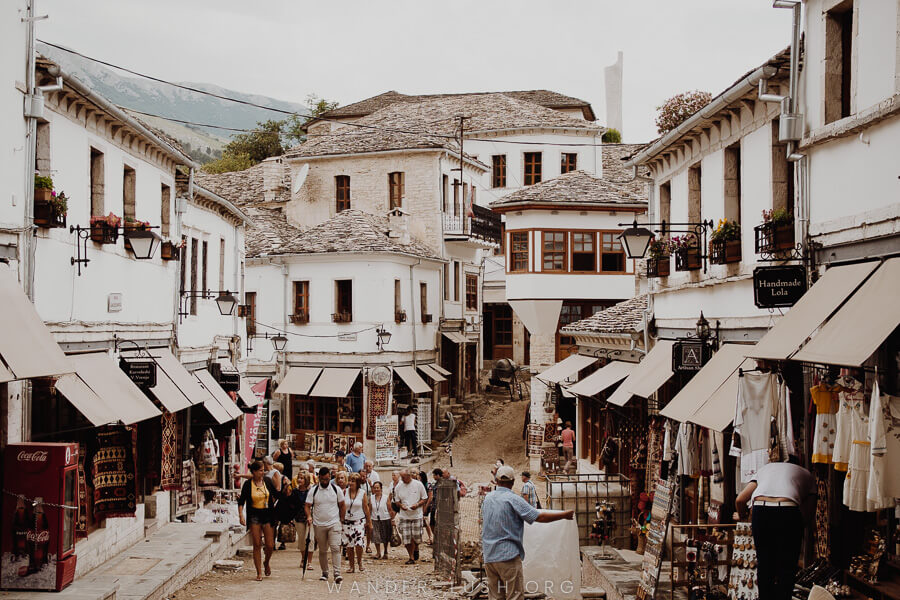 Rows of little shops and cafes are formally organised with uniform signage. This makes Gjirokaster Old Town feel a bit less atmospheric than the hodgepodge bazaar in Skopje, for example. A lot of the shops peddle mass-produced souvenirs, but there are some gems amongst the tourist traps.
If you do want to do some shopping, look out for products made from local materials: Kitchen utensils carved from olive wood, herbal teas, olive oil, local honey, and raki. Zahire Shqiptare and Edua Gjirokaster both sell nicely presented artisan products.
Vjollca Mezini's shop is the place to buy Albanian embroidery (she is a master), and Anastas Petridhi and Muhedin Makri craft souvenirs from wood and stone respectively.
4. Stop by the Bazaar Mosque
Another highlight of the Old Bazaar area is the 1757-built Gjirokaster Mosque or Bazaar Mosque. Spared from destruction at the hands of the Communists, it was used as a circus training school until the 1990s. No fewer than seven stone ablution fountains and several hammams are located nearby.
When we visited, the mosque was undergoing repairs (as was every single mosque across Albania), but it has since reopened.
5. Hike to Ali Pasha's Bridge
My personal favourite activity in Gjirokaster was hiking to the Ali Pasha Bridge.
It's not a bridge at all, but rather a small portion of a once-massive aqueduct built to channel water to Gjirokaster castle's cisterns from mountain springs 10km away.
The aqueduct was commissioned by Albania's Ottoman ruler, Ali Pasha of Ioannina, at the beginning of the 19th century. In the 1930s, it was largely dismantled so its stonework could be used to build prison cells inside the fortress. A single span of the aqueduct is still standing today, sandwiched in a narrow gorge just outside town.
It takes about 45 minutes of uphill walking to reach the aqueduct from the castle. Most of the way is a bitumen road, with a final push along a rocky path to get down into the valley.
You then walk along the dry riverbed to get up close to the structure. It's possible to climb on top, but given the aqueduct's age and remote location, I don't recommend it.
When we visited, we were the only tourists around, joined only by two shepherds having a conversation by yelling at each other from either side of the gorge. It's a pretty incredible sight as you approach the aqueduct from an elevation, and even more impressive to see this feat of engineering up close.
Just don't do what I do and wear sandals – sturdy shoes are much more suitable!
Info: You can find approximate coordinates for the Ali Pasha Bridge here on Google Maps. On the way up (or down), grab a meal at Taverna Tradicionale , a sweet homestyle-restaurant in the Manalat neighbourhood. The friendly staff there can help with directions to the bridge if you need them – they even lent us a guide book when we visited.
6. Tour Gjirokaster's Cold War Tunnel
Not unlike Bunk'Art in Tirana , Gjirokaster has its own 'secret tunnel' that has been transformed into a museum. The 800-metre Cold War Tunnel runs under the castle and comprises 59 rooms, fashioned to shelter Communist Party elites in case of a nuclear attack or foreign invasion.
Albania's bunkers and tunnels are a fascinating yet sobering reminder of the paranoia that gripped the country under Enver Hoxha. Gjirokaster's tunnel is largely preserved in its original state (minus the retro furniture, which was unfortunately looted), replete with a decontamination room and air filtration chambers.
Info: Tours of the Cold War Tunnel are available everyday between 9am-5.30pm and depart from the Tourist Information Office – head there first to find a guide. The tour lasts for around 20 minutes and costs 200 lek per person.
7. Step inside one of Gjirokaster's fortified stone houses
More than 500 of Gjirokaster's distinctive traditional houses have been designated as cultural monuments under the UNESCO scheme. From the fortress, you can see some of the most intricate symmetrical houses pressed into the hills that rise up above the bazaar.
None are more spectacular than the towering fortified houses. As ominous as Transylvania's fortified churches and yet as elegant as the most opulent mansions in Plovdiv, these homes remind me of the tower houses in Svaneti in their robustness.
Most of them date back to the 17th and 18th centuries. The unusual profile is created by a tall stone block foundation up to five stories high. Inside, sleeping quarters, guest rooms and hammams are woven together by a network of passageways and secret doors, wrapped in multiple internal and external staircases. The flat stones used for rooftops are the reason Gjirokaster got its nickname, 'The City of Stone'.
Under Communism, the fortified houses were nationalised before later being returned to their rightful owners. Some of them were restored. Descendants of the original owners now steward the houses and welcome guests to tour their chambers.
There are three traditional houses I recommend visiting. Zekate House, with its twin towers and gravity defying double-story stone arches (pictured), is absolutely worth viewing from the yard outside.
If you want to go inside one of the homes, I suggest Skenduli House. Built in the early 1700s, it's the most opulent and the best-preserved house – more than worth the 200 lek fee for a guided tour with the ninth-generation caretaker who speaks French and German.
Tours are generally available between 9am and 7pm, but don't be surprised if there's no one home. You might have to try a couple of times or ask tourist information to call ahead for you.
On a tour, you'll be led deep into the belly of the house to visit the bunker (made to protect its residents from canon fire rather than nuclear attack). Skenduli contains an impressive six hamam baths and 12 winter and summer rooms, plus a hidden mezzanine where women could sit and spy on their betrothed.
Info: Skenduli House is open from 9am-7pm. Entrance with a guided tour costs 200 lek per person.
8. Browse the Ethnographic Museum
The third house, Gjirokaster's Ethnographic Museum, is located in Palorto Quarter on the site of Enver Hoxha's birth house. After the original structure burnt down, it was replaced with a model house that mirrors the town's Ottoman-era buildings.
Like other house museums in the region, it's a window onto 19th-century Albanian life. Inside the four-story home, you'll find a historical display of costume, textiles and household objects – but absolutely nothing that references the former dictator. Entrance costs 200 lek.
Please note: The Ethnographic Museum is temporarily closed.
9. Lose your breath in Manalat Quarter while searching for the best city view
Some of Gjirokaster's most beautiful houses have their addresses on the snaking streets of Manalat Quarter. This historic neighbourhood south of the castle is at a higher elevation, parallel to the fortress, thus it's also where you'll find the most breathtaking views of the castle with a backdrop of stony mountains.
We walked up through Manalat at sunset and although it's a tough slog, the panorama is completely worth it. It's also a lot quieter and feels a lot more local – great if you want a break from the touristic Old Town.
As you walk, try to spot the garden fences made from metal sheets that spoons, knives and other cutlery have been pressed out of. A genius way to repurpose factory offcuts!
You can find some great local restaurants in Manalat, including Taverna Tradicionale which I mentioned earlier. This is a perfect place to wander and eat dinner either before or after visiting the Ali Pasha Bridge. We liked it so much, we came back the next evening for more.
There's also a local woman in this part of town who serves stone-ground coffee from her living room. We unfortunately ran out of time before we could visit. If you meet her, let me know how the coffee tastes!
10. Feast on Albanian cuisine & local specialties
Before I visited Albania, I never could have imagined how impressed I would be by the local cuisine. Some of the best meals we ate in the country were at restaurants in Gjirokaster.
Like Berat, Gjirokaster has its own produce and distinctive culinary traditions. The city's signature dish is qifqi, arancini-like baked rice balls flavoured with dried or fresh mint leaves and black pepper.
We were encouraged to try the qifqi at Restaurant Gjoca Tradicional in the Old Bazaar, but we found their rendition oily and tasteless. The best qifqi we ate were at Taverna Kuka – crisp and flavoursome.
Other dishes to try include Gjirokaster's interpretation of moussaka (the version at restaurant Check-In is made with cinnamon), and homemade meatballs in tomato sauce (absolutely incredible at Restaurant Tradicional Odaja).
Save room for sweets because Gjirokaster does dessert like nowhere else. The highlight is obviously this – a slab of very mild feta cheese fried in a thin batter and served smothered in honey and sesame seeds. It's like an Albanian version of Greek saganki. What a revelation. Restaurant Tradicional Odaja serves an absolutely mean version.
For something slightly lighter, the milk pudding at Taverna Kuka is made with local figs.
Finally, Snack Bar Simple, located beside the Bazaar Mosque, serves homemade sweets and milkshakes/smoothies.
---
Map of things to do in Gjirokaster
Find all the above points of interest plus my favourite Gjirokaster restaurants plotted out on a map.
Click here to open the map and save a copy on Google Drive.
---
Suggested day trips from Gjirokaster
As if there isn't enough to do inside the old city, beautiful nature right on Gjirokaster's doorstep makes this an ideal base for exploring Albania's national parks and beaches.
Sarande & the Blue Eye
Southern Albania's famous Blue Eye (Syri i Kaltër) swimming hole is located less than an hour south of Gjirokaster and can be reached using the Sarande bus. Just jump off early and walk the rest of the way to the water hole, around 2km.
When you're done, you can quite easily pick up another bus and continue on to Sarande to explore the beaches along the Albanian Riviera.
Ancient City of Butrint
If you're keen to see the UNESCO-listed Roman ruins, Butrint is less than 2 hours from Gjirokaster by road. See this Butrint travel guide for more ideas.
---
How to get to Gjirokaster
From Saranda: There are regular buses to Gjirokaster from Saranda every hour or so from 5am until mid-afternoon. Tickets cost approximately 300 lek, and travel time is 60 minutes. Alternatively, a taxi from Saranda to Gjirokaster should cost around 6000 lek.
From Berat: There are at least three buses departing from Berat's main bus station at 8am and again around 2pm. Tickets cost approximately 900 lek, and the journey takes 3-3.5 hours.
From Tirana: There are at least 10 daily bus services between Tirana and Gjirokaster starting from 5am. Journey time is 4–4.5 hours, and tickets cost 800-1000 lek. A taxi from Tirana to Gjirokaster should cost around 15000 lek.
Tip: Browse bus schedules and fares for Albania on Gjirafa Travel. Always double-check times locally before you travel.
How to get to the Old Town from Gjirokaster bus stop
When arriving in Gjirokaster by bus, you'll be dropped off at the Regional Bus & Furgon Station in the lower part of the new town (see the approximate location here on Google Maps). It's a very informal bus stop – more like a road stop with a couple of ticket offices.
When we left Gjirokaster to travel to Korce, we took a coach from a larger bus station on the opposite side of the road.
A 5-minute taxi ride up to the Old City should cost no more than 300–400 lek. But – don't pick up a driver from the bus area. Instead, walk a few blocks in the opposite direction to find a taxi on the street. We got scammed big time by a 'taxi driver' waiting at the bus station.
Alternatively, you can walk for about 30 minutes (mostly uphill) to reach the centre of town, or take a local bus from one of the stops along Bulevardi 18 Shtator for 30 lek per person.
Gjirokaster travel tips & FAQ
Is Gjirokaster safe for tourists?
In my experience, the whole of Albania (and especially smaller cities such as Gjirokaster) is generally very safe for tourists – provided you exercise common sense and caution.
Pickpocketing does happen (and are more likely to happen in tourist hotspots like this), but foreigners are very regularly targeted. In my experience, Albanian people are overwhelmingly warm and hospitable, eager to help out whenever they can (whether it be with directions or a cup of coffee).
As a woman, I felt safe walking around Gjirokaster by myself, including at night. I would have no issue recommending it as a destination for solo female travellers.
Is Gjirokaster expensive?
Prices in Gjirokaster are comparable to Berat – that is to say a bit more than in Tirana or Korca. You can easily save money by skipping the paid tourist attractions such as the old houses and museums. It's easy to find generous meals at an affordable price, especially if you leave the Old Town area and walk down to the new town where the bus stop is.
Our total budget for three days in Gjirokaster was 13,290 lek (approx. 130 USD) for two people including restaurant meals, museum tickets and ground transportation.
---
7 things to pack for Albania
---
Gjirokaster travel blog: Pin it!
Albania Travel Guide
Discover insider tips, itinerary inspiration, and all the best things to see, do and experience in Albania!
More from Albania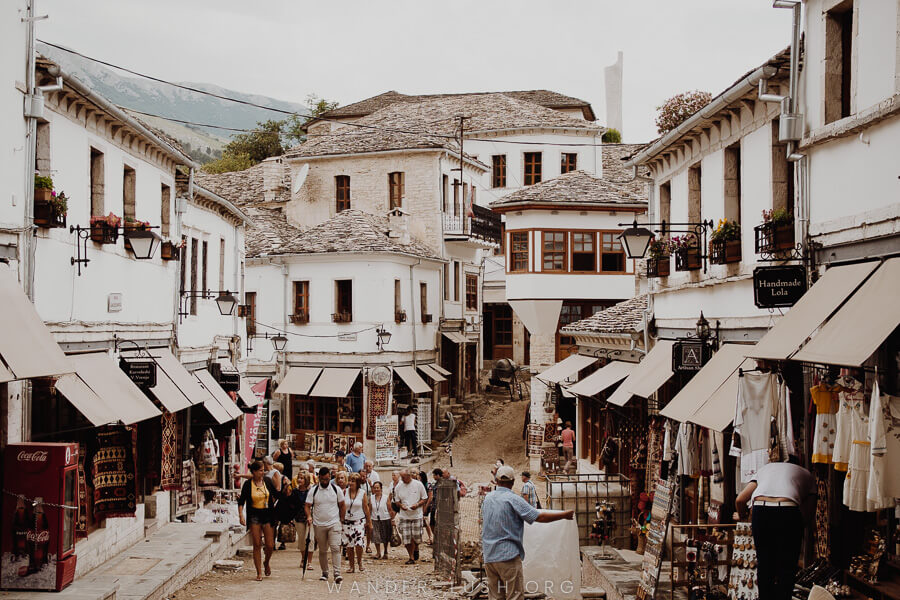 Albania Travel Guide
Discover insider tips, itinerary inspiration, and all the best things to see, do and experience in Albania!
Albania Essentials
My favourite resources and tools for planning a trip to Albania.
More from Albania