This easy itinerary for Albania has a strong focus on nature, history and culture. Use it to plan the perfect 2 weeks in Albania or more, travelling exclusively by bus (no car required!).
After travelling overland in the Balkans for 6 months, Albania stands out as one of my favourite countries in the region.
Compact and relatively easy to get around, in a short space of time you can wander beautiful UNESCO Old Towns Berat and Gjirokaster, soak up the incredible scenery of the Albanian Alps on the Valbona Theth trek, eat delicious Albanian food in the country's best restaurants, and bask in cafe culture and visit quirky museums in the cosmopolitan capital city, Tirana.
That's to say nothing of the beautiful beaches along the Albanian Riviera, other natural wonders including waterfalls and Blue Eye water holes, and alternative Albanian cities such as Korca.
This easy Albania itinerary by bus focuses on history, culture and cuisine, with a bit of nature thrown in.
---
Please note: This post contains affiliate links, meaning I may earn a commission if you make a purchase by clicking a link (at no extra cost to you). Learn more.
---
About this Albania itinerary
This Albania itinerary follows a slightly unconventional route, starting in Shkoder in the far-north and ending in Korca in Albania's southeast. Fitting with my travel style, it prioritises destinations that highlight culture, history and cuisine with a little bit of nature time as well.
You'll notice that there are no beaches on this Albania itinerary. If you're a beach person (and it's the right season), you can easily slot in a few days on the Albanian Riviera after Gjirokaster. At the end of the itinerary, I've included more options for extending your stay.
When is the best time to visit Albania?
We visited Albania in mid-June – summer, and the start of the high season. Because Albania is still a relatively off-the-beaten-track destination in Europe, it doesn't tend to get overcrowded, even in Tirana. An exception would be the beaches along the Albanian Riviera, which do get busy in the summer months (especially July and August).
If the Valbona Theth trek is on your Albania wish list, remember that the high mountain pass is only accessible at certain times of year. The best time to do the trek is between June and September, but the trail might be open as early as May and as late as November depending on weather conditions.
If you're planning a visit in high season (June to August), there are a couple of things you should book in advance, including your accommodation in Tirana and most importantly your transportation for the Valbona Theth trek.
In this detailed guide to the Valbona Theth trek, I provide instructions and links for booking the Komani Lake Ferry and van transport from Shkoder.
How much time do you need for this Albania itinerary?
I've purposefully kept this itinerary quite loose so that you can adjust it to fit your schedule. However, you'll need a minimum of 2 weeks to cover all the points of interest mentioned.
We did this itinerary in three weeks travelling at a slow pace. If you have longer to spend in Albania, you can easily extend your itinerary by adding on the Albanian Riviera or more trekking in the north.
One of the best things about travelling in the Balkans is being able to hop across the border. From Albania, you can easily continue your travels in Ulcinj and Montenegro, Lake Ohrid in North Macedonia, Kosovo, or Thessaloniki and Northern Greece. The choice is yours!
Recommended 2-week Albania itinerary
Day 1: Shkoder
Days 2-5: Valbona & Theth
Day 6: Kruje
Days 7-9: Tirana
Days 10-11: Berat
Days 12-13: Gjirokaster
Day 14: Korca
How to get around Albania
Before visiting, I heard lots of horror stories about bus travel in Albania that made me quite anxious about getting around. In the end, I had nothing to worry about.
Before visiting, I heard lots of horror stories about bus travel in Albania that made me quite anxious about getting around. In the end, I had nothing to worry about.
Compared to some other countries in the region (Slovenia, for instance), bus schedules are a bit looser and the roads are a bit rougher. But all things considered, buses in Albania run pretty smoothly. Stations tend to be well signposted (if not a bit chaotic), there are plenty of bus services running in all directions, and vehicles themselves are usually quite modern, with AC and plenty of luggage room (though don't expect WIFI or USB portals).
Bus tickets in Albania are well-priced, making this a budget-friendly way to travel.
We did this entire Albania itinerary using a combination of furgons (minivans) and coach buses, plus one ferry. If you want to replicate our route, I've included full public transportation instructions for getting from place to place under each destination.
Top tip: Use the website Gjirafa to check bus routes and schedules for Albania and neighbouring countries in English.
Should you hire a car in Albania?
Some people elect to hire a car in Albania and self-drive. While you can certainly pack more into your Albania travel itinerary if you have your own car, it's not mandatory.
If you do want to go down this path, I recommend using comparison website Discover Cars to find the best deals on international companies and local agents.
Check out my round-up of the best road trip itineraries in the Balkans (including Albania) for more inspiration.
Where to stay in Albania: Hotels recommended in this itinerary
For quick reference, here is a list of all the accommodations recommended in this Albania itinerary. Further details can be found under each destination.
The perfect itinerary for Albania: Nature, culture & history
Arrive and start your Albania itinerary in Shkoder
Recommended time in Shkoder: 1 night
When you arrive, I recommend heading straight to Shkoder (Shkodër) in Northern Albania. Shkoder is the jumping-off point for trekking in the Albanian Alps. The city itself is small and friendly, and will offer you a good introduction to Albanian history and cuisine.
Shkoder sits on the edge of Southern Europe's largest lake, Lake Skadar. We did a boat trip on the lake from the Montenegrin side during our road trip (the huge marshland straddles the border), but it's also possible to explore the lake starting from Shkoder.
Like most cities in Albania, Shkoder is very walkable. Explore the Old Bazaar area, visit the Ethnography Museum, and wander down the main pedestrian street at dusk. The Ebu Bekr Mosque dominates the city's skyline and can be visited outside of prayer times.
My top recommendation for Shkoder is to hire a bicycle and ride south. A long path follows the two twisting rivers that branch off from the lake, connecting the city with a set of smaller villages where you can find cute restaurants and waterfront cafes.
Rozafa Castle, Shkoder's medieval fortress, contains a small antiquities museum. It's located high on a hill, making it a great place to watch the sunset over the lake.
→ Here are more great things to do in Shkoder.
Where to stay in Shkoder
Boutique: Hotel Tradita – beautiful boutique rooms finished with Albanian textiles, set inside a 17th-century building. Check prices and availability on Booking.com.
Mid-range: Sweet Living Apartment – a self-contained, one-bedroom apartment in the heart of the city, with full kitchen and bikes for hire. Check prices and availability on Booking.com.
Budget: The Wanderers Hostel – comfortable dorms and private double/family rooms with a colourful courtyard for socialising. Check prices and availability on Booking.com.
How to get to Shkoder
From Tirana: If your Albania trip starts in the capital, take a direct bus to Shkoder from Terminali i Transportit Ndërkombëtar dhe Kosovës. Coaches and furgons leave every 30 minutes between 7am and 5pm. Tickets cost 400 LEK, and the journey takes around 2 hours. Double-check times locally.
From Durres: If you're coming from Italy on the Bari Durres overnight ferry, you can either take a direct bus to Shkoder from Durres station, or change buses in Tirana.
From Montenegro: Buses from Ulcinj on Montenegro's southern coast bound for Kosovo make a pit stop in Shkoder on their way through. In summer, there are at least two afternoon services on this route.
---
Take the Kolman Lake ferry to Valbona
Recommended time in Valbona: 1 night
Leaving Shkoder, press north-east into Albania's mountainous border region in preparation for the Valbona Theth trek. This is by far the most beautiful part of the country and vies for the most dramatic natural landscape in the whole region.
After travelling to the ferry terminal by road, the first step is to cross Koman Lake (Lake Komani) and the Drin River via a massive prehistoric gorge carved through the mountains. After a few hours on the water, the legendary Koman Ferry terminates in the village of Fierza, where you then jump in a furgon to travel the rest of the way to Valbona (Valbonë).
For full details about getting from Shkoder to Valbona and instructions on how to buy tickets, see this guide.
Valbona itself is small and peaceful, with a scattering of lodgings set in its verdant valleys. When you arrive, eat a home-cooked dinner and get an early night – tomorrow is going to be a big day!
Where to stay in Valbona
Guesthouse: Guesthouse Mehmeti – spotlessly clean family run guesthouse in a serene location. Home-cooked meals are fresh and tasty, and staff speak English and can organise a car transfer to the Theth trailhead. Check prices and availability on Booking.com.
---
Hike to the alpine village of Theth
Recommended time in Theth: 2 nights
Detour: The Valbona Theth hike requires a medium level of fitness. If you're not keen on the trek, take the Koman ferry as instructed above and spend a couple of nights relaxing in Valbona instead.
The walk from Valbona to Theth was the highlight of my time in Albania. Because of the altitude, you can only do the trek in the warmer months (we still saw traces of snow in June!).
It's hard to describe the trek without going on and on – but in a nutshell, it involves ascending a steep mountainside, crossing the Valbona Pass, and walking down the opposite side of the mountain into Theth village. There is no other way to get from A to B, so you have to carry all your gear with you and organise lodgings on the other side (for this reason, I recommend leaving your big luggage in Shkoder).
Once you get to Theth, stay for a couple of nights so you can relax and take in the mountain air. There are a number of short walks around town if you need to stretch your legs after the hike, including one trail to a Blue Eye.
Theth is more pleasant than Valbona, which is one of the many reasons I recommend doing the hike in this direction.
Where to stay in Theth
Guesthouse: Guest House Bec Villi – simple family run guesthouse with a beautiful garden terrace. Check prices and availability on Booking.com.
Farm stay: Bujtina Polia – a tranquil property in the centre of Theth featuring light-filled rooms and an onsite restaurant. Check prices and availability on Booking.com.
---
Leave the mountains & return to Shkoder
The ride back to Shkoder from Theth is a bit of a rough one (3-4 hours over bumpy dirt roads), so I recommend spending an afternoon and night in Shkoder to break up the journey before you continue south.
Stay at the same accommodation in Shkoder so you can collect your bags.
A nice way to spend an evening in Shkoder is with a walk through the city park, stopping off at some of the textile and handicraft shops along the main street. Indulge in a full spread of Albanian cuisine at Peja Grill, or treat yourself to a meal in the courtyard at the historic Vila Bekteshi.
Alternative option: If you're fighting fit after the trek, you can always head straight through to Kruje or Tirana without stopping in Shkoder for the night.
---
Learn about Albanian history in Kruje
Recommended time in Kruje: 1 or 2 nights
Kruje (Krujë) is only 30km north of Tirana, so most people end up visiting as a day trip from the capital. Since it's on the way from Shkoder to Tirana, I suggest stopping off for a night or two – if only to spend the night sleeping inside the castle complex, which is a very special experience.
Kruje was Albania's first capital and is the spiritual home of the country's most revered leader, Skanderbeg. The military hero is memorialised in a wonderful museum located adjacent to Kruja Castle, which overlooks the Old City. On a clear day, you can see right to the Adriatic Sea from the top of the old walls.
I enjoyed Kruje for a couple of reasons. It's quiet – most tourists visit for the day and leave at dusk, which makes wandering the cobbled Old Bazaar after dark all the more atmospheric.
Secondly, there are a couple of guesthouses located inside the castle grounds. It's a really unique experience to wake up and eat breakfast amongst the ruins.
Where to stay in Kruje
Mid-range: Rooms Emiliano – a wonderful family-style guesthouse inside the castle complex. Wander amongst the ruins at night and eat breakfast with a view in the morning – it's a very special place to spend a night or two! Check prices and availability on Booking.com.
How to get to Kruje from Shkoder
There are regular buses from Shkoder to Tirana that can drop you off on the highway in Fushë-Krujë, the new part of Kruje.
In the absence of a bus station, coaches leave from the roundabout in the centre of Shkoder (see the exact location here) every 45-60 minutes between 6am and 5pm. Tickets cost 300 LEK and the trip takes just over an hour. There is a large white sign on the street marking the departure point and advertising the times.
When you get on the bus, inform the steward that you want to jump off early in Fushe-Kruje (the ticket price will be the same). They will drop you off on the highway. From there, walk east into town towards the bank and George Bush Statue to pick up a minivan, which will take you to Old Kruje on top of the hill (roughly a 20-minute drive; 100 LEK).
Vans stop just shy of the castle grounds. If you're staying at the very top of the hill, you'll need to either walk or take a taxi the rest of the way (approx. 300 LEK).
---
Immerse yourself in Tirana, Albania's hip capital city
Recommended time in Tirana: 2-4 nights
After starting your Albania itinerary in the tranquil north, Tirana will be a bit of a shock to the system – in a good way! Some of the most interesting museums and galleries in the Balkans are located in Tirana, including the famous BunkArt 1 and BunkArt 2, which are set in two of Albania's disused concrete bunkers.
Cafes, restaurants, street art, quirky architecture and communism-themed bars are just some of the other things to check out in quirky Tirana. This is one of my favourite cities in the Balkans.
→ See my Tirana City Guide for more inspiration.
Where to stay in Tirana
Luxury: Arté Boutique Hotel – old-world opulence (think parquet floors, emperor-sized beds and velvet drapes) behind a historic facade in the hip Blloku neighbourhood. Check prices and availability on Booking.com.
Boutique: La Suite Boutique Hotel – modern luxury (white marble bathrooms; generous timber-floored suites) on the river near the Pyramid of Tirana. Check prices and availability on Booking.com.
Mid-range: Bujtina Shqiptare – homely self-contained apartments with full kitchens and private balconies 700m north from Skanderbeg Square. Check prices and availability on Booking.com.
Budget: Tirana Backpacker Hostel – mixed dorms and private singles in a friendly hostel with outdoor gardens and communal lounge spaces. Conveniently located 10 minutes' walk west from Skanderbeg Square. Check prices and availability on Booking.com.
Airbnb: A-Tirana Apartment – this contemporary, light-filled apartment sleeps 4 and has all the mod-cons of a boutique hotel nestled inside an atmospheric 1968-built Commieblock. Browse more great Tirana Airbnbs here.
How to get to Tirana from Kruje
Make your way back down the hill to Fushe-Kruje by van or taxi. A constant supply of coaches, furgons and city buses ferry passengers between Kruje and Tirana, so you'll never have to wait more than 15 minutes for a departure.
The trip to Tirana takes 30-60 minutes depending on traffic. Tickets cost around 150 LEK.
---
Continue to Berat, the 'city of a thousand windows'
Recommended time in Berat: 2 or 3 nights
Berat is the first of the twin UNESCO Listed Old Towns you'll be visiting on this Albania itinerary. Nicknamed the 'City of a Thousand Windows' for its signature architecture, Berat oozes with old-world charm.
Spend your days in Berat ambling along the twisted cobble streets of its two opposing neighbourhoods, Mangalemi and Gorica, the old Muslim and Christian quarters. Together they make up Berat Old Town.
Pop into the Ethnographic Museum, eat yourself silly at the terrific Berati restaurants in town, climb up to Berat Castle at sunset for beautiful views, and set a day aside for a trip to the incredible Osumi Canyon and waterfalls outside the city.
→ See my complete guide to Berat for more inspiration.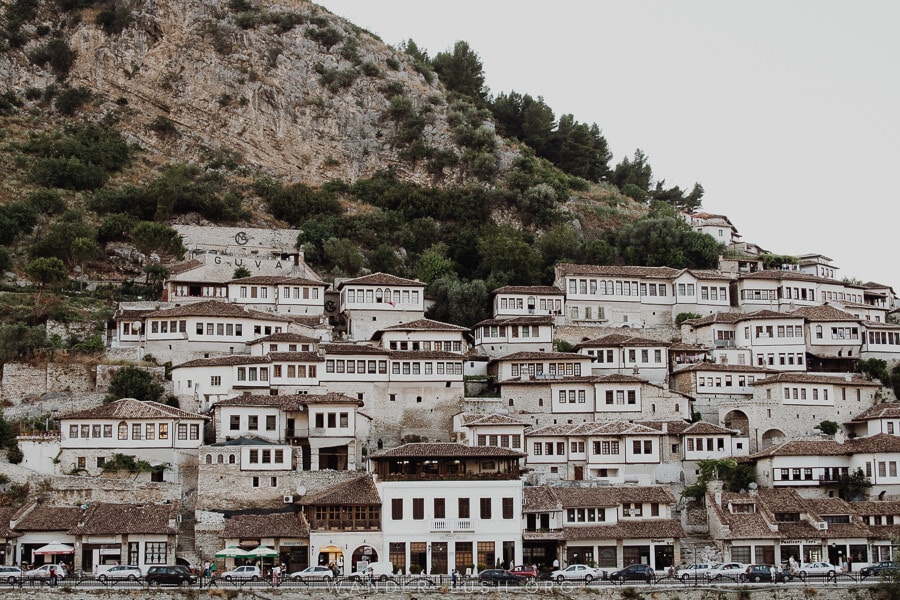 Where to stay in Berat
Boutique: Hotel Klea – basic rooms in a charming stone building nestled inside the Berat Fortress complex. Check prices and availability on Booking.com.
Mid-range: Villa 97 – simple self-check rooms with en suites and air-con. Check prices & availability on Booking.com.
Budget: Berat Backpackers Hostel – a well-regarded budget option in the Gorica neighbourhood. Check prices & availability on Booking.com.
How to get to Berat from Tirana
Buses and furgons bound for Berat depart every 30-60 minutes from Tirana's Terminali i Transportit Ndërkombëtar dhe Kosovës. The journey takes approximately 2 hours, and tickets cost 400 LEK (bus) or 500 LEK (furgon).
In Berat, buses terminate at the Terminali i Autobusave 3km north of the Old Town (see the exact location here). From there, you can either take a city bus (30 LEK per person) or a taxi (500 LEK) to reach the Old Town.
---
Go south to the charming town of Gjirokaster
Recommended time in Gjirokaster: 2 nights
A small city in the mountains cut from slate and stone, Gjirokaster (Gjirokastër) is absolutely one of the most beautiful places to visit in Albania. Like Berat, it's Old Town has been inscribed as a UNESCO World Heritage Site for its cultural and historical value.
As well as a meandering Old Bazaar and unique fortified houses, this charming town boasts a hilltop castle, Gjirokaster Fortress, that houses a fantastic museum. An easy walk from town, you'll find an Ottoman-era aqueduct nestled in the hills.
Do a walking tour with Stone City Hostel to explore the underground city and war tunnels.
→ See my complete guide to Gjirokaster for more inspiration.
Where to stay in Gjirokaster
Mid-range: Bed and Breakfast Kotoni – quaint guesthouse with city views and a spectacular complimentary breakfast. Check prices and availability on Booking.com.
Boutique: Hotel Muse'e – 200-year-old property fitted out in proper Gjirokaster style. Check prices and availability on Booking.com.
Luxury: Kerculla Resort – modern hillside resort with a generous outdoor pool and commanding views. Check prices and availability on Booking.com.
Budget: Stone City Hostel – popular dorm accommodation with free walking tours of Gjirokaster for guests. Check prices and availability on Booking.com.
How to get to Gjirokaster from Berat
Take a city bus back to the Berat Bus Terminal to board a coach or furgon for Gjirokaster. Tickets cost 900 LEK per person, and the trip takes around 3 hours. Most buses then continue to Saranda.
In Gjirokaster, buses terminate at the bottom of the hill. To get to the Old Town, either walk or pick up a taxi – just be careful to negotiate the price first (we unfortunately got scammed by a driver in Gjirokaster and ended up paying triple what we should have).
---
Finish your Albania itinerary in Korca
Recommended time in Korca: 2 nights
Korca (Korçë) is unlike any other city in Albania in terms of both its look and feel. Located in the south-east corner of the country close to the border with Greece and North Macedonia, Korca's history is intertwined with Greek and Aromanian heritage, giving the city a distinctly European feel.
Pretty architecture, a huge cathedral, several amazing museums and the oldest school in Albania are among Korca's claims to fame.
While you're there, sip on a Birra Korca at the brewery, cafe hop in the restored Old Bazaar, and visit the outstanding National Museum of Medieval Art.
→ See my complete guide to Korca for more inspiration.
Where to stay in Korca
Boutique: Hani I Pazarit – a historic inn inside with Old Bazaar, featuring a sweet internal courtyard and an acclaimed restaurant. Check prices and availability on Booking.com.
Luxury: Life Gallery Hotel – a modern and minimal boutique choice with floor-to-ceiling windows and free-standing baths. Check prices and availability on Booking.com.
Mid-range: Bujtina Oxhaku – a lodge-like guesthouse with city views and homely rooms. Check prices and availability on Booking.com.
Budget: Stacioni Hostel – a popular hostel (dorms and privates) that offers free bike hire. Check prices and availability on Booking.com.
How to get to Korca from Gjirokaster
Furgons coming from Saranda make a pit-stop in Korca before continuing on to Gjirokaster. At the time of our trip, there was only one van a day leaving in the early morning. I recommend going down to the bus station the day before to inquire in person. Note that these vans leave from the station office opposite the roadside where you got dropped off.
Tickets cost us 1,300 LEK per person, but the price does fluctuate with the cost of fuel. The trip takes around 5 hours.
---
Onward travel: Departing from Korca
From Korca, you can either take a bus back to Tirana via Pogradec (3.5 hours) or continue your travels overland into Greece or North Macedonia. We took a bus from Korca to Thessaloniki.
Another option is to go halfway to Pogradec then catch a bus to Ohrid on the North Macedonian side of the lake.
---
Extra time? More great places to visit in Albania
Albanian Beaches
If some beach time is in order, the pristine beaches in Southern Albania beckon with their white sands, beach bars and sweet thatched umbrellas.
There are dozens to choose from – some have been developed into resorts, while others remain hidden gems. Sarande, Himare, Gjipe Beach, Drymades Beach and Dhermi Beach are all good places to start.
Find more Albania beach recommendations here.
Butrint
Occupied by both the ancient Greeks and Romans, Butrint is home to a spectacular arena and a range of other ruins. It's a must-visit for history buffs. Butrint is located at the very southern tip of Albania's coastline, so the easiest way to visit is on a day trip from Saranda.
Read more about visiting Butrint here.
Pogradec & Lake Ohrid
Lake Ohrid, which Albania shares with neighbouring North Macedonia, is one of the prettiest landscapes in the Balkans. Pogradec is the biggest town on the Albanian side and serves as a nice base for exploring the lake and surrounding wineries.
If you're game, you can even hire a bicycle and circumnavigate the Ohrid in a day, crossing two international borders along on the way.
Albania's National Parks
If you're looking for more hiking trails and outdoor activities, Albania has 15 national parks, all with stunning scenery and beautiful mountains. See this list for inspiration.
---
Albania travel costs: How much to budget for your trip
Albania is one of the most affordable countries in the region and an incredible budget-friendly destination all round. Our main costs (aside from accommodation and food) was museum entrance fees. You can easily save cash by sticking to free activities: Albania has no shortage of beautiful scenery, beautiful churches and mosques, all of which are completely free.
Eat local for affordable prices on food, stick to buses and furgons rather than embarking on an Albania road trip, and you'll have no trouble keeping your costs down.
Here is a breakdown of our expenses for 23 days in Albania:
Sim card & data package: 1,600 LEK
Restaurant meals: 31,640 LEK
Groceries: 9,714 LEK
Coffee, drinks & snacks: 8,650 LEK
Ground transportation: 13,000 LEK
Activities & entrance fees: 11,580 LEK
Souvenirs: 300 LEK
Total: 76,484 LEK (627.58 Euros) = 13.60 Euros/person/day
---
What to pack for Albania
---
Itinerary for Albania: Pin it & share it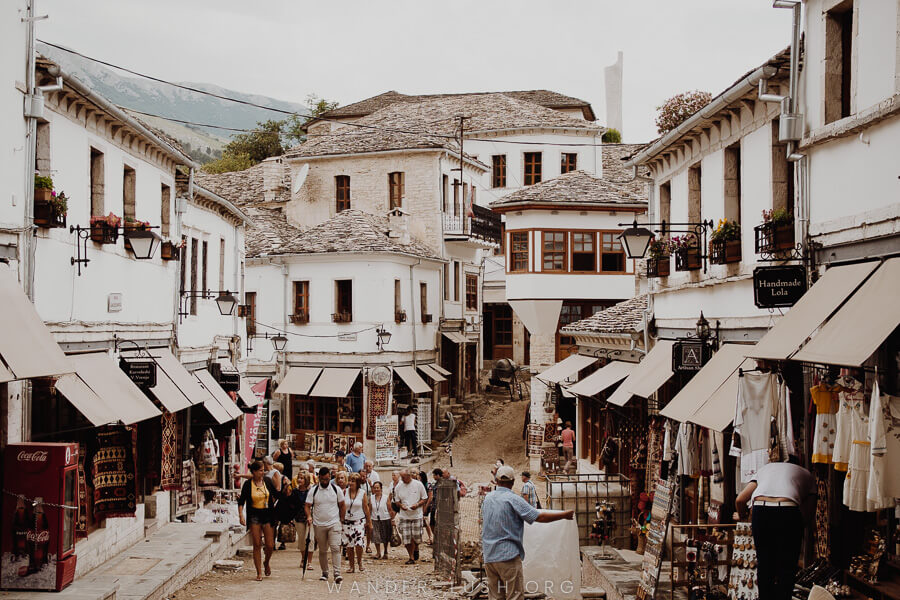 Albania Travel Guide
Discover insider tips, itinerary inspiration, and all the best things to see, do and experience in Albania!
Albania Essentials
My favourite resources and tools for planning a trip to Albania.
More from Albania
Albania Travel Guide
Discover insider tips, itinerary inspiration, and all the best things to see, do and experience in Albania!
More from Albania