Only have one day in Tirana? My Tirana itinerary covers the best city sights plus a few hidden gems to give you a perfect introduction to Albania's capital.
Tirana is fast gaining a reputation as one of the coolest cities in the Balkans.
Having visited every Balkan country, and having spent a good chunk of time – typically 7-10 days – in each capital, Tirana certainly stands out as one of the most dynamic, creative and interesting cities in the region.
Albania, as you probably know, has a rather dark past. For me, the contrast between its shadowy history and absolutely vibrant modern profile makes Tirana all the more enthralling. It's definitely a city on the up and up – I expect it will only gain popularity as an alternative European city break in the years to come.
One of the best things about Tirana is how compact and walkable it is. With one day in Tirana, you can cover a lot of ground. In a morning, you can learn a bit about Albanian history and visit the city's key historical and cultural landmarks. And in an afternoon, you can explore some of the lesser-visited gems.
With more time, you can ride the gondola to Dajti Mountain and explore the hills above Tirana, or maybe take a day trip to the historic city of Kruje.
The real test is seeing how many cool cafes, communism-themed bars and contemporary restaurants you can squeeze in between!
---
Please note: This post contains affiliate links, meaning I may earn a commission if you make a purchase by clicking a link (at no extra cost to you). Learn more.
---
Tirana cheat sheet
– Where to stay in Tirana: Arté Boutique Hotel (luxury); Bujtina Shqiptare (mid-range); or Tirana Backpacker Hostel (budget). Or, try an Airbnb. View my list of the best Tirana Airbnbs.

– Recommended city tour: Tirana Walking Tour (from $23/person).

– Renting a car in Tirana? Use Discover Cars to find the best prices on a rental car for Albania – then check out my Balkan road trip itinerary post for route inspiration!
The perfect one day in Tirana itinerary
We spent the better part of a week in Tirana, but I know most travellers don't have 5 nights to dedicate just to the city (you could plausibly see a good chunk of Albania in that time).
To make things easy for you, I've condensed all the best bits of our Albania experience into an ideal one day itinerary for first-time visitors. It doesn't cover everything, but it does provide a good overview and, I think, a good balance between must-sees and hidden gems.
You can easily draw this one day in Tirana itinerary out into a multi-day itinerary by adding a few extra spots. There is no shortage of things to do in Tirana to keep you occupied for 2 or 3 full days.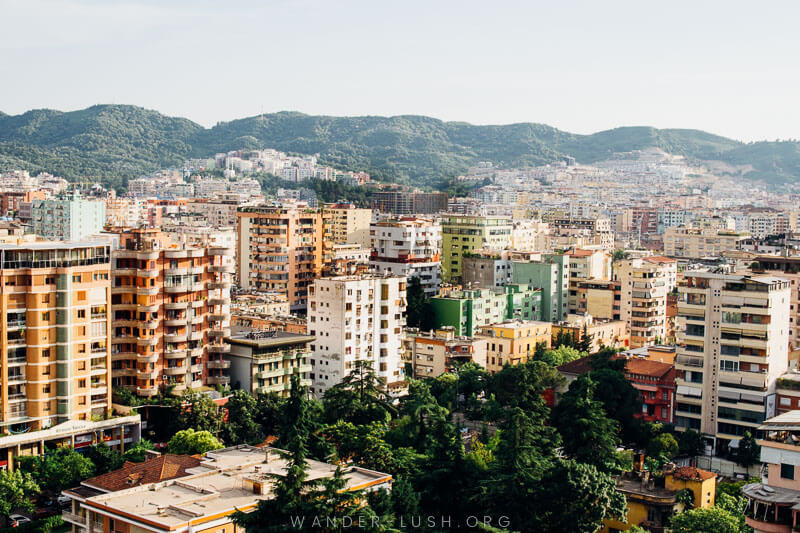 8.30am: Start your one day in Tirana with a coffee
Did you know that Albania and Italy have a tight-knit friendship? Your first evidence of this is the prolific coffee scene in Tirana. Yes, that Italian influence has definitely rubbed off, but like Kosovo, Albania has its own unique brand of coffee that it does incredibly well.
The best place to grab your morning brew is at a locally owned cafe chain. My top pick is Mulliri I Vjetër, which serves excellent espresso coffee and an array of pastries.
You can find branches all across town. My favourite is the one on the edge of Park Rinia, a 5-minute walk from Skanderbeg Square. It opens early at 7am so you can squeeze in a few shots before you start your first day in Tirana.
---
9.30am–12.30pm: Discover central Tirana on a walking tour
A walking tour is the best way to go if you have limited time in the city. Having an expert guide to illuminate Albania's complex and nuanced history is pretty much essential if you want to understand anything about anything.
Tirana is one place where I don't hesitate to recommend a paid tour over the free city tour . We joined the free tour and found it disappointing. It was a huge group (more than 25 people), and we didn't get any question time with the guide. (When we went to tip, he asked us who we were – the group was so big, he didn't even recognise us!)
I think it's much better to go with a small group and to start in the morning (the free tour only runs in the afternoon). This 3-hour walking tour takes in all the highlights of the city centre and is incredibly good value for money. Check prices and availability for the tour through Get Your Guide.
If you're hesitant to have your first hours in Tirana controlled by a tour itinerary, just remember you'll have the whole afternoon to yourself for free ranging.
The 5 Tirana must-sees mentioned below are all included on the city tour.
Skanderbeg Square
Skanderbeg Square is Tirana's biggest public plaza and the city's nerve centre. Newly built in 2018, it covers more than 10 hectares in total, including a huge 40,000-square-metre esplanade in the centre.
As you walk across the massive plateau, you'll notice slight variations in the hues underfoot. That's because the paving has been pieced together with regional stone sourced from every corner of Albania.
Rather than being flat, the Square is pitched at a slight decline. On hot days, recycled water is pumped from openings on one side, covering the paving with a thin film of water to cool things off. Everything you see, from the stone to the soil, has been sourced locally in Albania. The Square is a beautiful piece of architecture and a source of pride for Tirana.
Some of Tirana's most important buildings and historical landmarks are dotted around the Square. At the southern end, you'll see a large Skanderbeg Statue (striking the same pose as in Prishtina and Skopje), the perfect prompt to learn about Albania's national hero.
Palace of Culture
The Palace of Culture sits on the Square's eastern flank and includes Tirana's Opera and Ballet Theatre as well as the National Library. Sadly, some of the city's most revered landmarks, including one of the oldest mosques and the Old Bazaar, were bulldozed to make way for the stark, communist-style Palace in the 1960s.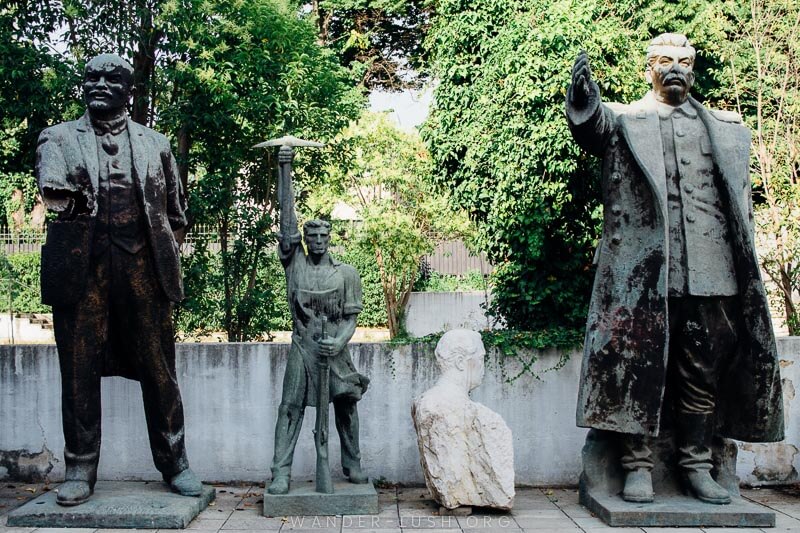 National History Museum
Recognisable by the stunning facade mosaic that faces into the Square, Albania's National History Museum is the largest cultural institution in the country. It houses a huge collection of artefacts from Illyrian history through to post-communist Albania. Most of the didactics are in English. One of the highlights is a collection of icons by the renowned 16th-century Albanian master painter, Onufri.
Admission to the Museum costs 200 Lek (included in the tour price if you join the walking tour). Before you leave, walk around the back to view the small collection of toppled leaders – damaged statues that once decorated Tirana during communist times.
Et'hem Bey Mosque
The 18th-century Et'hem Bey Mosque is unusual for a couple of reasons. Firstly, it managed to survive Albania's communist dictatorship (no small feat for a house of worship). Another thing that makes it unique is the exterior frescoes that depict trees, waterfalls and bridges. These kinds of motifs are rarely seen in Islamic art, which makes Tirana's most important mosque all the more special.
Inside, the painted dome looks absolutely beautiful. The mosque was undergoing maintenance at the time of our visit so we didn't get to see it – but it has since re-opened.
Pyramid of Tirana
After crossing over the narrow Lana River – perhaps by way of the stout stone Tanner's Bridge – you'll come to Tirana's south side. This part of the city is denser and known for its high-rise apartments, so it immediately feels very different to the old part of town on the river's northern bank.
The quirky Pyramid of Tirana has become the city's unofficial symbol in recent years. Built in 1988, it was supposed to serve as a museum for Enver Hoxha, the despotic dictator who was born in nearby Gjirokaster. It served its original purpose for a mere three years before being converted into a conference centre. During the Kosovo War, it was used by NATO, then it went on to become a radio station and later a popular nightclub.
Today the Pyramid is abandoned and derelict. There are rumours circulating that it will eventually be torn down – that, or completely remodelled to create a new civic space (personally I would prefer the latter).
It's currently a construction site, so don't necessarily expect to see it as it's pictured above. When we visited, it was surrounded by a high fence to stop people from getting too close (let alone climbing up the sides, which is now strictly prohibited).
12.30pm: Wander the colourful Blloku neighbourhood
The walking tour ends in the Blloku neighbourhood with a stop off to see Enver Hoxha's former villa. Stay on for an hour or so to wander the backstreets and take in Tirana's most colourful neighbourhood.
During the communist years, Blloku was a restricted area purpose-built to house the members of Albania's politburo. Ordinary people were prohibited from walking the streets or frequenting any of the businesses within Blloku's boundaries.
When communism fell, there was a kind of cultural rebellion and a mad rush to reclaim Blloku as part of the city. A huge number of cafes, bars, boutiques and nightclubs moved in, transforming the once tightly controlled area into one of Tirana's most lively (and affluent) precincts. How's that for comeuppance!
A lot of the buildings and old 'Commieblocks' around Blloku have been decorated with vibrant murals. As you wander, make sure you visit the Wilson Square Apartment, where you'll find the famous rainbow painting (a backdrop to a statue of former US President Thomas Woodrow Wilson, for whom the housing estate and park are named).
There's also some great street art around Rruga Abdyl Frasheri. Both these points are marked on the Tirana map at the end of the itinerary.
---
1.30pm: Eat Lunch at Mullixhiu
Named among the World's 50 Best Restaurants, Slow Food certified Mullixhiu is fine dining on a budget. The chef did his apprenticeship at Noma, so you know it's going to be good!
The menu is all about authentic Albanian fare made with organic veg, wild-caught fish and local game. Choose from small sharing plates (from 4 Euros) or an 8-course tasting menu (just 15 Euros a head). The offerings are seasonal so the menu is constantly changing, but expect dishes such as home-cured meats, burek of the day, and Albanian gnocchi with Elbasan saffron.
Mullixhiu is located just south of Blloku on the edge of the Grand Park. If you come this way for lunch, there's an added bonus of taking a short walk through the city's largest green space. Lunch starts from 12pm, and reservations are essential.
2.30pm: Ascend the Sky Tower for a city view
After lunch, walk back up through Blloku and prepare to cross the river back to the main part of Tirana.
But before you do, take a 20-minute detour to ride the elevator to the top of the Sky Tower. It's by no means the tallest building in the city, but because of its location in colourful Blloku, it offers one of the nicest aspects.
You'd think it would be best to go at sunset, but I strongly recommend doing the Sky Tower during the day. Why? So you can better see all the wonderful colours. From up high, Tirana is a kaleidoscope of pink, mauve and mandarin apartment blocks. You also get a feel for how green the city really is.
The viewing deck at Sky Tower is attached to a bar. You can buy a drink while you're there, but I don't think anyone will care if you don't. Note that there is a second balcony on the far side of the bar – make sure you visit both to see the city from different angles.
3pm: Take a coffee break at Komiteti
For a quick pick-me-up, Komiteti Kafe Muzeum is perfectly positioned at the bottom of the Sky Tower. This little cafe is a cornucopia of antiques, knickknacks and memorabilia from Albania's communist era (a bit like Cong Ca Phe in Hanoi, which pays a similar nostalgia-tinged tribute to Vietnamese communism). Find a table between the curiosity cabinets or a spot on the sofa and let your eyes rove around the many thousands of curated objects.
Alcoholic beverages (wine, beer and raki, Albania's national spirit) are the specialty at Komiteti, but they also serve coffee, tea and soft drinks.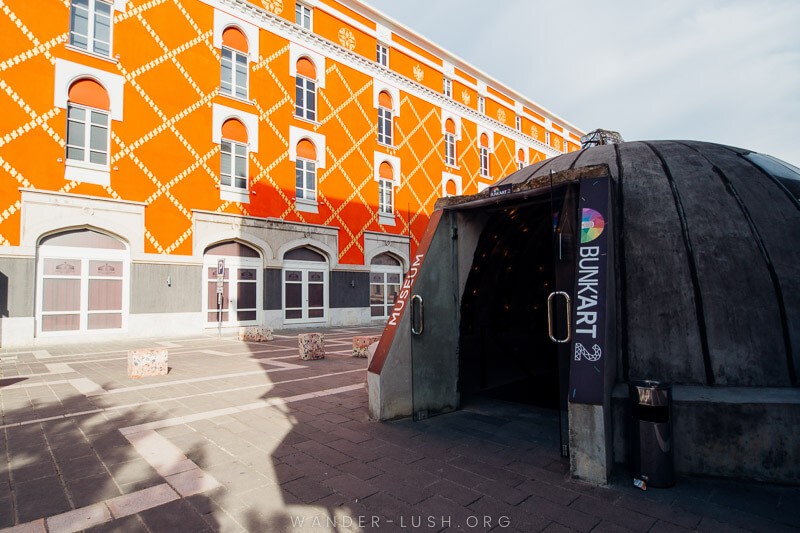 4pm: Go underground at Bunk'Art 2
Something else I love (and respect) about Tirana is the fact that it doesn't shy away from its past. Bunk'Art 2 is proof of this.
Constructed in the 1980s to shelter elite police and ministry staff in case of a nuclear attack, this 1,000-square-metre subterranean bunker lay dormant for years before the city elected to turn it into a museum in 2016. It now houses a vast collection of photographs, written testimonies and other relics from Albania's communist past.
Exhibits focus on the secret police force, which was active up until 1991 and responsible for persecuting more than 100,000 Albanians. The museum names 6,027 people who were executed, and illuminates some very difficult-to-swallow realities about the regime. Exhibits are thoughtfully composed and interactive – it's gripping, it's emotional, and the heavy nature of the material does make it very tiring.
Bunk'Art 2 is a smaller sister museum to the flagship Bunk Art on Tirana's outskirts. If you only have one day in Tirana, I recommend sticking to Bunk'Art 2 because it's conveniently located in the heart of the city, and takes less time to see. Budget 2 hours for moving through the museum at a steady pace. Tickets cost 500 Lek.
---
6pm: Enjoy a sunset xhiro on Toptani Street
Once you emerge from the depths of the bunker, reinvigorate yourself with a sunset stroll. The xhiro is an Albanian tradition – it basically involves walking (and probably gossiping) your way up and down a pedestrian street at dusk. The whole city gets in on it, making it a golden opportunity for people-watching and street photography.
Toptani Street is Tirana's main pedestrian mall and appears to have been designed specifically for xhiro-ing. The wide, paved street has juice bars and ice cream parlors at regular intervals lest you need to refuel.
As you walk, take in anything you missed in the morning or wanted to revisit from the tour. Make sure you stop to see Reja – The Cloud, a public art installation at the western end of Toptani Street.
7.30pm: Dinner inside the Fortress of Justinian
Albania is dotted with old fortresses and castles. In Tirana, they've decided to turn theirs into a dining precinct. Genius!
The newly renovated Fortress of Justinian had only just opened when we visited Tirana. It's a bit stark by day, but trust me, it's absolutely pumping at night.
Enter through one of the historic gates in the lofty fortress wall to the inner sanctum – a paved street of wine bars, classy restaurants, and gift boutiques that stay open until late. Porcelain Studio Seferi is my top pick for souvenirs – they sell beautiful plates and tableware hand-painted with traditional Albanian motifs.
For dinner, try La Gioia for seafood or Shendeverë Wine Bar for local plop and light bites. If nothing takes your fancy (or you're after something more budget-friendly), Oda, our favourite restaurant in Tirana for traditional Albanian fare, is just a few blocks away.
---
9pm: Drinks at Radio Bar
If you have the energy, there's no better way to finish your one day in Tirana than by heading back to the city's premier nightlife district, Blloku. Radio Bar and Bunker1944 are both themed bars (similar to Komiteti) that serve local wine, raki and cocktails.
Radio Bar is particularly well-known for its 70s-inspired decor, which is reminiscent of a family room in middle America.
---
One day in Tirana map
---
---
7 things to pack for Tirana
A good quality backpack. The easiest way to get around Albania is with an anti-theft day pack and a large pack for your main luggage. Here are a few of my favourite minimalist backpack designs for inspiration.
A scarf (women). A lightweight cotton scarf is my number one travel item. In Albania, it will come in extra handy for covering your hair when entering a mosque or Orthodox Cathedral. This neutral travel scarf goes with anything, and it even has a hidden pocket.
Walking shoes. From cobbled streets to rocky peaks, comfy walking shoes are absolutely essential for Albania. I love these ones for women, while my partner lives in these waterproof shoes.
---
One day in Tirana: Pin it!
Albania Travel Guide
Discover insider tips, itinerary inspiration, and all the best things to see, do and experience in Albania!
Albania Essentials
My favourite resources and tools for planning a trip to Albania.
More from Albania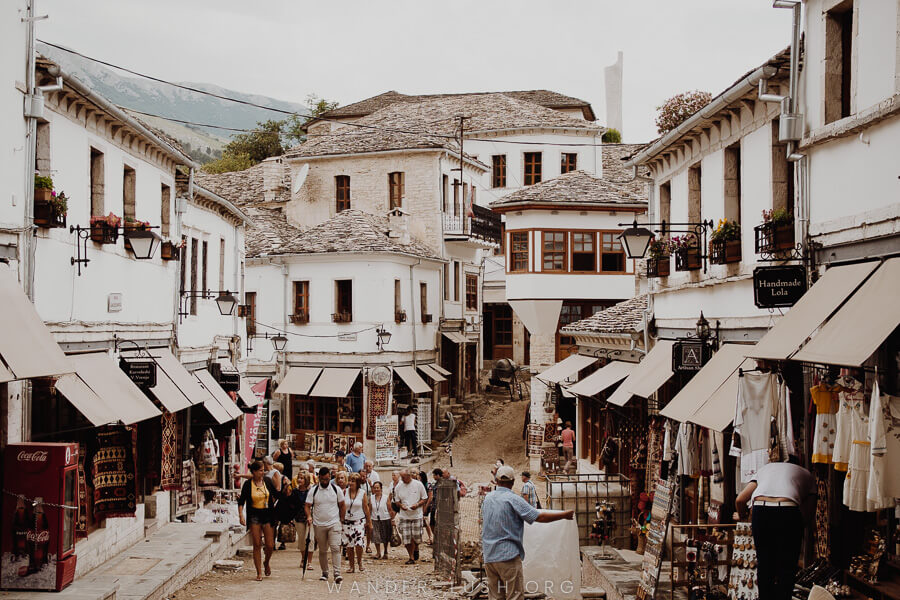 Albania Travel Guide
Discover insider tips, itinerary inspiration, and all the best things to see, do and experience in Albania!
Albania Essentials
My favourite resources and tools for planning a trip to Albania.
More from Albania