Searching for unique accommodation in Tirana, Albania? Here are 10 of the very best Tirana Airbnb apartments, all with a central location, cool design, and stellar reviews.
The Albanian city of Tirana is a lively, cosmopolitan hub that totally defies negative stereotypes. It's probably my favourite capital in the Balkans – mostly because it's so green and liveable.
I spent 10 days in Tirana as part of a recent 6-month trip around the region. Staying in Airbnbs in residential districts made my experience all the more memorable. Airbnb is legal in Tirana and a great alternative to hotels or hostels. You can often find an entire self-contained apartment with a kitchen and multiple bedrooms for significantly less than a standard hotel suite.
Whether you're planning a short visit to Tirana or you want to use the capital as a base for exploring Albania, you'll need to choose your accommodation wisely. Tirana is sprawling, and you really want to be close to the best restaurants and walking distance from the main sights.
In this guide, I'll show you the best Tirana neighbourhoods and offer a curated list of 10 wonderful Tirana Airbnbs – all centrally located, thoughtfully decorated and well-appointed. Best of all, they all cost less than $40 a night.
Planning a trip to Albania? Check out my Albania Travel Guide and round-up of the 21 best things to do in Albania.
---
Please note: This post contains affiliate links, meaning I may earn a commission if you make a purchase by clicking a link (at no extra cost to you). Learn more.
---
Where to stay in Tirana
Tirana's main attractions are located on the northern bank of the river, around Skanderbeg Square. The oldest part of the city, this is where you'll find most museums, galleries, dining precincts, and pedestrian streets.
There are plenty of apartment blocks in the very centre, which makes it easy to find an Airbnb in the heart of the action.
On the opposite side of the narrow Lana river, you'll find the newer part of Tirana. These neighbourhoods feature fascist-style housing, including plenty of massive 'commieblocks'. I personally love this area, especially Blloku ('The Block'). Just south of there, you'll find the Grand Park of Tirana, which is an idea location if you're looking for green space and fresh air.
Mujos
Mujos lies east of Tirana's main boulevard and forms part of the Old Town. This is an ideal location, as it's walking distance to all the main attractions. It can be quite touristy in pockets, though.
Zona I & Pazari i Ri
Directly east of Skanderbeg Square, the Pazari i Ri ('New Bazaar') district takes its name from the city's largest marketplace. Along with Mujos, this is the original part of Tirana. It's a vibrant area with some great restaurants, outdoor cafes, and lots of bountiful fruit and veg shops.
Zona I is just south and runs down to the Tanner's Bridge and river. It's a little more local, while still being walking distance to Skanderbeg Square.
Myslym Shyri
Stretching out south-west of Skanderbeg Square, this is leafy neighbourhood has a reputation for being quiet and safe. It's a good choice if you want something a touch more peaceful while still being strolling distance from both the centre and Blloku.
The western end of Myslym Shyri street is known for its cafes and bars, while the eastern end backs onto Park Rinia and the Resurrection of Christ Orthodox Cathedral.
Blloku
Part of Tirana i Re ('New Tirana'), Blloku is the name given to the south-west side of Tirana on the opposite side of the river to Skanderbeg Square. Compared to the historic core, this is a more local area with excellent dining and nightlife.
During Albania's communist period, Blloku was a housing development reserved for the party elite (including Enver Hoaxa himself, whose home still stands there). The whole zone was closed-off to regular citizens. When the regime was overthrown, cafes, bars and street art started sprouting up, transforming Blloku into Tirana's most vibrant neighbourhood.
Blloku is close to the Pyramid of Tirana and the Grand Park, and roughly a 15-minute walk from Skanderbeg Square.
Tips for choosing an Airbnb in Tirana
Don't let the facade freak you out! Lots of buildings in the city centre are dilapidated, a total contrast to the newly renovated, modern apartments inside.
Be firm with your budget. The average price of an Airbnb in Tirana is 35 USD, but there are lots around the 25 USD price mark. Remember to input your dates in the search to see the final tariff, as cleaning fees and additional charges for extra guests may be added on top of the base price.
If you're driving around Albania, make sure you choose a place with secure on-site parking. Street parking can be hard to come by in the centre of the city.
If you have limited mobility (or indeed heavy luggage), double check that the apartment block has a working elevator. Many of the older buildings are walk-ups.
The summer months are quite warm in Tirana, so make sure you choose a place with AC.
---
10 wonderful Tirana Airbnb Apartments for under $40 a night
Note that all of these apartments are 'Entire Place' listings.
---
1. Skanderbeg Veranda
Location: Skanderbeg Square
Ready to embrace the Tirana lifestyle? It doesn't get much better than this contemporary apartment overlooking the city's main square.
Located on the first floor of a typical communist block, the space is drenched in character, featuring wooden floors and elegant moulded ceilings. The addition of modern furniture and fun art pieces alongside a record player and vinyl collection are a nice touch.
Floor-to-ceiling windows face the back of the National History Museum and Skanderbeg Square. The balcony can be closed off in cooler months or opened up in summer to let a breeze in. Take your morning espresso in one of the scoop chairs overlooking the treetops.
The apartment also features a breezy bedroom with plenty of hanging space and a separate AC, a full kitchen with oven and stovetop, and a large bathroom with washing machine. A fold-out sofa brings total capacity to four people.
Everything worth doing in Tirana is within walking distance. There really is no better location to base your stay.
---
2. A-Tirana Apartment
Location: Myslym Shyri (close to Park Rinia)
West of Skanderbeg Square on historic Myslym Shyri Street (an area celebrated for its shops and cafes), this one-bedroom apartment has been completely redesigned to offer guests maximum comfort and convenience.
The hosts aim to provide a boutique hotel experience inside a typical 1968-built communist block – which in a way epitomises the city of Tirana itself. The apartment is on the 4th floor (walk-up only) and sleeps up to four people in a separate bedroom and on a fold-out sofa bed.
The apartment is flooded with natural light and features a small open-air balcony. A marble splashback, gorgeous floor rugs and antique furniture define the aesthetic. The kitchen is fitted with hotplates, and the spacious ultra-modern bathroom has a washer.
---
3. Your Home in Tirana Airbnb
Location: Blloku (close to Grand Park of Tirana)
'Bohemian chic' might not be what you're expecting from an Airbnb in Tirana, but this apartment pulls it off, offering a snug retreat in the heart of fun-loving Blloku.
The star is the main bedroom, a cosy nest decorated with heritage carpets and with a generous four-poster bed dressed with voluminous curtains. The living space, although simpler in design, is no less comfortable. It includes twin sofas (one that converts into a bed), and there's also a family sized kitchen with everything you need to prepare meals at home.
The location in the south-western corner of Blloku, walking distance to the park and Mullixhiu restaurant, is ideal if you want to experience Tirana's local side. It's roughly a 20-minute walk to Skanderbeg Square, or there are buses available at a station 2 minutes' from the apartment.
---
4. Pazari View
Location: Zona I (close to the New Bazaar)
This apartment has a clean, bright, coastal feel. The tiled floors are cool in summer, while the stunning view of Dajti Mountain from the front balcony – absolutely the highlight of this space – can be enjoyed year-round.
The building is new and equipped with a working elevator (this apartment is on the 5th floor). Skanderbeg Square is a 6-minute walk away, and the New Bazaar shopping and eating precinct is just down the road. If you decide to cook at home, the apartment has a generous kitchen.
A separate double bedroom with wall-to-wall storage sleeps two, and double sofa beds can be added. The red-tiled bathroom is a bit outlandish, but it has everything you need (including a washing machine).
One of my favourite restaurants for traditional Albanian food, Oda, is located just around the corner.
---
5. Tiranë Centre
Location: Pazari i Ri (close to the north-east corner of Skanderbeg Square)
The facade might have seen better days (OK, that's an understatement), but this Tirana Airbnb is sparkling new and architect-designed. The mellow colour-scheme and soft furnishings create an instant feeling of homeliness.
Natural light pours over the hardwood floors, and a mid-sized balcony provides interesting street views. The bathroom is awesome and features a rain shower. The wrap-around kitchen is the heart of the apartment and is replete with every appliance and accessory you could want. Tall windows and dangling pendant lights over the full dining table, plus a massive sofa, add comfort and warmth.
This apartment has an ideal location at the top of the plaza. Both the New Bazaar and Skanderbeg Square are less than 5 minutes' away by foot.
---
6. Metropolitan Home at Wilson Square
Location: Wilson Square (Blloku)
Located next door to the iconic rainbow-painted Wilson Square apartment block (named for Woodrow himself – see his statue in the courtyard), this apartment is perfectly positioned for exploring Tirana's funnest neighbourhood.
High ceilings and homely furnishings add ambiance, while two separate bedrooms (one with a double bed and one with two singles) make this space ideal for families. Each room has its own AC. The compact kitchen has a bar fridge, microwave and sandwich press (in this neighbourhood, you'll probably be eating out anyway), and there's a washing machine.
---
7. Modern Apartment with Secure Parking
Location: Pazari i Ri (700m from Skanderbeg Square)
This Airbnb is a tiny bit further out, off the north-east corner of Skanderbeg Square, but still within walking distance of the New Bazaar. There are buses nearby for getting around, and secure on-site underground parking is included in the daily rate.
This is a brand new block with an interesting design and inner courtyard. The apartment boasts truly magnificent views of Tirana's skyline from the living room windows.
The private balcony faces west, perfect for sunset. At 45-square-metres, the apartment itself is the perfect size for two. Spaces are tastefully decorated in olive and mustard. I love the antique rug, juxtaposed with the modern artworks and feature lights.
The kitchen is pimped out with modern appliances, and the bed with oversized soft bedhead looks like a dream. A simple bathroom with washing machine completes the space.
---
8. Central Pazari
Location: Zona I (close to the New Bazaar)
The furnishings may be a bit too retro in places, but this apartment has a great location in the heart of Tirana's vivacious New Bazaar area. A lovely open-air balcony looks out over the neighbourhood's cafes, vintage shops and cultural attractions.
There's a full kitchen with oven, and a modern bathroom. The double bedroom has an ensuite, and a second bedroom sleep two more in single beds.
---
9. Lake Muse Penthouse Apartment
Location: Blloku (close to Tirana Lake)
Hidden well off the tourist track, this Tirana apartment is sweet and simple. It sits in the south-west corner of Blloku, walking distance from the nearby artificial lake and park.
The design takes inspiration from nature. I love the use of recycled wood for the occasional tables. The best part about this place is the rooftop terrace that interconnects to all the separate rooms, offering sweeping views of the entire northern portion of the city and mountains beyond.
There's a tidy kitchen with an oven and breakfast table, bathroom with washer, and a separate bedroom plus pull-out sofa. It's a bit further from the centre but there are buses out front plus parking is available nearby for an additional fee.
---
10. Secret Garden Villa
Location: Pazari i Ri (close to the New Bazaar)
At 360-square-metres, this villa is an oasis hidden in plain sight in the very centre of the city. The home is one of the last traditional Albanian houses left in gentrified Pazari i Ri and is perfect for a group or family stay (up to five people can be accommodated in two bedrooms).
The interior is newly renovated and very homely, with two large living rooms (one with a heritage mosaic floor), a fully equipped kitchen, and an indoor gym with a pingpong table (yes, really).
The outdoor space is obviously the winner here. The entire house is enveloped in a dainty garden and features fountains, flower pots and fruit-bearing citrus trees (unlimited mandarins and oranges are included in the nightly rate). I imagine the multiple open terraces must be paradise on a hot summer's night in Tirana.
---
More Airbnb inspiration
Albania Travel Guide
Discover insider tips, itinerary inspiration, and all the best things to see, do and experience in Albania!
Albania Essentials
My favourite resources and tools for planning a trip to Albania.
More from Albania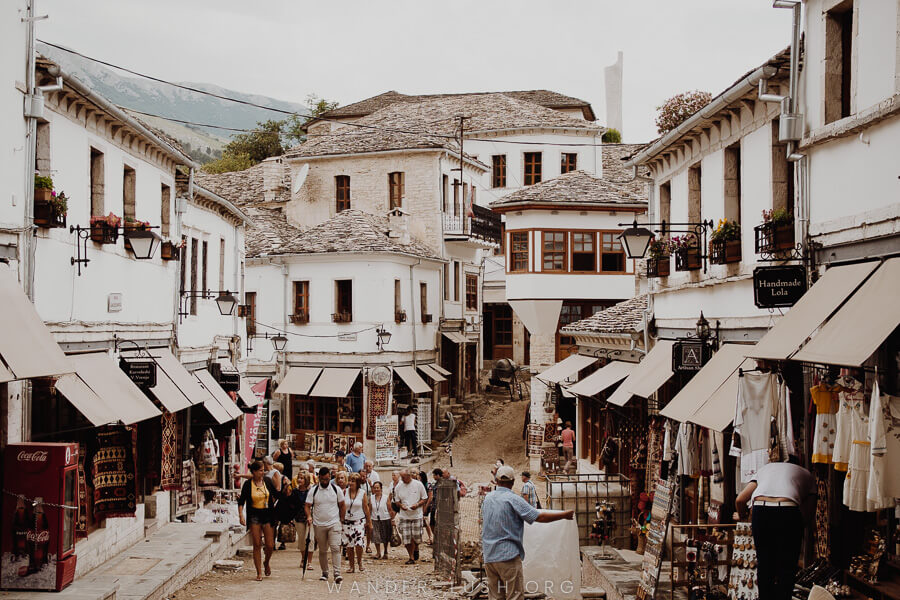 Albania Travel Guide
Discover insider tips, itinerary inspiration, and all the best things to see, do and experience in Albania!
Albania Essentials
My favourite resources and tools for planning a trip to Albania.
More from Albania