Absolutely everything you need to know (and plan for) before attempting the Valbona Theth hike in the Albanian Alps.
The Valbona (Valbone) to Theth (Thethi) hike in Northern Albania is an A to B trek that takes you from one idyllic alpine village to another through the heart of Theth and Valbona National Parks. It's truly one of the most underrated and beautiful day hikes in Europe.
The route – an old mule trail – winds through the Accursed Mountains (Albanian Alps) and over the Valbona Pass, a landscape of rocky peaks and deep ravines shared between Albania, Montenegro and Kosovo.
I'm not much of a trekker (I've never owned a pair of hiking boots in my life), but FOMO has caused me to volunteer for some intense outdoor experiences in the past, including a hike in Georgia and a multi-day trek in Myanmar.
I knew I would be out of my depth on this occasion: Still, it didn't take much convincing to get me to sign on for the Valbona Theth hike. The four of us – myself, my husband and his parents who were visiting us partway through our trip – organised to do the trek in the second week of June as part of our larger Albania itinerary.
In the lead up, I sifted through a lot of inspirational content about the Valbona Theth hike. But the more I read, the more anxious and intimidated I felt. So many of my questions went unanswered. There was a lot we had to figure out for ourselves.
In the end, we triumphed and had an amazing day. The trek surpassed all my expectations and will go down as one of my top travel experiences in Albania.
Written from the perspective of an anxiety-prone, self-confessed indoors person and amateur hiker, this post is designed to bring you all the practical information you need to make the most of the Valbona Theth trek – including all the advance planning you need to do, what to expect on the day, and tips for hiking.
I'll run through some of the common questions concerning the Valbona Theth trek and offer my best pieces of advice for making the most of your time in the Albanian Alps.
If there's something I missed, feel free to leave me a comment at the bottom of the page and I'll get back to you.
---
Please note: This post contains affiliate links, meaning I may earn a commission if you make a purchase by clicking a link (at no extra cost to you). Learn more.
---
Basics of the Theth-Valbona hike
Distance: 9.5km from Rrogam to Theth (12km from Valbona village; 17.6km from trailhead to trailhead)
Duration: 7-8 hours on average (up to 10 hours at a slow place; 4-5 hours for experienced hikers)
Elevation: 800m minimum elevation up to 1800m at Valbona Peak
Difficulty level: Medium – moderate level of fitness required (rough terrain, loose gravel in parts, steep uphill/downhill sections around Valbona Peak)
Guide?: Optional (not required)
Water: Fresh water spring & several cafes on the route (but bring plenty of water with you just in case)
Accommodation options: Guesthouses; camping
Map of the Shkoder-Valbona-Theth route
---
Our Albanian Alps itinerary
Before I get into the nitty-gritty, here is an overview of our 5-day itinerary.
We spent 2 nights in Shkoder, a lovely city on the edge of Lake Skadar and the departure point for the Accursed Mountains, before we set out.
Day 1:
Transfer from Shkoder to Komani by minivan (1.5 hrs)
Lake Koman ferry to Fierza (2.5 hrs)
Transfer by minivan to guesthouse in Valbona (1 hr)
1 nights accommodation in Valbona
Day 2:
Taxi to the trailhead in Rrogam (20 mins)
Valbona to Theth hike
3 nights accommodation in Theth
Days 3-4:
Theth village & church
Blue Eye trek
Day 5:
Minivan back to Shkoder from Theth (1.5 hrs via a new road)
You could easily turn this into a longer itinerary by spending another day or two in Theth. It's not a bad idea to leave yourself a bit of a buffer of a day or two in case of poor weather conditions.
---
Valbona Theth hike tips: Before you go
Lay the groundwork for a successful hike.
1. When is the best time to do the trek?
The first thing you need to consider when planning the Valbona Theth trek is what time of year to go. Northern Albania has pronounced seasons – it's not possible to trek in the Albanian Alps in winter due to heavy snowfall.
The hiking season typically starts in May and lasts until the end of October, with July and August being the most popular months. This does vary year to year depending on the weather, so it's a good idea to check with someone on the ground if possible.
Mid to late June through to September is a safe bet.
The Komani Lake ferry (necessary to get from Shkoder to Valbona and a highlight in itself) only runs for a short season, usually from 10 April to 2 November. You can double-check the dates for this year here.
We did the trek in the second week of June. The weather was warm and a little hazy. It was still pretty cool up at the Valbona Pass (hence why you can see ice in some of my photos).
I recommend avoiding peak season (July/August) if you can, and opting for June or September shoulder season instead.
Snow and ice can still be heavy on the trail as late as May, in which case you will need poles, sturdy boots and proper equipment. I wouldn't advise amateaur trekkers to hike in the snow.
Always check the weather forecast a few days out and double-check weather conditions locally when you arrive before you set off. If there is heavy rainfall, it might not be possible to do the trek.
2. Which direction is better? Theth to Valbone or Valbone to Theth?
There are two ways to do this trek: By walking from Valbona to Theth (like we did) or by doing the route in reverse. Everyone you speak to seems to have a different opinion about which direction is best.
Starting in Theth and hiking to Valbona is the more popular route. Almost everyone we encountered on our travels was doing it this way. I recommend doing the reverse and trekking from Valbona to Theth. Here's why:
Getting to Valbona from Shkoder takes more time and involves more transfers (van-ferry-van). Getting back to Shkoder from Theth is easy by comparison (van only).
If you start the trek in Valbona, you can skip the first part of the trail, a gravel path that's very exposed and rough. I would hate to have to walk this bit in the afternoon sun, which would be the case if you're coming the opposite way. Even if you opt to walk from the start of the trailhead, if you start from Valbona, you can get this part over with and be in the shade of the forest near Theth before it starts getting too hot.
If you leave Valbona early, you likely won't encounter many other people for the first half of the trek.
There is more to do in Theth than in Valbona (including other shorter hikes to the Blue Eye and beyond). In my opinion, Theth is a much nicer place to relax for a few days. As another plus, guesthouses in Theth are closer to the trail.
Finally, it's easier to organise transport back to Shkoder from Theth on the fly.
3. How to get to Valbona from Shkoder via Komani Lake (& how to book tickets)
Valbona is a mountain town 200km north-east of Shkoder. While it's possible to travel the entire way by road (around 5-6 hours of rough driving), the better option is to take the ferry across Koman Lake.
First, you take a minivan from your accommodation in Shkoder to the ferry terminal at Koman. This takes around 1.5 hours via a paved road.
The ferry ride takes 2.5 hours and finishes at Fierza. From there, it's another one hour drive by minivan to Valbona.
Advance bookings are mandatory for the Komani Lake ferry. In summer especially, it's a good idea to book your transfers at least a few weeks in advance. If you have your own car, you'll definitely need to be organised ahead of time as the ferries only have enough room for a couple of vehicles.
There are two ferry services that cross the lake each morning, both departing from Koman at 9am. Tickets cost 800 lek per person.
A transfer from your hotel in Shkoder to Koman ferry terminal costs an additional 700 lek. (It's also possible to book a transfer from Tirana bus station for 1400 lek.)
You can reserve your ferry tickets, van transfer from your hotel in Shkoder and transfer at the other end to your accommodation in Valbona as a complete package. Bookings can be made through the official website, Komani Lake Ferry Berisha. Payment is either online (credit card or Paypal) or in cash on the day.
4. How to get back to Shkoder from Theth
From Theth, it's a comparatively straightforward drive back to Shkoder. When I did this trip, it took 3.5-4 hours. Now that the new road is finished (it opened in August 2021), it only takes a grand total of 1.5 hours to get to Shkoder. No more bumps or hairpin turns either!
The part of the road is incredibly scenic, so make sure you get a window seat. Usually the driver will make a couple of pit stops for photos.
Vans can be booked through your accommodation in Theth or Shkoder. The fare is around 1,200 lek per person.
5. What if I'm driving or don't want to trek one-way?
There is no direct way to travel between Valbona and Theth by road. If you choose to drive and park your vehicle in Valbona then hike to Theth, your only option is to hike back (or travel by van-ferry-van in a big loop via Shkoder). This is why I recommend leaving your car in Shkoder and making use of the public transport connections to get to and from the mountains.
If you have all your luggage with you, an alternative option is to travel to either Valbona or Theth, hike to Valbona Peak, then return to your base camp.
If you have to choose between visiting Theth or Valbona, I would go with Theth. The new road makes it quick and easy to get there from Shkoder (even with your own car), and as I've mentioned there are more opportunities for sightseeing and short hikes around Theth.
6. Accommodation in Valbona & Theth
There's nothing worse than having a bad night's sleep before a trek – or arriving at your destination after a long day of walking and finding your room isn't ready yet (yes, both these things happened to me!). There are lots of guesthouses in both Valbona and Theth, but I highly recommend you read the reviews and choose wisely.
Family run guesthouses offer the best value for money, the heartiest meals, and hands-on staff who can help you with trekking and transport logistics.
These three guesthouses are clean, comfortable, and managed by excellent hosts. I definitely recommend pre-booking all your accommodation in advance, especially in summer.
Shkoder: Sweet Living Apartment. An awesome self-contained apartment in the city centre with bicycles available for rent.
Valbona: Guesthouse Mehmeti. Spotlessly clean, huge meals, serene location. Staff speak English and can organise a car transfer to the Theth trailhead.
Theth: Guest House Flodisa. Family run, excellent free breakfast included. If it's unavailable, try Guesthouse Marashi instead. Or for something different, Bujtina Polia is a gorgeous farm stay in the centre of Theth. Rooms are bright and airy, and there's a popular restaurant on site.
7. Can I camp?
As I understand it, there are no regulations on camping in this area, meaning you can pitch a tent anywhere you please along the trail. A good place to camp is near the cafe above Theth.
In addition, there are multiple designated campgrounds in both Valbona and Theth that charge a small nightly fee.
---
Valbona Theth hike tips: Terrain & difficulty
What is the Valbona Theth trek actually like on the ground? Expect rugged mountains and beautiful views, especially as you approach Valbona Peak.
8. How long does the Valbona Theth hike normally take?
After asking and reading around, we figured it could take anywhere between 5 and 10 hours to complete the 9.5 km hike from Rroga to Theth village.
We started walking at 7.20am and arrived in Theth at 3pm, meaning we completed the hike in 7.5 hours (a new PB!).
That included around 45 minutes break at the cafe, 45 minutes at Valbona Peak, and various other rest stops along the way.
The bottom line is that the trek can be as long or as short as you want. Very experienced hikers might be able to manage it in as little as 4-5 hours. For everyone else, set aside the whole day, set off early, and you'll have no issues reaching your end point before nightfall.
9. Is the hike difficult?
I was fully expecting to struggle with the trek, but it wasn't as difficult as I anticipated.
Most people recommend having a medium level of fitness to do the hike. My fitness level is absolute zero and I still did OK. The uphill parts are gruelling for sure, but they only come in short bursts, and you do get some relief with the downhill portions.
The maximum elevation is 1,800 metres, so altitude sickness is not something you have to worry about.
10. What is the terrain like?
For the most part, the terrain on the trek is rough but manageable. Most of the way you'll be walking on stone 'paths' that are relatively flat and even.
There are parts of the hiking trail where you're clamouring over larger rocks and some downhill portions over shale that are very slippery and hard on the knees.
We all took turns falling over during the last part of the walk – the steepest and most slippery part of the trail is the final descent into Theth.
Briefly, the trek can be divided into five 'chapters':
Leaving Rrogam (Valbona): A pleasant walk through beautiful forest past small farms, with a slow but steady incline until you reach the first cafe, Simoni Cafe. (There is now a second cafe called Bar & Restaurant Emanueli a little bit earlier on the trail). This takes about 1.5 hours.
Steep ascent to the pass: Up, up and up zigzagging over the bare, stony mountain face. This was the most challenging part of the hike for sure. It takes around 3 hours.
Valbona Pass: When you near Valbona Peak, the trail takes you around to the left for some breathtaking views. Here, you should briefly detour off the main trail to check out the various lookout points. Be very careful as these steep hills are slippery.
Descent to the last cafe: From the peak, it's about 45 minutes downhill walking on a steep path to reach the next cafe, simply called 'Bar Cafe Restaurant' on Google Maps.
Final descent into Theth: Another 2-3 hours of downhill, this time through dense pine trees and alpine forest. Depending on where you're staying in Theth, you might then have to walk through the town.
11. Is the Theth-Valbona trail marked?
Yes, the way is marked. Most of the trail is a white rocky path that is very easy to distinguish from the terrain around it.
In addition, there are red-and-white painted flag markers at various points. These are prominent and appear as often as every 50 metres on either end of the trail (although they are more dispersed as you near Valbona Peak).
We only took one wrong turn, right at the beginning of the hike as we were leaving a small village near the Valbona trailhead. A man popped out of his house right on queue and showed us the way back to the trail.
12. Is there phone reception on the trek? Does Google Maps work?
Because we were travelling in Albania for more than a month, we bought a local sim card in Shkoder. We had limited reception in Valbona and Theth, and were mostly without a signal during the hike. (Note that WIFI is standard in guesthouses in both villages.)
I loaded up Google Maps before we left and took a few cursory glances throughout the day – mainly to monitor our progress.
The route isn't marked on Google Maps, but you can use Maps.Me if you want to. Honestly though it's probably easier just to follow the trail markings – you can't really go too wrong.
Because there is no phone reception, it would be difficult to get help in an emergency. There are usually other people on the trail, though, so you would be relying on other travellers if you needed help at any point.
13. Do I need a guide for the Valbona Theth hike?
No. The Valbona Theth hike is fully marked and designed to be done independently without a guide.
It is possible to go with a private guide or as part of an organised tour, but it's not necessary. If you prefer to take a guide, Journey to Valbona is a reputable provider.
14. Can I hike Valbona Theth solo?
Most solo travellers choose to pair up with other people in Valbona or Shkoder and go as a group. Personally, because of the remote location and risk of falling (especially in the loose rock sections), I would not feel comfortable trekking alone.
Technically there's no reason you couldn't do the trek solo – provided you're an experienced hiker with the correct gear. If you do go down this route, remember to notify someone on either end of your plans.
15. Is the trek suitable for kids?
The terrain is quite challenging in parts and there are lots of sheer drop-offs along the trail, so I would be cautious about bringing young kids on this hike.
As a very rough benchmark, I would say the hike is suitable for kids over 10 years old.
16. Will I see any wildlife?
Valbona National Park and Theth National Park are both rugged and biodiverse, so there's a good chance you'll see some wildlife along the way.
We spotted three grass snakes (non-poisonous) and a small, unidentified mammal. (Actually the mammal was carrying another, smaller mammal in its mouth, so technically we saw two animals.)
There are brown bears, wolves and lynx in the area – another reason why you should stick to the marked trail.
---
Tips for the day of the trek
Hit the ground running!
17. Skip breakfast and get an early start
The night before we left Valbona, our hosts gave us the option of skipping breakfast and taking a packed lunch instead. This was a brilliant idea.
We were able to leave our guesthouse by 7am and after a short drive to the trailhead, we started walking at 7.20am. This put us way ahead of the pack (and ahead of the weather). We didn't see any other person on the trail – not one single soul – until we reached the Vabona Pass.
Don't underestimate the value of having the trail to yourself. It's narrow in parts, and it's so nice not to have people breathing down your neck or needing to negotiate two lanes of traffic.
18. Get a lift to the trailhead in Rrogam
This is my top tip for the Valbona Theth hike.
When we arrived in Valbona, we were under the impression that we could wake up the next morning and just start walking from our guesthouse. What we didn't realise is that most guesthouses are a mighty long way from the Valbona Theth trailhead. Our accommodation, for example, was a full 9km from the start of the trail – that's almost the same distance as the hike itself!
Instead of walking from your guesthouse, you can organise for a driver to take you to Rrogam, the small village where the trail starts. This means skipping the first part of the hike through the open riverbed (some of the toughest terrain, incidentally) – but it also saves you having to walk along the highway and it shaves off 2 to 4 hours of extra slog.
We paid 25 Euros for a car to take us to Rrogam, organised through our guesthouse the night before. You can lower the cost by carpooling with other travellers.
19. Know exactly where you're headed in Theth
As you descend into Theth, it might not be immediately obvious where your guesthouse is located. Theth is pretty spread out (though not to the same extent as Valbona), with guesthouses and camping grounds all along the river.
Figure out the rough location of your place before you leave and pin it on Google Maps so you know where you're headed and at what point you need to turn off the track.
If you don't have a guesthouse pre-booked (tsk tsk!), head for Mini Market Jezerca where you can grab a drink and use the free WIFI to get your bearings.
---
What to wear & bring with you
20. Do I need hiking boots and hiking poles?
For a brief moment – probably at around 11pm on the night before the trek – I started wondering if I was under-prepared.
Some people at our guesthouse were carrying poles, boots and other fancy trekking paraphernalia, none of which I had with me.
Honestly, if you're trekking in good weather in summer, you don't need any of it. I did the trek in thin socks and a pair of beat-up Nikes that have holes in the toes.
21. What should I wear on the Valbona Theth hike?
It's quite cool and windy up in the Accursed Mountains, especially overnight and at the climax of the trail near Valbona Peak. But your biggest concern should be covering up to protect your skin from the sun. I wore a long-sleeved skivvy, comfy exercise shorts and a light scarf.
Again, many people were dressed in 'proper' hiking gear when something comfortable and cool would have done the job just as well. It's a personal preference, but don't feel like you need to buy a special outfit for the hike.
There aren't really any places to swim on the route, so don't bother wearing bathers (although you might want to pack them if you're going to the Blue Eye in Theth).
22. Do I have to carry my own bags?
Valbona to Theth is a thru hike – once you're over the pass, there's no road to take you back. Whatever you need, you have to carry with you, which is why I highly recommend travelling with a light day pack only.
Find a guesthouse in Shkoder that will mind your big luggage if you book another night with them on the way back through. That way you can just carry the bare essentials on the hike.
You can hire a mule to carry larger backpacks (we saw a few people doing this), but I personally think it's overkill.
23. Is there drinking water available?
There are several fresh water sources on the route where you can replenish your refillable water bottle. Both cafes I mentioned are located on the edge of a stream and have free water. Even if they're closed, the hose will still be running.
The water is meltwater and safe to drink. It tastes delicious and is naturally icy cold. It's safe to drink the tap water in both Valbona and Theth as well.
24. What else should I bring?
A refillable water bottle, a light jacket and sun protection gear are all essential. It's also a good idea to pack some hiking snacks (muesli bars, crackers, etc.).
Come prepared and don't count on the cafes being open. There are two cafes on the route: One 2 hours from Valbona and another approximately 3 hours from Theth. The Valbona cafe was closed in June, and the Theth cafe only had limited food offerings.
We were lucky we had that packed lunch, otherwise we would have gone hungry.
25. Do I need my passport/ID card?
There are no border crossings and no security checkpoints on the trail itself. Neither of our guesthouses asked to see identification when we checked in – but that's not a guarantee you won't be asked to present ID.
My recommendation is to seal your important documents in a waterproof bag and keep them at the bottom of your day pack.
26. How much cash should I carry?
There are no ATMs in Valbona or Theth, so you'll need to carry whatever cash you need with you from Shkoder.
Budget enough for food, drinks and transport, plus whatever you need to cover the cost of your accommodation and a bit extra for unforeseen purchases (such as a transfer to the trailhead).
Meals at our guesthouses cost us between 7 and 10 Euros per person, and drinks (coffee, beer) a couple of Euros each.
Most guesthouses and cafes only accept cash but will take either Euros or Albanian lek.
---
Average costs for the trek
To give you a rough idea of how much to budget, here's what we spent excluding accommodation:
Van transfer from Shkoder to Koman: 700 lek
Koman Lake ferry: 800 lek
Taxi to the start of the trail: 3,000 lek (4 people)
Guesthouse meals: 800-1200 lek per person per day
Drinks & snacks: 500-1000 lek per person per day
Van back to Shkoder: 1,200 lek per person
Total: Approx. 14,700 lek (120 Euros) per person
---
Summary: My top 5 tips for the Valbona trek
If you made it this far, thank you for reading! I had a lot to say about this trek. Here's a quick summary of my top 5 takeaways.
Remember this is an A-to-B one-way trek. I recommend hiking from Valbona to Theth instead of the reverse route. Think of Shkoder as your base.
Book your ferry and van transfer in advance. Use the official Komani Lake Ferry website.
To save time and energy, get a lift to the trailhead at Rrogan from your accommodation in Valbona. You won't regret it.
Bring plenty of water and snacks with you. There are cafes on the route but they might not be open. But pack as light as possible, because you need to carry everything on your back.
Check the weather before you set out. If there's heavy rain or ice/snow on the trail, it will be much more difficult and dangerous to get over the pass.
---
Valbona Theth: Save it for later
Albania Travel Guide
Discover insider tips, itinerary inspiration, and all the best things to see, do and experience in Albania!
Albania Essentials
My favourite resources and tools for planning a trip to Albania.
More from Albania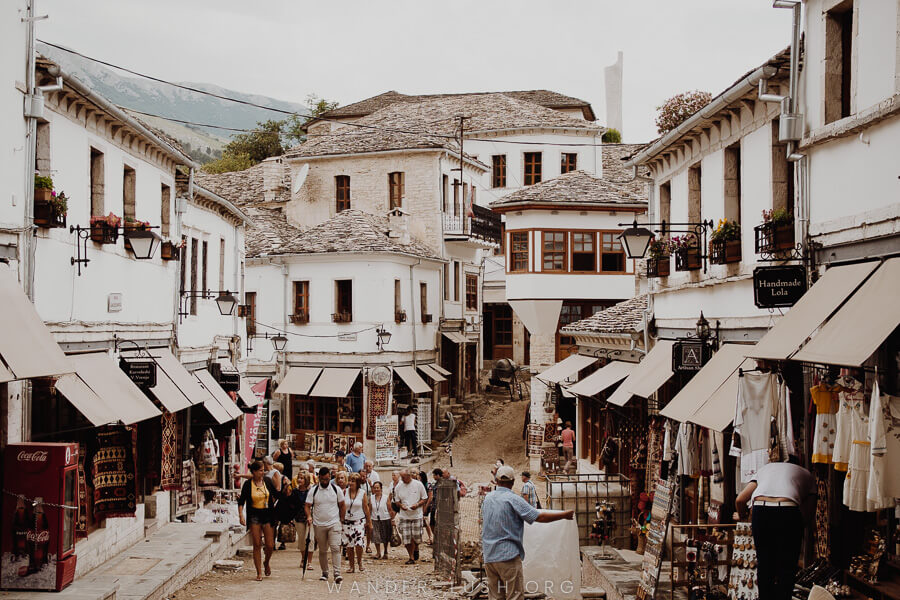 Albania Travel Guide
Discover insider tips, itinerary inspiration, and all the best things to see, do and experience in Albania!
Albania Essentials
My favourite resources and tools for planning a trip to Albania.
More from Albania