My top tips and hacks to save you money, time and stress. A must-read before you go travelling in Montenegro.
When I set off on my 6-month overland journey through the Balkans last spring, Montenegro was probably the country I knew the least about.
The only expectations I had were for stunning mountain landscapes and shimmering sunsets on the Bay of Kotor. I got both of those in spades. Everything else was a surprise – usually a pleasant surprise, but not always!
Montenegro shares some commonalities with its bordering countries so if you've travelled in Albania or Bosnia for instance, you already have a rough idea of what's in store.
On the whole, Montenegro is incredibly convenient. The country is compact and straightforward to navigate, the Euro is the official currency (even though Montenegro isn't yet a ratified EU member), and much like the rest of the region, people are exceedingly welcoming and friendly.
Still, I had many 'Only in Montenegro' moments during my road trip that inspired me to compile this list. Here are 21 practical Montenegro tips that I think every traveller should know before they go.
---
Please note: This post contains affiliate links, meaning I may earn a commission if you make a purchase by clicking a link (at no extra cost to you). Learn more.
---
What is travelling in Montenegro really like? 21 essential Montenegro tips
I hope these practical Montenegro travel tips will make your journey a little easier.
---
1. It rains – a lot
Montenegro's remarkable topography is one of the things that makes it such a great place to visit. The rugged mountain interior backs almost directly onto the sea, so in the space of 15 minutes you can travel from the Mediterranean-like coast into the high hills.
As fast as the landscape changes, so can the weather.
Keep in mind that it rains an awful lot throughout much of the year. Montenegro's wet season typically runs from April through to September and brings torrential downpours. Podgorica, Montenegro's capital, is the wettest city in Europe by a big margin, clocking up an average 1600mm of rainfall over 157 rainy calendar days.
Winter in Montenegro is bitterly cold in the mountains while on the coast, conditions remain mild (the mercury rarely drops below 12 degrees Celcius in Kotor, even in January). Because of the way the city is positioned in relation to the mountains, Kotor receives no direct sunlight for a big chunk of the year, which does make it feel a bit chillier. (Speaking to a local, this was her biggest complaint about living in Kotor.)
Summers on the coast are similarly mild, with temperatures averaging around 30 degrees during the day in cities including Budva and dipping to a pleasant 17 degrees in the evenings. The sea is warm enough to swim in from July onwards.
While rain on the coast is rare during summer, thunderstorms are common in the mountains. Dark clouds start to unfold in the late afternoon and can catch you off guard if you're not careful. I had a couple of close calls and many disappointing afternoons where I couldn't see 3 feet in front of me because of the thick fog.
It's difficult to peg down a 'best time to visit Montenegro', especially if you plan on splitting your time between the beaches and the mountains. Generally speaking, late spring or fall are both ideal times to visit the coast, while clear and dry summer conditions are better suited to hiking.
Try to avoid the Bay of Kotor in peak summer (more details in the next section below).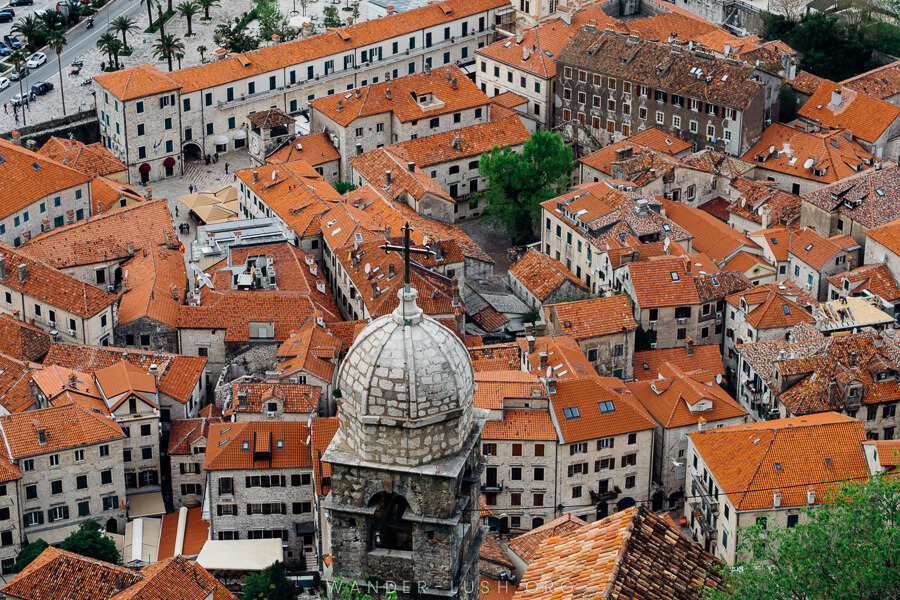 2. Check the cruise boat schedules before you go
Pre-2020, Montenegro's ports were some of the busiest in the region for cruise ship arrivals. More than 650,000 cruise passengers disembarked in Kotor in 2019, almost a 30% increase on the previous year.
Because Kotor's port is so close to the UNESCO Old Town, when a large ship is docked, it alters the entire landscape. You can see the hulking boats from every angle – and while impressive in scale, in my opinion they don't exactly enhance the landscape nor the atmosphere.
Cruise ships bring an influx of foot traffic into Kotor Old Town, making the narrow streets feel cramped and claustrophobic. Budva also has a deep-water port and experiences a similar phenomenon on 'cruise ship days'.
If you want to avoid the crowds and queues, then it's wise to plan your time in Kotor and Budva especially around the cruise ship schedule. Alternatively, you can organise your days so that you're clear of the busy Old Town area in the morning when most passengers disembark for their day tours.
Smaller towns along the bay such as Perast (more on that in a moment) do not have large ports and are much more subdued, especially in the late afternoon.
→ Read next: The best things to do in Kotor.
3. You'll see a whole lot more if you hire a car
Montenegro is the one country in the Balkans where I chose to hire a car instead of relying on public transport. And I'm so, so glad that I did. If you're looking for a perfect road trip destination in the region, Montenegro is it.
Yes, drivers are a bit more lackadaisical with road rules than in Western Europe, but Montenegro is actually fairly tame compared with some other neighbouring countries (I'm looking at you, Albania!). In fact, I'd go a step further and say that self-driving is safer than using the bus. Bus drivers are notoriously bad with overtaking and speeding, something I really don't have the stomach for. You'll need to be hyper-vigilant of other drivers, but at least you're in control when you're the one behind the wheel.
The roads are in good shape and apart from having to deal with a helluva lot of tunnels, driving is straightforward with only a few curly road rules. (One thing to keep in mind is the headlamps rule – see this guide for details.)
Some of my favourite spots in Montenegro are the remote lookout points and 'in-between' places that lie on the road from A to B. And often it's the road itself that ends up being the highlight – certainly the case with the infamous Kotor Serpentine, with its 16 hairpin bends and 16 stunning lookouts.
My favourite drive is the backroad from Rijeka Crnojevića to Virpazar, which took me right along the edge of Skadar Lake. No sane bus or taxi driver would ever take such a rambling route – you simply need your own car if you want to do it.
Because Montenegro is so compact, you can expect to see a good chunk of the country in as little as 7-10 days with your own car.
If you plan on crossing borders in your rental car, be sure to obtain a Green Card and any other required documentation.
---
4. Be warned: Finding a place to park can be very tricky
While driving in Montenegro was a breeze, finding a place to leave the car was often a nightmare – especially on the Bay of Kotor. I travelled in spring (outside of peak season) and even then, it was very challenging to find a car park. I can only imagine how bad it gets in summer.
Parking spots were particularly scarce in Kotor, Budva and Herceg Novi. Perast and Rise did not pose a problem. If you're hiring a car, you absolutely must choose accommodation with secure on-site parking. It's a good idea to phone or message ahead the day before just to double check they have a spot for you – when I arrived in Herceg Novi, I discovered my guesthouse only had limited places and they were all full.
If you're planning to drive into any of the bigger cities for the day, know that you might end up spending a good chunk of your morning driving in circles. It's actually much better to stay overnight at the busier ports where you know you'll have a guaranteed place to park.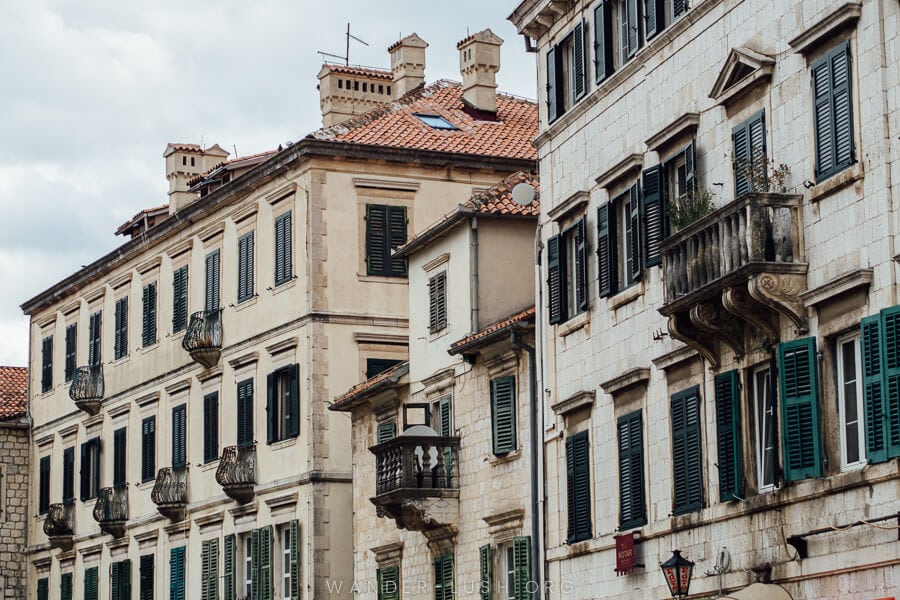 5. Montenegro is safe for tourists
'Is Montenegro safe?' It's a question that gets asked a lot, probably because of the region's recent political history and the fact that the ex-Yugoslav countries are still relatively 'unknown' to many travellers.
Before my visit, I read some pretty crazy stories pertaining to crime (including the one about David Beckham's Porsche) that made me feel a bit on edge. I needn't have worried, though: Montenegro is much like any other country in the Balkans in terms of personal safety – that is to say, it's very safe.
The joke 'Welcome to Montenegro. Your car may already be here.' refers to organised crime that isn't likely to impact tourists. And it's probably outdated anyway. Pickpocketing does occur but is localised to touristic places such as Kotor and Budva.
As a female traveller, I felt completely at ease in Montenegro. Apply the same common sense safety principles you would in any other country – and exercise a bit more caution with your belongings when visiting popular spots – and you will be absolutely fine. Remember to lock your car doors, too.
---
6. There's a bit of a language barrier
English is not as widely spoken in Montenegro as in some neighbouring countries. This is especially true when you move away from the coast into the interior. Older generations of Montenegrins are more likely to speak Russian or German as their second language, while many younger people are proficient in English.
The official language in Montenegro is Montenegrin, a variation of the Serbo-Croat language that's spoken around the former Yugoslav region. Though each country proudly proclaims to have its own national tongue, the languages are very similar. If you plan on travelling around for a long period, it really pays to learn some basic phrases that you can pull out across borders.
Google Translate doesn't recognise Montenegrin, so you'll need to search under Croatian (Latin alphabet) or Serbian (Cyrillic alphabet) when using the app.
---
7. Montenegro is more expensive than some other countries in the region
Dealing with Euros might be handy for calculating exchange rates, but the downside is that prices in Montenegro do err on the expensive side – especially when compared to neighbouring Albania or Bosnia. Montenegro is still an extremely affordable destination by any measure, but do be prepared to pay a little bit more for big-ticket items such as accommodation.
Unsurprisingly, prices in Budva, Kotor and Tivat are higher than in the national parks and mountain areas. Prices rise in the summer months, too – another reason to avoid peak season.
I kept a detailed daily budget for my Balkans trip, including for my 13 days in Montenegro. For two people, we spent a total of 280 Euros on food and drinks, 80 Euros on groceries, 115 Euros on ground transportation, and 90 Euros on activities and tickets. That's almost double the amount we spent over two weeks in Kosovo.
Watch out for 'sneaky' extra costs such as the tourist tax in Kotor (1 Euro per person per night) and the extra fees associated with stowing luggage on the bus (common throughout the Balkans).
8. Apartment guesthouses are king
Montenegro has every type of accommodation under the sun, from budget hostels to luxe resorts. If you're on a budget or you're interested in a more 'authentic' accommodation experience than a chain hotel can offer, then I highly recommend you stay in family apartments or guesthouses.
Guesthouses can be found in every city, town and village. Usually the set up will have you sleeping in private quarters within a family home. Meals are typically included for an extra fee, and that all-important parking spot comes included. Above all else, staying at a guesthouse is an easy way to directly contribute to the small business economy and have a meaningful interaction with a local. Some of my best Montenegro tips came from the families I stayed with along the way.
My most memorable stay was in the town of Rijeka Crnojevića at a guest house called Apartments Konak Perjanik. The historic house is attached to an old arched stone bridge and steeped in local legend – owners Ljudmila and Ivan know everything about the area, including stories about the prince!
The other family apartments I stayed at and loved are:
Note that wild camping is illegal in Montenegro but tolerated outside of national parks and beaches. It's best to stick to designated, paid campsites.
---
9. The heart of Montenegro lies beyond the Bokar
In local language, Montenegro's name literally means 'Black Mountain' – a big hint that the heart of the country is not its ultra-popular coastline, but rather its interior.
Montenegro has five national parks that cover 10% of the country's territory (not huge when you consider the capital city also covers 10%). Durmitor is by far the most popular and offers both day hikes and multi-day treks through a pristine landscape of craggy Dolomite-like peaks and charming alpine villages. Biogradska Gora in the north-east is one of only three remaining virgin rainforests in Europe, while Lovcen near Budva is home to the dark and mysterious peak that gave Montenegro its name.
Prokletije in the east is part of the Accursed Mountains or Albanian Alps where some of the Balkans' finest hiking routes, including the Valbona to Theth trek, are located. The final protected area, Skadar Lake National Park, is one of the most underrated places in the country and shouldn't be missed (more on Skadar later).
It might surprise you to learn that Montenegro has the highest number of species per area unit of any country in Europe. Montenegro takes biodiversity to the next level and is truly a treasure trove of flora and fauna.
Another huge plus: The deeper into Montenegro you go, the more affordable it gets. Prices halve and hospitality doubles as soon as you venture beyond the bay – so don't skip Montenegro's green heart.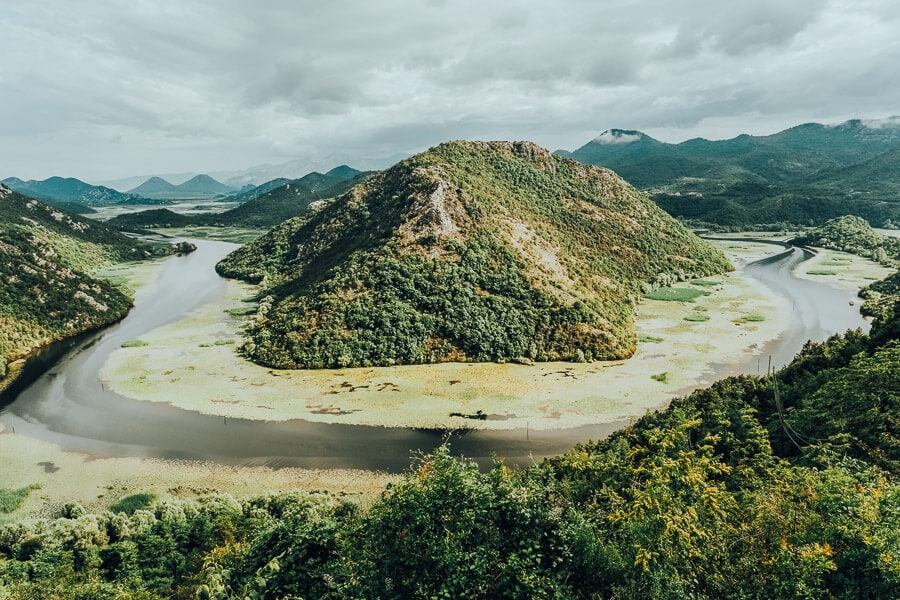 10. There are scenic viewpoints everywhere
If you happen to see a marked viewpoint on your map, it's almost always worth the detour. The sheer number of places where you can spontaneously pull over for a stellar photo is one of the major reasons why you need a car to visit Montenegro.
You'll find that many of the country's best viewpoints have circular concrete viewing platforms. My personal favourites are the ones at Lovcen National Park (for magic mountain vistas), Pavlova Strana (the famous spot where the Skadar river bends), and 'Ostrog Monastery approach' (for a far-away view of the monastery embedded in a cliff face).
The best viewpoint of all is a round platform tucked behind the Church of Saint Sava, looking directly down on Sveti Stefan. It took me a long, steep, bumpy drive and a few wrong turns to find this spot – but it was so worth it!
→ Read next: The most beautiful places in Montenegro.
---
11. There's a 'secret' way to visit St. John's Fortress for free
Speaking of heading skywards for a view – it's hard to top the panorama of Kotor that you get from St. John's Fortress, a set of castle ruins and viewpoints directly above Kotor Old Town. From the top, you look directly down on the orange rooftops and out to the mountain-fringed bay beyond. It's hard to describe how beautiful it is – my photos certainly don't do it justice!
So coveted is this view, you have to pay a rather hefty entrance fee of 10 Euros for the privilege. That's unless you take the 'secret' backway to the fortress that bypasses the ticket desk. Normally I'm not one to go for such sneaky tactics, but when my guesthouse host recommended it, I thought why not.
As well as saving you some coin, the alternative 'Ladder of Kotor' path is actually much more scenic and naturally a lot quieter. When I did it, the only other souls I encountered were grazing goats. The trail starts from behind the Hydroelectric Power Plant and culminates with a steep clamper and final squeeze through a hole to access the fortress. Note that it's quite rocky and uneven so good shoes are a must.
Once you're done taking photos, walk back down the regular path to reach the Old Town and use the money you saved to support a local business – or make a donation to Kotor Kitties, an NGO that cares for the city's stray cats.
12. You must spend a night in Perast when Travelling in Montenegro
Perast is hands down my favourite place in Montenegro. An old Venetian port like Kotor, it's sandwiched between a cove and a cliff. Every inch of the narrow town is occupied by beautiful Baroque palaces (there are 18 in total), public squares and churches with crumbling bell towers. Our Lady of the Rocks, one of two tiny islands just off the coast, is a must-see for the intriguing backstory and creative chapel.
The history, the culture, the legend – there's something incredibly captivating about Perast. (I mean, they even have their own local sweet, Perast Cake!). Not to mention the seafront is beyond picturesque and everything Montenegro dreams are made of.
The best part? Perast's harbour is too shallow for cruise ships to dock so once the day tour crowds have gone home, the town takes on a totally different ambiance. Perast at dusk, especially in shoulder season, is a special kind of magic.
My best advice is to spend a couple of nights at a guesthouse here and dedicate your evenings to strolling along the waterfront.
---
13. Montenegro has two capitals (and only one is worth visiting)
I'm the sort of traveller who can find beauty in the strangest of places. It's very, very rare for me to tell my readers to avoid a place – but in the case of Montenegro's capital city, I sadly have to make an exception.
I just couldn't get on board with Podgorica – and I know I'm not the only person who feels this way. I've seen it named 'ugliest capital in Europe' more than once – I think that's a bit harsh. Believe me when I tell you that I wanted to be the first travel blogger to fall in love with Podgorica and reveal its many hidden gems. I tried and tried, but I just couldn't find anything that captured my imagination.
It's almost as if Montenegro understands this too and so gave us a second capital as a backup. This is one of just two countries in Europe (16 in the world) with dual capital cities. While Podgorica is the official capital, Cetinje, the old capital, enjoys the status of Seat of the President of Montenegro.
The two couldn't be more different. Cetinje was founded in the 15th century and served as the royal capital for centuries. The architecture – especially the foreign embassy buildings – is quite delightful and can be admired while walking down several cafe-lined pedestrian streets. The 18th-century Cetinje Monastery in the centre of the city has some beautiful frescoes, while National Restaurant Belveder just outside the city limits serves delicious food against a backdrop of mountains.
Podgorica is quite underwhelming – the only real 'landmark' for tourists to see is the clocktower. I would love for you to prove me wrong – if you think I missed the mark on Podgorica, let me know in the comments what I should have seen or done and maybe I'll give it another try!
---
14. Don't skip one of Europe's prettiest (and most underrated) train rides
One thing Podgorica does have going for it is its railway station. Not the station itself – although the bakery inside does have one of the best Bureks in the Balkans – but rather the trains that run through it.
Belgrade to Bar is a legendary stretch of railroad that starts in the Serbian capital and culminates on Montenegro's southern coast. The most scenic part of the journey happens to be the section between Podgorica and Bar, where the train passes over a long, narrow bridge that floats on top of marshy Lake Skadar.
If you don't have time for the whole 12-hour journey, you can enjoy the 60-minute Podgorica to Bar stint. Tickets only cost a couple of dollars, and Bar itself is a wonderful place in its own right, especially Old Bar with its ancient olive groves and aqueduct.
---
15. Don't miss a boat ride on the biggest lake in the Balkans
Skimming the surface of Lake Skadar on the train is one thing – taking a boat ride for an up-close look at the marshes and wildlife is another. Shared between Montenegro and Albania, this is the largest lake in the Balkans, one of the oldest lakes in Europe – and one of the most visually pleasing spots in the region. It's one of the top places in Europe for bird watching – but even if you have no interest in birds or wetlands, it's still a very enjoyable activity.
Virpazar is the easiest place to charter a boat for a 2-3 hour jaunt on the water. Find a captain who speaks your language and can narrate the journey. When I did this trip, our captain was a fountain of knowledge on local flora and fauna and brought the area to life with his vivid descriptions and tidbits of information. In spring nesting season, you can see herons, spoonbills, eagles and much more.
Boats also depart from Rijeka Crnojevića at the western end of the lake but are a touch more expensive because there's less demand.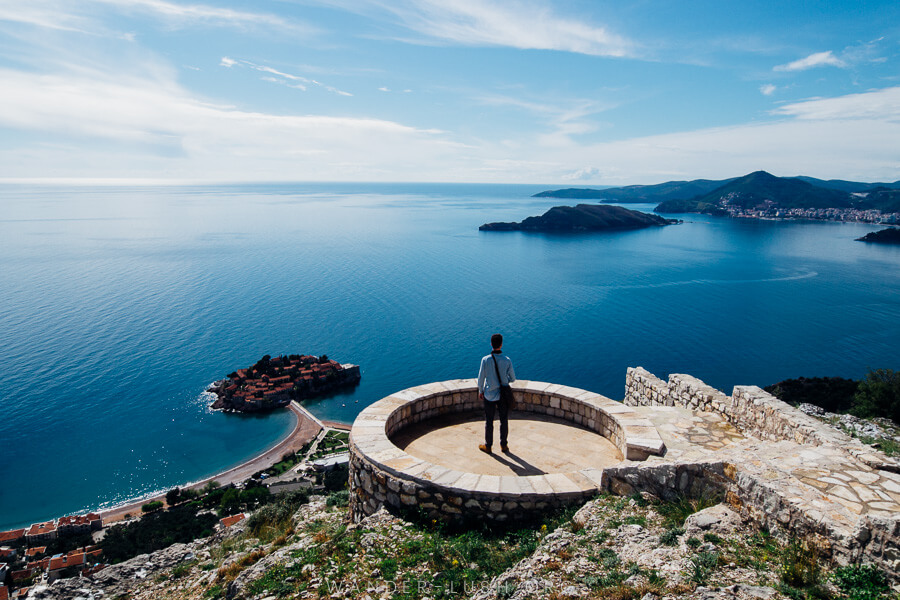 16. Sveti Stefan is worth it just for the views
Sveti Stefan is probably the most iconic place in Montenegro – you'll often see the islet with its brick-coloured rooftops and narrow land bridge gracing the covers of travel magazines.
Before I arrived in Sveti Stefan, I had no idea that the island is off-limits to tourists. (Unless of course you're staying at the Aman, the resort that bought out the entire island and blocked off access with a velvet rope.)
I have to be honest, I was more than a little disappointed when I realised I couldn't explore the alleyways of Sveti Stefan. I guess it's my own fault for not doing my research. But my despair was short lived when I realised that the island looks much better from afar anyway.
There are viewpoints all over the mainland where you can get different vantages. The best is the one I mentioned earlier at the Church of Saint Sava, high in the hills above town. I also really enjoyed walking through the coastal park north of the island at sunset.
Is Sveti Stefan still worth visiting even if you can't set foot inside the main attraction? In my opinion it's a definite 'yes'. As well as the views, Sveti Stefan is a stone's throw from the Bay of Kotor and other places on the southern coast (including Petrovac), making it a good base for exploring. There are some lovely guest houses and restaurants here, too.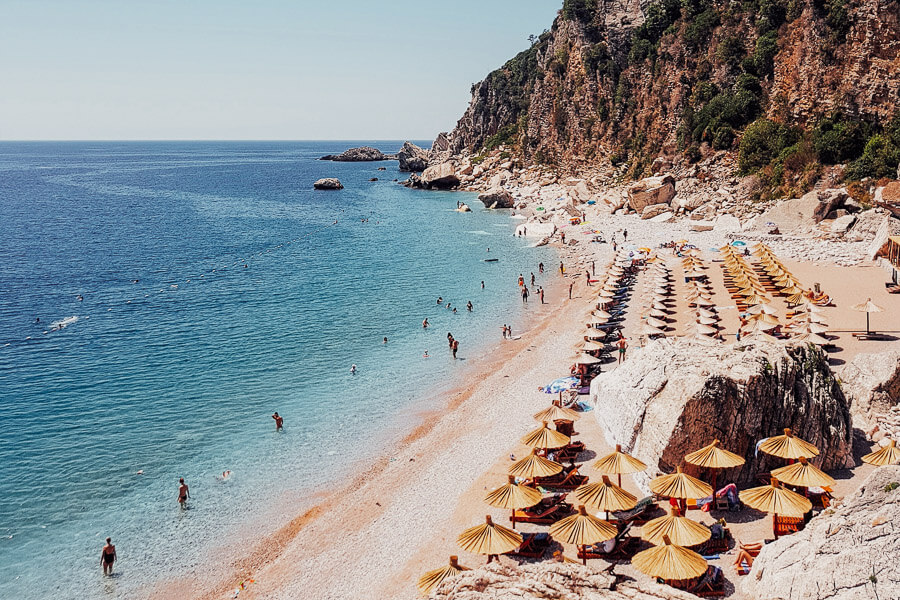 17. The best Montenegro beaches are in the south
Montenegro has no fewer than 115 beaches scattered along its 290-kilometre coastline, most ranging from grey rocks to pink pebbles. For white-sand beaches, you'll need to head to the southernmost part of the coast around Ulcinj.
Ulcinj has a strong Albanian influence and feels quite different to other places in Montenegro. It's a total contrast to the Bay of Kotor and much more popular among regional tourists than the cruise ship crowd.
Though not a patch on the beaches further south on the Albanian Riviera, the coast here is quite pleasant. The best thing about swimming in Ulcinj is that you're always in the shadow of Ulcinj Fortress, a majestic castle set over the sea.
---
18. Montenegrin cuisine is for meat lovers
From Cevapi and Burek to mountains of fish and seafood on the coast, meat is always on the menu. Like any Slavic country, Montenegro food is heavy on protein and more limited when it comes to fresh fruit and veg.
Having said that, it would be unusual for a restaurant/cafe in a city or larger town to not offer at least a few vegetarian-friendly options. Some traditional dishes such as Kacamak, a mountain dish made from cornmeal, potatoes and Kajmak cream cheese, are vegetarian by design. Almost every restaurant has a big selection of meat-free soups and salads, too.
Italian food is hugely popular in Montenegro so at a pinch, you can always find a Neapolitan pizza or a three-cheese pasta to fill your belly. If you have dietary requirements, consider eating meals at your guest house where you can put in special requests ahead of time.
---
19. Montenegrin wine is surprisingly good
Montenegro's Mediterranean climate lends itself to cultivating grapes. Though not nearly as well-known on the world stage as Croatia or even North Macedonia, Montenegro's wine culture is one of the oldest in the region, predating wine-making in Italy and France.
Montenegro is synonymous with deep, aged red wines made from Vranac grapes. All of the country's vineyards are located in the eastern zone between Podgorica and Lake Skadar and can be visited on a trip along the Wine Route from the capital. Popular vineyards include Winery Masanovic, Savina and Cermeniza.
Even if you don't partake in a vineyard tour or wine degustation, you can still taste Montenegrin wine (and brandy) at restaurants around the country.
---
20. Almost everybody smokes – but not indoors
One of the things I definitely did not enjoy about Montenegro was the prolific smoking. Montenegro has the highest tobacco-consumption rate in Europe, with the average adult lighting up 4,124 cigarettes in a year (four times more than the US average). Yikes.
Thankfully, things appear to be moving in the right direction. In August 2019, Montenegro banned smoking in indoor public places, including in restaurants and cafes. If you're sitting outside, you should still be prepared for a side of second-hand nicotine with your salad nicoise.
Smoking is commonplace among taxi and bus drivers, too. Don't be afraid to speak up if the driver lights up.
---
21. Most Shops in Montenegro are closed on Sundays
A small tip but a biggie for unsuspecting tourists – almost every shop in Montenegro is closed on Sundays. That includes grocery stores, mobile phone shops, corner stores, malls and some (but not all) pharmacies. Most banks are closed all weekend long.
This has been the norm since the country's Internal Trade Act came into effect in October 2019. It also prohibits retail trade on public holidays (there are 14 national holidays in Montenegro, check the dates here).
If you happen to be in Montenegro on a weekend or holiday, plan accordingly and stock up on snacks the night before!
---
Plan your trip to Montenegro
If you're considering a trip to the Balkans, I hope this underrated nation is on your radar!
Here are a few resources to help you plan the perfect itinerary.
Montenegro essentials
Here are my favourite resources to help you organise your visit to Montenegro.
FLIGHTS: Find affordable flights to Montenegro on Skyscanner.
TRAVEL INSURANCE: Insure your trip with HeyMondo, my preferred provider for single-trip and annual travel insurance.
CAR HIRE: Use Local Rent to hire a budget-friendly car from a local agent (prices start from 15€/day) or jump on the Discover Cars website to hire a car through an international company.
ACCOMMODATION: Find the best hotel and apartment deals on Booking.com, the most popular booking platform in Montenegro.
TOP-RATED MONTENEGRO DAY TRIP: Durmitor, Tara & Ostrog Monastery (from $60/person).
MORE TRAVEL TIPS: Check out this post – 21 things to know before you visit Montenegro.
---
Any more Montenegro travel tips you'd like to share? Leave your thoughts in the comments below.
---