There's a whole lot to love about the island of Sicily, from the impressive scenery and fabulous weather to the gorgeous cities and delicious food and drink.
Sicily's unique culture and rich heritage of craftsmanship that combines influences from Europe, North Africa and the Middle East means that some of the most beautiful products in all of Italy are produced here.
Sicilian masters work with materials such as clay, coral and obsidian volcanic glass to craft gorgeous items for home and daily wear. Meanwhile farmers cultivate artisanal olive oil, capers, Malvasia wine and cocoa for Modica chocolate using local and organic produce.
If you're wondering what to buy in Sicily, here are 16 of the best items out there, including traditional handicrafts and the best Sicilian foodie souvenirs.
---
Please note: This post contains affiliate links, meaning I may earn a commission if you make a purchase by clicking a link (at no extra cost to you). Learn more.
---
Italy essentials
Here are some helpful websites and resources you can use to organise your trip to Italy.
FLIGHTS: Find affordable flights to Italy on Skyscanner.
TRAVEL INSURANCE: Insure your trip with HeyMondo, my preferred provider for single-trip and annual travel insurance.
SIM CARD: Buy an eSIM and data package for Italy online before you go. My top choice is the Eurolink eSIM from Airalo (10 GB for 30 days).
ACCOMMODATION: Find the best hotel deals in Italy on Booking.com.
CAR HIRE: Find the best price on a hire car in mainland Italy or Sicily using Discover Cars.
DAY TOURS: Book skip-the-line tickets, city tours and day excursions in Italy using Viator.
FOODIE EXPERIENCES: Find the best food tours and cooking classes in Italy on Cookly (use the promocode EMILYLUSH to get 10% off).
---
Sicily shopping supplies
Protect your bottles and jars. If you plan on buying wine, olive oil or preserves in Sicily, you'll need a travel protector bag to carry them home safely. This set of 8 reusable bags comes with its own travel-friendly pump.
Insulate your chocolate. Modica chocolate and Sicilian candies make for great sweet souvenirs. An aeroplane-friendly foil bag will keep them fresh and prevent them from absorbing odours or spoiling on the way home. Try this pack of 5 resealable bags.
Skip the plastic bag. This lightweight, machine-washable market tote comes with its own carry case (like a mini sleeping bag) so you can easily roll it up and pack it in the bottom of your suitcase.
---
Authentic Sicily souvenirs: Sicilian handicrafts & traditional products
1. Teste di Moro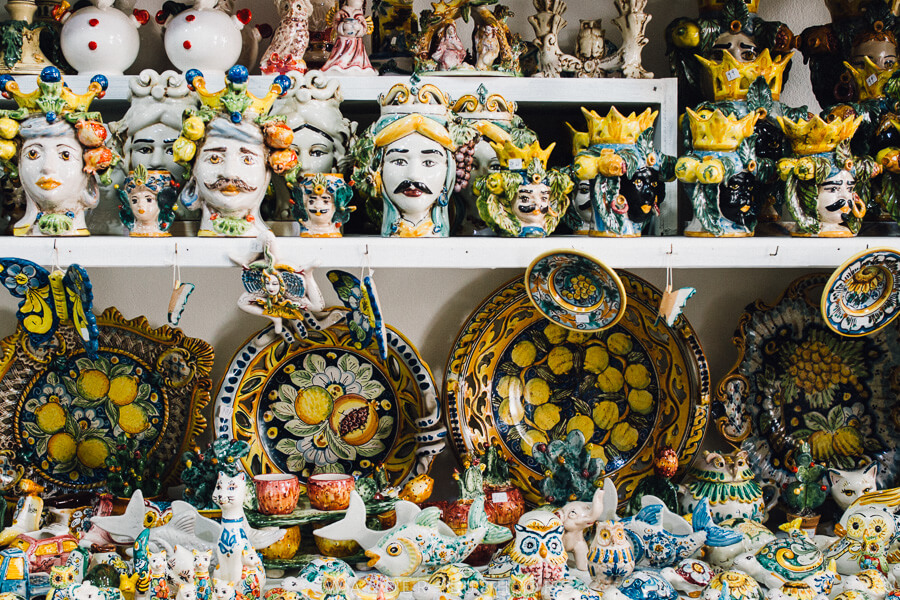 Teste di Moro means 'Moor's heads' and you're bound to see plenty of these colourful head-shaped vases during your vacation in Sicily.
A Testa di Moro is one of the most famous symbols of the traditional ceramic industry in Caltagirone, a UNESCO World Heritage site that is famous for its rich cultural heritage.
Master craftsmen all over Sicily make the vases by hand, and each one is painted to reflect the tradition of each individual area. As the legend goes, Teste di Moro is rooted in a fateful love story that ended with the male protagonist sacrificing his head as a flower pot!
You'll see Teste di Moro decorating homes and balconies all over Sicily. Why not bring home your own colourful character to add some flair to your home or garden.
2. Trinacria medallion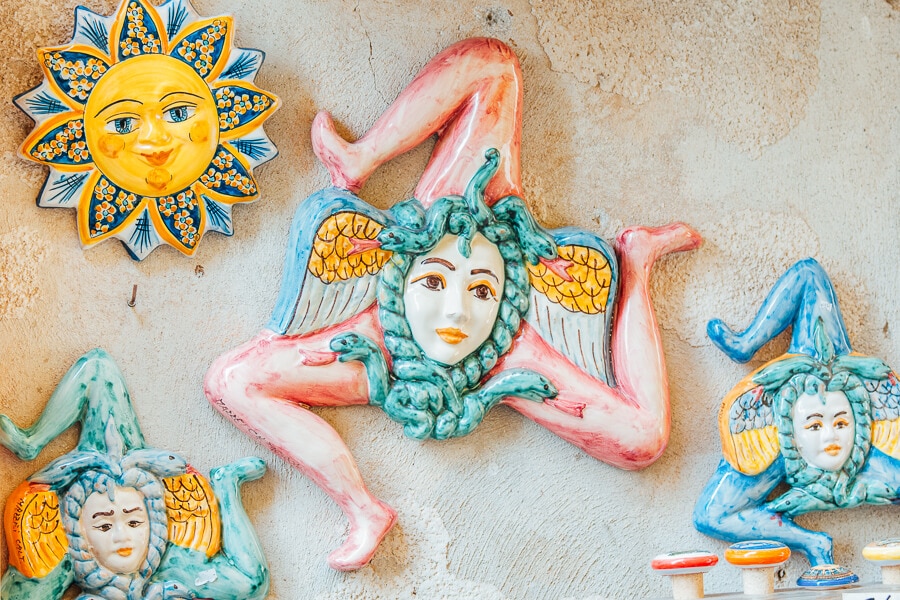 Another emblem of Sicily, the Trinacria adorns the Sicilian flag and can be seen all over the island in different forms.
The three-legged Trinacria mirrors the shape of the Sicilian mainland and is full of symbolism. The head is clearly a nod to Medusa, while the stalks of wheat reference fertility and prosperity, attributes associated with Sicily and its rich soil since Roman times.
In the past, families would hang clay Trinacrias on the back of their doors to protect the home and household.
Today you can purchase the colourful ceramic medallions as magnets or wall hangings, and you can even find different interpretations of the Trinacria crafted from silver and gold as beautiful jewellery.
3. Caltagirone ceramics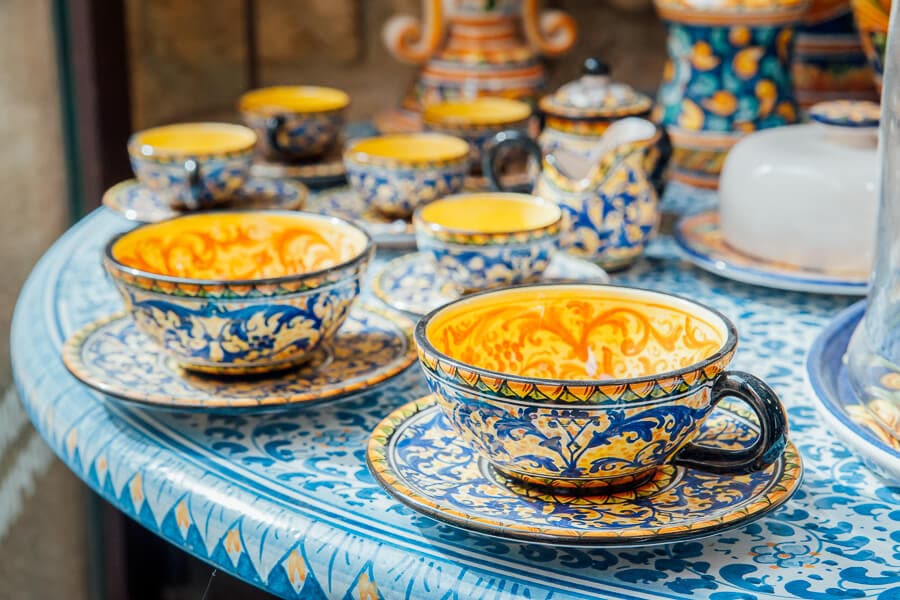 Caltagirone is known as 'the city of Sicilian ceramics' and its name comes from an Arabic word that means the Castle of the Vases. It has been designated a UNESCO World Heritage Site and is famous for creating pottery in a huge variety of styles.
Caltagirone ceramics (including Teste di Moro) have been used to decorate homes and public spaces for centuries. Their typical dominant colours of sage green and yellow reflect the hues of the island itself.
If your vacation includes a visit to the Regional Museum of Ceramics in Caltagirone, you're sure to want to take some Caltagirone pottery home as a souvenir of Sicily.
The vases might be a bit too bulky to carry home; opt for a suitcase-friendly dinner set, decorative plate or tile.
4. Pupi Siciliani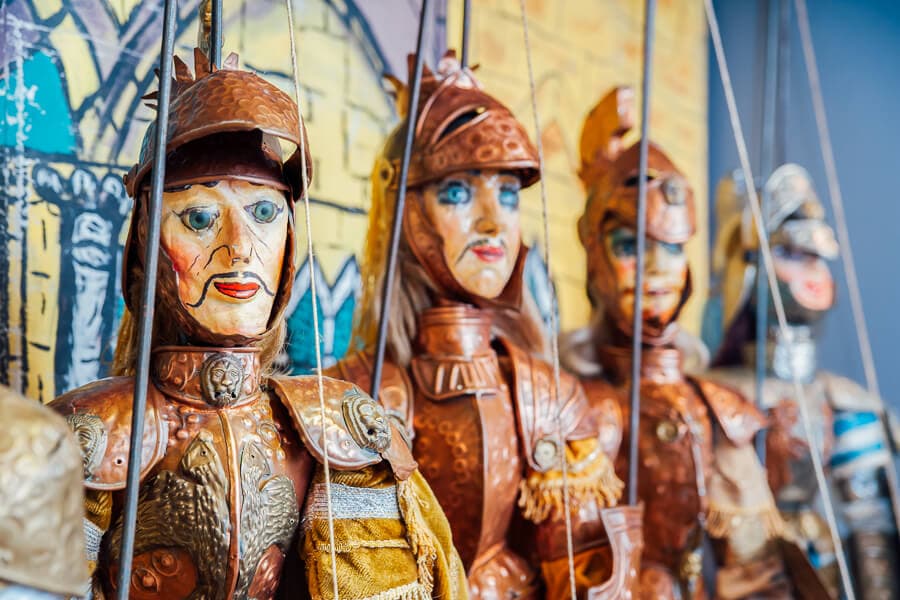 The Opera dei Pupi or Opera of the Puppets is an immensely popular Sicilian puppet opera show. It dates back to the mid-19th century and has been recognised by UNESCO as one of the most significant expressions of Sicilian cultural identity.
The puppets are used to represent traditional medieval poems, re-telling tales of romance and chivalry as well as short comedies and well-known stories such as Romeo and Juliet.
Popular puppet characters include Christian and Saracen warriors and farcical characters such as Nofrio and Verticchio from Palermo.
Taking one of these typical hand-painted Sicilian puppets home with you will be a great reminder of your time in Sicily.
5. Artisanal Sicilian jewellery
Sicily has a thriving artisanal jewellery industry. Catania, Taormina, and Castelmora are all great places to shop for jewellery, as is the capital of Sicily, Palermo.
Each piece of traditional Sicilian jewellery is made with passion and reflects some aspect of the island's rich history. You'll often see jewellery made with local natural materials such as red Sciacca coral, black lava stone, and obsidian.
It's also worth looking out for bobbin lace jewellery when you're shopping in Sicily. This ancient art is a very delicate and intricate form of silver jewellery that is only made by a few talented individuals.
6. A Coppola hat, one of the best Sicily souvenirs for men
The Coppola is a traditional flat cap that has become an iconic symbol of Sicily. Tradition says that it was brought to the island by English families who settled there in the late 19th and early 20th centuries, although there are mentions of the Coppola hat further back in Sicilian history.
Now it is worn by men across the island as part of the unofficial Sicily uniform. You'll find them for sale in shops and markets in towns including Palermo, Syracuse and Agrigento.
But take care when you are shopping as you will find that a lot of Coppolas are made in China and India. It's much better to buy a genuine Coppola cap made by a local artisan.
7. Carpets from Erice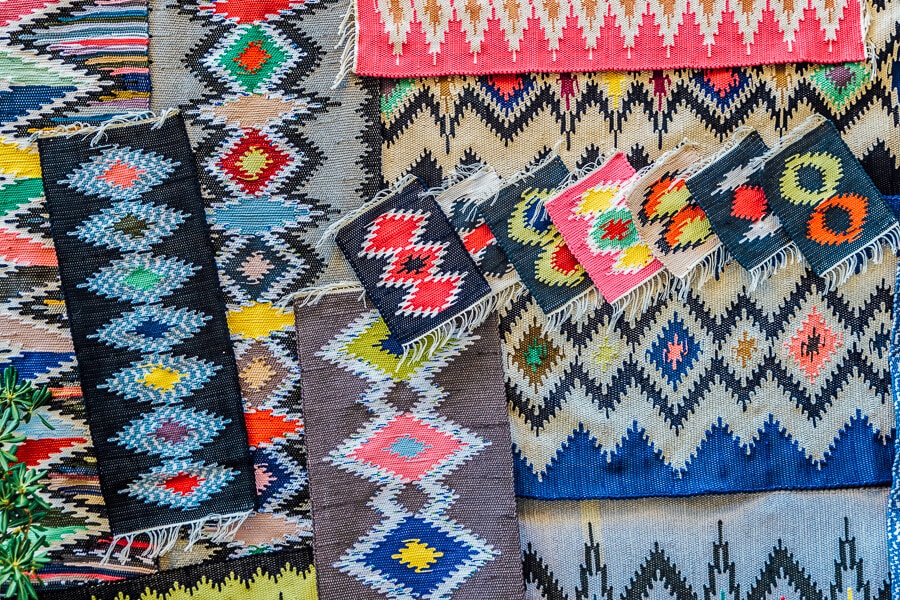 The small town of Erice in western Sicily is synonymous with carpet weaving, a tradition brought to Sicily from Greece and the Middle East.
The first weaving studios were established here in the 13th century and quite incredibly, many women continue to produce carpets using the same time-honoured techniques passed down through the generations.
Erice carpets are made by arranging parallel threads and fabric strips on the loom. This gives the final textile its distinctive geometric pattern.
A short drive from Trapani, Erice is a gorgeous spot and very much worth visiting to watch the artisans at work – and pick up your own souvenir! You'll find several craft workshops in the centre of town where women work the looms.
8. Miniature horse cart or ape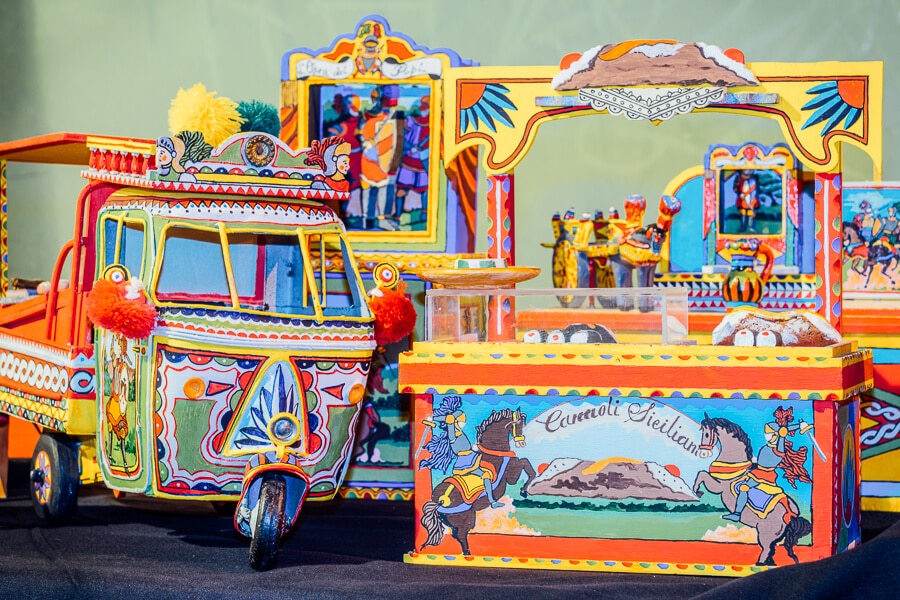 Carts drawn by horses or donkeys were used daily across Sicily for aeons – and its this tradition that inspired craftsmen to fashion miniature toy carts from wood. Today you can also find effigies to another popular form of modern transport on the island: the three-wheeled ape!
Intricately patterned wooden carts carry hand-painted decorations designed to ward off evil spirits. In many ways they remind me of chiva buses, mini versions of which you can buy in Colombia.
9. Volcanic soap & natural pumice stone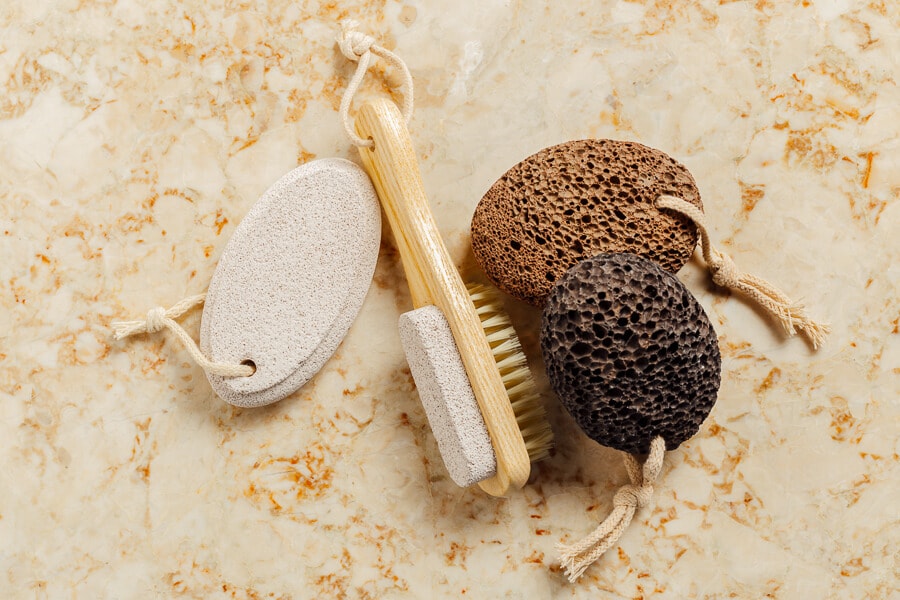 With no fewer than six volcanoes, including the active Etna and Stromboli, it's no wonder Sicilians have turned to the bounty of geological materials on their island to craft distinctive objects and products.
Volcanic soap is known for its purifying properties, while natural pumice stone is excellent for exfoliation. Both products are completely natural and can be found in gift shops and markets around the island.
---
Sicily souvenirs for your kitchen & pantry
10. Malvasia wine
While you sadly won't be able to take that island sunset home with you, you can certainly recreate the joy of Sicilian sundowners by savouring a bottle of Sicilian wine at home.
Malvasia delle Lipari is a Denominazione di Origine Controllata (DOC) for the wines produced from the Malvasia grapes on the Aeolian Islands, which lie off Sicily's northeastern coast. Lipari is the largest of these islands and the only one which has more than a few thousand residents.
Malvasia-based wines were traditionally sweet, but now they tend to be big reds and dry whites that suit more popular tastes.
It's worth picking up a bottle of Malvasia delle Lipari wine that is marked dolce naturale, as this is much sweeter and goes very well with desserts.
11. Marsala wine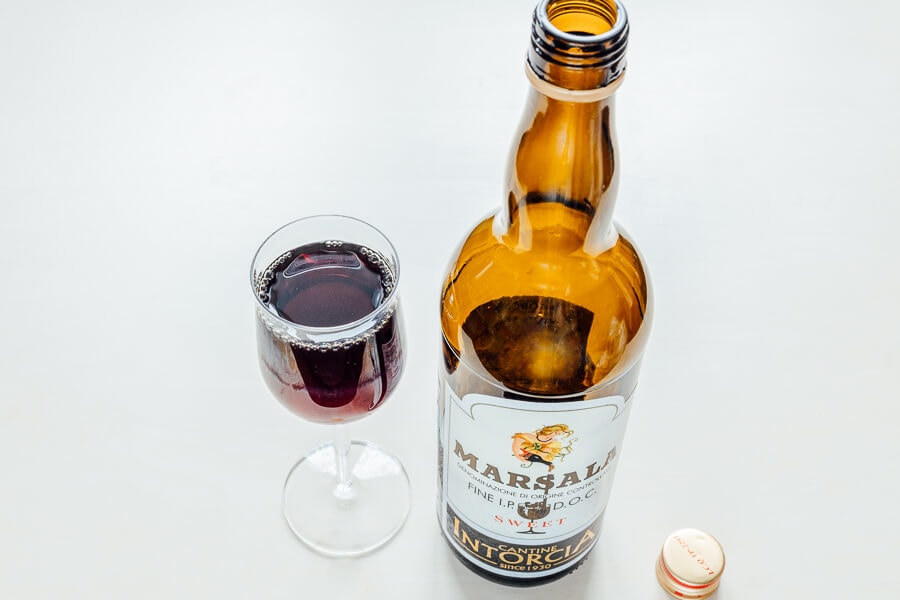 Marsala wine is another excellent take-home for your liquor cabinet or indeed your kitchen pantry. This rich fortified wine is produced on the far-western tip of the island and has had DOC status since 1969.
Dry Marsala can be sipped as an aperitif, while the sweet versions are the perfect dessert wine. It's also very popular for cooking and makes a delicious reduction for mushrooms, risotto or chicken.
If you're visiting the island of Pantelleria, pick up a bottle of Passito di Pantelleria, a similar-but-different wine made from raisins.
12. Modica chocolate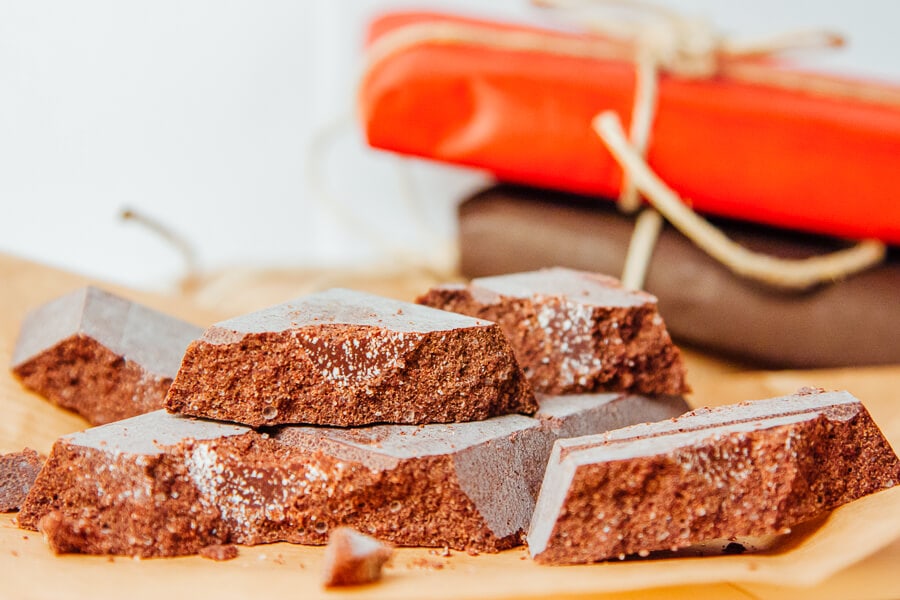 The perfect Sicily souvenir for anyone with a sweet tooth, this traditional Sicilian sweet is made in the town of Modica in south-eastern Sicily. Here you'll find chocolate bars, shops and even a museum dedicated to this artisanal foodstuff.
Modica artisan chocolates are made using a centuries-old cold-working process and contain no added fat apart from the cocoa butter itself. Because the chocolate is heated very gently, the sugar crystals don't dissolve which protects the beneficial properties of the cocoa. It also gives Modica chocolate its unique flavour – dark and rich with flavours of citrus and spice.
Taking home some Modica chocolate from Sicily is certainly a delicious way to remember your holiday.
13. Frutta Martorana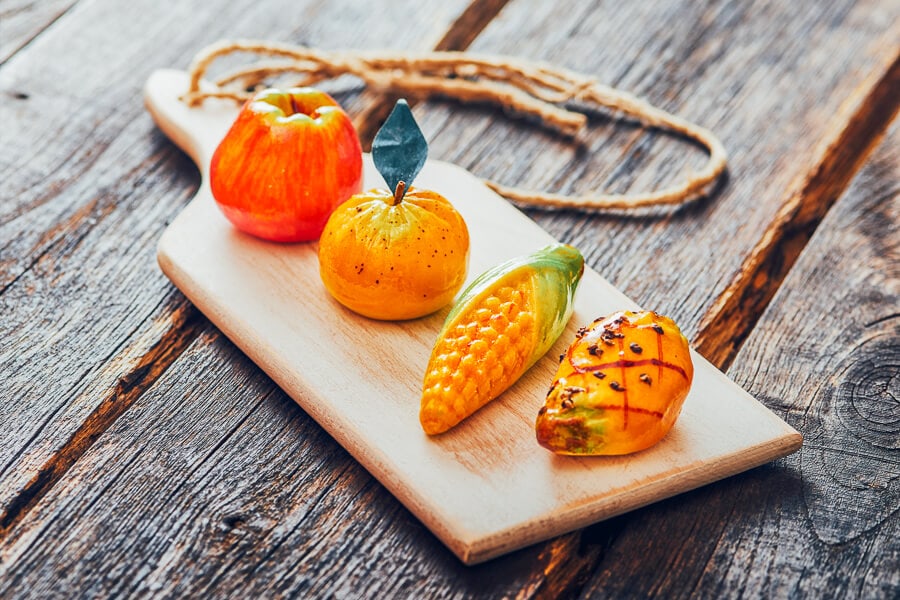 Another traditional candy from Sicily is Frutta Martorana. These sweets are perfect reproductions of fruit and vegetables made from marzipan (almond paste).
The Frutta Martorana were invented many centuries ago by the nuns of the Martorana cloister in Palermo. They are particularly popular as part of the Festival of the Dead on November 2nd, as are also eaten and shared in the weeks leading up to Christmas.
But you can buy Martorana marzipan fruit and vegetables all year round from nearly every pastry shop in Sicily, where you'll see them displayed in wooden boxes and wicker baskets.
14. Sicilian capers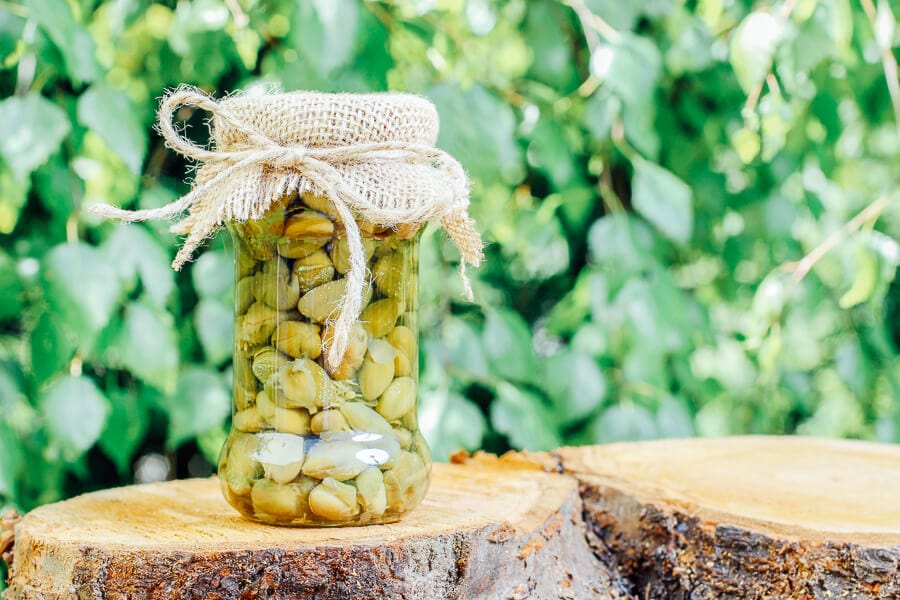 Sweet and fragrant Lilliput capers grow in many parts of Sicily, including on the island of Salina, part of the Aeolian archipelago. A jar of salt-cured capers is considered a pantry staple by many Sicilian chefs, so you'd do well to pick up your own when visiting the islands.
My uncle Santino grows and preserves capers on Salina the old-fashioned way – I might be biased, but I think his capers are the best in the world! In this article, he talks about the traditions of growing capers.
15. Sicilian extra virgin olive oil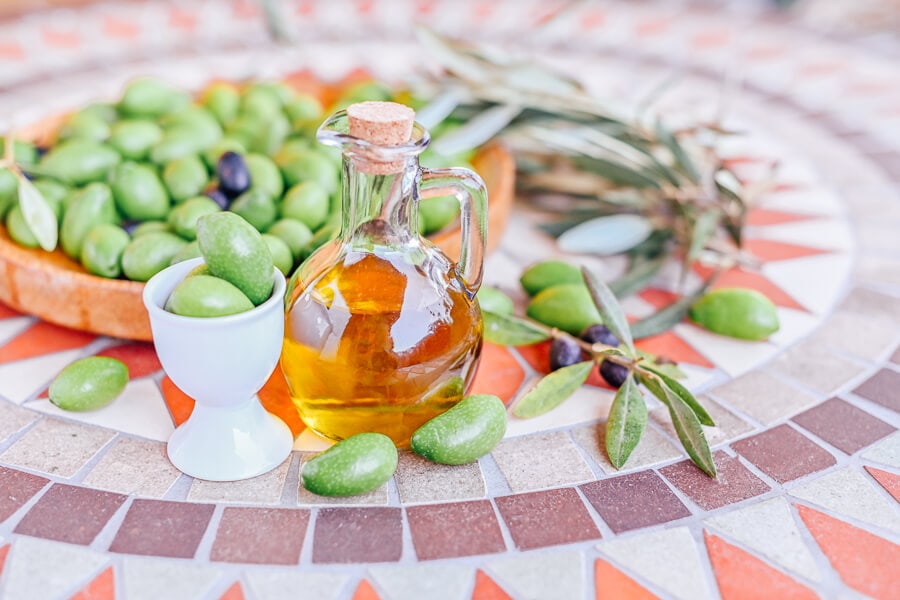 Olives grow in abundance all over Sicily. Two particular varieties, Nocellara and Tonda Iblea, are considered among the finest in all of Italy – that's why some chefs believe Sicilian olive oil is the finest in the land.
Popular brands include Valle del Belice, Val di Mazara, and Valdemone.
16. Mostarda di Fichi d'India
And my final suggestion is one of the most traditional Sicilian foods you can find. Mostarda di Fichi d'India is a preserve or paste made from the prickly pears that grow in Sicily. Once you have tasted it, you will never forget it.
The prickly pear is part of the cactus family and it is a beloved symbol of the island. Beneath its spiky skin lies a sweet and juicy flesh with a wonderfully unique tang.
Of course you could try making your own prickly pear preserve at home, but preparing the fruit is a tricky task and you need to take great care not to injure your hands on the spikes.
It's a lot easier to take some jars of Mostarda di Fichi d'India home with you. Find it at grocery stores and markets.
---
More Italy ideas