Do you travel for culture?
Whether it's festivals, traditional rituals or hands-on workshops where you can learn a new skill, there are countless opportunities to immerse yourself in local culture on your travels.
This list brings together 30+ of the world's most unique travel experiences that will teach you something about local culture and about yourself.
I hope you find some inspiration for your next journey inside!
Also read:
---
Please note: This post contains affiliate links, meaning I may earn a commission if you make a purchase by clicking a link (at no extra cost to you). Learn more.
---
Unique cultural experiences around the world
Celebrate Day of the Dead in Oaxaca, Mexico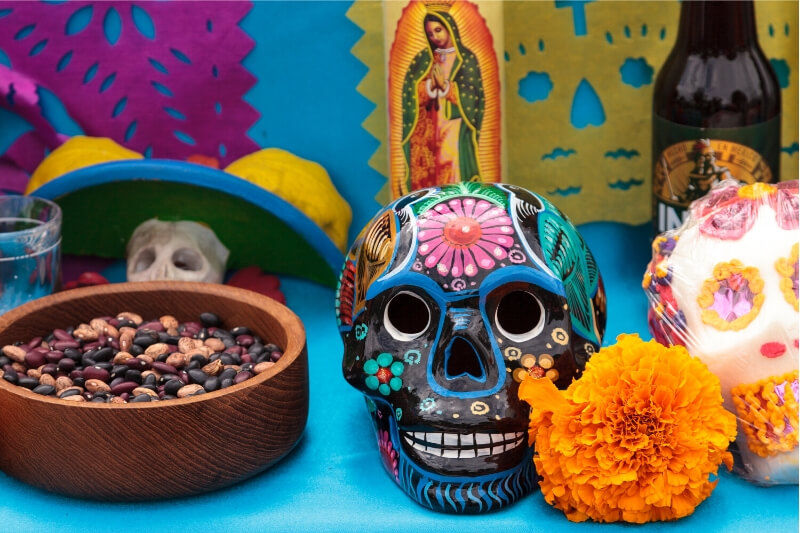 Celebrating Day of the Dead in Oaxaca is a true Mexico bucket-list experience. Día de Muertos is marked in cities and states throughout the country, though some celebrations are more culturally immersive than others.
One of the best places for a cultural Día de Muertos experience is Oaxaca City, the capital of Oaxaca state. The holiday takes place on November 1-2, though many arrive early to see the town gear up for the occasion. As Day of the Dead envelopes this entire city, preparations start a week prior.
Día de Muertos is an important part of Mexican culture and has pre-Hispanic roots, as the Aztecs celebrated a multi-day holiday to commemorate the dead. It was later intertwined with the Catholic Allhallowtide holiday, and further still, there are many contemporary traditions.
Today, it's one of the most important festivals in Oaxaca. It is a time to remember our deceased loved ones, but also to celebrate with them as it's said their spirits will return Earthside for the holiday.
While this is a holiday about death, it is also a festive celebration, complete with comparsas (parades), elaborate ofrendas (altars), street parties, and more.
By Shelley from Travel Mexico Solo
---
Participate in a traditional tea ceremony in Kyoto, Japan
It's no secret Japan has managed to embrace centuries-old traditions whilst bringing them into the present day. The best way to better understand the unique culture of Japanese people is through local experiences, and a tea ceremony in Kyoto is no exception!
Who better than an actual geisha to talk you through the different components of this beautiful tradition? She will teach you the four key principles of a ceremony made popular by Sen no Rikyu (one of Japan's Great Tea Masters of the 16th century); demonstrate a purification process of the utensils used; illustrate how to whisk the matcha powder correctly; show you the correct way to hold the tea bowl; and explain why it's polite to loudly slurp the final sip.
A traditional tea ceremony perfectly embodies the attention to detail that is displayed in many aspects of life in Japanese culture. Why not see for yourself in the very city it was first introduced in Japan?
By Alyse from The Invisible Tourist
---
Recieve a traditional Buddhist blessing in Siem Reap, Cambodia
Siem Reap AKA 'Temple Town', the home of Angkor Wat, is the spiritual heartland of Cambodia and one of the country's must-visit destinations. Cultural travellers should take the time to go beyond the typical tuk-tuk tours and delve deeper into the world of Theravada Buddhism.
Cambodia's official religion since the 13th century, Buddhism is a critical part of the local culture and informs all aspects of daily life. Receiving a traditional Buddhist blessing at one of Siem Reap's temples will help you to better understand Cambodia, and set you in good stead for the rest of your travels.
The ceremony starts when you enter the temple and make an offering to the resident monks before joining them to sit cross-legged on a floor mat. After a series of rituals, a red string bracelet is tied around each participant's wrist. In Cambodian culture the colour red symbolises faith, good luck and protection. The bracelet absorbs negative energy and must be worn until it falls off (it's bad luck to cut it!).
The blessing continues with chanting, praying, and a water anointment. If you participate in a ceremony as part of a Buddhism Tour with social enterprise Ayana Journeys, you'll then have a chance to chat to the monks about their daily life and learn more about the Buddhist tradition.
Don't miss the opportunity to receive a traditional blessing in Cambodia, one of the best cultural experiences in the world.
---
Herd sheep at the Rettir in Iceland
If you're looking for one of the most unique experiences in Europe, then head to Iceland in September for Rettir.
First, it's important to know that there are more than twice as many sheep as humans in Iceland – crazy, right? Rettir, herding the sheep for the winter, is a tradition with a 300-plus year history.
In summer, Icelandic farmers allow their sheep to wander. There is little fear of large predators as they don't exist in Iceland, so the sheep can enjoy roaming the Icelandic Highlands without worry during the warmer months.
When the weather turns cold, it's time for Rettir, the annual gathering of the sheep by farmers, family and friends. Once the sheep are found, they are corralled into a large circular pen and then distributed back to their farmers.
This event is a joyful celebration and visitors to Iceland are more than welcome to help out. There are so many sheep so the more hands the better. If you want to partake in this wonderful community tradition, research in advance or ask around once you arrive in Iceland.
By Victoria from Iceland Trippers
---
Go nomadic camping in Kyrgyzstan
Experience the life of a nomad by sleeping in an authentic yurt in Kyrgyzstan. A Kyrgyz yurt is a mobile dome-like dwelling made with mostly natural materials. The birch structure has a wood stove and is covered in water-resistant wool and felt, providing warmth in harsh weather conditions.
Unlike the 'glamping' tents you see in first-world countries, these traditional yurts function as a family home. You will see Kyrgyz people tending to their livestock, preparing dinner and raising their family in remote areas that you can only reach by foot or 4×4.
To experience the beauty of the country, go on a 3-day horse trek to Song Kol Lake with Kyrgyz Riders. The trek takes you through awe-inspiring sights to an alpine lake sitting at 3,016m elevation. Along the way you will stay at authentic yurt camps where you can live a day in the life of a Kyrgyz nomad. It's an incredible way to learn about a different culture and appreciate the nature around you.
By Cecily from Groovy Mashed Potatoes
---
Paddle an outrigger canoe in Hawaii
A Hawaiian Canoe Experience is perfect for those looking to gain a deeper understanding of Hawaiian culture. Many hotels in Hawaii now offer unique cultural activities such as outrigger canoe trips to redefine what constitutes a genuinely 'authentic' Hawaiian island experience.
The first Polynesian outrigger canoes appeared in Hawaii in about 200 AD. Some of them were large enough to carry up to 80 people as well as essential items such as food, water and animals for the cautious voyagers who set off in search of new territory. Explorers quickly discovered the Hawaiian Islands after following bird sightings overhead.
Paddling a traditional Hawaiian canoe is an incredible experience and will give you a true appreciation of Hawaiian culture and history. Along the way, take part in traditional Hawaiian songs as you paddle along the south coast of Maui, with views of Mt. Haleakala, the West Maui Mountains, and the islands of Lanai, Kahoolawe, and Molokini.
By Casandra from Karpiak Caravan
---
Harvest grapes for Rtveli in Georgia, one of the world's best cultural experiences for wine lovers
The nation of Georgia has no shortage of amazing travel experiences on offer at any time of year. But for a truly memorable encounter, visit Georgia in autumn for the Rtveli wine harvest.
Rtveli is tied to the country's 8,000-year-old winemaking tradition, UNESCO-listed for its value to global culture. The Georgian technique sees grapes with their skins, seeds and stalks still attached fermented underground in huge clay vessels called Qvevri. The result is a full-bodied, natural wine.
During Rtveli, some 10,000-plus families attend to their vineyards to pluck the season's grapes and prepare them for the Qvevri. It's an auspicious time accompanied by feasting, music and much celebration. Many of the bigger wineries organise special Rtveli events for visitors to participate in.
The Rtveli usually starts in the final weeks of September in Kakheti region and runs as late as November in Western Georgia's Guria, Racha-Lechkhumi and Adjara regions.
---
Tend the rice fields in Luang Prabang, Laos
As you travel around Laos, you'll see countless rice fields peppered across the landscape. Rice has been grown in Laos for centuries, and today it plays a large part in the national economy and the fabric of life as well as being a major food source for local people.
If you want to learn more about how rice is cultivated with a truly hands-on experience, head to the Living Land Rice Farm just outside Luang Prabang.
Probably the best rice farm experience in Laos, this innovative local enterprise lets you try out the different stages of production for yourself. First up is the ploughing, which you get to do with a real water buffalo! It's bare feet all the way as you wade through the muddy paddies. Then you'll have a go at planting, harvesting, threshing, and grinding, all using traditional tools.
At the end of your day, you can taste the fruits of your labour with a special rice-themed meal.
By Heather from Conversant Traveller
---
Tour a coffee farm in Jardin, Colombia
If you're travelling to Colombia and want to have the best cultural experience possible, you simply can't miss out on a coffee farm tour. Learn all about Colombian coffee and its production process, everything from planting the seed right up to sipping a cup of perfectly ground coffee.
You'll learn that Coffee production in Colombia is an integral part of life for many families who live in Colombia's coffee region, and despite the uphill struggle, have continued this trade for many generations. As with most agritourism tours, you'll pay a fee to take part in a coffee farm workshop and have a go at picking the coffee beans as well as learn all about the drying, fermenting, and roasting process.
Since there are thousands of farms around the country, aim to select a farm like Finca Florida in Jardín, which specialises in Organic coffee crops for the most authentic experience which will also enable you to dig deeper into the everyday life of a Colombian coffee farmer.
By Dan from Layer Culture
---
Overnight at a desert camp in Oman
Oman's desert, the Sharqiya Sands (Wahiba Sands), is one of the most magnificent places to visit in the country. Not only is this landscape of never-ending rippled dunes, deep wadis and oases easy on the eye, it's also a huge part of Oman's national identity.
Spending the night in the desert is a popular activity throughout the Middle East. In Oman, traditional Bedouin-style camps preserve a part of the local culture that's missing from some other places. Luxury tents use traditional woven textiles and antique tea sets, while music performances and activities such as camel riding are designed to teach participants about the Bedouin way of life.
Overnighting in the Empty Quarter and immersing yourself in Oman's rich heritage is one of the most unforgettable cultural travel experiences you'll find in the region. Be sure to set aside a night or two in your Oman travel itinerary to travel deep into the desert and fall asleep under the stars.
---
Do a spontaneous homestay in Iraq
The most beautiful experience you can have in Iraq is staying with Iraqi families. I had the privilege to get to know the loveliest people and families of the world while I was travelling in Iraq.
In Iraq, homestays are on a completely different level than anywhere else on the planet. Hospitality is literally in the blood of the Iraqi people. When you are a guest, you are above everything. People bend over backwards to make you feel comfortable and welcome in their home.
Getting to know locals is remarkably easy because Iraqi people are extremely friendly and welcoming. I found myself spontaneously part of an Iraqi family many times.
It started with a Facebook group, called Iraqi Travelers Café. Through this group, I made friends who introduced me to their friends who then hosted me in their family homes. Afterwards, I was just making local friends on the fly both online and offline.
Making friends on the road by chance was literally a chain reaction. You make a friend in one city, then that friend will put you in touch with one of his friends living in your next travel destination. This will keep going on as long as you are in Iraq. If you tag your location in real-time on social media, you will open yourself up to kind people who want to get to know you and host you.
It's all about letting yourself go and going with the flow, trusting people, and becoming part of an Iraqi family for a couple of days. It's a truly life-changing and culturally enriching experience and it's one of the things that makes Iraq one of my favourite travel destinations.
By Diana from The Globetrotting Detective
---
Eat like a local at Lobsterfest in Belize
Belize holds many festivals every year, but Lobsterfest is one of the most famous. This three-day annual event is celebrated in June to mark the start of the Lobster season.
The first day of Lobsterfest is especially meaningful to many Belizeans because Lobster is a key source of income for many fishermen, restaurant and hotel owners. Traditionally, small lobster festivals were organised by local fishing communities, but now they've grown into bigger events that attract many locals and tourists.
Lobsterfest happens on staggered weekends in Belize City, San Pedro, Caye Caulker and Placencia. Visitors come from all over the country and abroad to demolish numerous lobster dishes including lobster ceviche, grilled lobster, lobster kebabs, lobster pizzas, and more.
The main reason to go to Lobsterfest is, of course, for the food. However, you'll want to stay on long after your stomach is full for the entertainment. You'll find live music, dancing, beach parties with well-stocked bars, competitions, contests and games.
If you're not sure which Lobsterfest to attend, Placencia is said by many to hold the best event. It's one of the most exciting and immersive things to do in Placencia and Belize if you're there in June.
By Tanya from Can Travel Will Travel
---
Cook Cape Malay cuisine at a cooking class in Bo Kaap, Cape Town
Cape Town is such an incredible holiday destination, with endless adventures and beautiful landscapes. But one of the most interesting things about the city is its cultural diversity.
South Africa has eleven official languages, and a great deal more cultures and traditional communities. One of these is the Cape Malay people, who live primarily in Bo Kaap, a part of Cape Town which was a racially segregated area during Apartheid and has now been declared a national heritage site.
Bo Kaap is stunning, with candy-coloured houses and cobblestone streets overlooking Cape Town city centre. It's here that Faldela, a Cape Malay woman, hosts a cooking class in her purple home.
During this Cape Malay cooking class in Faldela's kitchen, you'll learn to make the delicious, deeply flavoured food traditional to this community, including a curry and samoosas. It's a lovely hands-on class that ends with a filling meal of everything you've made and a dessert of koeksisters. It's the perfect introduction to South Africa!
By Katja from WanderCapeTown
---
Learn to dance Salsa in Colombia
Colombia and Salsa go hand-in-hand – everywhere you go, you walk to the sound of upbeat music. Dancing is such a huge part of Colombian identity and social life, there's really no better way to get to the heart of the nation than by learning a few steps.
The Salsa genre was born in New York and is a combination of moves from Harlem, Cuba and Puerto Rico. When sailors brought Salsa to Colombia in the 1970s, the nation embraced it wholeheartedly. The city of Cali is now considered the world capital of salsa, and you can find clubs called salsatecas all around the country.
Most Colombians learn to dance at a young age by osmosis. Visitors who need a little extra help to get into the swing of things should sign up for a one-on-one class or workshop. Academies in Medellin and Bogota offer crash courses in Salsa, or you can take a private class with a small company such as 5Bogota, where you'll learn intimate details about Salsa's significance.
Don't worry if you can't master the moves – Colombians are not at all judgemental and as long as you're bouncing around and smiling, you'll be the life of the party!
---
Watch China's oldest opera performance, Kunqu, at the Fuxi Tea House in Suzhou
Kunqu opera is one of the oldest forms of storytelling in China and remains popular to this day with locals. More than 600 years old, it's considered the origin of Chinese opera and drama. It's also recognised by UNESCO as a Masterpiece of the Oral and Intangible Heritage of Humanity.
Suzhou, the birthplace of Kunqu, is still the best place to experience this unique aspect of Chinese culture. The Fuxi Tea House hosts a nightly Kunqu performance where visitors can drink tea while watching the performer do her makeup and get ready for the performance.
As she prepares, she talks, jokes and entertains the audience, who can also ask her questions. You are not merely a spectator but a part of the performance.
It's spectacular to see an ordinary woman transform into a masterful performer. Once the makeup is done and the costume donned, the actual Kunqu performance begins.
Listening to the graceful sing-talking accompanied by traditional music in a teahouse next to a beautiful canal is one of the most unique things to do in Suzhou.
By DeWet & Jin from Museum of Wander
---
Offer a Canang Sari in Bali
Known for its vibrant and unique culture, Bali is the stage for many of the world's most beautiful traditions. Canang Sari is one such ritual that all visitors get a chance to observe or participate in when staying on the island.
Canang Sari is a daily offering prepared by Hindu followers as a gesture of gratitude and prayer to Sang Hyang Widhi Wasa, the Supreme God of Indonesian Hinduism. Though spiritual at its core, the offering also symbolises peace and self-sacrifice. The very act of crafting the intricate offering teaches mindfulness and awareness.
Each and every Canang Sari is hand-crafted from banana leaf, betel nut, palm leaves, flowers, and other natural materials. The layering and placement of each component has special significance.
Once complete, the offering is placed either at the temple or inside the home. Canang Sari experts offer workshops in Bali to teach visitors the art of preparation. To see thousands of offerings and participate in the ritual of taking them to the temple, visit Bali during one of the religious festivals such as Purnama or Kliwon.
---
Purify body & soul at a Mayan Temazcal Ceremony in Mexico
Experience Mexicos' Mayan culture with a traditional Temazcal ceremony. This indigenous ritual dates back thousands of years and is valued both for its role in cleansing and spirituality.
Although there are variations of Temazcales throughout Mexico and Central America, they all involve domed sweat lodge structures made of adobe, brick or mud.
During the communal ceremony, participants enter through a small doorway and are seated around the perimeter. At the center of the structure, water is poured over heated volcanic rocks producing steam.
Then, under the direction of a shaman or Temazcalera, fragrant herbs such as basil, rosemary and eucalyptus are laid over the stones, releasing healing properties intended to purify, mind, body and spirit. At the Xcaret cenote in Riviera Maya and other locations, there may also be a circle of fire, music, chanting, massage and prayer.
No matter where you choose to go for your Temazcal, it's a magical cultural experience that's sure to leave you feeling renewed, revitalised and restored.
By Michele from A Taste for Travel
---
Witness the Aarti Evening Ceremony in Varanasi, India
The Ganges River has been worshipped in the Hindu culture for centuries, as it's recognised as a personification of Goddess Ganga herself. Followers bathe in its sacred waters and cremate their loved ones on its shores in an attempt to transport their souls to heaven and stop the cycle of rebirth.
Every evening in the holy city of Varanasi, an Aarti or ritual is held on the shores of the Ganges. Since 80% of the Indian people are Hindu, it's an opportunity to witness and create a deeper understanding of the country's culture.
The ritual is a haunting explosion of sounds and sights. Plumes of smoke rise from lamps stirred in circular movements; devotees then cup their hands over the flames and raise their palms to their forehead for purification and blessing.
Hire a boat to take you to the shoreline at the Dasaswamedh Ghat at around 5.30pm in order to get a good view of this unique cultural experience in India.
By Haley from Haley Blackall Travels
---
Appreciate India's diversity at the Hornbill Festival in Nagaland
The Hornbill Festival in Nagaland, India is a massive celebration of the 17 Naga tribes of this northeast Indian state: The Ao, Konyak, Angami, Sumi, Lotha, and others.
During the Hornbill Festival, which takes place every year in December, performing troupes from the various tribes come together to put on a culturally immersive show especially for visitors from around the world.
From fire-making demonstrations to the beating of the traditional log drum and several folk dance performances, this festival has it all. Come evening, one can feast on traditional Naga cuisines and chug homemade rice beer. There are also stalls selling traditional Naga arts and handicrafts to take home as souvenirs.
The first Hornbill Festival was organised in the year 2000 to promote Naga heritage and inter-tribal interaction. Today this 10-days long fanfare is spread across many parts of Nagaland, but is mainly celebrated in the Kisama village of Kohima district.
By Avantika from Wayward Wayfarer
---
Attend the world's biggest art crawl at Durga Puja in Kolkata
Durga Puja celebrates the yearly visit of the goddess from her home in the Himalaya and is a festive time for Bengali families. It's one of the biggest festivals of India, celebrated in Kolkata with a kind of fervour and devotion that has to be experienced to be believed. The festival is more than religious, it is culturally significant and literally takes over the entire city for about 10 days every autumn.
Basically, Durga Puja is the peak cultural and religious event each year for Bengalis wherever they are – but Kolkata is ground zero. Everyone buys new clothes and clears their schedules so they can devote the festival period to visiting relatives, feasting on festival specialties, attending pujas (a different one each day) and going pandal hopping.
There are probably more than 4,000 Durga Puja pandals set up all across the city of Kolkata, from the relatively modest to the big, spectacular and award-winning ones that draw massive crowds, day and night. You really need a guide to Durga Puja, Kolkata to do this festival right, as it's probably the world's biggest art crawl.
Plus, you need patience, good shoes, water, an umbrella and energy bars!
By Mariellen from Breathedreamgo
---
Light it up at Burns Night in Scotland
If you want to experience the true sense of Scotland, including the history and culture, the best night of the year to visit is Burns Night.
Burns Night commemorates the life of Robert Burns (the poet who wrote 'Auld Lang Syne', among other works) and is celebrated each year on January 25th (although some of the bigger celebrations might be held over the nearest weekend).
The Scots love any excuse for a good party and you can find a wide range of celebrations, from informal gatherings of friends and families to huge organised dinners and events.
A traditional Burns Night starts with a piper, the greeting, 'Sláinte Mhath!" (Good Health!) with a glass of whisky, and then food. Lots of food. The menu often includes a starter of Cullen skink (creamy seafood soup), main course of haggis (a food central to one of Robert Burns' most famous poems), neeps and tatties with whisky sauce, followed by clootie dumpling pudding.
Afterwards, you can expect more whisky (lots of it) and there will most definitely be music and hopefully traditional Scottish dancing.
This is a night to book a hotel or go campervanning in Scotland so you have somewhere to crash nearby. Honestly, you probably won't remember much – but hopefully you'll wake up knowing you had an amazing night and looking forward to next year!
By Kat from Wandering Bird
---
Welcome spring at the Masopust in Czechia
An annual ritual, Masopust (Shrovetide) parades take place all over the Czech Republic (Czechia) in anticipation of the coming spring.
Masopust, sometimes called 'the Czech version of Mardi Gras', is an old tradition designed to chase away winter. Traditionally, the processions were attended by men in special costumes and masks, who, walking from house to house, sang, danced and performed activities assigned to their specific roles.
Often there was a pig slaughter during the festivities, with the meat used to create delicious winter dishes.
In some regions, Masopust is accompanied by various competitions, for example for the best ham or sausage. These traditional parades have been inscribed on the UNESCO List of Intangible Cultural Heritage since 2010.
Today, the Masopust parades are still colourful and full of joy. There aren't that many costumes anymore, but people still have a great time. If you are in the Czech Republic in February, look around on the internet to see if there is an organised Masopust in the area! The most interesting celebrations take place in the town of Hlinsko and the Eastern Bohemia region.
By Jakub from TymRazem
---
Walk the Camino in Spain
Spain is a vast and diverse country, a destination that offers practically every kind of travel experience one could imagine: Gastronomy, art, history, beaches… The list goes on.
Perhaps one of the most immersive travel experiences in Spain is the Camino de Santiago, an ancient Christian pilgrimage that ends in the historic Spanish city of Santiago de Compostela. Completed by thousands of pilgrims over the centuries, the ancient trail is a journey that immerses your mind, body and soul into every part of Spain's vibrant culture.
While the pilgrimage routes vary in length and difficulty, the Camino de Santiago offers a unique opportunity to see parts of Spain very few tourists experience.
Traversing on foot through remote villages, vineyards, metropolitan cities and mountain ranges for sometimes hundreds of kilometres, the Camino is a travel experience very few people come back from unchanged, a trip that leaves you humbled and, if you've not eaten or drunk your weight in Spanish food and wine, a few kilos lighter!
By Samantha from The Gallivanting Gallos
---
Eat your heart out on a food tour in Bologna, Italy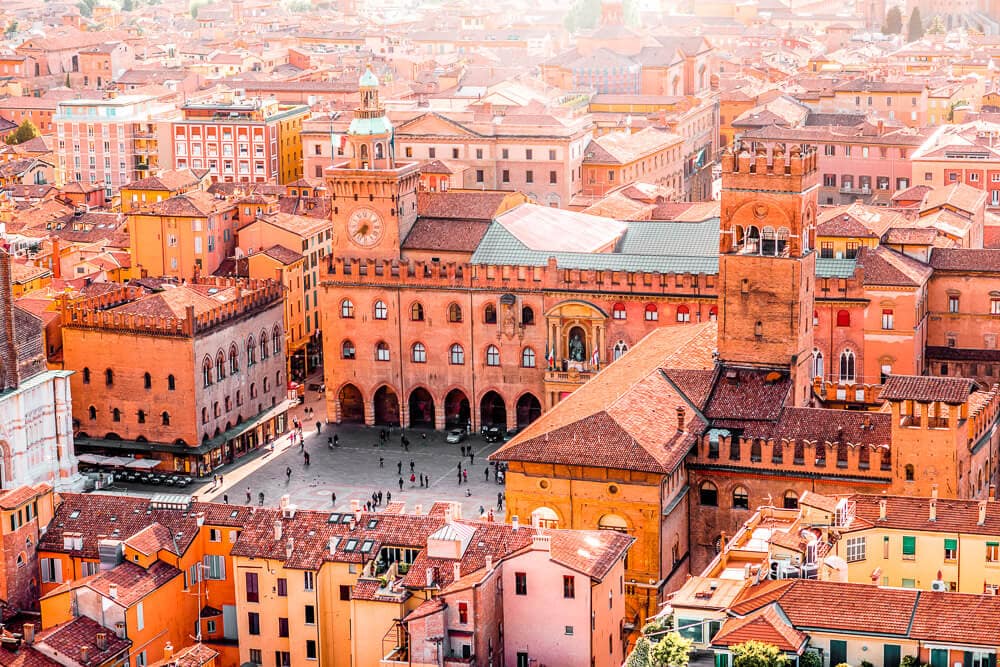 The beautiful Italian city of Bologna is known for its medieval centre and handsome arched porticoes, which make every street feel that little bit more grand.
However, Bologna is also a foodie mecca in Europe. It is in the heart of the Emilia-Romagna region of Italy, which has given the world such classics as Parma ham, Parmigiano Reggiano and Aceto Balsamico di Modena.
One of the best and most culturally immersive things to do in Bologna is get to the heart of the region's culinary scene on a food tour. A walking tour with Delicious Bologna is an in-depth educational and sensory journey through the history and traditions of Emilia-Romagna.
It starts with a light breakfast at a coffee bar followed by a tour of the shops in the old Quadrilatero area, where you'll learn about the local products. You will also visit a small factory to see Bologna's most authentic pasta, tortellini, being made by hand.
After this, you will have an aperitivo, local wine paired with a range of cold meats and sausages, cheeses and aged vinegars. Next up is a lunch of hand-made pasta at a trattoria.
The sweet finish is of course delicious gelato, served the traditional way from covered steel urns.
By Martha from May Cause Wanderlust
---
Visit a working Estancia ranch in Argentina
When one thinks of Argentina, the image that often comes to mind is that of gauchos, cattle, and more red meat than any one person can eat. All of that stems from a rural culture that is vital to the country's history and economy.
If you find yourself in Argentina, visiting a historic working ranch called an Estancia is the best way to experience this authentic side of Argentine life.
All ranches that are open to the public, like these best estancias near Buenos Aires, offer a full day of events called a Dia de Campo (day in the countryside). Upon arrival, you'll be met with empanadas and wine. There will be a traditional Asado barbecue, horseback rides, and depending on the estancia, you may see displays of folkloric music and dancing, traditional native horse taming (called Doma India), or displays of gaucho games on horseback.
Many also double as bed and breakfasts if you'd like to extend the experience and wake up in the Argentine pampas.
By Erin from Sol Salute
---
Sign up for a responsible desert safari in Dubai
Dubai is known for its jaw-dropping architecture, innovative projects and luxurious hotels. But behind that glamorous facade is a rich Emirati culture that started with the Bedouins. Taking a desert safari in Dubai is an excellent opportunity to learn more about that cultural heritage.
Of course, not all desert tours are created equal. Some have a very touristic approach and focus on action and entertainment. They take visitors on an exhilarating dune bashing tour, climbing over the red sand dunes at rapid speeds before ending the evening at a desert camp for an evening of belly dances that, while spectacular, are not part of Emirati culture.
But then there are other tours that focus on responsible travel. These usually operate within the Dubai Desert Conservation Reserve and educate visitors about the resident Arabian oryx and gazelles during an eco-friendly wildlife drive or camel ride.
Next up is a falconry demonstration that explains how Emirati used to train wild falcons and use them to hunt for food. The evening concludes at a torch-lit desert camp, where Arabic coffee roasting and rigag bread making demonstrations show guests the Bedouin way of life.
After enjoying an authentic Emirati dinner, visitors can also participate in a traditional drumming session or watch Yola dancers enact the same ritual that their ancestors used to perform after hunting.
By Sarah from CosmopoliClan
---
Spend time with the Maasai in Kenya
While many people imagine Kenya being all open savannah and wildlife, it's so much more than that. There's a cultural pride that you can feel when you visit. It radiates through the air, in the cities, and even on a safari in Kenya.
A great way to experience Kenya's cultural diversity up-close is to spend some time with the Maasai, one of the few tribes who have maintained most of their traditions, lifestyle and lore. They are semi-nomadic and live by herding cattle and goats. While visiting Kenya, many safaris have an option of spending a day with the Maasai.
You can visit a number of the Maasai huts including their homes, school, and community centre. A medic will demonstrate how they use local supplies to aid in healing (including preventing malaria), and some of the women might show you how they prepare food for the tribe.
While the children use computers at school and some of the adults work outside the tribe, the Maasai have maintained their connection with the land and with Kenya as a whole.
To ensure your visit benefits the local community, book with a responsible ecotourism company such as award-winning One Horizon.
By Pamela from The Directionally Challenged Traveler
---
Attend an Aboriginal Smoking Ceremony and Culture walk in Australia
A Smoking Ceremony is an ancient custom conducted by Aboriginal Australians. an important ceremony that aims to cleanse and protect the well-being of participants, it often takes place at the beginning of an event or tour accompanied by a Welcome to Country.
First, a fire is built using various native plants that produce smoke. Plants may be chosen for their medicinal qualities. When the smoke starts to rise, an Elder may welcome visitors and explain a little about the reason for the ceremony. They may then invite you to take part either by walking through the smoke or watching silently.
If you choose to walk through the smoke, you may be encouraged to wave the smoke up and around your body as a way of providing protection and connecting to country.
The ceremony may have slight variations depending on which tribal country it is taking place in. We joined a smoking ceremony with Djiriba Waagura on Yuin Country on the New South Wales South Coast. It was part of a 2.5-hour cultural experience that included a walk where you learn about plants used for medicinal purposes, traditional fire practices and bush tucker knowledge, and a dance performance.
By Paula from Australia Your Way
---
Spend time with the Himba people at the Ovahimba Living Museum in Namibia
Visiting the Himba people in Namibia is a not-to-miss cultural experience. The Himba, one of the indigenous tribes in Namibia, are a nomadic people who live in the Kunene Region near the border with Angola. The Himba are very distinguishable from other local tribes.
Semi-nomadic, the Himba have inhabited this region for hundreds of years. During the 20th century, their very existence was endangered as civil wars, genocide and terrible floods almost put an end to their traditional lifestyle.
The Ovahimba Living Museum is one of the best places in Namibia to experience Himba culture. People live there the same way their ancestors did hundreds of years ago and preserve their traditions and unique lifestyle. Everything from building houses to cooking food and making clothes is exactly the way it used to be.
The village is not a tourist set-up: All the inhabitants, including children, live there permanently. Visitors are encouraged to participate in activities rather than merely observe. This is a responsible community tourism project run by the Himba people themselves, which makes it even more authentic.
The best way to experience the village is to camp there for a couple of days. During your stay, you get a chance to learn a lot about the Himba and their way of life.
By Alya from Stingy Nomads
---
Discover portals to another world in Stonetown, Zanzibar
The old roads of Stonetown in Zanzibar speak volumes about the island's past. The island thrives on the idea of Pole Pole, literally translating as a mindset that celebrates slow living. The iconic Zanzibari doors, part of UNESCO World Heritage-listed Stonetown, are a joyous celebration of human history and cultures.
Dating back to the 17th century, the gateways to affluent traders' houses are studded with elaborate designs, celebrating all kinds of different cultures that came to the island with the trade ships. The Swahili doors are washed in aqua marine blue and appear minimalist in design.
The Arab doors are elaborately designed, with crushing waves sculpted in the corner. Doors from India, specially from the coast of Gujarat, have intricate woodwork and beams strong enough to resist an elephant attack. There are even Chinese doors with oriental lanterns hanging from the roof in bright red hues.
It is an intriguing experience to walk the streets of Zanzibar and find these old traders' houses where the prized Zanzibari doors still stand. Most of them, sadly, were traded on the black market before UNESCO actively started protecting these beautiful cultural monuments.
By Madhurima from Orange Wayfarer
---
Strike a bargain at the Panglima Sugala Barter Market in Tawi-Tawi, the Philippines
One of the best cultural experiences in Southeast Asia is staying at Bongao, a small island in Tawi-Tawi in Mindanao, Philippines. Unlike other places in the country, it is not yet commercialised – so you can enjoy an authentic experience mingling with the locals and getting to know their lifestyle.
There are several homestays on the island where visitors can talk with their hosts, taste local cuisine, and even witness traditional clothing on occasions.
There are so many things to do in Tawi-Tawi, particularly in Bongao, that you can spend several days here and still feel like it's not enough time. You can also visit local spots on the island, including the market, the Old Chinese Pier where boats deliver their catch of the day, Badjao Village where the Badjao (sea gypsies) live and practice traditional weaving, and the sacred mountain called Bud Bongao.
Another must-do activity is visiting Panglima Sugala, where a traditional barter is held every Saturday and Sunday between the island's residents and the Badjao. Locals bring land produce and the Badjao offer seafood and other sea bounties in return. Traditional exchange is practiced here, but cash is also accepted so you can buy things for yourself.
By Katherine from Tara Lets Anywhere
---
More cultural travel inspiration