The world's most creative neighbourhoods all have one thing in common: They use colour – be it painted facades or vibrant street art – to make their mark on the urban landscape.
For each of these neighbourhoods, colour is an expression of culture and identity and often a byproduct of festivals and rituals. Some have been decorated as pure creative expression, others use bright hues to serve a very practical purpose.
Some of these neighbourhoods are painted as a form of protest or penance; some celebrate residents' newly-won freedoms, while others have used colour throughout history to express one group's dominance over another. In some of these neighbourhoods, colourful facades flaunt wealth, while in others, communities call on bright paint as an antidote to poverty.
Whatever the intention, each of these vibrant districts is a visual feast. As you'll see, there's much more to the story than just a cheerful veneer. Here are 27 of the world's most colourful neighbourhoods and the stories behind them.
---
Please note: This post contains affiliate links, meaning I may earn a commission if you make a purchase by clicking a link (at no extra cost to you). Learn more.
---
Colourful neighbourhoods in Africa
Bo-Kaap | Cape Town, South Africa
It's world-famous for its brightly-hued houses nestled in the looming shadow of Table Mountain: the vibrant district of Bo-Kaap in Cape Town, painted in every shade of the rainbow.
A must-see stop on any Cape Town itinerary, Bo-Kaap is more than an Instagrammer's dream but is also home to some very unique history. It's where slaves, convicts and political exiles from Indonesia and Malaysia settled back in the 1760s, building a predominantly Muslim community that was dubbed the 'Malay Quarter' as those who inhabited it were called the 'Cape Malays'. The small terraced houses known as huurhuisies (hired homes), constructed in the traditional Cape Dutch style were rented to the community and painted in lily white.
While the true tale of their technicolour transformation is a bit fuzzy, it's said that the community painted their homes with bright colours as a celebration of their freedom after the country's apartheid regime was abolished.
Regardless of the reason, this colourful neighbourhood is a victim of its own success. The gentrification of the Cape Town city suburbs and the picturesque appeal has seen Bo-Kaap become an area that many affluent homeowners were keen to relocate to, pushing the locals out of their hard-won houses. Recently, the city's council declared the area a Heritage Zone, protecting the livelihoods and housing prices of those who have been living there for decades.
Just strolling the cobbled streets is the best way to see the houses in all their glory, although you'll definitely be dodging a photographer (or two!).
By Lee, The Travel Scribes
The Jugol | Harar, Ethiopia
Africa is a vibrant place, and the Jugol of Harar in Ethiopia might just be Africa at her most colourful.
Harar is Islam's fourth holiest city, and at its center is the ancient walled town, or the Jugol. Crammed inside the Jugol you'll find hundreds of mosques, shrines and traditional houses where people still live and go about their daily lives.
If a packet of instant noodles and Skittles were ever to collaborate, the result would be the Jugol: It's a tangle of the most colourful alleys imaginable. It's not for the Instagram crowd, though. Harar has always been colourful and every year before the holy month of Ramadan, the people of Harar repaint the walls of the Jugol in a rainbow of colours.
The whole Jugol is an explosion of colour, not just the painted walls. The alleys burst with women in flamboyant dress, men sporting orange beards and people selling juicy mangoes, custard apples and other tropical fruit. You just can't escape the colour anywhere you go in the Jugol.
Harar must be one of the most photogenic places on earth, but being a conservative and holy Muslim city can make photography difficult. The Hararis are extremely camera shy, so respect their wishes if they don't want to be photographed. The best way to get a good snap is to find a spot, frame your scene and wait for someone to walk by.
The UNESCO-recognised Jugol can only be explored on foot. Hiring a local guide to show you around and tell you about the culture of Harar will add immense depth to your visit.
By De Wet & Jin, Museum of Wander
---
Colourful neighbourhoods in North & South America
Faubourg Marigny | New Orleans, USA
Faubourg Marigny (MAR-ah-nee) in New Orleans is an especially colourful area of a very colourful city. Known for its Cajun food joints, jazz clubs and the world-famous Frenchmen Street, Marigny is also home to pastel-painted shotgun houses.
A shotgun house, shack or cottage is predominantly made of wood, narrowly built, and often constructed with a porch on the front. Although not unique to NOLA, it is thought that the Haitian influence in the city saw the growth of these cool houses in the likes of Marigny.
A leisurely walk through this district is a fun thing to do in New Orleans. Take in the characteristic colours and architecture, which is completely different from the styles of housing we are accustomed to in the UK.
It's not just about the aesthetics though – Marigny was the first suburb built below the city so a visit or stay is taking in history and culture, too. It's also recommended that you spend some time in then upmarket Garden District to compare the styles and vibe of these two neighbourhoods.
By Gemma, Two Scots Abroad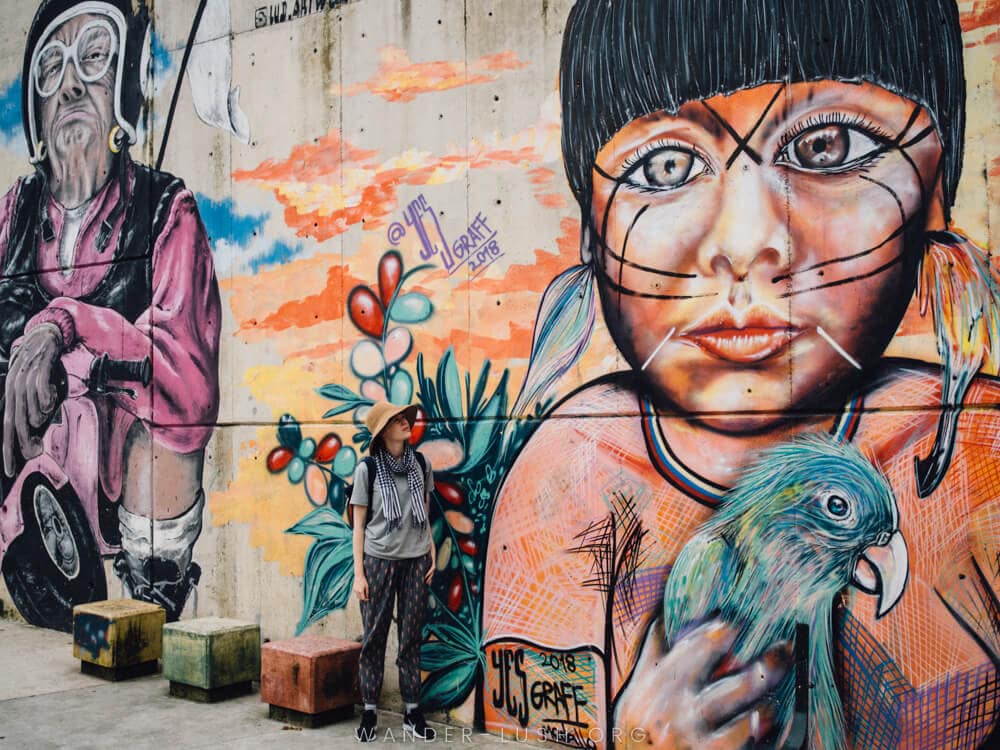 Comuna 13 | Medellin, Colombia
No neighbourhood on earth tells a more compelling story of social transformation than Medellin's Comuna 13. Once considered the 'murder capital of the world' and a place to avoid at all costs, over the space of a few years, it's become a vibrant, thriving community and tourist mecca known for its larger-than-life murals and street performers.
Comuna 13 is a set of residential barrios set on the steep hills on the western side of Colombia's second-largest city. A maze of narrow alleyways, staircases and now, outdoor escalators, wind their way up the hill through rows of brick houses, many of them painted in bright shades. The street art, the graffiti, the colourful houses – it's all an outward expression of the community's desire to shed its past reputation and build a brighter future.
The best way to experience Comuna 13 is by joining a guided walking tour and letting a local show you around. Hearing a first-hand account of the neighbourhood's history and the heartache that goes with it adds another layer of significance.
Cerro Alegre | Valparaiso, Chile
The city of Valparaiso has a reputation for being colourful, artistic and magical. And at the root of this magic is Cerro Alegre, the steep, ancient cobble-stoned streets that are filled with the most outlandish street art imaginable.
Valparaiso is an old port town and Cerro Alegre was the nesting ground for German and English immigrants. The district is populated by eccentrically-built, painted homes. A combination of earthquakes and political unrest has added character to the area, best expressed in its larger-than-life murals.
Today, the Chilean street art in Cerro Alegre is a a symbol of persistence and beauty. Each wall is unique, sharing a different message with anyone who passes by.
There are plenty of insightful tours that reveal tidbits about the area's fascinating history. But you can just as easily wander through the streets on your own and get lost for hours.
Make sure you charge your camera battery – you're going to want to document this experience!
By Ollie & Candi, Ollie and the Captain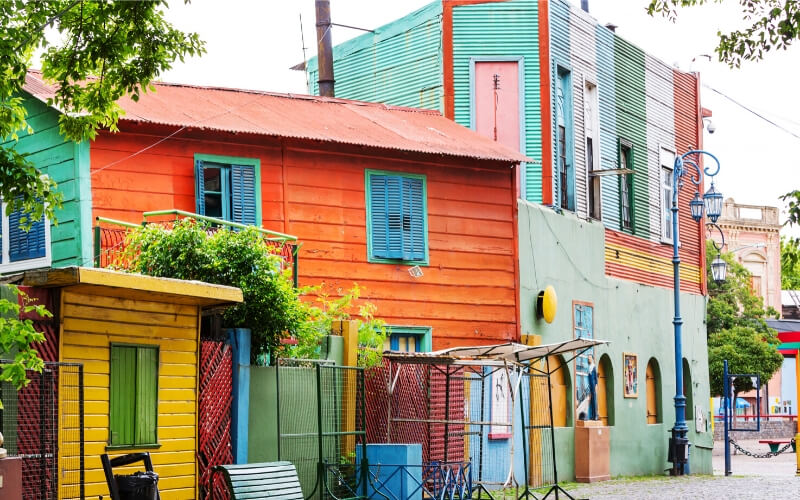 La Boca | Buenos Aires, Argentina
It's hard to think of the world's most colourful neighbourhoods without envisaging Buenos Aires' La Boca, a working class suburb in Argentina's capital that is a riot of colour.
The fun centres on Caminito, an alleyway that's become a living art gallery thanks to its brightly painted zinc shacks. Much of the colour is the work of one man, Argentine artist Benito Quinquela Martin, who used bright paints (some say leftover cans from the nearby shipyards) to breathe new life into the suburb in the 1950s. Before that, the area was an industrial hub until the railroad was closed and Caminito was abandoned.
The vibrant atmosphere encapsulates Argentina's vivacious character, while the architecture of the painted tenement buildings echoes the area's past. Made from wood and sheet metal, these structures were known as conventillos, temporary communal dwellings built by immigrants who arrived from Genoa, Italy. Caminito is located right on the bank of the river, and many of the houses are built on raised foundations to avoid flood damage as a result.
Spontaneous tango performances, cafes serving up local cuisine and wine, and street music makes a walk through La Boca a full sensory experience.
Walled City of Cartagena | Cartagena, Colombia
If you're looking for the most colourful neighbourhoods in the world, you cannot miss the Walled City of Cartagena in Colombia.
A beautiful port city that was found by the Spanish in the early 16th century, Cartagena wasn't always this gorgeous. It wasn't until the Spanish declared Cartagena a major port for all transatlantic trade. After that, wealth started to pour into this indigenous place. As Cartagena grew, beautiful buildings and other luxuries emerged.
Because it was a strategic location for all trade, the Spaniards decided that Cartagena needed fortifications to protect it against foreign invasion. After numerous failed attacks, the Walled City of Cartagena was finally built.
When Colombia gained its independence, Cartagena stopped receiving monetary support from Spain. Many parts of the city started to rot. Then, the President of Colombia, Rafael Nunez, decided to restore it to its former glory, fixing up many of the historic buildings.
As you walk down the streets of the Walled City of Cartagena today, you will find colourful colonial buildings one after the other. You might also notice women carrying bowls of fruit on their heads; they are the Palenqueras, an indigenous group that lives in the area. If you want to take a photo of them, the etiquette is to make a donation or buy a piece of fruit first.
Make sure you don't miss this beautiful neighbourhood on your Colombia trip!
By Sean, Living Out Lau
La Candeleria | Bogota, Colombia
La Candeleria is Bogota's most vibrant neighbourhood, with over 500 artistic institutions, including the famous Gold Museum and Botero Museum.
La Candeleria is a historic old town with most buildings dating back to Spanish Colonial times. Many of the colourful, baroque facades are protected as part of national heritage. You can find all the most interesting tourist spots in this area, including the Plaza Bolivar, the Palace of Justice, the National Capitol, and the Primary Cathedral of Bogota. The area also have a bustling nightlife scene, with chic bars and restaurants. It's a popular place for locals to meet on the weekends and a good neighbourhood for tourists to stay in.
As you walk the narrow, cobbled streets of La Candeleria, you will notice many impressive street artworks created by the local painters. Don't forget to sample some of Bogota's street food along the way. Mazorka grilled sweetcorn and salpicon, a watermelon-based fruit snack, are both must-trys.
By Mal, Raw Mal Roams
Historic Centre | Puebla, Mexico
Mexico is full of colourful neighbourhoods, none more vibrant than the Historic Centre of Puebla in central Tlaxcala state.
Founded in 1531, the area's Baroque architecture is unique and represents a synthesis of European, American and indigenous influences. The neighbourhood was inscribed as a UNESCO World Heritage site in 1987 in recognition of its cultural value.
Laid out in a classic Renaissance grid plan, every street in the Historic Centre is a celebration of colour and a joy to photograph. Some facades use shades of subtle pink; others are painted in bright blue and orange tones. Many of the houses are clad with delicate azulejos tiles, similar to the ones used to decorate facades in Lisbon and Portugal.
You can also find a number of important historical sites in Puebla, including the cathedral, the Palafox library, and the Archbishop's palace. Early mornings are the best time to visit.
By Soumya, Travel, Books And Food
---
Colourful neighbourhoods in Europe
Notting Hill | London, England
One of the most colourful areas of London is the vibrant neighbourhood of Notting Hill.
Back in the 19th century, Notting Hill was a hub for artists, but its history wasn't always bright and cheerful. In the 1950s, Caribbean immigrants inhabited the area only to be targeted by race riots and attacks. The area was then gentrified for decades before it became the affluent neighbourhood it is today.
Walking the streets of Notting Hill, you'll see rows of charming and colourful Victorian townhouses. There are two streets in particular here that are among the best London photography spots: Lancaster Road, which has houses of all colours, and St. Luke's Mews, which is famous for its pastel pink house featured in the film Love Actually.
I recommend taking photos on weekdays as packs of tourists flood the area on weekends. Please also be mindful when taking photos here as it is a residential area. Please don't create any disruptions for the locals!
By Jiayi, The Diary of a Nomad
Exarchia | Athens, Greece
When people think of visiting Greece's ancient capital Athens, they often solely think of its stunning historical statues and monuments. However, there is more to Athens than just visiting the Acropolis. The Acropolis is stunning and as a result, it towers above some of the most exciting and well-hidden areas of Athens, such as the rebellious and extremely colourful neighbourhood of Exarchia.
Exarchia is known for its incredibly bright street art scene that paints a picture of its small but mighty political prowess, with the district known for activism in social and administrative change. Throughout history, it has served as the epicenter of riots aimed at instigating political change.
Exarchia provides an amazing contrast to the ancient history that is so prevalent throughout the city and it definitely offers a bright and colourful experience. Spend time checking out the art that adorns pretty much all of the walls as you dip and dive into alternative boutiques and coffee shops.
Like anywhere in Athens, Exarchia can't completely escape the country's history, and in this district, you will find the National Archaeological Museum. In the evenings, Exarchia transforms into a vibrant nightlife spot. The creativity and colour of the art seep into the gastronomy scene with hip eateries and bars dotted throughout the streets.
It is truly possible to lose yourself in Exarchia for days on end as each unfamiliar corner reveals something new.
By Megan, Megan Starr
Blloku | Tirana, Albania
Blloku ('The Block') is Tirana's most vibrant neighbourhood, but it has a particularly dark history.
During Albania's communist period, the suburb south of the river was a dedicated residential area for members of the politburo, including the country's despotic leader, Enver Hoxha, whose abandoned villa is still located there. Access to Blloku was restricted and most locals grew up not knowing what lay beyond the invisible frontier.
When the communist regime fell in the 1990s, locals reclaimed Blloku in a big way. The area was quickly transformed into a hotbed for creative spaces, boutiques and cafes – no doubt a symbolic comeuppance to those who had kept it off-limits for so long. Today, Blloku is the city's most coveted real estate.
There are colourful buildings everywhere, an outward expression of Tirana's newfound freedom and sovereignty. You can only really appreciate the scale and technicolour mosaic when you view Blloku from above (the Sky Tower is a great vantage point).
On street level, two colourful spots to photograph are the Wilson Square Apartment (where you'll find the famous rainbow painting), and Rruga Abdyl Frasheri, a main thoroughfare with some of the most vibrant facades.
Balat | Istanbul, Turkey
Each of Istanbul's local neighbourhoods has something special to offer. In Balat in the city's north-west Fatih district, it's all about the pretty houses, street art and steeply cobbled lanes.
Like many of the colourful neighbourhoods on this list, Balat's painted facades are a stand-in for the area's cultural vibrancy. One of Istanbul's oldest districts, Balat is the traditional Jewish quarter, a meeting place for Greek, Jewish and Armenian communities across the centuries. Today, Balat remains one of the most cosmopolitan areas and is known for its cafes and street murals.
The most popular places to explore and photograph are Kiremit Street and the 'Rainbow Stairs' at Incir AgacI Kahvesi cafe. While in Balat, take the time to visit some of the neighbourhood's religious and historical monuments, including the Chora Museum and the Greek Patriarchate basilica.
Villanova | Cagliari, Italy
Cagliari, the capital of Sardinia, is one of the most colourful cities in Italy.
One of the best things to do in Cagliari is exploring its historical center, which is made up of four distinct and interconnected neighbourhoods: Castello, the former citadel; Stampace, where the working class used to live in Medieval times; Marina, currently home to Cagliari's movida; and Villanova, which was founded in the 13th century and is an up-and-coming neighbourhood that in recent years has seen an increase in popularity as a residential area and a hangout place.
Villanova is a series of narrow alleys lined with colourful low rise buildings. Closed to traffic, it's one of the most pleasant places in Cagliari for a walk at any time of day. This is a part of town that has retained its local character, and the kind of place where you may stumble on a group of children playing ball games.
You'll find a few churches (the prettiest one is San Giovanni church, which faces a lovely square), and a number of plazas (the most scenic one is Piazza San Domenico, at the centre of which there is a small garden with benches and a fountain).
There is a series of bars for all tastes scattered around Villanova. The most easygoing is Florio. It's the kind of place locals enjoy hanging out. For a more sophisticated atmosphere, go to Biffi American Bar for a cocktail – just bear in mind that this bar is well-hidden within the buildings. You have to know where it is, and literally knock on the door to be let in.
By Claudia, Strictly Sardinia
Petrzalka | Bratislava, Slovakia
Standing on the grounds of Bratislava Castle overlooking the river and the iconic UFO Bridge, you'll notice a colourful quilt of buildings laid out on the opposite bank. This is Petrzalka, the city's biggest and most populous borough, yet a neighbourhood few tourists to Slovakia's capital take the time to see.
Petrzalka has a long and fascinating history. It started out as a separate settlement before being incorporated into the city. The colourful buildings it's recognised for are classic Socialist-style apartment blocks built to house a growing urban population. Residents were given the power to choose a colour scheme for their block, deciding on bright shades and graphic patterns to brighten the corners of the otherwise grey, standardised concrete blocks.
Walking around Petrzalka and photographing the facades is a terrific way to spend an afternoon in Bratislava. There are some excellent local restaurants in the neighbourhood too. Just be mindful of people going about their daily business.
Nyhavn | Copenhagen, Denmark
One of the most colourful neighbourhoods in the world is found in one of the least bright and busy capitals – Copenhagen, Denmark.
If you spend some time in the city, even just one day in Copenhagen, you'll notice that the weather is less than bright and sunny. Perhaps that's the reason why most of the dwellings in the city centre are painted in bright and bold colours. They're also contrasted with clashing hues of window shutters and doors, which makes for a brilliant environment in a city with mostly grey skies.
To best experience the colourful nature of Copenhagen's centre, head to Nyhavn. It's the most quintessential photo spot in all of Copenhagen, and maybe even Scandinavia. In Nyhavn, you'll find brightly coloured canal houses with sail boats docked out front.
It's classic Copenhagen, one of the most colourful neighbourhoods in all of Denmark and one of the prettiest in the world.
By Derek & Mike, Everything Copenhagen
Marina di Corricella | Procida, Italy
Marina di Corricella is located on the small Italian island of Procida in the bay of Naples. Over the centuries, many of the island's inhabitants have been fishermen, and the fishing industry has left its mark on the island in a stunningly beautiful way.
The traditional houses that tumble down the steep hillside towards the seafront are all painted a different pastel colour. This was done so that fishermen could spot their own home whilst out at sea.
Visiting Marina di Corricella, you could be forgiven for thinking that you've stepped into an ice cream sundae. The raspberry-pink, powder-blue and mint-green houses are topped with a lemon-yellow church. The whole scene is best viewed from the road up to Procida's medieval fortress.
The sweeping view of the bay is unforgettable – and since little Procida is still an under-the-radar destination, there's a good chance that you'll have it all to yourself.
By Helen, Helen on Her Holidays
Via Lincoln | Milan, Italy
My hometown, Milan, is not often seen as a colourful city, but that's because not many people know about Via Lincoln, a little offbeat backstreet with colourful one or two-story houses and even flowers, if you are visiting in the right season.
The homes in Via Lincoln were built at the end of the 19th century by a factory worker cooperative to provide affordable accommodation. The homes were all painted in different vivid colours to cheer up the workers, many of whom had just moved to the city from the countryside.
Fast forward over 100 years, and Via Lincoln is one of Milan's most valuable streets in terms of real estate. It's central, about 10 minutes away from the Duomo by tram, but it's hidden away from the city traffic.
It's worth adding Via Lincoln to your list of things to do in Milan – this colourful little oasis in the heart of a busy city is a true gem. Just be mindful of residents when you take pictures.
By Margherita, The Crowded Planet
Burano | Venice, Italy
Burano is a group of four Italian islands a short Vaporetto ride from Venice.
The houses were all painted bright, bold colours so that local fisherman would be able to find their way home even if they were drunk. Or maybe it was to help the fisherman find their houses in the fog? Regardless of the reason, the colours make it feel like a place out of a fairytale, making Burano quite popular with tourists.
In addition to the colourful houses, Burano is also known for making beautiful lace, which is still a traditional art form today. You can learn more about the process and history at the Burano Lace Museum.
If you would like to buy some lace as a souvenir, be forewarned that it's expensive. Be wary if it's cheap – it's probably not the real thing.
By Anisa, Two Traveling Texans
The Lanes | Brighton and Hove, England
The Lanes are an eclectic area of Brighton and Hove, steeped in colourful history and home to a great range of shops.
Set between the station and the buzzing seafront, this part of town is home to powerful street art, murals, vibrant street entertainers and markets. It's rare to find a wall, rubbish bin or lamp post that's not painted or plastered with stencils.
Although in the summer the Lanes are crowded with tourists, you can actually have a great time here in the winter. Shops and stalls operate late opening hours in the weeks running up to Christmas, so you can definitely get a one-of-a-kind present here.
While you're out shopping, be sure to wander through the area's vintage boutiques. Also stop for an ice cream at Boho Gelato (31 Ship Street), where the flavours are so good, there's often a queue outside the door on sunny days.
By Danielle, Live in 10 Countries
---
Colourful neighbourhoods in Asia
Vohrawad | Sidhpur, India
Sidhpur is located on the outskirts of Patan in Gujarat, India. One of the most distinctive neighbourhoods here, Vohravads, belongs to the Bohra community.
Unlike traditional Indian houses that are separate from each other and have a garden/land surrounding them, the houses here look very much European, fused to each other in rows and with uniform facades Each house is a different colour, but they all pastel, giving the whole street a very unique appeal.
The houses were built in late 19th and early 20th century, when the local merchants were influenced by European architecture during their commercial trips. The architecture demonstrates a unique blend of European charm and Indian needs (like perforated jaali windows for hot weather)!
Do keep in mind this is a rural area of Gujarat. While the weather is very hot, be mindful of the local etiquette and dress accordingly. Obviously, use common sense and ask people first if you're photographing them, especially the women.
By Bhushavali, My Travelogue By Bhushavali
The Ancient Town | Hoi An, Vietnam
When the French colonised Indochina (present-day Vietnam, Cambodia and Laos), they chose a distinctive shade of canary yellow as the dominant hue for their government buildings and villas. Along with pressed floor tiles and other European flourishes, the colour yellow came to typify the French Colonial style. Nowhere is it more proudly on display than in Hoi An, a former port city in Central Vietnam.
The colour yellow had significance long before the French arrived and was preferred for both symbolic and practical reasons. Yellow is an imperial shade that signifies royalty and superiority, perfect for a growing empire. On a practical note, bright colours like yellow helped to deflect the strong sunshine, taking the edge off the stifling heat.
Hoi An's pedestrianised Old Town is packed with heritage timber-frame buildings (more than 1,100 in total), each painted a shade of French Colonial yellow, be it melted butter or warm mustard. The dandelion-bright facades are the ones that have recently been restored according to UNESCO guidelines (the Ancient Town was inscribed in 1999).
Today, Hoi An is considered a must-see destination for its pretty silk lanterns and photogenic facades. It's not just the buildings that make Hoi An special, it's also what they represent. Time-worn French-era facades can be spotted in cities across Vietnam, including in Hanoi and Da Lat, and across the border in Kampot, Phnom Penh and beyond.
Joo Chiat Road | Singapore
If you're looking for the most colourful neighbourhood in Singapore, Joo Chiat Road is the place to be! While it's located outside of the city centre, Joo Chiat is popular because of its pastel Peranakan houses that date back to the 1900s.
The road is lined with two-storey shophouses and terrace houses, each with its own distinct colour palette and ornate facade. Many use ceramic tiles, painted shutters and plaster moulding to create intricate motifs.
In 2011, Joo Chiat was designated the first heritage town in recognition of Singapore's efforts in the preservation of Peranakan architectural and cultural heritage. Walking around the neighbourhood feels like stepping back in time and offers a unique contrast to Singapore's modern high-rise buildings.
Don't forget that this is a residential area and people still live here. Please be respectful when taking photos, and don't go moving the trash cans in front of the houses like some people do just to get the perfect shot.
Although Joo Chiat Road isn't really a must-do, I do recommend visiting if you're spending at least 4 days in Singapore and have enough time to explore beyond the city centre.
By Stephanie, Let's Venture Out
Lodhi Colony | New Delhi, India
Lodhi Colony is one of the most colourful and vibrant neighbourhoods in Delhi. Located in the clean and green Lutyen's Delhi, the neighbourhood was built in 1940 by the British as a residential area for government officials.
It was a regular neighbourhood before The St+Art India Foundation brought in renowned artists from India and across the world to paint their imagination on the huge walls of the buildings. That's how India's first public open-air district, Lodhi Art District, was born.
The neighbourhood is a perfect example of the spirit, vibrancy, and diversity of Delhi. The district has over 54 murals (and counting) on diverse themes, from Indian culture and values, to environmental and social issues.
From colourful murals, green archways, rich history, to pedestrian-friendly charm, there's a lot of beauty to take in here in this quiet neighbourhood. The best way to explore and photograph the colours of the Lodhi Art District is to join a curated tour hosted by St+Art.
By Anjali, Travel Melodies
---
Colourful neighbourhoods in Australia
CBD | Darwin, Australia
Darwin might be Australia's smallest and most undervalued capital city, but it's also one of the most culturally vibrant. Most visitors use Darwin as a jumping off point for Kakadu National Park and the rest of the Northern Territory. Before you venture out to immerse yourself in the colours of the Australian outback, it's worth pausing in Darwin for a couple of days to soak up the urban atmosphere.
No one expected Darwin to emerge as one of Australia's street art epicentres, but that's exactly what's happened in recent years. Founded in 2017 with the aim of giving the CBD a much-needed facelift, the annual Darwin Street Art Festival invites painters from around the world to co-op buildings, car parks and laneways as their canvases.
Many of the technicolour murals reference the Territory's indigenous culture, flora and fauna. None is purely decorative; each work carries a commentary about conservation, race relations, or life in the tropics.
The most famous of Darwin's murals is a larger-than-life tribute to celebrated indigenous musician, Dr G Yunupingu. In the carpark of the local Woolworths, you can find a giant multi-coloured croc and down an alleyway, a turtle floats between buildings, brought to life by indigenous artist, Shaun Lee. A favourite among Instagrammers, Portugese artist Odeith's kangaroo mural cleverly incorporates an electrical box to create a three-dimensional optical illusion.
CBD | Melbourne, Australia
Over the past 20 years, the street art scene in Melbourne has evolved into a one-of-a-kind outdoor gallery, attracting locals and visitors alike. If you're after the best photo spots in Melbourne, the colourful street art in Melbourne CBD has got to be top of your list. It's unique, often thought-provoking, and produced by genuinely talented artists.
Some of the best streets to explore (just pop them into Google Maps) are ACDC Lane, Duckboard Graffiti Walls, Hosier Lane Street Art and Flinders Court Street Art. Bonus? They're all easy to find and walking distance from one another.
Keep your eyes peeled as there's great street art all around Melbourne – the perfect accompaniment to a high-quality coffee in one of the city's famous brunch spots.
Often combined with activism, artists have support from the local government and many have gone on to become household names in the region. Having lived in and visited cities around the world, I gotta admit, no one does colour quite like Melbourne.
By Cass, Cassie the Hag
Maylands | Perth, Australia
Perth's inner-city waterside suburb of Maylands is listed amongst Australia's coolest neighbourhoods. Once home to working class families with migrant backgrounds, the last decade has seen an influx of young lifestylers.
With a thriving cafe strip and a bold, colourful street art scene, this eclectic area with a whimsical backdrop fosters an outdoor lifestyle.
The gritty, graffiti-clad walls take pride of place along the shopfronts and alleyways lining Whatley Crescent and Eighth Avenue. Both draw in crowds, and have ignited interest from top artists including Anya Brock, Daek William, Stormie Mills, Jodee Knowles and others.
Located only 4.5km from the CBD, Maylands is very accessible and unique. Home to The West Australian Ballet Centre and the WA Youth Jazz Orchestra, it's also one of Australia's only peninsula suburbs, being surrounded by the Swan river on three sides.
Few suburbs have the bars, cafes and restaurants to create a coffee, food and music scene that takes you from morning to night – plus a public art exhibition of over 15 murals. Brightly painted on a pavement is a vintage styled hopscotch game with a yellow brick road theme, and around the corner, an interactive art activity trail features a giant monopoly board highlighting local businesses and landmarks.
Maylands is a lively, colourful, beautiful gem of a suburb with a big, bright outlook.
By Lyn, A Hole in My Shoe