Joining a Kakheti wine tour from Tbilisi is the best way to immerse yourself in Georgia's UNESCO-listed wine tradition. In this guide, I'll show you how to choose the perfect wine tour in Georgia and what to expect on the day.
Wine culture is hard to hide from in Georgia. Though by no means mandatory, a wine tour is a wonderful part of any visit to the country and often ends up being a highlight of Georgia for most people.
Good vino, good food, great hospitality, gorgeous mountain scenery – this is Kakheti, so what could possibly go wrong? Having visited the wine region numerous times I can tell you there's actually a lot of room for error – from poor organisation to having a guide with limited knowledge of wine, to dangerous driving or unforeseen expenses.
This guide to choosing a wine tour in Georgia shows you things to look out for and what to expect on the day. I'll also introduce you to one of my favourite companies, Eat This!, who recently invited me to join one of their tours to see how they do things differently.
---
Please note: This post contains affiliate links, meaning I may earn a commission if you make a purchase by clicking a link (at no extra cost to you). Learn more.
Transparency: My Kakheti wine tour was hosted by Eat This! As always, all opinions, endorsements and criticisms are 100% my own.
---
Why do a wine tour in Georgia?
There are lots of possible ways to explore Kakheti Wine Region: You can self-drive in a rental car, use public transport, find a driver through your guesthouse, or join a tour. I've tried them all over the years, and each one has its merits.
My favourite trips to Kakheti were always the days when I was travelling with a knowledgeable guide. In fact, along with Mtskheta, Kakheti is one of two places in Georgia that I highly recommend you visit with a guide. Here are a few reasons why:
You'll get access to smaller family wineries. Most (if not all) smaller wineries require an advance reservation. Some might not open for just one or two people because it's not viable. By joining a tour, you'll avoid disappointment and get a chance to support small businesses as well.
You'll see more. If you're short on time and hope to visit the wine region as a day trip from Tbilisi, you really need a driver plus someone behind the scenes to make it happen. You'll be surprised how much you can comfortably fit into one day when you have someone knowledgeable taking care of the logistics.
You'll be free to drink! Although I loved driving myself around Kakheti last winter, Georgia's zero-tolerance policy on drink driving meant that I had to sit out of the wine tastings – which kind of defeats the purpose of visiting wine country.
Of course there are some downsides to tours as well depending on the company you choose. I've been on wine tours that were quite rushed and stressful. Joining a tour means less flexibility and being limited to the wineries someone else chooses for you. Some companies lean towards larger commercial wineries, whereas I always prefer to have a balance between big operators and smaller family cellars.
Beware of tours that have hidden costs. Don't assume food or even wine is included in the quoted price because it's often not.
Looking for a cooking class in Tbilisi, Kakheti or Kutaisi? I recommend Georgian Flavors. Learn more about their hands-on masterclasses here.
How do Kakheti wine tours work?
While wine tasting is obviously an important part of any wine tour, wineries in Georgia (the good ones anyway) offer a more holistic experience: Wine, food, a tour of the property and vineyards to see the production, a history lesson, beautiful scenery, and some down time to chat and relax.
The formal sit-down wine tasting at a long table with a white tablecloth is not as common in Georgia as it is elsewhere in Europe. It's just not the local style. Generally speaking, things are more hands-on and intimate (and casual) here. You'll usually have someone from the winery there to show you around and answer questions.
Wine tours are the same: Most combine winery visits and tastings with other activities. In Kakheti, you'll usually visit a few monasteries and churches, and maybe participate in a food masterclass or visit a Qvevri workshop.
Things to look out for when choosing a wine tour in Georgia
Here are some of the questions you should ask yourself when choosing a wine tour:
Is the itinerary well paced? You will almost always end up spending far longer than you anticipated at wineries in Georgia (especially if the Chacha comes out and the toasting begins), so it's important to look for itineraries that aren't too rushed. Two or maximum three wineries in one day is about the limit.
Is there a mix of smaller and larger wineries? Personally, I like to see both on an itinerary. I'm not at all against visiting commercial wineries such as Khareba and Kindzmarauli – I think they offer a great experience, and it's always interesting to see how larger-scale operations work and how winemakers combine Georgian and European techniques. On the flipside, small vineyards often do things by hand and using Qvevri, so it's a nice contrast to be able to see both.
Are the wineries locally owned? A huge number of wineries in Kakheti are small family operations, so this is a great chance to inject some money into the local economy. Some tour companies prioritise Georgian-owned wineries for this reason.
Are guides knowledgeable about wine? Wine might be a way of life in Georgia, but that doesn't mean everyone is a wine expert. I've been on tours where the guide was more of an interpreter. It makes a huge difference if you can find a specialised guide who has an intimate knowledge of wine as it relates to culture and history.
What's included in the price? Or more precisely, what's not included? Look out for hidden costs, and if the wine tasting is included in the price, be sure to clarify what this actually means: One small glass or unlimited wine?
Is food included? If it's a full-day tour, you're going to need more than a grazing board to keep you going. Make sure the itinerary includes a proper meal.
Is road safety a priority? This is something you should ask yourself before getting into a car anywhere in Georgia. Look for companies that use professional drivers and good-quality vehicles. Avoid tours that have very long drive times or put you on the road after dark.
Are group sizes capped? If a company limits the group size to say 6 people, it's a pretty good indication that they're going for a more intimate experience. Private tours can be even better, but I often think interacting with other guests is one of the best parts of being on a tour.
Is other sightseeing included? Wine-only tours can be pretty intense. I recommend looking for itineraries that mix vineyards with other sightseeing opportunities (most do).
Is there a tipping policy? Companies that are transparent about pricing and give you information about tipping up front get a big tick in my books. This minimises confusion and awkwardness.
---
Recommended wine tour from Tbilisi: Visiting Kakheti with Eat This! Tours
I've been searching for a wine tour that captures all these values and delivers quality, thoughtful itineraries that go beyond the standard tourist route. I know the owners of Eat This! personally – when they invited me to join one of their tours to see how things work, I had one foot in the van before they'd finished asking!
I was lucky enough to join a full-day wine tour to Telavi, one of my favourite places in the wine region. We left Tbilisi nice and early to beat the traffic, and after a quick stop to visit a beekeeper on the Gombori Pass, picked up a few more guests from their hotel in Kakheti before we got started for the day.
Our guide, Ketie, was a trained sommelier as well as a qualified tour guide and we pretty quickly witnessed the depth of her knowledge on wine and history. Our first stop was Telavi city where we visited a couple of the major landmarks, including the Giant Plane Tree (Telavi's pride and joy!) and my favourite spot, the bazaar.
It can be confusing trying to figure out what to buy at these markets (and trying to negotiate prices), so I was very grateful that Ketie helped us to buy some sunflower oil, Adjika and a couple of other Kakhetian specialties.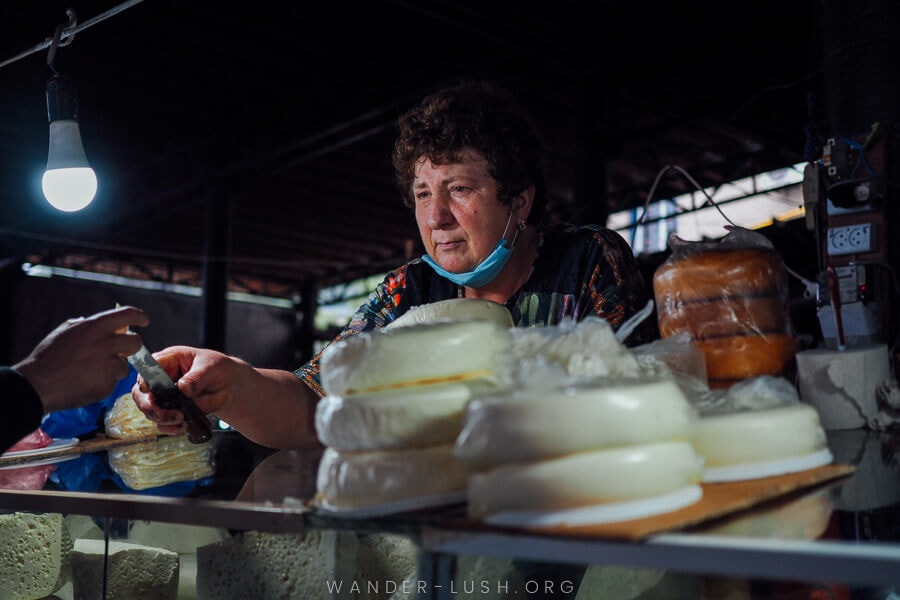 Unexpected rain threw a spanner in our plans so instead of wandering around Telavi, Ketie made a call and managed to get us in for an impromptu visit to Zaza's Qvevri workshop. This was one of the highlights of the day for me and not something you normally get to experience if you're travelling DIY.
After showing us his clay amphora, Zaza pulled out the Chacha and we ended up spending about an hour here chatting and drinking.
Next came the wine and food – and lots of it! Our first winery was Akido, a beautiful cellar near Alaverdi monastery. I hadn't been to this winery before but it's definitely a favourite now.
After touring the Marani and having a peek at the vineyards, we got to take a look around the family's heritage home, which they've lovingly done up Kakheti-style with antique furnishings to reflect what it would have looked like when their ancestors built it.
The family at Akido were very kind, but having Ketie to translate and elaborate for us was essential. We tried four different wines accompanied by a spread of snacks so elaborate, we mistook it for lunch at first!
After popping into Alaverdi Monastery, we then made our way to the second and final winery for the day, Shalauri. This is a larger winery and it was interesting to compare the two approaches. I think it was a perfect pairing.
After a tour of the property with co-founder David Buadze, we sat down for a huge feast on the veranda with the Greater Caucasus as our backdrop. The conversation was so good, we ended up staying far longer than planned here as well.
We headed back to Tbilisi with full stomachs and full hearts.
Things to know about Eat This! Tours
The team behind Eat This! have an intimate knowledge of Georgian wine and have personally visited well over 50 wineries. Their curated fixed trips and custom itineraries reflect this – as does their choice of Georgian guides. Ketie's knowledge of history and culture was matched by her understanding of wine, and that took this tour from great to excellent.
Eat This! focus specifically on small and locally owned wineries, which is another thing I really appreciate. Our day balanced wine and sightseeing, and when our plans got derailed by the weather, they were quick to come up with an alternative (which turned out to be one of the highlights).
This company is fully transparent about their fees and inclusions, so you know exactly what to expect. Prices are a little higher than some other tours to Kakheti, but I think it's great value for money considering the amount of planning that goes into it. They ask lots of questions before you book, including your dietary requirements and drinking preferences. Kids are welcome on the tours too.
Eat This! currently offers fixed one-day and overnight tours to both Kakheti and Kartli, an alternative wine region near Tbilisi. Detailed descriptions can be found here on the website, and you'll notice each tour has a little summary noting the type of traveller it's most suitable for (in-depth wine knowledge, history, minimal driving, relaxation, etc.).
Alternatively, they can build you a custom itinerary based on your interests, group size and budget.
Wine tour discount
If you're interested in booking a wine tour with Eat This!, they have kindly offered my readers a 5% discount on all their itineraries.
Follow this link to book and enter wanderlush in the coupon code field to claim your discount. This will also earn me a small referral commission.
---
Have you been on a wine tour in Kakheti? What was your experience like? Do you have any tips for other travellers or a particular wine tour to recommend?
---
You might also be interested in