It's not every day you get to sip a glass of vino made on the back of the world's oldest winemaking tradition. Here's what to expect from a wine tasting in Tbilisi, plus a list of my favourite wine bars and shops in the capital.
Wine and Georgia are virtually inseparable. Tradition dictates wetting a baby's lips with a drop of wine so she may know her country. Saint Nino, one of Georgia's most beloved religious figures, carried a crooked cross fashioned from a grape vine, and Mother of Georgia, the imposing aluminium monument that watches over the capital, wields a sword in one hand and a bowl of wine in the other. Drink, or die.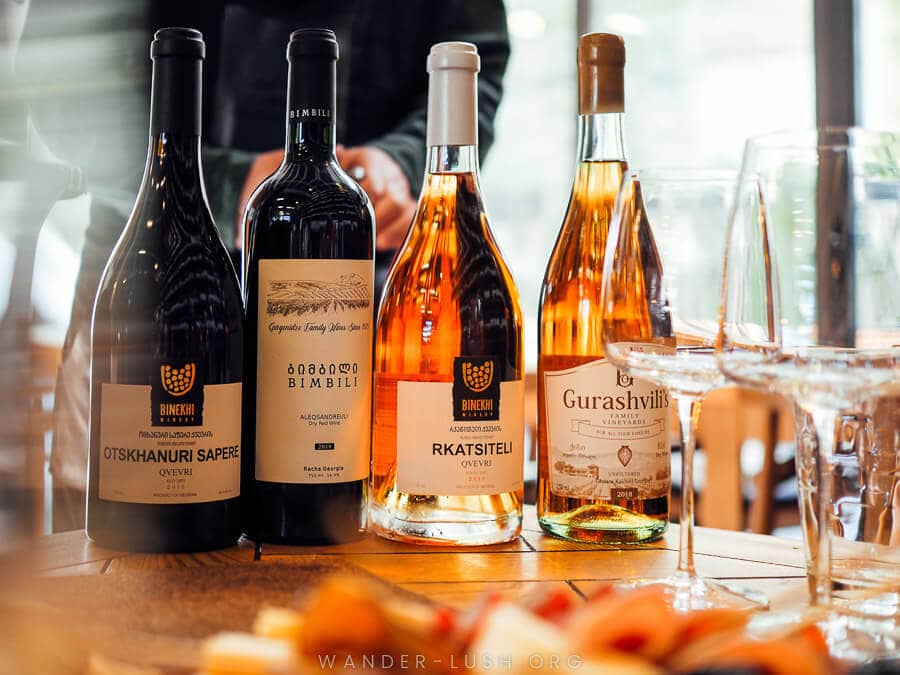 Georgia is best known for its Qvevri wines, heady natural vino fermented in a shapely clay vessel ensconced in the earth – often with skins, seeds and all. So vital is the Qvevri winemaking tradition to Georgia's identity and culture, it's even recognised by UNESCO.
I know next to nothing about terroirs, tannins or typicity, but travelling and living in Georgia has given me a deep appreciation for the ritualistic and symbolic aspects of wine. If you're a total novice like me, Georgia is the perfect place to start your wine education – in my experience, the scene here is far humbler, more grassroots and free from pretence compared to some other places (my home country included!).
In this Tbilisi Wine Guide you'll learn what to expect from a sit-down wine tasting. I also cover my favourite wine bars and wine shops in Tbilisi, spotlight a couple of must-try bottles, wine tours and books about Georgian wine.
Don't miss my tips for finding the best Georgian wine tours to Kakheti.
---
Please note: This post contains affiliate links, meaning I may earn a commission if you make a purchase by clicking a link (at no extra cost to you). Learn more.
---
Interesting facts about Georgian wine
You'll pick up a wealth of information about Georgian wine during tastings and tours. Here are a couple of basics that are handy to know in advance.
Georgia is often referred to as the 'birthplace of wine' or more commonly the 'cradle of wine'. This title refers to evidence of winemaking (grape seeds and residue) found by archaeologists on Georgian territory that suggests wine was being made here from as early as 6,000 BC.
More than 400 indigenous species of grapes are found in Georgia. In Soviet times, 3-6 dominant varieties were prioritised and some of the more obscure grapes were lost.
Georgian wines are either named for the variety of grape they use, or named for the microzone or appellation where those grapes were grown. For example, Rkatsiteli and Saperavi are grapes, while Kindzmarauli and Khvanchkara are appellations. Georgia currently has 20 registered appellations.
Kakheti produces 70-75% of Georgia's wine, but grapes are grown in almost every corner of the country – from mountainous Racha to the plains of Kartli and the highlands of Adjara near the Black Sea Coast.
Georgia is known for skin-contact wines and amber wines, white wines made by fermenting the grapes for a period with their skins on. Most Tbilisi wine tastings feature at least one amber wine.
Even though Georgia has an 8000-year-old wine heritage, the concept of bottled wine is quite new. The first bottles of Georgian wine were corked in 1841 at the Tsinandali Estate in Kakheti.
During the Soviet period, knowledge around winemaking was protected by the country's religious institutions. Many monasteries including Alaverdi near the city of Telavi produce their own wine.
In Georgia, the streaks that trickle down the side of your wineglass are called 'tears' rather than legs.
The Georgian word for cheers is Gaumarjos – always a handy one to have up your sleeve!
---
Georgian wines to look out for
Names like Saperavi, Rkatsiteli and Kindzmarauli are easy to find at any wine bar or restaurant. Here are some of my favourite lesser-known Georgian wines to try.
Kisi: These grapes make a young and vibrant wine with aromas of 'pear, marigold and walnut'. The grapes are harvested mid-season, so the wine is quite light. This is a good one for drinking at lunchtime!
Krakhuna: Wines made with Krakhuna grapes are more full-bodied and often aged for a couple of years. The colour is a deeper straw-like gold and the alcohol content is higher.
Khvanchkara: Semi-sweet wine from the Khvanchkara appellation uses a blend of grapes that grow in Lower Racha. It's often treacle-thick and berry-sweet – perfect for sugar addicts like me.
Aleksandrouli (Aleqsandreuli): Also grown in Racha, this grape makes smooth red wine that is low in tannins and very easy to drink. Depending on the winemaker, it can have a berry-like sweetness or be peppery on the tongue.
Otskhanuri Sapere: This variety of red grape is grown in Imereti including at one of my favourite vineyards in western Georgia, Baia's Wine. The finished product has a brilliant ruby red colour and coarse texture, with high tannins and acidity.
Shavkapito: Another red grape, Shavkapito is grown in Kartli region. What's cool about this variety is that the characteristics of the wine differ depending on where the vines grow: Grapes from flat vineyards yield an intense flavour, while grapes from the mountain slopes are more acidic. I love the sparkling pink wines made from Shavkapito.
---
Where to try Georgian wine in Tbilisi: Wine tasting at 8000 Vintages
If you want to sample a selection of Georgian wines and learn a bit about the history, I highly recommend you sign up for a wine degustation in Tbilisi. If you're planning to head east to Kakheti Wine Region to visit the vineyards, a wine tasting in the capital is a great primer. And even if you have no interest in wine whatsoever, it's still a lovely way to spend a few hours (and a must-do for first-time visitors to Tbilisi in my opinion).
There are a number of specialty shops and wine bars that offer formal degustations, usually 3-6 wines with narration by a professional sommelier and a delectable charcuterie board to accompany. 8000 Vintages is widely considered the best. The shop carries a huge selection of Georgian labels – more than 1,000 at any given time – and everything is hand-picked by sommelier staff through a blind tasting process (no favouritism here!). You can find a lot of small family labels and rare wine varieties too.
8000 Vintages has three branches: on Tabukashvili Street in the Old Town, and in Vake and Saburtalo. The stores all double as wine bars, hosting walk-in guests as well as formal degustations from Monday to Saturday.
I did my wine tasting at the Vake branch on Abashidze Street, a 15-minute drive from Liberty Square. Even though it's outside the Old Town, it's the most visually impressive of the three stores. A taxi from Liberty Square costs 6-8 GEL when booked through Bolt.
Our guide for the afternoon was 8000 Vintages' Head Sommelier, Kosta Tchanturia. The tasting started with a brief chat about our taste preferences and varieties we were already familiar with. Based on that, Kosta presented us with four wines – two ambers and two reds – to try.
As he uncorked the first bottle, he gave us a quick overview of Georgia's wine history. Then he poured the first in the series, a Kisi, showing us how to swish (as I learned, Georgian wine needs time to breathe) before the first taste. As we sipped, Kosta told us about the winemaker, the vineyard and the grapes used. 8000 Vintages works closely with a lot of small wineries and it was interesting to hear Kosta's account of how different vintages he'd tasted over the years had changed and improved.
The wine tasting includes a small platter of cheese, meat, dried fruits and Churchkhela, which we had on the table in front of us. For each wine, Kosta recommended what foods to pair it with.
We repeated this process with three more bottles. We had Kosta's full attention for around an hour in total, during which time we asked as many questions we could think of. He then topped each of us up with a glass of amber and a glass of red before heading back to the bar.
The thing I liked most about the wine tasting was that it was totally free of pretence. There was no expectation to say something insightful and no awkward pauses. Personally, I can only really appreciate the taste of a specific wine when I have something to compare it to. Because we tried the wines in fairly quick succession, the tasting was perfect for me in this regard. The wines we tried were definitely among the best I've had anywhere in Georgia.
8000 Vintages is very flexible and accommodating. We were a party of four and even though my husband doesn't drink, he still had a full table setting and was made to feel included. At 35 GEL per person including four wines and the tasting platter, it's excellent value for money.
After our tasting was over, we hung around for a couple of hours and ordered another bottle plus two charcuterie boards from the menu. 8000 Vintages isn't a restaurant – but let me tell you, it's worth visiting for the tasting boards alone. Never mind the wine. The Tuscany Board with prosciutto, olive tapenade and Nadugi 'cream cheese' was unreal, and we also enjoyed the simple Ham and Cheese Board, with its tasty array of hard and soft cheeses, and cured meats.
Even if you're not keen on the full wine tasting, walk-ins guests are welcome to try wine by the bottle or glass and order off the tasting menu. By the time we were ready to leave, the bar was almost full with guests. Half a dozen uncorked bottles are kept at the front of the shop if you want to do a quick complimentary tasting to help you decide what to order.
Advance bookings are required for the formal wine tasting – I recommend messaging or phoning at least a day or two in advance. They cater to English, Georgian and Russian speakers. More information and reservations here on the website.
Other places to do a wine degustation in Tbilisi
Most wine shops in downtown Tbilisi that are owned by a particular vineyard (for example Mosmieri, Shumi, Khvanchara) offer free in-store tastings. These are designed to showcase a particular company rather than a variety of different vineyards. In my opinion, it's much better to do this type of tasting in-situ at the actual vineyard in Kakheti (or wherever it may be).
To try a more comprehensive selection of wines, including bottles from small family run wineries, I recommend you visit a shop such as 8000 Vintages. Here are a couple of other venues in Tbilisi that are known for their professional wine tastings.
DADI Wine Bar & Shop (hours & info) – Conveniently located just off Freedom Square, this wine bar and bottle shop offers a tasting of 5 labels accompanied by pate, bread and sausage for around 20 GEL per person. Small and larger plates can be ordered from the kitchen, and they also serve breakfast on weekends.
Vino Underground Tbilisi (hours & info) – Georgia's first natural wine bar, (Gh)Vino Underground offers a nice selection of local and imported organic wines plus spirits. Small bites (bread with sunflower oil and cheese) are served during a wine tasting, which typically consists of 4 bottles. This bar was co-founded by a group of friends, including the winemakers behind Pheasant's Tears. The setting in a cosy underground cellar in Sololaki is terribly atmospheric.
Wine Library (hours & info) – A few doors down from 8000 Vintages, this shop stocks 250 brands. Wine is served by the glass or bottle, and sharing plates are available. Wine tastings are held on Fridays and Saturdays.
Reserve Wine Tasting Shop (hours & info) – Located off Rustaveli Avenue behind Parliament, this is one of few venues in Tbilisi that uses nitrogen bottle sealing. There are 30-plus wines available for tasting at any time. Instead of booking a table, you use a card system to taste as many as you like. Staff are on-hand to answer questions.
DecanTer Wine & Shop (hours & info) – This courtyard bar off Rustaveli offers 300 hand-picked wines accompanied by a seasonal small plate menu. Tastings start from 15 GEL. Special events (including tastings with local winemakers) are advertised on their Facebook Page.
Karalashvili's Wine Cellar (hours & info) – This traditional Marani near Liberty Square offers tastings in a traditional 600-year-old cellar. The wines on offer all come from the family's vineyard in Kakheti. Prices start from 2 GEL per glass.
---
Best wine bars in Tbilisi
If you're not keen for a full tasting or degustation and you just want to sip Georgian vino at a nice wine bar, here are a few notable options in Tbilisi that serve local wines by the glass or bottle.
Wine Factory No. 1 (hours & info) – This dining complex in Vera features lots of bars and a couple of fantastic restaurants housed in a repurposed Soviet-era wine factory.
Living Vino (hours & info) – Specialising in yummy vegan food and natural wines, Living Vino offers a nice selection of Georgian bottles, including bottles from small family run wineries in Imereti. Living Vino is located in Vera inside the LOKAL Tbilisi coworking space.
G.Vino Wine Bar (hours & bookings) – This restaurant/bar on Erekle II Street near the Bridge of Peace curates rare natural wines from large and small cellars around Georgia. The dining menu consists of small tapas-style plates. Wine tastings are also available. Advance bookings are essential.
Wine Not (hours & info) – Live piano music adds to the cosy atmosphere at this wine bar in Vera. The venue is petite but the wine menu is huge. If you like what you're sipping, you can buy the bottle to take home with a 5 GEL discount.
→ Find more recommendations in my full guide to the best bars in Tbilisi.
Where can I buy wine in Tbilisi? Recommended Tbilisi wine shops
A bottle of Qvevri wine is the perfect souvenir to take home with you from Georgia (just remember to bring your Wine Wings).
Most of the bars and tasting venues already mentioned above – including 8000 Vintages, DADI, Wine Library and Reserve – also sell bottled wine. Here are a few more wine shops in Tbilisi where you can find a good selection of Georgian labels.
Georgian Kalata (hours & info) – Run by the same team behind popular Vinotheca wine shop (which used to be located in the Old Town but has since closed), this deli-shop offers a nice selection of natural wines alongside Georgian teas, jams and preserves, Churchkhela, cheeses, and other artisanal food products. They have a couple of outdoor tables on the newly refurbished Orbeliani Square where you can sit with a glass and a wedge of cheese.
Wine Gallery (hours & info) – This shop in Marjanishvili (near Fabrika) is part museum, part bottle shop, with a huge range of Georgian wines on display alongside antiques. The building itself is a heritage monument.
---
Books about Georgian wine
If you want to learn more about the history of Georgian wine or read up on current trends, I highly recommend checking out these books.
Georgia: A Guide to the Cradle of Wine – Published in 2017, this 'field guide' to Georgian wine by Miquel Hudin and Daria Kholodilina locates wine in the context of culture, religion and custom. It's a great all-round introduction to Georgia through the lens of vino. Buy it here on Amazon.
The Wines of Georgia (Classic Wine Library) – A comprehensive introduction to Georgia's winemaking tradition and contemporary wine regions written by Lisa Granik and published in 2019. Buy it here on Amazon.
For the Love of Wine – Subtitled 'My Odyssey through the World's Most Ancient Wine Culture', this novel by journalist Alice Feiring is a travelogue-style investigation of Georgia's natural wine movement. It's beautifully written and very accessible. Buy it here on Amazon.
Natural Wine for the People – Alice Feiring's second book doesn't focus exclusively on Georgia, but provides a broader introduction to natural wine. Buy it here on Amazon.
Tasting the Past: The Science of Flavor and the Search for the Origins of Wine – This book by science journalist Kevin Begos takes a similarly global look at the origins of wine. It combines history, scientific enquiry and good old adventure travel writing to uncover the industry's roots. As you might expect, Georgia and Armenia both feature prominently. Buy it here on Amazon.
For more wine-spiration, have a look at Honest Wines on YouTube – the duo behind the production travel around Georgia in search of the best organic wines, interviewing local winemakers and experts along the way.
---
Wine tours from Tbilisi
→ See my detailed guide to choosing the perfect Kakheti wine tour.
---
Are you a fan of Georgian wine? Have you ever done a wine tasting in Tbilisi or spend an evening hopping between the city's best wine bars? If you have any more recommendations please leave me a note in the comments below. Cheers!
---
More Tbilisi posts you'll love
For even more inspiration and resources, check out my new Georgia Travel Guide and my Georgia itinerary.
---
Georgia essentials
Here are some of the websites and services I use when I'm planning a trip to Georgia and the Caucasus. Remember to check out my full list of travel resources for more tips.
– Find affordable flights to Tbilisi, Batumi or Kutaisi on Kiwi.com, a booking site that mixes and matches airlines to find the best route (there's a money back guarantee if you miss a connection).

– Use iVisa to check if you need a tourist visa for Georgia and apply for an expedited visa online.

– Pre-book a private transfer from Tbilisi Airport to your hotel or from Kutaisi Airport to Tbilisi with my preferred partners at Friendly.ge.

– Get a great deal on a rental car in Georgia by using MyRentACar to find a local agent.

– Buy your tickets for the Tbilisi to Baku or Yerevan sleeper train online in advance through my partners at Geotrend (get a discount when you use the code in this post).

– Find the best Georgia hotel deals on Booking.com, book a Georgia hostel, or find a unique Airbnb.

– Find the best city tours and day excursions in Georgia.

– Compare mobile providers and pick up a local Georgian sim card.

– Order a copy of the new Lonely Planet Caucasus guidebook (published July 2020).