Taking place every year in September/October, the wine harvest festival or Rtveli is a joyous time of year in Georgia – especially in the country's biggest wine region, Kakheti.
If you're lucky enough to be visiting Georgia in autumn, I strongly recommend heading out to Kakheti to see this part of the country's UNESCO-Listed winemaking tradition for yourself.
Not every vineyard is open to visitors so you need to do your research. This quick guide to Rtveli 2021 shows you what to expect and includes a list of wineries and other venues that are offering harvest experiences this year.
If you know of any other Rtveli celebrations or tours I've missed, please share the details in the comments so I can add them to the list. Thank you!
---
Please note: This post contains affiliate links, meaning I may earn a commission if you make a purchase by clicking a link (at no extra cost to you). Learn more.
---
When is Rtveli 2021?
This year's harvest has already started in some parts of Kakheti after hailstorms damaged huge swathes of vines. Vineyards that weren't impacted will start picking on the weekend of September 5/6 or September 10/11. Some will harvest all their grapes over a few days, while others will space it out over several weeks to accommodate guests.
In Kakheti, the harvest will continue throughout the month of September and potentially into the first weeks of October (TBC). Other wine regions such as Kartli and Imereti will start the harvest later, between mid-September and mid-October. Some regions around the Black Sea including Guria might go as late as November.
Every winery works to a different schedule depending on the weather conditions, their elevation, the types of grapes they grow, and the winemaker's preferences. So there's a good chance you can see grapes being picked all throughout the autumn months.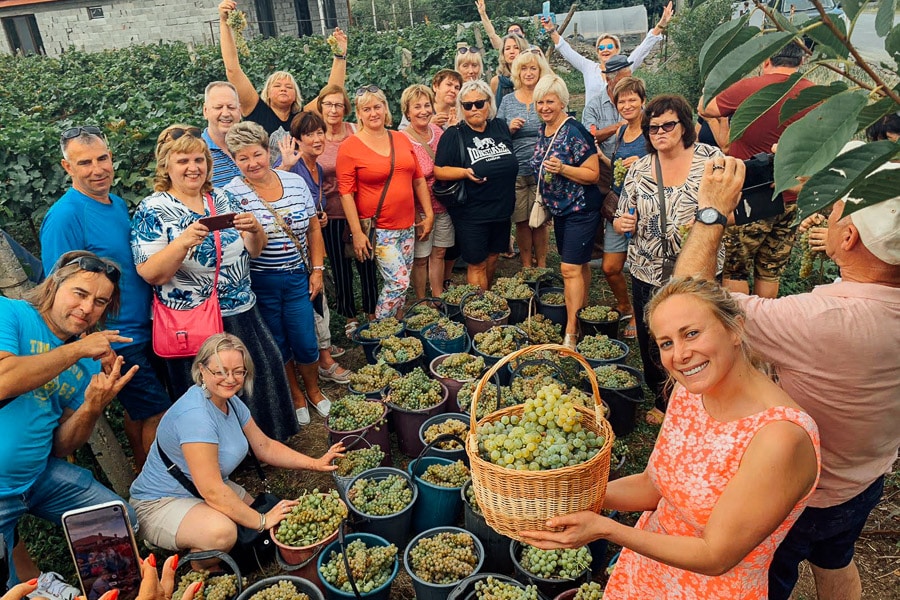 What happens during Rtveli?
While Rtveli is a lot of hard work, it's also a time of celebration. There's a great sense of community as everyone pitches in to get the job done. After long days in the fields, there is much feasting, toasting and merry making in the evenings.
Rtveli has huge cultural significance in Georgia and is also associated with music, dance, singing, and the preparation of special autumn foods.
Typical Rtveli activities include:
While many of these activities are a traditional part of Rtveli, some places will 'augment' the experience for tourists. Ultimately it's up to you to decide what kind of Rtveli you want to have.
How can I participate?
There are many different ways to experience Rtveli. You could spend an hour at a well-established commercial winery observing the process, spend a day or two at a smaller vineyard for a hands-on experience – or you might get a personal invitation to a family winery where everything is done at a much more intimate scale.
It's important to note that not every winery is open to visitors during Rtveli. This is their busiest time of year, and many winemakers (understandably) prefer to focus on the actual winemaking rather than accommodating guests.
I don't recommend showing up at any old winery and expecting to be hosted. Instead, I suggest you either:
Organise to visit a winery with special Rtveli events. Offerings range from a few hours to full-day festivities. Places are usually limited so it's essential to book in advance. See the list in the next section for ideas.
Book a tour from Tbilisi. My preferred company, Eat This! Food & Wine Tours, is hosting a limited number of 1 and 2-day Rtveli tours this year. See here for details and use the coupon code wanderlush to get a small discount.
Book a guesthouse in Kakheti and ask your host. It's more than likely they will know someone who needs a helping hand – but you'd better be prepared to pitch in.
---
Confirmed Rtveli venues for 2021
This list is a work in progress – if you know of any other Rtveli festivities please share the details in the comments so I can add them. Thank you!
Wine Yard N1
Run by my friend Tika and her family, this fourth-generation wine cellar produces Qvevri wines from grapes grown in the Kindzmarauli microzone.
This year they are hosting guests every day throughout the harvest period to pick and crush grapes, enjoy a supra, listen to live folk music and participate in dance workshops.
This is truly one of the most beautiful venues in Kakheti for lunch and a wine tasting. A great choice for families or groups of friends looking for a full-day experience.
Bookings recommended.
Keti's House
This popular family guesthouse in Kvareli is hosting Rtveli excursions to a nearby vineyard every weekend throughout the harvest season.
Taking place from Friday midday until Sunday afternoon, the all-inclusive itinerary includes a Khinkali cooking glass, Churchkhela making, grape harvesting and crushing. Folk musicians are available on request for an extra fee.
Accommodation, full board and lots of wine is included in the price. If you prefer not to stay overnight, there's also the option to visit on Saturday only for the harvest and wine degustation.
Spots are limited and bookings are essential – see the Facebook event page for more details.
TEMI Community
TEMI Community is a social enterprise that employs 70 people of different abilities to work on a range of agricultural projects, including a vineyard.
They host events throughout the year, including grape picking and crushing during September. Churchkhela making, meals, wine tastings and other activities are also available on request.
Grape picking and crushing requires a minimum of 10 or 12 people, so it's best to contact them in advance and plan your visit at the same time as others. Or else get a group of friends together – it's a beautiful venue and the proceeds go to a great cause.
Bookings essential.
Kakhetian House Vakirelebi
This farm-to-table restaurant run by the Demetrashvili family is hosting a one-off event for Rtveli on Saturday September 11. It will take place at an organic vineyard nearby – you need your own transportation to get there.
The program includes a tour of the family marani, a supra feast and a churchkhela masterclass plus picking the grapes and crushing them in a wooden Satsnakheli.
Bookings essential – see the Facebook event page for more details.
Javakishvilis Cellar
This castle-like winery with Qvevri cellar, beautiful gardens and trellised arbours is a picture-perfect setting for Rtveli.
Every day throughout the month of September they are hosting guests for grape picking, crushing, wine tasting, communal meals in the garden, and making Shoti bread in a traditional Tone oven.
Bookings recommended.
Chateau Mosmieri
This is a beautiful hotel-winery with a huge outdoor pool and views of the Greater Caucasus. Harvest festivities will take place every day from September 10, and include grape picking and culinary workshops.
Meals and accommodation are also available. Expect a very polished experience.
Bookings recommended.
Berika Winery
If you want to get your hands dirty, Berika family winery is offering guests the chance to join them in the vineyard throughout September, with tours available on request. Prices depend on the size of your group; discounts are available if you organise your own transport from Tbilisi. Otherwise transfers are included.
As well as grape picking, you can tour the vineyard, do a wine tasting, eat lunch, and even view a collection of Soviet cars.
Bookings essential.
Schuchmann Wines Chateau
This upscale hotel-vineyard is known for its wine spa. Their full-day Rtveli package this year includes a tour of the property, bread-baking and churchkhela-making workshops, a cha cha distilling demonstration, plus a supra meal and tasting of six house wines.
Bookings essential.
---
Rtveli tours from Tbilisi
Rtveli Experience with Eat This! Tours
My preferred wine tour operator in Kakheti, Eat This!, is running a limited number of Rtveli events throughout the harvest period. Choose from full-day or overnight itineraries that include grape picking and stomping, a supra, plus a bit of sightseeing and a visit to the local market.
Eat This! work with small family wineries to craft intimate, authentic tours – so you can be sure their Rtveli experience is the real deal. Prices vary depending on the length of the tour and the size of the group. Private custom tours are also available.
Bookings essential – inquire on the website. Use the coupon code wanderlush when you book to get a small discount off the price.
Rtveli tour with Tbilisi Free Walking Tours
This year Tbilisi Free Walking Tours is organising small group trips to Kakheti. The full-day itinerary includes grape picking at a vineyard, a churchkhela-making masterclass, wine tasting, lunch and dinner. Transport is by minibus from Freedom Square.
Booking essential – see the Facebook event page for dates and more details.
Wine tour with Wine Not? x Isev Kvareli
Organised by Wine Not!, a popular bar in Tbilisi, this multi-day Rtveli tour runs you through the whole process from vineyard to Qvevri. A supra dinner and accommodation at Isev Kvareli is included in the price.
If you join them for the vintage you'll also get a 20% discount off wine and cheese boards at the bar – as if you needed another reason!
---
More resources for wine lovers