Taking place every year in September/October, the wine harvest or Rtveli is a joyous time of year in Georgia – particularly in the country's biggest wine region, Kakheti.
If you're lucky enough to be visiting Georgia in autumn, I strongly recommend heading out to Kakheti to see the country's UNESCO-Listed winemaking tradition in action and experience one of Georgia's best festivals for yourself.
Not every vineyard is open to visitors so you need to do your research. This quick guide to Rtveli 2022 shows you what to expect, and includes a list of wineries and tour companies that are offering harvest experiences this year.
If you know of any other Rtveli celebrations or tours that I've missed, please share the details in the comments so I can add them to the list. Thank you!
---
Please note: This post contains affiliate links, meaning I may earn a commission if you make a purchase by clicking a link (at no extra cost to you). Learn more.
---
When is Rtveli 2022?
This year's harvest started as early as August in some parts of Kakheti. Most vineyards will start plucking grapes from September 3/4 or September 10/11 onwards. Some will harvest all their vines over a few days, while others will space it out over several weeks.
In Kakheti, the harvest will continue throughout the month of September and potentially into the first weeks of October (TBC). Other wine regions such as Kartli and Imereti will start the harvest later, between mid-September and mid-October. Some regions around the Black Sea including Guria might go as late as November.
Every winery works to a different schedule depending on the weather conditions, their elevation, the types of grapes they grow, the sugar content of the grapes, and the winemaker's preferences. So there's a good chance you can see grapes being picked all throughout the autumn months.
Last year, devastating hailstorms damaged huge swathes of vines in Kakheti. This year, they are forecasting a bumper harvest.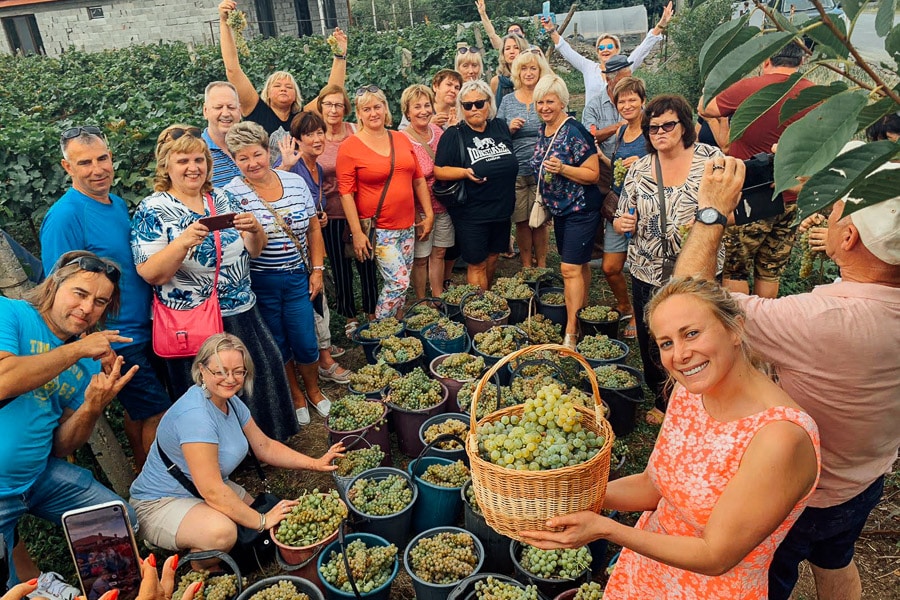 What happens during Rtveli?
While Rtveli is a lot of hard work, it's also a time of celebration. There's a great sense of community as everyone pitches in to get the job done. After long days in the fields, there is much feasting, toasting and merry making in the evenings.
Rtveli has huge cultural significance in Georgia and is also associated with music, dance, singing, and the preparation of special autumn foods.
Typical Rtveli activities include:
Grape picking. Done by hand using buckets or crates.
Crushing. Either mechanised or done the old-fashioned way by stomping the grapes in a wooden wine press called a Satsnakheli.
Fermenting the grapes. Once processed, the grapes are placed in Qvevri, huge earthenware vessels buried underground. Some commercial wineries use European methods but this is the traditional Georgian way.
Supra. At day's end, a huge feast is prepared for the workers. Usually a long table covered with Lurji Supra blue tablecloths is laid out with food. Accompanied by much drinking and toasting of course!
Wine tasting. It's a tradition to drink last season's wine. Many places offer a degustation as part of the Rtveli experience.
Churchkhela-making. Georgia's famous walnut or hazelnut 'candy' is made using grape juice and also prepared in autumn.
Folk music & dance. Many venues organise performances to add to the atmosphere. Even at low-key celebrations there will often be singing around the table.
While many of these activities are a traditional part of Rtveli, some places will 'augment' the experience for tourists. Ultimately it's up to you to decide what kind of Rtveli you want to have.
How can I participate in Rtveli?
There are many different ways to experience Rtveli. You could spend an hour at a well-established commercial winery observing the process, spend a day or two at a smaller vineyard for a hands-on experience – or you might get a personal invitation to a family winery where everything is done at a much more intimate scale.
It's important to note that not every winery is open to visitors during Rtveli. This is their busiest time of year, and many winemakers (understandably) prefer to focus on the actual winemaking rather than accommodating guests.
I don't recommend showing up at any old winery and expecting to be hosted. Instead, I suggest you either:
Organise to visit a winery with special Rtveli events. Offerings range from a few hours to full-day festivities and overnight programs. Places are usually limited, so it's essential to book in advance. See the list in the next section for ideas.
Book a tour from Tbilisi. My preferred company, Eat This! Food & Wine Tours, is hosting a range of Rtveli tours this year. See here for details and use the coupon code wanderlush to get a 5% discount.
Book a guesthouse in Kakheti and ask your host. It's more than likely they will know someone who needs a helping hand – but you'd better be prepared to roll up your sleeves and pull your weight!
---
Confirmed Rtveli tours from Tbilisi for 2022
This list is a work in progress – if you know of any other Rtveli events, please share the details in the comments so I can add them. Thank you!
---
Confirmed Rtveli venues for 2022
If you prefer to travel to Kakheti independently, the following vineyards are hosting tourists during the 2022 Rtveli period.
---
More resources for wine lovers