The ultimate list of unique places to visit in Georgia (the country) – from cities and essential places to go, to alternative and obscure destinations, as recommended by an expat. Includes the best things to do in Georgia, transport instructions and insider tips.
She may be small in size and still relatively obscure on the world tourism stage, but let me tell you: There is a heck of a lot to see and do in Georgia.
John Steinbeck's "kind of second heaven" – the sliver of planet earth that God supposedly decided to set aside for himself – Georgia really is as beautiful and diverse and wonderful as people make it out to be.
In the north, the dramatic peaks of the Greater Caucasus form a natural land border with Russia, giving way to the fertile Alazani Valley and a semi-desert moonscape of rainbow hills and mud volcanoes in the south. And that's just Eastern Georgia.
On the western side, clutches of tea bushels and swathes of ancient Colchic forest thrive on mineral-rich soils and humid air, cascading down to the foothills of the Lesser Caucasus and the dark-sand beaches on the Black Sea coast.
From the 'Georgian Arctic' to the 'Georgian Dolomites' and the 'Riviera of the Caucasus', there's a little bit of everything in Georgia.
On top of that, Georgia is the steward of eons of history, many chapters of which you've likely never heard about before. A coveted bridge between East and West, when Georgia wasn't being invaded, she was being nourished by influences from all four corners of the globe, adding layers to the already rich Georgian culture.
Long before the days of the Old Silk Road, Georgia cultivated the first murmurs of Christianity and nurtured what is believed to be the oldest wine-making tradition anywhere on earth.
---
If this all sounds a bit romantic, that's because I consider Georgia my soul mate. Having lived in the country for a year now and travelled from top to toe several times over, I've seen and experienced almost everything this country has to offer (almost!).
This list brings together my favourite Georgia destinations, including must-sees and unique places to visit in Georgia. These are all places I've been to myself and would personally recommend. The list currently sits at 38, but it's a work in progress – I'll be adding more as I continue to explore Georgia over the coming months (notice that Tusheti, Khevsureti and Vashlovani are yet to be added!). You'll find links to my in-depth destination guides for most of the locations mentioned throughout.
Where you're planning to visit Georgia soon or you're just curious about the little country in the Caucasus whose name seems to be on everyone's lips right now, I hope this guide gives you some inspiration.
For more practical advice about visiting Georgia, check out my Georgia Travel Guide and my Georgia Travel Itinerary, both of which contain detailed information about transport and logistics.
Looking for even more Georgia inspiration? Sign up here to get a free copy of my 25-page ebook, '365 Things to Do in Georgia':
---
Please note: This post contains affiliate links, meaning I may earn a commission if you make a purchase by clicking a link (at no extra cost to you). Learn more.
---
Cities to visit in Georgia
Georgia's regional capitals each offer visitors something unique – be it a window onto local history and traditions or a taste of distinct regional cuisine. Here are eight of my favourite cities in Georgia and the top things to see, do and eat for each.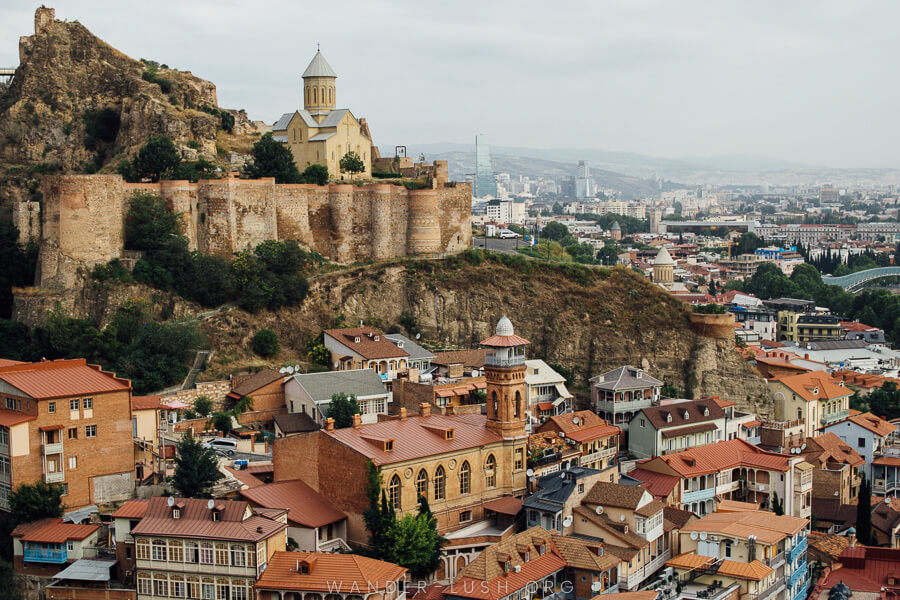 Tbilisi
When visiting Georgia, it's mandatory to spend at least a couple of days in Tbilisi, the nation's capital and hub for the arts, culture and food. Tbilisi's history dates back to at least the 5th century and its position at the geographical and figurative crossroads of East and West has meant it's always found a way to incorporate the best of both worlds.
Tbilisi lies in a valley ringed by mountains, each with a soaring cable car or funicular at the ready to whisk you away towards magnificent views. The medieval Narikala Fortress and Soviet-embellished Mtatsminda face off from opposing hills, standing guard over ancient churches, the domed bathhouses of Abanotubani, and modern marvels including the Bridge of Peace and Rike Concert Hall.
Tbilisi is a symphony of different religions, cultures and traditions. Synagogues, Orthodox cathedrals, Armenian churches and a mosque are all within shouting distance of each other, while old bazaars and merchant's mansions allude to the city's history as a trading hub.
Tbilisi is a city of details, so after a broad overview from afar, it's time to take the streets with a magnifying glass. Hours can be spent examining the heritage buildings in the Old Town and in Sololaki, Tbilisi's oldest neighbourhood.
Rove the vibrant Dezerter Bazaar for spices and churchkhela and the iconic Dry Bridge Market for vintage trinkets. Brush up on your history by visiting a few of Georgia's most important museums and galleries, starting with the Soviet Occupation Hall at the National Museum, the Folklore Museum, and the Open Air Museum of Ethnography.
Tbilisi's wine bars and Georgian restaurants showcase the best of the country's fresh produce, regional cuisines and organic winemaking techniques. And beautiful boutiques and studios trade in handmade lurji supra blue tablecloths, cloisonne enamel and other beautiful objects to satisfy all your earthly desires.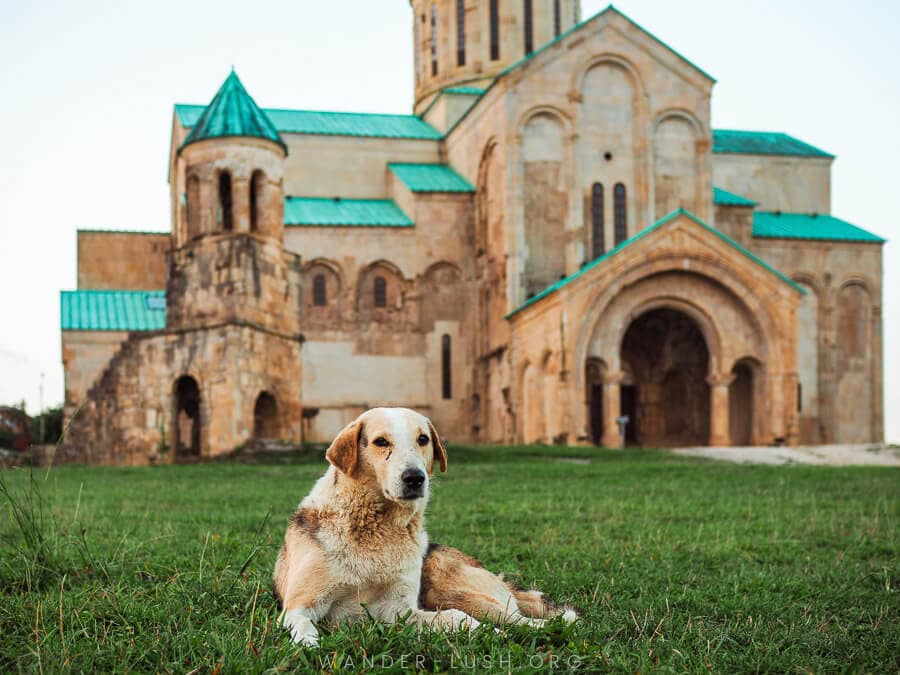 Kutaisi
Smaller than Tbilisi and with a completely different feel, Georgia's second-biggest city tends to get skipped over. Those who only visit Kutaisi airport are making a terrible mistake: This is Georgia's most charming city, in my eyes anyway!
It's also one of Europe's oldest. Inhabited since the 6th century BC, Kutaisi served as the political centre of the Kingdom of Colchis in the Middle Ages. Later it became Georgia's cultural capital – the stomping ground of countless poets, musicians and scholars – until Soviet times, when Kutaisi was retrofitted for industry and her skyline remoulded.
I'm told she lost some of her charm in the process, but with all the cute restaurants and vintage tea houses that dot the town today, you wouldn't know it.
Browse the Green Bazaar, ride the cable car over the roaring Rioni river, and step inside Kutaisi's synagogue, one of the most beautiful in the region. On the outskirts of Kutaisi you'll find the UNESCO-Listed Gelati Monastery and pretty Motsameta Monastery, linked together by a forest hiking trail. Bagrati Cathedral is the city's best sunset spot.
Kutaisi is the gateway to Imereti region, the lush western portion of Georgia known for its canyons, waterfalls, caves and wineries. There are plenty more must-sees within a day trip's distance of Kutaisi that I'll get to later.
Don't miss: Lunch at Bikentina's Kebabery, one of Kutaisi's best budget eats. For more foodie inspiration, see my Kutaisi restaurant guide.

Where to stay in Kutaisi: Kutaisi Hotel California is a comfortable guesthouse in the centre of town. Owner Laila is a sweetheart and will treat you like family.

Further reading: My essential guide to Kutaisi and recommended itinerary.
Batumi
Georgia's biggest Black Sea resort city has a reputation for being 'the Las Vegas of the Caucasus'. But now that Batumi is undergoing something of a renaissance, my perception has totally changed . Living in Batumi showed me a different side of the city and I now consider it one of my favourite places in Georgia.
Batumi still centres on the same old stretch of sand (or should I say, pebbles) that has been attracting summer tourists for centuries. But away from the shoreline, Batumi has a slew of cool cafes, creative spaces and an excellent street art scene. Love it or hate it, the outlandish modern architecture is a highlight, and the Old Town is full of surprises. Add a wonderful produce market, a scenic aerial cableway, some great urban hikes, and access to some of Western Georgia's best national parks to the mix, and you have an all-round excellent destination.
Another perk of visiting Batumi is getting acquainted with distinctive Adjarian culture and cuisine. This is the birthplace of the famous Adjaruli Khachapuri and a range of other indulgent delicacies, including my personal favourite, Borano (melted cheese smothered in hot butter).
Walk or cycle Batumi Boulevard, an idyllic pathway that stretches along the seafront. If you're feeling adventurous, you can cycle all the way to the Turkish border. Batumi is an ever-evolving city that has so much to offer beyond the beach.
Don't miss: Batumi Botanical Garden, a gorgeous green space on the coast north of the city, with easy hiking trails and panoramic Black Sea views.

Where to stay in Batumi: Kartuli Hotel is one of the coolest accommodations in Georgia and my go-to in Batumi. Located on the 37th floor of an apartment building, the sea and sunset views are gob-smacking.

Further reading: My complete guide to Batumi covers all the best things to do in the city plus my restaurant and cafe recommendations and my guide to the 10 best Batumi day tips shows you where to go beyond the city.
Mtskheta
One of the oldest cities in Georgia and the old kingdom's capital for almost a millennium, Mtskheta is located just 20km from Tbilisi and is a popular day trip destination. It's easy to reach by marshrutka or taxi in under an hour, and can be combined with a visit to Gori or used as a stopover on your way from east to west.
Mtskheta played a pivotal role in the evolution of Christianity in Georgia, and the small city is packed with important churches as a result. One of the nation's four UNESCO World Heritage Sites, the Historical Monuments of Mtskheta, is located here and comprises a set of monasteries noted for their frescoes and inscriptions in an early version of the Georgian alphabet.
The 11th-century Svetitskhoveli Cathedral sits proudly in the middle of the city and gives Mtskheta its overall structure. Georgia's second-largest religious building behind Sameba in Tbilisi, the location for the monumental structure is said to have been chosen by Georgia's patron saint, St. Nino, herself. Georgia's answer to Westminster, this is where kings were coronated and later laid to rest. At least 10 monarchs enjoy their eternal slumber beneath the heavy stone floor.
Jvari Monastery, built in the 6th century on a hill above Mtskheta, is a must-visit in Georgia. The church itself is quite modest inside, but the view from the churchyard – a stunning panorama of the confluence of the Mtkvari and Aragvi rivers, one blue and the other emerald – is simply breathtaking.
Don't miss: The view of Jvari Monastery from the yard at Mtskheta Antioch.

Where to stay in Mtskheta: If you decide to stay in Mtskheta overnight rather than visiting as a day trip, check out Jewelberry Glamping geodesic domes just outside the city.

Further reading: 10 things to do on a Mtskheta day trip.
Gori
The birthplace of Joseph Stalin and home to the Stalin Museum, Gori has a reputation for being Georgia's premier dark tourism destination. Visiting the museum – which includes Stalin's birth house and armoured train carriage – is a trip to say the least, especially when you take the guided tour, which I highly recommend you do.
Stalin is certainly the city's main claim to fame, but there's a lot more to Gori than that. Once a pitstop on the Silk Road, Gori sits at the foot of a massive hill crowned with a distinctive stone fortress that cascades down towards the river's edge. Climb to the top of the fortress for views over the plains of Shida Kartli region – or for even better views, venture further to Gori Jvari church, a short taxi ride or hike from town on the opposite bank of the river.
Gori is a peaceful city with lots of parks, tidy streets, and trellises covered in vines dripping with grapes. The main street is lined with cafes and ice cream shops. Gori's old town features some interesting brick architecture and backs onto a wonderful undercover produce market.
Set aside some time to visit the Great Patriotic War Museum, which documents the 2008 conflict that unfolded just a few dozen kilometres away and impacted the city profoundly.
Don't miss: A meal at Shin da Gori, an atmospheric restaurant run by local actress and entrepreneur Keta Lortkipanidze.

Where to stay in Gori: Guest House Nitsa is a typical Georgian homestay run by the lovely Lia. Expect lots of old-fashioned hospitality and lots and lots of homemade wine.

Further reading: Things to do in Gori beyond the Stalin Museum.
Telavi
Telavi is the biggest city and main transport hub in Kakheti, Georgia's humongous eastern region. It's position in the Alazani Valley makes it a great base for travelling the Wine Route and visiting the many medieval monasteries, churches and castles that stud the Kakhetian countryside.
Telavi was the capital of the Kingdom of Kakheti from the 10th-12th centuries, and again in the 17th century. Historians often refer to it as the most 'medieval' city in Georgia because it's the only place where monuments from four historical periods stand intact side by side. Put simply, Telavi is a history lover's delight.
Telavi itself is a very pleasant, walkable city, with a cobbled Old Town featuring restored Kakhetian balconies and a buzzing undercover bazaar. One of the main attractions is the Giant Plane Tree, a 900-year-old specimen that's the pride and joy of Telavi.
The mammoth Alaverdi Cathedral lies just outside Telavi's city limits along with the ruins of the Ikalto Academy where Georgian literary hero, Shota Rustaveli, studied. Gremi, the former capital of Kakheti, is another point of interest.
Telavi has lots and lots of restaurants, wine bars and family run cellars to indulge in as well. It's not as charming as Sighnaghi (the other hub in Kakheti which I'll get to later), but it's a convenient starting point for exploring all this region has to offer.
Don't miss: Tsinandali Estate and gardens, the former home of the noble Chavchavadze family – now a house museum and winery. If you fancy a splurge, there's a very pleasant Radisson Collection hotel on the property.

Where to stay in Telavi: Back in town, Seventeen Rooms is a beautifully furnished boutique hotel with excellent views. For a budget guesthouse option, I highly recommend Guest House Lilia. Find more Kakheti accommodations here.

Further reading: My Telavi City Guide.
Zugdidi
The biggest city in Georgia's Western Samegrelo region, Zugdidi is the place to immerse yourself in Megrelian culture and cuisine. Most people stop here for a few hours on the way up to Svaneti, but it's worthwhile spending a night or two in Zugdidi to break the journey – even if it's just to eat at Diaroni, one of Georgia's best restaurants. The specialty here is of course Megrelian food: Rich Kharcho, stringy Elarji and creamy Gebzhalia.
In Zugdidi you can learn about the legacy of the Dadiani family, Samegrelo's old rulers. The immaculate Dadiani Palace and its private gardens (now the city Botanical Gardens) is unlike anything else you'll see in Georgia. It's worth the museum ticket price to see the eerie bronze Napoleon Death Mask inside (the French connection is totally unexpected and fascinating!).
Other things to do in Zugdidi include a side trip to Rukhi Castle for a view of Abkhazia, watching master potters make black-smoked ceramics at Orkol Studio, seeking out the Soviet-era mosaics in the area, and roaming the undercover market for authentic Adjika, a delicious spice blend that has its roots in the west.
Don't miss: Folk House for a home-cooked meal and a private piano performance from the wonderful Besiki Tshitanava, a devotee of safeguarding Megrelian culture.

Where to stay in Zugdidi: Casa de Khasia is a comfortable family-run guesthouse in Zugdidi with homely rooms, an outdoor terrace and a traditional detached kitchen.

Further reading: 15 things to do in Zugdidi.
Akhaltsikhe
Located in south-western Georgia just shy of the Turkish border, Akhaltsikhe is a small city of under 50,000 people. With direct buses to Gyumri and Yerevan in Armenia, it's a convenient place to depart for the border crossing at Bavra – and a good base for visiting the cave city of Vardzia too.
The main city in Samtskhe-Javakheti region, Akhaltsikhe is small but very multicultural and with a long history that spans Ottoman, Mongol and Iranian rule. The name Akhaltsikhe means 'New Fortress', which gives you a clue to the city's heritage and fighting spirit.
The main attraction is Rabati Castle, a massive hilltop fortress. Established in the 9th century as Lomisa Castle, it functioned as a mosque during the Ottoman period and was gradually added to over the intervening years to become an ad-hoc complex of watch towers, fountains, domed buildings and gardens. In 2011, it underwent extensive renovations – some say a little too extensive – and now it feels a lot like the set for an off-script episode of Game of Thrones.
Also in the area, Sapara Monastery and Khertvisi Fortress are worth checking out. The latter is particularly impressive when viewed from afar, from the opposite side of the gorge.
Don't miss: The view of Rabati Castle from St. Marine's Church further up the hill.

Where to stay in Akhaltsikhe: Old Street offers comfortable rooms behind a heritage facade on the main street leading up to the castle. The owners are extremely kind and can help with organising transport to Vardzia and elsewhere. Breakfast comes included.

Further reading: 14 things to do in Akhaltsikhe.
---
Essential destinations in Georgia: Mountains, monasteries & wine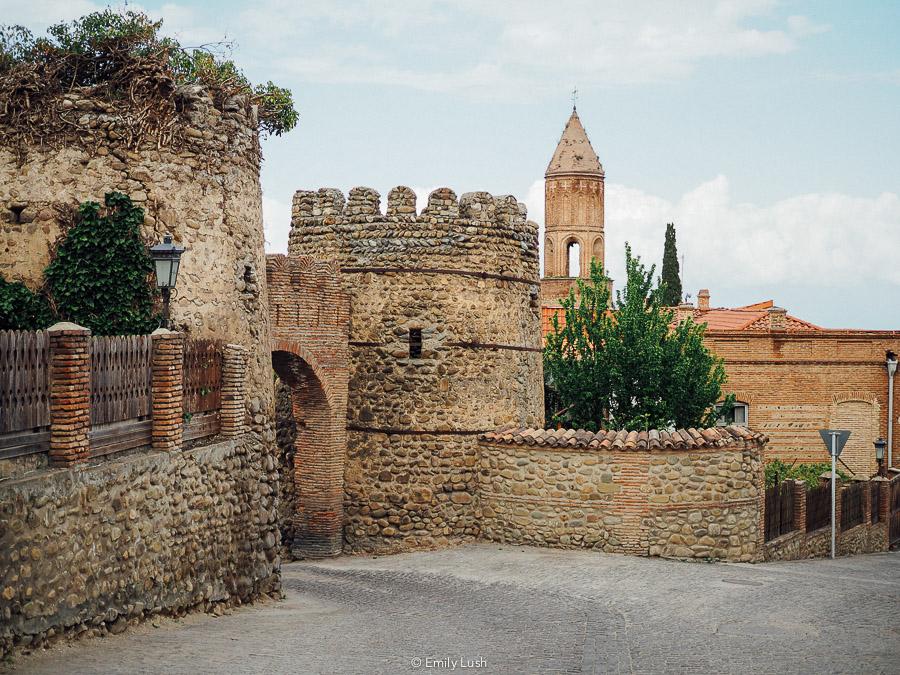 Sighnaghi & Kakheti Wine Region
The walled city of Sighnaghi is the beating heart of Kakheti, Georgia's most productive wine region. This is far from the only place where grapes grow (I'll cover some of the alternative wine regions later), but it's definitely the most popular place to do a wine tasting in Georgia, especially since it's so close to Tbilisi.
Marketed as 'the city of love', charming little Sighnaghi is encased in stone city walls and ramparts that you can climb for stunning views over the valley, hemmed in by the Caucasus mountains beyond. The small museum dedicated to painter Pirosmani who was born in Sighnaghi is also worth a look in.
Beyond the town, dozens of traditional cellars and commercial wineries of varying sizes beckon visitors for guided tours and degustations. Qvevri wine, a traditional Georgian method that involves fermenting grapes in clay vessels buried underground, and more contemporary European wine-making techniques are both practiced. Join a day tour to visit a selection of popular wineries or hire a car and driver to cover the lesser-known gems on the Wine Route.
If you don't drink, the Alazani Valley is still one of the best places in Georgia to immerse yourself in local history and religion. For every winery, there's also a monastery – some with spectacular hilltop locations, others sunken into the deepest depths of caves.
Don't miss: Bodbe Monastery, my favourite monastery in Georgia, is located walking distance from Sighnaghi. It's included in most organised day tours from Tbilisi.

Where to stay in Sighnaghi: Zandarashvili Guest House is a popular choice for budget and mid-range travellers. The family are old-hands at hosting tourists and can help with everything from tours and transport to supra feasts. For something more luxurious, Lost Ridge Inn on the outskirts of town has a brewery and ranch onsite.

Further reading: How to spend 72 hours in Sighnaghi and Kakheti wine region.
Kazbegi & Gergeti Trinity Church
Kazbegi (also known by its new name, Stepantsminda) is an alpine town in the Greater Caucasus, due north of Tbilisi and very close to the border with Russia. Perched on a hill above the town in the shadow of mighty Mount Kazbek sits Gergeti Trinity Church, the country's most iconic cathedral and the poster child for Georgia tourism.
The high-altitude walled chapel is a sight to behold, especially when seen from afar against a dramatic backdrop of snow-capped, jagged peaks. You can hike up to the church from the town in around an hour via an ambling path (just make sure you follow the correct trail – see here for directions).
As the closest mountain region to Tbilisi (just under a 3-hour drive via the Georgian Military Highway), Kazbegi is an easy addition to even a short Georgia itinerary. Easy hikes to waterfalls, more beautiful monastery complexes (Dariali is particularly impressive) and the open-air thermal pools at Pansheti are also accessible from Kazbegi, while the town itself has some terrific restaurants that serve typical mountain fare.
Don't miss: Rooms Kazbegi, a gorgeous design hotel set inside a renovated sanatorium. Even if you don't spend the night, you can drop in for lunch or dinner on the terrace.

Where to stay in Kazbegi: If it's within your budget, a night or two at Rooms Kazbegi is a once-in-a-lifetime experience. For mid-range travellers I recommend Hotel Stancia – a budget version of Rooms near the bus station (the onsite restaurant is also terrific) or Red Stone Guest House, a very pleasant family-run place near the trailhead for Gergeti. See my full Kazbegi accommodation guide for more options.

Essential reading: 21 things to know before you visit Kazbegi.
The Georgian Military Highway
Whoever said it's all about the journey rather than the final destination must have been referring to the trip up to Kazbegi from Tbilisi. As grand as Gergeti Trinity is, it's really just a small taste of the landscapes you see along the Georgian Military Highway.
This mighty arterial is currently the only thoroughfare connecting Tbilisi and Russia. An attraction in itself, the Military Road is more than worthy of a place on your Georgia wish-list.
There are lots of places to stop along the way, including Ananuri Fortress, the mosaic-laced Russia-Georgia Friendship Monument at Gudauri, various mineral water springs, curious stone head sculptures and mountain viewpoints. In wintertime, Gudauri turns into Georgia's poshest ski resort. There are some cute cottages and bungalows here but I recommend passing through Gudauri and staying in Kazbegi instead (unless you want to do some skiing or snowboarding).
Make a full day of it by hiring a car and driver via GoTrip and winding your way up the Georgian Military Highway nice and slow. It's the ride of a lifetime.
Don't miss: Lunch in Pasanauri, a small village on the highway that's considered the birthplace of khinkali. I highly recommend Restaurant Korbuda for delicious dumplings and khachapuri.

Further reading: 9 places to stop on the Georgian Military Highway.
Svaneti (Mestia & Ushguli)
After Kazbegi, Zemo Svaneti Planned National Park is the most popular mountain area in Georgia. Located in the far north-west, the region's biggest town of Mestia is accessible year-round by road or via a short flight.
Mestia is well-equipped to handle the many hundreds of tourists that visit Svaneti each year, with a good range of guesthouses and restaurants. A meal of Kubdari (Svanetian meat pie) and Mtsvadi BBQ sprinkled with Svanetian spiced salt at Laila on the main square is just the thing after the long and nail-biting marshrutka ride up.
Hiking is the thing to do in Svaneti. Mountain trails range from easy day hikes to challenging multi-day treks, the most popular being to Koruldi Lakes, Chaladi Glacier and for the daring, Mount Ushba.
As beautiful as the landscape is, the local culture here is equally entrancing. This is the ancestral home of the Svans, known for being fierce fighters who lived in fortified tower houses. These stone towers, known as Koshki in Georgian, can be seen all across the northern regions and over the border in Chechnya – but Svaneti's towers are acclaimed for being both numerous and well-preserved.
Ushguli is the most well-known of the upper villages in Svaneti and can be visited as a day trip by van from Mestia or as the end point of the popular Mestia to Ushguli multi-day hike. Ushguli is considered the highest inhabited village in Europe and because of its abundance of towers (there are more than 200 in Chazhashi, one of Ushguli's villages, alone), it was named a UNESCO World Heritage Site in 1996.
Don't miss: The Svaneti Museum of History and Ethnography in Mestia, a world-class museum that catalogues Svan traditions.

Where to stay in Svaneti: I recommend staying in Mestia, where there are plenty of guesthouses, restaurants and good transport connections. Manoni's Guesthouse is warm and comfortable, and the food is great.
Vardzia
Georgia is home to a number of 'cave cities' and 'cave monasteries' – vast complexes of chambers and grottoes hewn from rocky slopes in the southern part of the country. Vardzia is the largest and best-known among them.
Located near the town of Aspindza, not far from Akhaltsikhe, the Vardzia complex consists of a 500-metre-long sheer rock wall puckered with more than 640 separate chambers spread over 13 levels. Incredibly, this is just one section of a much-larger cave city that was partially destroyed by an earthquake.
Built to house a community of monks and shelter townsfolk from invading forces, Vardzia was a self-contained city with its own kitchens, gardens, vineyards, pharmacies, and an elaborate irrigation system. A self-guided walking tour of Vardiza's stone galleries reveals evidence of copper pipes and bread ovens.
There's also a beautiful chapel containing a rare fresco of King (Queen) Tamar, who ruled this part of Georgia at the time of Vardzia's construction.
Rather than attempting to visit Vardzia in a day from Tbilisi (a long journey and rushed experience), I highly recommend visiting from Akhaltsikhe or Borjomi – that way you'll have more time to enjoy the site.
Where to stay near Vardzia: There are a number of accommodation options scattered around Vardzia and on the opposite side of the river. I recommend Guest House Aleksandre in the nearby village of Tmogvi or Vardzia Resort, which is walking distance from the caves.

Further reading: My detailed guide to visiting Vardzia, including transport instructions.
Borjomi & Bakuriani
Sitting almost smack-bang in the centre of the country, the town of Borjomi has long been a favourite summer retreat in Georgia. Blessed with fresh mountain air and natural spring waters, there's not a whole lot to do here except relax and sip on Borjomi mineral water, one of Georgia's most popular beverages and biggest exports.
People have been imbibing, bathing in and bottling Borjomi's curative waters since medieval times. But it was in the 1840s when the Russian Viceroy brought his daughter to Borjomi for health treatment that things really started to take off. By the 1860s, the resort town was booming, and many members of the Imperial aristocracy built their summer residences in the area. Under Communism, these mansions were turned into sanatoria for the party elite.
Today, Borjomi is still a popular warm-weather destination that's always buzzing with families in the summer months. The small town revolves around Borjomi Central Park and Ekaterina's Spring (the original water spring named after the Viceroy's daughter). BYO drinking bottle and fill up on Borjomi water straight from the source. There's also open-air thermal baths and a cable car you can ride up to a scenic plateau.
The nearby resort town of Bakuriani is located at a higher elevation and is accessible from Borjomi via the Kukushka, Georgia's only scenic railway. There are a number of lodges in Bakuriani that cater to tourists during ski season, including the new Rooms Kokhta.
Other things to see in the area include Tabatskuri Lake near Bakuriani and the Romanov Summer Palace down the road from Borjomi at Likani. There are a number of hiking trails behind the palace for those who want to venture into Borjomi National Park.
Don't miss: A meal at Pesvebi, one of my favourite restaurants in Georgia for hearty home cooking.

Where to stay in Borjomi: Guest House Besarioni (on the hill above the main street) and Borjomi Cottages (near the park) are both excellent mid-range choices. If you can afford it, splurge on Golden Tulip on the edge of the park in Borjomi or better still, Rooms Kokhta in Bakuriani.
Okatse Canyon & Martvili Canyon
Georgia's western Imereti and Samegrelo regions are lush and overgrown, with a multitude of river canyons and waterfalls to explore. Most people choose to visit Okatse Canyon and Martvili Canyon, along with nearby Khichka Waterfall, as a day trip from Kutaisi. It's not my favourite day trip option by any means, but it's still a nice experience.
The 14km-long Okatse Canyon is the most developed for tourism and features a suspended treetop walkway and glass viewing platforms. Pretty Martvili Canyon is a fairytale landscape of emerald pools shaded by thick forest that visitors can explore by kayak.
Okatse, Martvili and Khinchka all fall under Georgia's equivalent of the national parks service and thus there are entrance fees involved. For a less-touristy (and free) alternative, head to nearby Balda Canyon instead.
Where to stay near Martvili Canyon: Karma Hostel in Martvili is the ideal base for exploring this part of Georgia.
Tskaltubo
An alternative day trip from Kutaisi, Tskaltubo is a spa resort town just 20 minutes by local bus from the city centre. It's famous for its radon-carbonate mineral springs – the 'Waters of Immortality' – which bubble up from the ground at a pleasant 33-35 degrees Celsius.
Much like Borjomi, Tskaltubo rose to prominence in the Soviet era as a destination for state-mandated workers' respite. During the 1950s, more than 120,000 people visited the balneology resort and its 19 sanatoria every year, and there was even a direct train service from Moscow to Tskaltubo.
The small town is built up around an overgrown park with a series of small bathhouses hidden inside. Around the edge of the park, there are a dozen large, elaborate resort buildings – each with grand entrance halls and ballrooms, collanaded terraces, spiralling staircases and domed atriums. Most (but not all) of the sanatoria were abandoned after the fall of the Soviet Union and stripped of anything valuable (tiles, pipes, plasterwork). Nature eventually took over, turning these once-grand buildings into a playground for photographers and urbexers.
Tskaltubo has become a popular place to get your wedding photos taken, and you'll often see large groups here posing for family snaps!
In the 1990s, several of the larger sanatoria were used to house IDPs who fled from Abkhazia during the war. Many families still live here today, and it's important to be mindful of this when exploring – take care not to accidentally walk into someone's home, and don't attempt to enter any buildings that are cordoned off (some have been sold to developers).
There are restaurants, cafes and shops in Tskaltubo, and a few of the bathhouses inside the park are still operating – including Bathhouse No. 9, which houses Stalin's private bath.
Don't miss: A home-cooked meal and bottle of wine at the delightful Otia's Ezo.
David Gareja Cave Monastery
Another of Georgia's popular cave monasteries, David Gareja (Davit Gareji) is my personal favourite. It's located at the southern end of Kakheti region, right on the border with Azerbaijan, around 2.5 hours' by car from Tbilisi.
Named after a religious figure who sought refuge in this part of Georgia with his band of devotees, the David Gareja Monasteries (plural) are a series of cave dwellings and cloisters of various sizes scattered around the semi-desert landscape – some on the Georgian side of the border and some in Azerbaijani territory. The most well-known is Lavra and Udabno, twin monasteries that incorporate cave chambers, underground chapels and rock niches painted with beautiful frescoes.
I was lucky enough to visit David Gareja in 2017 when the entire complex was open and you could still walk a ridge-top track for a view of Azerbaijan. On my return visit, I learned that part of the complex is now closed off due to an ongoing border dispute. You can still visit David Gareja and see parts of Lavra Monastery – I update this guide frequently to include the latest information about closures and safety.
There is no public transport to David Gareja, so the best option is to join one of several day trip options from Tbilisi. Or you can use the Gareji Line, a minivan transfer service from Tbilisi that operates daily in the high season.
Where to stay near David Gareja: Udabno is the closest population centre to David Gareja. I recommend staying at Oasis Club, a Polish-run hostel and bungalows. They also offer delicious meals for walk-ins.

Further reading: My detailed guide to visiting David Gareja, including information about the closures.
Uplistsikhe
Georgia's third prominent cave monastery, Uplistsikhe, is located just outside the city of Gori. It's the most accessible of the three cave monasteries and sees a lot of foot traffic as a result.
Uplistsikhe is older than Vardzia and David Gareja, with some structures dating back to the Early Iron Age. Compared to the other two, Uplistsikhe has a very different profile – it's spread out along a rocky river bank and more horizontal than vertical.
The moon-like landscape of grottos and caves enveloped in folds of rock is really fun to explore on foot. It's well sign-posted too. From the higher parts of the complex you get amazing panoramic views of the Mtkvari river valley.
It's best to visit Uplistsikhe from Gori using either the local bus or a taxi to transit (see the link below for full instructions). I recommend going as early as possible because it does get very hot.
Further reading: My detailed guide to visiting Uplistsikhe Cave City, including instructions for how to get there from Gori.
---
Alternative & unique places to visit in Georgia
Chiatura & Katskhi Column
Located in Imereti Region north of Kutaisi, Chiatura is a small city that attracts urbexers, photographers, and travellers who are interested in Soviet history. Some call it Georgia's Chernobyl.
When Georgia was part of the USSR, Chiatura was a thriving community purpose-built around some of the world's most productive manganese mines. When the state collapsed, so did the mines, and most families left. Many people still live in Chiatura today – but the city has a time-capsule, blast-from-the-past feel that piques many people's curiosity.
The popular thing to do in Chiatura is ride on 'Stalin's Rope Roads', a network of 17 cable cars that was erected over the valley in the 1950s to shorten travel times and boost productivity. Nowadays, the old cable cars are closed for restoration, but the ancient infrastructure was still in use as recently as a few years ago (I went for a nail-biting spin on my first visit in 2017). In September 2021, four new cable cars opened up in their place.
Aside from the cable cars, you'll find awesome Brutalist architecture, Socialist-style apartment blocks and other treats. It's not uncommon to spot a hammer-and-sickle insignia above a doorway in Chiatura. The now-abandoned Pioneers Palace is particularly cool.
Though not quite as off-the-beaten-path as it used to be (a few companies even run day tours from Tbilisi to cater to intrepid travellers), Chiatura is still an unconventional destination in Georgia. While you're in the area, also visit Katskhi Column, a striking monastery perched atop a tall limestone pillar.
How to get to Chiatura: Visit as a day trip from Kutaisi by taking a marshrutka van from the main bus station. Transfers are also available from Tbilisi.

Further reading: How to visit Chiatura & Katskhi Column as a day trip from Kutaisi (full transport instructions and travel tips).
Menji, a unique place to visit in Georgia
Of a similar ilk to Tskaltubo and Chiatura, Menji is a much smaller and lesser-known former health retreat with several neoclassical sanatoriums built atop natural mineral springs.
Unlike Tskaltubo, Menji is fully abandoned. I can almost guarantee you that won't see any other tourists here, and definitely no wedding shoots as has become voguish in Tskaltubo! When I visited Menji, there wasn't another soul around – save for the cow who was grazing in one of the spa's overgrown atriums.
There are at least two beautiful sanatoriums in Menji that now lay in almost complete ruin. The most impressive is the Roman-style sanatorium adjacent to the small town's railway tracks. It features a huge atrium with a domed ceiling and ornate plasterwork, much of which has somehow stood the test of time.
Unlike the spas in Tskaltubo, which were completely stripped of their tiles, pipes, plasterwork and anything else of value, there's enough detail left in Menji so that you can really picture what it was like in its heyday when workers descended on the town for their summer holidays.
Rows of small private bathrooms, each with an original ceramic tub – but all with a huge chunk missing – open up off two parallel hallways. Geometric and floral tiles are still stuck to some of the walls, and beneath a thick layer of dirt, you can just see a stunning mosaic floor that appears to be completely intact.
How to get to Menji: Menji is located in Western Georgia's Samegrelo region, roughly 40 minutes from Zugdidi by road. To get there, hire a driver, which should cost around 100 GEL when combined with nearby Khobi and Sujuna, two more totally unique places to visit in Georgia.

Further reading: Menji, Sujuna and Khobi – the perfect offbeat day trip in Samegrelo (coming soon!).
Abastumani
Another of Georgia's spa resorts, Abastumani's modern history goes back to the days of the Tsar. In the final years before the revolution, Grand Duke George Alexandrovich Romanov – the younger brother of the last emperor, Nicholas II – was sent to live here after being diagnosed with TB. Members of the Russian elite diligently followed their prince and built beautiful summer houses along the main street, taking full advantage of the clean air and healing thermal waters.
Many of Abastumani's most handsome houses have been restored and repainted as part of a project to breathe new life into the old resort. They can now be counted among the finest examples of heritage architecture in Georgia. The old Romanov Palaces (where Duke George lived) and the Tsar's Bathhouse are now receiving the same TLC. During the Soviet period, a number of sanatoriums were built in Abastumani along with a public sulfur bath house that's still functioning today.
Abastumani's crowning glory is the Astrophysical Observatory on Mount Kanobili. Built in 1932, this was the first mountain observatory in the USSR. Using telescopes to cast their eyes towards the clear skies above Abastumani, scientists made a number of important discoveries here before the observatory was shuttered. It too recently reopened and can be visited on a guided tour. You can either drive up, or take the Soviet-era cable car.
How to get to Abastumani: Abastumani can be reached in around 45 minutes by paved road from Akhaltsikhe. There is also a mountain road from Kutaisi (via Sairme and the Zekari Pass), but it requires a car with high clearance.

Where to stay in Abastumani: Options are limited in Abastumani – I recommend either an Airbnb or a room at the popular Hotel Iveria.

Further reading: 12 things to do in Abastumani.
Pankisi Valley
Pankisi Valley (or Pankisi Gorge) is a special place that's very close to my heart. I've spent a lot of time here over the years and consider Nazy – the young woman who has spearheaded tourism in the community – a friend. Not so long ago, travel to Pankisi was considered a no-no. Now the community is fighting to overcome negative stereotypes and prove to the world that Pankisi is both a safe and desirable destination.
There are several small villages in Pankisi dotted along a verdant river valley between Telavi and Tusheti. The families who live here are Kists, an ethnic group whose ancestors emigrated to Georgia from Chechnya 200 years ago. The opportunity to learn about Kist language, traditions and cuisine makes this one of the most interesting parts of Georgia to visit.
There are several homestays in Pankisi managed by local women (Nazy's Guest House is one of the oldest-running and most well-established). There are mosques to visit, traditional handicrafts including felting to observe, a small folklore museum, and hilltop watchtowers and church ruins to explore. Try to visit on a Friday so you can sit in on the women's zikr, a fascinating Sufi ritual that takes place once a week in the Old Mosque in Duisi.
There are newly marked hiking trails in the hills, while dirt biking, horse trekking and guided cultural walks of the village can all be organised through your homestay.
How to get to Pankisi: Pankisi is located an hour's drive north of Telavi. Regular marshrutka vans and taxis are available from Telavi, and there are several direct departures from Tbilisi every day. Some vans transit through Akhmeta, the nearest city to Pankisi.

Where to stay in Pankisi: Nazy's Guest House, one of my favourite accommodations in Georgia, offers comfortable rooms and space for camping. Home-cooked meals are provided, and Nazy can help with organising tours, transport and anything else you need.

Further reading: Learn more about Nazy's Guest House and the Pankisi Valley Tourism and Development Association, which is helping to create new opportunities for Pankisi residents and change the way the area is portrayed in the media.
The Javakheti Plateau
The Javakheti Protected Areas is a network of lakes and protected bird habitat in Southern Georgia. This is the country's premier birdwatching destination – but even if you have no interest in wildlife, you'll still find this part of the country intriguing and ruggedly beautiful.
Javakheti is often referred to as the 'Georgian Arctic' because of the harsh climate (the whole area is at a high elevation). When it's not under thick snow, the landscape is an awe-inspiring panorama of extinct volcanoes, volcanic lakes and never-ending plains. Tourism infrastructure is quite basic and the area is spread out, so it's best to visit with your own vehicle.
Hop between the different lakes along the Armenian and Turkish borders, each with its own character and resident bird species. Paravani Lake, one of the first lakes you reach after leaving Tbilisi, and the delightful Poka St. Nino Monastery are a highlight. Short hiking routes are available around some of the lakes, and wild camping is permitted in many areas.
The landscape also features scoring canyons (popular Dashbashi Canyon is nearby – more on that later), soaring peaks, pockets of pine forest planted out during Soviet times to soften the landscape, and craggy rocks adorned with ancient petroglyphs.
This area is as culturally vibrant as it is visually striking – Pontic Greek, Adjarian Muslim, Armenian and Azerbaijani families have all lived here for decades, each adding their own traditions to the mix.
How to get to Javakheti: Javakheti is located around 3 hours west from Tbilisi. The lakes and towns are linked by good-quality roads, making this ideal territory for a road trip.

Where to stay in Javakheti: Both Tsalka (the closest city) and Ninotsminda offer a handful of guesthouses and basic hotels. In Tsalka, I recommend Hotel White House. Don't miss eating at the nearby Restaurant Pontia.

Further reading: My guide to visiting the Javakheti Protected Areas and Tsalka.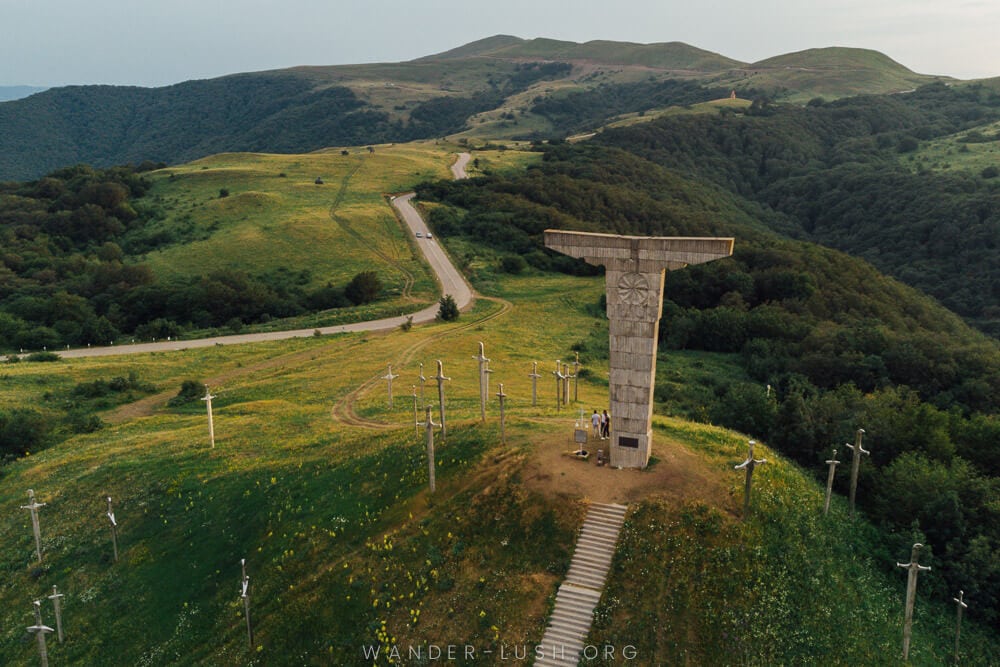 Didgori Battle Memorial
One of my favourite things to do in Georgia is visit the Didgori Battle Memorial at sunset. This stunning war monument is set over rolling hills in Kvemo Kartli region west of Tbilisi, marking the location of the Battle of Didgori, a seminal event in Georgian national history.
On August 12, 1121, King David the Builder led his army to Didgori to ambush Seljuk forces. His 'miraculous victory' as it's known led to Georgia's liberation and reunification, ushering in the country's Golden Age.
If I was to describe this monument in a word, it would be powerful. The memorial has several components, but the main part is a huge stone sculpture emblazoned with a lion surrounded by hulking crucifix-shaped metal swords plunged into the hillside. These represent the lives lost in the battle. In the surrounding meadows, you can find sculptures of disfigured warriors and a larger-than-life King David raising his longhorn.
Every year on August 12, the Didgoroba festival is held here as a tribute to the battle that freed Georgia from the yoke of Turko-Persian control.
How to get to Didgori: You need your own car (or a car and driver) to reach Didgori. The road is brand new and a real pleasure to drive. There are two possible routes from Tbilisi: Via Mtskheta or via Manglisi. Both take approximately 1.5 hours.

Where to stay near Didgori: Hotel LUKA in Manglisi offers simple but comfortable rooms and a home-cooked breakfast. The location 30 minutes from the monument makes this an ideal place to sleep after driving up for sunset.

Further reading: My tips for visiting the Didgori Battle Memorial.
Gorelovka
Located in Samtskhe-Javakheti region adjacent to the Javakheti Protected Areas, Gorelovka is a tiny village that's home to just a few dozen families. What makes this place special and a unique destination in Georgia is the distinctive blue-and-white vernacular architecture – and more so, the story behind it.
Gorelovka was settled in the early 19th century by families from the Doukhobor community, a spiritual sect that fled persecution in their native Russia. They have unique beliefs and traditions, especially around the Sacrament and marriage, and their defining characteristic is that they're Pacificts. Just a handful of people still live in Gorelovka and continue these traditions today.
For a window onto Doukhobor life, visit the 'Blue House', a gorgeous two-story wooden house with intricate fretwork and hand-painted floral emblems finished in a shade of bright turquoise. It's part of a larger private complex which also includes a Doukhobor community hall and a prayer house.
The Blue House was built as an orphanage for the many children who arrived in Georgia without their parents after the Doukhobors' arduous journey south. It's beautifully maintained – on my last visit, everyone was busy repainting the facades and trimming the hedges. Visitors are welcome to look around as long as someone is present to open the gates.
How to get to Gorelovka: Gorelovka is located 3 hours' drive west of Tbilisi, close to the border with Armenia. Public transport is limited, so it's best to go with your own vehicle, ideally when visiting the Javakheti Protected Areas. It's also possible to visit from Borjomi or Akhaltsikhe.
Racha (Oni & Shovi)
Racha is by no means an unusual destination among Georgians – the mountainous region sandwiched between Svaneti and South Ossetia is a firm favourite local vacation spot and has a reputation for being something of a Garden of Eden. However, Racha sees far fewer foreign faces than super-popular Svaneti or Kazbegi – mostly because it's more remote and difficult to reach without a car.
Part of Racha-Lechkhumi region, Racha is divided into lower and upper parts. Lower Racha is home to the city of Ambrolauri and the popular Shaori Lake. Nearby Nikortsminda Cathedral is probably my favourite church in all of Georgia – the frescoes and stone carvings are magnificent.
Racha is known across Georgia for its distinct cuisine (principally Rachan cured ham and Shkmeruli, a rich garlic chicken dish) and a special variety of wine that's made from grapes grown in Lower Racha. A Khvanchkara tasting with a grazing plate of ham and other local delicacies is a must in Racha, and there are plenty of families that welcome guests for just that.
Upper Racha is more rugged and isolated. The biggest town, Oni is an extremely special place, once home to a large Jewish community. The few Jewish families that remain tend to a stunning synagogue – it's honestly one of the most magnificent buildings in the whole country.
Just up the road, the village of Shovi was a Soviet summer retreat and is home to another iconic building, the so-called 'Stalin's Dacha'. According to my host, the dictator never set foot in Shovi, but the moniker adds to the dilapidated wooden house's mystique.
If you have a 4WD, you can press further on to more remote mountain villages such as Ghebi, which offer hiking and homestays.
How to get to Racha: There are marshrutka vans available from Kutaisi to Oni (4-5 hours travel time depending on the route), but it's preferable to drive yourself. A 4WD is mandatory if you want to visit Shovi or any of the upper villages.

Where to stay in Racha: Oni is the ideal place to base yourself in Racha. Guest House Gallery is the leading accommodation in town – put in a request to stay in the self-contained room above the family's wine cellar. The ancestral wooden house is pure magic.

Further reading: Things to do in Oni and Racha.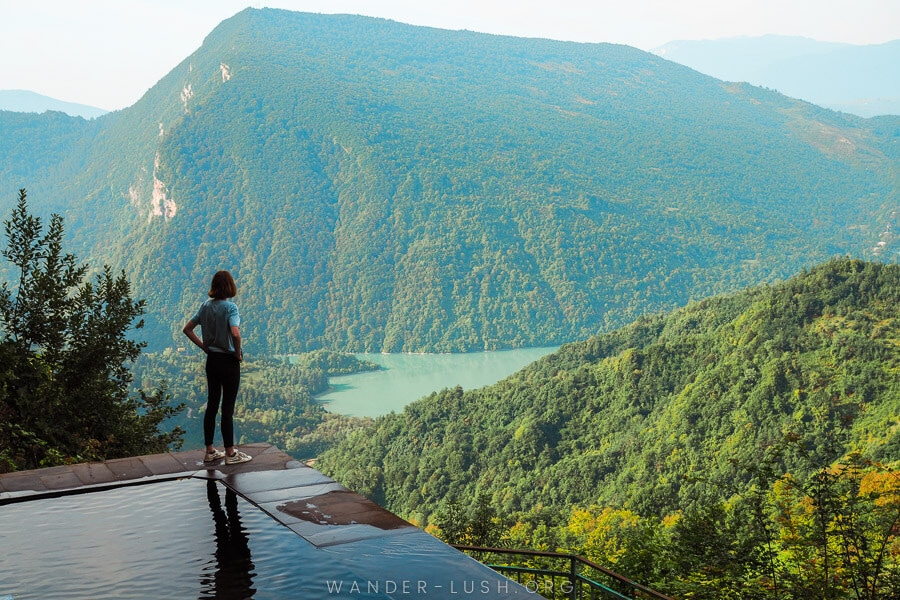 Lailashi
Lailashi is a small high-altitude village in Georgia's north-western Lechkhumi region, a remote part of the country characterised by limestone rock formations (including the stunning Sairme Pillars), steep cliffs and soaring peaks. This little settlement has become famous for one thing: Lailashi 'Secret Pool'.
Also known as Okronishi Fountain, it's a set of two high-altitude pools fed by natural water springs. I've tried to find more information about the fountain and its significance online, but all my searches have come up short. I know it underwent some rehabilitation in the early 2000s funded by USAID, so I'm sure it has special significance to the community – I only wish I knew more about it.
What I do know is that it's breathtakingly beautiful. In 2020, the Secret Pool became Insta-famous and posing for a photo at the corner of the pool overlooking one of the best views in Georgia, peering into the abyss of a green valley, became the thing to do. I visited in summer, but it looks even more majestic on a clear winter's day when the whole area is covered in snow and frost.
The view (and the deluge of Likes) more than makes up for the rough-and-tumble drive it takes to get to Lailashi. A 4WD with high clearance is required to tame the vertiginous unpaved road. The village of Lailashi itself has an interesting history as a former outpost on the old Silk Road.
How to get to Lailashi: The easiest way to access Lailashi is by driving up from Ambrolauri. The not-so Secret Pool is marked on Google Maps.
Vani Sulfur Pool
Also known as the Dikhashkho Sulfur Geyser, the Vani Sulfur Pool is an unexpected topographical feature that really has to be seen to be believed. Located literally in the middle of a farmer's field near the edge of the Rioni River south of Kutaisi, this is a natural sulfur pool that springs from the earth. Apparently it's been flowing for a century or more!
The strong-smelling sulfuric waters emerge from a pipe and fill two small pools formed by mineral deposits and walled up with cement. The pools are naturally warm – up to 40 degrees Celsius – and just like the sulfur baths in Tbilisi, bathing here is said to be good for your skin and cardiovascular health.
It's the random location that really makes the Vani Sulfur Pool special. It's very easy to find using Google Maps and a worthwhile detour if you happen to be visiting the nearby Archaeological Museum in Vani.
How to get to the Vani Sulfur Pool: The pool and geyser are located near Dikhashkho village, around 15 minutes from Vani or 45 minutes from Kutaisi. The easiest way to travel is by car. It's also possible to go by marshrutka, but you'll need to walk the final 2km to the pools.

Where to stay near Vani: For a vineyard homestay experience near Vani and the sulfur pool, I recommend Zaali's Wine Cellar in Shua Gora.

Further reading: Tips for visiting the Vani Sulfur Pool, including detailed instructions on how to get there.
Guria Region
Everyone knows Georgia has a wine route – but did you also know there's a tea route? In Soviet times, Georgia was the biggest producer of tea in the Union. The industry was mostly wiped out in the 1990s (and the tea bushes ran wild), but its legacy lives on in Guria's family-run tea estates.
Guria is located in Western Georgia, north of Adjara. The interior is hilly, lush and humid – perfect conditions for growing tea – and the region also has a healthy sliver of Black Sea coastline. Ozurgeti, the biggest city in Guria, is small and quiet (don't miss the local market) but offers a good base for exploring the tea fields in Anaseuli. Granted these days you're more likely to see vast fields of hazelnut trees – many families have planted this more profitable crop in the place of tea.
Stay at Komli, where you can learn about Georgia's tea heritage and Gurian culture, which boasts its own dialect, peculiar traditions and yes, another delicious cuisine. Khachapuri Gureli, a regional pie filled with cheese and boiled eggs, is a must-eat.
Keep an eye out for the skeletons of disused tea factories as you venture into the upper villages such as Shroma to admire stunning Soviet-era architecture and impressive mosaics. The rest of the territory is dotted with important monasteries and small nostalgic towns, all wrapped in perpetual green.
How to get to Guria: Guria is well and truly off the beaten tourist track, yet it's still relatively easy to get to from Tbilisi using the overnight train to Ozurgeti. Again, it's advantageous to travel with your own car if you want to explore further afield. But a few nights at Komli on the outskirts of Ozurgeti is enough if you don't have your own wheels. Make sure you organise a ride up to Gomismta one evening (see the next section for more).

Where to stay in Guria: Komli Farmhouse is my accommodation of choice in Guria. Choose between private rooms in the family's 200-year-old wooden cottage or cosy up inside a converted Diogenes barrel!

Further reading: My full guide to Ozurgeti and Guria.
Gomismta & Bakhmaro
Another locals' favourite, Guria region's twin mountains, Gomismta and Bakhmaro, have been used by generations of shepherds as summer pasture for their sheep and cattle. Families from Guria built delightful little A-frame cabins on the mountains for their summer homes as well. In recent years, these cabins have proliferated and chalets and cottages have been added, transforming the once-sleepy mountaintops into popular resorts.
Bakhmaro is easier to access as the road up is completely paved. At the top, you'll find picture-perfect wooden Bakhmaro Church. Gomismta is accessible by a slightly treacherous unpaved road and has a more 'rustic' feel as a result (a 4WD is necessary). Both are developing rather quickly and can be quite crowded in the warmer months.
The thing that draws people up here in droves is the views. Gomismta in particular is hands down one of the most beautiful places in Georgia. The green hills are always shrouded in a thick blanket of Guria humidity, and you might reach the top only to discover the fog too thick to peer through. When I went, visibility was near zero – but it was still beautiful!
Sunset is the best time to go, when the golden orb sinks into the fog like dusk falling on a sea of cottonballs. If you don't want to drive back down in the dark (a sensible choice), there are plenty of cabins and campgrounds around.
How to get to Gomismta/Bakhmaro: Drive from Ozurgeti (it takes around 2 hours to summit Bakhmaro and 1.5-2 hours to reach the top of Gomismta). If you don't have a car, a driver can be organised through your guesthouse in Ozurgeti.
Upper Adjara
Another of Georgia's less-popular mountainous regions, this time in the Lesser Caucasus, Upper Adjara runs along the country's southern edge and forms the border with Turkey. Adjara was part of the Ottoman Empire for two centuries until 1878 and is today officially an Autonomous Republic within Georgia. People here speak their own dialect and uphold distinct traditions.
The mountainous part of Adjara is a completely different world to Batumi, the region's capital, and the rest of the Black Sea coast. With the exception of the up-and-coming ski resort at Gotsiridze, this region sees relatively few tourists. The roads are more perilous and parts of the region are closed-off in winter, so it's wise to visit in the warmer months.
As you make your way along the main arterial from east to west, it's one peaceful mountain town with painted cabins set amongst rolling hills after another. Many families in Adjara follow Sunni Islam traditions, and Upper Adjara is known for its elaborately painted wooden mosques, many of which survived the Soviet period by being transformed into museums.
Khulo is the main centre of Upper Adjara and has good infrastructure for visitors. Smaller municipalities, particularly Keda, are now developing community based tourism and offer authentic homestay experiences.
How to get to Upper Adjara: Minivans depart from Batumi for Khulo every 30 minutes throughout the day, stopping at smaller villages along the way. It's also possible to access Khulo from the east (approaching from Akhaltsikhe), although a small section of the road remains unpaved.

Where to stay in Upper Adjara: Khulo is the most convenient base in Upper Adjara, and there are a number of simple guesthouses to choose from. Glamping Tago, a mountain retreat in a small village at the opposite end of the Khulo Cable Car, is one of the best accommodations in the country. Eco House Merisi on the road from Keda (back towards Batumi before Khulo) is a new destination hotel that's become very popular for its amazing mountain views.
Machakhela Planned Protected Areas
Located in the river gorge that separates Georgia from Turkey, Machakhela is a unique natural landscape that's so rich in flora and fauna, some call it the 'Georgian Amazon'. It includes a strip of Ancient Colchic Forest, Europe's oldest primordial forest.
Despite being under an hour by car from Batumi, this is a truly pristine corner of Georgia that's only just starting to open up to tourists. It's recently come under the wing of the national parks service and so features marked hiking trails and a tourism office – but infrastructure is still a work in progress.
The landscapes are stunning, but what's even more appealing to me is the area's cultural heritage. Traditionally, Machakhela was known for its flint gunsmiths and a couple of families who live in villages within the park continue this tradition in small home workshops (although the guns are now for decorative purposes only!). A pillbox gun left over from the Russian-Ottoman conflict can be seen off the main road.
A small Ethnographic Museum set inside a gorgeous painted mosque documents the area's unique heritage. Stone Tamar bridges arch over the fast-flowing river, which also powers old-fashioned grain mills. There are numerous hills to crest and streams to swim in, making Machakhela a hikers' dream.
There is a collection of family run guesthouses and restaurants inside the park. It's a wonderful place to spend a couple of nights off the grid.
How to get to Machakhela: From Batumi, you can reach the park by car or marshrutka. Minivans only go so far, so it's necessary to walk or hitch a ride to the deeper villages.

Further reading: My experience touring Machakhela by scooter.
Shekvetili
If you've come to Georgia seeking sun and surf, you should know that the best beaches aren't in Batumi – not by a long shot. Instead, you'll want to head north to the passage of coastline between Batumi and Poti. Here you'll find smaller beach towns including Kobuleti, Ureki, and my personal favourite, Shekvetili.
Part of Guria region, Shekvetili is one of the small, laid-back summer resort towns on the upper part of the Black Sea. With clean swimming beaches and cute cottages, it's a great alternative to the big city, especially if you want to skip the glitz and glam and you don't mind something more rustic.
The sand here is a lot finer, making for a more pleasant experience overall. It's not any old sand, either – it's black 'magnetic' sand, which is believed to have special healing properties. Whatever you believe, the gorgeous deeply coloured grains shimmer at sunset, and that's good enough for me.
A pocket of pine forest behind the shoreline makes the climate quite mild – just bring your mozzie spray. Aside from larger resorts such as Paragraph to the north, the town is still quiet and peaceful.
I recommend visiting the nearby Miniature Park, an outdoor museum that displays tiny versions of Georgia's major landmarks (it sounds ridiculous, but it's awesome). In Shekvetili, don't miss eating at At Nelli's, an inconspicuous restaurant that serves delicious home-cooked fare including trout stuffed with walnut.
How to get to Shekvetili: Take a bus or train from Batumi to Natanebi Railway Station, or if you're coming from Guria, take a marshrutka from Ozurgeti.

Where to stay in Shekvetili: GiNa Shekvetili has simple light-filled rooms with small balconies overlooking the beach. It's conveniently located a few footsteps back from the water and close to At Nelli's.
Sarpi
Under normal circumstances, a land border immigration checkpoint is not the sort of place you'd want to linger. But Sarpi, the small town where Georgia meets Turkey, is worthy of a detour even if you're not passing through.
Sarpi is home to one of the country's most distinct modern buildings, the Sarpi Checkpoint. Built in 2011 and designed by J. Mayer H. Architects, the spirited wave-shaped tower on the beach is striking and very photogenic.
It's worth visiting Sarpi just to see this unique piece of architecture. If you're coming from Batumi, you can make a day of it by enjoying the nice bicycle ride down the coast via Gonio and some of Adjara's loveliest secluded beaches.
As an Australian, I get a kick out of land borders, and the view of Turkey is pretty cool. Climb one of the steep streets above the checkpoint for a priceless panorama of the bell tower of Orthodox St. Andrew's church, the spire of the nearest Turkish mosque and the checkpoint building all in the one frame.
Sarpi is also known for being home to the Laz, an ethnic group famed for their boat-making skills. There is a small ethnographic museum in Sarpi where you can learn more about their traditions.
How to get to Sarpi: Cycle from Batumi or take a local city bus.

Further reading: My full guide to biking to Sarpi from Batumi, including directions and points of interest to see along the way.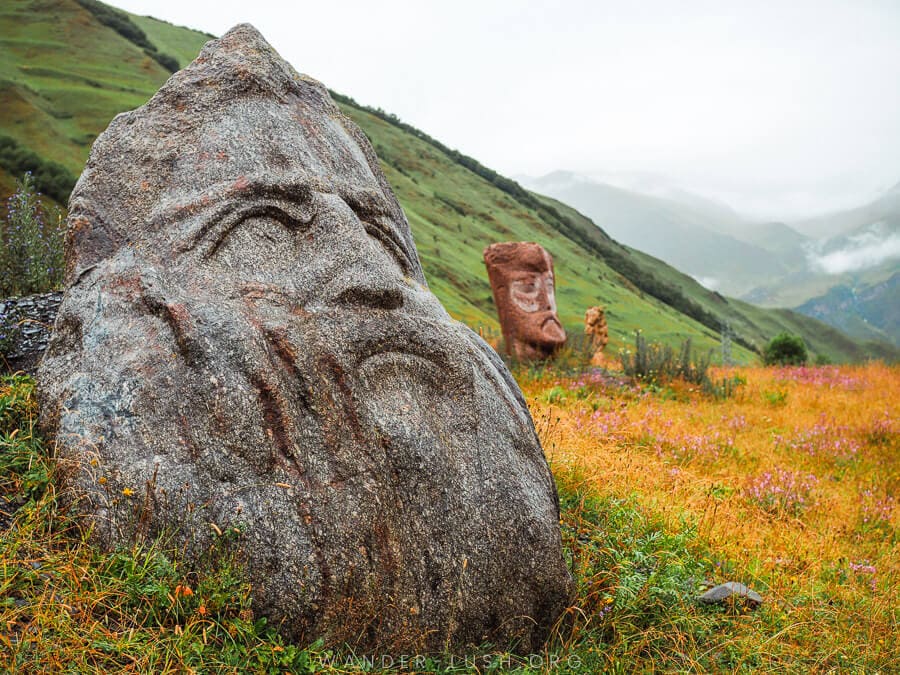 Sno Valley & Juta
If hiking is high up on your agenda for Georgia, check out Juta, a less-popular alternative to Kazbegi with similar scenery but fewer people. Dubbed the 'Georgian Dolomites', this area is characterised by tapered stone peaks and alpine lakes. Juta itself is a small village located in the foothills of the Greater Caucasus on the edge of Kazbegi National Park, east off the Georgian Military Highway just before you enter into Stepantsminda.
The area boasts pristine hiking trails, including the challenging Chaukhi Pass. A collection of guesthouses and restaurants in town cater to hikers. If you're not interested in testing your endurance, this is still a great place to find some respite amongst stunning mountain landscapes – especially when you stay in a cosy room at Fifth Season.
On the way to Juta, stop off in the village of Sno where you'll find a magical landscape of wildflower fields scattered with massive 'stone head' sculptures. The work of a local artist, these monoliths depict different figures from Georgian history and the arts.
How to get to Juta: Mountain Freaks operates daily bus transfers to Juta from Kazbegi. You can also use this service to access other landscapes in the area, including Dariali Gorge and Truso Valley. Check times and prices here.

Where to stay in Juta: Fifth Season is a popular hiker's lodge in Juta with cosy rooms and stunning mountain views.
Udabno
Udabno means 'desert' in Georgian, and that just about sums up the desolate landscape surrounding David Gareja in southern Kakheti. The thing that makes this area unique and worth visiting is the colourful striations of rock created by mineral deposits. I also discovered that if you visit Udabno after heavy rain, you'll see cloudy pink lakes that look like big puddles of strawberry milkshake.
There is some nice hiking to be found in the 'rainbow hills', over rivulets and mounds of coloured earth. There aren't any marked trails so you need to use an app such as Maps.me to navigate. Avoid visiting in summer as snakes are a problem.
At the centre of this otherworldly landscape sits Udabno village, a cluster of weather-beaten, mostly abandoned buildings in the desert. Set up by the Soviet government in the 1980s to accommodate economic migrants from Svaneti region, I'm told that Udabno was later used to house refugees from nearby Azerbaijan before it was left to ruin.
Today it's a bit of a ghost village, with most buildings empty. Then the founders of the Oasis Club came along to breathe new life into Udabno and give the area some vitality – and a much-needed place to stop for lunch when hiking or visiting the monasteries.
How to get to Udabno: Marshrutka vans are available from Tbilisi and Sagarejo in Kakheti but schedules are limited. An easier way to get there is on an organised day trip that pairs Udabno with David Garjea (such as this one), use the Gareji Line transfer service mentioned above, or just drive yourself. The road is mostly paved now and easy to manage.

Where to stay in Udabno: Oasis Club in Udabno offers dorms and private bungalows plus outstanding home-cooked meals.

Further reading: My experience hiking in Udabno on my recent visit to David Gareja.
Dashbashi Canyon
Of all the magnificent canyons carved out of Georgia's southern plains, Dashbashi is the most spectacular. That's why developers have chosen to build a modern glass skybridge over the canyon. So while this may be considered a hidden gem in Georgia for now, it will soon join the ranks of Okatse as a popular day trip destination.
Dashbashi is located on the outskirts of Tsalka, a small city in central Kvemo Kartli region west of Tbilisi. Part of the Khrami River gorge, the canyon sports elongated waterfalls that cascade down the sheer rock face. You can hike down to the waterfalls or hike up to the church overlooking the canyon for a panoramic view. This area is gorgeous in fall when the trees turn shades of caramel and rust.
The ornate gravestones around the church are just one of a slew of important historical monuments in this area, which also includes a set of prehistoric petroglyphs.
How to get to Dashbashi: It's possible to visit Dashbashi as a long day trip from Tbilisi (see instructions here). I assume transport connections will improve once the skybridge opens later this year.
Andriatsminda
The tiny mountain village of Andriatsminda isn't on any tourist map. I was very lucky to visit this remote part of southern Georgia on my tour with Karavanly – otherwise I probably never would have learned of its existence.
Andriatsminda is home to one of Georgia's time-honoured food traditions, the art of making Tenili cheese. This rope-like cheese is made by heating curds over a flame and hand-pulling the elastic strands until they become fine.
It's a long process that requires a lot of skill, something that's been passed down through the generations. Only a handful of people possess the knowledge to make one of Georgia's 'lost cheeses' the old-fashioned way – including one family in Andriatsminda, who have a small commercial kitchen where they make cheese to export to delis and restaurants around the country.
The village and it's little stone church skirted by wild flowers is completely picturesque. If you're ever lucky enough to find yourself in this part of Georgia, ask around for the cheese workshop and see if you can't drop into for a tour and a taste.
How to get to Andriatsminda: Andriatsminda is located 30 minutes south from Akhaltsikhe behind Sapara Monastery. Without van connections, you can only reach the area by car.
Shrosha
Another time-honoured Georgian craft and the foundation of the country's UNESCO-Listed wine making tradition, making clay qvevri is an art form only a few have mastered. These mammoth vessels are used to ferment and store wine, and there are just three villages in Georgia where families still make traditional qvevri by hand, Shrosha being one of them.
Located on the east-west highway just before Zestaphoni, this is a good place to stop when driving to Kutaisi from Tbilisi or vice-versa. As soon as you hit Ubisa, you'll notice pottery stores on the side of the road selling vast numbers of clay ketsi dishes, lobiani pots and miniature qvevri. These make for fantastic Georgian souvenirs.
Closer to Ubisa, master potter Zaliko and his son Sergo – the youngest of five generations of qvevri makers – run a home workshop where they build up the amphora by hand, adding 15-20cm of clay each day. I visited as part of my tour with Karavanly, but if you're passing by, you can try popping in for a look around. The garden at the front of the property has lots of qvevri and clay ovens for sale.
How to get to Shrosha: Shrosha and Ubisa are on the highway, so it's only really practical to stop if you're driving through with your own car.

Further reading: How to make a clay qvevri.
---
What destinations do you recommend in Georgia? I plan to add more to this guide over the coming weeks and months – I already have my own wish list, but I'd love to hear your suggestions too! Let me know in the comments below.
---
You might also be interested in…
Georgia essentials
Here are some of the websites and services I use when I'm planning a trip to Georgia and the Caucasus. Remember to check out my full list of travel resources for more tips.
– Find affordable flights to Tbilisi, Batumi or Kutaisi on Kiwi.com, a booking site that mixes and matches airlines to find the best route (there's a money back guarantee if you miss a connection).

– Use iVisa to check if you need a tourist visa for Georgia and apply for an expedited visa online.

– Pre-book a private transfer from Tbilisi Airport to your hotel or from Kutaisi Airport to Tbilisi with my preferred partners at Friendly.ge.

– Get a great deal on a rental car in Georgia by using MyRentACar to find a local agent.

– Buy your tickets for the Tbilisi to Baku or Yerevan sleeper train online in advance through my partners at Geotrend (get a discount when you use the code in this post).

– Find the best Georgia hotel deals on Booking.com, book a Georgia hostel, or find a unique Airbnb.

– Find the best city tours and day excursions in Georgia.

– Compare mobile providers and pick up a local Georgian sim card.

– Order a copy of the new Lonely Planet Caucasus guidebook (published July 2020).