Kakheti, Georgia's premier wine region, is a must-see when travelling in the Caucasus. Here are the most up-to-date, detailed instructions for travelling from Isani/Samgori in Tbilisi to Sighnaghi or Telavi by bus, taxi or car in 2022.
In Georgia, wine is so tied up with local culture, it's difficult to imagine one without the other. Visiting the Alazani Valley in Kakheti, the main wine-growing region in eastern Georgia, is an experience you won't soon forget.
Kakheti is Georgia's largest region by area and has a whole lot to offer travellers apart from wine – including fortresses, cave monasteries, hilltop churches, isolated villages, and trekking in some of the nation's most spectacular national parks.
Telavi, the region's biggest city, and Sighnaghi, it's most picturesque, are both logical starting points for exploring Kakheti.
Since moving to Tbilisi, I've visited Kakheti more times than I can count. I first went during our big Caucasus trip, and have been many times on a day trip from Tbilisi.
I've driven around the wine region in my own car, and have also passed through Kakheti when I travelled overland from Azerbaijan to Georgia. If this border crossing is on your agenda, Sighnaghi is perfectly positioned to break up the long journey.
Essential reading: The perfect Georgia Azerbaijan travel itinerary.
This Tbilisi Kakheti transport guide draws on my own experience travelling between Tbilisi, Sighnaghi and Telavi. Transit days are often a blur – so to refresh my memory and bring you the most detailed and accurate information possible, I recently spent an afternoon revisiting bus stations in Tbilisi and replicating stages of the journey.
I can safely say this is the most comprehensive and up-to-date Tbilisi to Kakheti transport guide currently available online.
Use the links below to skip to the section that's most relevant to you, or scroll through to explore the different options for getting to Kakheti. As always, if you have any updates or questions, please feel free to leave a comment at the end of the page.
---
Please note: This post contains affiliate links, meaning I may earn a commission if you make a purchase by clicking a link (at no extra cost to you). Learn more.
---
Why visit Kakheti?
Kakheti is very diverse. From the semi-desert plains and 'rainbow' hills around the southern border with Azerbaijan, to Tusheti Protected Landscape, one of Georgia's most pristine and remote mountain areas, in the far north.
In between, the Alazani Valley that cuts north-south through Kakheti has fertile soil and micro-climates perfect for growing different varieties of grapes.
Most of Georgia's commercial winemakers operate in Kakheti. Their cellar doors, scattered across the valley floor, outnumber Kakheti's churches and monasteries and are open to visitors year-round for tastings and tours of the traditional Qvevri wine-making process.
The town of Sighnaghi is the most touristy part of Kakheti. Re-branded 'The City of Love' by Georgia's third president, it attracts lots of day trippers and local couples (it's also the wedding capital of Georgia). Sighnaghi's old city walls and bastions tell a fascinating story about the 15th century Kingdom of Kakheti.
One of my favourite spots in Kakheti is Bodbe Monastery. Dating back to the 9th century, the complex houses the remains of St. Nino, the woman responsible for bringing Christianity to Georgia, and a holy water spring surrounded by stunning gardens and views of the Alazani Valley.
What is the road to Kakheti like?
There are two roads drivers might take to reach Sighnaghi and Telavi from Tbilisi. I have travelled on both many times.
The Kakheti Highway
The main road, the Kakheti Highway or S5, is a two-lane highway. It was upgraded a few years ago and is one of the better roads in the country. Most marshrutky and taxis with Sighnaghi as their final destination take this highway.
For the most part, the road is straight, smooth and flat, with few turns or climbs. The final stretch into Sighnaghi (about 18 km or 30 minutes of driving) is still bitumen, but more like a country road with thick forest on either side. As you ascend into the town, there are some twists and turns. The first time we travelled, our taxi approached Sighnaghi from the north. The road between Anaga and Sighnaghi is by far the windiest stretch in the area.
I'm prone to car sickness, but I've never had a problem when travelling from Sighnaghi to Tbilisi or back on the Kakheti Highway.
The scenery is pleasant: Rolling hills, farmhouses, and of course lots of grape vines! Not long into the journey you'll start noticing brick-coloured road signs that bear the names of different wineries in the area.
The Gombori Pass
The second way to reach Sighnaghi from Tbilisi is via the Gombori Pass. This road runs through the Gombori mountains and therefore has more twists and turns. It's also a bit rougher than the highway in parts (though when I drove it in early 2021, significant repairs had been made).
Still, I prefer travelling via the Gombori Pass because it affords spectacular views of the mountains and the dense forest around Tetri Tsklebi. If you're travelling to Telavi, this road gets you there much faster than the Kakheti Highway (in 2 hours rather than 3 hours).
Because the Gombori Pass is difficult to navigate in a van, marshrutky travelling from Tbilisi to Telavi tend to take the Kakheti Highway. Taxis, on the other hand, usually take the Gombori Pass.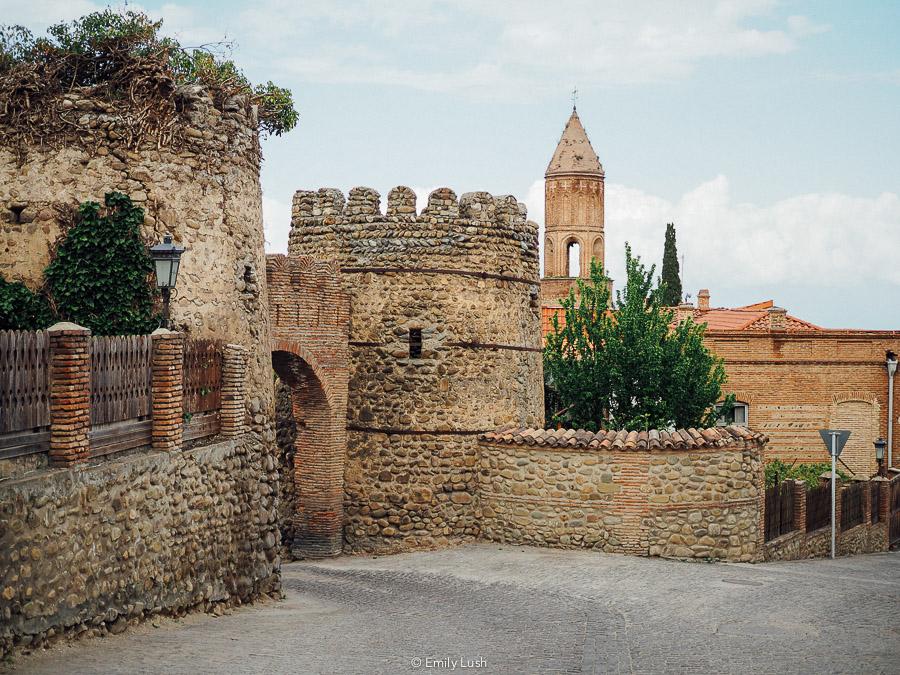 How to get from Tbilisi to Sighnaghi
The table below provides an overview of the transport options currently available. Note that there is no passenger train service between Tbilisi and Kakheti.
Note: Prices and times are correct at the time of writing. I encourage you to double-check the schedule locally, either at the bus station or ask at your guesthouse.
1. BEST OVERALL OPTION
SHARED TAXI
On demand (from Isani M/S)

1.5-1.75 hours travel time

From 15 GEL/person
[Pay the driver directly]
2. AFFORDABLE OPTION
MARSHRUTKA MINIVAN
7 daily departures (from Samgori M/S)
2-2

.5 hours travel time

7 GEL/person
[Buy tickets from the driver]
3. FLEXIBLE OPTION
GOTRIP TRANSFER
On demand

1.5 hours travel time

(without stops)
From 150 GEL/car
If you've already been travelling around Georgia or you're doing research in preparation for your trip, you'll have noticed there are multiple bus stations in the city.
Both taxis and marshrutka vans bound for Sighnaghi depart from less formal 'hubs' outside the Isani Metro Station (see location here) and the Samgori Metro Station (see location here) – not from Didube. These stations are located along the First Metro line in the southern part of the city.
To get to Isani or Samgori from Liberty Square, ride the red metro south in the direction of Varketili for 3 or 4 stations respectively. A single fare costs 1 GEL (Metromoney card required), and the ride takes about 10 minutes. Alternatively, a taxi from Liberty Square to Isani costs 8-10 GEL when booked through Bolt.
An added benefit of arriving at Isani or Samgori station by taxi rather than metro is that your first driver will drop you off in the right spot and probably liaise with other drivers on your behalf to find you your next ride. The way taxi drivers always seem ready to help clueless tourists like me is just one of the things I love about travelling in the Caucasus.
Tbilisi to Sighnaghi taxi
I'm a huge advocate of public transport, especially in Georgia where every marshrutka ride is an adventure! However, when it comes to travelling from Tbilisi to Sighnaghi, I highly recommend choosing a shared taxi over a marshrutka.
Shared taxis are more comfortable (especially in summer), and usually more reliable in terms of road safety. Travelling by car, you will almost certainly reach your destination faster, and you can ask to be dropped off in a more convenient location. The price for a shared taxi to Sighnaghi is only a few dollars more than a marshrutka (from 15 GEL per person for a taxi compared with 7 GEL per person for a marshrutka).
Shared taxis going to Sighnaghi wait near the Isani Metro Station in Tbilisi. When you arrive at the metro station, turn left and start walking up the one-way street that runs parallel to the east side of the station building.
On the right-hand side of the road you'll see a row of grey shops with cars parked out front (see photo below). These are the unmarked taxis that run between Tbilisi and Kakheti.
Outside the pharmacy and orange Bank of Georgia is a marked taxi rank. Groups of drivers will be leaning on their cars and chatting to each other. If you have luggage with you, there's a good chance someone will approach you first. Otherwise, just ask the first person you make eye contact with for Sighnaghi. In my experience, drivers here are not at all aggressive and are not inclined to rip tourists off.
The going rate for a shared taxi to Sighnaghi is 15 GEL per person or 60 GEL for the whole car. There may also be 7 seater minivans that charge 20 GEL per person. Tbilisi to Sighnaghi is a popular route, so cars generally fill up fast, especially in the morning from about 10am. There may be a lull around lunch time; but as a general rule, you'll always find someone who is prepared to drive you. Travel time by taxi is approximately 2 hours.
When we took a shared taxi to Sighnaghi, we waited for about 30 minutes for our car to fill up. That was enough time to buy breakfast at one of the many bakeries on the street, change our leftover dram into lari at one of the currency exchanges, and use the toilet.
Pro tip: There is a free public toilet in the back of the parking lot located at the top of the street on the right. If you don't have time to walk up, there is a toilet out front of Isani Metro Station that you can use for 30 tetri.
If you don't want to wait, you can just pay the ~60 GEL for the whole car and depart immediately.
We travelled with two Georgians, a woman carrying a freshly plucked chicken who got out in a village near Tsnori, and a very friendly gent who travelled on to Telavi. It's up to the driver who gets dropped off first. We made one stop for churchkhela on the way (the friendly gent was buying!).
We approached Sighnaghi from the north and got dropped off at the top of the park, outside Kabadoni hotel.
---
Tbilisi to Sighnaghi bus (marshrutka)
The marshrtuka vagzali (station) for Kakheti is adjacent to the Samgori Metro Station. A few vans start down the road at Isani, and a few more stop in at Isani on their way to the Kakheti Highway. But your safest bet is to go straight to Samgori where 95% of Kakheti-bound vans originate.
The Samgori bus station is not immediately obvious. When you get off the metro at Samgori station, walk towards the western exit and take the stairs on the right. This will bring you up into a car park, the first of two bus 'stations'. If you take the eastern exit, you'll surface near Samgori market, in which case you need to walk west along the main road.
There are two places where marshrutky wait at Samgori. Both are very informal and look more like car parks. When I was last there, I was instructed to go to the second bus area, labelled 'Tbilisi_Mestia Bus Station Navtluxi' on Google Maps (see photo below).
Vans are timetabled to leave Samgori at 7am, 9am, 11am, 1pm, 3pm, 5pm and 6pm daily (same schedule for weekdays and weekends). The driver might wait until he's satisfied with the number of passengers on board. If it's a busy day, the van will leave as soon as it's full. It's a good idea to arrive at least 30 minutes early to make sure you get a seat.
Tickets for the Tbilisi to Sighnaghi bus cost 7 GEL and can be bought directly from the driver either on-board or when you alight. Travel time is approximately 2 to 2.5 hours. In Sighnaghi, vans let passengers off at the bus stand opposite the District Court building.
Important: Double check the final destination with your driver before you board. Some marshrutky terminate in Tsnori, which is a 15-minute (approx. 5 GEL) taxi ride away from Sighnaghi.
---
Tbilisi to Sighnaghi with GoTrip
If you want maximum flexibility, consider booking a car and driver through GoTrip. It's a sharing economy service (and a Georgian invention) that pairs drivers and passengers for longer journeys. This option might be more economical if you're travelling with a group, and I definitely recommend it if you have kids with you.
The GoTrip platform allows you to select a driver based on the make of their car, the language they speak, and their star-rating (all drivers are vetted and reviewed). You can book in advance or up to 3 hours before your intended departure time. The price is fixed in advance and cash payment is made directly to the driver.
There are lots of advantages to using GoTrip. Cars are usually comfortable, drivers experienced, and you can stop as often as you like, wherever you like. The only rule is that you must complete the trip you booked within 24 hours. You can also specify precise pick-up and drop-off locations.
GoTrip also has a 'Tour' option. Their preset Kakheti itinerary includes Bodbe Monastery, Sighnaghi town, and a few popular wineries plus return to Tbilisi for around 160 GEL. You can customise the stops as you like using the itinerary planner. Personally, I think it's excellent value.
---
Tbilisi to Sighnaghi tours
If you prefer to travel with a guide, there are lots of Tbilisi to Sighnaghi tours to choose from. Day tour itineraries typically include pick up and drop off from your accommodation in Tbilisi. If you're wanting to stay in Kakheti, you could try requesting for the driver to leave you in Sighnaghi at the end of the day.
My preferred company for this route is Eat This! Tours. They curate intimate tours of family run vineyards led by local sommelier-guides. Enquire here on the website and mention Wander-Lush to get a discount.
Alternatively, this full-day small group tour includes multiple wine tastings and a visit to my favourite monastery in Georgia, Bodbe.
This itinerary allows you to visit Kakheti wineries and David Gareja Monastery in the same day – excellent if you're on a tight schedule. (As of winter 2021, parts of David Gareja remain closed. Check with the tour operator before you book to avoid disappointment.)
How to get from Tbilisi to Telavi
If you want to start your Kakheti itinerary in Telavi, you'll need to take a taxi from Isani (the price is around the same, 15 GEL per person), or catch a marshrutka from Ortachala Bus Station. As mentioned, taxis usually take the Gombori Pass (2 hours travel time to Telavi), while marshrutky use the Kakheti Highway, turning off at Chalaubani (3 hours travel time).
Ortachala (AKA Central Bus Station) is a much bigger bus station. To get there, either take a taxi from Liberty Square (4 GEL when booked through Bolt) or use marshrutky numbers 71 or 80, which stop near the clock tower.
Vans leave from the upper level of the station, so if you arrive at the main entrance, you'll need to take the stairs up. There are bakeries, cafes, money exchange desks and public toilets near the departures area.
A bus ticket to Telavi costs 10 GEL and should be purchased from the white ticket kiosk before you board. There are 13 scheduled vans every day, departing between 8.20am and 6.30pm. Check times on Biletebi (you can also pre-purchase tickets on this website if you wish). As with all routes, vans will leave early if full, so it's advisable to arrive at the station at least 30 minutes prior to the scheduled departure.
In Telavi, marshrutky can drop passengers off at the bus station or the main market.
---
How to get around Kakheti
Many of the best things to do in Kakheti are located outside the cities of Sighnaghi and Telavi – another reason why a chartered car or tour is a great way to go. If you're travelling independently, you can still see a lot. Bobde Monastery, for example, is a lovely walk from Sighnaghi.
If you want to visit wineries, it's not a bad idea to charter a taxi in Sighnaghi to drive you around. The first time we travelled to Georgia, our guesthouse organised a shared taxi to take us around Kakheti for a full day. We visited half a dozen wineries and monasteries and paid 25 GEL each (three people). These days you can expect to pay 30-40 GEL per person.
You can find my full list of recommendations for things to do in Sighnaghi and Telavi – including my favourite wineries and monasteries – in my three-day Kakheti itinerary.
---
How to get from Sighnaghi to Telavi
If you're travelling around Kakheti independently, you might need to get between Sighnaghi and Telavi. There is just one marshrutka that leaves Sighnaghi at 9.30am. It costs 7 GEL per person, and because it's a local bus that stops very frequently, it typically takes upwards of 2.5 hours to travel the 70km.
I recommend reserving your seat in advance, either at the bus stand or by asking your guesthouse to phone ahead for you.
It's much faster to take a taxi from Sighnaghi to Telavi (around 90 minutes). This would be best organised in advance through your guesthouse rather than trying to pick up a taxi off the street. Expect to pay around 50-60 GEL.
---
How to get from Telavi to Sighnaghi
Travelling in the opposite direction is a bit different again. From Telavi's New Bus Station, you'll first need to take a mashrutka to Tsnori. There are regular vans departing throughout the day, including one at 8am. A ticket costs around 5 GEL.
Once in Tsnori, your first driver will help you transfer to another marshrutka bound for Sighnaghi. This second leg of the journey should cost around 2 GEL. All up, it will take you 3 hours to get from Telavi to Sighnaghi by van.
A taxi going the opposite way costs the same or slightly less (simply because there are more taxi drivers in Telavi). Journey time is around 90 minutes.
There may be direct marshrutky between Telavi and Sighnaghi, but going through Tsnori is generally more convenient. If you have any additional information, please leave a note in the comments below. (A big thanks to traveller Michiel for providing extra info about the Telavi to Sighnaghi route!)
How to get from Sighnaghi to Tbilisi (return trip)
Marshrutky travelling the opposite way depart from the bus stand in Sighnaghi every 2 hours between 7am and 6pm. The price is the same, 7 GEL. In Tbilisi, vans terminate at Samgori Metro Station. Again, it's wise to reserve seats in advance, either directly with staff at the bus kiosk or by asking your guesthouse to phone ahead.
Shared or private taxis from Sighnaghi to Tbilisi are best organised in advance through your accommodation. Or you can head to the main square (near the donkey statue) or the top of the park where drivers wait to make the return trip to Tbilisi.
How to get from Telavi to Tbilisi (return trip)
Marshrutky from Telavi to Tbilisi are much more frequent, departing at least every hour between 9am and 9pm from the formal New Bus Station in Telavi. Tickets cost between 6-10 GEL (we paid 6 GEL), and the trip takes 2-3 hours depending on traffic.
These vans terminate at Ortachala Bus Station in Tbilisi. From there, you can jump on local bus 31 to get back to Liberty Square. The first time we travelled, we connected to a Gori marshrutka from Didube Station on the same day and continued our travels in western Georgia.
Other places to visit in Kakheti: Onward travel from Sighnaghi or Telavi
Most people associate Kakheti with wine. In reality, this region of eastern Georgia is incredibly diverse and has a lot more to offer than just vineyards. Here are a few other places worth visiting in Kakheti, plus basic instructions for how to plan your onward travel.
Sighnaghi to David Gareja Monastery
David Gareja (Davit Gareja) is located southwest of Sighnaghi on the border with Azerbaijan. It takes almost as long to reach the monastery complex from Sighnaghi as it does to travel from Tbilisi. For this reason, I always recommend visiting the monastery as a day trip from Tbilisi using the Gareji Line shuttle bus instead.
There is no direct public transport between Sighnaghi or Telavi and David Gareja. If you want to visit the monastery from Kakheti, you can either organise a shared taxi through your guesthouse (recommended), charter a taxi (expect to pay around 120 GEL to get there and back from Sighnaghi), or use a combination of marshrutka and taxi.
For the latter, you'll first need to take a Tbilisi-bound marshrutka from Sighnaghi to the town of Sagarejo, where the unpaved, fairly treacherous road to the cave monastery branches off from the highway. In summer, you can find taxis waiting at the crossroads. A round-trip should cost about 60 GEL.
Telavi to Pankisi Valley
If you want to get off the beaten track in Georgia, the village of Jokolo in Pankisi Valley hosts an interesting community based tourism project. My recommended accommodation and tour provider in Pankisi is Nazy's Guest House.
Vans travelling to Akhmeta (the nearest city to the valley) and Jokolo depart from behind the Telavi market. The first time we travelled to Jokolo, we took a taxi from Telavi for 25 GEL (total price for the whole car, not per person).
Telavi to Tusheti National Park
Tusheti National Park is one of Georgia's most remote mountain regions. If it's summer and the road is open (often only for a few weeks in June/July/August – the area is completely isolated for most of the year), cars bound for the villages of Omalo and Shatili depart from Telavi.
Only experienced drivers who know the notoriously dangerous road well (and have the right kind of vehicle) are able to make the trip north. It costs around 220 GEL to hire a car and driver, and you can organise this through your accommodation in Tusheti.
It is possible to show up in Telavi on the day and find a place in a shared car. You have a better chance in the early morning, so plan to take one of the first buses to Telavi or overnight in Kakheti beforehand. The drive to Omalo takes no less than 3 hours.
Sighnaghi to Lagodekhi Nature Reserve
Shared between Georgia, Daghestan and Azerbaijan, Lagodekhi (or Tokhota/Zagatala as its know locally) is prime hiking territory. One of the most popular routes is the multi-day hike to Black Rock Lake, which straddles the Russian border.
If you want to hike, it makes sense to start in the border town of Lagodekhi. There are at least 5 daily marshrutky that travel the 80 km between Telavi and Lagodekhi, departing from the bus station in Telavi. The trip takes around 2 hours, and a ticket costs around 7 GEL.
Kakheti to Azerbaijan
The Kakheti region borders northern Azerbaijan, making it a great place to transit through on your way from Georgia to Baku.
Sheki, my favourite place in Azerbaijan, is a mere 160 km from Sighnaghi and can be reached within a day by changing vans in Qax. We travelled the opposite way before returning to Tbilisi on the overnight train. Here's more information about getting to Sheki and Baku overland from Georgia.
---
Where to stay in Kakheti
→ See my full list of recommended accommodations in Kakheti Wine Region.
If you're visiting Kakheti for longer than a day, you'll first need to decide where you're going to base yourself. Sighnaghi and Telavi are the most popular options but I urge you to also consider staying on a wine estate. Tsinandali is my top pick.
Both Sighnaghi and Telavi have their merits. Certain wineries and churches are more conveniently reached from Telavi, while the walled town of Sighnaghi is more charming.
Telavi is bigger and so has more transport options. It also has a local feel and lots and lots of things to do within walking distance of the centre. It's easier to get back to Tbilisi from Telavi (more on that later), so if you're staying in both Sighnaghi and Telavi like we did, I suggest starting off in smaller Sighnaghi.
---
In Sighnaghi, we stay at Zandarashvili Guest House. Comfortable rooms with a view of the old city walls, laundry, generous breakfasts and dinners, homemade wine, tours around Kakheti, onward transportation, great conversation – this place has you sorted for all of it.
In Telavi, we stay at Guest House Lilia, a beautiful property owned by a Georgian woman who takes immense pride in both her vegetable garden and her cooking! Lilia is the perfect host and can also help organise transportation around Telavi.
---
Have you recently travelled from Tbilisi to Sighnaghi or Telavi? If you have any updates – or any questions for me about Kakheti – feel free to leave me a note in the comments below.
---
Tbilisi to Sighnaghi: Save it for later