When most people think of responsible or sustainable travel, they automatically think about the environment.
Remaining mindful of the ill effects of mass tourism on our planet is of course important, and by now we should all be taking measures to minimise our impact. But there's another side to responsible tourism—the social dimension.
The more I travel, the more I realise just how powerful tourism can be as a force for social good or evil. And I've seen both sides of the coin—often in the same country, and sometimes within one community.
There were times when I was taken aback by the visible poverty we noticed in the Caucasus—but I was equally surprised by the warmth and hospitality we encountered at every turn. On balance, this made me realise how important it is to be a socially responsible traveller in Georgia, Armenia and Azerbaijan—especially now, when tourism is still a fledgling industry.
On our first morning in Yerevan, we walked into a cafe and picked up a copy of the Inside Yerevan Map—a free, pocket-sized guide packed with recommendations and tips.
Over our next 10 days in Armenia, we visited many of the family-run restaurants and refugee-run enterprises listed on the map. It was just the thing we needed to have a more local experience and to make better buying decisions.
The organisation behind the map, ONEArmenia, is one of a growing number of social enterprises and non-profits dedicated to building a better Armenia. They run a whole host of projects—everything from support for local entrepreneurs to de-mining and water sanitation, many of them crowdfunded.
What really resonated with me was ONEArmenia's recognition of the role tourists can play in Armenia's social development. Using something as simple as a map or an app, ONEArmenia empowers visitors to Armenia to make a positive difference.
I was so inspired by ONEArmenia's work that I decided to ask them a few questions about Armenia and their take on responsible tourism. Here is my short interview with the ONEArmenia Team.
---
Please note: This post contains affiliate links, meaning I may earn a commission if you make a purchase by clicking a link (at no extra cost to you). Learn more.
---
What is ONEArmenia's mission?
ONEArmenia was founded in 2012 to provide individuals around the world the opportunity to invest in Armenia's future.
We aim to raise the standard of living in Armenia via innovative and sustainable projects that accelerate job creation in agriculture, technology, tourism, and made-in-Armenia products—areas that have not yet been tapped, but have great potential.
Also read: The GoCaucasus Portal, a new resource for ecotourism in the Caucasus region.
What are the biggest challenges Armenia faces today?
As many developing countries do, Armenia faces a multitude of challenges. If we had to pick three, we'd say geopolitical risks, corruption, and emigration. With two out of four land borders closed off, geopolitical risks are a serious concern for the country and weigh on its development prospects.
The conflict around Nagorno-Karabakh/Artsakh is no longer in a state that can be considered "frozen" and active military operations in 2016 cost the lives of hundreds of soldiers on both sides of the border.
Corruption also remains a major concern with Armenia ranking 113 out of 176 on Transparency International's scale, in the bottom half. While difficult to measure for obvious reasons, corruption is felt to be widespread in all spheres, from government to business and nonprofits.
Armenia has seen continuous patterns of mass emigration since 1991. We are lacking official migration statistics between two population censuses but the Statistical service of Armenia estimates that between 2010 and 2015 between 31,200 and 46,700 people have left the country every year. A 2013 report by the European Investment Bank suggested that the large Armenian diaspora made it easier for young highly educated Armenians to move abroad for work, therefore causing a brain drain.
Other challenges could be mentioned, for example the burdensome tax system (although we've seen improvement in this over the last few years), or the oligarchical structure of the economy (some sectors like grocery stores, importation of sugar / flour or mining are dominated by monopolies or oligopolies).
Why is responsible tourism important in Armenia?
To this day, Armenia still welcomes a relatively small number of tourists – even though it is growing every year. Therefore, as a tourist to Armenia, you're automatically one of the trailblazers, and it's important you set the example so we all get it right in the future.
Can you tell me a bit about your work in the tourism sector? What kind of resources does ONEArmenia create for tourists?
HIKEArmenia – We crowdfunded for HIKEArmenia in 2015 and gathered $27,000 in donations, which we used to create a mobile application that allows people to find marked hiking trails in Armenia (now available on the app store and google play). HIKEArmenia is now becoming its own entity, and will offer a website as well as a hiking resource center for tourists willing to hike in Armenia (more details here). Armenia has a lot to offer to tourists especially in terms of natural assets, we just want to make it more accessible.
Farm-To-Bottle – We funded this project last year, and will implement it with our partners by Summer 2018. We are installing three WineCubes (wine tasting rooms directly on the producers land in Vayots Dzor – Armenia's wine region) to give tourists the opportunity to taste local wine directly where it is produced.
Also read: Social enterprises & ecotourism providers in Georgia.
What are the positive impacts of tourism you're seeing in Armenia?
Like most other governmental and nonprofit actors in Armenia, we would like the local people to gain an income from an influx of tourists: from local families selling their homemade products near touristic sites to opening a restaurant or a bed and breakfast. Ideally they would also gain something non-monetary: certain skills (language skills come to mind), but also a renewed interest and desire to care for their surrounding environment.
[For] example—one of the hiking trails featured on the HIKEArmenia app starts in a little village, and from the starting point you can see a place where this one local family is just dumping their trash down the hill from their house.
It is our hope that as they see more tourists come into the area and express their discontent at the sight, the local guides and B&Bs would rally up and force this family to pick up their trash.
What tips can you offer people who want to travel responsibly in Armenia?
Buy local, eat local, drink local!
Seriously, though.
You can get amazing Armenian food at Anush restaurant on Amiryan Street (Yerevan), Western-Armenian / Lebanese food at Lagonid bistro on Nalbandyan Street (Yerevan). Outside Yerevan, definitely try out Kchuch in Dilijan for Armenian cuisine with a twist, and Cherkezi Dzor in Gyumri for fresh fish.
Our favourite local wines are Karas, Old Bridge, Koor and Keush.
You can shop for made-in-Armenia natural cosmetics at Nairian, fashionable made-in-Armenia shoes at AVA Shoes, and bags, cushions and household items at HDIF.
You can get all our recommendations in our Inside Yerevan Map (the one and only crowdsourced map of Yerevan), available in most cafes and hostels in Yerevan.
Also read: My favourite souvenir shops in Yerevan.
---
A big thank you to Charlotte and the ONEArmenia Team for participating in this interview! Visit ONEArmenia's website or Facebook page to learn more about the organisation and how you can support their work when you're in Armenia or from abroad.
---
Lead image by Filip Maljković/Flickr (edits made) (used under Creative Commons).
Armenia Travel Guide
Discover insider tips, itinerary inspiration, and all the best things to see, do and experience in Armenia!
Armenia Essentials
My favourite resources and tools for planning a trip to Armenia.
More from Armenia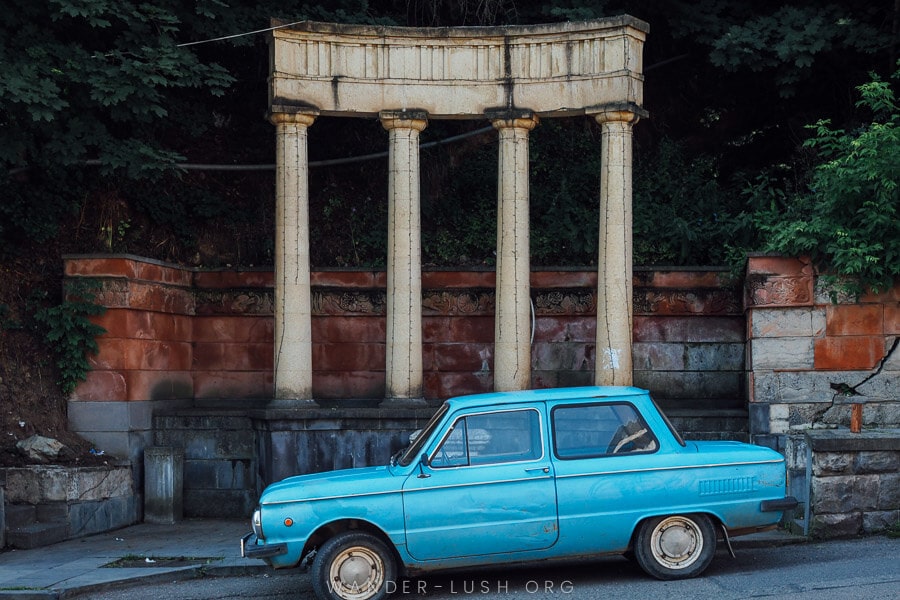 Armenia Travel Guide
Discover insider tips, itinerary inspiration, and all the best things to see, do and experience in Armenia!
Armenia Essentials
My favourite resources and tools for planning a trip to Armenia.
More from Armenia