With its lofty black-and-apricot architecture, pottery studios and cute cafes, Armenia's second-largest city, Gyumri, is the country's creative capital and historical hub. My guide shows you all the best things to do in Gyumri, where to eat, and how to plan a trip.
It used to be known as the most beautiful city in Armenia. Then, in 1988, Gyumri was almost wiped off the map by the devastating Spitak Earthquake, which claimed an estimated 25,000-50,000 lives and flattened most of Gyumri's heritage buildings.
Nowadays, most people associate the capital of northern Armenia's Shirak Province with the immense tragedy of the earthquake and its aftermath. Gyumri is still rebuilding, that's for sure – but it feels like an optimistic place.
A fresh crop of social enterprises, creative projects and cool cafes has brought new life to the city centre, while in the surrounding streets, restoration of Gyumri's Art Nouveau houses and magnificent Armenian Apostolic churches churns along.
News of direct budget flights to Gyumri from Germany is a huge boon for tourism – something this city and region could really benefit from as people work to get back on their feet. Many of the oldest buildings and streets (including a section of Abovyan Street, pictured above) are undergoing restorations – an economic boost and increased exposure for the city will surely help with this.
Located two hours north of Yerevan close to the Georgian border, Gyumri is a great place to stop off if you're travelling between the two countries overland. It can also be visited as a day trip from Yerevan.
Ideally I recommend adding at least one or two nights in Gyumri to your Armenia itinerary.
Here are all the best things to do in Gyumri, my favourite places to eat and travel tips for visiting the city.
---
Please note: This post contains affiliate links, meaning I may earn a commission if you make a purchase by clicking a link (at no extra cost to you). Learn more.
---
---
Top 10 things to do in Gyumri
Here are the best things to do in Gyumri city, plus my Gyumri restaurant and cafe recommendations. You can quite easily see everything mentioned here in a day.
The city is small and compact so I recommend exploring on foot. I spent 3 full days in Gyumri on my last trip to Armenia and never got bored – in fact, I missed out on quite a few things! I'm already planning a return visit.
1. Vartanants Square
If Yerevan is known as the Pink City, Gyumri should be called the Black City.
The first thing you notice about Gyumri is its striking architecture. Churches, municipal buildings and houses all look as if they've been blackened by fire. The carbon colour is in fact the natural tone of volcanic tuff, stone quarried outside Gyumri and used to construct most of the older buildings. Orange-gold tuff stone is often used to detail windows, doors and arches. It's a colour combination I've never seen before.
Vartanants Square (Freedom Square) is the anchor point of Gyumri. Many of the city's most important and impressive buildings face onto the public space, including the City Hall and two of Gyumri's most prominent churches.
The square first opened in 1930 and has hosted many important events, including a mass by Pope Francis in 2016. A memorial dedicated to the Battle of Avarayr sits in the centre.
2. Yot Verk Church
Yot Verk, the Cathedral of the Holy Mother of God, is the smaller of two churches that sit on Vartanants Square. Constructed from charcoal-coloured tuft, it serves as the seat for the Diocese of Shirak, the local wing of Armenia's Apostolic Church.
Yot Verk sustained major damage during the 1988 earthquake, but it was completely rebuilt and is a fully functioning church. Two hulking stone pyramids that once topped the church's steeples but fell during the earthquake now sit in the front yard. I think the decision to keep these is a beautiful and poignant tribute to the city's resilience.
A thick grove of cherry trees shades the church from the square. A great time to visit is on Sunday mornings, when half of Gyumri, it seems, turns out for mass.
3. Amenaprkich Church
Rendered in Gyumri's signature palette of black and apricot, Amenaprkich Church (All Saviours Church) was constructed in the 1850s. It survived the 1926 Kars earthquake, but was badly damaged by the second earthquake in 1988. Reconstruction of the interior is still underway, so the church is currently closed to worshippers and visitors alike.
It's worth visiting to walk around the exterior, which has been pieced back together block by block. The entire church is ringed by intricate khachkar cross stones. Out the back, there's a Soviet-style memorial dedicated to victims of the 1988 quake.
As we walked around the perimeter of the church, we met a sweet elderly lady who cooed over us for several minutes in Armenian before gifting us handfuls of sunflower seeds. The devastated church and memorial are very provocative, so this kind gesture couldn't have come at a better time. This type of generosity isn't at all uncommon in Armenia.
4. Sev Berd (The Black Fortress)
Sev Berd is one of the most curious military structures I've ever visited. Made of black and apricot tuff, the fortress is a perfectly round circle with small external openings and one access point via a drawbridge.
It was built by the Russian Imperialists who ruled Gyumri (then known as Alexandropol) in the aftermath of the Russo-Turkish War in the 1820s. Barely 8km from the Turkish border, its hilltop location was highly strategic.
Russian forces still have a presence in Gyumri even today, and their army base is a stone's throw from Sev Berd. But the fortification itself is no longer used for military purposes.
After a period of abandonment, private owners recently re-opened it as an entertainment space and a hotel. That's right, it's got a stage, a sound system and everything! It's usually closed during the day, but lucky for us, we arrived at the same time as a tour group. Their guide kindly let us in and showed us around as well.
Underneath the main stage, a ramp leads to a subterranean museum where photographs of old Alexandrapol and its resident Russian royals are displayed. You can also see the original well that troops used to access groundwater.
5. Mother Armenia
Next door to Sev Berd lies Gyumri's Victory Park and its iconic Mother Armenia monument. These statues are a common sight throughout the former Soviet republics – Yerevan and Tbilisi have their own versions.
Gyumri's matron was sculpted from bronze in 1975 as a tribute to the Soviet victory in WWII. Mother Armenia boldly raises one arm skyward while holding an ear of wheat in her hand. It's no accident that she has her back turned to neighbouring Turkey.
A huge concrete staircase and fountain complex not dissimilar to Yerevan's Cascade unfurls like a carpet at Mother Armenia's feet. The memorial continues at the bottom of the stairs with gardens and stone blocks inscribed with the names of all the former Soviet capitals in Russian alphabet.
6. Gyumri Market (Gyumri Shuka)
Along with the GUM Market in Yerevan and the Dezerter Bazaar in Tbilisi, Gyumri's Shuka is a cornucopia of local produce. When we visited in summer, it was all about the stone fruit: peaches, apricots, cherries and wild plums, plus juicy berries and figs.
One thing that never goes out of season are aromatic spices sold by the kilo.
Other stalls grind coffee beans to order, and sell slabs of basturma (cured meat), huge wheels of white cheese, and sheets of pale, fibrous mushrooms. Stallholders are outgoing and happy to pose for a photo while handing out samples of candied fruits and nuts.
The market is held daily between 9am and 6pm.
7. Rijkov Street & Kumayri Historic District
Before it fell under the rule of Russian Imperialists, Gyumri was known as Kumayri. The Historic District now takes this name, and represents the oldest part of the city.
Kumayri Historic District stretches across several dozen city blocks to the north-east and north-west of Vartanants Square. Pedestrianised Abovyan Street has some particularly magnificent facades.
The area is comprised of approximately 1,500 buildings in total, some dating back to the late 18th century. Houses subscribe to 'Armenian Belle Epoque', an elegant European style of architecture preferred by their craftsmen and merchant benefactors.
This area suffered serious damage during the earthquake and reconstruction is still an ongoing process 30 years on. Many of the buildings remain boarded up – a great shame considering their heritage value.
Built in 1898, the Old Alexandrapol Brewery on Jivani Street was one of the first buildings to be restored and now houses a functioning beer factory. Tours of the interior, which features 8-metre-deep underground cellars, are available on weekdays by appointment.
Opposite the Brewery on the corner of Gorki Street, another grand tuff building (pictured above) has been lovingly restored. It reopened as a restaurant, Florence, in 2019 (more information in the next section).
8. Old Hospital Ruins
Two blocks east of Jivani Street, you can see a confronting reminder of the 1988 earthquake up close. Hidden in dense forest behind the new Spitak Hospital, Gyumri's old hospital was all but flattened by the tremors. The inside has been gutted, but the ivory-coloured bones of one wing are still standing today.
If you look closely, you can see the original Soviet hammer and sickle insignia mounted above the building's main entryway.
We entered the Old Hospital area off the main street via the new hospital driveway. No one stopped or questioned us, and there is no signage to designate private property, so I assume people are free to walk through the complex as they wish. Please take care and be respectful.
9. Gyumri house museums
I love the concept of 'house museums', small institutions set up in the former homes or workshops of famous citizens and staffed by passionate devotees. Even though Gyumri's are are geared towards local tourists and don't have much information in English, some are worth a visit just for the atmosphere.
My favourite is the Museum-Gallery of the Aslamazyan Sisters (pictured above). Two sisters born in a village near Gyumri, Mariam and Yeranuhi were prolific painters and sculptors who were given special permission to travel outside the Soviet Union and literally paint what they saw.
Back home in Armenia, their exhibition openings were treated as diplomatic events. Vibrant canvases and ceramics depicting faces and scenes from India, East Asia and Latin America must have shaped perceptions of the outside world among their compatriots. Every one of the works displayed in their Museum is colourful and joyous – some even call Mariam Aslamazyan Armenia's answer to Frida Kahlo!
The Aslamazyan Museum is open from 10.30am-5pm (closed Mondays).
---
We also visited the Mher Mkrtchyan Museum (11am-5pm, closed Mondays), which dedicated to an Armenian film star who was born in Gyumri. There aren't any English didactics to describe the collection of theatre props and memorabilia, but staff can give you a brief narration.
The third museum worth seeing in Gyumri is the Museum of National Architecture and Urban Life (11am-5pm, closed Mondays). It explores the traditional trades of Alexandropol: woodworking, embroidery, tin work. Next door, a sculpture gallery displays works by Sergei Merkurov, the artist who famously cast Lenin's death mask.
10. Soviet-era monuments
Apart from Mother Armenia herself, Gyumri is home to dozens of other Soviet monuments. We stumbled on the sculpture pictured above while walking through Gyumri's Central Park.
If you appreciate this kind of design, the Monument to the Great Patriotic War, located on the main road near Sev Berd, and the incredible Gyumri Iron Fountain are also worth seeing.
---
Where to eat and drink in Gyumri
Ponchik Monchik
A local institution, Ponchik Monchik Gyumri is famous for its ponchik (Armenian donuts). At first we thought these were solid pastries – but they're actually hollow (although some versions are stuffed with filling).
At Ponchik Monchik, the ultra-thin shell of puffed dough is filled with a small amount of either vanilla, Nutella or jam before being dusted with icing sugar. Served warm, ponchik are light and yummy, and a perfect accompaniment to the house coffee, which I must say is excellent.
Aside from sweets, they also have an extensive menu of Armenian mains and entrees. We ate here no fewer than three times during our stay and liked everything we ordered.
Ponchik Monchik has two branches in Gyumri – one on the main square, and another north of Peace Circle Park (we preferred the latter because it's more spacious). Open from 10.30am daily.
Aregak Bakery and Cafe
Aregak Bakery is located on the pedestrianised Rijkov Street and my top choice for a light breakfast in Gyumri. A social enterprise cafe run by Armenian Caritas and Emili, Aregak doubles as a training restaurant and offers employment opportunities to disabled youth and their mothers.
Aside from the more-than-worthy social mission, Aregak serves outstanding Italian-style coffee and delicious French and Armenian pastries and breads. Open from 9am daily.
Cherkezi Dzor (Fish Restaurant)
Known simply as 'Fish Restaurant', this fish farm slash restaurant slash brewpub is one of Gyumri's main attractions. Located on a massive piece of land near the army base, guests sit in wooden cabins set around a large fish pond.
It was raining nonstop on our last night in Gyumri, but we braved it and went to Cherkezi Dzor for dinner. Their pelmeni dumplings are the best I've ever tasted – hands down. We also loved the trout fillets wrapped in crispy lavash, and the trout meatballs (everything is trout or sturgeon related so if you don't eat fish, maybe give this one a miss!). English menus are available, but I recommend looking at the photo menu online before you go.
The owner of our guesthouse told us Russian tourists come to Gyumri just to eat here! It's open until 11pm daily.
Florence Restaurant Gyumri
Newly opened in 2019, Florence is housed in a heritage building opposite the Gyumri brewery. The decor is swish, and the branding is on-point.
The menu features both Armenian and Italian dishes, and some other meals that defy categorisation. This is by far the most expensive restaurant we ate at in Gyumri, and to be honest, we felt it was a little overpriced. Nevertheless, service is friendly and attentive, and we really enjoyed the two mains we ordered for lunch – chicken risotto (perfectly cooked) and plump Armenian tolma.
Florence is open from 10am until midnight daily.
Kilikia Bistro
We happened on this workers-style cafe by accident, but it turned out to be a terrific place for a budget meal. Kebabs are grilled fresh, lavash is baked on demand, and they do a nice Greek salad. There's no English menu, but staff are extremely helpful, even during the lunchtime rush.
Herbs & Honey
This Instagram-worthy cafe specialises in tea made from wild mountain herbs collected from northern Armenia.
Poloz Mukuch
Famously the restaurant where Anthony Bourdain ate on his visit to Gyumri in 2018. The dining rooms occupies a 1860s mansion house just across from the brewery (close to Florence).
Unfortunately it was closed for renovations when we were in town so we didn't get to eat here. Online reviews are mixed – but if it's good enough for Anthony, I think it's at least worth a try.
---
Gyumri map
To help you navigate Gyumri, I have created a map with all the above points of interest, restaurants and major landmarks. Click here to open my Gyumri map in Google Maps.
---
How to get to Gyumri
Yerevan to Gyumri
By train: There are four daily passenger trains to Gyumri from Yerevan at 7.55am, 2.25pm, 2.35pm and 6.25pm. The journey time is just over 3 hours and the fare is 1000 AMD. On weekends there are additional express trains from Yerevan taking 2 hours to reach Gyumri and costing 2500 AMD. Check times and fares here on T-Armenia.
By bus (marshrutka): Direct vans to Gyumri depart from Yerevan's Southern Bus Station approximately every 60 minutes between 10am and 6pm daily. The journey time is 2.5 hours and the fare is 1500 AMD.
Georgia to Gyumri
By train: The overnight train from Tbilisi to Yerevan makes a stop in Gyumri in the early hours of the morning (around 4am). In summer, the trains run daily and in winter (October to April), trains depart every second day of the month. The journey time is 8 hours, and tickets start from 9,300 AMD.
By marshrutka: There are no direct marshrutka vans from Tbilisi to Gyumri, so you'll need to transit through either Yerevan or Vanadzor first. There are at least 4 daily services from Vanadzor to Gyumri taking 90 minutes and costing 800 AMD.
Alternatively, there are direct vans to Gyumri from Akhaltsikhe in southern Georgia (the jumping off point for Vardzia). We travelled this route the last time we visited in summer – but note that vans might not be running during the winter low season. Normally there is one daily marshrutka leaving Akhaltsikhe at 7am and arriving in Gyumri just before midday. Tickets cost 18 GEL. Double-check times locally in Akhaltsikhe – the bus station is very user-friendly!
Day trip to Gyumri from Yerevan
This 8-hour trip to Gyumri departs Yerevan daily and includes transportation by train, lunch, and an English-speaking guide. If you're looking for a hassle-free way to visit Gyumri from Yerevan, it's great value for money.
Flying to Gyumri
In late 2019, Ryanair announced it was starting direct budget flights to Gyumri's Shirak International Airport from Memmingen, Germany. This was set to be the first flight connection between Gyumri and any European country outside of Russia.
Two weekly services were scheduled to start from January 2020, with tickets starting from 30 Euro. There are no flights at the moment, but I hope they will start up again once tourism resumes.
More updates to come once the route recommences.
Onward travel from Gyumri
I highly recommend travelling west from Gyumri into the Debed Canyon area and Vanadzor before travelling down to Lake Sevan and then on to Yerevan. This is the route we chose for our most recent trip and we loved every minute of it!
There are 4 marshrutky from Gyumri Central Bus Station to Vanadzor departing at 10am, 1pm, 2pm and 4.30pm daily (double check the schedule here). Tickets cost 800 AMD per person, and the trip takes around 90 minutes. Shared and private taxis are available on demand at the bus station in Gyumri and cost approximately 12,000 AMD per car or 3,000 AMD per seat.
If you've just come from Yerevan and you want to travel from Gyumri into Georgia, the most straightforward option is to take the daily direct van from Gyumri to Akhaltsikhe. It leaves at 10am and costs 4,000 AMD per person.
---
Things to do in Gyumri: Pin it!
Armenia Travel Guide
Discover insider tips, itinerary inspiration, and all the best things to see, do and experience in Armenia!
Armenia Essentials
My favourite resources and tools for planning a trip to Armenia.
More from Armenia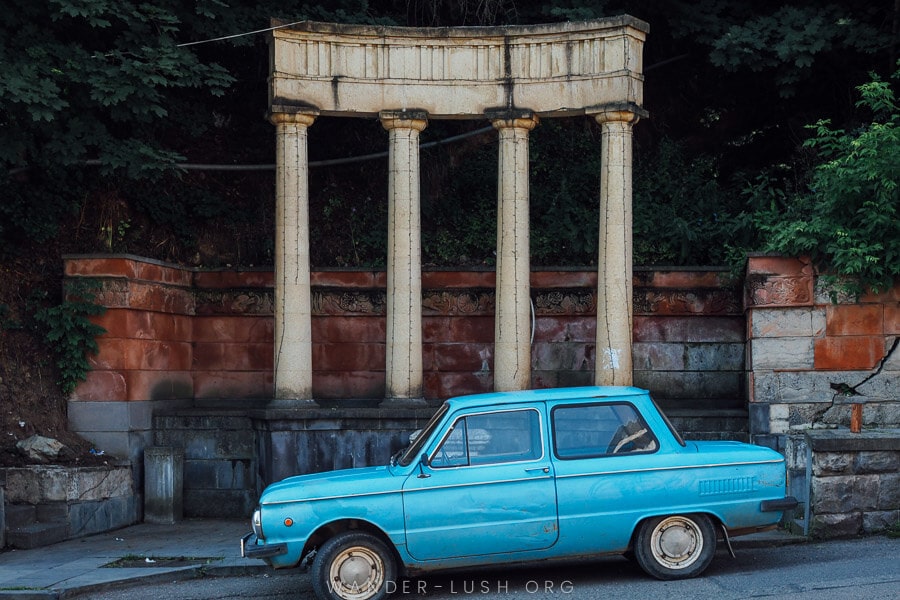 Armenia Travel Guide
Discover insider tips, itinerary inspiration, and all the best things to see, do and experience in Armenia!
Armenia Essentials
My favourite resources and tools for planning a trip to Armenia.
More from Armenia