Immersing myself in local culture is one of my top priorities when I travel – especially when it comes to food.
Whether you're visiting a foodie destination or not, eating like a local by sampling specialty foods and trying regional produce is one of the easiest ways to get a feel for a new place, its history, traditions and customs.
Related: Incredible food traditions around the world.
As well as enhancing your overall travel experience, there are many other benefits to eating local. It can save you money, time, and it often opens you up to new opportunities to connect with people and explore neighbourhoods you might have otherwise overlooked.
Importantly, it's a great way to support small and local businesses. Eating seasonal, locally grown food can be more sustainable, helping you to minimise your travel footprint.
We've all gotta eat, but there are only so many meals in a day. Sure, you can sign up for a food tour – and that is one of my recommendations – but there are lots of other budget-friendly ways to make the most of every breakfast, lunch and tea.
---
Please note: This post contains affiliate links, meaning I may earn a commission if you make a purchase by clicking a link (at no extra cost to you). Learn more.
---
12 easy tips to eat like a local
Here are 12 commonsense tips and helpful tricks for immersing yourself in food culture and eating like a local whenever you travel.
1. Do your research before you go
I'm notorious for over-researching and over-planning – but when it comes to food, a little bit of online investigation does go a long way. Before you go, read up to get a broad overview of a country or city's food culture and an idea of what dishes to look out for.
Food and travel blogs are a great resource in this respect. You can also check out UNESCO's Intangible Cultural Heritage list, which recognises a few dozen important food and drink traditions from around the world.
Destination podcasts are great for restaurant recommendations. When I travelled to Tbilisi for the first time, I based most of my food choices off intel from one of my favourite travel podcasts, Extra Pack of Peanuts.
Specialty TV series such as Netflix's Street Food are a perfect way to immerse yourself in food culture before you leave home. One of my pre-travel rituals is to dive into the relevant Anthony Bourdain episode (if there is one) and jot down the names of the cafes and restaurants he visited.
---
2. Start at the produce market
There's a reason so many cooking classes start with a wander around the local market. If you want to get a feel for what raw ingredients are local, what produce is in season – and what everyday people use for their home cooking – then there's no better place to start.
Whether it's morning market in Southeast Asia or a food hall in Europe, I always make a point of visiting the city's biggest market early on in my trip.
Do some research to find out when people do their shopping (a specific day of the week or time) and try to plan your visit to coincide with the busiest period. That way, you'll get to see the biggest range of fresh produce and experience market commerce at its liveliest.
You don't have to buy anything – just stand back and observe, or taste test a few things if you can. It's the perfect way to whet your appetite.
3. Use Google Maps instead of TripAdvisor for suggestions
One of my biggest tips for eating like a local is to use Google Maps for finding restaurant recommendations. TripAdvisor is an awesome resource – but when it comes to food, it's definitely biased towards 'tourist-friendly' places (which makes sense, seeing as it's mostly tourists who use the platform).
Of course it varies from place to place, but in my experience, locals are more likely to leave a review on Google Maps or Facebook (as do I when I'm at home in Australia). Maps in particular is a goldmine for local food recommendations if you know how to use it correctly.
Buy a local sim or pre-download the relevant map for offline use. My process is to first pin the location of our accommodation then work out in a radius from there, clicking on any restaurant or cafe that's within walking distance. Zoom out to see the most-reviewed places, and zoom in to see smaller venues.
Using a different marker, I then save anything that has a high star rating. If the reviews are written in the local language, that's a really good sign! I then go through the same process for any particular landmarks or neighbourhoods we're planning to visit.
One place this technique worked particularly well for us was in Istanbul. We found some incredible local kebab shops using Google Maps.
For each place you flag, remember to browse through the photos and comb the reviews (they will automatically translate) for any mention of specialty foods or recurring dishes. If one thing pops up again and again, it's a pretty good indication that it's the thing to order.
---
4. Prioritise restaurants that specialise in one or two things
This is particularly true in Asia, where many street food stalls and sidewalk eateries specialise in a particular noodle dish or maybe a couple of variations of a regional cuisine. If a chef prepares just one or two things and has managed to create a successful business out of it, then whatever they're making must be pretty darn good.
There's often a clue in the name of the venue, which is where that preliminary online research really pays off. For example, before our most recent trip to Armenia, I researched traditional desserts and came across something called a ponchik.
When I spotted a cafe in Gyumri called Ponchik Monchik, I knew I had hit the jackpot (for the record, their filled ponchik donuts are incredible).
5. Look for places that are crowded
An old trick I learned when living in Southeast Asia to avoid getting sick is to look out for cafes and restaurants that are bustling, preferably with local clientele.
The logic is pretty simple: If a place is busy, there's a higher chance the food is fresh (quick turnover and all that). If people are willing to wait for a table or stand in a queue, it also fits that whatever is being served is particularly tasty.
For this to work, you have to know when locals eat. Mealtimes vary wildly from country to country and between cities and rural locations. One of the things I miss most about Hanoi is the morning markets. In late-to-rise Tbilisi where I now live, breakfast culture is just not a thing.
Conversely, if you want to avoid crowded places but still experience the best of the local food scene, scout out locations at mealtimes to see what's popular then go back when it's quieter.
---
6. Use the 'translate images' function on Google Translate
Google Translate is a lifesaver for quickly interpreting words or phrases – but did you know the app can also be used to translate written text? If you find yourself in a restaurant where the menu is only available in the local language, this makes ordering so much easier. It also broadens your scope to 'really really' local restaurants that typically don't cater to tourists.
The app supports text translation for dozens of languages. Best of all, like Google Maps, you can pre-download the vocabulary for offline use. Once you have the app, it's as simple as scanning the menu with your camera phone. (I've found it works best with plain fonts, so if a menu is written in a stylised script, there might be a few more glitches than normal.)
Here's how it works: Open up the Google Translate app and select the language of the written text and the language you want to translate to. Underneath the translate box (where you would normally type a word or phrase), hit the camera icon. This will activate your phone's camera (you may have to grant permission for it to work).
Use 'Instant' to translate the whole text, or 'Scan' to select key words. On your screen, you'll see a real-time translation appear. It's definitely not perfect – a lot gets lost in translation, and you're limited by how much detail is on the menu. But it's perfect for picking up basic words, such as identifying what protein is in a dish.
It's also really handy for translating signs and written notes. I recently used the app to decipher the opening hours for a local cafe I wanted to visit.
---
7. Learn some basic local vocabulary
Of course it helps to learn some basic vocabulary as well, especially if you have any special dietary requirements that you want to alert restaurant staff to. Keep in mind that local specialty foods might use recipes and ingredients you're not familiar with.
More than that, ordering in the local language demonstrates respect for the country you're visiting and the people. Learning a few numbers and a simple 'please' and 'thank you' goes a very long way. The trick is figuring out how to respond when someone speaks back!
It can also be a great icebreaker and open you up to experiences usually reserved for insiders. If someone sees you're a tourist who has taken the time to learn a few words, maybe they'll suggest a local dish or bring you something special to try.
Once when I was practicing my Georgian, I caught the ear of the chef, which earned me an invitation into the kitchen to watch the khinkali dumplings being made.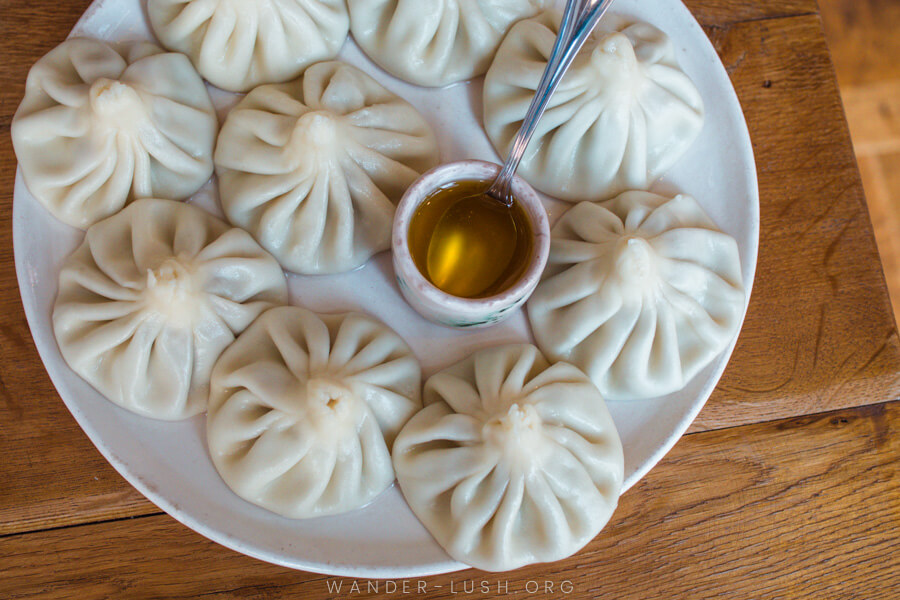 8. Stand back & watch
As well as language, logistics and etiquette can be a major barrier to eating like a local in an unfamiliar setting. Sit-down restaurants are pretty straightforward – but street food stands, hawker markets and even cafeteria-style eateries often do things differently.
It can be overwhelming. I've bypassed a local restaurant on more than one occasion because I couldn't comprehend the ordering system.
From where to place your order to what condiments to put where, all the way to making payment and tipping, if you truly want to eat like a local, you need to figure out how it all works. Try standing back and watching how the locals do it.
Don't worry if you mess up, it's all part of the fun. I've made some serious food-related faux pas in my time and it's always been a good laugh (at my expense).
On a similar note, the old 'I'll have what they're having' trick also works a charm. Recently, we sat down for lunch at a cafe in Doha and asked the waiter to bring us the same exact dishes the family at the next table was eating.
I'm still not sure if they were even local, but they had great taste!
---
9. Plan your travels around food events & festivals
If you want to dive into food culture and eat the best of the best, it makes sense to time your visit with a food-related event. It could be an annual festival, a weekly market, or a particular time of year, such as truffle season or wine harvest time.
A little bit of advance planning goes a long way. Local councils and tourism boards are a great place to start researching food events. Remember to build some flexibility into your itinerary in case you hear about something during your trip that's worth making a special detour for.
When I recently visited family in the Aeolian Islands in Sicily, I just happened to be there for the annual Caper Festival on Salina. It was a tremendous feast of local food and wine, and definitely one of my most memorable foodie travel experiences to date.
10. Join a food tour
To really hit the ground running and start eating like a local from your very first bite, I highly recommend joining a food tour. This is an easy way to try a broad range of local eats as well as the most iconic dishes. Even more importantly, you'll get access to a local (your guide) who you can mine for information and extra recommendations.
Most capital cities and many small towns offer food-focused tours these days. I like to book through Get Your Guide, which brings together a huge variety of options from different companies. Airbnb Experiences is also fantastic for finding bespoke itineraries. The more specialised the tour, the richer the experience.
There are a couple of important things to look out for when booking a food tour. Group size is a huge factor – the smaller the group, the more intimate and personalised it's going to be. If it's a private tour, even better.
I prefer to go with local guides whenever possible (they tend to have the best insights), and to support locally run and independent companies. Also check out what's included in the price and what's not (such as alcoholic beverages) to avoid any nasty surprises.
Related: 15 incredible food tours & experiences in Vietnam.
In a place where street food is more the realm of locals (Cambodia springs to mind), a food tour is almost a necessity if you want to eat like a local. I recently did food tours in both Siem Reap and Phnom Penh and got to try a few Cambodian dishes I had never heard of before.
And it's not just about the food. In Sarajevo, I did a food tour that deepened my knowledge about Bosnian history and culture significantly.
11. Sign up for a cooking class
Separate to tours, hands-on foodie experiences are another great way to immerse yourself in the local culinary scene. There's nothing like getting elbow-deep in pasta dough to give you a real sense of Italian food culture.
Again, I always gravitate towards specialised classes and workshops that focus on one product or skill, such as mastering pho broth and hand-rolled noodles in Vietnam, or cooking the perfect empanadas in Colombia. Workshops hosted in a local home add that extra layer of authenticity and meaning.
Not only is this a chance to eat like a local on the day and recreate dishes at home, a good workshop can enhance your taste for many meals to come. When you understand the anatomy of a good paella and appreciate all that goes into making the perfect custard tart, you'll derive even more pleasure from eating them.
My preferred platforms for finding unique cooking classes and foodie experiences are Get Your Guide and Cookly.
Use the code EMILYLUSH at checkout to get 10% off your Cookly experience. Browse tours here.
---
12. Ask a local!
This is the most obvious tip on the list, but it's still something a lot of travellers forget (or are reluctant) to do. If in doubt, just ask! Locals are usually keen to share their recommendations, especially if they can see that you're taking a genuine interest in their food heritage.
In my experience, if you ask a hotel staff member or even a non-food tour guide to suggest a local restaurant, they'll often filter their answer. Why? I think many people believe all tourists are looking for a certain type of experience and don't want to eat 'too local'.
To avoid getting directed to the most popular restaurant in town or the most tourist-friendly, try phrasing it differently – 'Where would you eat dinner?' My best local food tips have always come from asking this question of taxi drivers or strangers I strike up a conversation with on the street.
---
Hungry for more? Check out these guides to some of my favourite foodie destinations around the world:
---
Love to eat like a local? What are your top foodie tips? Share your ideas in the comments below.
---
Eat like a local: Save it on Pinterest
---
Further reading