Looking for an easy Armenia itinerary that can be done with public transport? This guide pulls together the best things to do in Armenia for first-time visitors, with recommended routes for 3-10 days of travel. Detailed transportation info, travel tips and up-to-date advice included.
The nation of Armenia in the Caucasus region is the perfect alchemy of flawless scenery, captivating cities, magnificent monasteries, and enchanting small towns.
Off the beaten path but still easy enough for travellers to navigate, Armenia easily offers one of the most rewarding travel experiences you can find in Europe these days.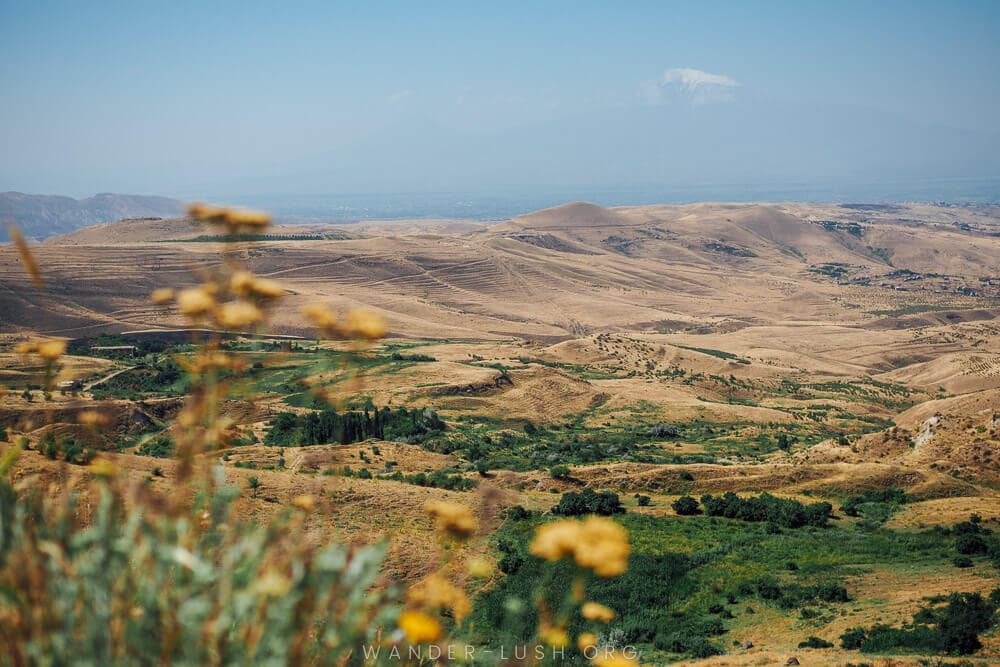 Whether you're looking for an easy add-on to the end of your Georgia itinerary or something more substantial to insert into a broader Caucasus travel itinerary, this Armenia itinerary showcases the best of the country's north.
Building on my own experiences travelling in Armenia, I've included three recommended routes for 3, 7 or 10 days of travel. Each itinerary includes comprehensive and up-to-date transport information, accommodation advice, and ideas for things to do.
If you have any follow up questions about this itinerary or you need some advice about your own trip, feel free to leave me a note in the comments below and I'll do my best to help out.
---
Please note: This post contains affiliate links, meaning I may earn a commission if you make a purchase by clicking a link (at no extra cost to you). Learn more.
---
Planning your Armenia itinerary
To help you plan your Armenia visit I want to start with some itinerary planning basics. If you're all over the logistics, you can skip straight to the first itinerary using this link.
When is the best time to visit Armenia?
Late spring (April/May) and early fall (September/October) are, in my opinion, the nicest times of year to visit Armenia. I recommend avoiding peak summer season (especially July/August) as the cities get very hot and crowded. Temperatures in Yerevan regularly exceed 35 degrees Celsius in the middle of summer.
I first visited Armenia in spring and still think this is probably the most pleasant season. Outdoor cafes start opening up and you'll see beautiful flower markets overflowing on every sidewalk in Yerevan. Celebrating Orthodox Easter in the world's first Christian nation is a special experience, as is marking Genocide Remembrance Day on April 24.
The itineraries presented here are trans-seasonal and can be done at any time of year.
Do you need a visa for Armenia?
Armenia has a generous visa policy that allows passport holders from 35+ countries (including the US, the European Union and Australia) to visit visa-free for up to 180 days within a year.
If you're not on the visa-free list, you may be eligible to apply for a visa on arrival (available at both air and land borders) or an e-visa. Some nationalities are required to apply for a visa in advance.
Check if you need a tourist visa to travel to Armenia and apply for an expedited visa if you do via my partners at iVisa.
How many days do you need in Armenia?
I think 3 days is the absolute minimum amount of time you should spend in Armenia. Broadly speaking, you can see the highlights of northern Armenia in about a week, and with 10 days or more you can get a good overview of the country.
This itinerary focuses on northern Armenia and can therefore be added onto the start or end of your Georgia itinerary quite easily. All of Armenia's major cities are in the north, as is its biggest lake, the wine region, and a good number of its must-see monasteries.
At the end of this guide I've included recommendations for more places to visit in southern Armenia.
Where to start your Armenia itinerary
Armenia has two major transport hubs: Yerevan (flights from Georgia, Europe and the Middle East plus overnight trains from Tbilisi) and Gyumri (flights from Europe). I recommend starting your travels in the capital, Yerevan.
The itineraries outlined here all start in Yerevan and finish in Gyumri, Armenia's second-largest city, located in the north-west corner of the country. From here, you have the option to fly out of Gyumri airport, loop back to Yerevan by bus, or continue overland into southern Georgia via Akhaltsikhe.
Note that Armenia's borders with Azerbaijan and Turkey are closed and overland travel between these countries is not permitted. If you're coming from Azerbaijan, you will need to cross through Georgia first. I recommend using the night train to get from Baku to Tbilisi.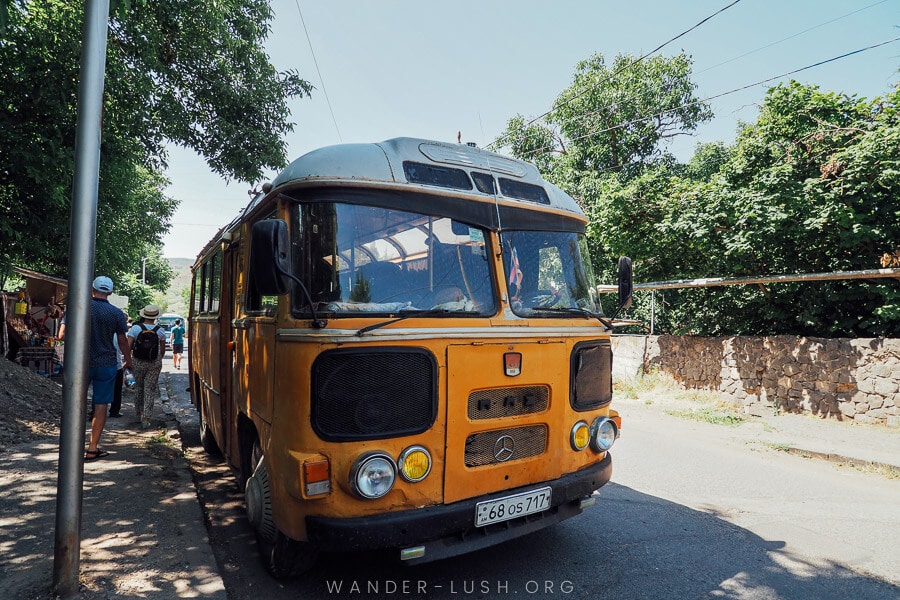 How to get around Armenia
Armenia is compact with relatively good transport connections. This makes getting around quite quick and easy, even if you're relying on public transport alone.
Armenia has a railway network, but marshrutka vans (fixed route minivans) are the most popular way to get from place to place. Marshrutka vans are affordable and fast, but schedules are flexible as drivers only tend to depart when their van is sufficiently full (rather than sticking to a set timetable). Shared taxis are a good alternative to marshrutky if you're willing to pay a bit more. Drivers can usually be found at the bus station.
Minivans are centrally administered under Armenia's National Transport Authority. Note that Yerevan has several bus stations spread around the city so you'll need to double-check where your van departs. Use the T-Armenia website to check marshrutka (and train) schedules and fares, then cross-check times locally where possible.
Most drivers take their lunch break from 11am-2pm so there are often no vans running during the middle part of the day. Road safety is something you should be wary of in Armenia so I strongly suggest you only travel by road during daylight hours.
Organised day trips are very affordable in Armenia and are a good way to make the most of your time, especially if you're basing yourself in Yerevan. I recommend booking day trips through Get Your Guide or Viator. Vendors on both platforms are vetted and more likely to observe good road safety practices.
It's possible to hire a car in Armenia and self-drive, but be aware that the driving style takes some getting used to and road conditions vary dramatically throughout the country. If you're thinking of hiring a car, I recommend using Local Rent to search for a local rental. Prices start from $26 per day.
The itineraries described here use marshrutka vans exclusively, with a couple of organised day trips and one taxi transfer.
---
Armenia travel itinerary options
Here is a brief outline of the three itinerary options included in this guide.
Under each full itinerary you'll find a day-by-day breakdown including things to do, where to stay, and detailed transportation instructions for getting from place to place.
3 day Armenia itinerary
[Click here to jump to the full itinerary.]

Days 1-2: Yerevan
Day 3: Day trip of your choosing
5-7 day Armenia itinerary
[Click here to jump to the full itinerary.]

Days 1-2: Yerevan
Day 3: Day trip of your choosing
Days 4-5: Vanadzor & Debed Canyon
Days 6-7: Gyumri
10 day Armenia itinerary
[Click here to jump to the full itinerary.]

Days 1-2: Yerevan
Day 3: Day trip of your choosing
Day 4: Day trip to Tatev Monastery
Days 5-6: Dilijan & Lake Sevan
Days 7-8: Vanadzor & Debed Canyon
Days 9-10: Gyumri
Route map
Click here to open an interactive map of my Armenia itinerary in a new tab. Each of the three options is included as a separate layer.
---
3 days in Armenia: Perfect Yerevan itinerary
If you only have a few days to spend in Armenia, I recommend you focus your attention on the capital city, Yerevan. There are plenty of day trips on offer, making it easy to explore the countryside and other towns and cities while using Yerevan as a base.
Nicknamed 'the Pink City' for the rose-coloured tuff stone facades of its oldest buildings, Yerevan has all the elegance and charm of any European capital. Because of its location, quite literally at the crossroads of East and West, multiculturalism is baked into the city's character.
Yerevan is home to Armenia's most important cultural and historical institutions, including the Genocide Memorial Complex. A city of parks and fountains, Yerevan is brimming with outdoor cafes and wine bars, an amazing array of restaurants that showcase national and international cuisines, colourful markets, and historic churches.
Where to stay in Yerevan
Find more Yerevan accommodations here on Booking.com.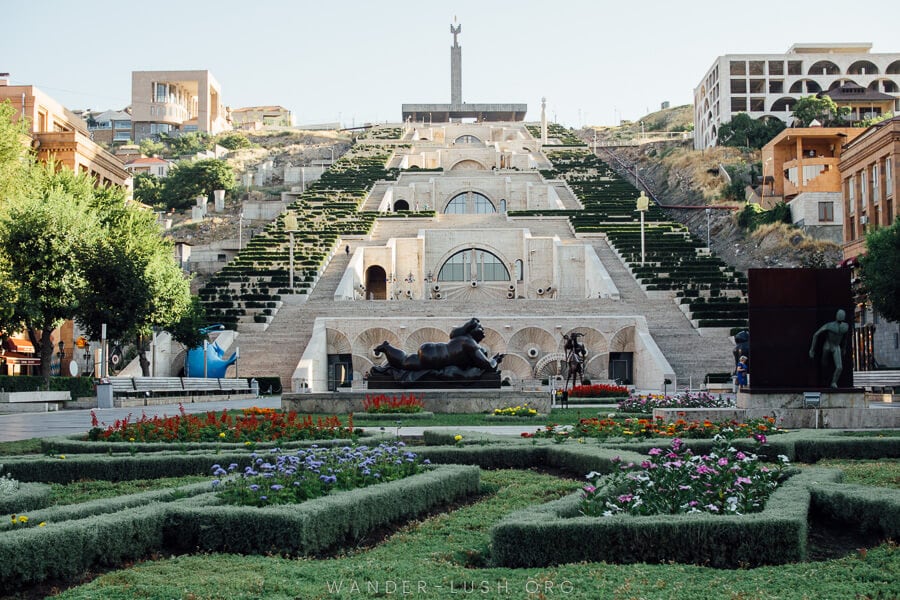 Day 1: Best of Yerevan
Tip: If you're arriving at Yerevan Airport, take the shuttle bus to the city (300 AMD) or pre-book a private transfer to your hotel online here (from $14 per group).

Once you're in the city, I recommend picking up a local sim card so that you can use Google Maps to navigate and most importantly download an app to book taxis.

My preferred mobile provider in Armenia is Beeline, and the taxi app I use most frequently is Yandex.
Morning
Spend your first morning in Armenia getting acquainted with Yerevan's blossoming specialty coffee culture. Start your day with breakfast in the courtyard at Gouroo (open from 9am daily), a trendy cafe on Saryan Street not far from the Cascade. The Armenian Breakfast Set is perfect for your first meal in Armenia – it comes with lavash bread, eggs, fresh herbs, butter and cheese with a coffee and fresh juice on the side.
After fueling up, it's time for my number one favourite Yerevan must-do, climbing the Cascade Complex. This monumental stone 'staircase' is embedded in a hillside at the northern end of town and houses the Cafesjian Centre for the Arts inside. At the bottom of the stairs you'll find a sculpture garden with works by Medellin-born sculptor Fernando Botero.
Take the exterior stairs or head inside to ride the escalators all the way up. The view from the top of the Cascade is breathtaking – not only can you see all of downtown Yerevan stretched out before you, but you also get a glimpse of snow-crested Mount Ararat, Armenia's spiritual emblem, looming in the distance.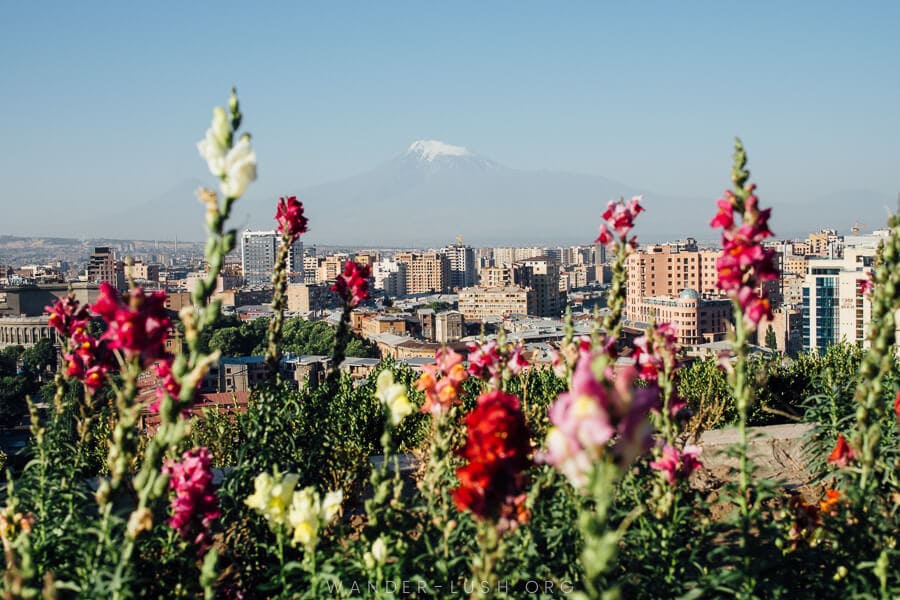 The Cascade links lower Yerevan with the upper museum district. At the top, you'll find several of the city's most important institutions, including the Matenadaran (open from 10am Tues-Sat; 1500 AMD). Officially the Mesrop Mashtots Institute of Ancient Manuscripts, this building is home to the world's largest collection of Armenian-language manuscripts.
Admire the monumental building from outside, then take a walk through the halls of the institute to admire the various illuminated pages and beautiful examples of the Armenian alphabet.
As you head back down to the main part of the city, make a pit-stop at Books 1512 (open from 9am; closed Sundays) at 45 Mashtots Avenue to admire one of Yerevan's oldest bookstores. The fit out includes many original furnishings, including ornately painted ceilings and old wooden cabinets. If your time at the Matenadaran inspired you, you can pick up an Armenian language book (or a novel in English or Russian) while you're here. Look out for a copy of Urbatagirk, the first book ever printed in Armenian in 1512.
Walk through the heart of Yerevan via the Opera Theatre and Freedom Square to Abovyan Street. Along the way, you'll pass by several important landmarks – including the Holy Mother of God Kathoghike Church (the oldest in Yerevan) and the Soviet-era Moscow Cinema.
There are a number of excellent eateries in this part of town; I recommend having lunch at Dolmama on Pushkin Street (open from 11am; reservations recommended), a Yerevan institution that specialises in traditional Armenian cuisine. The signature dish here is the dolma, stuffed vine leaves served with yogurt.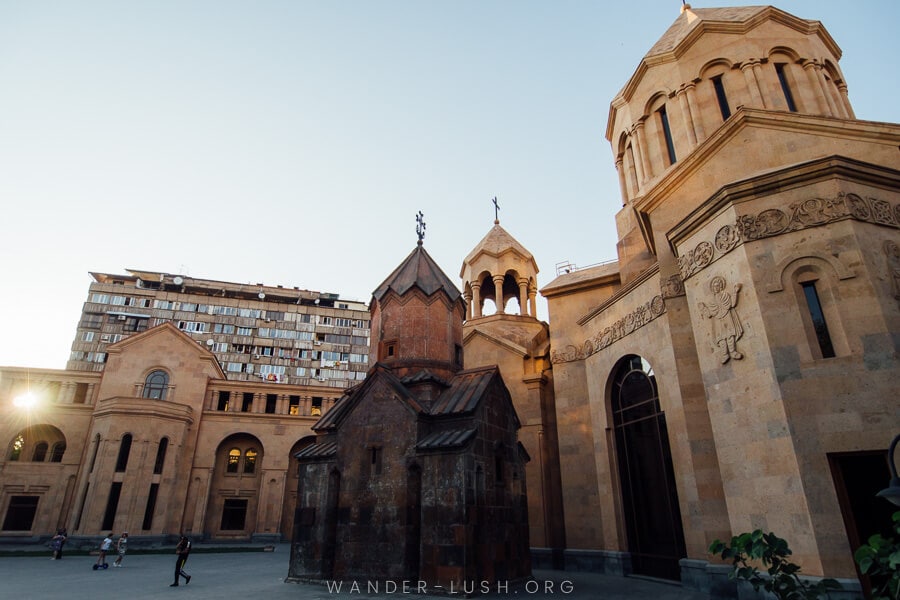 Afternoon
After lunch, browse some of the gift boutiques around Dolmama, including Ardean (silk scarves and prints), Dalan (ceramics and knickknacks), and Salt Sack (carpet clippings, artworks and a huge range of authentic souvenirs). Pop into Art Kvartal, a new creative complex on Pushkin Street with contemporary art galleries and design shops.
Continue on foot a few more blocks to reach Republic Square. This tulip-lined plaza with a magnificent water fountain in the centre and stately stone buildings around the perimeter is the nucleus of Yerevan. In the afternoon you'll find the square crowded with families and groups of friends bathing in the sun and eating ice cream cones.
Spend the rest of the afternoon browsing the Vernissage (open until 6pm daily), Yerevan's massive outdoor handicraft and artist's market. Don't miss 'carpet row' where vendors display their collections of Caucasian rugs.
Evening
Sherep Restaurant (open daily; reservations recommended) is a good option for dinner not far from the Vernissage on the opposite side of Republic Square. Finish your first night in Yerevan with a drink at Mirzoyan Library (open daily until midnight), a cool bar/creative hangout located inside a heritage courtyard on Mkrtchyan Street.
---
Day 2: Alternative Yerevan
Morning
Grab breakfast at your accommodation or try out another of Yerevan's cafes. I love The Green Bean (open from 8.30am daily) for good coffee and light meals.
Find the nearest underground station and exchange a 100 AMD coin for a token, then take a spin on the wonderfully retro Yerevan metro. From Republic Square, it's just one stop to Zoravar Andranik. Admire the massive Soviet-era apartment blocks around the station before continuing to your first destination for the day, the GUM Market.
The GUM Market (from 11am daily) is one of Yerevan's main produce hubs. Here, you can see giant sheets of lavash, Armenia's national bread, being prepared and sold alongside vibrant displays of dried and candied fruits, pickles and fresh produce. Set aside at least an hour to wander the aisles, sampling a few fruit and nut delicacies as you go.
After browsing the market, take a taxi to the Tsitsernakaberd Armenian Genocide Memorial Complex, located on a hill on the city's western side. Walk through the sombre outdoor memorial to the victims before visiting the adjacent Armenian Genocide Museum (Tues-Sun from 11am; free entry but donations welcome).
If you don't know a lot about the events of April 1915, this museum will leave you reeling. It's a difficult visit at times but an essential part of your Yerevan itinerary in my mind – especially if you want to better understand the events that have shaped Armenia into the nation it is today. Displays are beautifully curated with lots of information in English. You need up to 2 hours to see and read everything.
Afternoon
Take a taxi back into town for lunch. I recommend either Anoush (from 7am daily; try the apricot beer and the baklava) or Tavern Yerevan (from 9.30am daily; budget friendly Armenian fare), both off Amiryan Street.
From there, it's a 2-minute walk down Mashtots Avenue to the Blue Mosque (open daily but closed from 1-3pm; free entry). The only functioning mosque in Armenia, this is a beautiful complex of mosaic facades and manicured gardens. It's an oasis in the city and the perfect place for a post-lunch wander. Don't miss seeing the facade of the old market opposite the mosque entrance.
Pay a visit to the quirky Sergei Parajanov Museum (from 10.30am daily; 1000 AMD) to learn about one of the 20th century's most underrated avant-garde filmmakers. Armenia has lots of house museums (small institutions dedicated to famous artists and political figures), and this is my favourite of them all.
The museum is a vibrant hodgepodge of Parajanov's collages, artworks and personal possessions. It's a window onto his eclectic personality and career – even if you know nothing about his films, it's still a very enjoyable visit. The museum is located on Dzoragyugh 1st Street, a 15-minute walk from the mosque.
After the museum, it's time to get lost in Kond, Yerevan's oldest neighbourhood. Located on a hill, this area is a maze of winding streets and tumbledown facades. Wander through the Kond Pedestrian Tunnel that runs beneath the streets to find Hrazdan Gorge, an unexpected green space. Here you'll find several cool Soviet-style sculptures, an amusement park and the Children's Railway.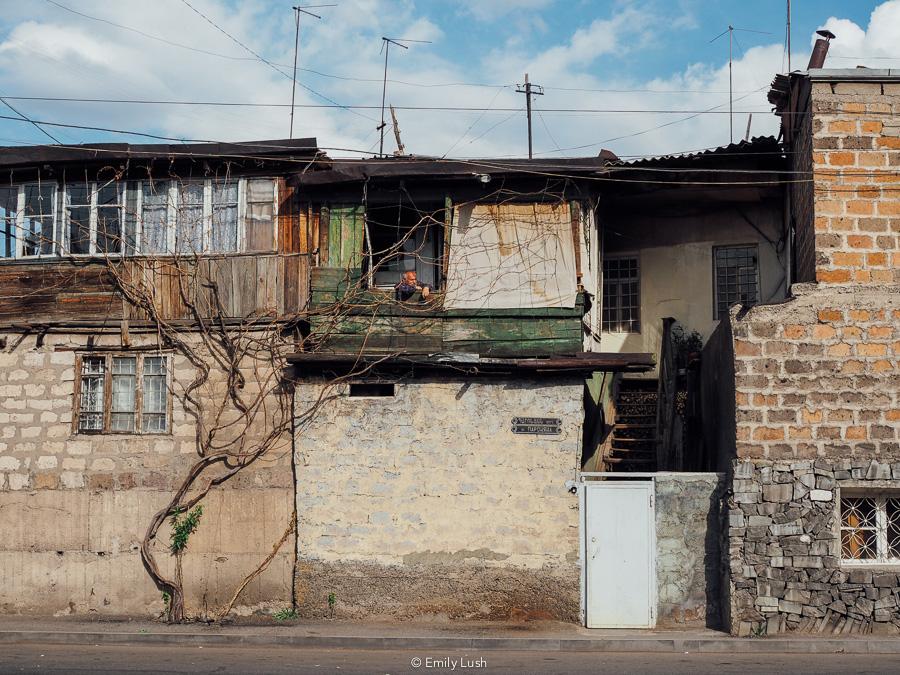 Evening
One of my favourite places for dinner in Yerevan is Twelve Tables (open Mon-Sat), a petite restaurant serving local wines and healthy, fresh meals. The pomegranate salad is divine.
End your evening with an Armenian wine degustation at In Vino (open until midnight daily), Yerevan's leading wine bar. Formal tastings feature 4-6 local wines paired with Armenian snacks. Reservations are recommended for a tasting – or you can just opt for wine by the glass from the restaurant's 'library' of 25-plus local labels.
Recommended reading for Yerevan:
– 25 excellent things to do in Yerevan
– Where to go shopping in Yerevan for Armenian souvenirs
– Full guide to visiting the GUM Market
Day 3: Day trip from Yerevan
After two full days in Yerevan it's time to head out of the city. A good number of Armenia's most important monasteries and some seriously impressive landscapes can be visited within a day from the capital, so you're really spoiled for choice when it comes to day trips.
It's possible to do some day trips independently using public transport, but to get the most out of it, I highly recommend joining a tour. My favourite company in Yerevan for organised day trips is Hyur Service. I've used them several times and have always found guides professional and drivers safe. They have guaranteed daily departures (tours vary depending on the day of the week and the season) and there's no supplementary charge for solo travellers.
I love that the itineraries pair multiple stops so you really get a bang for your buck (prices are very affordable, too). Just be prepared for a long day – and bring some snacks with you.
Here are my top recommendations for a Yerevan day trip.
For culture seekers: Day trip to Geghard & Garni
The 1st-century Garni Temple and medieval UNESCO-listed Geghard Monastery are within a 15-minute drive of each other. This is my top choice for an easy day trip – both landmarks are wonderful to see in person, and it only requires around 2 hours of driving in total.
This full-day itinerary with Hyur Service combines Garni and Geghard with a visit to Lake Sevan and a lavash-baking workshop. I did this trip last time I visited Armenia and I really enjoyed it – the photo of lavash at the top of the post was taken on this tour.
For history buffs: Day trip to Echmiadzin & Zvartnots
Echmiadzin (also known as Vagharshapat) is home to the Mother See of Holy Etchmiadzin, one of the oldest cathedrals in the world. On the way from Yerevan, you can stop off at the ruins of Zvartnots Cathedral, the much-photographed ring of columns that frames views of Mount Ararat. Total driving time is around 90 minutes.
→ Book this tour with Hyur Service online via Viator.
For adventurers: Day trip to Tatev Monastery & Noravank
Tatev is one of Armenia's most spectacular monasteries, not least of all because you sail in by cable car. It's located in the country's far-south and can be visited in a day – but be warned that it requires a lot of driving (around 4.5 hours each way). Along the way, you can stop at Noravank Monastery and Carahunge (the 'Armenian Stonehenge').
I did this day trip with Hyur Service on my first visit to Armenia and loved it. Read more about my experience here.
→ Book the same tour I did online via Viator.
For wine lovers: Day trip to Khor Virap & Areni wine region
Khor Virap monastery is located roughly an hour from Yerevan, very close to the Turkish border. If you want spectacular views of Mount Ararat, this is the place to go. This trip to Khor Virap with Hyur also includes a wine tasting in Areni, Armenia's up-and-coming wine region.
---
If your time in Armenia ends here, you could consider an additional day trip to one of the other locations mentioned in the longer itineraries below: Haghpat and Sanahin, Gyumri, or Lake Sevan and Dilijan.
Day trip to Haghpat and Sanahin Monasteries
Visiting Haghpat and Sanahin, the two UNESCO-listed monasteries in Armenia's far-north, requires a lot of driving from Yerevan – 6 hours on the road at a minimum. If you don't mind being in the car for that long, it's a real treat to drive through this part of the country. Debed Canyon, where the monasteries are located, is nothing short of incredible.
Ideally you would visit the monasteries as a day trip from Vanadzor instead (see the next itinerary for details) or even from Tbilisi.
→ Book this day trip with Hyur Service online via Viator.
Day trip to Gyumri
Armenia's second-largest city is a two-hour drive from Yerevan. Gyumri is a fascinating place with plenty to do, which is why I highly recommend spending at least one night there (see the next itinerary for details). If you're time-poor, a day trip is still an option.
→ Book a private tour to Gyumri with Hyur via Viator.
Day trip to Lake Sevan and Dilijan
Armenia's largest lake and Sevanavank Monastery are under 90-minutes drive from Yerevan. This tour offered by Hyur visits Dilijan, Armenia's 'little Switzerland', after Lake Sevan.
---
One week in Armenia itinerary
As you can see, there is plenty to see and do within a few hours' drive of Yerevan. With one week in Armenia you can experience the best of the capital, fit in a day trip or two, then explore two more regions in the north that are among my favourite places in the country – Gyumri (Armenia's second city) and Debed Canyon.
You could easily shorten this into a 5-day Armenia itinerary by making a choice between the final two destinations.
Yerevan – [day trip] – Vanadzor & Debed Canyon – Gyumri
Days 1-2: Yerevan
See the previous itinerary for details.
Day 3: Day trip from Yerevan
See the previous itinerary for details.
Days 4-5: Vanadzor & Debed Canyon
Vanadzor has a population of just over 85,000 people, making it Armenia's third-largest city. If you enjoy Soviet throwbacks, interesting architecture and the industrial aesthetic, then you should definitely include it on your itinerary.
Vanadzor is better known for being the gateway to Lori Region and Debed Canyon, a splendid slice of Armenia in the far-far north, close to the border with Georgia. This is one of the most awe-inspiring landscapes in the entire country and it's also where you'll find several significant monasteries, including Haghpat and Sanahin, Armenia's first UNESCO World Heritage Site.
I recommend travelling up from Yerevan in the mid-morning then spending a full afternoon in Vanadzor, starting with a home-cooked lunch at Home Restaurant. Go for a walk around the city and see how many Soviet-style sculptures and vintage cars you can spot. Don't forget to bring your camera.
Stop by the indoor market hall, which features an interesting Soviet-style mosaic/mural on the back wall.
Spend your second day visiting the monasteries and driving through Debed Canyon. Marshrutka vans are available from Vanadzor to Alaverdi but schedules are ad-hoc and it can be difficult to get the timing right. I therefore suggest hiring a driver for the day. Taxis wait outside the bus station in Vanadzor; we paid 12,000 AMD for a full day on the road. Find my detailed guide to visiting the monasteries here.
Where to stay in Vanadzor
Find more Vanadzor accommodations here on Booking.com.
How to get to Vanadzor from Yerevan
Direct marshrutka vans to Vanadzor depart from Yerevan's Kilikia Bus Station approximately every 30 minutes between 8.45am and 6.30pm daily. There does not appear to be a pause in the schedule for lunch hours. The journey time is 2.5 hours and the fare is 1200 AMD.
Days 6-7: Gyumri
Gyumri is Armenia's second city and a total contrast to Yerevan. In 1988, the Spitak earthquake devastated Gyumri, rewriting the city's history. The rebuilding process is still underway – both literally (many of the buildings and churches in downtown Gyumri are still awaiting repair), and figuratively.
I adore Gyumri; I actually prefer it to Yerevan in many respects. The architecture is magnificent (as a contrast to 'pink' Yerevan, the buildings here are fashioned from black and gold tuff). There is a wonderful fortress and a Mother Armenia monument nearby, a great local market in town, and a bunch of interesting social enterprises, including a ceramics workshop and a cafe.
As Gyumri's recovery continues I only expect it will become a more popular destination. The introduction of budget flights to Gyumri's airport from Western Europe in 2019 certainly helped push things along.
This itinerary allows for 1.5 days in Gyumri after the bus ride from Vanadzor. I spent almost a full week in the city and never got bored.
Where to stay in Gyumri
Find more Gyumri accommodations here on Booking.com.
How to get to Gyumri from Vanadzor
Direct marshrutka vans to Gyumri depart from Vanadzor's Bus Station at least four times daily between 9.30am and 4.30pm. The journey time is 1.5 hours and the fare is 800 AMD. The morning van tends to fill up (we almost missed out) so if possible, ask your host in Gyumri to call ahead and save you a seat. If you're staying at Guest House in Gyumri, the owner will happily drive you to the station and ensure you get a seat.
Recommended reading for Gyumri:
– My complete Gyumri city guide
---
10 days in Armenia itinerary
Ten days is the perfect amount of time to get a good overview of Armenia's north. This itinerary builds on the previous one, with an extra stop at Dilijan and Lake Sevan.
If you're interested in hiking in Armenia, Dilijan is a must-visit. If you'd prefer to spend more time in the cities, you could easily skip it and add a few extra days in Yerevan/Gyumri instead.
Yerevan – [day trip] – Tatev Monastery – Vanadzor & Debed Canyon – Dilijan & Lake Sevan – Gyumri
Days 1-2: Yerevan
See the previous itinerary for details.
Day 3: Day trip from Yerevan
See the previous itinerary for details.
Day 4: Day trip to Tatev Monastery
It would be a shame to spend 10 days in Armenia and not see the south, so for this itinerary I suggest setting aside an extra day for a side trip to Tatev Monastery.
As I mentioned earlier, there is a lot of driving required (around 4.5 hours each way) to get to Tatev, but in my experience it's not too draining provided you choose a tour itinerary with lots of stops along the way. I did this day trip with Hyur Service on my first visit to Armenia and thoroughly enjoyed it.
Hyur Service now offers four different options for Tatev:
Recommended reading:
– What to expect on a day trip to Tatev from Yerevan
Days 5-6: Dilijan & Lake Sevan
Dubbed 'Armenia's Little Switzerland', Dilijan is a popular destination for hikers because of its proximity to marked trails in Dilijan National Park, including an 80km section of the Transcaucasian Trail.
Dilijan is not my favourite place in Armenia – personally I found it quite underwhelming. The beautiful stone architecture you see in photos is limited to a small (privately owned) corner of the town. I also found restaurant and accommodation prices here off-the-charts expensive when I visited in summer. (My guess is that because it's so close to Yerevan, people flock here for fresh air and prices go up significantly in the warmer months.)
I know other people who feel the same, and I also know people who really enjoyed their time in Dilijan. I'll let you make up your own mind.
Just be aware that if you're not much of a hiker, you'll run out of things to do in Dilijan pretty quickly. I spent most of my time at Cafe #2 (daily from 9am) on the lake drinking coffee and eating pancakes! (In all seriousness this is a wonderful social enterprise cafe that you should visit at least once.)
If you are a hiker, the trails to Parz Lich lake and Haghartsin Monastery are supposed to be among the best.
My favourite part of Dilijan was this spectacular mineral water spring, which I had to stop to photograph every time I walked past. I guess I'm not the only one – I later found a tote bag illustrated with the same spring at the little shop inside Cafe #2. Needless to say it came home with me!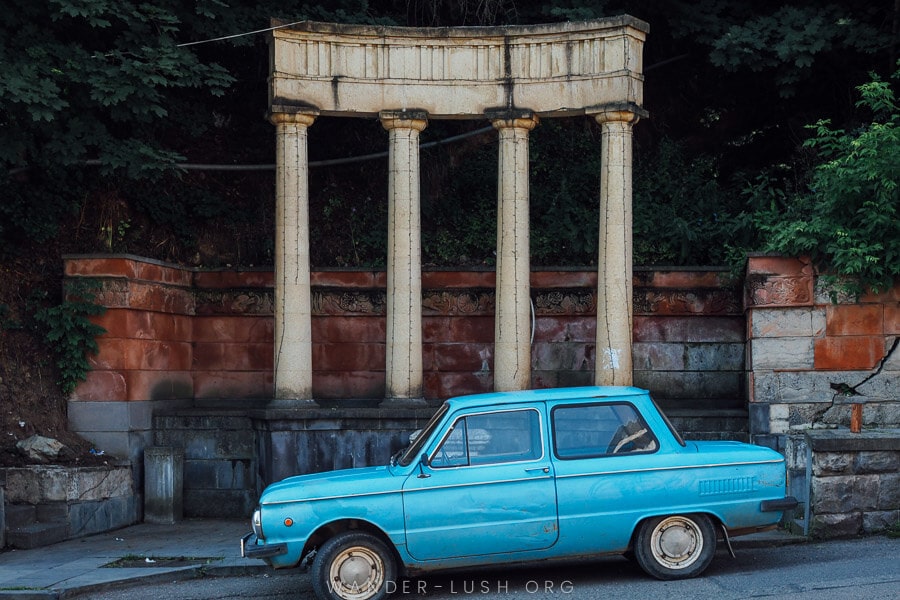 From Dilijan, you can easily take a side trip to Lake Sevan, the biggest lake in the Caucasus. It takes around 40 minutes to reach the peninsular where Sevanavank Monastery and the Sevan Writers House are located. I'm sorry to say that I found Sevan Lake a bit disappointing as well – maybe I was in a bad mood at this point in the trip!
If you're in the area, it's only worth popping down for an hour or so. There's not much else to do except visit the monastery, photograph the Writer's House, and watch the maniacal jet skiers criss-cross the lake.
Where to stay in Dilijan
Find more Dilijan accommodations here on Booking.com.
How to get to Dilijan from Yerevan
Direct marshrutka vans to Dilijan depart from Yerevan's Northern Bus Station every 30-60 minutes between 9am and 4pm daily. The journey time is 1.75 hours and the fare is 1000 AMD.
How to travel between Lake Sevan and Dilijan
Yerevan-bound vans all pass by Lake Sevan so to get to the lake, we simply took a van from Dilijan bus station and jumped off early. Drivers will only drop you on the highway so you need to walk the rest of the way to the lake (around 15 minutes on foot). Tickets must be purchased in advance from the cashier inside the Dilijan bus station. We paid 500 AMD to get to Sevan from Dilijan.
To get back to Dilijan, we simply flagged down a passing van on the main road (opposite to where the first driver let us off). We ended up paying double to get back, but a big storm was rolling in and we were just thankful to find a ride!
Days 7-8: Vanadzor & Debed Canyon
See the previous itinerary for details.
How to get to Vanadzor from Dilijan
Direct marshrutka vans to Vanadzor depart from Dilijan Bus Station at least six times daily between 8.30am and 5.30pm. The journey time is 45 minutes and the fare is 800 AMD. Note that there are no vans on this route between midday and 4pm.
Remember that paper tickets must be purchased from the cashier inside the Dilijan bus station. If travelling in summer, it's recommended to buy your tickets at least a couple of hours in advance or the day before.
Days 9-10: Gyumri
See the previous itinerary for details.
How to get to Gyumri from Vanadzor
Direct marshrutka vans to Vanadzor depart from the bus station in Gyumri three times daily between 9.30am and 4.30pm. The journey time is 1.5 hours and the fare is 800 AMD.
---
More time? Other places to visit in Armenia
If you have more time in Armenia, I suggest heading south, adding Jermuk – Goris – Khndzoresk to make this into a 2-week Armenia itinerary. Or you could head north into Georgia to continue your travels.
Momik Wine Cube (Areni)
Armenia's Areni wine region isn't as developed as Georgia's Kakheti, but there are some great wineries that have opened to visitors in recent years. I'm itching to visit Momik WineCube in Vayots Dzor.
A number of important archaeological sites – including the Areni-1 Cave where the world's oldest leather shoe was found – are located in the wine region around Areni.
Jermuk
Jermuk is an old Soviet-era spa town with a similar vibe to Borjomi in Georgia. As well as a stately Water Gallery building and several working sanatoria there are hiking trails and waterfalls nearby.
Direct marshrutka vans to Jermuk depart from Yerevan's Kilikia Bus Station. At the time of writing, there are only three vans in the afternoon between 1pm and 4pm. The journey time is 4-4.5 hours and the fare is 2000 AMD. From Jermuk, you can find onward transport to Goris and Khndzoresk locally.
Goris
Further south, the town of Goris is known for being the gateway to Tatev Monastery. If you plan on visiting the monastery and ropeway independently, this is where you should set out from.
There are hiking trails around Goris that lead you through unique pinnacle rock formation, some with medieval cave dwellings cut from the rock. The town itself – the first in Armenia to be built in a grid pattern – looks quite pretty.
Khndzoresk
Khndzoresk village is just outside Goris and has a similar landscape of canyons, rocky spires and man-made caves. From the photos I've seen, it looks quite spectacular.
---
Are you planning a trip to Armenia? If there's anything I might be able to help with please feel free to leave your questions or comments below!
---
Armenia Travel Guide
Discover insider tips, itinerary inspiration, and all the best things to see, do and experience in Armenia!
Armenia Essentials
My favourite resources and tools for planning a trip to Armenia.
More from Armenia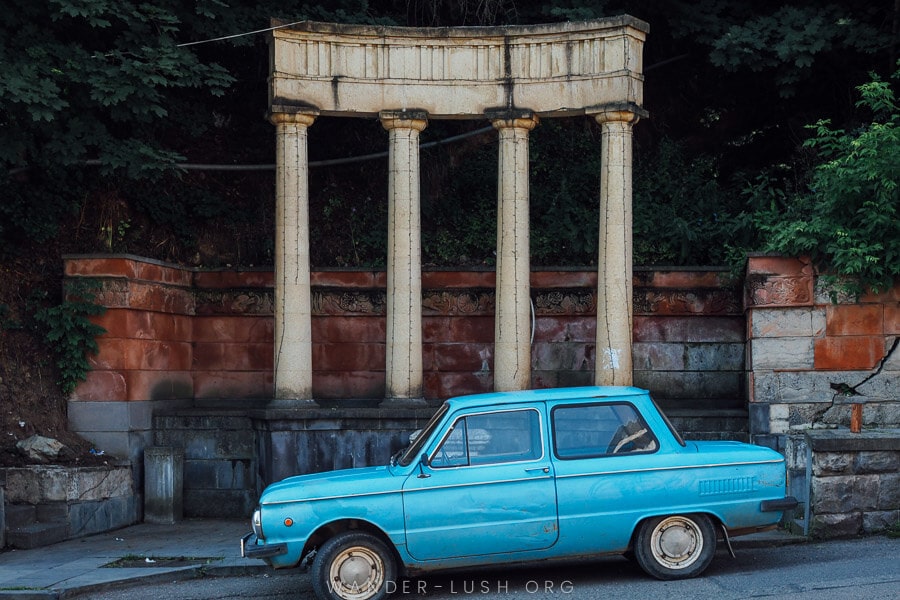 Armenia Travel Guide
Discover insider tips, itinerary inspiration, and all the best things to see, do and experience in Armenia!
Armenia Essentials
My favourite resources and tools for planning a trip to Armenia.
More from Armenia